This post may contain affiliate links. Please read our disclosure policy for more information.
Do you want to know how to become a millionaire by consistently investing a small amount of money?
Whether you are looking to save and invest $6,000 per year (that's equivalent to $500 every month), or start off small by socking away $50 per month, you can develop good financial habits and become a millionaire, through the power of compound interest!
"Compound interest is the eighth wonder of the world. He who understands it, earns it. He who doesn't, pays it." – Albert Einstein
I will show you how in an example later.
First of all, what is compound interest?
Now, I'm going to tell you a somewhat embarrassing story about me that will help you today.
Before you read on, do you want to know how we managed to pay off almost $100,000 debt and saved our first $100,000?

This first $100,000 in savings allowed us to invest our money to see exponential returns in our total net worth savings of over $700,000 all thanks to the concept of compounding interest!

We developed good financial habits by using this beautiful printable budget binder to help us keep track of our income, expenses, and savings. This simple budget binder is what helped us achieve financial independence and you can snatch your FREE copy over HERE! We've received SO many e-mails from our readers to tell us how much they love using our hand-crafted and one-of-a-kind budget binder!

If you're interested in the FULL and deluxe version of this binder, we also have The Ultimate Power Up Budget Binder available here.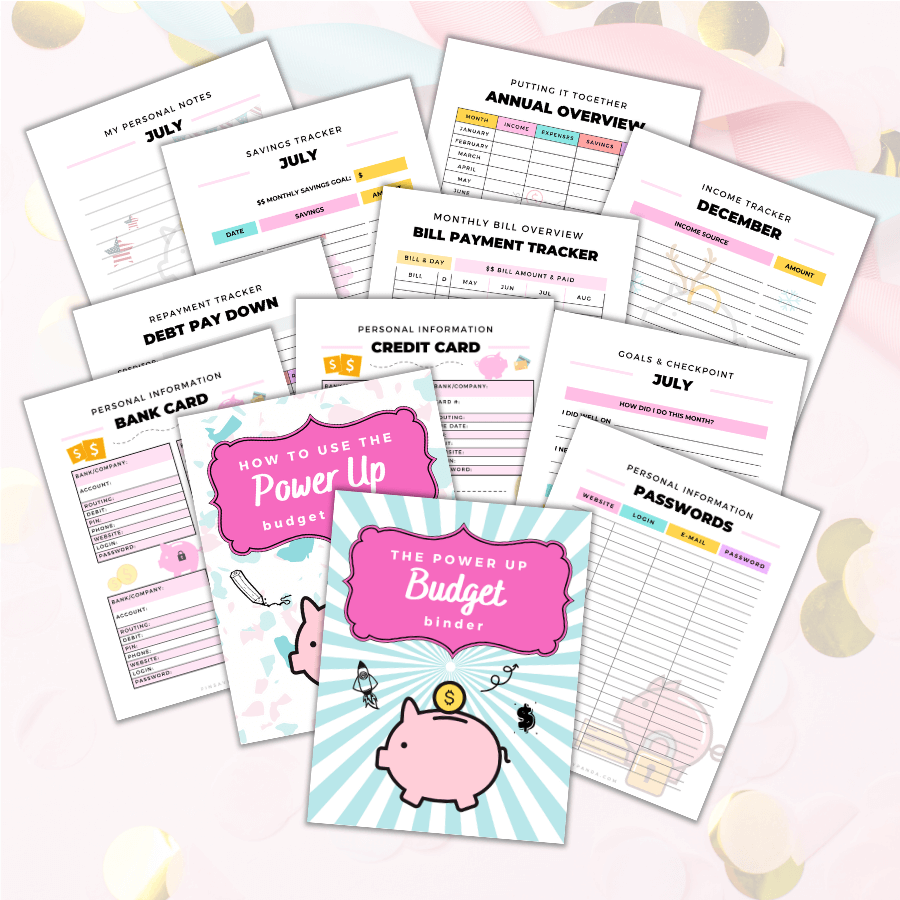 For the longest time, I had no clue what compound interest was. Despite being taught time value money (TMV) and the effects of compounding, I didn't really nail that concept into that thick head of mine 'til many years later.
It was the summer of 2008 and I attended one of my boyfriend's (today, my fiance) boring lectures in University. It was a financial risk management course taught by a tall Asian man in his mid-40s.
For goodness sake, what 20-year-old would want to sit in a three-hour lecture listening to some nerdy Asian dude blab about Monte Carlo methods, volatility forecasting models, Black-Scholes-Merton model, delta hedging, etc. etc.??
Ah, I probably lost most of you there already…
To be honest, I was only sitting in because I wanted to be with my boyfriend at that time. How pathetic, right? Hahahaha…
Not surprisingly, I fell asleep for the entire three hours.
It wasn't until the last ten minutes before class ended, that the Professor's speech caught my attention.
I'm not sure why he brought up the topic of TVM, but I vividly remember him saying, in his hilarious Asian accent:
"Ah, compound interest! This concept intrigues me SO much because it can make ANYONE rich over time!"
He went on explaining the mechanics of compound interest, but the "it can make anyone rich" blurb was the only part I got out of it.
Even after teaching us how compound interest works, I still had no idea (that's because I wasn't paying attention).
Without getting into the math, compound interest is like pushing a snowball on a snowy day. It gets bigger and bigger as it accumulates snow.
Here, Wikipedia explains the definition better than the Professor:
Compound interest is the addition of interest to the principal sum of a loan or deposit, or in other words, interest on interest. It is the result of reinvesting interest, so that interest in the next period is then earned on the principal sum plus previously accumulated interest.
In the end, what the Professor said was true. Compound interest (even after inflation) can make anyone rich over time!
In fact, Warren Buffett will tell you that it's one of the main ingredients that got him rich over the years. Although you may not become as rich as Buffett, it's still a mechanic you can mimic with success.
The catch?
Well, you just gotta be patient!
I honestly wish I understood this concept earlier in my life. Now I'm blogging about this because I hope someone who doesn't know will find it helpful.
Here's how compound interest can benefit you. So, make him your BFF (best friend forever) today!
1) You don't have to be a mastermind.
Yes, you can be a dummy and still become rich (not that I'm saying you are)!
From time to time, my fiance jokingly calls me a dummy. Yet, my investments have been compounding since the day I started investing.
As you can see, my fiance is the Brain in our relationship. You can guess who I am, right?
My fiance doesn't see it and won't admit to this, but he's pretty damn smart (both nerdy and street smart). He's the guy with high distinction on the dean's list. He achieved an amazing CGPA. Particularly, economics, FINANCE, and business were his strengths.
At work, his team members and other stakeholders rely heavily on him and his inputs because of his brilliant ideas.
He knows his financial products and the business very well. If he's crusty, all he needs is a quick review and it will become solid again. I'm trying to make a point and he's going to kill me for writing all of this stuff about him. Oh well, too bad…
Overall, he's bright and well-respected.
SO HERE IS MY POINT…
When we look at our investment accounts separately, he would tell me how jelly he is to see my money grow faster than his.
We both think it's crazy because he earns 60% more than I do.
I know our time horizon is too short to tell, but here are some reasons why I think the dummy (me) ended up beating the smart guy (my fiance):
– more of my investments track the basic index (no fancy stuff here, I keep it simple)
– I follow the dollar cost average (DCA) strategy more than he does (that just means keep investing your money in automated installments regardless of the highs and lows)
– He tends to have more risky behavior than me
– He reads too much into markets and stock trends (I ignore the noise). This caused him to time the markets.
In addition to that, there was a time where he held onto too much cash and for too long because he wanted to catch the right opportunity. But I talked him into buying index funds. So, for some parts, he started a bit later than me.
My point here is to tell you that you don't have to be some scholar to reap the benefits of compounding. Anyone can do this, but I know most won't because they lack patience.
2) You don't have to deprive yourself to reap the benefits of compound interest.
I've read SO many blogs where people write about cutting your daily coffees to reap the benefits of compounding.
For all those coffee lovers out there, are you really going to stop buying a cup or two until you reach 65?
You get my point, right?
Overall, saving is vital, but you gotta find the right balance. You want to enjoy life (not deprive yourself) while reaping the benefits of compounding.
🌟✅ FUN TIP: I use this FREE resource called Swagbucks to grab my FREE $50-$100 Starbucks gift cards ALL THE TIME! I love to save money without cutting back on coffee and lattes! 💵💸

You simply earn free gift cards just by surfing the web, watching videos, shopping online, and taking quick surveys online.

👉 Grab your FREE $5 bonus from Swagbucks and start earning FREE gift cards or cash immediately!

Signing up is fast and easy; plus it's 100% FREE to use! 😊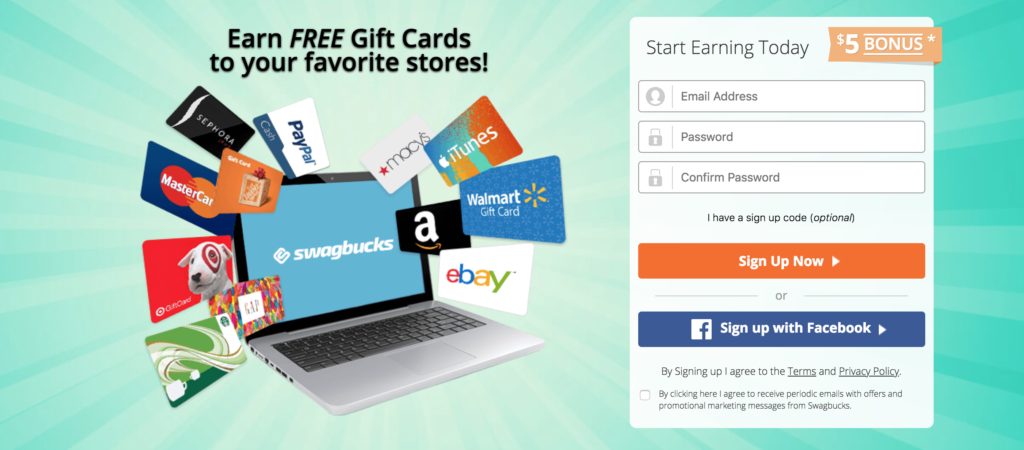 3) You don't have to be Warren Buffett, Bill Gates, or Jeff Bezos.
In other words, you don't have to be rich. If you've been following me, you will know that both my fiance and I came from low-income families.
Yeah…
🎵 we started from the bottom now we here… 🎶
Anyone a Drake fan?
Anyway, as mentioned above, Warren Buffett says compound interest played an important role in his success.
In one of my old posts, You Can Afford To Live Like This Billionaire, I wrote how Buffett started off by selling gum, pop, and newspapers door to door. At a very young age, he had an entrepreneurial mindset of buying low and selling high.
By the time he reached 11 years old, he invested in his first stock!
He admitted to making many investment mistakes, but overall, we know he didn't start off rich. In fact, 99% of his wealth was earned after his 50th birthday according to Business Insider. He worked hard and smart, but time and compound interest were major factors in his success.
My highly recommended personal finance reads from Amazon. Click on the book to learn more:
4) You have time to build your friendship with Mr. Compound Interest.
The younger you are, the more time you'll get to spend with Mr. Compound Interest.
So, be loyal and spend more time with him. Down the road, he'll have your back and you will be thankful for the payoff (no pun intended here).
Any simple investment such as the S&P 500 is expected to compound over time when you set it and forget it.
Example of Pinky and the Brain. Who's the loser?
To give you an example, let's look at two scenarios.
Pinky
Pinky (me) starts saving and investing $6,000 per year at age 20 and stops when she reaches 30. At this age, she will never save another penny again. Just sit back and see how much her investment grows.
Brain
Brain (my fiance), on the other hand, starts later by ten years, at age 30. He wants to catch up to Pinky so he will save $6,000 per year until he retires at 65.
Suppose Pinky and Brain invest in the same index fund that yields 7% return annually, in nominal terms.
Pinky

Brain

Age
Investment
Expected Value
Investment
Expected Value
20
$6,000
$6,420
$0
$0
21
$6,000
$13,289
$0
$0
22
$6,000
$20,640
$0
$0
23
$6,000
$28,504
$0
$0
24
$6,000
$36,920
$0
$0
25
$6,000
$45,924
$0
$0
26
$6,000
$55,559
$0
$0
27
$6,000
$65,868
$0
$0
28
$6,000
$76,899
$0
$0
29
$6,000
$88,702
$0
$0
30
$0
$94,911
$6,000
$6,420
31
$0
$101,554
$6,000
$13,289
32
$0
$108,663
$6,000
$20,640
33
$0
$116,270
$6,000
$28,504
34
$0
$124,409
$6,000
$36,920
35
$0
$133,117
$6,000
$45,924
36
$0
$142,435
$6,000
$55,559
37
$0
$152,406
$6,000
$65,868
38
$0
$163,074
$6,000
$76,899
39
$0
$174,489
$6,000
$88,702
40
$0
$186,704
$6,000
$101,331
41
$0
$199,773
$6,000
$114,844
42
$0
$213,757
$6,000
$129,303
43
$0
$228,720
$6,000
$144,774
44
$0
$244,731
$6,000
$161,328
45
$0
$261,862
$6,000
$179,041
46
$0
$280,192
$6,000
$197,994
47
$0
$299,805
$6,000
$218,274
48
$0
$320,792
$6,000
$239,973
49
$0
$343,247
$6,000
$263,191
50
$0
$367,274
$6,000
$288,034
51
$0
$392,984
$6,000
$314,617
52
$0
$420,493
$6,000
$343,060
53
$0
$449,927
$6,000
$373,494
54
$0
$481,422
$6,000
$406,059
55
$0
$515,121
$6,000
$440,903
56
$0
$551,180
$6,000
$478,186
57
$0
$589,763
$6,000
$518,079
58
$0
$631,046
$6,000
$560,765
59
$0
$675,219
$6,000
$606,438
60
$0
$722,485
$6,000
$655,309
61
$0
$773,058
$6,000
$707,601
62
$0
$827,173
$6,000
$763,553
63
$0
$885,075
$6,000
$823,421
64
$0
$947,030
$6,000
$887,481
65
$0

$1,013,322

$6,000

$956,024
Results of Pinky and the Brain
As you can see, Brain may be smart, but he cannot beat the power of compound interest. He invested for a total of 36 years. On the other hand, Pinky invested for 10 years only. Yet, he's still behind her by $57,297.
Who's the loser now?
| | | |
| --- | --- | --- |
| Summary | Pinky | Brain |
| The Age Pinky/Brain Starts Investing | 20 | 30 |
| Investment | $500 per month | $500 per month |
| Years of Investing | 10 | 36 |
| Total Investment | $60,000 | $216,000 |
| Rate of Return | 7% | 7% |
| Expected Value on their 66th Birthday | $1,013,322 | $956,024 |
Overall, my point is that time becomes your best friend, especially when you start developing a relationship with him in your early years.
But even if you're in your 40s, don't fret! You still have time to become good friends with Mr. Compound Interest. The best time to become friends was yesterday, but the second best time is now!
Start growing your savings to $1,000,000!
So now that you see Pinky vs. Brain's results, do you want to start saving and growing your investments to over $1,000,000?
I recommend using Personal Capital to track your financial journey! This is a FREE tool to use!
It is similar to Mint, but Personal Capital is WAY better because of their investment features!
With Personal Capital, you can aggregate all of your accounts together.
By putting your accounts together, you can track your savings, investments, cash flows, and your net worth. This is the perfect tool for you to track your journey to becoming a millionaire! 🙂
On top of that, you can analyze your spending habits and see how much you're saving. It also informs you when your bills are due. With that said, you can budget and track your net worth at the same time!
🌟 You can sign up for Personal Capital for FREE here and watch your savings grow! This is currently available to U.S. residents only.
5) Mr. Compound Interest is your cute little minion.
Did I mention earlier that he's got your back?
Yeah, just don't abandon him half way and he'll stay loyal to you. He will eventually work harder for you at growing your money compared to you putting in the time and effort to make/save your money.
With that said, compound interest is passive — just like the other forms of passive income ideas I list here (you should totally give those a try too)!
So, hang on tight, buddy… he'll shower you with lots of love one day. You just gotta give it some time…
Summary
There you have it — how this secret weapon, compound interest, will work for you (again, no pun intended here).
In sum, you don't have to be a finance wiz or Warren Buffett for that matter.
You also don't have to deprive yourself of fun while reaping the benefits of compounding interest.
All you have to do is be smart with your savings, start early, and become best friends with him.
Over time, your minion will work harder for you than you work for yourself. Isn't that amazing?
The only catch is, you gotta be patient — just like how you're patient with your other long-term friends. Though, I wouldn't call your friends minions, LOL. But like any other good ol' friendship, it pays off really well in the end! 🙂
Over to you — What are you waiting for? Have you started becoming BFFs with compound interest yet? Don't forget to check out my free money resources below that may help you!
Don't miss out on FREE money here!
If you follow my blog, you will know that I'm all about saving money and making money. Below are some of my favorite sites and resources that may help you! The best part is that they're all FREE to join and use!
American Consumer Opinion (ACOP): This company has over 6 million members who get paid to answer surveys online. I use this free resource as a fun way to earn a little extra cash. Each survey is easy and takes less than 10 minutes to complete.
They ask really simple questions in the form of multiple choice such as "Which soda brand do you drink"? Or "Which of the following fast food chains are your top choices to go to for a burger"?
👉 Sign up for ACOP for FREE and start earning extra money today! Signing up only requires your e-mail, so it's super fast and easy! 💵 💵 💵
Drop: My fiancé and I use this FREE Drop app to rack up cash rewards on our everyday purchases. I love how this app allows us to combine their offers with other cash back rewards and store promos. That's how we get the most cash back! 😉
🌟 For a limited time, get your FREE $5 bonus immediately after linking your first card and using my special referral code, FINSAVVY! No purchase necessary! 😊

My referral code is applicable to both the U.S. and Canada!
Want to know if Drop is right for you? To learn more, read my honest review and tutorial on how Drop works. If you like the idea of passive savings, then I'm sure you're going to enjoy this app as much as I do!
MyPoints: You can earn FREE gift cards to your favorite stores or FREE cash just by watching videos, taking surveys, shopping online, reading e-mails and more. MyPoints has paid out their members $236,000,000!
🌟 Sign up for MyPoints here for FREE and get a $5 bonus immediately when you take 5 surveys! 💵

⭐️ Important: Don't forget to verify the email from MyPoints in your inbox so that you can redeem your bonus!
Related post: The Top Survey Sites To Join For FREE Today (Earn up to $50 per survey)!
Survey Junkie: I personally use this free resource to earn extra cash by answering simple surveys online. This may help you save money or pay for some of your groceries for the month because you can redeem cash or FREE gift cards (your choice). They are rated 8.7/10 which is one of the highest on TrustPilot reviews.
🌟 You can sign up for Survey Junkie for FREE here and start earning FREE gift cards and cash immediately. 💵
Trim: This personal finance tool is pretty cool! It can actually help you save money by scanning your money accounts and analyzing your spending habits. The best part is he can help you negotiate your cable, Internet, cell phone and other monthly bills FOR YOU. That's like a robot hunting for FREE money and putting it into your pockets for you! Pretty sweet, huh?
Overall, Trim helped its users save over $1,000,000 over the last month with their day-to-day finances.
🌟 You can sign up for Trim for FREE here and start saving money immediately! 💵
Paribus: Ever heard of price-adjustments? This free app helps get your money back when an item you purchased goes on sale (there's no effort on your end). When Paribus finds a price drop in your e-mail inbox, and you're eligible for a price adjustment, it will notify you and the retailer. Yes, Paribus will do all the work for you and you keep 100% of the savings! Paribus has helped users saved over $24,000,000 to date!
🌟 Sign up for Paribus here for FREE and start putting FREE money in your pockets!
Read also: How To Get FREE Money Fast: Get Up To $5,000 in Hidden Cash HERE (You Seriously Can't Afford To Miss Out On #10)!
Did you enjoy this post? If so, don't forget to share it on Pinterest! 🙂