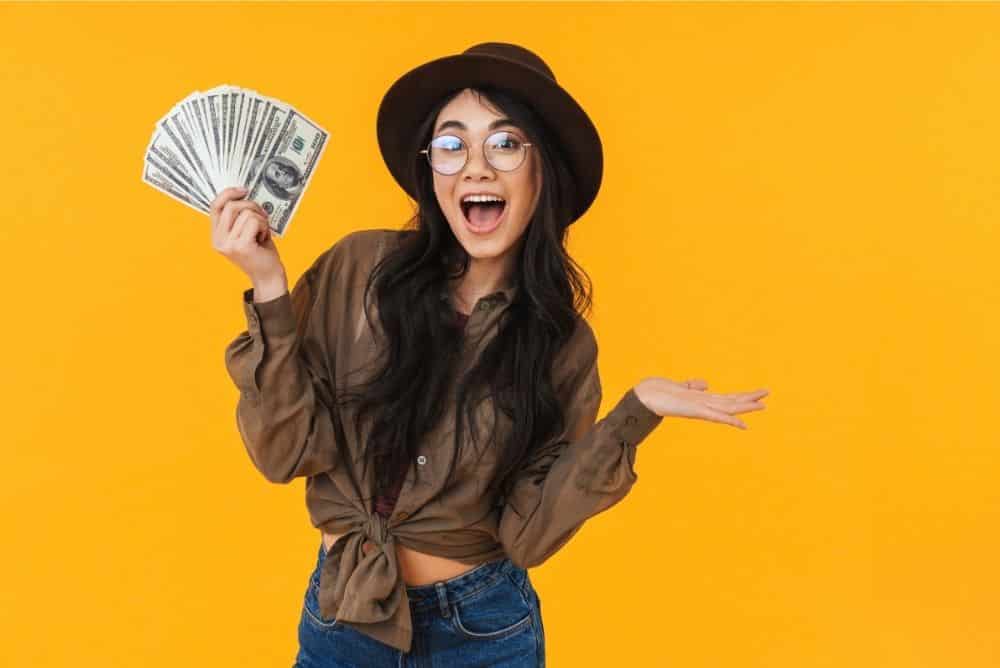 We will receive a commission if you make a purchase through our affiliate link at no extra cost to you. Please read our disclosure policy for more information.
You have bills to pay and mouths to feed. But your 9-5 just isn't cutting it. You're not alone. Millions of Americans are in the same boat, searching for ways to earn extra money.
Between work, family, and social obligations, there's not always a lot of time left over for making extra money. Thanks to inflation, making $100 a day at your job is not what it used to be. You need to find jobs that pay $200 a day, or more.
The good news is, that there are plenty of creative ways to make money and help you reach your goals. You can easily earn an extra $200 a day with a little creativity and effort. And with some work and dedication, you can make $300 a day!
PIN (OR BOOKMARK) THIS PAGE: I'll be updating this post so make sure to pin this image and save it to your Pinterest board. That way you'll be able to come back to this page for my best tips on how you can make $200 a day!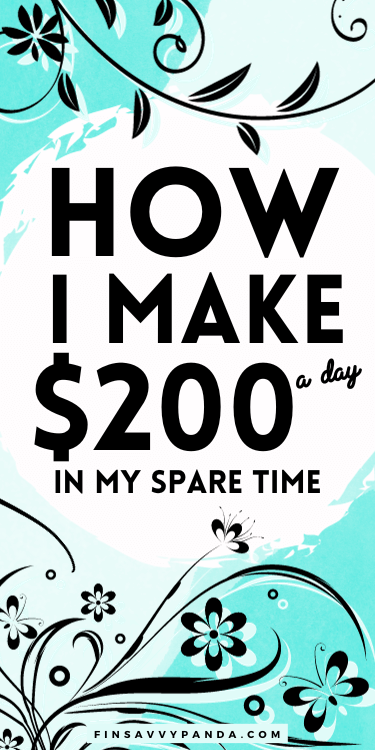 Some of these ideas will require you to put in some effort, while others are simple and easy ways to make extra cash. No matter your skill set or experience level, there's something on this list for everyone.
You may also want to go through my other articles for different ways to make money:
1. Make Money on Social Media
If you can't escape social media, you might as well get paid for it! (That's what I did :))
Take a look at someone's phone, you'll probably find at least a social media app on the phone. Whether it's Facebook, Instagram, Pinterest, or TikTok, people are spending a lot of time on social media.
As a result, there's a growing demand for social media managers – people who can help businesses grow their brand on social media. Without an online presence, businesses will struggle to reach new customers and grow their revenue.
You're already spending a lot time on social media as a user, so wouldn't it make sense to make money off of it? This could be the side hustle you've been looking for!
To become a social media manager, you need to be good at social media yourself.
Learn how to get traffic on Pinterest and understand how algorithms work on the platform. You need to understand how each platform works, what content performs well, and how to grow an audience. Use this knowledge to help businesses grow their online presence and you can make money on Pinterest or any other social media platform.
If you're good at social media and have a large following, you can also make money by becoming an influencer. Brands will pay you to promote their products or services on your social media channels. And if you have a large enough following, you can make a full-time income just by promoting other people's products!
Trust me, many businesses are willing to spend a huge sum of money on social media management services because they know they'll get a big return on their investment. If you can help them grow their brand, they'll be more than happy to pay you what you're worth.
How I Make Money on Pinterest
Don't worry if you don't have any experience because I had NO EXPERIENCE too when I started using Pinterest – I didn't even have the app installed on my phone at that time!
I only downloaded the app because I started a blog as a hobby and I knew I needed to be on Pinterest to drive traffic to my blog. Once I started using the app, I realized how much fun it was and I got hooked!
Slowly but surely, I started growing my following and I became good at using Pinterest to promote my content on the platform. And eventually, I was able to quit my 9-5 job and become a full-time blogger.
Now, it's not all rainbows and unicorns – there is A LOT of work that goes into it and requires perseverance. But if you enjoy it and get good at it, it can be a very lucrative career.
You can read my raw and honest blog income reports to see how much I struggled in the beginning and how much I'm earning now. It documents my online journey from $0 to over $25,000 per month.
It all began because I hated my job and I wanted to find a way to replace my income so I could quit.
And that's exactly what I did – I started a small blog on a whim to make money online and I was able to quit my. Eventually, I was able to turn my side hustle into a full-time business.
2. Start a Profitable Blog
Like you, I also wanted to make extra money outside of my 9-5 job. But after years of working in the corporate world, I was burnt out and needed a creative outlet. This is why I started this blog.
Not only is blogging a cheap hobby to make money, but it's also a fun and rewarding hobby. I love the idea of writing about things I'm passionate about and helping my readers with their finances.
You can start a blog on just about any topic you like, such as fashion tips, beauty hacks, travel plans, cooking, or even parenting tips. There are many readers who are looking for content on these topics. By starting a blog, you can help them while also earning an income.
As a total beginner, I struggled to build my blog because I had no idea how to make money blogging. It was amazing that people were visiting my blog and reading my content, but I wasn't generating any income.
How to make $200 with a blog
Eventually, after making and learning from my countless mistakes, I managed to monetize my blog after 18 months! I learned how to get paid to post ads on my blog, promote affiliate products that I use, and sell my own digital products.
And now, my blog generates over $150,000 a year, making more than $300 per day! Below is a screenshot of the ad earnings from one of my anonymous blogs.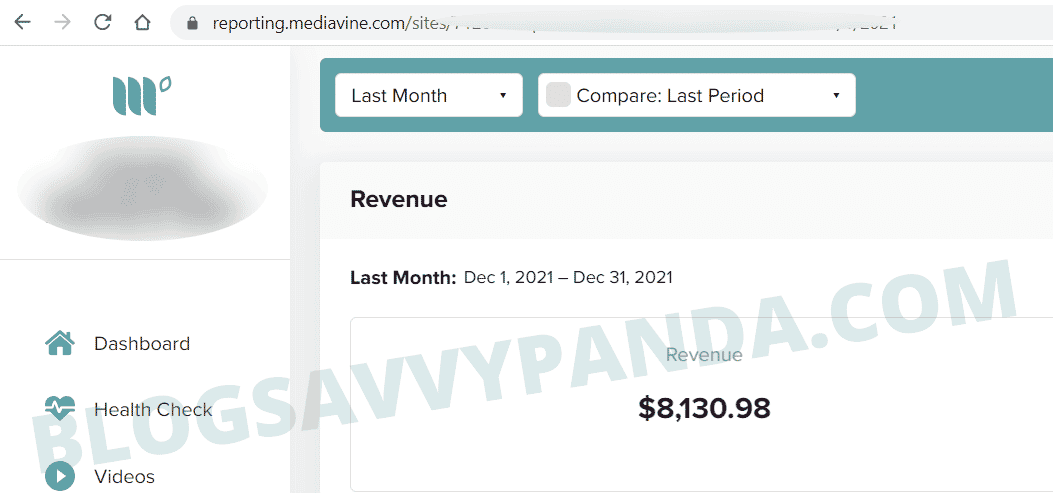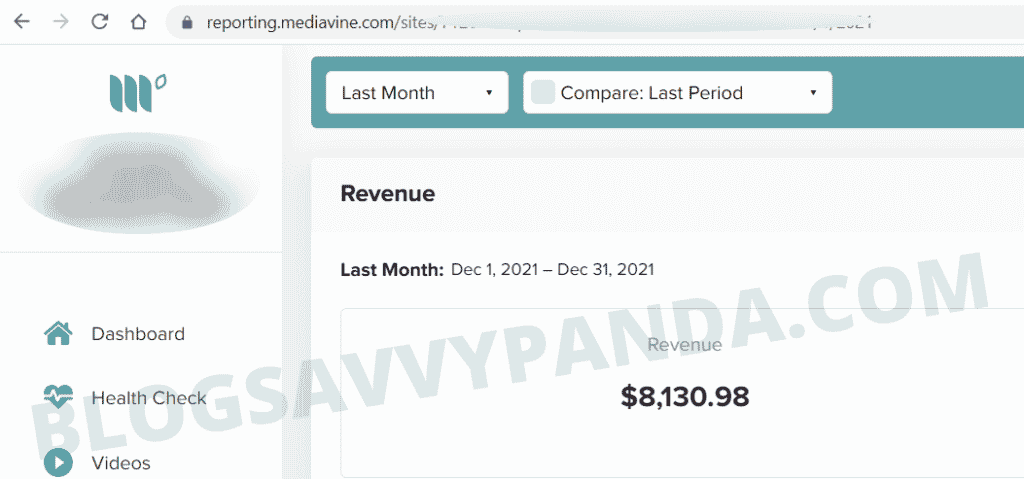 This income didn't happen overnight, it takes time and effort. But it's definitely possible to make money blogging when you stick to it. If I can do it, you can too!
Blogging allowed me to quit my corporate job and become a full-time blogger working from home whenever I want. It also gave me the opportunity to travel and spend more quality time with my family and friends. If you're looking for a creative and fun way to make extra money, I highly recommend starting your own blog.
If you're not sure where to start, check out my FREE 7-Day e-mail course to learn how to start a profitable blog. It walks you through the entire process, step-by-step. And it's completely free!
3. Earn Money with Affiliate Marketing
Making money with affiliate marketing is one of my favorite passive income strategies. It's a great way to make money online, and it doesn't require you to create your own products or services.
How affiliate marketing works is you promote other people's products on your blog or website, and when someone clicks on your affiliate link and makes a purchase, you earn a commission. Just imagine you recommending products that you can't live without to your readers, and getting paid every time someone buys something!
For example, let's say you're a fashion blogger and you want to promote the latest fashion trends on your blog. You can sign up for affiliate programs with retailers like Nordstrom, rewardStyle, or ShopStyle Collective. And whenever you write a blog post featuring the latest jeans, you can include your affiliate links. Then, if one of your readers clicks on your affiliate link and makes a purchase, you'll earn a commission!
To earn $200 a day online with affiliate marketing, you need to build trust with your audience and only promote affiliate products that are relevant to your niche and will appeal to your target audience. You can do this by providing honest and helpful reviews of the products that you're recommending.
When it comes to placing affiliate links, you can't slap links everywhere and expect money to start rolling in. It doesn't work that way. You need to be strategic with your affiliate link placement. Don't bombard your readers with links if you want to make serious money.
Affiliate marketing is a very powerful approach to earning money and you can't afford to miss out on this.
4. Sign Up for Bonus Offers
If you want to make $200 in one day fast, one of the easiest ways to do it is by signing up for bonus giveaways.
Bonus offers are basically free money offers that companies give you for trying out their products or services. And many of these companies are willing to pay you $200 or more just for signing up!
Swagbucks is a great example of the best survey sites where you can sign up for bonus offers. They offer cash back on online purchases, and they also have a sign-up bonus where you can earn $5 for signing up.
You can grab your FREE $5 bonus here from Swagbucks before the promotion is over!

Important: To claim your FREE $5 bonus, don't forget to verify the email from Swagbucks in your inbox!
Another popular site is InboxDollars, which will give you a $5 sign-up bonus just for creating an account. They also have a variety of other ways that you can earn money, like taking surveys, playing games, and watching videos.
These are quick and effortless ways to get your hands on some extra cash when you need money now.
For bigger payouts, you can sign up for a credit card and earn a $200 bonus after spending $500 in the first 3 months. And if you're planning to travel, you can sign up for a travel rewards credit card and earn a free flight or hotel stay after meeting the minimum spend requirements. That's what travel hackers do to earn free hotel stays and airfare!
All you have to do is meet the minimum requirements, and the $200 bonus will be yours! Just make sure you read the terms and conditions before signing up for any bonus offers, so you know exactly what you need to do to earn the bonus.
There are also bonus offers for things like opening a new bank account, starting a new subscription, or signing up for a new account for trading cryptocurrency. Companies are always looking for new customers, so they're willing to give away free money to get you to try their products or services.
5. Make Money By Taking Surveys
Earn extra cash by taking surveys with these websites here! With these places, you can sign up for reputable survey websites and share your opinions on various topics. Each survey completed may not earn you $200 immediately, but it will bring you one step closer to making $200.
It's a low-risk and simple way to monetize your spare time and voice your thoughts while getting rewarded for it.
I've personally earned hundreds to thousands of dollars with these survey sites and sign-up bonuses during my student days, and I can say that the only challenge with them is may take much longer compared to other ideas like starting a profitable blog, freelance writing, and other methods listed here. Still, worth the try for a little bit of extra cash for spending!
6. Work As a Freelancer
When you have a skill or talent that you can offer others, you can easily make extra money by working as a freelancer. There are many businesses and entrepreneurs who need help with everything from social media marketing to web design to content creation.
And since there's no overhead cost for businesses to hire freelancers, it's often more budget-friendly for them to outsource work to freelancers instead of hiring full-time employees. This means that there are a lot of opportunities for you to get paid for the skills and talents that you have!
I know many people in the online space who make a full-time living from freelancing, and many of the successful freelancers easily make over $200 a day!
If you're not sure what kind of work you could do as a freelancer, think about the skills and talents that you have.
Are you a natural writer because you can get paid to write. Are you good at designing things? How about web development? Maybe you're great at social media marketing!
There are endless possibilities when it comes to freelancing, so don't be afraid to get creative and think outside the box.
The most popular freelancing platform is Upwork, but you can also find work on Fiverr and LinkedIn. Once you create a profile and submit a few proposals, you'll be on your way to making extra money as a freelancer!
7. Make Money By Becoming a Freelance Writer
As mentioned earlier, freelance opportunities provide a fantastic avenue to explore. Among the top choices in the freelance realm, writing stands out.
Wondering why? Well, it's simple!
Companies and blog owners are in constant need of skilled individuals who can craft valuable content tailored to their customers' insatiable thirst for information.
So, if you love writing and want to make $200, becoming a freelance writer could be your ticket to success! It's a fantastic way to express your creativity while earning some extra cash.
All you need is a computer and an internet connection to get started.
First things first, gather your best writing samples and create an online portfolio that shows off your skills. Then, dive into the world of freelance platforms like Upwork, Freelancer, or Fiverr. These platforms are like treasure troves filled with writing gigs waiting for talented wordsmiths like yourself.
But don't stop there! Reach out to websites, blogs, and digital publications in your niche. Pitch your brilliant article ideas and show them why they need your unique voice. Building relationships with clients is key.
When you deliver top-notch work on time, they'll keep coming back for more, and might even refer you to others. As you gain experience and a solid reputation, you can start charging higher rates and landing more lucrative projects.
So, grab your keyboard, unleash your creativity, and let the words flow while you earn that $200 and beyond!
8. Get Paid $200 a Day To Watch Netflix
So, you want to turn your Netflix addiction into a moneymaking extravaganza where you rake in $200 a day?
Yes, you can get paid here by watching Netflix!
Buckle up, my friend, because we're about to dive into the world of blogging or vlogging like never before.
Start by creating a blog (one of my top recommendations) or if you aren't camera shy, a YouTube channel where you spill the tea on your favorite movies and shows.
But here's the twist: sprinkle it with your unique sense of humor and unexpected jokes that will leave your audience in stitches.
As your fan base grows, brace yourself for partnerships with snack companies desperate to fuel your late-night binge sessions.
Who knows, you might even become the face of cozy blankets or develop a cult following of amateur popcorn enthusiasts.
With a dash of humor and a pinch of unpredictability, you'll soon be laughing all the way to the bank, earning $200 a day just by indulging in Netflix.
9. Make $200 a day posting ads
Making $200 a day by putting up ads online is becoming more doable for those who know their way around the internet.
Starting a blog remains a compelling approach. Once a blog garners a steady flow of traffic, it becomes a ripe platform for display ads. Services like Google AdSense, Mediavine, or Raptive provide bloggers with the opportunity to feature tailored ads, compensating them per click or per thousand impressions.
Beyond traditional display ads, bloggers can also consider sponsored content, where they're compensated for dedicated promotional posts. Additionally, integrating affiliate marketing by showcasing ads for products and subsequently earning a commission for each sale further amplifies potential daily revenue.
10. Make Money By Using ChatGPT
I love and use ChatGPT every single day to help me run my hobby blog, which earns me a six-figure annual income.
Seriously, I can't live without this tool because it has helped me in the process of creating better content for my readers.
And this is something I really want to share with you, so, let's talk about making money using ChatGPT in a super cool way!
Yes, you can use your ChatGPT skills to earn some serious cash. Whether it's helping with writing, editing, or brainstorming, there are people out there who are dying to have your virtual expertise.
Spread the word about your ChatGPT services on freelancing websites or even create your own little corner on the internet. I personally use it to help me come up with blog post ideas as well as the descriptions that I need to input into my Pinterest social media account, which is one of the drivers to my revenue streams online.
Once clients see how awesome you are at chatting and coming up with great ideas, they'll be throwing money at you like it's nobody's business. So, get ready to turn those friendly chats into some serious moolah with ChatGPT as your trusty sidekick.
If you want more information on this topic, you can learn how you can make money with ChatGPT here.
11. Get Paid To Read Books
Aside from getting paid to watch Netflix, you could also get paid to read books.
If you love books, then consider yourself lucky.
Yes, you better believe that you can earn some moolah while diving into captivating stories. It's like hitting the jackpot of dream jobs.
Picture this: you cozy up with a thrilling novel, get lost in its pages, and then share your witty reviews through a blog. Boom! You can become a book reviewer and score free books plus some sweet cash.
And hey, if reading aloud is your jam, consider becoming an audiobook narrator. Get paid to bring stories to life using your awesome voice!
So, grab that book, unleash your inner wordsmith, and start earning while enjoying your bookworm bliss. It's time to turn your book obsession into a money-making extravaganza!
12. Get Paid to Eat
Are you hungry for some cash? Well, guess what? You can actually get paid to eat!
It's the ultimate dream gig for food lovers like us. Imagine chowing down on mouthwatering dishes and getting rewarded $200 a day for it.
How amazing is that?
Become a food critic or reviewer by starting a food blog or YouTube channel and have your taste buds lead the way to paychecks.
Explore your city or travel around the globe, where you share your epicurean adventures with the world.
Restaurants and food brands might even sponsor you to indulge in their delicious offerings. So, prepare your appetite, grab your fork, and let the feast begin. It's time to turn your love for food into a tasty paycheck!
13. Make Money Flipping Things
HGTV shows like Flip or Flop have made flipping houses a popular way to make money. Storage Wars has made flipping storage units a thing. And even Flea Market Flipping has become a popular TV show!
You don't need to buy houses or go into bidding wars to earn money flipping.
The premise is simple: find something that's undervalued, buy it, and then sell it for a profit. You can flip just about anything, but some of the most popular things to flip are furniture, electronics, vintage items, appliances, and vehicles.
For example, you can buy items from garage sales, thrift stores, or online marketplaces like eBay, Facebook Marketplace, and Craigslist for a low price and then sell them for a higher price.
You can also find amazing products that are being discontinued or that have minor damage and resell them for a discounted price. Just be sure to disclose any damage before you sell the item!
The key to making money flipping things as a side hustle is to know what people are willing to pay for. You can do this by doing some research online or by talking to people in your local community. Once you have a good understanding of what people are looking for, you'll be able to find things to flip that will sell quickly and for a good profit.
Good deals don't last long, so you'll need to act fast if you see something that you think you can flip. But if you're quick on your feet and have a good eye for a bargain, you can turn this side hustle into a full-time business!
14. Become a Virtual Assistant
Work from home jobs isn't a trend anymore, it's here to stay for good. And that means there are more opportunities than ever to make money online as a virtual assistant.
A virtual assistant is someone who provides administrative, creative, or technical support to clients from a remote location. This can include anything from managing emails and social media accounts to providing customer service or administrative support.
There are a ton of businesses and entrepreneurs who need help with the day-to-day tasks that they don't have time for, and that's where you come in! If you're organized, detail-oriented, and have the mindset of taking care of business, becoming a virtual assistant is an amazing way to get earn money from home.
Finding work as a virtual assistant can be as simple as searching for remote jobs on job boards like Upwork, Indeed, and even Facebook groups. You can also contact businesses directly and inquire about any virtual assistant positions that they may have available.
Another great way to find work as a virtual assistant is to offer your services on Fiverr. This is a great platform for anyone who wants to start their own VA business and build a client base quickly.
No matter how you find work as a virtual assistant, you can be sure that there's a business out there that needs your help! Just remember that business owners are always looking for talented and reliable virtual assistants, so be sure to market yourself well and deliver quality work.
15. Rent Out Your Extra Space
Renters are struggling more than ever to find affordable housing, and that means there's a big market for anyone who has extra space to rent out.
If you have an extra room, basement, or even just some unused space in your home, you can list your rental on platforms like Airbnb, VRBO, and Facebook Marketplace. And if you live in a city with a high demand for short-term rentals, you can actually make a pretty penny!
During peak travel season, you can easily charge $100 or more per night for your spare room. And if you have a whole house to rent out, you can make more than $200 a day!
Of course, there are some things to consider before you start renting out your space. You'll need to make sure that your rental is up to code and meets all of the safety requirements. You'll also need to get insurance to protect yourself in case of any damages.
Don't forget to set some ground rules before you list your rental, such as what time guests can check in/check out, whether or not pets are allowed, and what amenities are included in the rental price.
By being clear about your expectations from the start, you can avoid any problems or misunderstandings down the road.
16. Get Paid for Odd Jobs
For those of you that have some extra time on your hands and are looking for ways to make a quick buck, consider taking on one-day-a-week jobs!
Odd jobs are usually one-time projects that need to be completed quickly, and they can range from anything like assembling furniture to landscaping or even moving heavy objects.
There are all sorts of daily jobs that people are willing to pay good money for, such as yard work, painting, babysitting, and more. And since these jobs don't require any special skills or training, they're perfect for anyone who's looking to make some extra money.
One of the best ways to find odd jobs is to ask people you know if they have any that need to be done. Friends, family, and neighbors are often in need of help with odd jobs but don't want to pay for professional services.
Another great way to find work is to search for them on TaskRabbit. This platform allows you to search for gigs in your area and apply for the ones that you're interested in. If you complete a job successfully, you'll get paid through the TaskRabbit platform.
Keep in mind that these types of jobs will only pay around $35-$50, so you'll need to complete a few jobs to make your daily goal of $200. But if you're up for the challenge, this shouldn't be a problem!
17. Sell Your Used Things for Money
When emergencies pop up and you need money desperately, it's easy to turn to payday loans or other high-interest options for cash. However, this isn't the best idea if you're trying to get out of debt or improve your financial situation.
Instead of going into more debt, why not try selling some of your used things that are collecting dust for extra cash? From clothes and shoes to electronics and furniture, there are all sorts of things in your house that are worth much more than $200!
And the best part is that you can sell your things online without even leaving your house! Platforms like eBay and Mercari make the process of listing and selling your items simple, and you can even ship them directly to the buyer to save yourself some time.
For in-person sales, you can hold a garage sale or sell your things at a consignment shop. Many people list their items on Facebook Marketplace and Craigslist. Be sure to do your research beforehand so you know how much your items are worth and what the best selling platform is for them.
If you really need to access some quick cash, selling your used goods is definitely better than relying on payday loans. Not only will you get rid of some clutter, but you can also make a decent amount of money in the process!
FAQs on how to earn $200 per day
1. What can I do to make $200 a day?
There are numerous simple actions you can take to earn $200 a day, even without any special skills or experience.
For example, consider selling items you no longer need. I bet you have many things lying around your home that are no longer of use to you. I've done this before, from selling old clothes and shoes to artwork, and it quickly earned me thousands of dollars when I was in a pinch for cash.
Combine this method with other strategies such as taking paid surveys, flipping furniture, or online freelance writing, and you could potentially earn even more than $200 a day!
2. How to make $200 a day passive income
One of my favorite methods to earn $200 a day in passive income is through blogging. Before I began blogging, I used to take online surveys, sell my old items, flip furniture, craft, and even flip random items to make extra money. And I did all this while holding down a regular day job.
However, once I grasped the potential of blogging, I chose to start a blog and monetize it. Alongside blogging, I discovered the power of Pinterest as a tool to further monetize my content. This decision has been transformative for me, affording me the flexibility to work at my own pace without a supervisor constantly overseeing me.
I've guided thousands of my readers on how to start their own blogs. If you're curious, I urge you to explore this page.
Apart from blogging, there are other means to earn passive income such as investing in stocks and funds, renting out properties, designing digital products, and engaging in affiliate marketing. I've ventured into all these areas, and from my experience, blogging, digital product creation, and affiliate marketing require the least initial capital. They're substantially more affordable to kick off than, say, real estate.
But I have to be honest and say investing in funds feels the most passive out of all these ideas because you can just set it and forget it.
3. What are jobs that pay $200 a day?
Numerous jobs can potentially earn you $200 a day, depending on the region and level of expertise required.
Freelance professions like graphic design, content writing, and photography often have the flexibility to set rates that can lead to such daily earnings.
Skilled tradespeople, such as electricians, plumbers, and carpenters, in high-demand areas might also earn this amount.
Jobs in the healthcare sector, like certain nursing positions or medical technicians, can provide comparable daily wages.
Similarly, some sales roles, especially those with commission structures, allow go-getters to achieve or even surpass this figure of 200 dollars a day.
At the end of the day, it's important to understand that factors like education, location, experience, and negotiation skills can all impact your ability to earn a daily wage of $200.
4. If I make $200 a day how much is that a year?
If you're considering the standard workweek of 5 days, then there are typically about 260 working days in a year (assuming no holidays).
Here's the basic math: $200 (daily earnings) × 260 (working days) = $52,000.
So, if you earn $200 on each of those working days, your annual earnings would be $52,000. However, if you choose to work every day of the year, you could potentially earn up to $73,000 annually.
Final Words on How to Make $200 a Day
The fastest way to make an extra $200 a day is by cleaning out your closets and selling unused items. After that, getting free money from sign-up bonuses, credit card rewards, and survey sites are all great ways to bring in extra cash.
Once you've got some quick cash, turn your current skills and talents into a profitable side hustle.
Starting a blog as a side hustle or taking on odd jobs may require some extra effort, but they're definitely worth it if you want to make extra money on a consistent basis.
With a little bit of effort and some creative thinking, you can easily make an extra $200 a day!
So what are you waiting for? Get started today and see how much money you can make!