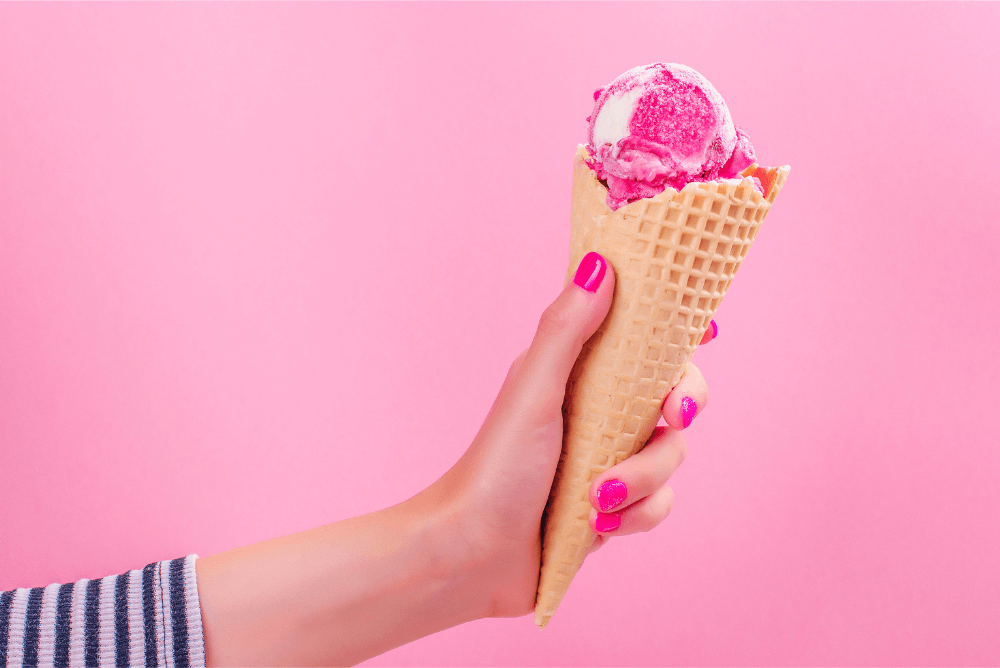 We will receive a commission if you make a purchase through our affiliate link at no extra cost to you. Please read our disclosure policy for more information.
There are a lot of creative ways to earn money right now.
You could get paid to sleep, go shopping, review music, and even just by walking.
Heck, you could even get paid just by blogging!
But the most fun way would be getting paid to eat!
I know I'm a personal finance blogger and not a food blogger (though I do run a food blog too).
But as I'm writing this, I'm already drooling over the thought of getting paid to savor delicious food. It's no different from how I get paid to gulp down those delicious Starbucks fraps – and you can find out how I get free drinks and food with these free Starbucks hacks.
The great thing is that there are a lot of ways to get paid to eat. You can become an influencer, participate in taste tests and surveys, work as a restaurant mystery shopper, and much more!
PIN THIS: I'll be updating this post so make sure to pin this image here and save it to your Pinterest board. That way you'll be able to come back to this page and learn how to make money and get paid to eat.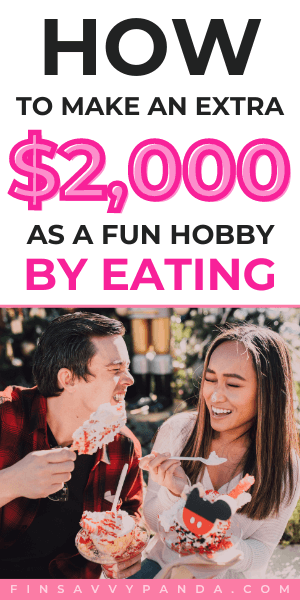 How To Get Paid To Eat
Just imagine – eating your heart out and getting full. On top of that, you're paid while doing it. What a life, huh?
Well, I'm telling you that there are a ton of options for you to get paid to eat!
Some companies will pay you to dine in their restaurants.
There are also applications that make you eat at certain places and pay you to critique the whole experience.
It's a fun world out there. And it's a great time for food lovers – they're able to make money from their passion of eating!
If you're not quite familiar with this activity, I got you covered. Taking notes as you read below might just help you know how to never get hungry again!
Do people get paid to eat?
Although it might sound too good to be true, there are a lot of legitimate companies, applications, and websites that will pay you to eat.
With today's technology and the need for excellent customer service, these businesses would go to the lengths of paying someone to try out their service and product.
Some businesses are also strategic as well – they would send their product to certain people in exchange for some exposure or a shoutout.
Getting paid to eat isn't all sunshine and rainbows. There are also sacrifices and efforts needed in this field which you will know more about below.
1. Start a Local Food Blog
Never underestimate the power of having a blog. It's what allowed me to quit my job and earn over 6 figures per year! So, this can be an avenue for you to dine for free!
Local food blogs, especially when it's the go-to website for food lovers, will receive a ton of invitations from your local restaurants. And these invitations usually entail that you eat at their place for free.
Of course, eating for free doesn't come without favors. These restaurants will ask you to review your experience and their food. By doing so, they get exposure from your readers with the hopes of putting them in a good light.
Now, as a local food blogger, these restaurants will be at your mercy. Will you give in to every offer? Or will you be selective on which restaurant you will dine in?
And if your blog is popular enough, it's almost certain that you would get extra treatment in restaurants. For the simple reason of trying to impress you!
How I make money (and get paid to eat) with my brand new food blog
Since I've successfully built two blogs (this one you're reading here right now along with my anonymous lifestyle blog on Pinterest), I decided to start a new one in a different niche for fun. This time, I started a food blog where I write reviews of places I normally like to eat.
You actually don't have to be a hardcore foodie and eat out every single day – this is a myth. You can just document your weekly takeouts or whenever you feel like eating out at a restaurant. I would casually write about my honest opinions and what I think about the food. Those posts are timeless and evergreen so long as that restaurant you wrote a review about doesn't close down.
I take pictures of the food I eat with my iPhone like the one below and just upload them onto my blog where I write about my experience and thoughts about the food.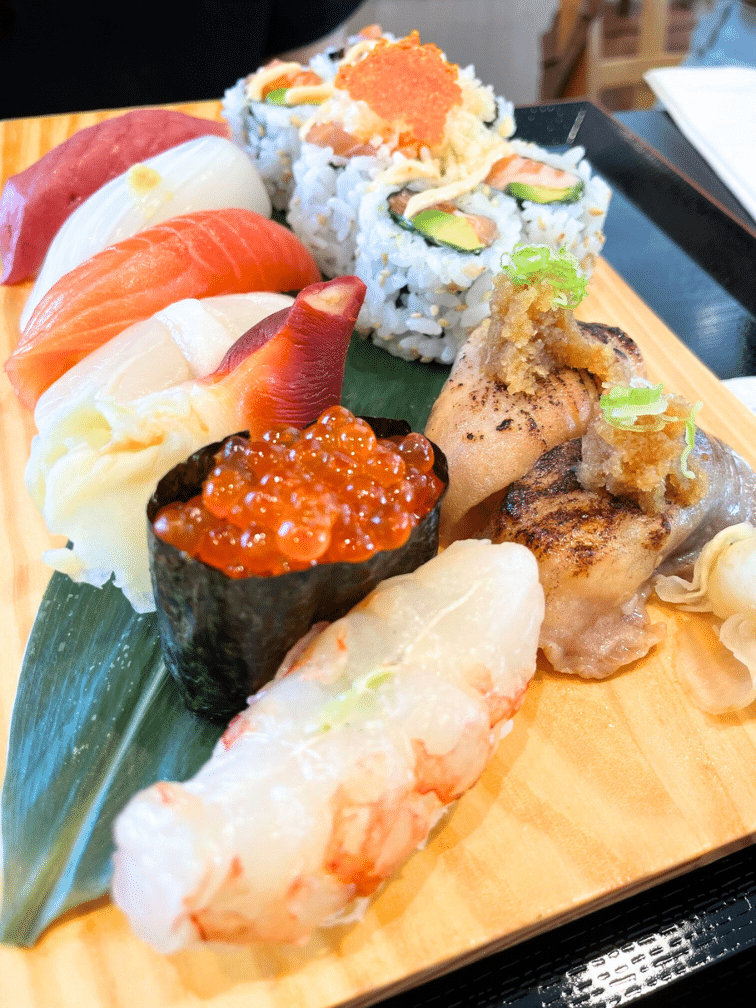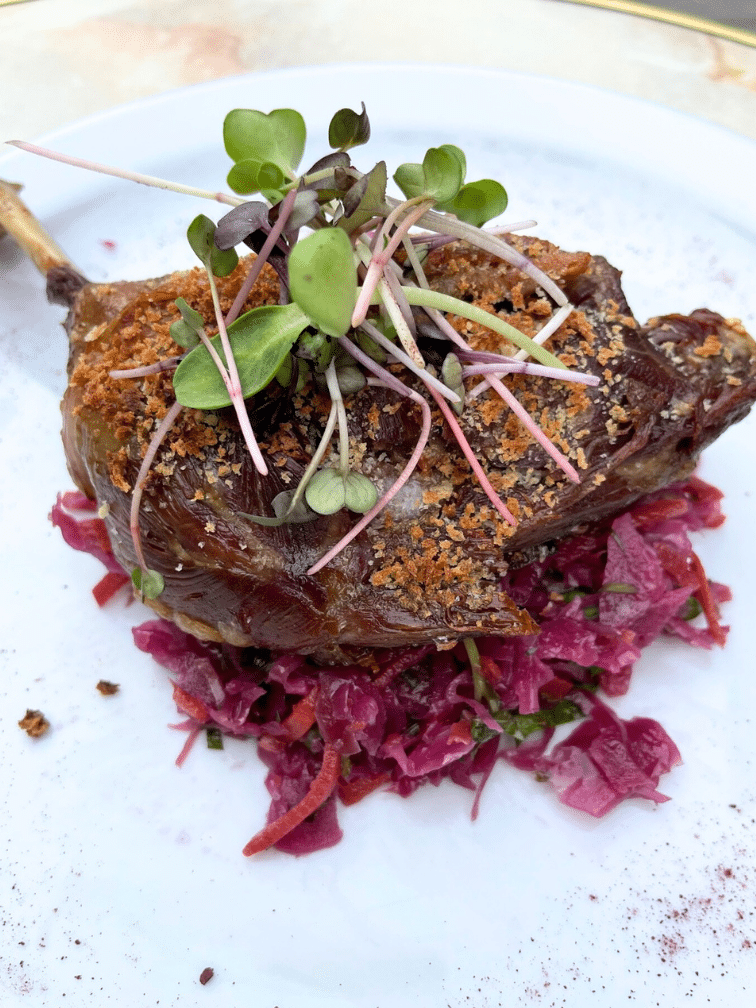 So, how does it make money?
As I grow my readership for this blog over time, I can monetize it with display ads. I haven't tapped into sponsors or affiliate marketing for this particular blog yet.
For example, you can see that this new blog received about 12,000 pageviews in a month, which isn't high compared to this blog and my other lifestyle one, which gets over 100,000 monthly pageviews from Pinterest.

But given that this blog is still in its beginning stages, and the fact that I do this as a hobby whenever I have time, I am still able to earn money from it through display ads via Monumetric. This extra money honestly feels like I'm just getting paid to eat at restaurants I enjoy!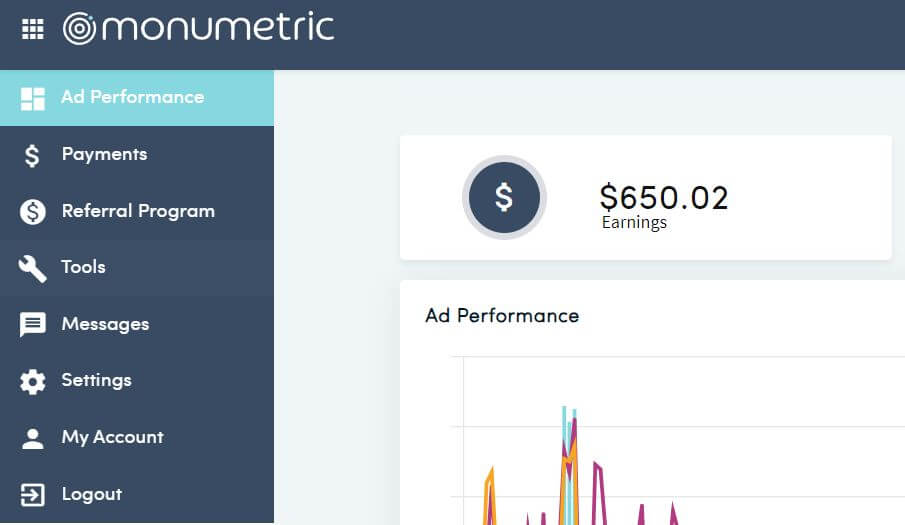 So if you want to go this route, build a food blog where you give your honest and non-biased opinion, and work diligently at it.
Building authority in your niche will take time (just like any blog you start) but it's all worth it when you get a bunch of traffic and loyal readers!
Plus, imagine yourself getting paid to eat for a living!
You could earn anywhere from a hobby income to a full-time income, possibly as high as six figures a year. This dream can become a reality as your food review blog gains readership over months and years of consistent effort and quality content.
Start your food review blog today! If this idea sparks your interest, you can check out how to start a blog for beginners and make money with my step-by-step tutorial. I've helped thousands of readers start their blogs and they are now monetizing their passions! Many of them have also started a restaurant review blog including food recipe blogs!
2. Start A YouTube Channel
The internet has given a platform for anyone confident enough to be in front of a camera.
As a Youtuber, there are different ways for you to get paid while eating.
Food in general branches out to hundreds of sub-niches which is perfect for you if you want to start a channel.
So how do YouTubers get paid to eat?
It could depend on the niche of their Youtube channel. Let's say you're a fitness YouTuber. You create workout videos and also share your diet with your viewers.
If you've built enough subscribers, food companies that are in the same niche as you (health and fitness) could approach you with a deal.
You could get paid for promoting their products through an ad placement or something called affiliate marketing.
The main point of their approach is they want their products in your videos so they can get exposure to their target audience (your viewers).
The offer could state that you should promote their product by eating it or talking about it. In return, they would pay you for the endorsement.
However, you must make sure that the product you're endorsing is safe and legitimate. If people buy it and it's far from what you said, you could easily lose credibility in your niche.
3. Become A Restaurant Mystery Shopper
Mystery shoppers are people that act as customers but are actually paid by the company to ask questions and look for products. This is done to assess the company's customer service.
Now take that concept and put it in the context of restaurants – that's exactly what mystery diners are. People here get paid to eat at restaurants while being observant of the service and the food!
There are a ton of websites that pay you to eat out and be analytical about the dining process, the food, and the overall experience.
As a mystery diner, you are tasked to complete certain objectives and take note of specific details about the place.
All of this should be done in return for reimbursement.
What's great about this side gig is it doesn't require any upfront capital. You can get started with zero investments!
To qualify, you must have excellent communication skills. People that can clearly express their thoughts and feelings in a structured and concise manner are perfect for this field.
Communication skill is important because companies that hire you to dine want to understand your dining experience – and they want to know every single detail of it.
If you're able to convey that information clearly, the chances of you eating food for free significantly increase.
4. Getting Paid To Eat On Camera (like Mukbang)
Eating on camera has a special place on the internet – it's called Mukbang videos.
Mukbang is a video of someone eating a large quantity of food while still talking to their viewers.
It's a term originating from South Korea and has taken the internet by storm. People love to see others eat on Youtube!
This trend has gotten so popular that it branched out to various content creators from different countries.
But what makes it so popular?
It's normal to see another person eat – we experience this every day.
But to some, there's both curiosity and fascination to see another person devour a huge amount of food while holding a conversation.
It's typical to see another person eat but to finish a 20,000-calorie meal in one sitting? Now that's a sight to see.
There's also a level of satisfaction to it. The introduction of ASMR to these Mukbang videos has made viewers feel like they're there with the content creator.
ASMR stands for an autonomous sensory meridian response. It's a tingling or goosebumps sensation that's triggered by high-quality audio or video.
In Mukbang, it's triggered by auditory experience. The cracking of shells, the munching of foods, and the gulping of liquid, all of this contribute to making the whole Mukbang experience great to watch.
5. Be A Competitive Eater
Yes, there's such a thing as a competitive eater.
However, this is not for everyone.
If you don't have the stomach for eating at a fast-pace then you can ignore this part.
This is for people who love beating restaurants at their food challenges and competing in tournaments!
Participants here treat this line of work seriously. They learn techniques and ways how they can easily digest food and consume it in the shortest time possible.
They constantly push themselves to the limit to increase their threshold on how much food they can eat in one standing.
The events in this space usually have competitions for eating the most hotdogs, bacon, oysters, ribs, and many more. The prizes for these tournaments can reach $10,000 or even higher.
This is why some treat this as a sport – they train to beat others and be the best in this field.
You also get sponsors and endorsement deals when you're constantly crushing the competition. Brands could supply you with their food and shoulder some of your expenses.
6. Have An Instagram Food Page
An underrated route to eating for free is having an Instagram page dedicated to high-quality food and restaurant photos.
Just like a food blog, having this kind of page has the potential to be a go-to profile for people looking for "instagrammable" places to eat!
When you build authority and amass thousands of followers, restaurants will come flocking to your DMs.
Why?
Because they want to be featured on your page. If they're featured, more people would know about their place – increasing the chances of people dining there.
Asking to be featured in your profile is how you can earn extra money.
So how do you start one?
Just look at successful accounts in this niche. Study how they take pictures and what angles they use to make the photos stand out. Read their captions and analyze how they make them engaging as well.
If others have done it, you could too.
They were also once in your shoes trying to build an account and get more followers. The only difference between those successful accounts from the failed ones would be their dedication and consistency.
It's going to be a grind to take your account to where you want it to be but when requests and sponsors come in, you'll realize that all your time and effort were worth it.
7. Become A Food Tester
Being a food taster is different from being a mystery diner.
As a food taster, you need to have a much-developed palette and be more analytical with the food you eat.
A professional is different from an occasional diner because they have a better assessment of food texture, aroma, color, and flavor.
Professionals "grade" each food in these areas. They also give out explanations to restaurants and companies on how they came up with their grade – so good communication skills are also needed.
Unlike most jobs in this list, you need a bachelor's degree to be a professional food taster. According to ZipRecruiter, professionals in this field earn an average of $30,000 per year.
Most of these job positions are under a food manufacturer, you help them improve existing food products and develop new tasty ones.
It's a fun way to get paid while you eat. Although it's in a more professional setting, like in a lab, you're still getting paid to taste food and even make a new meal to be tasted by the public.
8. Be A Health And Wellness Influencer
The health and wellness industry is on track to being a 7-billion-dollar industry by 2030.
It's a massive space where consumers buy products and services to better themselves both physically and mentally.
Being an influencer in this niche can be a great way to eat food for free.
Brands are active in giving out their product to influencers that have thousands of viewers watching their content.
Some companies would even sponsor up-and-coming creators that are not yet well-known in the space. They're willing to establish a relationship with them even when they're still coming up in the scene.
It is through these sponsorships that will allow you to get paid to eat. They will give you free food in return for a short shout-out in your videos. In some cases, influencers don't just get food, they also receive supplements and merch gear from these companies.
So if you're big on health and wellness, it may be high time that you monetize that passion of yours. Start building your brand and you might just land endorsement deals and sponsorships along the way!
9. Become A Food Critic
Becoming a food critic is much more professional than being a casual food blogger.
Usually, food bloggers are humorous and informal with their content. While food critics are more formal and strict when reviewing restaurants and the food they eat.
Most food critics are part of a culinary publication and have their own columns. This is quite different from a food blogger since they have their own websites and are not employed by a company.
Regardless of their difference, both are paid to eat!
Since a food critic's job is to dine in restaurants, their work hours are not the same as your typical 9-5.
They are in control of their own time on when they would dine in certain establishments. They just have to be mindful of their deadlines. Plus, being a food critic isn't just all about eating food.
You need to be able to transfer your thoughts to a screen in an organized manner.
You also need to keep it engaging to get more views and readers for your column. If you fail to attract eyes to your content, the publication might see your work as irrelevant or ineffective.
10. Get Cashbacks When Eating
Want to get paid when going on dates?
Go to a restaurant that partners with a company that gives cashback to its users. It's the perfect way to earn money while eating and you get to impress your date by paying the bill!
Jokes aside, the overall process of getting cashback isn't complicated either. Just choose your application, sign up, connect a debit or credit card, pay with that card when you dine, and you can start receiving cashback from the company.
To help you get started, here are some applications that give cashback:
Rakuten – Rakuten Dining is a program that offers cashback to its users. They've partnered with more than 10,000 restaurants giving you a ton of choices on where to dine. They give out 3% cash back on your qualifying purchases. I absolutely love everything about Rakuten and that's why I wrote an honest review about Raktuten's program here. You can learn how I earned $1,000 cash back!
Swagbucks – There's no secret to how I earn free drinks at Starbucks. But, it's not only that. They are known for their cashback programs and they don't disappoint with their dining category either. You can earn up to 10% cash back on eligible purchases when you shop for food or dine in restaurants. They also allow you to earn Swagbucks (SB) points when you eat and drink at all your favorite places as you can see in my Swagbucks review here.
Drop – This is a highly recommended platform even though it only gives gift cards from its partners. This is perfect for users who would accept getting gift cards instead of cashback. I also use Drop to redeem free gift cards and have a review about them too.
Dosh – Just download their application, link your cards, swipe those cards, and Dosh will give a cashback to your wallet automatically.
Some other cash back apps and platforms like these give you a decent percentage of cashback. An important tip I can give you is to read about them first and find out what other people are saying.
Enjoyed this post? Don't forget to pin it! Also, don't forget to follow me on Pinterest over here! 🙂