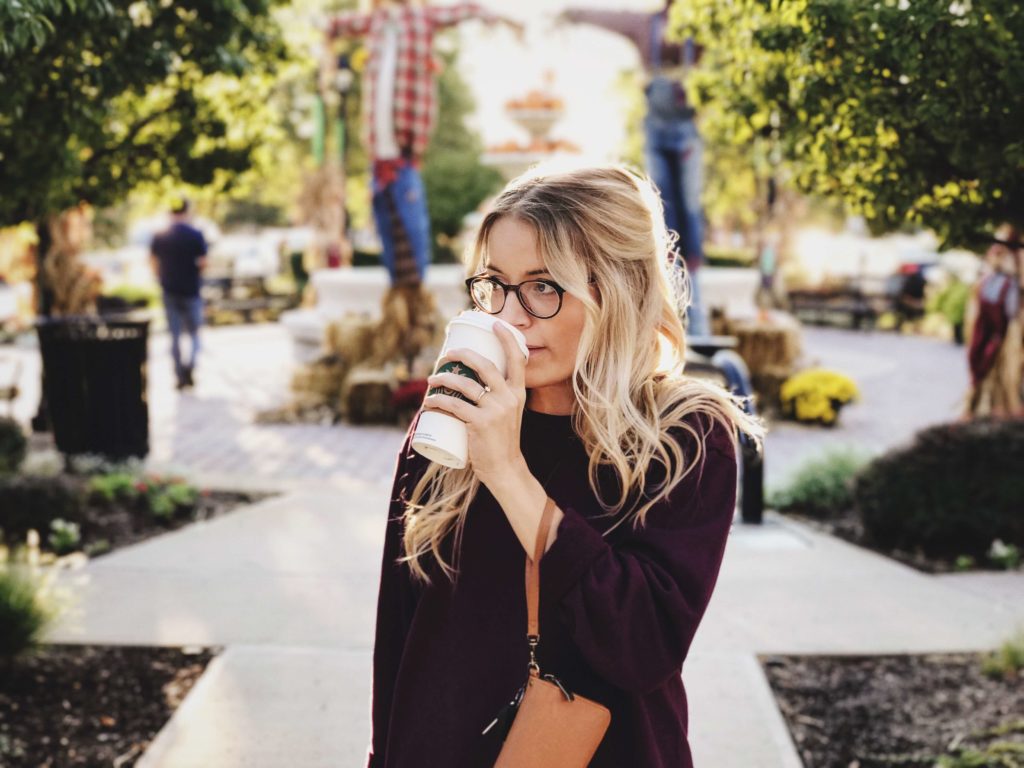 We will receive a commission if you make a purchase through our affiliate link at no extra cost to you. Please read our disclosure policy for more information.
How to get free drinks at Starbucks
Disclaimer: This post is NOT affiliated with or sponsored by Starbucks. I am NOT compensated by the company in any way. All opinion is based on my own personal experience and what I do to save money at my favorite go-to coffee shop, Starbucks.
I confess I'm a Starbucks addict.
And I probably cannot live without sipping on their Peppermint Chocolate Mocha or the Green Tea Frappuccino at least once a week.
Luckily, you can score a free Starbucks Frappuccino in addition to some free coffee!
Yes, you've come to the right place if you're on the hunt for some free Starbucks today!
Starbucks is my go-to spot to grab a quick drink and catch up with friends or to work on my small little blog here, which shockingly earns a full-time income of over $120,000 per year and allowed me to quit my 9-to-5 job!
Yes, yes… their specialty drinks are kinda expensive and I'm not going to hide the fact that I enjoy them (I know, it may sound ironic hearing that from someone who blogs about personal finance).
According to this article, the average American spends around $2,000 a year, or $5 per day, on coffee.
No matter how many times you tell me to cut the Starbucks, I just cannot…
I admit that buying a Starbucks every single day (especially their pricier drinks) could leave a dent in your wallet. But if you're a Starbucks PSL lover like me, there are many strategies to save money and reduce your spending at Starbucks.
Even better, there are ways to get Starbucks drinks for free!
Isn't a Starbucks free drink to die for?
But before I go through the hacks on how to get free Starbucks, let's do a little bit of math.
Assuming a Starbucks Grande cup (their medium size) of Latte or Frappuccino costs $3.35 to $4, this is roughly how much you'll be spending before taxes…
(and of course, if you order a regular brew coffee, it will be ~40% cheaper).
| | | |
| --- | --- | --- |
| | Latte | Brewed Coffee |
| Sunday | $3.35 | $1.95 |
| Monday | $3.35 | $1.95 |
| Tuesday | $3.35 | $1.95 |
| Wednesday | $3.35 | $1.95 |
| Thursday | $3.35 | $1.95 |
| Friday | $3.35 | $1.95 |
| Saturday | $3.35 | $1.95 |
| Weekly | $23.45 | $13.65 |
| Monthly | $100.50 | $58.50 |
| Yearly | $1,222.75 | $711.75 |
Having that said, you're probably spending between $700 to $1,200 per year on your morning hot beverages, which aligns with the article I mentioned earlier.
Now, onto the clever hacks and how to get free drinks at Starbucks…
How to get a free Starbucks drink?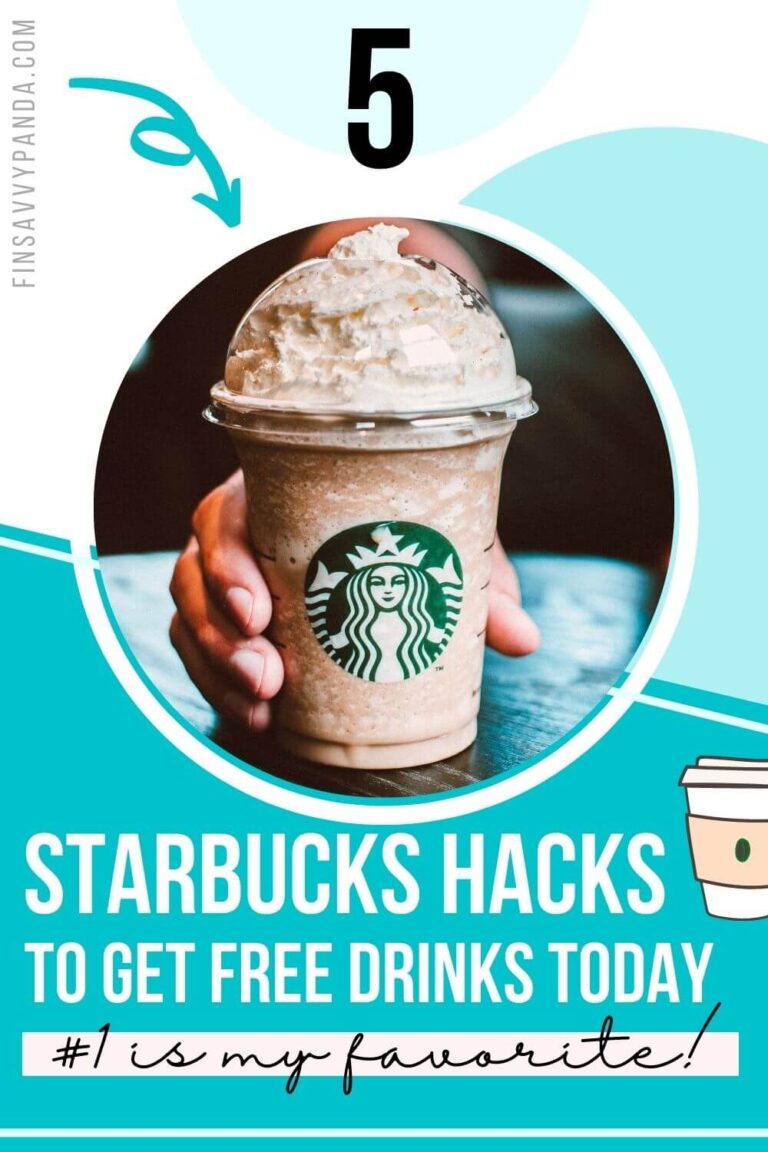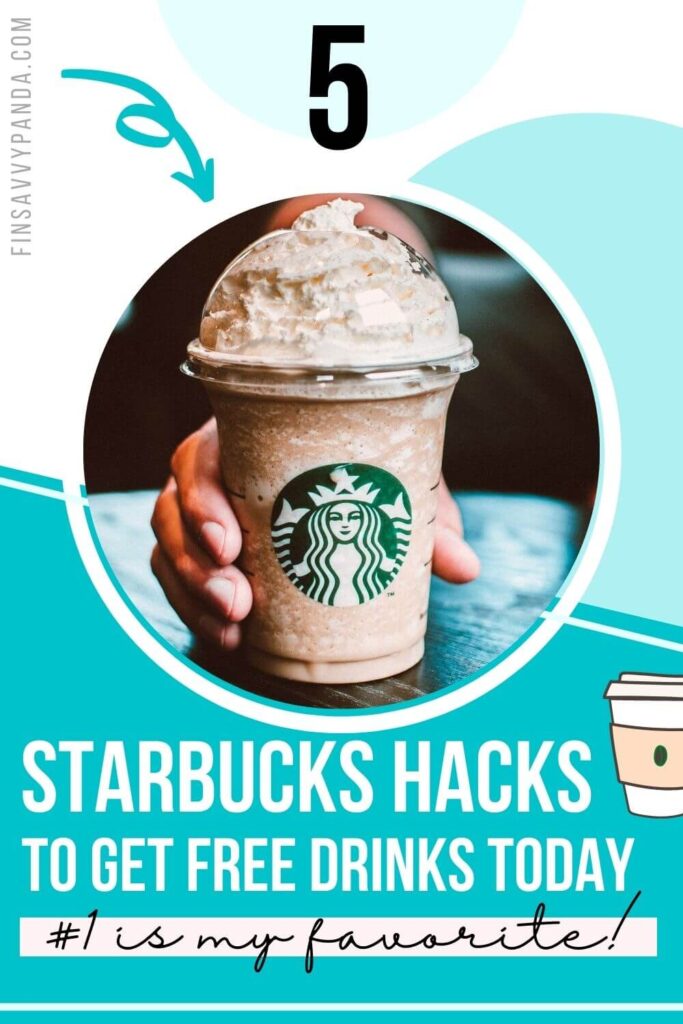 You might be asking yourself now, "How can I get a free Starbucks drink?"
Luckily for you, there are many legit ways to get free Starbucks and save money.
All that means is you'll have to find a way to get $700 to $1,200 worth of FREE Starbucks each year. Or, at least, find ways to reduce your spending without having to give up on your favorite coffee or latte!
It's time for free coffee today — these are the things my fiancé and I do to get FREE Starbucks drinks all year round. It's how we save money each time we make a trip to Starbucks!
Go and give them a try!
1. Earn FREE Starbucks gift cards over here!
This is one of my favorite ways to get free Starbucks coffee!
I mention many times on my blog that I'm able to save money and reduce my spending because my fiance and I both use Swagbucks to redeem FREE $50-$100 Starbucks gift cards!
It's one of my favorite Starbucks hacks because when you sign up for a FREE Swagbucks account, you can start earning FREE Starbucks gift cards just by doing the stuff you normally do online.
To name a few examples, I earn FREE Starbucks gift cards by surfing the web, watching videos, answering easy survey questions, and shopping online.
I literally just received this e-mail from Swagbucks after selecting my free $50 Starbucks gift card…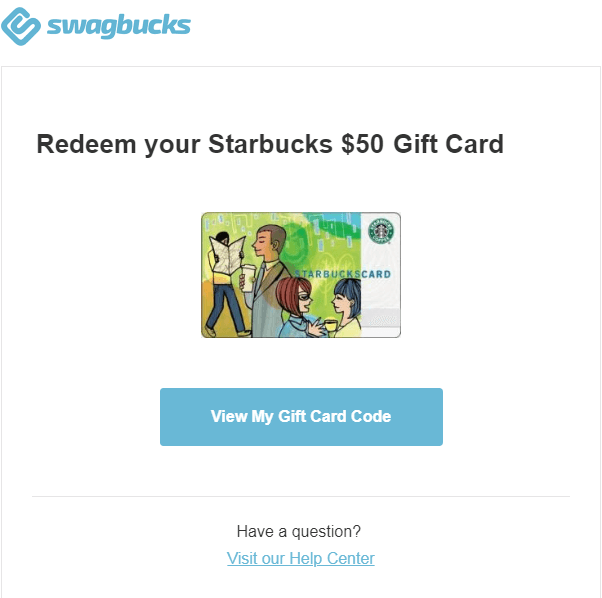 Not only does Swagbucks offer Starbucks gift cards, but they also offer many other gift cards to your favorite stores including Amazon! Go ahead and check them out over HERE and redeem a free drink at Starbucks with their $5 sign-on bonus! 👈
This is one of the most well-known and popular surveys and cash rewards programs in North America. It's absolutely FREE to use and takes less than 5 seconds to sign up.
Swagbucks is safe to use – it's 100% legitimate and has paid out its members over $520,157,336!
I've been a Swagbucks user since 2009 and I recommend them to those who want free gift cards and free stuff!
👉 You can get a FREE $5 bonus from Swagbucks here just by signing up today. 😊

⭐️ Important: Make sure to verify the email from Swagbucks in your inbox so you can start earning free gift cards immediately!
Free $5 Starbucks Drink!
I literally just ordered my free $5 Cookie Crumble Mocha Starbucks drink! You can order any hot or cold beverage you like.
This drink was so refreshing and delightful. Any free $5 Starbucks drink makes the perfect snack or dessert when you deserve it the most.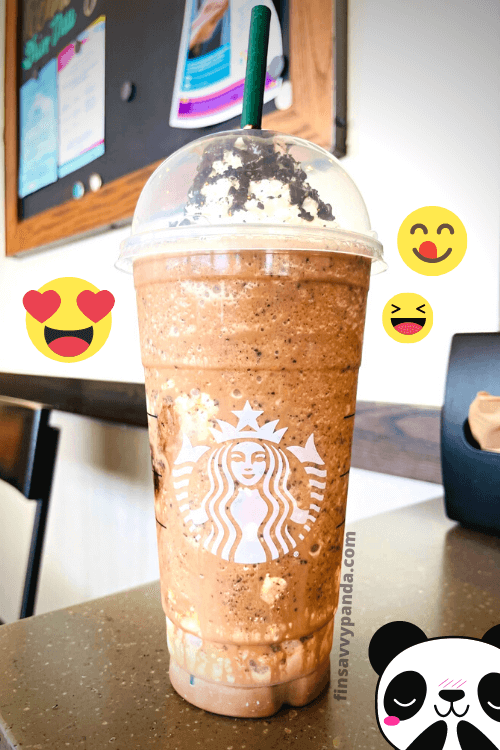 2. Join Branded Surveys
Here's another one of my favorite and highly recommended survey sites to join for free Starbucks gift cards – Branded Surveys! It's 100% free too!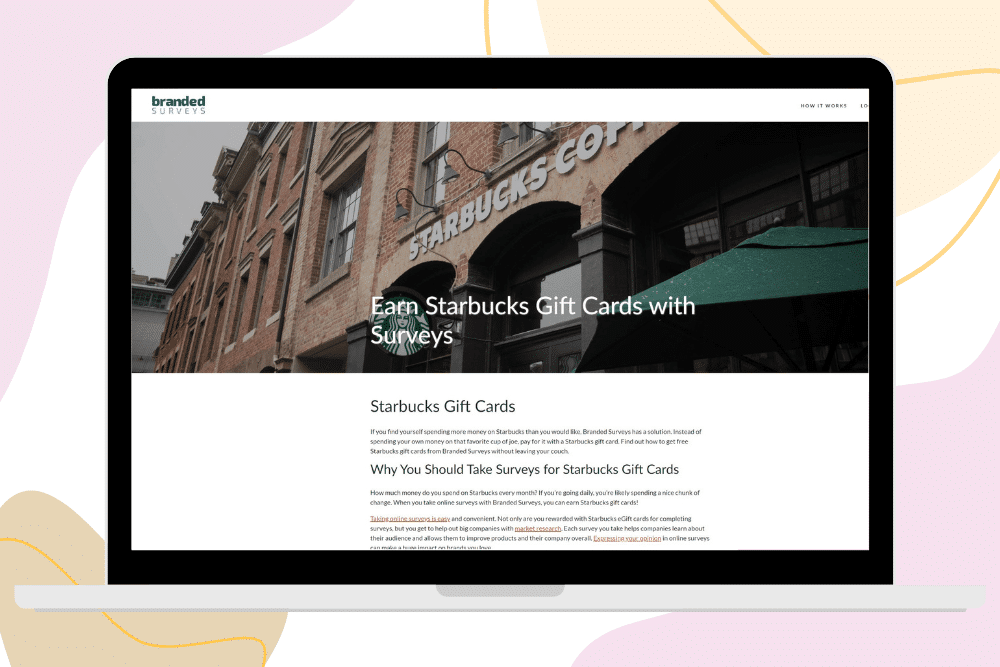 In addition to Swagbucks, I encourage you to double your Starbucks freebies by joining Branded Surveys as well. It's another top player among online survey sites, allowing you to earn free Starbucks gift cards!
Branded Surveys has over 3 million users who have earned cash and free Starbucks gift cards, so I highly recommend giving it a try!
👉 When you sign up for Branded Surveys using this specical page here, you'll recieve 100 welcome bonus points (equivalent to $1 bonus). On top of that, they'll also send you more information on how to earn free Starbucks gift cards by taking their online surveys.

⭐️ Important note: After signing up, ensure you confirm your email address to secure your 100 welcome bonus points. Additionally, special instructions will be provided on how to earn Starbucks gift cards, helping you make the most of your experience.
Just imagine yourself indulging in this free Starbucks drink after completing a few survey questionnaires! 🙂
3. Join the Starbucks Stars rewards program for free drinks
You've probably heard about the Starbucks Rewards program especially if you're a Starbucks addict like me.
If not, you can sign up here. It's free to join!
I've been collecting Starbucks stars ever since 2010. Pretty long, huh?
Simply register your Starbucks card, start collecting Starbucks stars, and you can start earning free drinks.
When you first join, you're automatically granted the Green Level status and you can start collecting stars. You get 2 stars per $1 spent.
Once you earn 300 stars within 12 months (after spending $150 a year, or $12.50 per month), you'll become a Gold member and be rewarded with more benefits.
How many Starbucks stars for a free drink?
25 Stars: Extra shot of espresso, syrup, and dairy replacement.
100 Stars: You'll get a free brewed hot/iced coffee, bakery item, hot tea, and packaged snacks.
200 Stars: Enjoy a handcrafted drink (e.g. lattes, frappuccino, cold brew), breakfast sandwich, or parfait.
300 Stars: You can redeem a delicious sandwich, salad, packaged protein box, or a bag of whole-bean coffee.
400 Stars: Not only can you redeem 4 cups of free coffee at Starbucks with 400 stars, but you also have the option to redeem a Starbucks signature product such as their travel cup or an accessory under $20 (before-tax).
(Effective as of February 13, 2023)
I guess you could call me a Starbucks junkie with 1,147 stars earned in less than 1 year! Woo-hoo!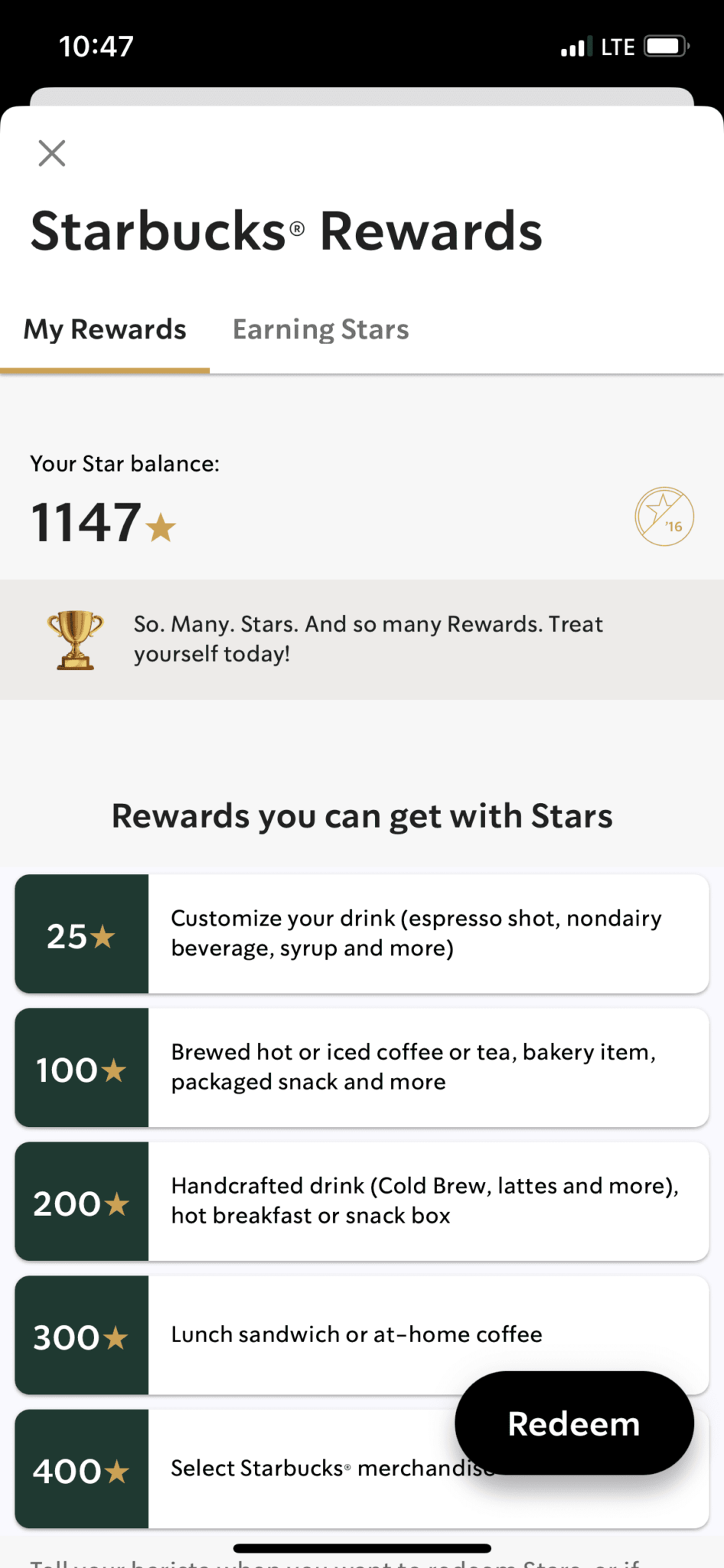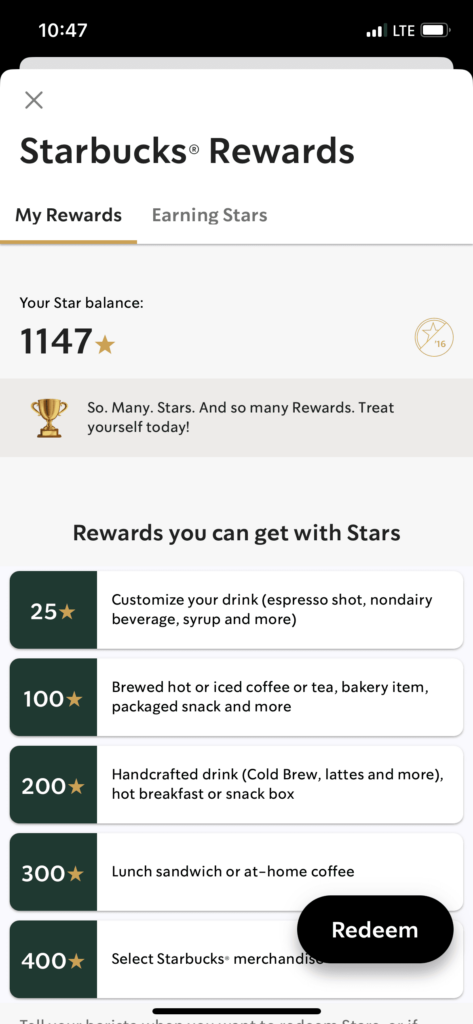 4. Get free Starbucks drinks via rewards and earn points
Other websites I like to use that reward you with free Starbucks gift cards include Survey Junkie, MyPoints, and American Consumer Opinion.
These are all 100% free to use with no strings attached. Plus, they're all quick and easy to join, so why not?
The more you sign up for, the more opportunities you'll have to earn free Starbucks gift cards. Again, it's one of my favorite ways to stack up on free gift cards so I can indulge in those tasty free Starbucks drinks all year round! 🙂
Seriously, I have my love for redeeming free Starbucks gift cards because it's how I save money!
Free coffee refill at Starbucks
I was literally telling my friends the other day about this Starbucks hack I use every day, and to my surprise, they had no clue about it!
So, here's my little secret on how to get free drinks and free refills at Starbucks.
Despite being at the Green or Gold Level, you can get free in-store refills which include hot or iced brewed coffee, cold brew, or hot or iced tea when you use your registered Starbucks card. You will also be eligible for a free birthday drink (I talk more about this point later)!
As a Gold member, you get more benefits. 🙂
For one, you get any beverage (in any size) for free every time you earn 125 Stars. You could even choose food from their menu if you're not feeling for a drink.
Secondly, Starbucks runs a special promotion once a month where Gold members can earn 4 stars for every $1 spent (on double-star days).
I've personally been a Gold member since 2010 and I'm loving the perks! 😀
5. Get a free Starbucks drink on your birthday
Yes, you can redeem a free Starbucks drink on your birthday!
Here is a free drink I got from Starbucks on my birthday. It's a delicious Matcha Green Tea Frappuccino in a Venti – yummy! You can get any special drink you like, so why not go all out and treat yourself to something fun and special? 🙂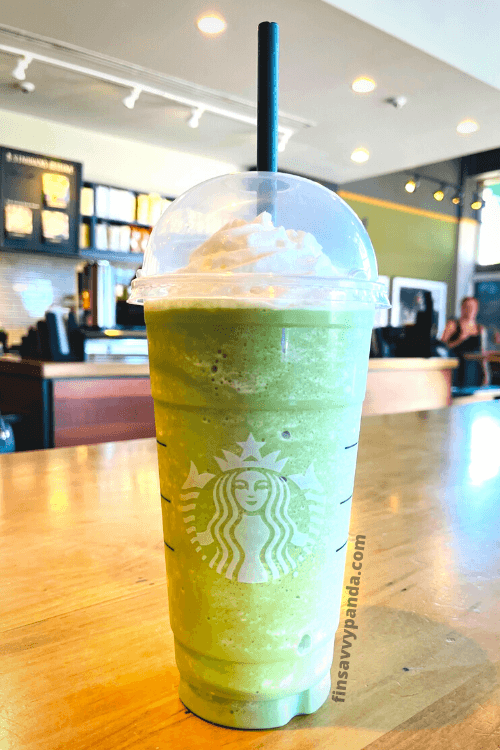 On my husband's birthday this year, he decided to go for a Trenti Mango Dragonfruit Refresher. Yes, they now offer "Trenti," which is larger than a Venti.
I know. Do we really need drinks larger than a Venti? It's free, so why not, right? Hah!
He thought this would make a great refresher for the summer month since his birthday falls in the summertime, right before back-to-school starts.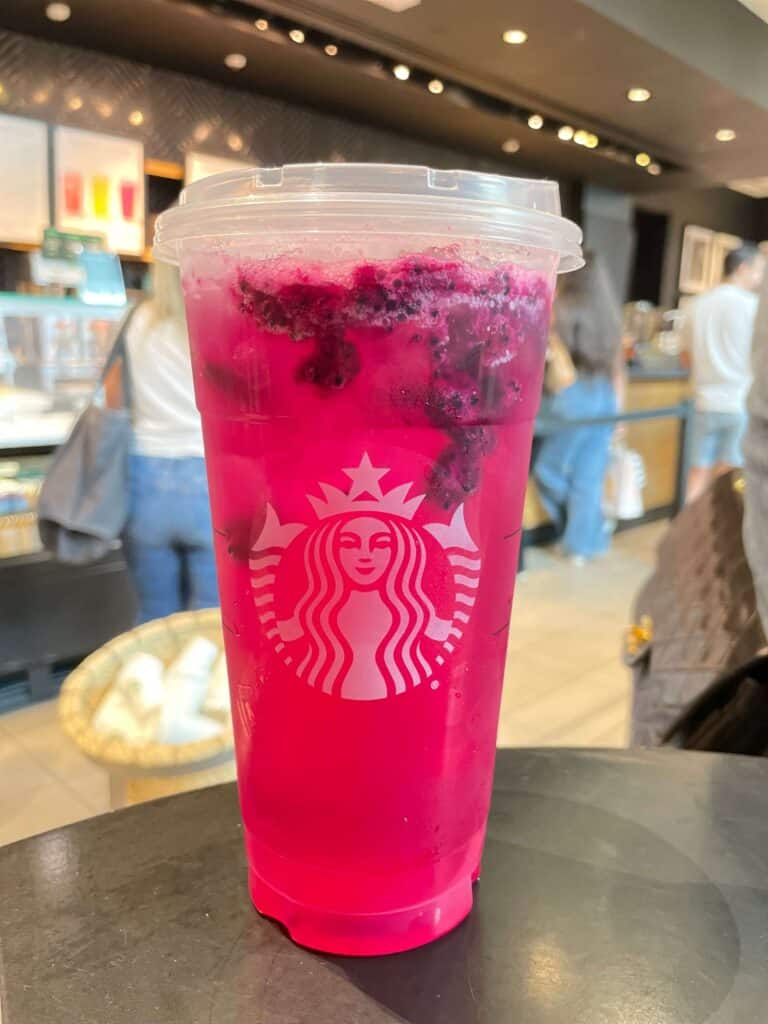 While you're at it, you can also look for the best Starbucks birthday gifts for yourself this year – what better way than to give yourself a nice little treat? They also make the perfect gifts for people who love Starbucks just as much as you do!
This is another reason to fall in love with the free Starbucks rewards program.
For one, it doesn't cost anything to sign up.
And secondly, you get any size drink you want for FREE on your birthday!
They used to give you up to 30 days to redeem your birthday offer. But they changed this, so now it's only applicable on your actual birthday.
That means you can go all nuts and customize your drink in whatever way you want. You could even order something from their food menu if that's what you prefer.
Sausage, egg, and cheese on an English Muffin, anyone? 😊
Related post: The Best Places To Get Birthday Freebies (Up To $150 Value for FREE)
6. Starbucks specials: buy one get one free (BOGO)
Keep an eye out for their special discounts, especially during the Starbucks Happy Hour promo at all participating stores in the U.S. and Canada!
You'll get more bang for your buck when you redeem your FREE Starbucks gift cards to make a purchase.
Depending on your location, Starbucks may offer other special promotions that go beyond the buy one get one (BOGO) deal.
For example, sometimes they may give you 50% off any one handcrafted drink during their happy hours. If you're registered for the Rewards program, they may also give you exclusive member deals to collect more Starbucks stars for more free drinks.
7. Keep an eye on any daily, weekly, or monthly Starbucks deals.
Look out for any current Starbucks deals or limited-time specials (collect Starbucks stickers)
For example, in our city, Starbucks was handing out free stamp cards during the holiday season.
For every five Grande holiday beverages we purchased, we got one for free!
Again, combining our Starbucks rewards and taking advantage of these free gift card hacks gave us the best bang for our buck!
8. Get a free $5 e-gift card when you purchase a $25 gift card from Starbucks
Occasionally, right before the holidays, Starbucks runs a promotion where you receive a free $5 eGift card upon buying a $25 eGift card. Talk about getting a free drink!
More than giving me extra value for my money, I love this deal from Starbucks because it allows me to treat a friend or spend less on my Christmas shopping, especially when it happens just in time for the holidays. Who wouldn't want to give a thoughtful present to a friend and, at the same time, get a free drink?
If daily coffee intake is a must for you, you will be more than happy to save big bucks on your favorite drink. So when an offer like this pops up, don't miss out on it. Stay alert on social media pages, or better yet, sign up for Starbucks' newsletter!
9. Score discounted Starbucks gift cards
If you normally spend money at Starbucks and get your coffee filled almost every day, then this could be the strategy to maximizing your savings while indulging in more free drinks.
There are so many online websites offering discounted gift cards where you can avail them at reduced prices. Depending on where you look, you can save anywhere from 1% to 35% on gift cards. To get a better idea, if you purchase a $50 Starbucks gift card at a 5% discount, you can save $2.50.
Okay, I know what you're thinking. Two dollars and fifty cents, are you for real?
Well, for many, that might not seem like a lot, but when they stack up, you can save enough to get yourself a free drink. Discounted gift cards are best used alongside other Starbucks promotions and savings hacks if you really want amazing results! After all, we should make the most of everything we can get our hands on.
10. More ways to earn free Starbucks gift cards
Online shopping is one of my favorite things to do. I love how everything is just one click away, and I know I'm not the only one who feels this way. I mean, with the convenience of shopping online, you're bound to prefer it over the physical store and standing in line to pay for your items.
But what does online shopping have to do with Starbucks? Well, if you love online shopping, then there is a hack that I like to use to get free Starbucks drinks. I know! It sounds a little confusing, but there truly is a way to turn your online shopping into free Starbucks gift cards.
Thanks to Rakuten, one of the best cashback apps out there, you can earn free money when you buy products online from your favorite big retailers like Nike, Home Depot, Sam's Club, Walmart, Ulta and so much more! The more you shop through this cashback portal, the more cash you get back!
Each quarter when I receive a check from Rakuten, I like to use it towards my Starbucks drinks – that, my friend, is like getting free Starbucks. In fact, I call this Rakuten cashback my personal "Starbucks fund."
Rakuten has over 3,500 partner stores that give cashback to buyers. I know it sounds too good to be true. But Rakuten actually saves you money by getting a commission from their partner stores every time they get a sale from Rakuten's app. Part of the commission goes to you in the form of a cashback. So instead of shopping mindlessly, next time, make sure you shop through Rakuten's app. That way, you can collect free money for the quarter, or year, and use it towards your Starbucks spending.
The cashback you get may not be too significant at first, but you can accumulate as much as $1,000 a year, depending on how much you spend via the app, of course.
If you think hard about it, it's like you're getting paid to shop! Those are two things that I enjoy together in one, and I know there are many people who feel the same. In case you are interested in learning more about this free money-saving app, you can go through my honest Rakuten review where I share my personal experience!
11. Save money by being environmentally friendly
Last but not least, you can start bringing your own travel mug like a classic Starbucks one, each time you visit the coffee shop.
You'll save $0.10 each time you purchase a cup of freshly brewed coffee, which is equivalent to saving $36.50 per year.
I'll admit that number alone is not a lot, but it's good for the environment. Plus, that's pretty much getting an EXTRA 18 cups of FREE Starbucks coffee! You can't say no to that, right? 😉
👉 You can view Starbucks tumblers in various fancy styles via Amazon's website.
Alternatively, you can use your cute reusable red cup that Starbucks gives out for free when you purchase any holiday handcrafted beverage on their Red Cup Day (Thursday, November 16, 2023). They have limited supplies and the cups don't last all day so you need to get there before it runs out!
This year, I ordered a Grande Peppermint Mocha (2 pumps of peppermint and mocha syrup; the original recipe is too sweet!) and received my lovely reusable rep cup.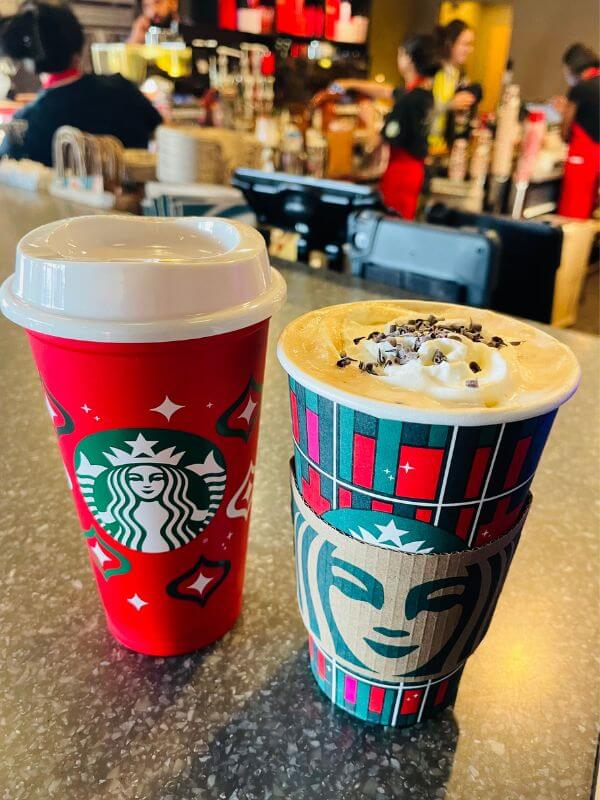 12. Get a free drink when you're at Starbucks working or studying
If you're like me who likes to study or work at Starbucks frequently, you'll notice that the barista may accidentally make the wrong drinks for their customers. When that happens, they always ask if you'd like the drink for free. "It's on the house," they would say. I always decline because I don't need a second drink to add on the extra fat and calories. 🙂
For example, when I was working on this blog the other day at one of my favorite Starbucks, the barista made the wrong drink 3 times within 1 hour! He kept asking people sitting at the tables if they'd like the drinks for free. Many customers are always hesitant at first because they think it's too good to be true when a specialty drink is given free of charge.
This is not something that happens all the time, but it's not uncommon to catch them making the wrong drinks at times, especially when you're hanging out at Starbucks quite often to study, work, or blog.
13. Get free Starbucks drinks and food in sample sizes
Not only can you score free Starbucks drinks when the barista makes the wrong drinks, but you can also score free sample-size drinks and foods. While working or studying, they may come to your table and offer you bite-sized drinks and snacks. This has actually happened to me many times but I probably witness it more often because I'm always at Starbucks working on my blog.
I was once offered a macchiato in a pup cup along with a Starbucks Oat Bar.
Sure, why not, since I'm already there enjoying my Peach Tranquility tea? Plus, I thought I might as well take a picture for you to see their small freebies. 🙂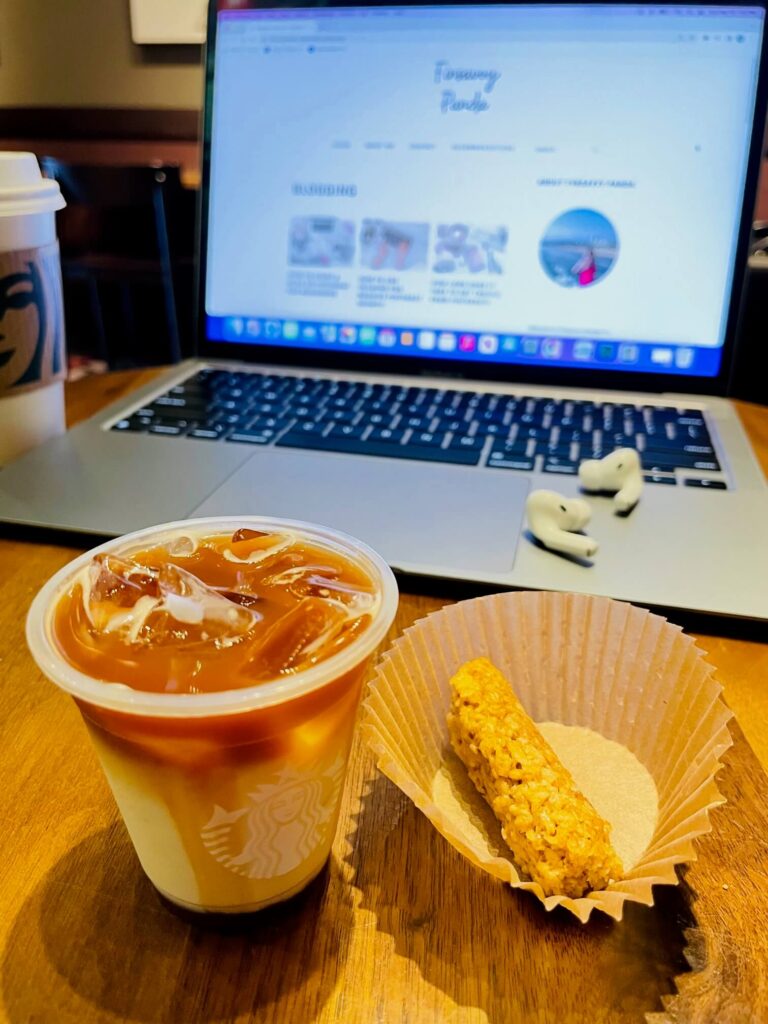 Earning a free Starbucks drink feels like getting free money!
If you follow my blog, you will know that I'm all about saving and making money. Below are some of my favorite sites and resources that may help you! The best part is that they're all FREE to join and use!
Not to mention, earning free money can go towards your spending at Starbucks!
Woo-hoo! More ways to save money on your favorite Starbucks drinks! 😊
MyPoints: You can earn FREE gift cards to your favorite stores or cash (your choice) just by watching videos, taking surveys, reading e-mails, and more. MyPoints has paid out its members $536,000,000! This is another great survey site you should sign up for if you want some free coffee from Starbucks!
🌟 Sign up for MyPoints and get a FREE $5 bonus immediately when you take 5 surveys! 💵

⭐️ Important: Don't forget to verify the email from MyPoints in your inbox so that you can redeem your bonus!
Rakuten: You get FREE cash just for shopping at over 2,000 of your favorite stores. This includes Walmart, Macy's, Apple, Kohl's, Target, eBay, and so many more! I use Rakuten to save over a few hundred dollars per year just for shopping for the things I normally buy.
🌟 Sign up here for your $10 welcome bonus after making your first $25 purchase through Ebates.

🇨🇦 If you live in Canada, you must use this link to get your $5 bonus.
Related post: To learn more, read my full review and tutorial on how to use Rakuten here. You will fall in LOVE with Rakuten! ❤️
FAQs about your Starbucks free drink (complimentary beverage at Starbucks)
Many people have asked how to get free coffee at Starbucks or how to get a free Starbucks birthday drink. Since my husband and I go to Starbucks every day to work on our blogs, I decided to answer those FAQs in this section here.
1. Do you get a free Starbucks when you get the app?
Yes, you can get any free drink at Starbucks when you use the rewards program. On top of that, you can use the Swagbucks app to accumulate free Starbucks gift cards.
2. What kind of free drink can I get at Starbucks?
If you're a sweet tooth or someone who likes treats, you can use 200 stars from your Starbucks rewards account (or accumulated Swagbucks gift cards) to get any free handcrafted drink, which includes the following Frappucino Blends. These are the drinks I used to order through my free Swagbucks points during my school years as a broke student:
Chocolate Java Mint (really good drink)
White Chocolate Mocha
Mocha Cookie Crumble (so delicious – I ordered this a lot as a student)
Caramel Ribbon Crunch
Classic Caramel
Classic Chocolate Java Chip (one of my other favorite classics that I treat myself to on my birthday)
Caffe Vanilla
Now, if you're a coffee addict and have 100 stars collected in your Starbucks rewards account, I recommend going for an iced coffee on a hot summer day. Or, if you're feeling for an upgrade, you can use 200 stars on the following cold brews:
White Chocolate Macadamia Cream
Cinnamon Caramel Cream
Chocolate Cream
Salted Caramel Cream
Starbucks Reserve
Vanilla Sweet Cream
Starbucks Cold Brew Coffee
Aside from their cold brew menu, you can go a little fancy and opt for the Iced Americano, which also requires 200 stars for a free drink. Here is the free Starbucks Ice Americano drink my husband ordered the other day with his 200 stars.
He said it was good, but not as good as their cold brew menu.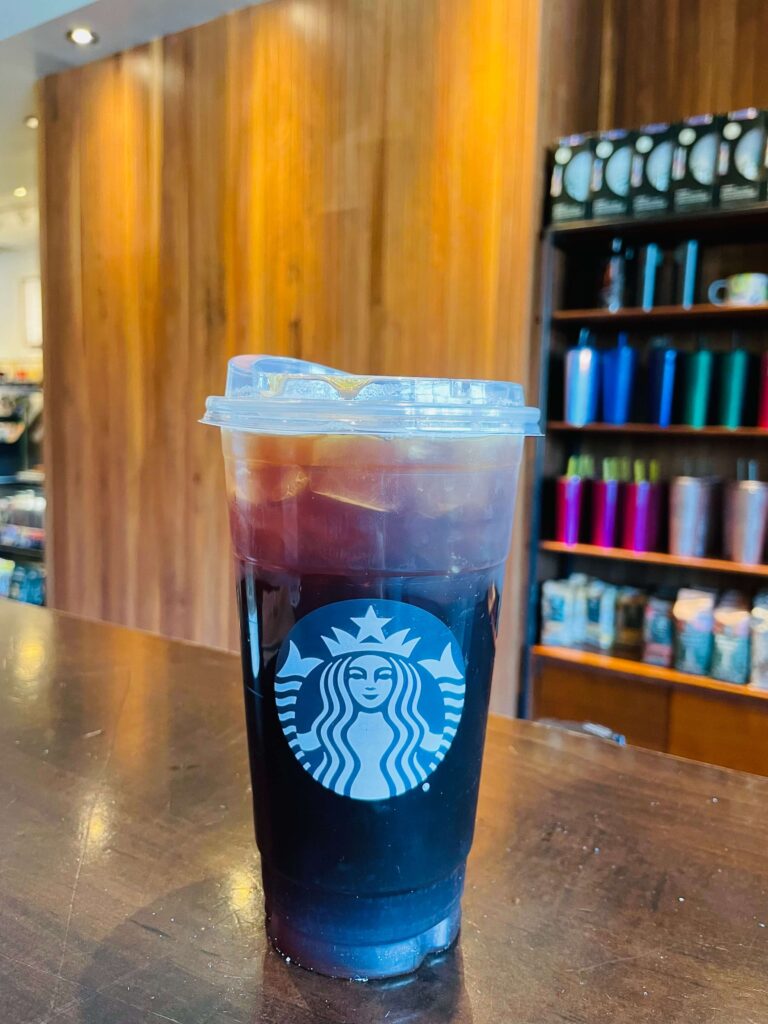 They also have tea selections for you, which require 100 stars for classic teas. If you want a free Starbucks tea latte, you will need to use 200 stars from your rewards account:
London Fog Tea Latte
Earl Grey Tea
Royal English Breakfast Tea
Royal English Breakfast Tea Latte
Matcha Tea Latte (this is a nice free drink to treat yourself to if you're a matcha lover looking for something a little sweet, or you can ask for no sugar like what I do)
Emperor's Clouds & Mist (you'll get this if you ask for plain "green tea")
Honey Citrus Mint Tea
Jade Citrus Mint Brewed Tea
Mint Majesty
Peach Tranquility (this is the tea I like to go for when I want to feel relaxed)
3. What size drink can I get for free at Starbucks?
If it's your birthday, you can get any size you want. I recommend treating yourself by going for a Venti, which is the largest size.
Even if you use the Starbucks rewards program, you can get any size you desire. For more details about how many stars you need, you can review the Starbucks Stars rewards program I wrote above in this article.
4. Is Starbucks water still free?
Yes, water at Starbucks is free. I've always asked for free water on the side with my black coffee or tea.
Readers — Are you ready to reap some Starbucks rewards so that you can indulge in your favorite Starbucks drinks? 🙂