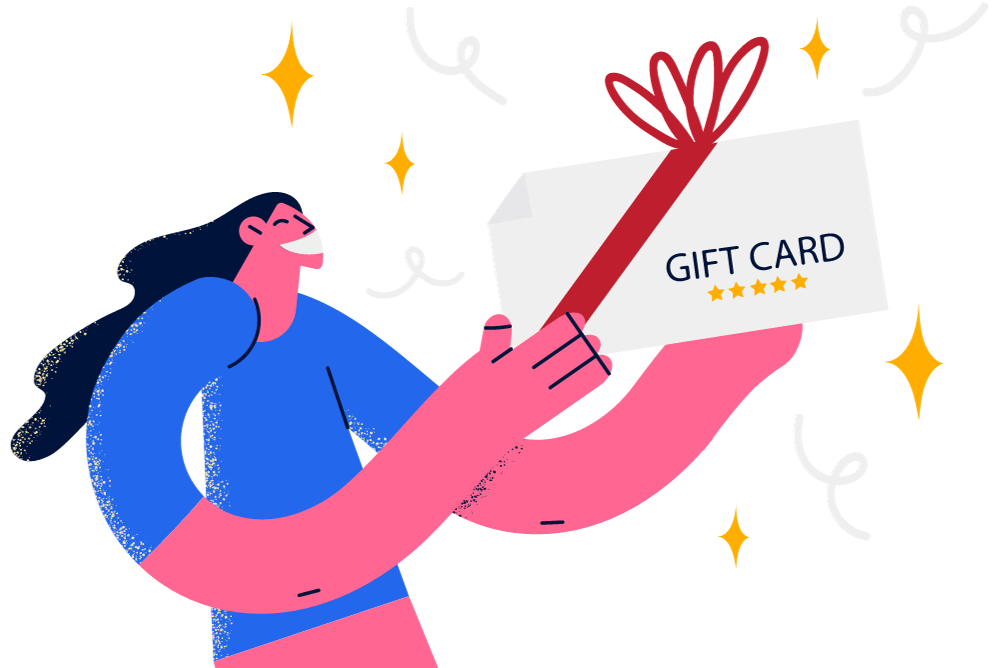 We will receive a commission if you make a purchase through our affiliate link at no extra cost to you. Please read our disclosure policy for more information.
Ever stumbled upon a discounted gift card from a brand that makes your heart do a little jig? It's just like that childhood excitement you'd get over ice cream.
I mean, who wouldn't do a victory dance if they scored a $20 Amazon gift card for just $15? It's as if the universe itself said, "Hey, here's a mini treat (or ice cream) for you!" And if you're lucky enough to snag these free gift cards online regularly, you might just start believing in fairy godmothers!
Who doesn't like finding free stuff online?
Picture an Indiana Jones-style adventure with tons of us hunting for these prized gift cards, especially the ones from brands that are hotter than a jalapeno on a summer day. So, it's high time we take a leaf out of the squirrel's book and diversify our stashes – why limit ourselves to one website or store?
Enter yours truly, armed with this post that's a veritable Pandora's Box of secrets to score free gift cards and cool online freebies. It's like having a backstage pass to the most epic concert in town but for shopping and dining on a budget!
With savvy shopping strategies, you could potentially save $1,000 in savings every year or even every month. It's like finding an extra grand in your wallet – just for shopping smarter!
So, whether you're sitting on your sofa or chilling in a treehouse (why not, right?), get comfy and take out your notebook. We're about to show you tons of choices for your favorite gift cards. It's like opening a magic wardrobe, but instead of finding winter coats and a friendly faun, you're discovering one amazing gift card after another! Isn't that a fun surprise?
How Do Discount Gift Cards Work?
Discounted gift cards work just like any other gift cards you've used in the past. The key distinction, however, lies in the fact that you acquire these discounted cards at a lower price compared to their face value.
Consider this – an ordinary $20 gift card will cost you exactly $20. Yet, the thrill comes when a discounted $20 gift card could only set you back about $15-$18, subject to the degree of discount. The appeal is irresistible – even though you purchase it for less than the standard retail price, the gift card preserves its original value, allowing you to chalk up significant savings on your purchases.
This very reason propels discounted gift cards into the spotlight, making them highly sought-after commodities. Yet, like any precious treasure, they aren't conveniently available everywhere. Hunting for them could lead you on an adventure across the vast expanses of the online world and the hidden corners of physical stores.
Are Discounted Gift Cards A Good Idea?
Adopting the use of discounted gift cards is a powerful embodiment of frugal living, particularly when your budget feels a little too snug. These economical gems could become your secret weapon in the quest for savings.
Whether you're transforming them into heartfelt birthday or wedding gifts, or using them for everyday essentials like groceries, gas, or shopping, you're leveraging smart ways to save money. Frugal living isn't just about cutting costs; it's about making every penny work harder for you, and discounted gift cards fit perfectly into that strategy.
Everyone loves a bargain hunt, but nabbing discounted items can feel like finding a four-leaf clover – exciting, but rare. Every so often, you might just hit the jackpot with a friend offloading their gift card, usually when they've run out of places to use it. There's a whole other world online where people try to sell their gift cards for less. Why, you ask? Because if it's priced like a new one, folks would just walk into a store and get a shiny new one.
So, imagine the thrill when you spot a discounted gift card that's perfect for you! Don't think twice, just grab it. But remember, check it's still good to go before you start dreaming of what you'll buy with it!
PIN (OR BOOKMARK) THIS PAGE: I'll be updating this post so make sure to pin this image and save it to your Pinterest board. That way you'll be able to come back to this page and learn the best places to buy discounted gift cards!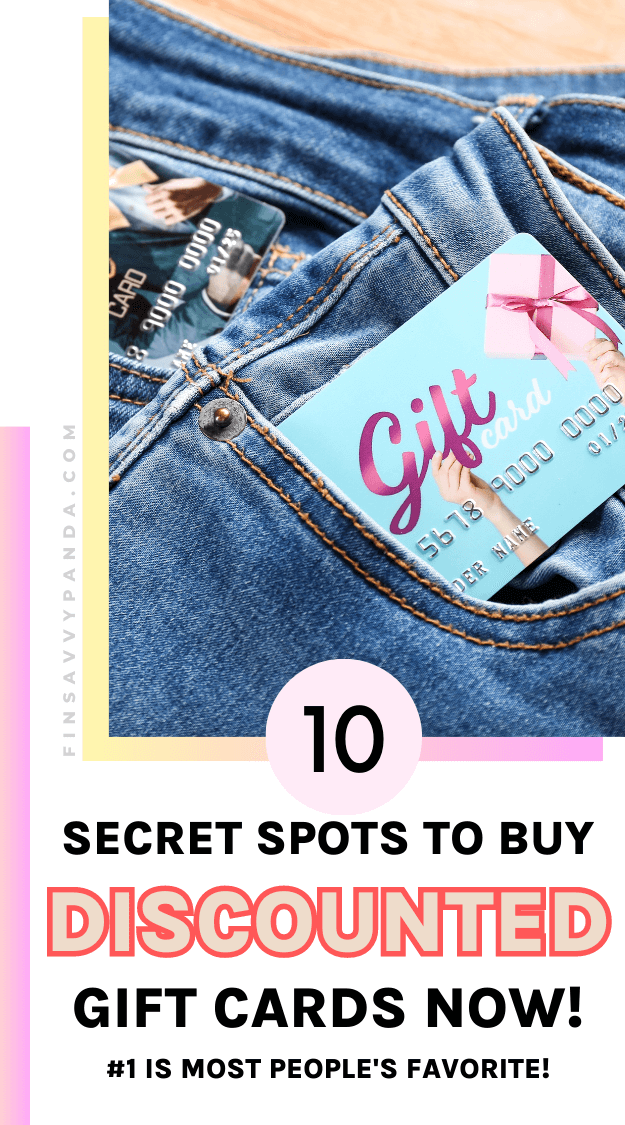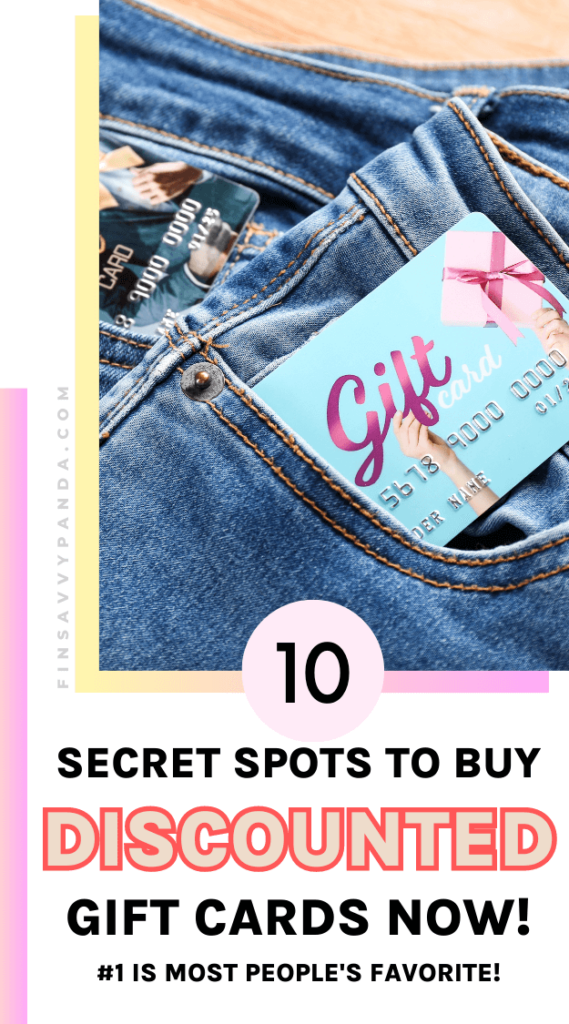 1. Swagbucks
If you're been a reader of this blog, you'll know that Swagbucks is my top pick! It has been my go-to resource to earn free gift cards. In a more comprehensive post, I even explain my hacks on how I get delicious free drinks from Starbucks by using this app.
You can see that I've been a long-time user of Swagbucks for several years now. I remember the times when I used it while riding a bus or when I was a passenger while my husband was driving – every short free time I got, I used it to spend time on Swagbucks.
I know you be wondering whether or not Swagbucks is legit and worth your time, which is why I also wrote my honest and personal Swagbucks review post here.
What I can say is, I've witnessed this platform's growth over the years, including its early stages when it was small and just starting out. It has managed to gather millions of users and has consistently provided generous rewards for over 10 years. The points you earn can be conveniently redeemed for gift cards, and once you reach a certain threshold, converting them into PayPal cash is a breeze.
I first introduced this app because I can't think of any better way to get free gift cards than from an application I've used for years. I highly suggest you try this application out before you go spending your cash on discounted gift cards. Try it for a week and see if what it offers is a good deal for you.
Pros: You have the chance to get free gift cards from different brands. The tasks here are also easy to finish.
Cons: You need to spend more time on the app and finish more tasks to get more points.
2. Costco
Another place I recommend checking out for gift card deals is Costco. However, I don't want to build up your expectations too high, as the selection of gift cards there is quite limited. This is particularly true during the holiday season when people are buying gifts for their loved ones. It's possible that Costco may not have a large stock of gift cards available.
On a side note, I suggest that you calculate your purchases or compare them to other online stores. Costco is a big giant, so it usually gives you a bulk discount which encourages you to buy a lot of gift cards. My advice is if you frequently buy from that brand, then that's a good deal – you might not find the same offer from other sellers.
Let me give you a quick example. Say a website is selling a $10 gift card for Coffee Bean, whereas at Costco, you have the option to purchase four $10 Coffee Bean gift cards for just $35. Opting for the bulk deal could save you $5 or even more!
However, it's important to note that buying in bulk may result in purchasing more than what you actually require. The offer mentioned above only makes sense if you are a frequent customer of Coffee Bean or a specific store where you regularly shop.
Pros: No worries about whether it's legitimate or not. Also, if you're buying directly from a store, you can usually ask for a refund if the card doesn't work.
Cons: You need to have a membership card to buy from Costco. If you're only buying gift cards at the store, you're better off trying other websites or outlets.
3. Raise
For some, the name Raise may not ring any bell, but for those of us who tirelessly hunt for budget-friendly or inexpensive gift cards, we recognize it as a distinguished marketplace for both digital and physical gift cards.
Consider the excitement of snagging a gift card from high-demand retailers like Nike, Home Depot, or Best Buy. It's almost like going on a treasure hunt – you need to be swift and a bit lucky to claim your prize before they disappear from the inventory.
Navigating Raise's website is pretty straightforward. Entering a store's name and making a few clicks are all it takes to start your search. A feature I especially appreciate allows you to filter the results by the discount percentage, which is an excellent tool for streamlining your search.
One of the unique features that Raise offers is the opportunity for users to sell their own gift cards. We all have them, those forgotten gift cards languishing in drawers, gathering dust. Raise encourages you to breathe new life into those unused cards, turning idle money into active income.
However, it's worth noting the importance of planning strategically when listing your gift card. Take the time to analyze the market and assess your competition's pricing strategy.
For example, if most sellers are offering a 5% discount, consider giving a 6% markdown. This slight extra may ensure that your listing stands out in the crowded marketplace.
Pros: You can sell your unwanted gift cards for cold cash with Raise. Rather than giving it away, you can still get some money from it.
Cons: There are reviews that Raise doesn't cover their 1-year money-back guarantee. It's better that you make sure everything is legitimate when buying or doing a transaction.
4. eBay
People aren't joking when they say that you can buy almost anything on eBay, including discounted gift cards. Given that it's a marketplace for all, I advise caution when purchasing here.
Pay attention to the delivery method and any hidden fees. Not noticing these details might result in you paying more than the gift card's value.
As some buyers have noted, eBay's buyer protection policy may not be as stringent or robust as that of its competitors. The downside is that if you have a complaint or need to report fraudulent sellers, it will require more effort on your part. It could take weeks to hear from eBay's team regarding your case.
It's best to purchase from sellers with good ratings to decrease the chances of being scammed. There are still excellent opportunities where you can buy heavily discounted gift cards from legitimate sellers. However, it's crucial to proceed with extra caution when navigating this platform.
Pros: You won't run out of options when buying from eBay. You need to find a listing that's selling a gift card from your chosen brand.
Cons: With so many complaints that eBay has, your ticket might take a couple of days or weeks before it gets noticed by customer service.
5. Rakuten
If you feel like you've clicked through every online platform and that elusive gift card still isn't in your cart, hold on, and don't give up yet. Give Rakuten a whirl before you say it's a lost cause. There's a solid chance it has exactly what you're trying to find.
I personally use Rakuten and I love it! Every time I shop online, it's my first stop and I can't afford to lose out on getting cash back on all my online purchases. Compared to other shopping portals like Swagbucks, they're at the top of the list it comes to cash-back deals and shopping rewards. Seriously, for anyone who loves a good deal, they're the ultimate game changer.
And when it comes to gift cards, Rakuten is my number one recommendation. Truth be told, I'd much rather purchase gift cards online from Rakuten than make a trip to a physical store. Why? Because with Rakuten, not only do I earn cash back on my purchase, but I also have the convenience of emailing the e-gift card directly to the recipient.
The breadth of choices on Rakuten's platform is astounding when you're hunting for gift cards. It's not just limited to retail shopping outlets either; they've got options for DoorDash and a variety of other eateries as well. With Rakuten, you'll discover an exciting new dimension to gift card shopping.
Pros: Rakuten is legitimate and you won't have problems buying from the website. It has great credibility among consumers.
Cons: You might buy more things than needed due to the cash-back promos they offer. Impulse buying can lead to unnecessary purchases.
6. MyGiftCardsPlus
MyGiftCardsPlus is powered by Swagbucks and is a website where you buy gift cards, earn valuable points, then redeem those points to get gift cards as well! It has GCs with popular brands like Nike, IHOP, Applebee's, Southwest Airlines, Macy's, and many more.
When you purchase on their website, you will earn Swagbucks or SB. You can then use the SB points you've accumulated to get free gift cards from over 80 popular retailers on Swagbucks' website.
According to some users, you also have the option to turn those SB into Paypal cash which is great news since you'll have more flexibility on what you can do with your points. I personally use it more on gift cards than converting it to cash.
The best thing when going for MyGiftCardsPlus is there is a lower chance of fraud because you're dealing directly with a company or merchant instead of an individual seller. You're more confident in spending your money rather than being overly cautious if the guy is legitimate or not.
Pros: Aside from discounted gift cards, the website offers decent cashback rates. Making your purchase super worth it.
Cons: You'd need to have a Swagbucks account and you can only purchase gift cards here.
7. Gift Card Granny
Gift Card Granny – now that's a name you won't forget!
I only found this website back when I was searching for gift cards on sale. This website stuck with me not only because of its name but due to its personalized greeting card when you buy a Visa or Mastercard Gift Card from them.
I know you're here for the gift cards and let me tell you, Gift Card Granny isn't a bad choice. I've seen the companies they've partnered with and I'm very impressed. It seems like they have a gift card for every industry in the business.
Looking for games? They have a GameStop gift card.
How about renting out a vacation home or place? They offer an Airbnb gift card.
Heard that your friend wants to go out on a cruise? The website gives Royal Caribbean gift cards as well!
When I say they have products for every niche in the business industry, I'm not exaggerating. Aside from having a lot of options, every purchase you make comes with a certain cash back.
You can also join their newsletter to receive special deals on gift cards from your favorite brands!
Pros: Lots of options to choose from. You don't have to settle for restaurants or clothing stores. They offer gift cards for games, cruises, and other leisure.
Cons: Complaints about customer service. The performance of the company has gone down throughout the years.
8. Sam's Club
Sam's Club is another retail store to check for discounted gift cards. You don't even have to go to a physical store, their website already listed the various gift cards you can buy. PS, most of them are heavily discounted!
They have solo gift cards if you only need one but if you're a loyal customer of a brand you can choose to buy in bulk which they price at a discount. Most of the cards they're selling are great deals as well. I saw three $10 Cold Stone Creamery gift cards sold for $20 and five Krispy Kreme $10 gift cards selling for $37.50.
There are tons of great deals on Sam's Club website, I suggest you take time to visit their gift card web page.
However, what I observed from the selection is most of the gift cards they sell are only for restaurants and theaters. It makes the options limited compared to other websites on this list.
Pros: Sam's Club has great deals when it comes to gift cards. The huge discount they offer is one of the best on this list.
Cons: You'll need to be a member of Sam's Club to make a purchase.
9. Slickdeals
Although Slickdeals is not often recommended by other websites, it's still a legitimate company that can help you find the best deals on items. They offer a browser extension that provides you with the latest codes to save you money every time you shop online – it reminds me of my go-to extension for online shopping, Rakuten!
Slickdeals has quite limited options, but you can still purchase discounted gift cards from the platform. The search results for gift cards are limited to one page, suggesting that users don't typically use the website to buy or sell gift cards. When I explored the website, it displayed only 18 listings.
It's crucial to note that the items listed here aren't from a company but from users of the website. Since you're dealing with another individual, you need to be vigilant when transacting. Be on the lookout for red flags and potential scams.
Pros: It's a legitimate website and its extension can help you find great deals when you shop.
Cons: Limited choices of brands for gift cards. You're better off with other platforms on the list.
10. CardCash
CardCash is the bustling bazaar for those seeking the thrill of the gift card hunt and for those wanting to unload their stash.
As a buyer, all you need to do is click on the "Buy Gift Cards" button conveniently placed at the top of their website, and voila, you're teleported to a treasure trove of over 500 brands. Yet, some seasoned users swear the website hosts a smorgasbord of more than an astounding 1000 retailers.
Given CardCash's high-standing reputation in the gift card arena, it's hardly surprising that gift cards from popular brands disappear quicker than cookies at a kid's party. But hey, by joining their newsletter, you could be the early bird who gets the worm, or rather, the first dibs on sizzling new deals.
After parting with your hard-earned money, you'll receive a prompt email bearing the gift card details. And for those who enjoy the thrill of receiving physical mail (apart from bills, of course), you can expect a tangible card in your mailbox within a few days. What's more, CardCash even throws in a free shipping option for those who like the 'special delivery' experience.
What makes CardCash a cut above the rest is its unique barter-like service. Here, you can swap your soon-to-expire or unwanted gift card for one from a place you regularly haunt. It's the perfect cure for the 'lonely gift card syndrome' that plagues the forgotten corners of your drawer.
Pros: There's a good chance CardCash has a gift card from your favorite brand. That's how abundant their options are.
Cons: Users have mixed experiences with the platform. Some have good reviews while others have negative comments.
Tips For Buying Gift Cards
When it comes to buying a discounted gift card, whether it's a treat for yourself or a surprise for someone else, there are three golden rules you need to remember. Consider these your trusty guide to becoming a savvy gift card shopper!
First off, let's talk relevance. Imagine being handed a Hooters gift card when you haven't stepped foot in that place ever. It's like gifting a cat to a dog person – it's a nice thought, but not really hitting the mark, right? The same logic applies when you're giving a gift card. To avoid the awkwardness of a mismatched gift, a little sleuthing might be necessary. You could subtly ask the recipient about their favorite stores or eateries. Or, if you're channeling your inner Sherlock for a surprise, their friends and family could prove to be a goldmine of intel.
Next, we're moving onto the fine print – the terms and conditions. Yes, it's that dreaded wall of text that most of us tend to overlook. But here's the thing: these T&Cs are the road map to your gift card adventure. Some gift cards have limitations on their usage, while others come with expiry dates. And let's not forget about those sneaky fees that could make your bargain deal less of a bargain. So, put on those reading glasses and dive into those terms to ensure your money is well spent.
Finally, and perhaps most importantly, always buy from the good guys. The digital world, though convenient, can sometimes feel like navigating through a jungle full of scams and counterfeit products. The last thing you want is to be the unsuspecting prey that falls for a deceptive gift card deal. So, take a moment to vet the website or app you're using. Read reviews, watch user experiences on YouTube, and if you're dealing with an individual seller, check their track record. Stick with sellers who have a choir of positive reviews singing their praises and high ratings that vouch for their credibility.
Follow these three simple tips and you'll be well on your way to becoming a seasoned gift card shopping pro!
Enjoyed this post? Don't forget to pin the image below! Also, don't forget to follow me on Pinterest over here! 🙂