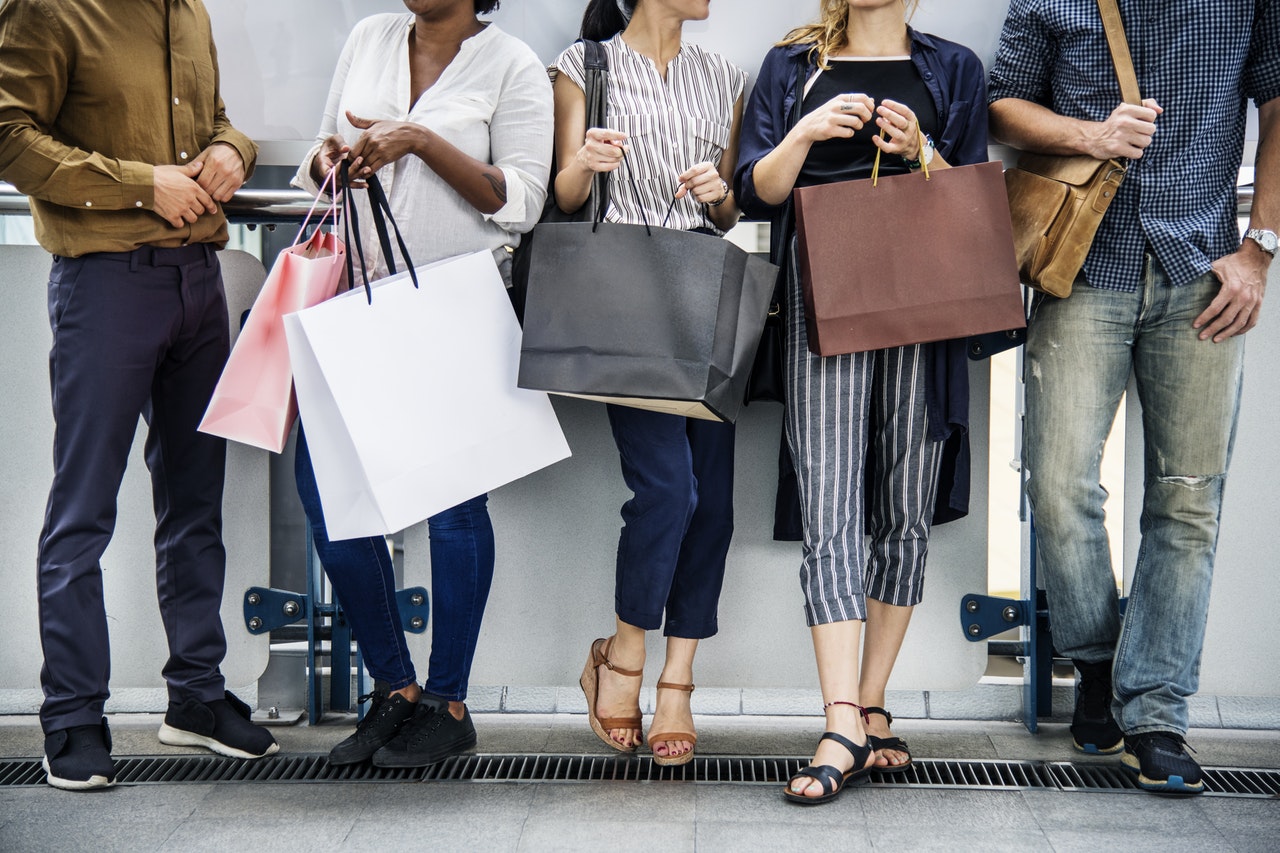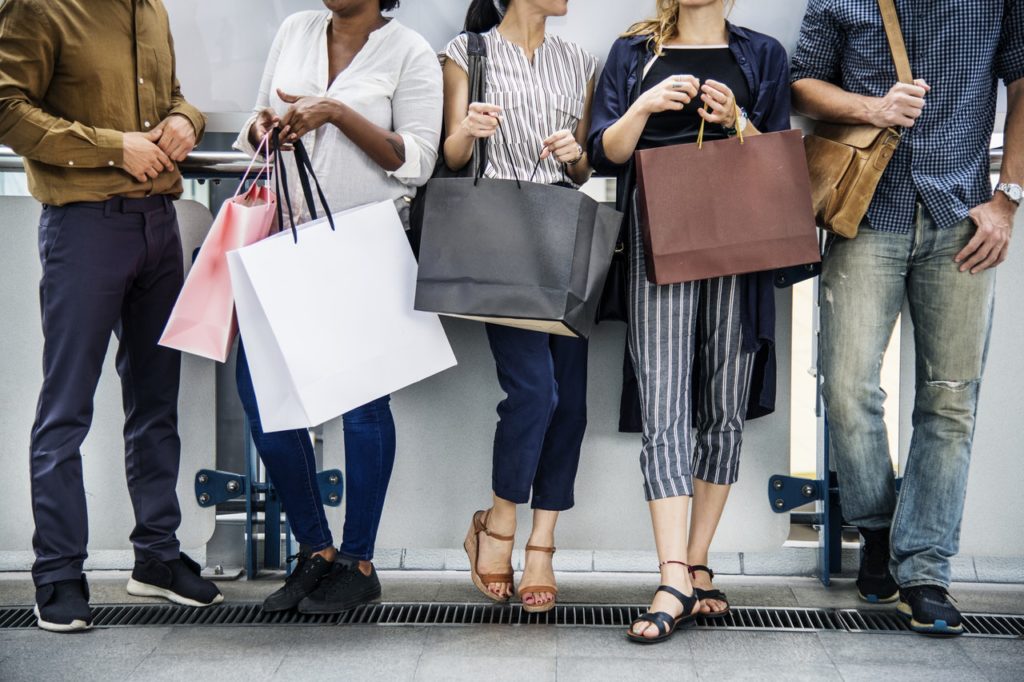 We will receive a commission if you make a purchase through our affiliate link at no extra cost to you. Please read our disclosure policy for more information.
I've been using Rakuten for over a decade. I don't remember exactly when I started, but I believe it was around 2012 or 2013, back when they were still called Ebates. Fast-forwarding to 2023, they remain my top go-to shopping portal for easy cash back.
In a way, it's akin to earning passive income, since you're not really doing anything beyond clicking on your retailer's link via the shopping portal. Just don't overspend and become a shopaholic – haha!
Essentially, you're being paid to shop – so, why not?
Look – I just received my cashback check from them for the month! Woo hoo!
$76.06 – heck yeah, I'll take it! Who doesn't like getting free money in their PayPal account? 😉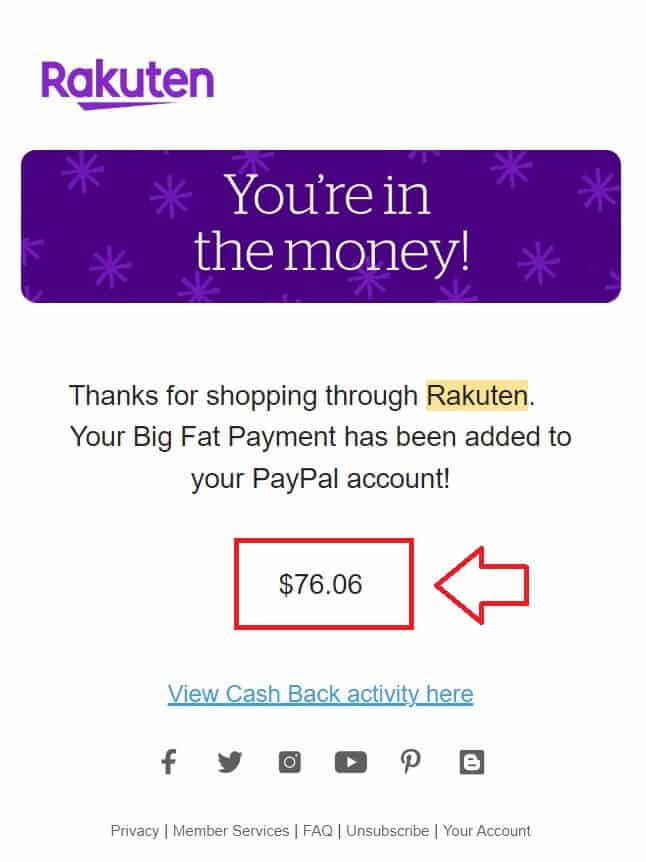 Although I still enjoy checking the Swagbucks app to compare potential savings with different retailers, Rakuten remains my default choice on most days. Plus, I just think that Swagbucks is better known for taking paid surveys online.
Having used this cashback app for approximately 12 years, I am now prepared to share my candid review with you. Indeed, I initially wrote this post when the platform was still known as "Ebates," but I regularly revisit it to make updates, ensuring the information remains accurate and current.
PIN (OR BOOKMARK) THIS PAGE: I'll be updating this post so make sure to pin this image and save it to your Pinterest board. That way you'll be able to come back to this page and learn the best way to get free cash back on Rakuten formerly known as Ebates.
Honest Rakuten (Ebates) Review
I am the type of person who loves to optimize my savings.
In other words, I like to look for ways to save money that requires as little effort as possible. If I had to go out of my way just to save a dollar or two where the cost in time doesn't justify, I would simply pass. Who has time for that?
There are so many clever ways to save money without wasting time or going through the hassle. Having that said, I decided to write this Rakuten review (formerly called Ebates) because it's the best rewards and cash back program that I know to date! And no, this is NOT a credit card. I'm NOT going to tell you to sign up for any credit cards here so you don't need to worry!
Rakuten is perfect to use everyday because you can passively save money on the things you normally buy. This is especially helpful during Thanksgiving and Christmas when you tend to spend more.
I personally use Rakuten and I'm able to earn over a few hundred dollars each year without putting in much effort. To put things into perspective, that's a good amount to go towards your Christmas shopping!
Okay, so today, I'm going to cover the following in this Rakuten review:
1. What is Rakuten?
2. Is Rakuten free?
3. What stores are on Rakuten?
4. How does Rakuten work? (covers a quick tutorial along with a hack you must know)
5. How you can make money using Rakuten
6. When is the best time to use Rakuten?
7. Is Rakuten Legit?
🌟 Click here to sign up for Rakuten (the U.S.) for FREE. When you spend $25, you will get a FREE $10 bonus credited to your account.

If you live in Canada, use this CAD link to get your FREE $5 bonus.
1. What is Rakuten?
Up to this point, I'm sure you already have an idea of what Rakuten is. It's a program that allows savvy shoppers like you to save money by earning cash back on your everyday purchases.
Here is what I found on the Rakuten website under their About Us section:
Since our founding in 1999, Rakuten has helped its members — 10 million and counting — earn over $1 billion in Cash Back at their favorite stores. By connecting these savvy shoppers with America's best brands, we give them a hassle-free way to save money on the things they buy every day.
In a short and simple sentence, you could say that you're getting paid (passively) to shop. 🙂
2. Is Rakuten free?
YES, Rakuten is free to use and they give you FREE money just by shopping for the things you normally buy online!
For example, if you decide to buy some home supplies from Walmart, you would simply go to Walmart's website, search for the products you want to buy and then hit the checkout button. Rakuten will give you cash back just for doing that! You can earn up to 40% on your online purchases. The norm is generally between 2% to 10%.
Hint: This cash back is additional savings ON TOP of store promos and other discounts! This helps you save even more money by being able to combine other offers! 😉 I initially thought this was too good to be true but it's not!
🌟 Again, you can open a free Rakuten account and grab your FREE $10 bonus by signing up here.

Canada, use this link to sign up for Rakuten Canada and get a FREE $5 bonus here.
3. What stores are on Rakuten?

Rakuten works with over 2,000 of your favorite retailers. Popular ones include Macy's, Target, Amazon, Walmart, Kohl's, eBay, Apple, Nike, Groupon, and a lot more!
My personal favorites are Lowe's and Home Depot because that's where we shop when my fiancé needs to fix or replace something for our tenants. I will give you guys an example of how we used Rakuten to save money on one of our recent purchases in the next section.
4. How does Rakuten cash back work?
Now, you may be asking: How does Rakuten cash back work? How do you save money with Rakuten?
Some of you may think that saving money with Rakuten is too good to be true. Well, it's not and here's why.
As mentioned above, Rakuten is affiliated with over 2,000 retailers. Because they are affiliated with many brands, Rakuten will earn a commission for directing you to the store's website (e.g. Apple, Nike, eBay, Lowe's, etc.). You get cash back from Rakuten because they share part of their commission with you. It's as simple as that!
Example of my recent savings with Rakuten:
When we purchased a replacement stove for our tenant from Lowe's for $869.97, we got 2% back just for ordering it online through the Rakuten portal. That was an easy instant savings of $17.40 with no effort other than shopping on Lowe's website through the Rakuten portal. On top of that, we used my credit card that gives us 2% cash back on home improvement purchases. That was an additional savings of $17.40 which totals to be $34.80.
What I'm trying to tell you guys is that you can stack your savings with other coupons, specials, and rewards when you use Rakuten. So many people assume that Rakuten cannot be combined with store discounts or other specials but that is not true. If Lowe's has a sale or a special coupon, you can still use Rakuten to further your savings.
It's just a bummer that Lowe's didn't have any sale when we had to immediately replace the stove for our tenant! In situations like this, you just cannot wait for a sale or force yourself to buy something else just because another product was on sale! And for frugal folks out there, I know you love hunting for free stuff online, but picking up a free stove or buying a used one was not part of our consideration set.
Anyway, you get my point. 🙂
Here's a quick tutorial on how to shop online and save money with Rakuten:
Again, Rakuten is free to join and use.

Click here to sign up for Rakuten and get your FREE $10 bonus (the U.S.).

If you live in Canada, use this CAD link to get your FREE $5 bonus.
Once you sign up and log in, you will see the Rakuten search bar.
In my example below, I would type "lowe's" (or whichever store you plan to shop at) into the search bar.

After you select "Lowe's" or hit enter, you will see something like the screen below.
On the left, you will see the Lowe's logo and a button that says "Shop Now."
Click on that "Shop Now" button to be directed to Lowe's website and you can start shopping like how you regularly shop for your stuff online.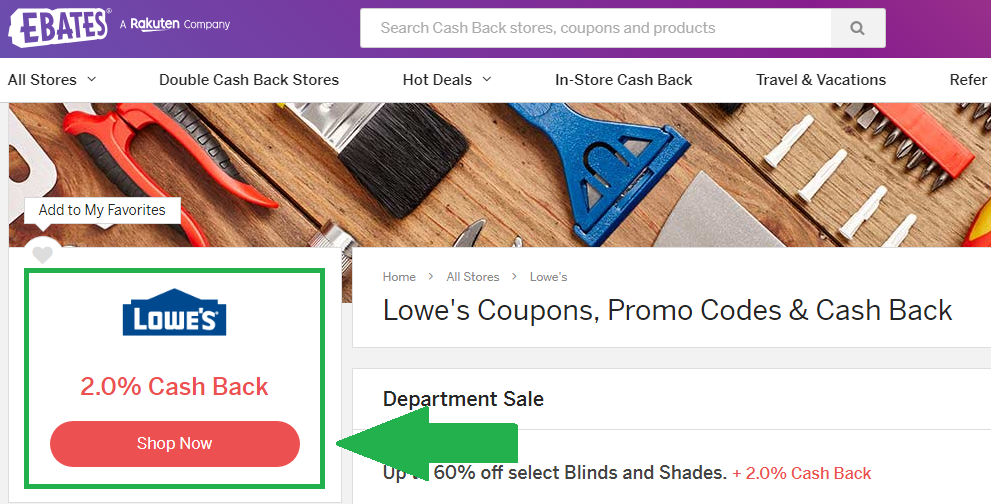 Here's another example for lovers of Macy's. If you regularly shop at Macy's, type "Macy's" into the search bar. Similar to what I said above, click on the "Shop Now" button and you will be directed to Macy's website.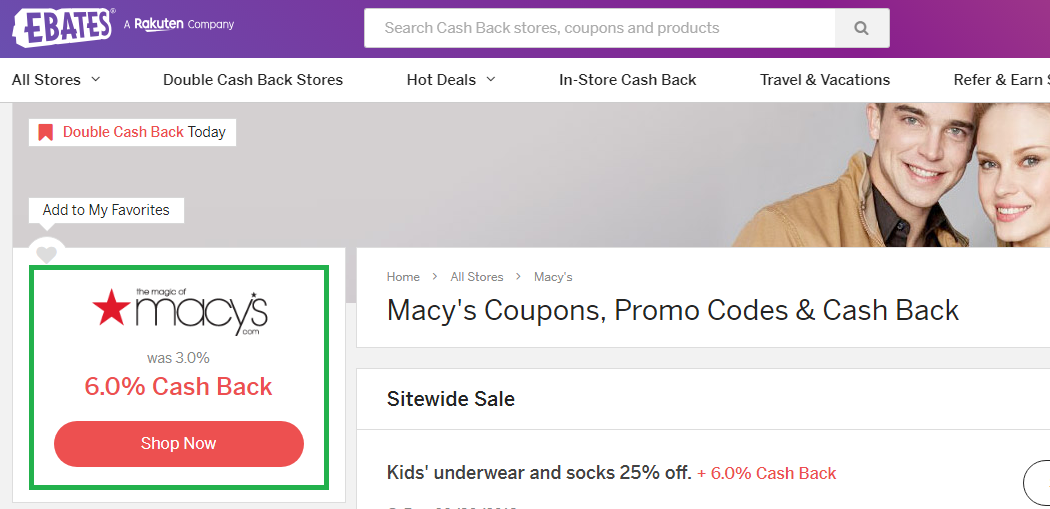 IMPORTANT NOTE: You must make sure to shop in the window browser that Rakuten directs you to because this is how they track your purchases! In other words, DO NOT open a brand new window to shop! Once you checkout, your cash-back reward will be credited into your Rakuten account within a few days to a week. This adds up especially during popular seasons like Christmas.
A quick and dirty Rakuten savings hack you must know!
I bet it crossed your mind that you'll forget to log into Rakuten each time you plan to shop online! You also don't have to worry about staying in that same window that I mentioned above because there's a solution for that!
To save time (and to avoid logging into Rakuten each time), you can install and activate the Rakuten Button Extension on your Internet browser. This extension only works for the desktop. Now, you'll always receive an automatic cashback notification at participating stores while browsing online without having to log into Ebates each time. Sweet!
A very small Rakuten popup at the very top right-hand corner of your browser will prompt you to click on the button "Activate X% Cash Back" for so and so store when you're browsing online for the things you normally shop for.
Before installing the extension button, you'll need to first sign up for Rakuten here. Creating a Rakuten account literally takes 5 seconds since it only requires your e-mail address and a password. Again, if you live in Canada, use this CAD link. After that, you can install the Rakuten Button Extension so that you'll never miss FREE cash!
5. How to make money with Rakuten
It's the moment you've been waiting for – the crazy simple way to earn extra money through their referral program.
Now that you've signed up, you can earn extra cash each time you refer your friends, family, coworkers, etc. But only refer Rakuten if you really love and use them!
As you can see in the picture below, the referral bonus is $25 for each person you refer as long as they make their first $25 online purchase through Rakuten. During the time I'm writing this, it is still $25 for every referral. Your friend will also receive a $10 bonus through your referral link so it's a win-win for everyone! 🙂
I just had to mention this feature because not a lot of people talk about it. I thought I'd be open about it and let you know!
6. When is the best time to use Rakuten?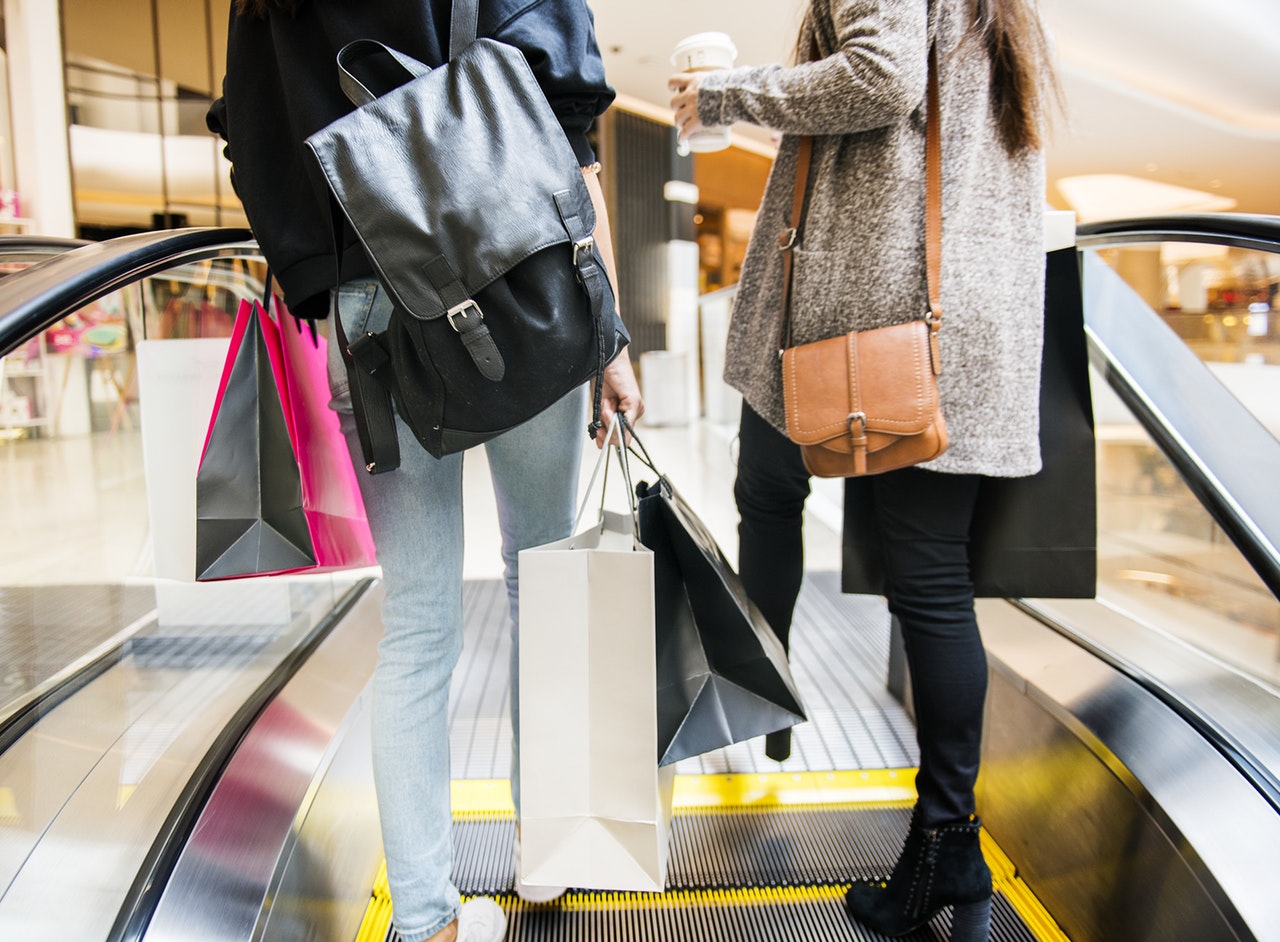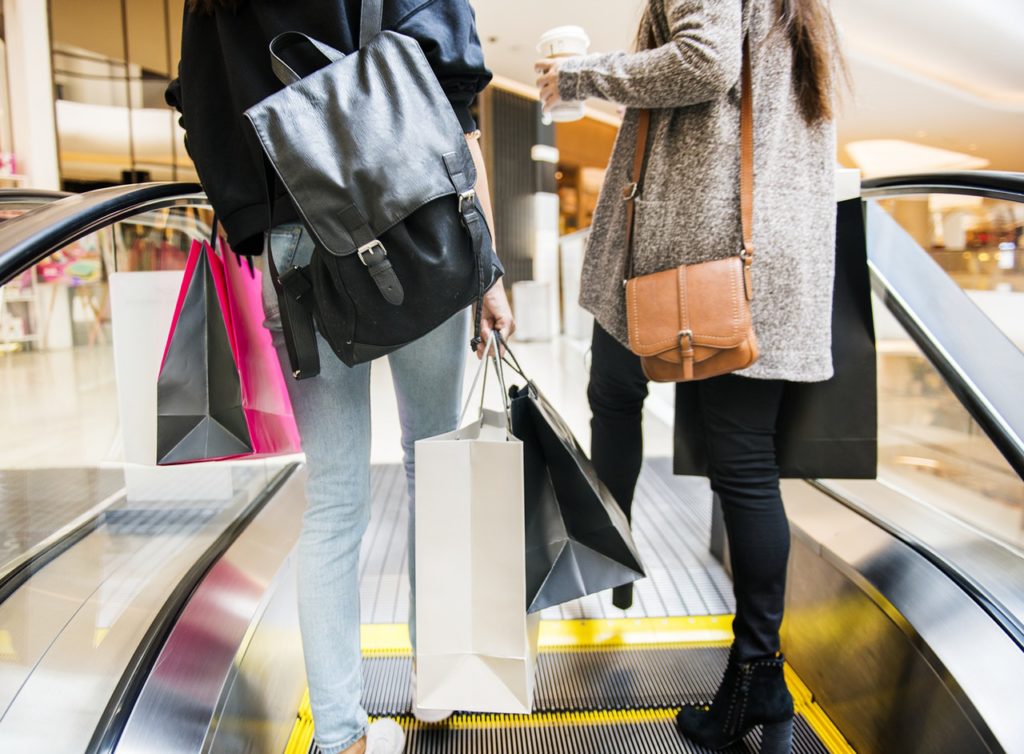 You can use Rakuten whenever you like. I always use them all year round so that I can earn cash back on all my normal purchases. I was going to buy those things anyway so why not?
But to answer your question, I find that the best and most popular time to use Rakuten is from September to December. This is when kids go back to school, Thanksgiving is around the corner, Black Friday sales are coming in, and most of all, people are shopping for Christmas and New Year's Eve!
BONUS: Based on my personal experience, October to December is when Rakuten has the best cash back deals!
These are the most popular months for retailers and that's when they get the most sales! It's also a win for you because this is likely the time you spend the most. This is especially true during Thanksgiving, Black Friday and Christmas.
According to the American Research Group, shoppers will spend an average of almost $1,000 for gifts each Christmas. This number doesn't include the decorations, food, drinks, or vacation. Yes, I mentioned vacation because you can get up to 10% cash back when you purchase from Expedia through Rakuten.
Having that said, imagine how much cash you can earn from Rakuten during this season! But of course, I would never encourage you to spend more just to "save more." Always be cautious with your spending!
7. Is Rakuten Legit?
Yes, Rakuten is 100% legit so it's definitely NOT a scam!
They have an A+ rating with the Better Business Bureau (BBB).
I personally use Rakuten which has allowed me to save a few hundred dollars each year without much effort.
As I mentioned at the beginning, Rakuten is affiliated with over 2,000 stores and they make money when you buy something through their link. Using my original example from above, when they direct you to Lowe's website, Ebates will earn a commission from Lowe's when you buy something from them. It's like how I would earn a small commission at no extra cost to you when you click on my affiliate links. Everyone wins so there's no scam involved here.
Rakuten also credits the cash into your account pretty quickly — usually a few days up until a week.
My personal experience with Rakuten customer support:
For the many years that I've used Rakuten, I only ran into a minor hiccup once. My fiance purchased an engagement ring for me from Blue Nile through Ebates (back in 2016 when it was still called "Ebates"), and it was odd that he didn't see the cash in his account after two weeks. It was about $200 bucks of missing money from Ebates!
He figured to give it some time but waiting two weeks didn't seem normal since we usually see the cash credited into the account within a few days. He immediately contacted Rakuten through their online chat support and they were able to quickly resolve the issue within the same day. In the end, my fiance got his cash credited to his account and he was happy.
Having that said, we had a really good experience with the customer support so Ebates is far from being a scam!
Update: I attempted to find Blue Nile on Rakuten, but it seems they are no longer partnered. Despite this, Rakuten now boasts partnerships with even more retailers compared to before, even though Blue Nile is no longer on their list.
Ebates customer reviews:
Here are other Rakuten reviews by real users that I found from BBB. Ebates has a current rating of 4.3/5 stars, so it looks like there are a lot of happy campers out there!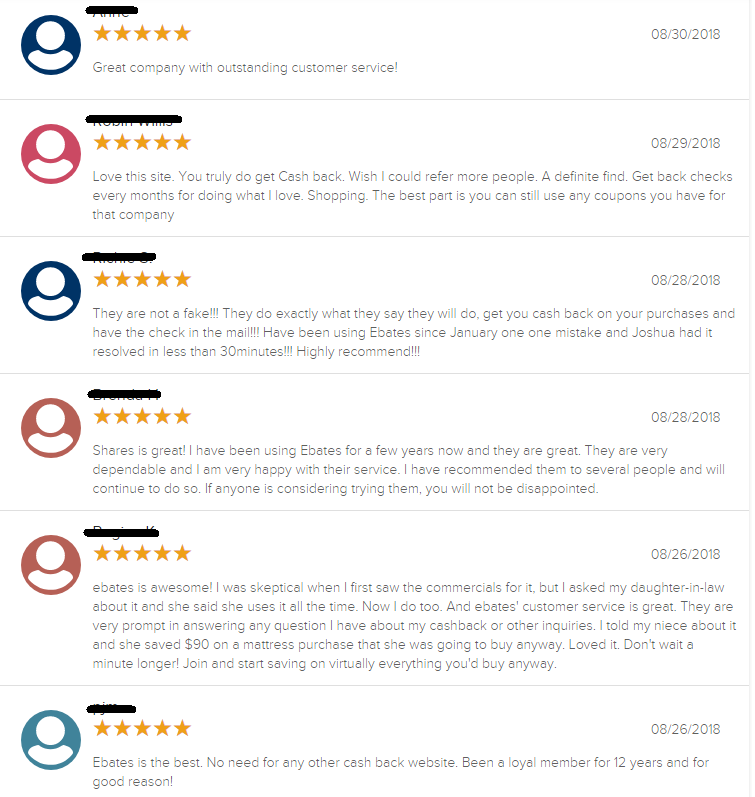 And of course, as with any company, there will always be an unhappy customer but it looks like Rakuten was able to resolve those issues. I mean, based on my personal experience that I mentioned above, I was almost one of those unsatisfied customers but they turned it around by resolving my issue within a timely manner. 😉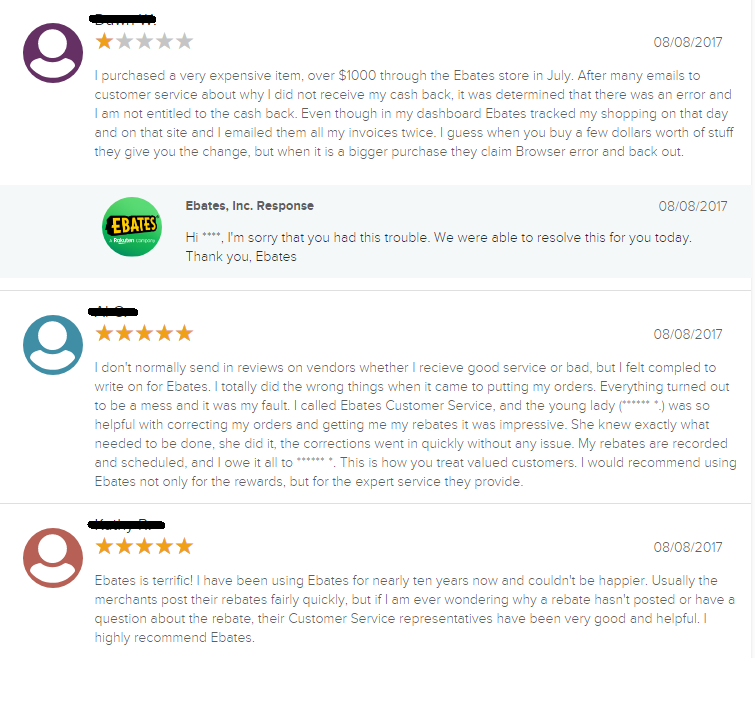 What is the disadvantage of Rakuten?
While Rakuten provides excellent cashback opportunities, a potential drawback is that not all retailers are partnered with the platform. For example, they don't have Home Depot anymore, but they offer most of the big brands you commonly hear of like Nike, Sephora, Bloomingdale's, Macy's, Lowe's, and so much more.
Additionally, cashback rates can fluctuate anywhere between 1% to 40%, and it requires a minimum amount of $5.01 to cash out.
I don't think the $5.01 is that much of a disadvantage since it's easy to rack up your savings through this cashback app. Another drawback is the payout schedule is quarterly, which can be a long wait for some people, but that doesn't bother me.
When did Ebates become Rakuten?
Ebates changed its name to Rakuten in 2019. The company Rakuten, which is from Japan, bought Ebates in 2014. They changed the name to Rakuten to make their brand the same all over the world.
What is the catch with Rakuten cash back?
I really don't think there's any catch with Rakuten's cash-back program. I mean, they are affiliated with other stores which means they generate revenue from these partnerships. When you make a purchase, they share a portion of that revenue with you as cash back. It's a win-win situation: retailers gain customers, Rakuten earns a commission, and you get a percentage back on your purchases. So, it's a pretty straightforward process without hidden traps.
As mentioned, the few cons with Rakuten is that cash back isn't immediate. It's paid out quarterly and requires a minimum balance ($5.01) for payout. Not all retailers are partnered with Rakuten, and cashback rates vary. Additionally, you must navigate to the retailer's site through Rakuten's portal to get cash back.
How does Rakuten give you cash back?
When you log into your account, click on your name at the top right-hand corner, and then select "My account".
Scroll down and you'll see a section called, "How would you like to get paid?"
In this section, you can choose your preferred payment method including PayPal, Amazon gift card, or have a big fat check sent to you.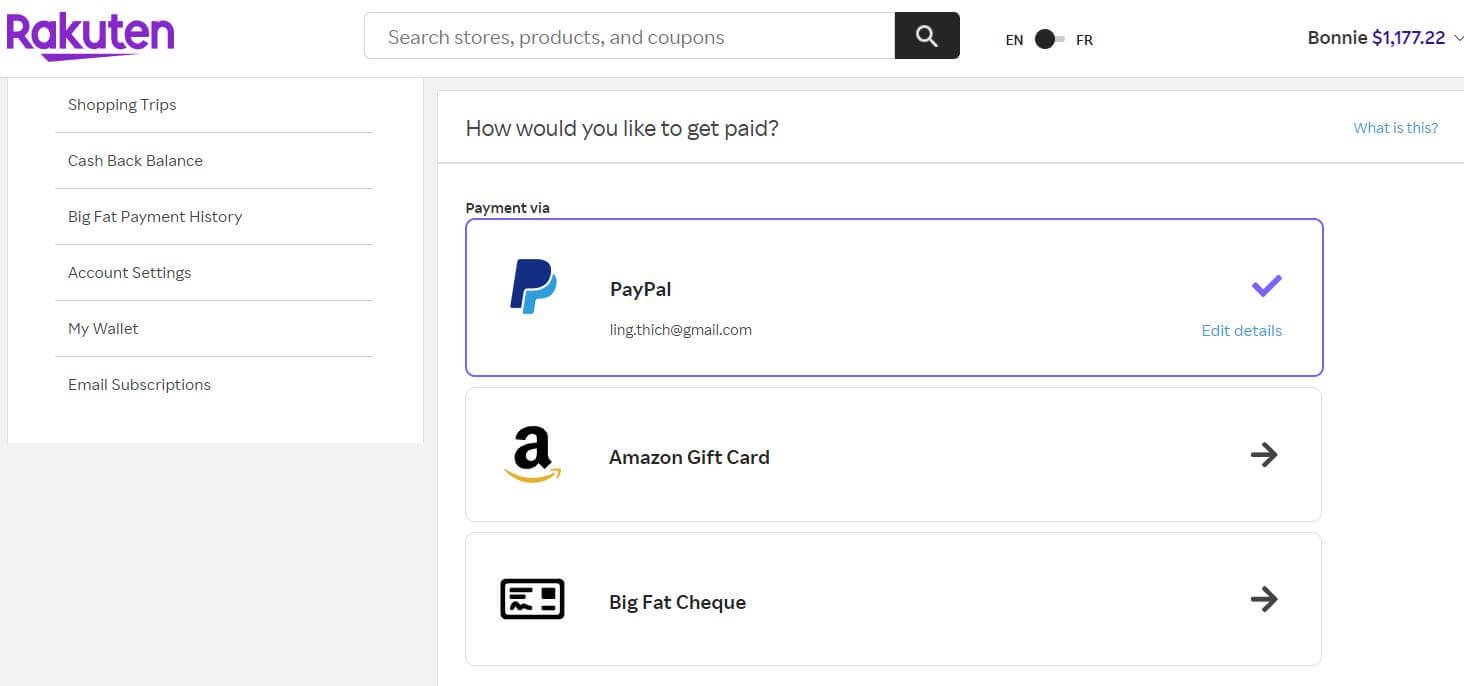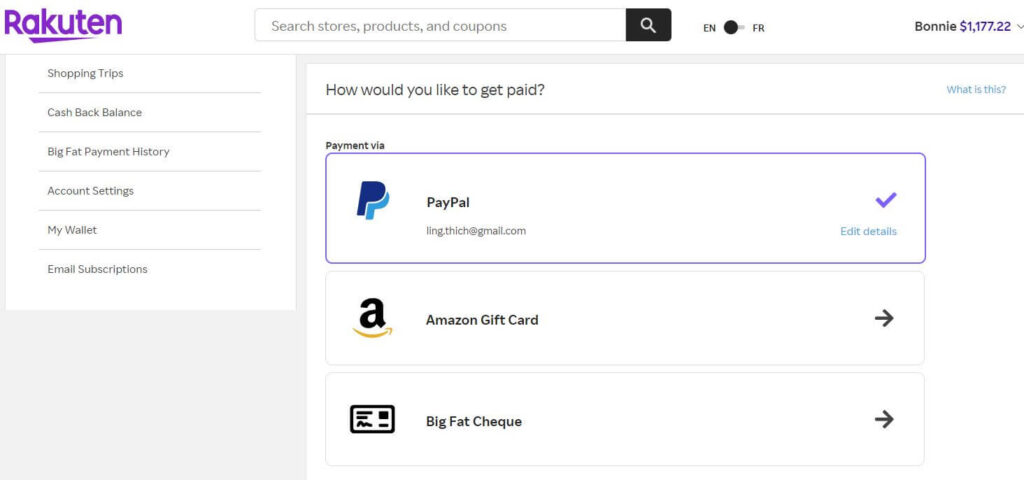 Rakuten Cash Back Summary:
There you have it — my honest Rakuten review and how it has helped me save money over the years.
Using Rakuten is really simple because all you have to do is make purchases at your favorite stores through Ebates and you will passively earn cash back. You can view it as getting paid to shop or effortlessly saving money just by making purchases via Rakuten.
The best part is you can combine Rakuten with store promotions and/or other discounts to save even more! Who doesn't like keeping more money in their wallets with almost no effort? As the financial experts always say, $1 saved is $2 earned! 🙂
Sign up today and get a FREE $10 cash bonus!
You can get FREE cash back just for shopping for the things you normally buy. The service is 100% free! Today, you can sign up for Rakuten using my link here to get a $10 bonus after you spend $25 on your first purchase. If you live in Canada, use this link to sign up for Rakuten Canada and get a $5 bonus. I sincerely hope you enjoy Rakuten as much as I do! 🙂
Readers, do you use Rakuten to get cash back on your purchases? I hope that this Rakuten review and tutorial helped!
Enjoyed this post? Don't forget to share it and follow me on Pinterest! 🙂