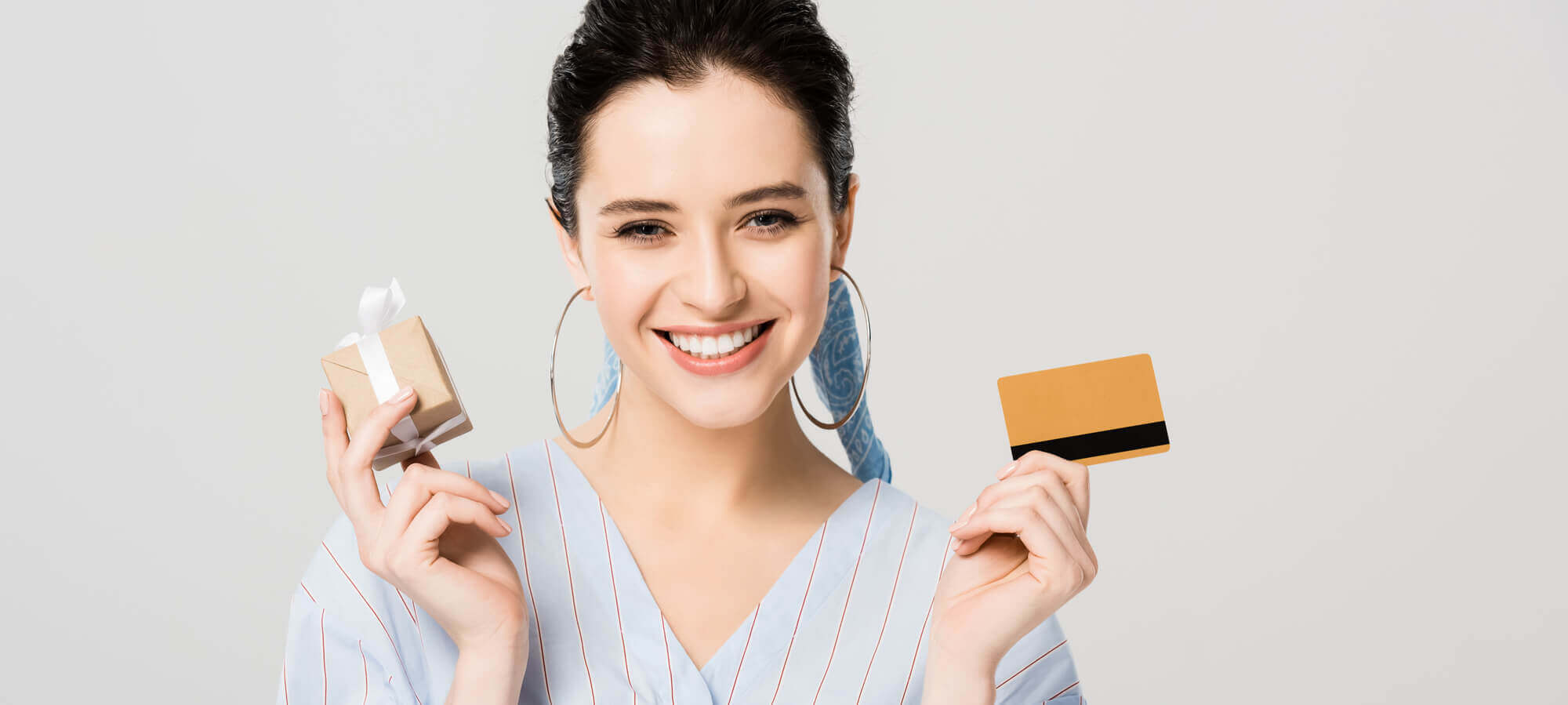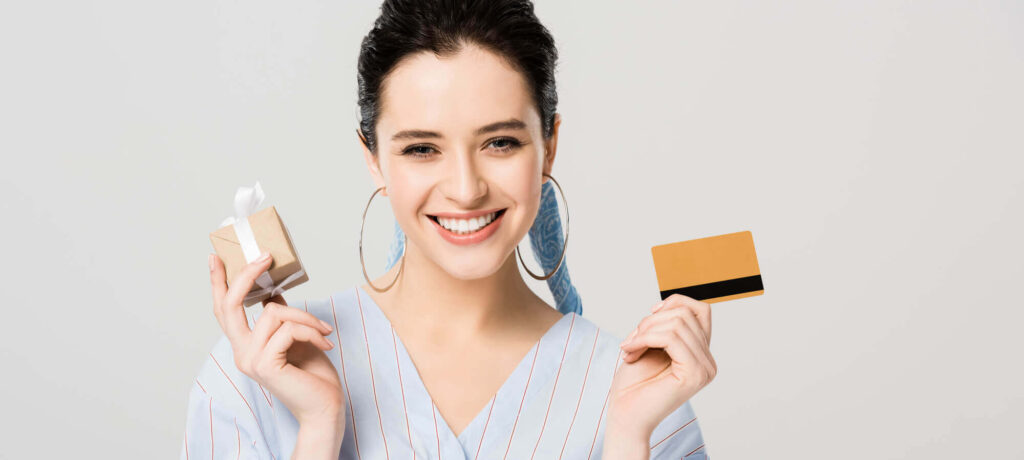 We will receive a commission if you make a purchase through our affiliate link at no extra cost to you. Please read our disclosure policy for more information.
Today, I'm going to let you in on how to earn Amazon gift cards for free! Yes, free. Free is even better than discounted gift cards!
Receiving gift card presents is fantastic and fun but it can also be nerve-racking.
You don't know whether you'll get lucky and receive a free $100 Amazon gift card or a lousy $100 Arby's gift card. With a gift card from Amazon, you can buy virtually any product you want, but you can't exactly do the same with a gift card to a fast food joint.
Just imagine all the things you could get on Amazon with a free gift card – cookware, personal care, beauty products, board games, toilet paper, electronics, and much more!
How to Get a Free Amazon Gift Card
Since we all love shopping online at Amazon, we're going to show you the best Amazon gift card hacks available and how to get a free Amazon gift card fast.
Or perhaps it's your birthday soon, and you're looking for birthday freebies – particularly free birthday gift cards.
Either way, this post will show you how you can earn them for free! 🙂
Before we begin, it's important to mention that no legitimate company is going to hand you free Amazon gift card codes for doing absolutely nothing.
However, many companies are willing to pay you cash and gift cards to Amazon for completing quick and easy tasks, such as signing up for free services or completing short surveys. Most of these simple tasks involve very little effort so it's not a bad idea to take advantage of these promotions before they expire.
Now you know how this works, let's start with the fastest way to earn free Amazon gift cards online!
Caution: It's common for people to look for free Amazon gift card codes generator or list of unused Amazon gift card codes online in an attempt to get free products from Amazon. These techniques simply don't work and you could be downloading destructive viruses onto your devices.
Get Free Amazon Gift Cards by Taking Surveys
What about taking surveys for Amazon gift cards?
Taking short online surveys is the most popular and effortless way to earn Amazon gift cards fast. This is because many surveys only take 5-10 minutes to complete and you can do them whenever and wherever you want.
I've been using the best and highest paying survey sites to earn many $10, $25, $50, and $100 Amazon gift cards for the past 10+ years.
You won't get rich by taking online surveys, but you can definitely do them in your spare time and earn genuine working Amazon gift card codes for your online shopping. And just by signing up, you'll even get a $5 Amazon gift card for free!
Participating in surveys is absolutely free so beware of survey scams where they ask you to pay a fee to join. Companies should be paying you, not the other way around.
PIN (OR BOOKMARK) THIS PAGE: I'll be updating this post so make sure to pin this image here and save it to your Pinterest board. That way you'll be able to come back to this page and find more legitimate ways to earn free Amazon gift cards!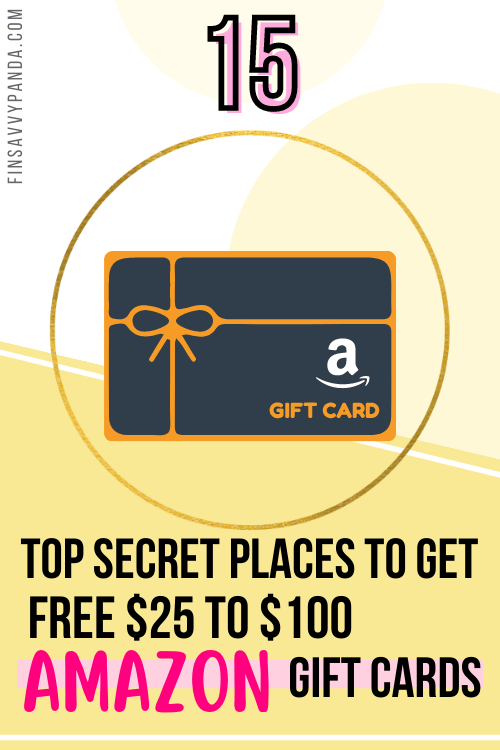 1. Swagbucks – FREE $5 Amazon Gift Card (Sign-up Bonus)
This is by far my favorite way to earn free Amazon gift cards for shopping.
I've been a Swagbucks user since 2009 and use it to get free Starbucks gift cards too. I highly recommend them to those who want to earn free gift cards and free stuff!
Swagbucks is a free rewards program that pays its members for doing common online activities.
You get rewarded with Swagbucks or SBs (their point system) for doing things you're already doing every day, like shopping online, watching videos and searching the web. You can earn more SB points for doing surveys so there's no shortage of ways to earn Swagbucks gift cards.
Swagbucks is one of the highest-paid survey sites out there and they've paid out more than $986 million in cash and free gift cards to their 10 million members.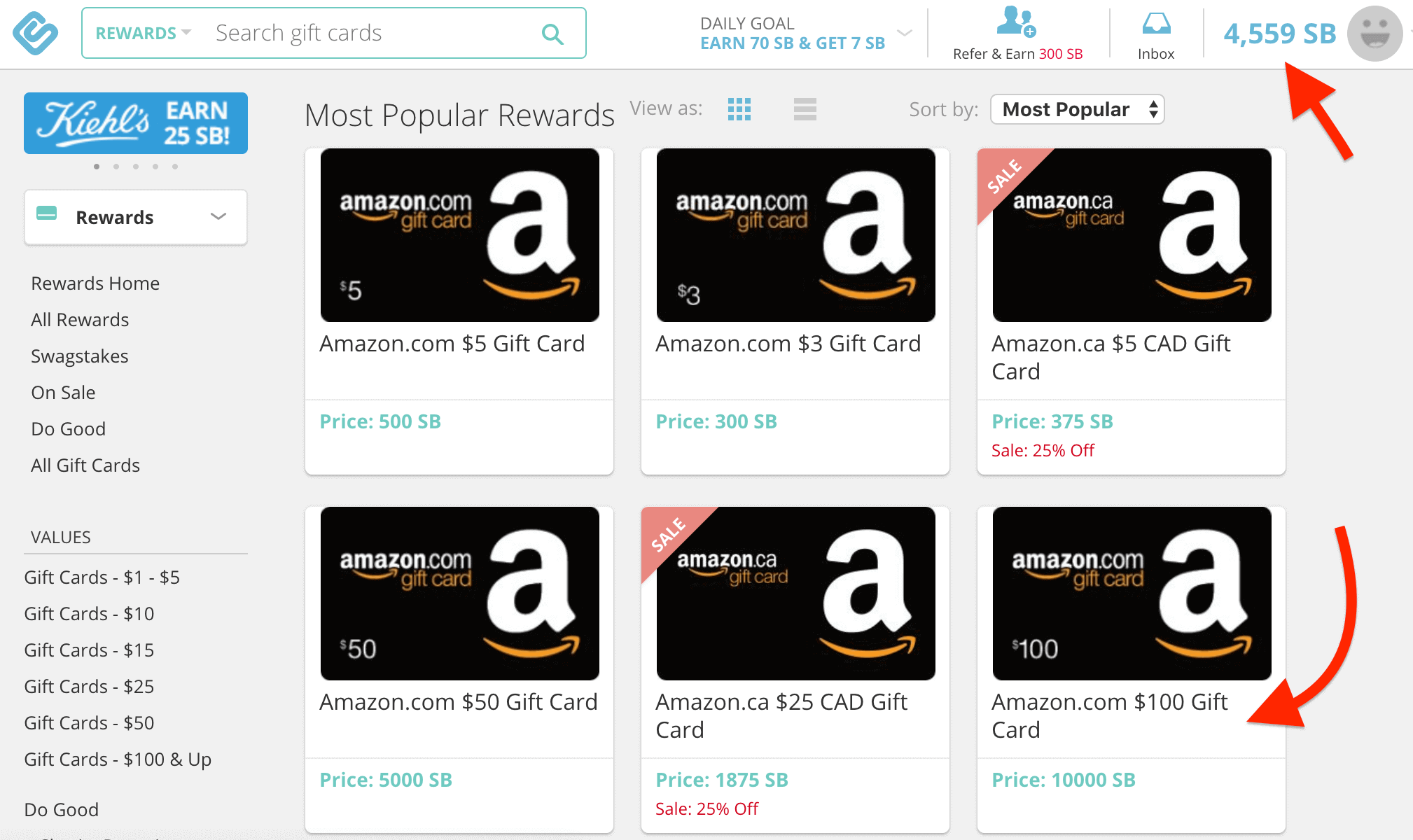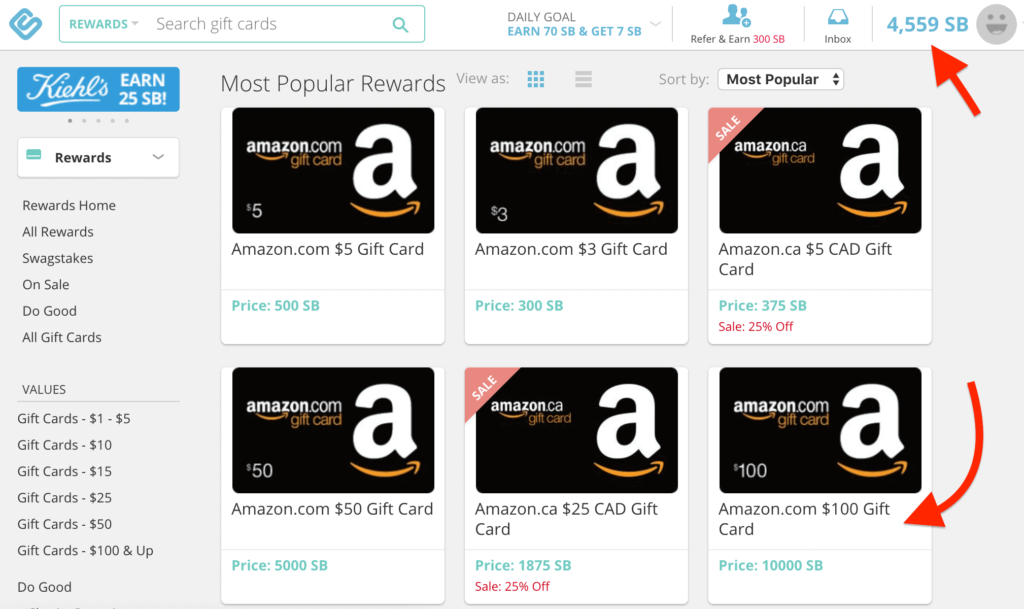 As you can see, you only need 500 SB points in exchange to get a $5 Amazon gift card.
I have 4,559 SB points in my Swagbucks account right now and I can redeem a $50 Amazon gift card for free. It's tempting to cash out, but I'm saving the points to get my free $100 Amazon gift card! Go big or go home, right?
You can also learn more about what is Swagbucks and how to earn gift cards in my honest Swagbucks review here.
🌟 Get a FREE $5 bonus from Swagbucks when you sign up here today! Right after your sign up, remember to verify the e-mail from Swagbucks to make sure you get your FREE $5 welcome bonus! It's a no-brainer when you can get a free $5 Amazon gift card for 30 seconds of your time!
2. Branded Surveys
Like Swagbucks, Branded Surveys lets you earn Amazon gift cards online by giving you points for every survey you complete. They're an online market research platform tailoring their questions based on your demographics and interests.
With Branded Surveys, you can accumulate points that you can redeem for a bunch of freebies including Amazon gift cards!
But don't expect a quick process. It would take time until you can get enough to exchange for gift cards or cash. The good thing about the platform, though, is that most of their surveys won't take you a lot of time to answer. They have ones that you can finish in 5 minutes. That means you don't have to spend too much time trying to gather enough points.
I honestly enjoy collecting Amazon gift card rewards through various survey sites. It's best to sign up for all of them simultaneously so there are more points to gain and more gift cards to earn!
👉 Today, by joining Branded Surveys through this special page here, you'll be rewarded with a welcome bonus of 100 points simply for signing up. Like all other survey sites mentioned here, joining is completely free.

Important: To secure your 100-point bonus, ensure you verify the email that Branded Surveys sends to your inbox after registration.

There's nothing to lose and much to gain! I urge you to sign up now, start accumulating points, and get closer to redeeming your free Amazon gift cards!
3. InboxDollars – Want a FREE $5 Amazon Gift Card Bonus?
InboxDollars is another very popular company that works with advertisers and market research firms to find out what consumers think about their products and services. Big companies use this valuable information to help create better products and services for everyone.
You earn real cash or Amazon gift cards, not points, for doing paid quick surveys in your free time. Most surveys take 3 minutes to 25 minutes to answer and you can expect to get $0.50 to $5.00 for each survey completed. The longer it takes you to complete a survey, the more you'll get paid.
A unique way to earn cash with InboxDollars is by reading emails! Advertisers want to pay you to read their emails because they need to inform customers of their sales and promotions without ending up in your junk mail.
Similar to Swagbucks, InboxDollars allows you to earn extra cash for searching the web and shopping online with their online portal.
🌟 InboxDollars currently has a promotion that offers new members a $5 bonus HERE just for signing up. You can use this sign-up bonus to get a free Amazon gift card!
4. American Consumer Opinion – Easy Way to Earn Free Gift Cards
American Consumer Opinion was established back in 1986 as a small company asking its members for their feedback on new products by mail. As the Internet became more popular, they expanded and created online surveys so members all over the world could participate.
As its name implies, American Consumer Opinion is a company that pays consumers – that's you – for their opinions on a variety of topics. You'll get paid with real money to answer simple survey questions, such as "Did a retailer's new advertisement make you more likely to try their new product?" or "What is the most important factor to you when purchasing a new car?"
When you reach 1,000 points or $10, you can exchange your points for free gift cards or cash via PayPal. You can use the cash to get a free $10 Amazon gift card.
🌟 Joining American Consumer Opinion is quick, easy and absolutely free!
Related articles on free Amazon Gift Cards:
5. Survey Junkie – Share Your Opinion and Earn Amazon Gift Cards
Instead of spying on your online shopping habits, legitimate companies are paying survey takers large amounts of cash via PayPal and free gift cards in exchange for your views and opinions on their products.
Survey Junkie helps companies better understand their consumers so they can improve product features and designs for their customers.
You'll get paid (with Amazon gift cards) to share your personal experience on a variety of topics like:
Beverages
Cosmetics
Electronics
Food
Fashion
Entertainment
Restaurants
Travel
Video games
They have new surveys daily so it wouldn't take you long before you can cash out your points for a free Amazon gift card. You'll earn points right away just for setting up your profile.
Survey Junkie is rated 4.5/5 on TrustPilot, which is one of the highest reviews on the site.
🌟 You can sign up for Survey Junkie for FREE here and start earning free gift cards immediately! Earn up to $35 per survey!
6. PrizeRebel
PrizeRebel has been in the survey business for over 10 years (started in 2007) and has paid out $19 million worth of cash and gift cards to its 9 million members.
It's a free rewards site that offers its members different ways to earn free gift cards. Similar to other survey companies, you can take paid surveys or complete simple tasks like their daily challenges, watching videos and clicking on banners.
PrizeRebel has a very low cash-out threshold where you can redeem your points for your Amazon gift card codes as soon as you reach 200 points (roughly $2).
An interesting fact is that they're quite active on Reddit. They actually spend time on the forums to interact and answer users' questions about PrizeRebel.
🌟 Try PrizeRebel for free today!
Earn Free Amazon Gift Cards by Shopping Online
One of the fastest ways to earn free Amazon gift cards is actually by shopping online if you want no surveys option.
Yes, you read that right – you get rewarded with free Amazon gift card codes for online shopping!
7. Rakuten – Grab Your Free $10 Amazon Gift Card Bonus!
Online shopping experts always recommend people to use Rakuten (formerly Ebates) for their online shopping because using Rakuten is one of the easiest and most legitimate ways of getting free money.
When you shop with Rakuten, you can earn up to 40% cash back on your online purchases!
You're probably thinking this has to be a scam because it sounds too good to be true! Why would any legitimate company give out free money? What's the catch?
At least that's what I thought!
However, it makes sense once you know how their business model works. So let's quickly go over Rakuten's business model.
Rakuten earns a commission for referring shoppers to retailers. Instead of keeping all the commission themselves, Rakuten shares the commission with shoppers in the form of cashback.
This is how you can start getting cash back after you create a free Rakuten account:
Find the store you want to shop at on Rakuten.com and click on the "Shop Now button.
Earn cash back on your purchases.
Get paid via PayPal or by check – use the money to get your free Amazon gift cards!
Let's go through an example, shall we?
Suppose you're looking to buy a $1,000 laptop from Dell. Rather than going directly to Dell.com to buy that laptop, you go to Rakuten's website and click on the Dell link to make your purchase. When you buy the laptop through Rakuten, they will earn 8% from Dell and will give you $40 in cash back. Rakuten makes $40 from Dell and you get to pocket $40.
The 8% commission is for illustration purposes, as no one really knows exactly how much commission Rakuten earns from retailers.
You can learn more by reading my Rakuten review here.
🌟 Sign-up for free and get a $10 sign-up bonus HERE today to use towards your Amazon gift card!
8. Honey – What's Sweeter Than Free Amazon Gift Cards?
What do you do every time you shop online?
You probably search every corner of the Internet to hunt for coupon codes so you can get discounts for your online purchases. The problem is when you apply codes to your shopping cart you get this unpleasant message:
"Sorry, the code is expired or invalid. Please enter another code"
Guess what? You can kiss those awful messages goodbye with Honey! Gone are the days when you waste time online finding expired or invalid coupon codes.
Honey is a free browser extension that automatically searches and applies coupon codes to your online purchases so you don't have to waste time looking for coupon codes to get a deal.
Similar to camelcamelcamel, Honey gives its members the ability to view the price history of Amazon products. When equipped with this kind of information, you can decide whether it's a good time to buy now or hold off on the purchase and use the "Droplist" feature to notify you when there is a price drop.
Finally, you earn "Honey Gold" when you shop with their retail partners, like Amazon, Macy's, and eBay. Honey earns a commission for referring shoppers to their stores and you get a cut of their earnings for being a member. Once you have 1,000 Honey Gold from your regular shopping, you can redeem it for an e-gift card and pocket your free $10 Amazon gift card.
Honey is so popular and valuable that PayPal decided to acquire Honey for $4 billion in 2019!
🌟 Honey is compatible with all the major browsers – Chrome, Safari, Internet Explorer, Firefox, and Opera!
Get Free Amazon Gift Cards with Free Apps
Your smartphone is more than a fancy gadget for you to text, check your social media feeds and occasionally make calls. It's also a device where you can use apps to make extra money and earn Amazon gift cards!
9. Ibotta – Download and Get a Free $10 Amazon Gift Card
What's better than getting a free Amazon gift card?
How about getting a free gift card PLUS cash back on your everyday shopping without cutting coupons?
Ibotta does just that.
Ibotta is a free cash back app that gives users cash back for purchasing groceries and household items (e.g. apples, banana, bread, toiletries).
Large retailers like Walmart and Target partner up with Ibotta to promote their brands and products on the app. Ibotta earns commissions from these retailers when users purchase items listed in the app and would kick back some of their earnings to its users.
It's easy to earn cash back on your regular weekly grocery shopping – all you have to do is take a photo of the receipt with the app as proof of purchase.
Once your account reaches $20, you can withdraw your earnings via PayPal or Venmo or redeem it for free Amazon gift cards.
Ibotta has paid out over $500 million to its users so you can trust that this app is legitimate. It's safe to say that it's the best Amazon gift card earning app.
🌟 They are currently offering new members a sign-up bonus of $10 HERE, which you can use towards a $20 Amazon gift card. Take advantage of this limited offer and get some free money!
Earn Free Amazon Gift Cards by Playing Games
The gaming industry is growing year after year as more people are interested in playing video games. The number of gamers is expected to hit 3.6 billion by 2025!
Companies are now giving away Amazon gift cards to people to try their video games!
10. Bananatic – Play Video Games and Earn Amazon Gift Cards
Bananatic is a free gaming website that allows gamers to earn free gift cards by doing their favorite activities. They have a huge selection of games, ranging from action, strategy, to MMO, so you're bound to find something that fits your gaming interests on the website.
You earn "bananas" (their form of currency) for playing, testing and reviewing games. You collect bananas for completing simple in-game quests and reaching certain levels.
They have a referral program where you'll earn bananas for inviting your friends to try Bananatic for free.
🌟 Bananatic has low cash out requirement so you can exchange 2,500 yellow bananas for a free $5 Amazon gift card!
11. Swagbucks LIVE – Earn Free Amazon Gift Cards with Fun Game Apps
If you love playing trivia games, then you might want to try the free game app – Swagbucks LIVE.
Swagbucks LIVE is a live trivia game show where you can play on your smartphone. You can win their grand prize ($1,000) by answering 10 trivia questions (in the form of multiple choice) correctly!
10 questions may not seem like a lot of questions, but the level of difficulty increases as you get each question right. It's fun to play against your friends and is highly addictive!
Even if you don't answer all 10 questions correctly, you'll earn points for playing. You can use the points to redeem cash via PayPal and free Amazon gift card codes.
🌟 The app is 100% free to download and play with +15,000 players every day. Put your trivia skills to test and win some cash!
Earn Amazon Gift Cards from Amazon
In addition to signing up for free services to get your hands on free Amazon gift cards, you can get free gift cards from Amazon directly.
12. Reload Amazon Gift Card – Get a Free $5 Amazon Gift Card
Amazon has promotions where customers can get a $5 Amazon credit for reloading their gift cards for the first time. To qualify for this promotion, you will need to reload $100 or more to your Amazon gift card balance. Most people spend way more than $100 a year buying products from Amazon so you may as well get some free money from Amazon while you can.
13. Amazon Cash – Grab a Free $5 Amazon Gift Card
It's challenging to make online purchases on Amazon for people who prefer to use hard cash to pay for things instead of a debit or credit card. With Amazon Cash, you can add cash to your Amazon account at over 45,000 participating stores – like CVS and 7-Eleven – and use it as an Amazon gift card on Amazon immediately without incurring any fees.
Amazon is giving first-time Amazon Cash users a free $5 Amazon credit for adding $20 to their Amazon Cash balance.
14. Amazon's Trade-In Program – Trade Junk for Amazon Gift Cards
Amazon has a trade-in program that gives you Amazon gift cards in exchange for your used products, like laptops, smartphones cameras, books, DVDs, and video games.
Amazon's trade-in process is fairly simple.
Find the item: Go to Amazon's trade-in program page and look for the product you want to trade in.
Ship your item: Amazon will provide you with a shipping label so you can send your product to Amazon for free.
Get your free Amazon gift card: You'll receive a credit in your Amazon account once Amazon confirms the item and you can use the cash to buy whatever you want on Amazon.
For example, if you have an old Apple iPhone lying around because you got a new iPhone as a gift, you can trade in your old iPhone and get a few $100 Amazon gift cards for extra spending.
15. Enter a free giveaway
This is pretty obvious, but entering giveaways is a great way to get a free Amazon gift card. It will be surprising to some, but so many brands, influencers, and websites have regular giveaways for shopping vouchers, including Amazon gift cards.
In fact, I've done a giveaway for an Amazon $100 gift card and a $50 gift card in previous years for my email subscribers.
What's great is they are so straightforward. Sometimes you just fill out a form. Other times, you have to follow social media pages and engage with their posts. I'm sure you've seen posts that ask you to like, comment, and share their content to get a chance to win an Amazon $10 gift card.
But don't be tempted by every single one you see. Be critical of them, and always make sure they're legit. Some pose as giveaways but are actually scams trying to get your information. If you're not sure, it's best to not engage. Better safe than sorry, right?
So keep an eye out for the real ones. You never know when you might be lucky enough to win a gift card that lets you trim that Amazon wishlist down.
FAQs About How To Earn Free Amazon Gift Cards
1. Is there any way to get free gift cards?
Yes, there are so many ways to get free gift cards, such as joining online giveaways and taking part in surveys.
But before you do those, make sure they're legit, though! If you're not sure, just stick to trusted companies like Branded Surveys and Swagbucks. These companies give you a chance to get rewards like free Starbucks drinks and free Amazon gift cards, among others.
If you're joining giveaways, double and triple-check to confirm they're real. A good rule of thumb to follow is if they seem too good to be true, they probably are.
2. Can you really get free Amazon gift cards?
Yes, there are legit companies out there offering free Amazon gift cards to their members as rewards for doing simple tasks. You can get $5-$20 Amazon gift cards from companies in various ways, like signing up to try their free services, sharing your opinion on products and brands, shopping online, or even playing video games.
3. Does Amazon Give Free Gift Cards?
There are a few methods where you can actually get free Amazon gift cards from Amazon itself. The easiest way to get a free $10 Amazon credit is to reload your Amazon gift card for the first time and add money to your Amazon balance via Amazon Cash.
You can also send your old electronics for Amazon gift cards with Amazon's trade-in program. Amazon is always looking to buy used smartphones from its members, especially iPhones, so turn your used products into money.
4. How can I get a free Amazon gift card?
The online landscape is highly competitive and big companies are willing to compensate people, like you, with free gift cards as a strategy to gain new users.
You can get free Amazon gift cards legally from legitimate companies by signing up for a free account at Rakuten to shop online. Top Survey companies, like Survey Junkie and Swagbucks, are paying users for their views and opinions on products and services. If you like playing video games, there are companies giving out Amazon gift cards to users for trying and reviewing their games.
5. What is the Easiest Way to Get Free Amazon Gift Cards?
This depends on which kind of activities you enjoy doing every day. For example, you might like the idea of shopping online to earn Amazon gift cards automatically because it's something you do regularly and it's on the way. On the contrary, your opinionated friend may enjoy earning free Amazon gift card codes for their effort in influencing change by giving their personal experience and feedback on products to companies. However, it's safe to say that it's quite effortless to sign up for free accounts and try out a service in exchange for free Amazon gift cards.
6. How to get an Amazon gift card with Survey Junkie?
From my own experience, it's fairly straightforward to get an Amazon gift card with Survey Junkie.
First, you need to sign up for Survey Junkie and complete surveys to earn points. When I first used this platform to answer surveys, it felt a bit overwhelming, so it might take some time to get used to it. But you need to be patient and answer the surveys honestly if you want to qualify to participate.
Once you've accumulated enough points, you can redeem them for an Amazon gift card. Just go to the rewards section, select the Amazon gift card, and follow the instructions from Survey Junkie to receive your gift card.
Closing Thoughts on How to Get Free Amazon Gift Cards
In today's time, having Amazon gift cards is as good as having cash in your wallet. Luckily, there are plenty of tips and tricks to earning free Amazon gift cards to help with your online shopping needs.
All of the ideas on this list are absolutely free to try so you can choose the methods that interest you the most.
It goes without saying that everyone loves getting free money sign-up bonuses so they typically start by creating free accounts and work their way to the other options.
What's your favorite way to get free Amazon gift cards? Let us know in the comments below!