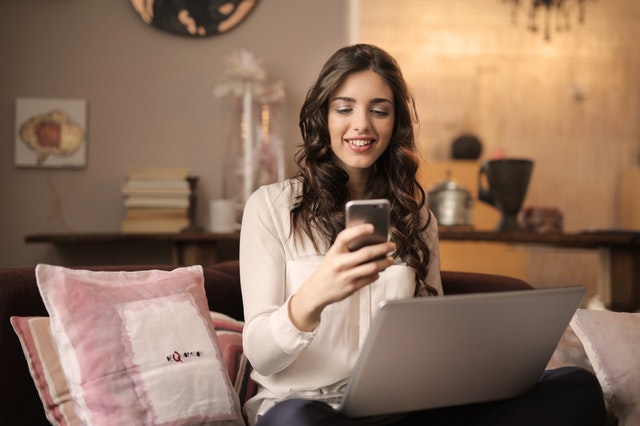 We will receive a commission if you make a purchase through our affiliate link at no extra cost to you. Please read our disclosure policy for more information.
There are so many apps out there that promise us we'll save or earn extra money by collecting points. That includes the many highest-paying survey sites that claim you'll earn up to $50 per survey.
From Swagbucks and Survey Junkie to Rakuten and Drop, the digital landscape offers various ways to gather rewards.
Drop, for instance, offers an interface that lets users accrue points through regular shopping habits. Partnering with several known brands and retailers, Drop gives users the chance to earn points on purchases they were planning to make anyway.
In the vast sea of reward apps, it's essential to find the one that aligns best with your spending and saving goals. To give you a clearer perspective, I'll be sharing a review on Drop, based on my personal experience using the app.
Drop App Review (Based on My Personal Experience Using It)
Many of you may be thinking and sighing to yourselves…
"What? Another cash back app?" 😫
Hold your horses (I mean… unicorns)!
Before you jump to conclusions, I want to let you know that the Drop app is kinda different, in a good way of course (hint: everything is on autopilot)! Else, I wouldn't write about how I redeem free gift cards to Starbucks or Amazon by using Drop. 🙂
I personally use Drop, so as a REAL user, I'm going to cover all the questions you have about the app!
With that said, I hope this Drop review helps you make the decision to use Drop or not (and yes, it's absolutely free to use).
Although I personally enjoy using the app, I have to admit that this app isn't for everyone. So, read further to find out what Drop is and how it works.
Near the end of this post, I will also provide you with a promo code where you can instantly claim your FREE 5,000 Drop points ($5 bonus) just for trying it.
PIN (OR BOOKMARK) THIS PAGE: I'll be updating this post so make sure to pin this image and save it to your Pinterest board. That way you'll be able to come back to this page and learn more about the Drop App review.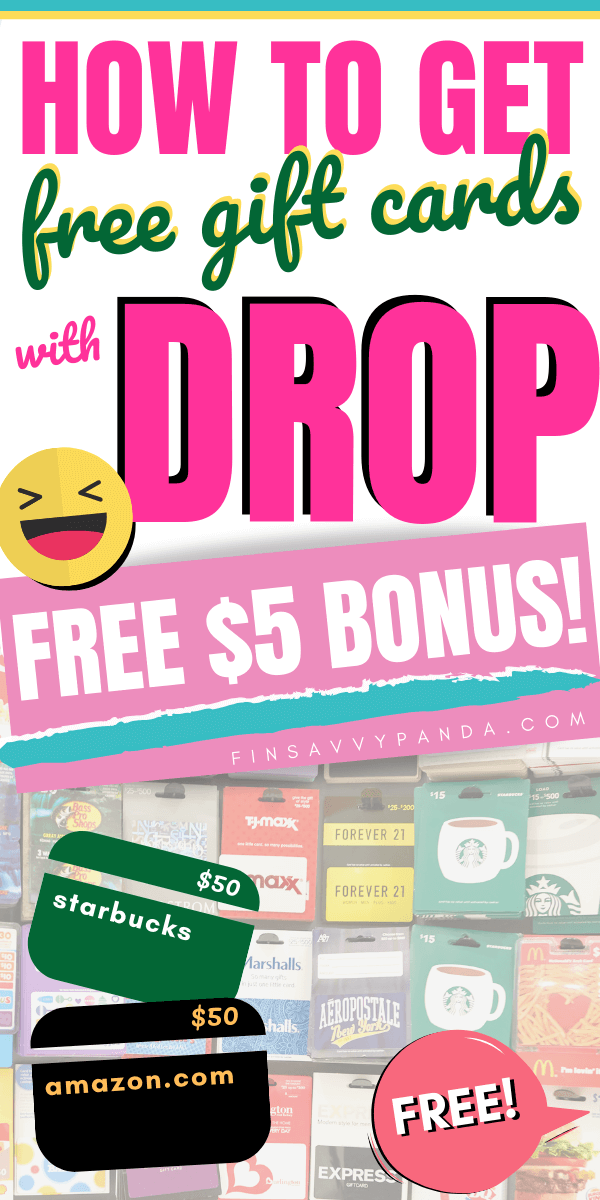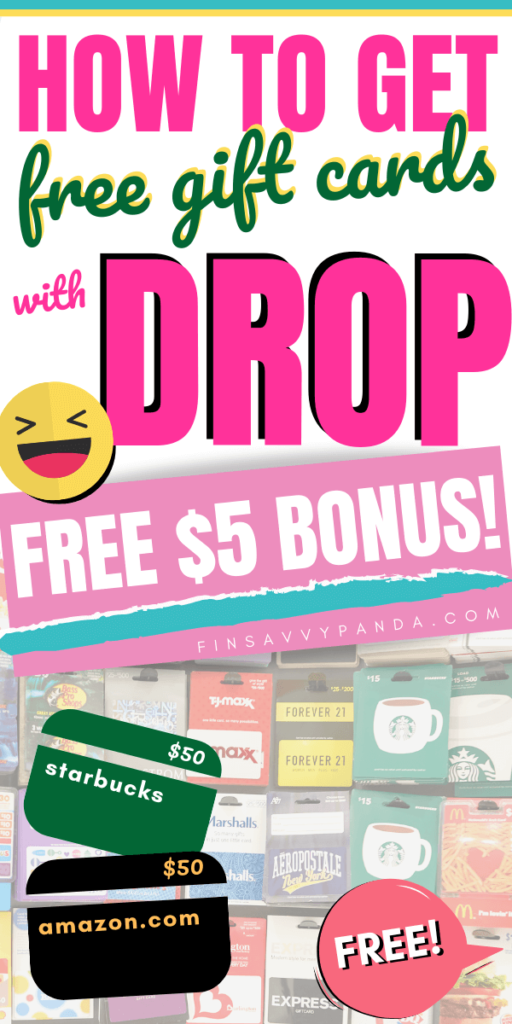 What is Drop?
Drop is an easy-to-use app that allows you to passively (YES, passively) earn Drop points just for shopping at your favorite and most visited retailers and restaurants.
Now, you're probably wondering what the heck do I mean by that?
So, what happens is once you sign up for Drop here, the app will ask you which top 5 places you want to earn your points from.
This is a great feature because that means you'll automatically earn points (completely hands-off) just by shopping at your most visited top 5 places — and there's a lot of popular stores to choose from (okay, maybe that's true for the folks who live in the U.S.)! 😅
U.S. store selections:
If you live in the U.S., the list of retailers you can choose from includes Dunkin' Donuts, Starbucks, Chipotle, Macy's, Walmart, Trader Joe's, Whole Foods, Walgreens, Uber, and a lot more!
Canada store selections:
And if you live in Canada, there's a (smaller) selection for you to choose from, which includes Walmart, Starbucks, Shoppers Drug Mart (Yay, I love collecting Optium points), Chipotle, McDonald's, Tim Hortons, Aritzia, LCBO and a bit more!
I live in Canada, so personally, for me, I chose Shoppers, Starbucks, Walmart (perfect for my everyday groceries and home goods), McDonald's and Chipotle.
💡PRO TIP: Choose your top 5 wisely because you won't be able to change this! However, the Drop team has said they are working on this feature to provide users with a more personalized experience in the future, so stay tuned!
Is the Drop app free?
Yes, Drop is 100% free to use!
In fact, when you first sign up for Drop here, you can instantly redeem your FREE $5 bonus. No purchase necessary! ☺️
📌 Also, be sure to pin this post so that you can refer back to it for your promo code!
How do you use the Drop app?
So, how does Drop work?
Okay, you may be thinking…
"Wow, this is great! I can earn rewards and free gift cards without having to lift a single finger?" 'Cos you know, there are many free money-saving apps such as Checkout 51 and Ibotta where you're required to actually snap a picture of your receipts and physically upload them through the app.
Nope, not for Drop!
Drop is WAY easier and requires absolutely ZERO effort!
Another neat thing about Drop according to this article is:
Drop uses an algorithm to target users with offers and reward they'll like based on their spending habits, rather than serving them standardized offers.
Related post: How I Make Over $1,000 With The Best Money Making Apps (All FREE To Use)!
Now, here's the catch though that may make some people hesitant to use the app.
To earn Drop points (or free gift cards), you will need to connect your debit card or credit card to the app — this is the only way Drop can track the purchases you make and allow you to earn points passively. If you are concerned about safety, continue reading the next section…
Is Drop a safe app?
The Drop app is safe to use!
Drop uses industry-leading security to ensure that your data is always safe. Your bank card login credentials are NEVER stored on Drop's servers.
So, Drop links to your cards by securely connecting to your online banking accounts with the same technology other leading fintech companies (such as Mint, Acorns, and Robinhood) use. In other words, they use bank-level security to make sure your information is protected.
You may also be asking whether Drop can see your account balances. The answer is no, they don't have any access to that information or any of your personal information linked to your account!
They ONLY see your transaction data.
With all that said, rest assured that Drop is secured and safe to use.
If those were your only concerns and you want to give Drop a try, you can sign up here for FREE! You'll also get a $5 bonus! 😊
How many cards can I link to Drop?
It could be as little as 1 or as many as 10.
You can link as many debit and/or credit cards as you like. I recommend you link the cards that you use most often at your top 5 favorite places — that way, you'll rack up points even faster.
For example, if you always use your favorite credit card to collect travel rewards, you can link that card to Drop. By doing that, not only are you collecting free travel rewards, but you're also collecting Drop points ON TOP of that!
Get more! combine Drop points with other cash back, rewards, and coupons!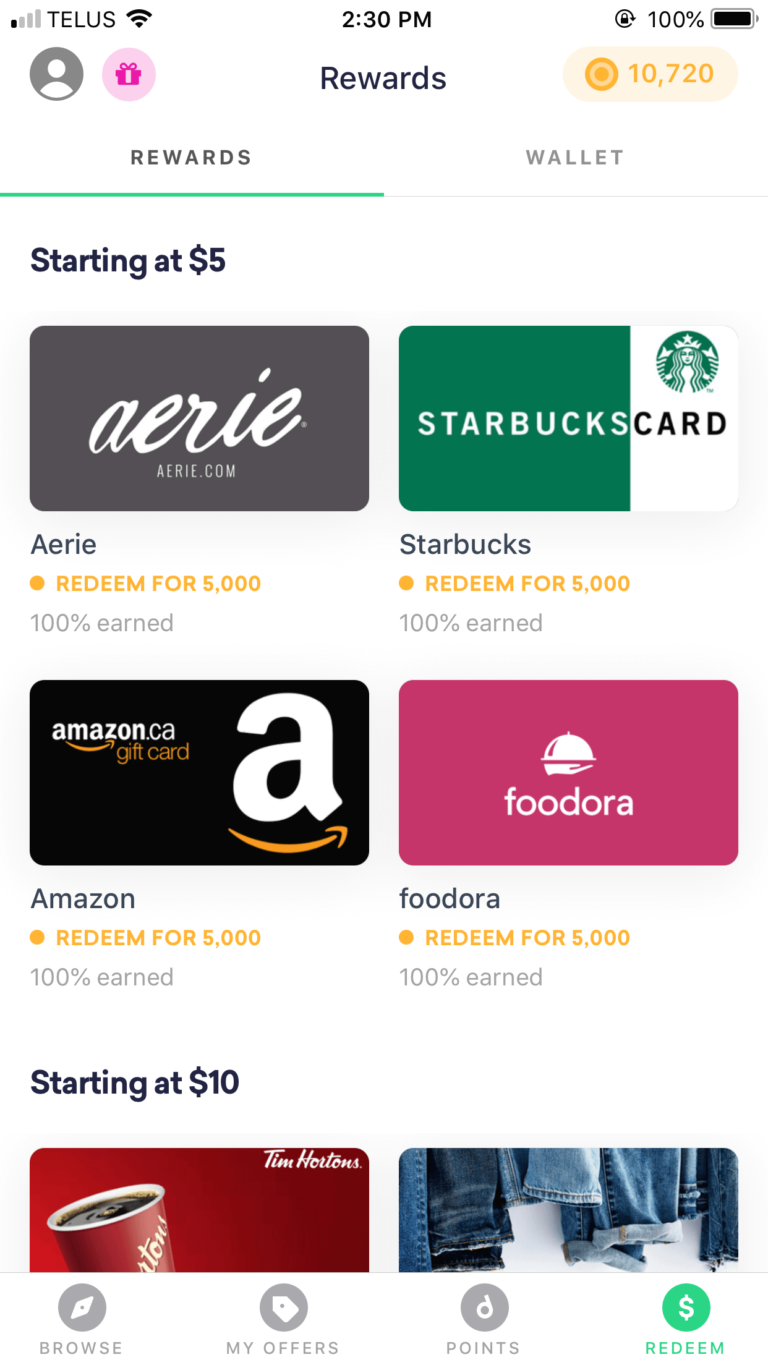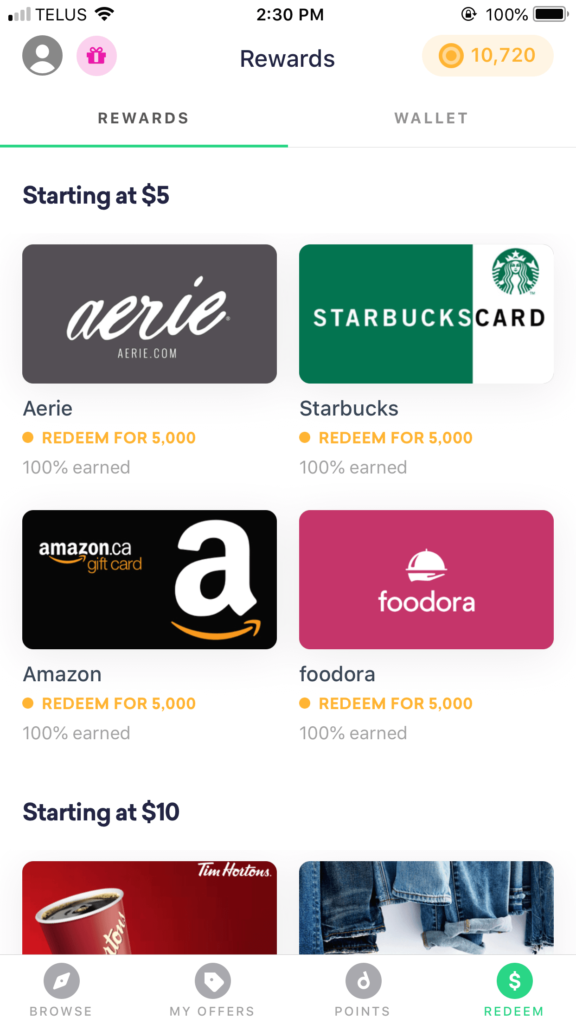 In other words, anything you passively earn with Drop is extra and that's what I love! 😍
This is a nice way to double-dip your rewards when you use your credit card rewards, other cashback apps such as Ebates, Swagbucks, Checkout 51 and Ibotta, coupons, and so on.
👉 If you haven't heard of these other free cash back apps, I really encourage you to check them out if you want to get FREE money!

They are absolutely FREE to use and only requires your e-mail to sign up (no other personal information)!
Read also: How to Get FREE Money Here — Are You Missing Out Up To $5,000 of Hidden Cash?
Drop Supercharge Bonus (Collect Bonus Points):
Another cool way to collect more Drop points is through the Supercharge bonus game.
For every 5 transactions you make from any of your top 5 store selections, you will be given a free game.
Here's how the game works.
You get to play a fun snake game where you can earn more Drop points.
At the beginning, you will be given 3 lives.
All you have to do is feed the snake as many Drop points as possible. I must say that as you collect more and more points, the game gets harder.
Here is a screenshot of how I collected 105 Drop points from my last Snake game, LOL!
I suck at playing games, but let's see if I can improve to score more Drop points, haha! 😛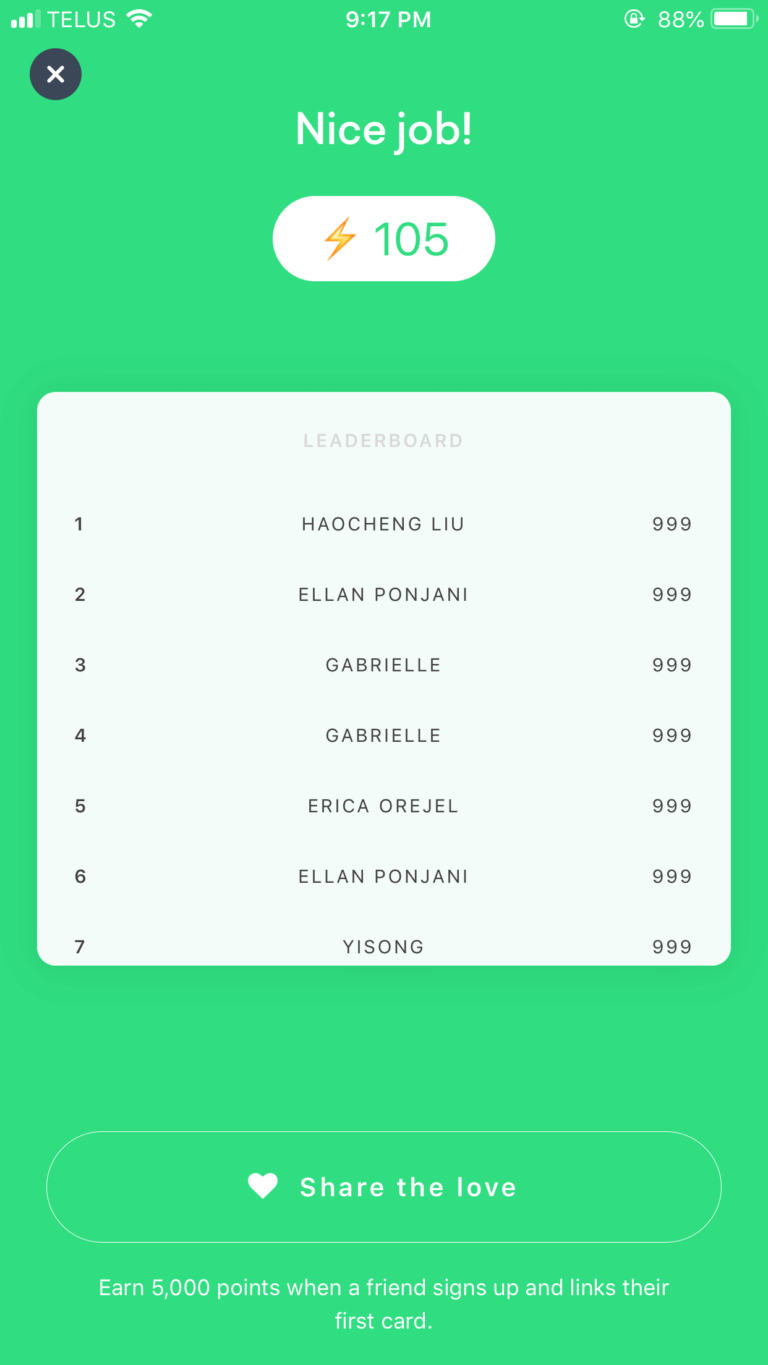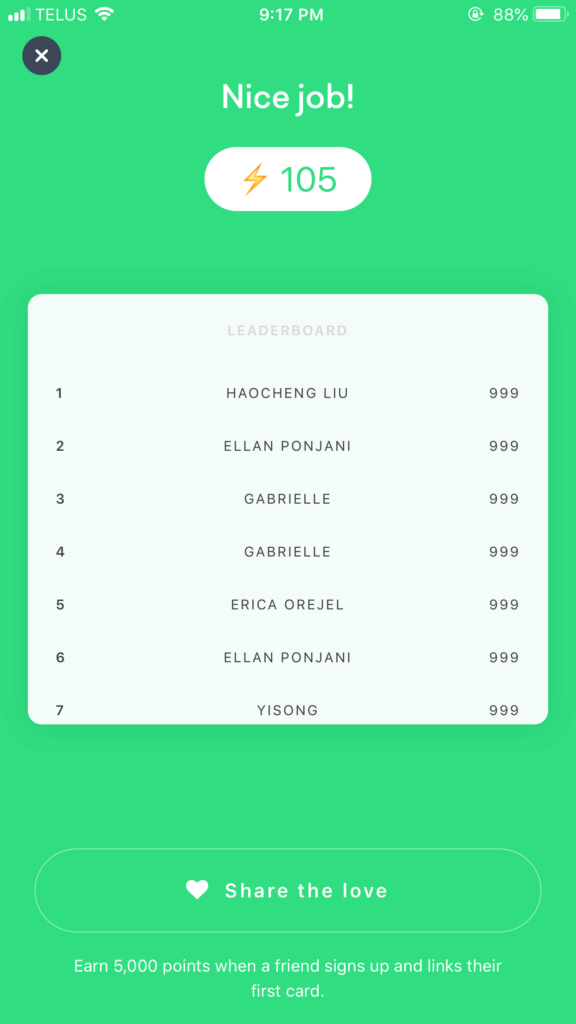 Drop app pros and cons:
I'll be straight up and tell you that Drop won't make you rich, but it is a fun and easy way to earn Starbucks or Amazon gift cards for free with absolutely no effort. Who can say no to FREE stuff?
Like every product, Drop has its pros and cons, so let's cover them here.
Pros:
100% FREE to sign up for and use.
Covers a fair list of large and popular retailers that you can to choose from (a lot of them are Millennials' favorites)!
You earn points on autopilot without doing anything.
It is safe to use (Drop is securely encrypted, but if you have further questions/concerns, please read here or contact their team).
You can stack up your Drop points with other cash back apps like Rakuten and your favorite credit card rewards (again, I love getting the most out of my rewards).
Offers a fun snake game so you can earn a little extra Drop points.
Cons:
You need to choose your top 5 retailers wisely because you can't change them later.
Required to link at least one card.
Drop says it takes up to 7 days to see your points. That's a little long.
The rewards are relatively low (on average it's less than 1% in Canada, but seems to be slightly better for the U.S.). Again, these are points that are ON TOP of what you're already earning from other rewards programs, so it's not bad. I can't complain especially when it's completely passive, hah!
I've heard that their support team takes a little longer to respond to customers, but apparently, this has improved over the last few years since its inception. I am looking forward to see them grow!
Not the road to get rich quick that many people look for — haha, I'm just sayin'! 😛
Drop app promo code (FREE $5 bonus)
We finally reached the end!
I really hope you found this Drop app review helpful.
You can now make the decision of whether you want to give it a try. I will say that my favorite feature about Drop is earning points passively without having to do anything!
For a limited time, you can use this special link get your FREE $5 bonus (equivalent to 5,000 Drop points) immediately after linking your first card! No purchase necessary! 😊
FAQs About The Drop App
Here are some commonly asked questions many people have about the Drop app.
1. Does Drop cost money?
Here's the great news! Using Drop won't cost you a thing. Like most other apps that help you save money, you get points at no extra charge, especially for the shopping you'd do anyway. It's genuinely a win-win!
2. Is the Drop app legit?
Yes, as mentioned in this review post, the Drop app is 100% legitimate. I have used it and confirmed it is safe to use.
3. Is Drop better than Rakuten?
Both Drop and Rakuten are reputable businesses. Drop holds a 3.8 out of 5 on Trustpilot but holds an F grade on the Better Business Bureau (BBB). On the other hand, Rakuten has established an outstanding 4.5 out of 5 on Trustpilot and has been given a B grade by the BBB.
The best part is you can use both of these apps. Simply select the one that provides the best deal when you're shopping. I personally love Rakuten and recommend it to everyone, which you can read more about in my honest Rakuten review. I've used this app for over a decade and have consistently relied on it to save money over the years.
4. How do I get gift cards on the Drop app?
In the "My Drop" section of the app, if you scroll down, you'll find "Your Gift Cards." Continue scrolling to view each claimed gift card. By selecting one, you'll see its ID number and the corresponding balance. You can also redeem gift cards from this section.
Readers — Do you use Drop? Are you ready to try the Drop app for FREE?
Don't forget to check out the best money making apps here. It's a free way to make money with your smartphone! 😉
👉 Don't miss out on FREE money! 💵 💵 💵
If you follow my blog, you will know that I'm all about saving money and making money. Below are some of my favorite sites and resources that may help you! The best part is that they're all FREE to join and use! 😊
Swagbucks: You can earn cash and FREE gift cards just by surfing the web (like how you search for things on Google), watching videos, playing games, and completing easy surveys. My fiance and I have redeemed many FREE $50 to $100 Starbucks and Amazon gift cards which helped us save money and reduce our spending!
🌟 Sign up for Swagbucks and get a FREE $5 bonus instantly through my link! 💵

⭐️ Important: Don't forget to verify the email from Swagbucks in your inbox so that you can redeem your bonus!
Don't miss out on this post: How To Use Swagbucks To Get FREE Gift Cards!
Rakuten: You get FREE cash just for shopping at over 2,000 of your favorite stores. This includes Walmart, Macy's, Apple, Kohl's, Target, eBay, and so many more! I use Rakuten to save over a few hundred dollars per year just for shopping for the things I normally buy.
🌟 Sign up here for your $10 welcome bonus after making your first $25 purchase through Rakuten.

🇨🇦 If you live in Canada, you must use this link to get your $5 bonus.
Related post: To learn more, read my full review and tutorial on how to use Rakuten here. You will fall in LOVE with Ebates! ❤️
Survey Junkie: I personally use this free resource to earn extra cash by answering simple surveys online. This may help you save money or pay for some of your groceries for the month because you can redeem cash or FREE gift cards (your choice). They are rated 8.7/10 which is one of the highest on TrustPilot reviews.
🌟 You can sign up for Survey Junkie for FREE here and start earning FREE gift cards and cash immediately. 💵
MyPoints: You can earn FREE gift cards to your favorite stores or cash (your choice) just by watching videos, taking surveys, reading e-mails and more. MyPoints has paid out their members $236,000,000!
🌟 Sign up for MyPoints here for FREE and get a $5 bonus immediately when you take 5 surveys! 💵

⭐️ Important: Don't forget to verify the email from MyPoints in your inbox so that you can redeem your bonus!
Read also: The Best Places To Score FREE Gift Cards
Enjoyed this post? Don't forget to share it and follow me on Pinterest! 🙂