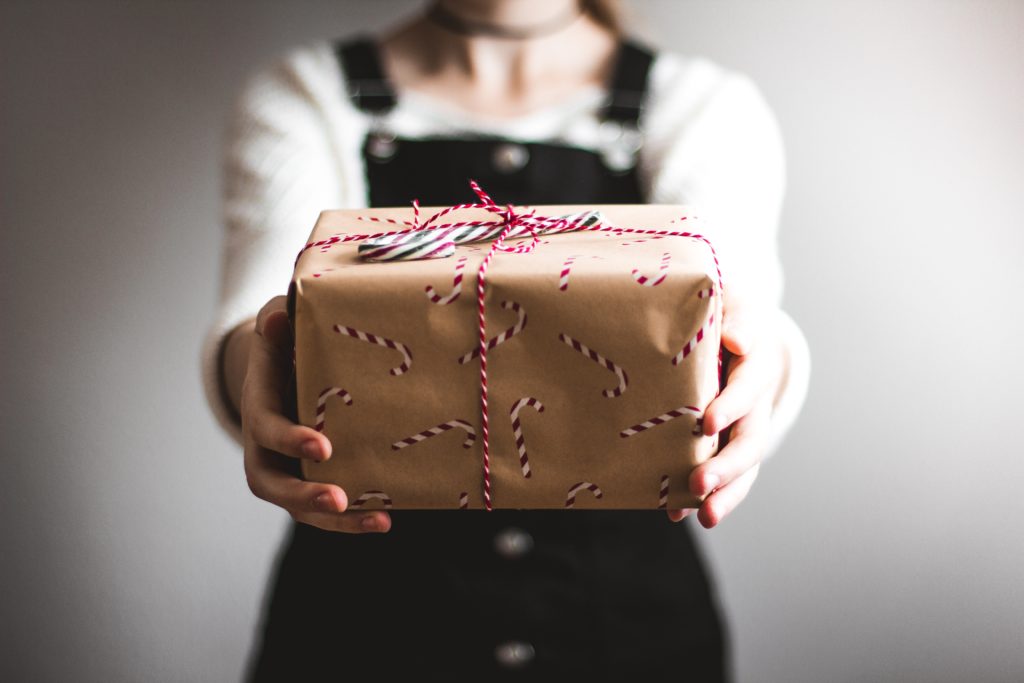 This post may contain affiliate links. Please read our disclosure policy for more information.
How To Get Free Gift Cards
You know that feeling when your employer hands over a free gift card to Amazon or Starbucks for a job well done?
It may not be a big amount ($25-$50 good enough?), but the feeling of being appreciated and handed something free sure feels good.
But let's be real, are you really going to get free gift cards from your employer many times throughout the year?
Probably not, and that's why I'm here to show you how to get free gift cards online.
YES, there are many legitimate ways and hacks to get free gift cards to Amazon, Walmart, Starbucks, and other stores you love! Wouldn't it be nice to earn Amazon gift cards instantly? 😉
I personally like to earn free gift cards because it helps me reduce my spending throughout the year.
For example, I've used my free Starbucks gift cards to pay for my favorite lattes, and my free Amazon gift cards to pay for some household items. If I wanted to, I could even use them to spend on gifts for my friends and family during the Christmas holiday!
You won't make thousands of dollars per month, but they can still help you save money on your normal purchases. If you like, you could even redeem them in cash over gift cards.
Hacks on how to earn free gift cards fast
Without further ado, here are some clever ways to earn free gift cards fast!
I encourage you to sign up for as many sites as possible. The more you sign up, the more free gift cards you may be able to earn! They are all FREE to sign up for, so you really have nothing to lose!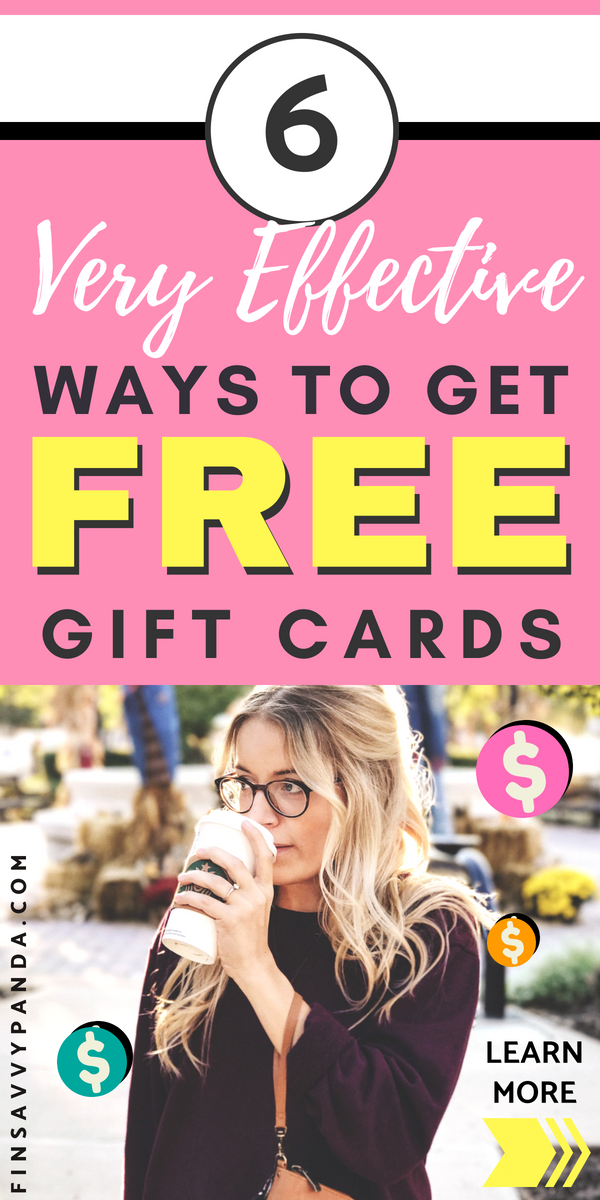 1. Use Swagbucks to get free gift cards
I just love those free Swagbucks gift cards!
Swagbucks is one of my favorite ways to redeem free gift cards, and I always mention it throughout my blog because I truly love them!
You earn FREE gift cards fast by watching videos, completing surveys, surfing the web, shopping online and more! These are just the stuff you normally do on a daily basis. In addition to Starbucks and Amazon, they offer many other gift cards to your favorite stores!
I've been a member since 2009 and I couldn't say no to the FREE Starbucks gift cards which helped me pay for my lattes! Swagbucks is 100% legitimate and has paid out their members $281,868,410 to date!
👉 You can sign up for Swagbucks here and get a free $5 bonus just for using my link.
Related post: Honest Swagbucks Review: How Does Swagbucks Work? Get Swagbucks Gift Cards For Free.
2. Earn free gift cards fast with Survey Junkie

With Survey Junkie, you get rewarded with points each time you complete a survey, and I like how I am qualified for at least 1-2 surveys almost every day. Even when I'm not qualified for a survey, they still reward me with a few points!
The minimum payout threshold is $10, which is equivalent to 1,000 points. Since most surveys reward you between 50 to 200 points, you'll be able to cash out with PayPal or get your free gift cards. Oh yeah, they also pay out really fast!
What I also like about them is their user-friendly interface which allows you to navigate around easily. They also have a TrustPilot Rating of 8.7/10 which makes them one of the highest-rating survey sites.
👉 You can start earning FREE gift cards by signing up for Survey Junkie (US) here.

If you live in Canada, you'll need to sign up for Survey Junkie (CA) through this link.
3. How to get a free $10 Amazon gift card hack
MyPoints is actually a sister company of Swagbucks so they are definitely trust-worthy and legitimate!
In addition to earning cash, MyPoints rewards you with free gift cards by shopping online like how you usually do, playing games, reading emails and engaging in other fun online activities. Given that their name is "MyPoints" it's a no-brainer that they reward you with points (their form of currency). Once you accumulate enough points, you can cash out at their minimum payout of $10 for free gift cards, cash, and other rewards.
👉 For a limited time, you can sign up for MyPoints here and get a FREE $10 Amazon gift card after spending $20.

⭐️ Alternatively, you can sign up here and immediately get a FREE $5 bonus when you complete 5 surveys. No purchase necessary!
4. How to get a free Walmart gift card
Before you learn how to get a free Walmart gift card, I want to quickly talk about Ebates. I really think you will love them as much as I do!
With Ebates, you can passively earn up to 40% cashback on your online purchases. They are affiliated with over 2,500 of your favorite stores including Walmart, Macy's, Sephora, Nike, eBay, Kohl's and more! And yes, this is 100% FREE to use.
Right now, you can sign up for Ebates (U.S.) here and receive a FREE $10 Walmart gift card after spending $25 through Ebates.
If you live in Canada, sign up here and get a FREE $5 bonus.
Signing up is super easy! All it requires is your e-mail and password. No fees and no forms as you can see in the screenshot below. Ebates has helped their members get over $1 billion cash back!
⭐️ For more info, you can read my full review and tutorial on how to use Ebates here. I also mention a hack on how you can quickly earn FREE cash with Ebates. You won't be disappointed!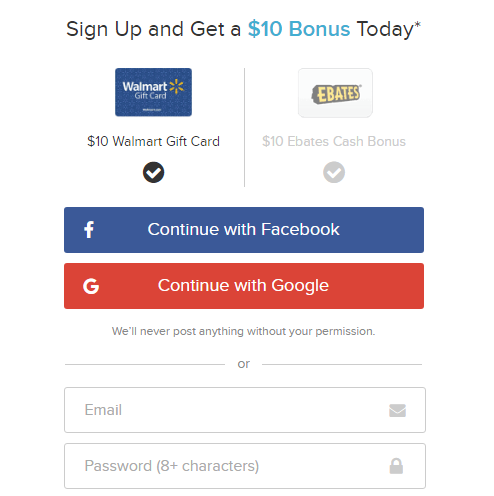 5. Get free gift cards by sharing your opinion
I've said this many times and I'm going to say it again. You're not going to become a millionaire by doing surveys but it is a great way to make extra cash and earn free gift cards while watching TV, waiting for the bus, or commuting to work.
You can earn $50 to $200 worth of gift cards every month by doing easy surveys with the websites below.
Here are my top recommendations. Again, they are 100% legitimate and free to use.
American Consumer Opinion:
I recommend using American Consumer Opinion (ACOP) to earn some extra cash. I personally use this survey site and they pay you cash just for completing really simple surveys. I've also gotten e-mails from them about entering their draws for prizes and rewards which may include gift cards for free. There are currently over 7,000,000 active members at ACOP.
👉 You can sign up for American Consumer Opinion here for FREE.
InboxDollars: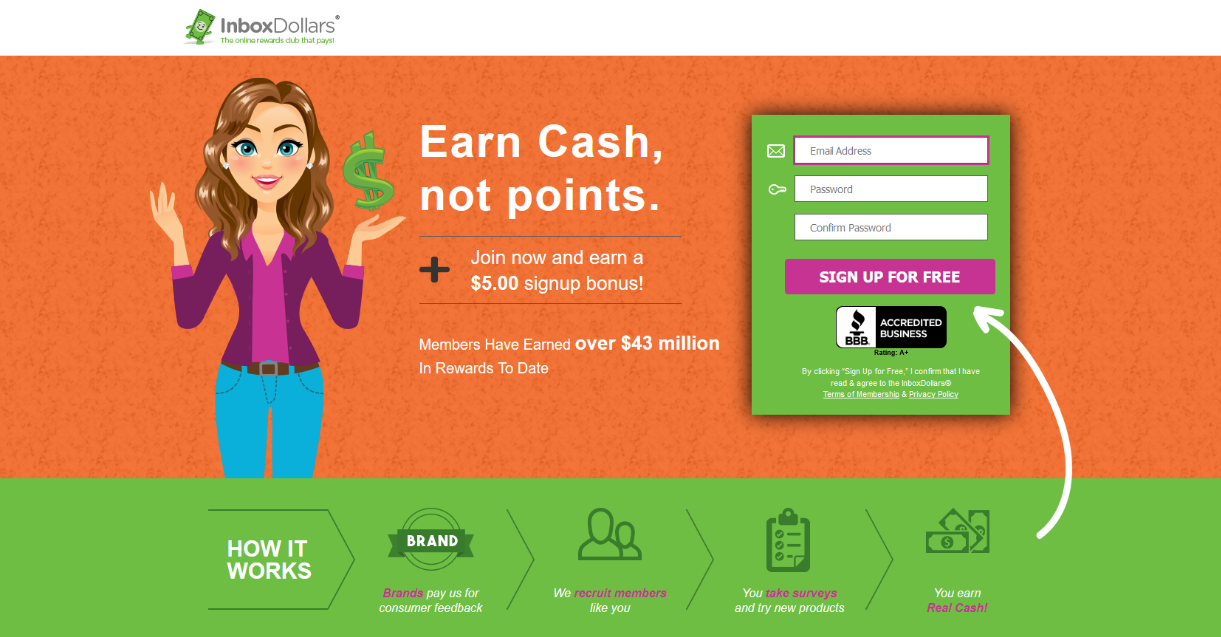 I signed up with the Canadian version, Daily Rewards here and earned the easiest $6.31 in less than five minutes. This includes the $5 welcome bonus along with a few questions that I answered. That's what I got just for signing up!
With Inbox Dollars, you get paid in free gift cards or cash by completing surveys, watching TV, playing games, shopping online and more! InboxDollars has paid out their members over $50,000,000 to date!
👉 You can sign up for InboxDollars (U.S.) here and get a FREE $5 bonus through my link.

If you live in Canada, sign up here for your FREE $5 bonus from Daily Rewards (this is the Canadian version)
6. How to get free Amazon gift cards fast
Were you searching for "free gift cards no survey"?
Here's one way you can earn FREE $50 Amazon gift cards fast without doing surveys.
With Amazon's Trade-In Program
, you can sell your used items such as old books, computers, laptops, video games, DVDs, other household items, etc. in exchange for an Amazon gift card. The products you trade-in don't even have to be originally bought from Amazon! You will receive an immediate offer and free shipping for your trade-in, making this a great way to earn Amazon gift cards instantly! 🙂
👉  You can visit their website here to trade in your old stuff for Amazon gift cards.
7. Get gift cards from Cardpool.
Cardpool is an online gift card exchange. You can:
– Buy discounted gift cards for up to 35% off.
– Sell your unwanted gift cards for up to 92% of their face value.
Now, here comes the sweeter part! You can earn $5 for each friend (up to 120 friends) you bring into the program. With the cash you earned, you can redeem gift cards from Cardpool. So, if you refer 10 friends, that's already $50! For 120 friends, that's $600!
When I was browsing around Cardpool, I also discovered a neat little trick. When you sign up and activate this FREE Swagbucks Browser extension (Plus, get a FREE $10 bonus when you sign up through my link), you'll be able to earn 1% cash back (or more) on all your purchases at Cardpool (see in my screenshot below). That 1% cash back is on top of the discounted gift card, hence saving you even more money! Depending on Swagbucks' current offers, the % of cash back you get could even be higher so it's definitely worth looking into.
8. Sign up for rewards credit cards
No, I don't mean to sign up and start racking up debt. If you're the type of person who cannot control their spending, then please skip this point. Instead, use Swagbucks or MyPoints to earn free gift cards online.
But if you can use credit cards responsibly, then I highly recommend signing up for ones that offer cash back, gift cards and other rewards.
If you're going to buy the things you regularly buy and can pay back in full each month, then passively earning free gift cards is a wise choice.
More related posts on free gift card hacks:
– 10 Survey Companies That Pay up to $100 in PayPalCash and Free Gift Cards
– How To Get Free Amazon Gift Card With No Surveys
Over to you — Now, you know where to get free gift cards online! Are you ready to earn free gift cards fast during your free time? 🙂
Enjoyed this post? Don't forget to bookmark this and share it Pinterest! 🙂