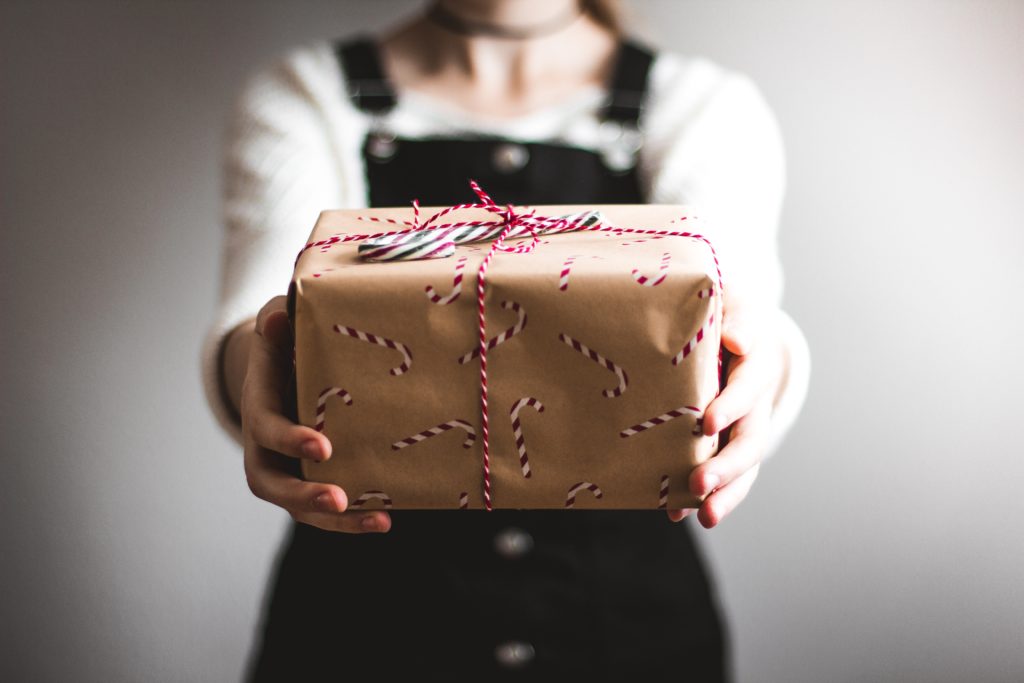 We will receive a commission if you make a purchase through our affiliate link at no extra cost to you. Please read our disclosure policy for more information.
Free gift cards are the holy grail of freebies – they're a great way to score free stuff and save money on the things you love, without having to do much work at all.
There are many different ways to get free gift cards online, from using special hacks and tools that can help you find free gift cards, to taking advantage of opportunities like these legit paying online survey sites in the US and online giveaways.
Oh, and since we're getting ourselves into the world of freebies, let's not overlook the power of finding free stuff online—think cash and gift cards from the likes of Amazon, Sephora, and Starbucks; because who doesn't want to treat themselves to a frappuccino-fueled shopping spree or a makeup haul?
Some popular free gift card hacks include using promo codes, taking advantage of reward programs, and redeeming coupons for free gift cards – it's just like finding clever hacks on how to get free money.
How To Get Free Gift Cards Online
For over 10 years, I've been using free gift card rewards sites to redeem most of my freebies. This is especially true when I was still in University trying to save money as a college student.
I was a broke student with a large amount of student debt, but I share my initial struggles of how I saved my first $10,000 in a year to my first $100,000 by my mid-20s.
During my journey to saving my first $1,000 as a broke student, I continued using these money-saving hacks to earn as many free gift cards from Swagbucks as possible – it felt great knowing I could count on a free gift card just by taking surveys and entertaining myself with some simple games online.
You know that feeling when your employer hands over a free gift card to Amazon or Starbucks for a job well done?
It may not be a big amount ($25-$50 good enough?), but the feeling of being appreciated and handed something free sure feels good.
But let's be real, are you really going to get free gift cards from your employer many times throughout the year?
Probably not, and that's why I'm here to show you how to get free gift cards online.
YES, there are many legitimate ways and hacks to get free gift cards to Amazon, Walmart, Starbucks, and other stores you love! Wouldn't it be nice to earn Amazon gift cards instantly? 😉
I personally like to earn free gift cards because it helps me reduce my spending throughout the year.
For example, I've used my free Starbucks gift cards to redeem my free Starbucks coffee and lattes, and my free Amazon gift cards to pay for some household items.
If I wanted to, I could even use them to spend on gifts for my friends and family during the Christmas holiday!
You won't earn thousands of dollars per month with these free online gift card hacks, but they can still help you save money on your normal purchases. If you like, you could even redeem them in cash over gift cards.
Hacks on how to earn free gift cards without spending money
Without further ado, here are some clever ways to earn free gift cards fast!
I encourage you to sign up for as many sites as possible. The more you sign up, the more free gift cards you may be able to earn! They are all FREE to sign up for, so you really have nothing to lose!
PIN (OR BOOKMARK) THIS PAGE: Be sure to bookmark this page by clicking here and saving this image to your "gift card" Pinterest board. This will allow you to easily come back for the best ways to earn free gift cards! You don't want to miss out on these free gift card hacks!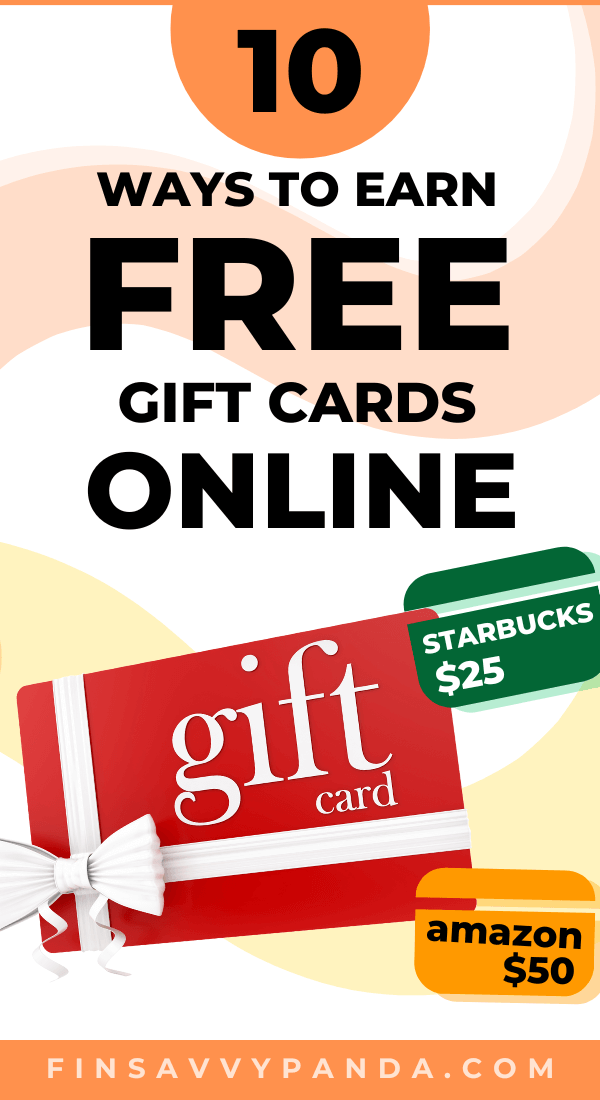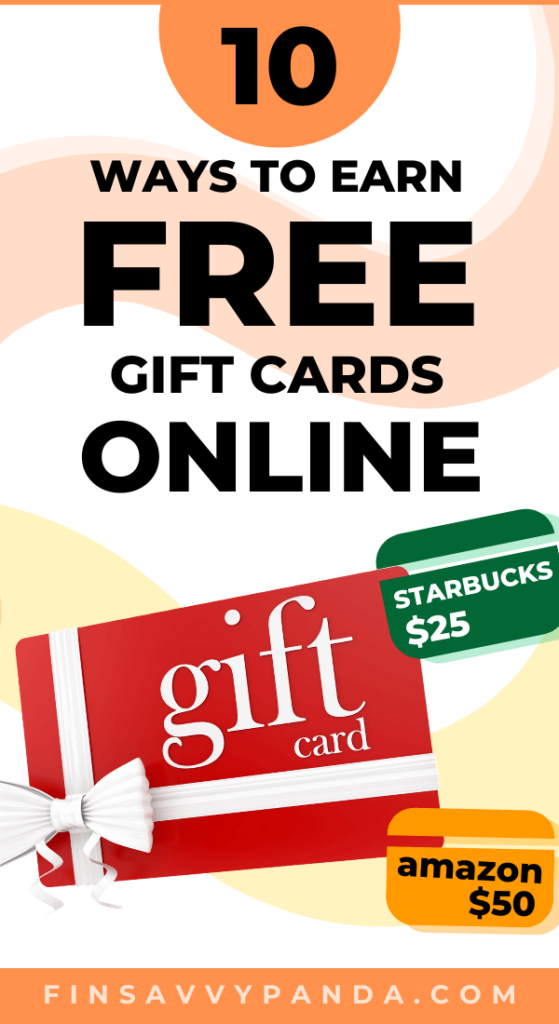 1. Use Swagbucks to get free gift cards
I just love those free Swagbucks gift cards!
Swagbucks is one of my favorite ways to redeem free gift cards, and I always mention it throughout my blog because I truly love them!
You earn FREE gift cards fast by watching videos, completing surveys, surfing the web, shopping online, and more! These are just the stuff you normally do on a daily basis. In addition to Starbucks and Amazon, they offer many other gift cards to your favorite stores!
I've been a member since 2009 and I couldn't say no to the FREE Starbucks gift cards which helped me pay for my coffee and lattes – you can also read my honest Swagbucks review here to learn whether or not they are legitimate!
Swagbucks is 100% legitimate and has paid out their members $281,868,410 to date!
👉 You can sign up for Swagbucks here and get a free $5 bonus just for using my link today.
2. Look for gift card giveaways on Instagram
They say Instagram is toxic these days due to unrealistic expectations and constant comparisons, but it can also be a great place to find free gift card giveaways.
Many brands and retailers host free gift card promotions on their Instagram accounts, offering free gift cards to their followers in exchange for liking and commenting on their posts.
You can search for them by using relevant hashtags like "#freegiftcard" or "giveaway", or follow your favorite brands and stores to see if they're hosting free gift card giveaways on Instagram.
3. Take Surveys to Earn Gift Cards

With Survey Junkie, you get rewarded with points each time you complete a survey, and I like how I am qualified for at least 1-2 surveys almost every day. Even when I'm not qualified for a survey, they still reward me with a few points!
The minimum payout threshold is $10, which is equivalent to 1,000 points. Since most surveys reward you between 50 to 200 points, you'll be able to cash out with PayPal or get your free gift cards. Oh yeah, they also pay out really fast!
What I also like about them is their user-friendly interface which allows you to navigate around easily. They also have a TrustPilot Rating of 8.7/10 which makes them one of the highest-rating survey sites.
👉 You can start earning FREE gift cards by signing up for Survey Junkie (US) here.

If you live in Canada, you'll need to sign up for Survey Junkie (CA) through this link.
4. Get a free $10 Amazon gift card hack
MyPoints is actually a sister company of Swagbucks so they are definitely trust-worthy and legitimate!
In addition to earning cash, MyPoints rewards you with free gift cards by shopping online like how you usually do, playing games, reading emails and engaging in other fun online activities. Given that their name is "MyPoints" it's a no-brainer that they reward you with points (their form of currency). Once you accumulate enough points, you can cash out at their minimum payout of $10 for free gift cards, cash, and other rewards.
👉 For a limited time, you can sign up for MyPoints here and get a FREE $10 Amazon gift card after spending $20.

⭐️ Alternatively, you can sign up here and immediately get a FREE $5 bonus when you complete 5 surveys. No purchase necessary!
5. Get a free Walmart gift card and cashback by using Rakuten
Here's my all-time favorite free gift card hack!
Before you learn how to get a free Walmart gift card, I want to quickly talk about Rakuten because I totally think you will love them as much as I do!
With Rakuten, you can passively earn up to 40% cashback on your online purchases. They are affiliated with over 2,500 of your favorite stores including Walmart, Macy's, Sephora, Nike, eBay, Kohl's, and more! And yes, this is 100% FREE to use.
And guess what? Rakuten just dropped a cool $76.06 into my PayPal account this month – talk about a nice treat! Check it out, it's like finding free money in your digital couch cushions!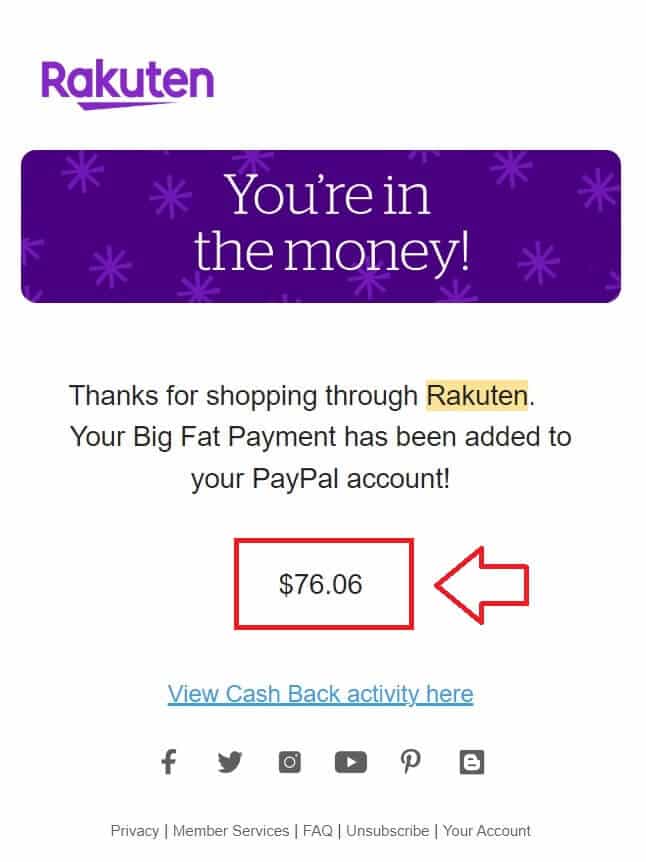 Right now, you can sign up for Rakuten here and receive a FREE $10 Walmart gift card (including a $30 free money bonus) after spending $25 through Rakuten.
If you live in Canada, sign up here and get a FREE $30 bonus.
Signing up is super easy! All it requires is your e-mail and password. No fees and no forms as you can see in the screenshot below. Rakuten has helped its members get over $1 billion cash back!
⭐️ For more info, you can read my full review and tutorial on how to use Rakuten here. I also mention a hack on how you can quickly earn FREE cash with Rakuten. You won't be disappointed!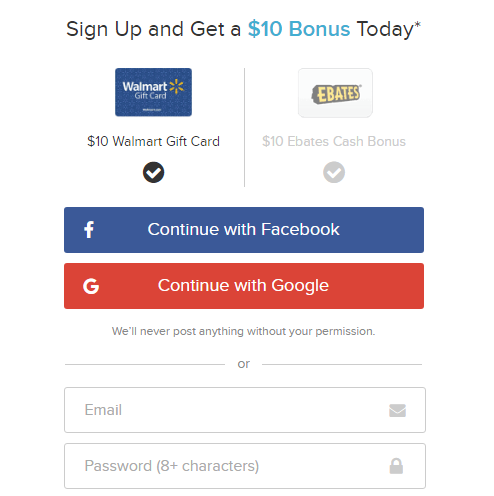 6. Get free gift cards by sharing your opinion
I've said this many times and I'm going to say it again. You're not going to become a millionaire by doing surveys but it is a great way to make extra cash and earn free gift cards while watching TV, waiting for the bus, or commuting to work.
You can earn $50 to $200 worth of gift cards every month by doing easy surveys with the websites below.
Here are my top recommendations. Again, they are 100% legitimate and free to use.
American Consumer Opinion:
I recommend using American Consumer Opinion (ACOP) to earn some extra cash. I personally use this survey site and they pay you cash just for completing really simple surveys. I've also gotten e-mails from them about entering their draws for prizes and rewards which may include gift cards for free. There are currently over 7,000,000 active members at ACOP.
👉 You can sign up for American Consumer Opinion here for FREE.
InboxDollars:
I signed up with the Canadian version, Daily Rewards here and earned the easiest $6.31 in less than five minutes. This includes the $5 welcome bonus along with a few questions that I answered. That's what I got just for signing up!
With Inbox Dollars, you get paid in free gift cards or cash by completing surveys, watching TV, playing games, shopping online, and more! InboxDollars has paid out their members over $50,000,000 to date!
👉 You can sign up for InboxDollars (U.S.) here and get a FREE $5 bonus through my link.

If you live in Canada, sign up here for your FREE $5 bonus from Daily Rewards (this is the Canadian version)
7. How to get free Amazon gift cards fast
Were you searching for "free gift cards no survey"?
Here's one way you can earn FREE $50 Amazon gift cards fast without doing surveys.
With Amazon's Trade-In Program
, you can sell your used items such as old books, computers, laptops, video games, DVDs, other household items, etc. in exchange for an Amazon gift card. The products you trade-in don't even have to be originally bought from Amazon! You will receive an immediate offer and free shipping for your trade-in, making this a great way to earn Amazon gift cards instantly! 🙂
8. Earn a free $5 Starbucks e-gift card
During special holidays, Starbucks may offer some fantastic promotions, and I've personally taken advantage of these Starbucks deals multiple times.
One of my favorites has been the "Buy a $25 Starbucks eGift and get a $5 Starbucks eGift card" offer.
It's like getting a free Starbucks drink or treat just for buying myself or a friend a gift card. Whenever I see this deal, I can't help but to jump on it because who doesn't love a bonus?
If you're a Starbucks fan like me, I'd recommend keeping an eye on their official website or subscribing to their newsletter. That way, you're always in the loop and can snatch up these deals when they pop up. Trust me, they're worth it!
9. Shop around for discounted gift cards online
For those in search of ways to get free gift cards, platforms like Raise and Gift Card Granny are smart options.
When you buy a discounted gift card, say, for Sephora at a discount as high as 10%, it feels like a bonus. While it's a rare find, I've occasionally come across Sephora gift cards available for as much as 10% off.
The savings could equate to the value of a $10 or even a $15 product, based on the gift card's total value. Essentially, it feels like you're receiving a free $10 or $15 gift card.
I'm always on the lookout for freebies, but I'm equally enthusiastic about saving money because it's a sensible way to maximize savings when shopping at preferred stores. This strategy ensures you get the most out of every penny.
So, if you're keen on optimizing your budget and securing top deals, these platforms to score discounted gift cards could be exactly what you need!
10. Ask for a gift card as a gift
Is a special occasion like your birthday or graduation coming up? Is it that time of year again and Christmas is just around the corner?
Well, then, here's your chance to ask for a gift card when someone asks what you want. It's the next best alternative compared to getting money as a gift.
I have no shame – I tell my friends and family straight up to just get me a gift card to Starbucks or Amazon when they ask me what I want.
Your friends and family are more than happy to give you a gift card to your top go-to places because they understand it's something you can put to good use. Nobody likes guessing or shopping for a gift that might not be exactly what the person wanted.
So, the next time someone asks what you'd like as a gift, don't be afraid to ask for a free gift card!
It's what I do all the time when I get pressured by close people wanting to buy me a gift but don't know what to get me.
I just ask for a free Starbucks, Aritzia, or Amazon gift card. Sometimes I even ask for a free gift card to Whole Foods to buy my groceries since they don't accept Amazon gift cards.
11. Use the Drop app
The Drop app is one simple way to get free gift cards.
I actually have my review of Drop here if you want to learn more about my personal experience with the app and how it works.
But to quickly sum it up, the Drop app works by rewarding you with free gift cards for shopping at your favorite retailers. To get started, all you have to do is connect your credit or debit card to the app.
Then, when you shop at your favorite stores, you'll earn free points that can be redeemed for free gift cards.
Some of the top retailers included in the Drop app are Amazon, Starbucks, Sephora, Nike, Walmart, UberEats, and many more. So if you're looking to earn free gift cards fast, be sure to check out the Drop app today!
12. Sign up for rewards credit cards
No, I don't mean to sign up and start racking up debt. If you're the type of person who cannot control their spending, then please skip this point. Instead, use Swagbucks or MyPoints to earn free gift cards online.
But if you can use credit cards responsibly, then I highly recommend signing up for ones that offer cash back, gift cards, and other rewards.
If you're going to buy the things you regularly buy and can pay back in full each month, then passively earning free gift cards is a wise choice.
13. Swipe barcodes at nearby stores
Did you know that with a little bit of wit and charm, Shopkick could be your secret weapon for earning free gift cards? Yup, and you don't even have to spend a dime!
Just download the Shopkick app on your smartphone, and you're in the game. It's kind of like a fun scavenger hunt, right? Walk into certain stores – you know, the usual suspects like Target or CVS – and boom, you're earning points, or "kicks" as they call them.
But here's where it gets fun: while you're inside the store, you can earn even more kicks by scanning products with the app. Got the kids with you? Turn it into a real-deal scavenger hunt. Keeps them busy and you get to earn rewards. Win-win!
And while you're waiting in line to check out or just killing time during your lunch break, why not use those spare minutes to earn even more kicks? Just watch some videos in the app. And the exchange rate? Not too shabby – about 250 kicks per buck.
And when it's time to cash in those kicks? Well, you can pick out free gift cards from your favorite shops like Sephora and H&M, or even big department stores like Target or Walmart. And just like that, you're shopping smarter without even trying!
Free Gift Cards FAQs
I added this section to quickly answer your most frequently asked question about free gift cards and how to redeem them.
Feel free to drop a comment if you have any further questions and I'll be sure to answer them on the spot for you. 🙂
1. Is there a way to get free gift cards?
Yes, you can get free gift cards just by following all the tips and tricks I listed above in this blog post. To summarize them here for you, all you have to do is the following:
2. Is there a website that gives free gift cards?
There are many websites that offer free gift cards when you complete their surveys or when you use their cashback apps.
Many companies also run promotions on their social media pages, so be sure to follow your favorite brands and retailers on Instagram to stay up-to-date on free gift card giveaways.
3. How can I get gift cards fast?
Earning gift cards online isn't always a quick process, as it often takes time to complete surveys or earn free points from cashback apps.
However, there are ways you can speed up the process and get free gift cards fast.
One way to get free gift cards quickly is by making big purchases at your favorite retailers and using a cashback app like Rakuten at the same time.
Usually, it is the bigger your purchase, the more free points can then be redeemed for free gift cards. However, I only recommend this if you are in need of that big ticket item, otherwise, you would be spending more money than you need to.
Another option is to sign up for free survey sites and complete as many surveys as possible to earn free gift cards. This is a great way to earn free gift cards quickly if you are qualified to complete multiple surveys in a day.
But if you are spending that much time taking surveys, then I suggest looking for higher-paying side hustles or some creative ways to earn $500 a month, or even $500 a day – that way, you can use your time more wisely and earn more money.
4. Are free gift cards legit?
You may think "free" gift cards sound too good to be true because why would any company give out gift cards for free without a catch?
Brands and companies are willing to give away gift cards for free in exchange for something. That includes answering questions in their survey forms, which inform them about your opinion about a product or service.
When you give them your feedback, they will understand you as their customer better. In turn, that will allow them to help you by improving their products and services and cater to what you want.
In short, they will simply give you freebies when you tell them how they are doing as a company.
Yes, all of the methods listed in this article are legitimate ways to earn free gift cards. You can see how I legitimately earn free Starbucks drinks and gift cards in addition to Amazon gift cards in those separate articles.
5. How to get a free $20 dollar gift card?
I mentioned earlier that you can get a free $10 Walmart gift card from Rakuten.
But right now, they are offering an even sweeter deal! They are giving you a $30 free cash bonus if you sign up with the app and make your first $25 purchase online. Again, you can check out my legitimate Rakuten review based on my personal experience on how I earn cash back! Through my review, you can claim your free $30 bonus when you click on my special referral link!
Wrap up on the best ways to get free gift cards online
If you're looking to get free gift cards fast, there are many ways to do so.
As mentioned, you could sign up for a free rewards program or download an app that offers free gift cards as a reward for completing tasks or surveys.
You could also try entering free giveaways and sweepstakes to win free gift cards, or follow your favorite brands and retailers on social media to see if they're offering free gift card promotions.
Whatever route you choose, just remember that free gift cards don't grow on trees – it takes a little bit of work and commitment to get them. But with some effort, free gift cards are within reach for anyone who wants them!
Over to you — Now, you know where to get free gift cards online! Are you ready to earn free gift cards fast during your free time? 🙂
Enjoyed this post? Don't forget to bookmark this and share it on Pinterest! 🙂