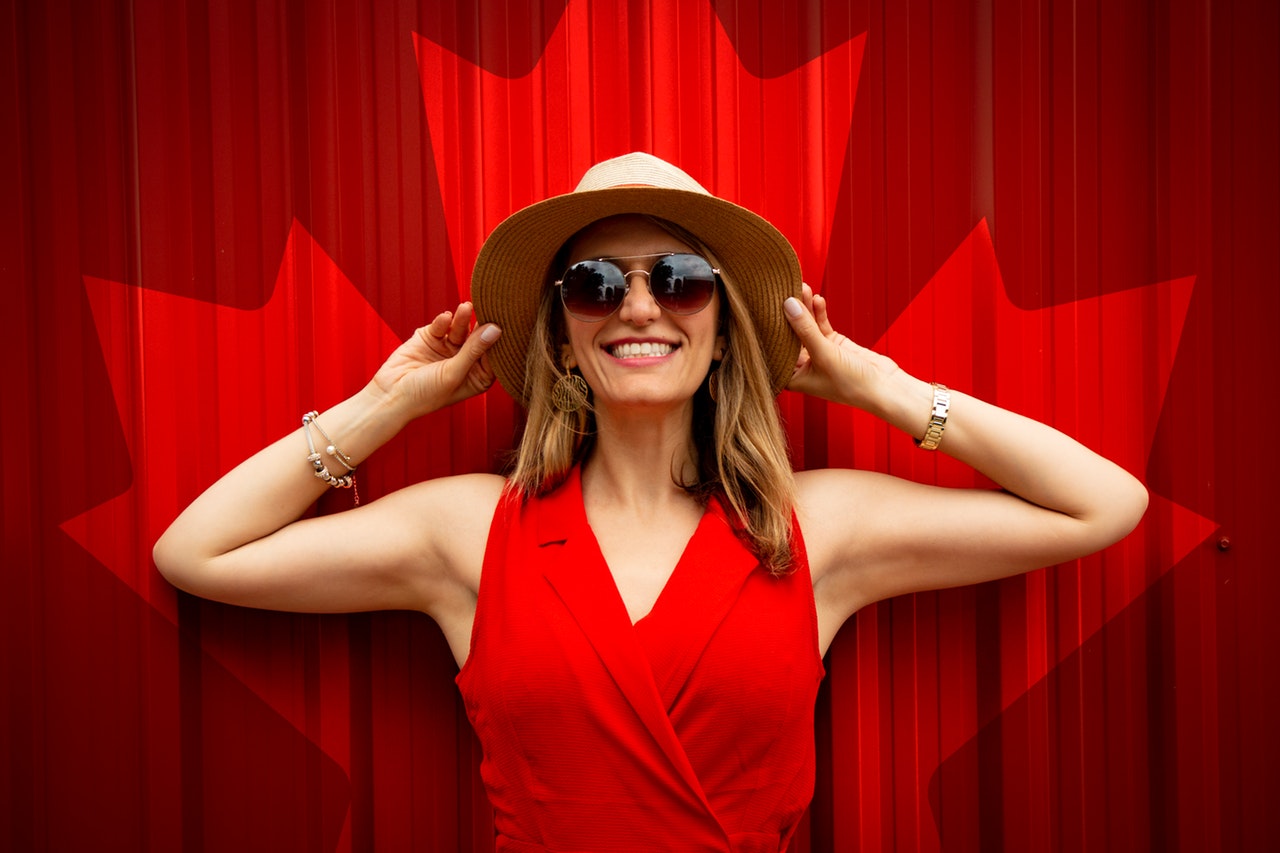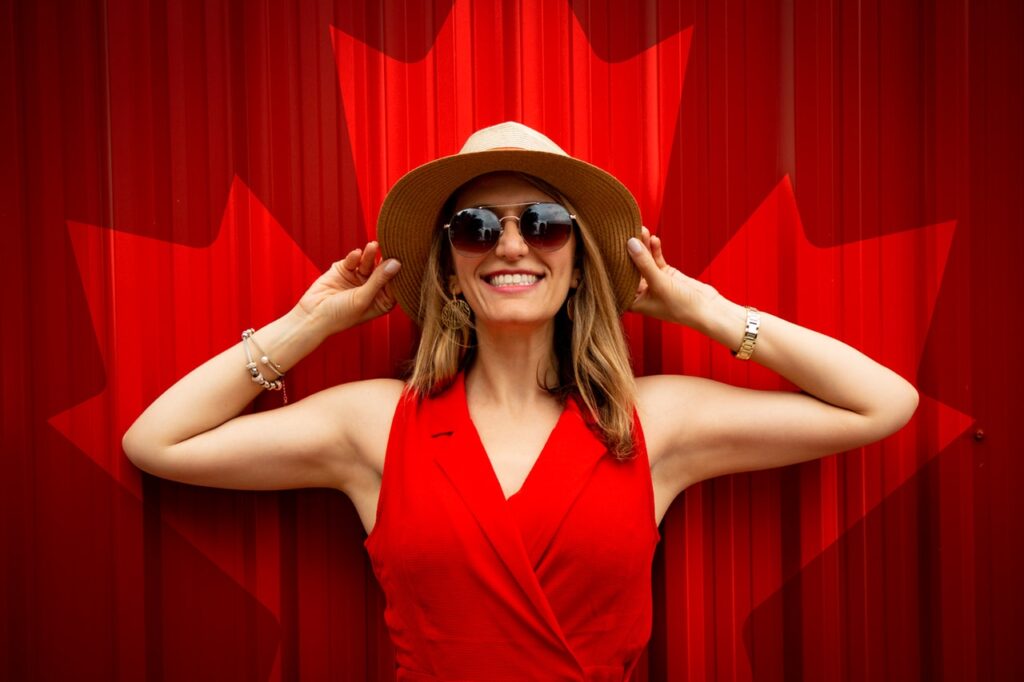 We will receive a commission if you make a purchase through our affiliate link at no extra cost to you. Please read our disclosure policy for more information.
Well, hello there, fellow maple syrup enthusiast! You're a Canuck, right?
Are you out on the hunt for the crème de la crème of paid survey sites in the Great White North?
Yearning to make some extra loonies and toonies online without having to brave the moose on your way to work?
Breathe easy, you've just struck gold – you're in the right igloo!
Oh, and by the way, if you want to hunt for other ways to make more cash, don't forget to check out my popular article on the best ways to make extra money and the best second jobs.
I also recommend these awesome one-day-a-week jobs if you want something a little more fun than taking surveys online – yep, you can do these side hustles from home too earning anywhere from $200 to $500 per day.
Canadian Survey Sites
As a dyed-in-the-wool Canadian myself, I've braved the digital tundra to bring you the top paid survey sites available in our dear Canada.
I'm not just blowing smoke here; I personally don these digital snowshoes and survey the online terrain most days. Brace yourself, as I've rounded up my top 15 beaver-approved survey sites for Canadians right here below.
Prepare to paddle into some exciting online opportunities, eh?
PIN THIS: I'll be updating this post so make sure to pin this image HERE and save it to your Pinterest board. That way you'll be able to come back to this page and learn how you can make extra money with the best Canadian survey sites!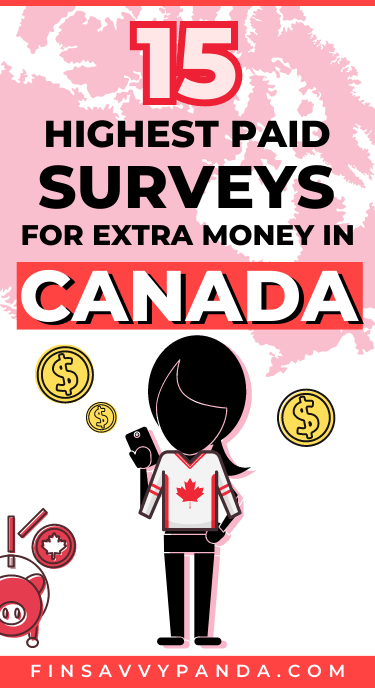 Can you really make money online by doing Surveys in Canada?
Yes, of course, you can.
But I want to mention that these are NOT the "get-rich-quick" schemes that we hear of all the time!
I'll be honest to tell you that you won't become a millionaire by taking paid surveys, but they are definitely quick and easy ways to make extra money on the side while binge-watching some of your favorite TV shows.
Getting paid to do surveys in Canada is a fun side hustle that can help make your spending more affordable.
That's how I get to splurge on my favorite lattes and drinks from Starbucks by redeeming free Starbucks gift cards.
What a great way for me to get free Starbucks drinks without having to break the bank, right?
That may also include buying some groceries, filling up the gas for your car, purchasing Birthday and Holiday gifts for your friends and family, earning $100 in free gift cards, and much much more! 🙂
So, why take surveys online? What's in it for you?
All of the top market research companies want to understand their consumers so that they can create the perfect products and services for you.
For them to do that, they need to understand YOU and what YOU want. That's why they are willing to pay you cash or free gift cards in exchange for your opinion.
Like I always say, it's one of the easiest and quickest ways to make money online with no experience required. You'll have a bit of fun and get paid to voice your opinion! In fact, some of these sites will pay you for playing games with their apps.
How much money can you earn with survey sites in Canada?
Fortunately, you can make money online (anywhere from $50 up to $200 per month) by combining and taking these surveys online — go ahead and give them a try. It's free to use!
So, it's as good as they call it… earning free money online!
Which paid survey sites are legitimate in Canada?
Before diving into the highest-paid survey sites in Canada, I want to mention something important that you need to know…
There are many online survey sites that claim you earn money for taking their surveys but end up paying you nothing. That's why at the end of this post, I list my very best tips to help you avoid scams and false promises made by those online survey sites.
For now, throughout this post, I will give you my survey reviews for the best sites that you should join to make extra money.
Rest assured that the paid survey sites on this post are all legitimate that will pay you cash. Again, they are absolutely FREE to join and use!
With that said, below is a list of the best paid survey sites that you should join today.
💡PRO TIP: It's a good idea to sign up for as many survey sites as possible so that you come across more earning opportunities. More earning opportunities means higher potential for more money and rewards.
Best Paid Surveys in Canada
Here is a list of the best online surveys in Canada that pay cash (or your choice in and FREE gift cards)!
1. Swagbucks surveys
Join here: get a FREE $5 bonus just for signing up. Make sure you verify your e-mail with Swagbucks so you don't lose out on the free $5 promotion and start earning right away!
Swagbucks holds a special place in my heart, standing tall as one of the most renowned and beloved survey sites across the internet. My affair with this platform began in 2009, during my university days – it was my first dip into the realm of paid surveys and quickly became a romance for the ages!
Why, you ask?
Picture this: thanks to Swagbucks, I found myself indulging in my beloved Starbucks lattes without spending a dime (yeah, move over, free birthday drinks!). I redeemed my hard-earned points for free Starbucks gift cards, valued between $50-$100. There I was, a cash-strapped student, sipping on my sumptuous, often pricey, $5 lattes – all on Swagbucks' dime!
If that isn't cause for celebration, what is?
But it doesn't stop there. Beyond earning those tempting gift cards, Swagbucks also offers the flexibility to convert your points into cold, hard cash. Now that's what I call a sweet deal!
How does Swagbucks work? Check out my full and honest Swagbucks review here!
Figuring out the workings of Swagbucks is as easy as pie.
For starters, you rack up "Swagbucks" points (lovingly known as SBs) by completing straightforward surveys. Once you've collected a neat little pile, you get to play the decision-maker! Whether you're in the mood for free gift cards or the allure of cash calls your name, the choice is all yours.
But the fun doesn't stop at surveys. Swagbucks offers a variety of other tantalizing options to build your SB stash:
Fancy a little web search or some light-hearted gaming? You're in for a $5 bonus.
Got some time to kill? Why not kick back and enjoy a few videos? You'll bag another $5 bonus.
Love shopping online? Not only will you score a $10 bonus, but you can also enjoy a cash back offer of up to 20% on your purchases.
Swagbucks really is the gift that keeps on giving! This company has already paid its 10 million members over $901,202,047!
👉💵 You can create a FREE account and quickly claim your $5 welcome bonus HERE.

⭐️ Important: To claim your FREE $5 bonus, don't forget to verify the email from Swagbucks in your inbox!
2. Branded Surveys
If you're looking to earn a little extra money for fun, Branded Surveys is a company I also recommend. It's like the survey equivalent of finding loose change in your sofa cushions, but without all the crumbs. 😉
Signing up is really simple, so you won't need a degree in computer science to get started. Once you're in, you can start answering survey questions, armed with just your opinions and your favorite comfy pajamas.
What sets Branded Surveys apart is its survey smorgasbord. They feature everything from high-tech gadgets to the finer points of food critique. So whether you're a tech enthusiast or a foodie in the making, there's a survey with your name on it.
I do have to say that like most survey sites, the estimated time to complete a survey seems to have a casual relationship with reality. It's like when your GPS says you'll arrive in 15 minutes, but you've been circling the block for half an hour.
However, in the grand scheme of things, you're rewarded with points for each survey you complete. These points can be turned into cold, hard cash or gift cards that can satisfy your online shopping cravings. Again, this isn't the path to becoming a millionaire overnight. It's more like the path to getting that extra shot of whipped cream on your latte.
If you're interested in learning more about how I use Branded Surveys to earn a bit of extra cash, I welcome you to go through my honest Branded Surveys review, which I wrote just for you! 🙂
👉 Today, you sign up for Branded Surveys with 100 bonus welcome points here and start earning a little extra money for fun!

⭐️ Important: To claim your FREE 100 bonus points, don't forget to verify the email from Branded Surveys in your inbox!
Branded Surveys is like that friend who owes you money and actually pays you back—reliable, but not necessarily rolling in cash. You take surveys, they reward you with points, and those points can be cashed in for the holy grail of online shopping: free gift cards from Amazon. It's like having Jeff Bezos personally thank you for your opinions.
Again, this isn't a rocket-powered journey to earning $1,000 faster than you can say "Amazon Prime." Nor is it a magical path to pocketing $300 in a day, unless you're a survey-taking wizard (and if you are, can you teach us your ways?).
Either way, I encourage you to sign up because it's still worth the try!
3. Survey Junkie
Join here: FREE membership at Survey Junkie
Just over a year ago, I learned about Survey Junkie and let me tell you this… they are another one of my favorite best paid survey sites today!
I was able to earn over $58 in a month with them! I didn't expect that at all!
I also went through some reviews on TrustPilot and those reviews really surprised me! Actual real users mentioned that this survey site helped them pay for their monthly utility bills. That's at least a couple of hundred dollars! With that said, they deserve their 4.5/5 rating on Trustpilot!
One of my favorite features about Survey Junkie is that their interface is clean and easy to use (not old school like most other survey sites). This enhances user experience and allows you to navigate around easily.
How does Survey Junkie work?
You get rewarded with points each time you complete a survey.
Survey Junkie has a wide range of survey topics so you'll definitely find something that will fit your interest. Here are some examples of the topics:
Automotive – E.g. Do you use public transit to commute to work?
Electronics – E.g. How often do you upgrade your smartphone?
Shopping – E.g. Do you prefer shopping online over in-store? And why is that?
Restaurants – E.g. Should all restaurants offer vegetarian options?
Since most surveys reward you between 50 to 200 points, you'll be able to cash out in no time. The minimum payout threshold is $10, which is equivalent to 1,000 points.
You get paid cash through PayPal when you're a Canadian resident. However, if you reside in the U.S., you have the option to exchange your points for gift cards.
👉💵 It literally takes less than 5 seconds to sign up for Survey Junkie here. You can start earning some extra money online right now!
4. American Consumer Opinion (ACOP)
I recommend using American Consumer Opinion (ACOP) to earn some extra cash. Don't worry, this is also available to Canadians.
I use this survey site because they pay you cash just for completing really simple questionnaires!
They've asked me questions like… Where do you buy pop soda? Which stores do you purchase your soda from?
From my personal experience, each survey takes less than 10 minutes to complete. Not bad when you're lying around your couch or bed with a bit of free time.
May as well earn a little extra spending money while you can! I like the fact that it's FREE!
There are currently over 7,000,000 active members at ACOP today!
👉💵 You can sign up for American Consumer Opinion here and start earning extra cash today. It only requires your e-mail for free membership, so it definitely doesn't hurt to give them a try!
5. MyPoints
Join here: earn FREE $5 bonus immediately after taking 5 easy surveys!
MyPoints is actually owned by Swagbucks so they are definitely trust-worthy and legitimate! You seriously need to try both of them!
How does it work? Given that their name is "MyPoints" it's a no-brainer that they reward you with points (their form of currency). Once you collect enough points, you can cash out at their minimum payout of $10 for FREE gift cards, cash and other rewards (it's all up to you).
In addition to taking paid surveys at home, MyPoints will also reward you for the things you do online such as:
👉💵 You can sign up for MyPoints here and get a $5 bonus after taking 5 easy surveys. As always, it is FREE to sign up for and use.
6. Inbox Dollars (or Daily Rewards)
If you're searching for a nifty way to boost your piggy bank, then let me introduce you to my little secret – Daily Rewards for Canadians.
It's a survey-for-money platform that stands out from the crowd by ditching the pesky point system and opting for a method we all love and understand – cold, hard cash!
This is directly transferred to your PayPal account, so you'll always have a clear picture of your blooming fortune. And guess what? They even roll out the red carpet for you with a free $5.00 bonus, just for signing up.
Fancy a break from the surveys? No problem. You can top up your balance by watching videos (yes, you read it right!), getting paid to shop, or even recruiting your pals. After all, what are friends for if not to earn you a bonus 10% from their earnings?
With Daily Rewards gaining nods from BBC News and Yahoo! Finance, you know they're not just another fly-by-night outfit. They've even managed to join forces with big-shot brands like comScore, JustFab, and Rosetta Stone to hand out some sweet rewards.
Now, here comes a slight catch. Their minimum payout threshold might make you feel like you're scaling a financial Everest.
You'll need to accrue a grand total of $30.00 before you can cash out those hard-earned winnings.
Given the modest pay-per-task rate, reaching this sum could take some patience.
But hey, as they say, good things come to those who wait! Or in this case, to those who persistently click.
It's a fun and entertaining way to add a few extra coins to your coffers. And remember – every click gets you closer to that free deluxe coffee at Starbucks you've been dreaming about!
7. Legar Opinion
Listen up, opinion gurus!
Legar Opinion AKA LEO, the rockstar of Canadian market research, is on the scene.
They pay you to spill the beans on products and services, 'cause your thoughts are pure gold.
Score LEO points for surveys, bringing buddies onboard, and rocking sponsored polls. Cash in those rewards through PayPal or grab swanky gift cards like Amazon, Starbucks, Sephora, Tim Hortons, Air Miles and more.
Hold on tight, 'cause contests with epic monthly prizes are on the menu. You can access LEO via web or cool iOS and Android apps.
8. Prize Rebel
Hold on tight, folks, because PrizeRebel is here to rock your earning world, just like Swagbucks (my personal favorite).
But let me spill the beans—there are some sweet differences too. This bad boy is available worldwide, and guess what? Canada is one of the prime spots for top-notch earning opportunities.
Get ready to dive into a smorgasbord of earning methods—surveys, online offers, free trials, gaming, contests, online tasks, and daily challenges.
Oh, and did I mention the awesome membership levels? The more active you are, the more perks you unlock. It's like a VIP party for hustlers!
And hold your horses, 'cause when it's time to cash out, PrizeRebel won't keep you waiting. With a measly $5 threshold, you can choose between PayPal cash or a whole bunch of gift cards that will make your wallet dance with joy.
In a nutshell, PrizeRebel is your go-to site for an easy, user-friendly, and downright exciting earning adventure. With opportunities galore, you'll be earning and redeeming rewards faster than you can say, "Show me the money!"
9. Toluna Canada
Alright, my fellow influencers-in-training, get ready to step into the captivating world of Toluna. They don't just see you as a regular survey-taker; nope, they declare you an influencer, giving you that superstar status.
And guess what? They're dishing out a sweet 500 points just for signing up. Talk about a warm welcome!
Now, let's talk points. The exchange rate may not be the most impressive (3000 points = $1), but here's the twist: Toluna makes up for it by offering more points for each survey you complete.
So, when you're picking a survey, don't just focus on the points alone—keep your eyes on that sweet dollar amount you'll earn. We're here to make some cash, after all!
But Toluna doesn't stop at surveys. They've got a whole array of ways for you to earn points, from voting on sponsored polls to playing games and even creating your own content. It's like a playground of earning opportunities!
When the time comes to cash in your hard-earned points, Toluna has got you covered with e-vouchers and good old PayPal cash-out options. Treat yourself to some well-deserved rewards!
In the Canadian survey scene, Toluna stands out as a cool and engaging player, especially for the younger crowd. They're all about building a vibrant community and partnering with big-name brands, giving you a taste of that influencer lifestyle.
Are you ready to unleash your influencer powers? They're serving up interesting surveys, juicy rewards, and the chance to work with major brands. It's time to embrace your inner influencer and make some cash while having a blast.
10. Life Points
Hold on to your survey hats, my Canadian fellow, because LifePoints is about to make your Canadian survey dreams come true!
With members from over 40 countries, they're like the international party of survey panels.
They've got one mission — and that's to help you score freebies like a pro!
Get ready to channel your inner survey guru and earn cash and fabulous gift cards through their LifePoints program. It's like a secret code to unlock a treasure of rewards. Cha-ching!
But wait, there's more! LifePoints knows how to keep the party going with some extra perks. They've got special non-survey opportunities where you can win points and prizes. It's like a surprise party just for you, filled with random points giveaways, fun games, and quick polls.
And hold your excitement, because when you join their community, they'll shower you with 10 free LifePoints as a welcome offer. Consider it a virtual high-five from the LifePoints crew!
Now, let's talk convenience. Just grab their app from Google Play or the App Store and get ready to get ridding on a survey adventure.
Sign up, verify your email, complete your profile—boom!
You'll start receiving surveys in your inbox faster than you can say "survey superstar." And when it's time to reap the rewards, you can choose from a delightful array of gift cards or get paid through the glorious gateway of PayPal. It's like a buffet of payment options!
Oh, and here's the cherry on top—LifePoints won't keep you waiting forever to cash out. With a minimum payout threshold of just $5.00, you'll be treating yourself to some sweet rewards in no time.
So, my survey-savvy pals, get ready to join the LifePoints party. It's time to rock those surveys, score freebies like a boss, and have a blast along the way. We can all dive in and make our survey journey epic with LifePoints leading the charge!
11. Survey Club
For a decade and a half, Survey Club has been playing the "Money-for-Opinions" game with over 16 million willing participants spread across six continents.
Just like online dating, you sign up, create a captivating profile that screams "I'm the one", and they'll match you with surveys that have your name written all over them. Brace yourself for a pre-survey quiz too!
Make some extra cash by participating in online surveys, virtual discussion boards, clinical trials, private panels, at-home product usage tests, taste tests, and playing detective in mystery shopping studies.
Then, cash in your rewards for a sweet Amazon gift card, because who doesn't love a good online shopping spree?
Just remember, patience is key. You'll need to wait until your earnings hit the $25 mark before you can feel the sweet success of cashing out.
12. Harris Poll Canada
Allow me to introduce you to a dinosaur in the online survey landscape, Harris Poll Online. How old, you ask? Well, they've been in the game since 1963, back when your grandpa was considering whether to rock the Beatles' mop-top hairstyle or Elvis's slick-back!
Being a member of this illustrious and antique panel, you earn something called HI Points (no, not "high" points, though it may feel like it when you see them stacking up!).
Completing their online surveys racks up these points faster than a squirrel hoarding nuts for winter. Once you've amassed enough, you can swap them for gift cards to your favorite places like Amazon and iTunes.
If you're feeling more adventurous, you can opt for merchandise or even enter sweepstakes.
Harris Poll Online isn't some shady, back-alley operation, either.
They're card-carrying members of notable market research brotherhoods, like the National Council of Public Polls and the Council of American Survey Research Organizations.
So, if you want a piece of the market research action and enjoy getting paid with a side of nostalgia, saddle up and join the Harris Poll Online squad!
13. Pinecone Research Canada
I signed up for Pinecone Research and I found out that they are one of the highest paying survey sites out there. For each completed survey, you will earn $3!
If you are given the opportunity to complete 15 surveys within the month, that's an easy $45 in your pockets right there — that's equivalent to a free Starbucks or McDonald's coffee that you buy every day just for giving your opinion. Why not??
Aside from taking paid surveys, you also get opportunities to test new products before they hit the stores. What a cool way of trying new products for FREE! Plus, you can influence the companies' decision of whether or not they should release those products.
14. Ipsos iSay Panel for Canada
Say bonjour to Ipsos i-Say, the no-nonsense survey site that puts you in the driver's seat.
The site dishes out surveys more generously than your grandma's home-baked cookies, straight to your inbox. Besides earning cash via PayPal, you can play surveyor, create polls, and try your luck in free contests.
Don't expect daily goldmines, though, and the customer service? Let's just say it's more "miss" than "hit". Still, you can score gift cards or make a noble charity donation, making Ipsos i-Say a quirky mixed bag of opportunities!
15. TimeBucks
Step right up and discover TimeBucks, the quirky earning site that takes "funny money" to a whole new level. This little gem boasts a smorgasbord of ways to cash in, some so unique they could make a unicorn blush.
Sure, the rewards might not have you buying a private island anytime soon, but there's always something to tickle your fancy – surveys, online content, offers, videos, ads, emails, you name it!
For an added sprinkle of excitement, there's a daily roll for rewards – think of it as a mini lottery where everyone's a winner. Big prizes could be just a click away, so good for you if you're feeling a little bit lucky today. Plus, there's even a mining tab that works harder than a beaver in springtime, earning you money while you're away from the screen.
Once your balance hits $10, you're in for payday via Bitcoin, Skrill, AirTM, Payeer, Bank Transfer, or Neteller. TimeBucks: it's the funhouse of online earnings!
How do you know which ones are legitimate paid surveys in Canada?
⛔️ Now, here are some red flags and warning signs you should watch out for!
You may be eager to earn money doing surveys with other companies that aren't mentioned in this post, but be careful!
Here are three warning signs you need to watch out for before signing up for other paid survey sites. You want to make sure that those are online surveys that pay cash (or at least compensate you in some way).
1. Is the survey site making big promises? Are they telling you that you can quit your current job to pursue a full-time job doing online surveys?
Yes, you can make extra money doing surveys but don't expect to make millions (or even thousands) because you won't.
Surveys for money is just enough to earn you some side income for additional spending or paying off a small amount of your debt.
Again, filling out surveys online makes an easy and quick side hustle. Don't expect to earn a fortune or replace your full-time job! NOT EVEN CLOSE!
💰💰 If you're really looking for a side hustle that could potentially replace your full-time income, consider starting your very own blog that makes money here.
Read how I make over $7,000+ per month blogging today with absolutely NO experience required!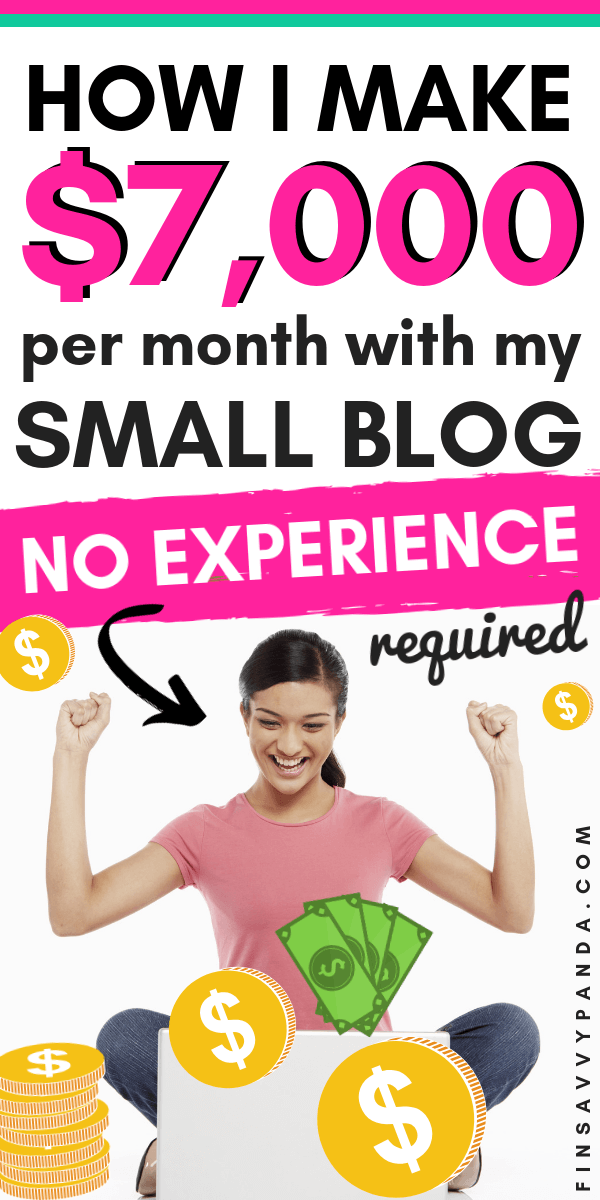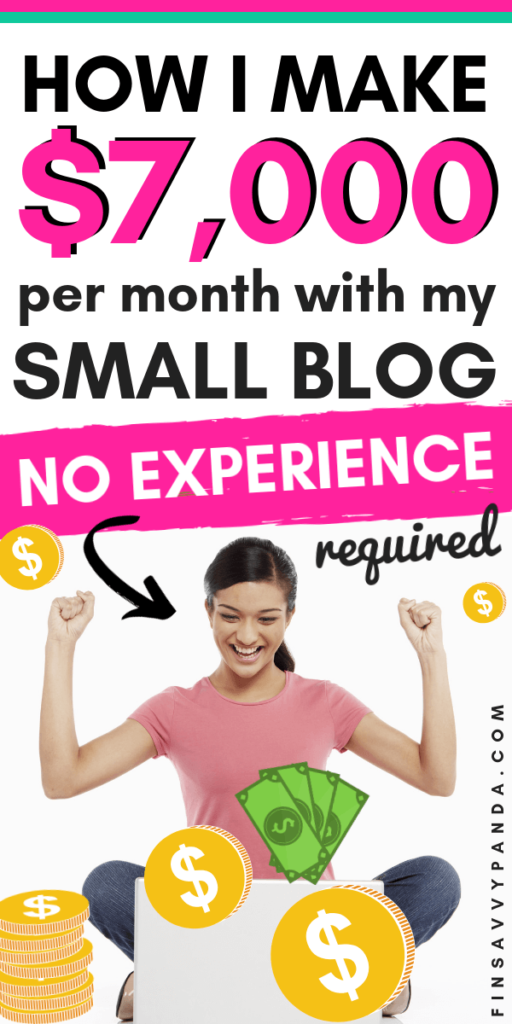 2. Are they asking you to pay a fee to join?
You should get money for taking surveys, not the other way around!
Even if they ask for a small fee in exchange for unlimited earning opportunities, stay away from it because it is likely a scam!
No matter how small the fee, you should never have to fork out a penny to do surveys. Based on the survey sites that I know, they are all FREE to join!
3. Beware of some companies sending you e-mails about survey opportunities.
If you don't remember signing up for the survey site, don't click on it. Simply ignore the e-mail and unsubscribe from it!
Over to you — What do you think of these best paid survey sites in Canada? Are you a member of these Canadian paid survey sites? What's your experience like? Do you recommend any other online surveys for Canadians?
Posts related to making extra money online:
– How To Put An Extra $500 to $1,000 into Your Bank Account This Month (This Stuff Really Works)!
– 11 Things We've Done To Make An Extra $3,000+ Per Month (Without a Real Job)
– 5 Legit Ways To Make Money From Home — Make Over $1,000 Per Month with #4
– 9 Work From Home Jobs That Pay Up To $100,000 Per Year
👉 Get FREE cash here! 💵 💵 💵
Are you new to my blog?
If you follow me, you'll know that I'm all about saving money and making money.
Below are some of my favorite sites and resources that may help you! Just like the survey sites above, the best thing about these resources is they're all FREE to use!
Alternatively, you can learn where you can find free money today. #1 and #4 are some of my top favorite resources! As always, they are always 100% free to use!
Drop: My fiancé and I use this FREE Drop app to rack up cash rewards on our everyday purchases. I love how this app allows us to combine their offers with other cash back rewards and store promos. That's how we get the most cash back! 😉
🌟 For a limited time, get your FREE $5 bonus immediately after linking your first card and using my special referral code, FINSAVVY. No purchase necessary! 😊

My referral code is applicable to both the U.S. and Canada!
Related post: To learn more, read my honest review and tutorial on how Drop works. If you like the idea of passive savings, then I'm sure you're going to enjoy this app as much as I do!
Ebates: You get FREE cash just for shopping at over 2,000 of your favorite stores. This includes Walmart, Best Buy, Apple, Lowe's, Home Depot, and so much more! I use Ebates to save over a few hundred dollars per year just for shopping for the things I normally buy. For example, I literally got over $200 free cash back just by purchasing a Dell Computer that was already on sale! NO effort involved!
🌟 Sign up here and get your FREE $5 bonus after making your first $25 purchase through Ebates. 🛍💵
Related post: To learn more, read my full review and tutorial on how to use Ebates here. You will LOVE Ebates! ❤
Don't forget to pin and share this post and follow me on Pinterest! 🙂