We will receive a commission if you make a purchase through our affiliate link at no extra cost to you. Please read our disclosure policy for more information.
Are you looking for real and legitimate ways to make money online?
You probably searched for a ton of articles teaching you how to make money online only to find spammy websites that ask you to sign up for some shady seminars. They usually tell you that they can transform you into a millionaire overnight.
Before we get started, let's get one thing straight.
There is NO such thing as making fast and easy money!
But there are many legitimate ways to make money online; they just aren't the "get rich quick schemes" that we hear of all the time and it will require work.
Now that's out of the way, you probably face another problem.
I know, you need money now and you are probably sick and tired of living paycheck to paycheck. It sucks that most people don't make enough to cover their bills, credit card debt, and student loans.
The good news, though, is that you can increase your income, or potentially earn a full-time income by making money online!
You can make money from home or anywhere you wish as long as you have a laptop or mobile device with you!
Is it possible to make money online?
Honestly, before learning how to become a full-time blogger and earning a full-time income here, I had absolutely NO idea that people could make money online.
As a broke college student back in the day, I always thought the only way to make money was through a traditional 9-5 job, or a part-time job as a Barista at Starbucks. You know, something along those lines…
It wasn't until I was fed up with all my jobs that it led me to look for alternative ways to increase my income, make extra money, save money, and build wealth so that I could quit my job and work from home one day.
How to make money online from home (for beginners)
Just like you, I decided to randomly search for ways to make money on Google such as, "How to make money online" or "How to make money from home".
As a result, I saw a gazillion searches out there. I thought to myself, ah… this must be a common problem that most people are having (including myself).
With that said, I worked my butt off to put together this information just for you. I've even tried and done most of them myself when I was researching about this outside of my day job.
Whether you have a full-time job, a part-time job, or no job, there are many ways real ways to make money from home and online. And if you're a parent of a teen between the ages of 14 and 19, you can help your kid earn money too by learning about the best online jobs for teenagers.
Here are 10 legitimate ways beginners like you can start earning money online!
How to make money online for free (without paying anything)
For the most part, the list I created for you below are either free ways to make money or an extremely low-cost to get started.
My personal favorite way to make money online is by starting a profitable blog because it's super cheap to get started and it's how I make thousands of dollars per month online with a small website.
I will go into more detail about blogging for a profit after I've covered all the free ways of earning money with no investment.
1. Make money online with surveys
You can make money today by joining the highest paid survey sites with your smartphone, laptop or desktop.
One of my favorite survey sites that I use to make extra money is Survey Junkie.
I'll admit you won't become the next Bill Gates by doing surveys. Not even close!
But they are tried and true ways to earn money online for free. They are also easy to do while binge-watching your favorite TV shows on Netflix! From time to time, I still pull out my phone to do surveys in the passenger seat while my fiance drives his car!
Why take online surveys? What's in it for you?
All top companies want to understand their consumers so that they can create the perfect products and services for you.
For them to do that, they need to understand YOU and what YOU want. That's why they are willing to pay you in PayPal cash or free Amazon gift cards in exchange for your inputs.
This is one of the easiest and quickest ways to make extra money online with no experience required.
How much money can you make online with survey sites?
Anywhere from $50 to $200 (or more) per month depending on your eligibility and the number of surveys you complete.
I know a lot of you are asking what are some survey sites that actually pay. Like you, I've personally tried A LOT of crappy survey sites where I would never qualify for any surveys! 🙁
Having that said, here is a quick list of the top online surveys for money that have worked the best for me and most users.
– Survey Junkie – This survey site has one of the highest earning opportunities and it has a rating of 4.5 stars out of 5 on TrustPilot Reviews.
👉 Join Survey Junkie for free here and start earning money online immediately!
– American Consumer Opinion (ACOP) – I use this legitimate survey site to earn cash for extra spending. This is also a free membership site and the company has paid out over $30 million in cash to users like you.
👉 You can sign up for ACOP for free here and start earning money online.
– Swagbucks Surveys – I've been using this survey site for 10 years. It's my favorite way to earn PayPal cash online or free gift cards. My top choice is redeeming Starbucks gift cards for free drinks at Starbucks.
👉 Create a free Swagbucks account here and make money by becoming a survey taker. You even get a $5 bonus just for joining.
– MyPoints – This survey site is owned by the same Parent company of Swagbucks. I use this to earn extra cash for free during my spare time.
👉 Join MyPoints for free here and get a $10 bonus.
Related posts about making money online with surveys:
– The Best 15 Survey Sites To Join Today (Earn Up To $50 Per Survey)
– The Best Survey Sites in Canada
2. Make money online searching the web
Want a fun side hustle to make a little extra?
Aside from filling out surveys, you can also make money online surfing the web with Swagbucks.
It's just like how you search for things on Google. The only difference is you're using their browser to search.
In addition to searching the web, you can redeem FREE gift cards or earn PayPal money by watching videos, playing games, shopping online, and answering some survey questions.
These are just mindless and easy tasks that you normally do every day. Again, this is not a way to get rich quick, rather it's really just icing on the cake! Plus, it's easy to use. 🙂
I personally use Swagbucks and I always write about them on my blog because they are one of my personal favorite cash and rewards programs!
I've been a member of Swagbucks since 2009 so I recommend them to my readers!
They are 100% legitimate and have paid out their members over $315,312,447 to date!
👉 If you're interested in earning FREE gift cards or PayPal CASH, you can sign up for Swagbucks and grab your FREE $5 bonus here. YES, this is FREE to use!

⭐️ Important: To claim your FREE $5 bonus, don't forget to verify the email from Swagbucks in your inbox!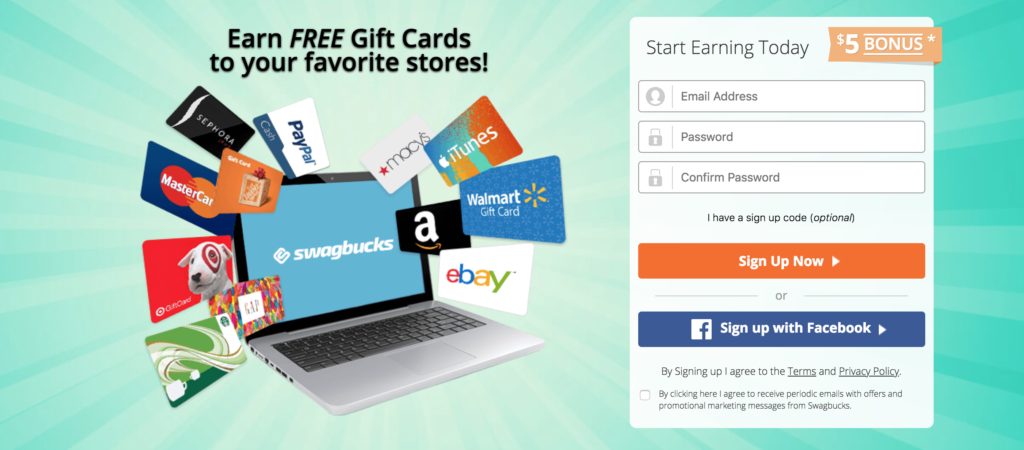 3. Make money online selling on Amazon
Do you love the idea of shopping at the clearance racks and reselling those items on Amazon for a profit?
Does it sound far-fetched to turn this hobby of yours into a profitable online business?
Well, Jessica from The Selling Family is here to prove that everyday people like you can achieve this!
Jessica started this as a side hustle working less than 20 hours a week and was able to earn over $100,000 within her first year!
She even offers you a FREE 9-lesson Amazon FBA Starter Course here to show you how to make money online with Amazon for total beginners. In her course, she teaches you everything you need to know about selling on Amazon.
Her free course includes the following outline to show you how to make money online with Amazon:
– Understand WHY Amazon is the perfect platform for building a business
– How leveraging the fulfillment power of Amazon leaves your home free from piles of inventory
– The way we buy inventory that built over six figures in profit our first full year
– How to choose the perfect items to sell that people want and will make you money
– What tools we use to save time and be the most efficient in our business
4. Start a blog that makes money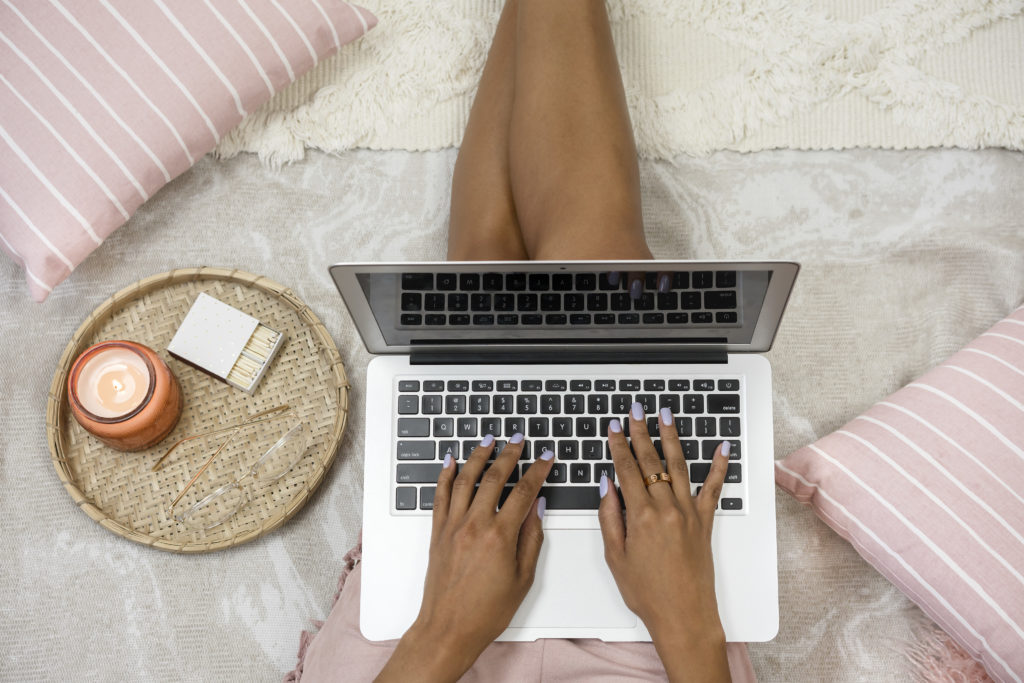 If you want to work from home and make money online, one of my top recommendations is to start a profitable blog with my free 7-day e-mail course here. I will show you how I went from earning an extra $500 per month to over $10,000 per month blogging!
I always mention this but I'll mention it again: If you asked me over a year ago, I had no idea that blogs could make money!
Make money online with Google
Here is a quick screenshot of my beginning blogging journey when I was learning and experimenting with how to make money online with Google using display advertising on my webpage.
As you can see in the screenshot, as a beginner, I was making money with Google Adsense and got paid $50 to $200 per month. 🙂


How to make thousands of dollars online
After my readership grew and I learned more about making money online with a blog, I switched ad platforms from Google Adsense to Mediavine.
With this switch, my website started earning over $1,000 in passive income every month using just display ads within less than 1 year of starting this blog.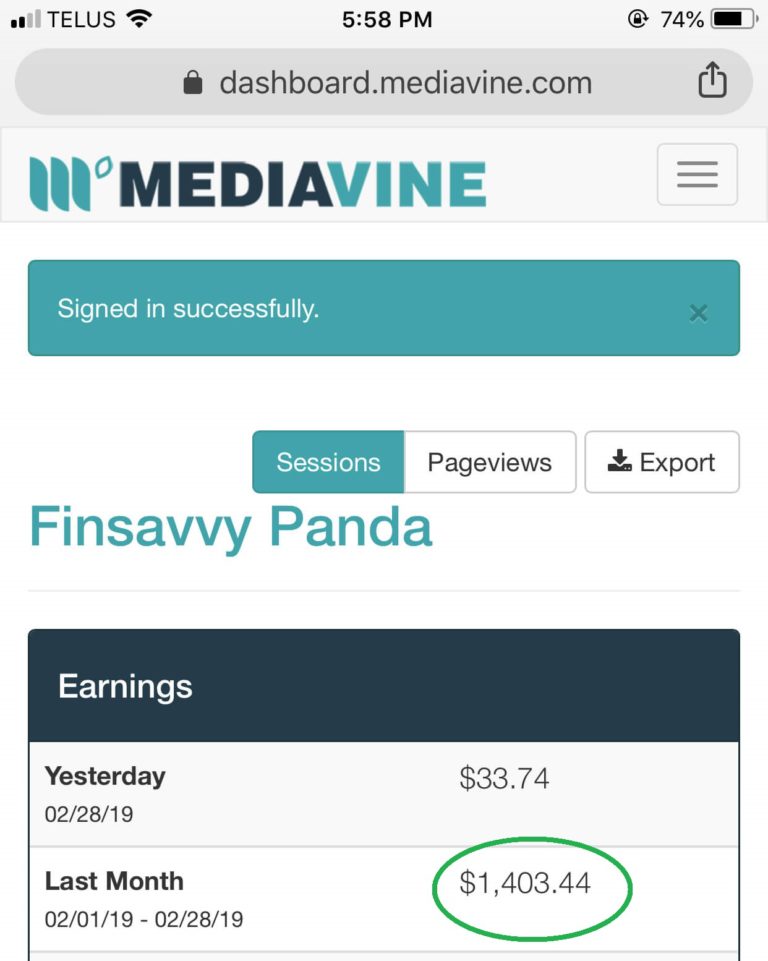 Make money online with affiliate marketing
Aside from earning with display advertising using Google Adsense or Mediavine, I also rely on affiliate marketing to generate another stream of passive income, which I talk about in my next point.
This may not be a free way to make money online, but it is extremely cheap to get started!
This definitely beats other traditional business models — I don't know where else you can start a business for this low. To be honest, starting this blog was one of the best investments I've made this year!
🌟 I started this blog just under a year ago and now it's one of my favorite ways to make extra cash ON TOP of my full-time job. Follow my blogging journey to see I went from earning extra money online to earning over $10,000 per month blogging today!

You too can start a blog for cheap with my easy step-by-step blogging tutorial here. You can start a blog at a discounted price for only $2.95 a month (that's over 60% off). Plus, get a FREE domain name ($15 value) when you sign up through my tutorial.

This low price is exclusive to Finsavvy Panda readers.
Do you want to work from home and start a blog?
Are you a beginner and don't know where to start?
Join my FREE 7-day course where I will teach you how to start your blog and make money online for beginners! 🙂
How I Make Money Online by Blogging:
If you're interested, you can also check out my very honest blog income reports where I log my beginning blogging journey to show others that making money online is possible!
What I learned over the year is that you don't need to be the best writer nor an expert in what you blog about!
Here's a quick glimpse of my journey and how I made money blogging online when I started as a beginner.
– October Blog Income Report: $4,798.01
– September Blog Income Report: $4,509.50
– August Blog Income Report: $2,797.64
– July Blog Income Report: $703.57
5. Make money with affiliate marketing
As mentioned, one of my favorite ways to make money online is through affiliate marketing.
Affiliate marketing is basically recommending products you love and/or believe will add value to your audience. After they make a purchase, you will earn an income. In other words, you can earn money online by providing value and solving your readers' problems.
You can make money using affiliate marketing without a blog. For example, if you have a large social media following or if you're an online influencer, you can recommend products and make money via your social media channels when your followers purchase products or services through you.
How to make money using affiliate marketing for beginners
Despite what I just said, I prefer using my blog to make money with affiliate marketing.
When I first started my blog, I became really interested in affiliate marketing after learning about an affiliate marketing e-course called Making Sense of Affiliate Marketing created by Michelle who makes over $50,000 per month.
I signed up for Michelle's e-Course, and to be honest, I wasn't expecting to make any money at first.
However, even as a new blogger WITH VERY LITTLE TRAFFIC, I was still able to make money online by implementing a few of Michelle's affiliate marketing strategies near the end of March 2018. Within a month, I earned more than what I spent on her course!
For example, I earned over $400 USD within the month after implementing Michelle's tips and I really regret not taking her course sooner.
Update: I make over $5,000 per month using affiliate marketing within less than 1 year of taking the course.

If you're interested in my progress, you can learn how to make money with affiliate marketing for beginners here. You will see how much money I made and how I progressed over the months. I also interviewed the expert, Michelle, to gain some insights for beginners who want to learn more about affiliate marketing!
With that said, if you're serious about making money from affiliate marketing with a blog, I highly recommend taking Michelle's course!
She also says you don't need explosive traffic nor a ton of posts to start earning passive income with affiliate marketing. Even if you are a new blogger with ONE EPIC BLOG POST, you are ready to start making money with affiliate marketing!
You can learn more about Michelle's affiliate marketing e-course here and how she earned over $300,000 just from one blog post!
Do you want learn how to make money with a blog using affiliate marketing?
Join my FREE 7-day course where I will teach you how to start your blog and make money online. I will also dive into affiliate marketing tips for total beginners! 🙂
6. Become an online virtual assistant (VA)
Are you looking for real work from home online jobs that could earn you up to $60,000 per year?
You can become a virtual assistant (VA) by helping a company or blogger remotely from home (or any location)!
You may think that a virtual assistant is just the modern version of a secretary or an administrative assistant, but there's to it than just that!
Are you asking yourself whether becoming a VA is the right fit for you? You can download this FREE list of 150+ services to choose from!
Want to learn more about becoming a VA and how you can make up to $60,000 per year?
🌟 Read this full EPIC post by Gina Horkey: How To Become a Virtual Assistant – Everything You Need to Know!

Gina was able to make $4,000 per month part-time while being a mom with a full-time job! There's definitely a ton you can learn from her and she'll show you how!
7. Make money online using Fiverr
Have you ever heard of the platform, Fiverr, where you can sell your skills and freelance services online?
To give you a bit of background, the name "Fiverr" came from the idea where you could sell your services starting at five bucks per task, job, or gig.
You can make money using Fiverr in many different ways.
Some of them include freelance writing, social media services, digital marketing, virtual assistant services, using your photography skills, designing websites, creating business cards, and just about anything you can think of!
There are even people offering odd services like becoming your friend for a day.
Fiverr was founded in 2010 and they were very popular with their $5 to $10 gigs.
Today, freelancers still offer bids that start at $5 bucks but they are extremely hard to find given the demand for their services.
This is good news for you because as the seller, you can expect to make $100 or even $1,000 per job depending on what you offer and your level of expertise.
8. Earn money online by shopping
Did you know that you can passively earn money online? Just by shopping for the things you normally buy? YES, you can earn free cash back with Rakuten (formerly called Ebates)!
Rakuten is my all-time favorite program because I can earn up to 40% of my purchases online. I'm basically getting paid just to shop for the items I normally buy online!
Rakuten works with over 2,000 retailers including your favorite stores like Apple, Walmart, Macy's, Nike, Foot Locker, Michael Kors, Groupon, Macy's and SO much more! You won't be disappointed with using Rakuten as a free way to earn money online while you shop.
🌟 If you're new, you can receive a FREE $10 bonus here after making your first $25 purchase online through Rakuten.

If you live in Canada, you need to sign up here to claim your FREE $5 bonus.
9. Earn money with free money resources
Speaking of earning free cash back with Rakuten (AKA Ebates), you can also earn free money with these money-making apps that don't cost you anything.
Here is a quick list of the ones I use and recommend:
Survey Junkie: I use this free money app to earn some extra cash each month by answering a few simple surveys. You won't make a boatload of money but it's good enough for extra spending. You can earn as high as $35 to $50 per survey.
Swagbucks: I've been using this resource since 2009 and it's how I earn some PayPal cash or an Amazon gift card each month. You can earn money online just by playing games, watching videos, doing some shopping, answering surveys for cash, and surfing the web.
Opinion Outpost: Similar to other legitimate survey sites, you get paid in cash and free gift cards by giving your opinion on a product or service. Here is one of the many testimonials I found online about this survey site:
"I love being able to use Opinion Outpost to earn a little extra cash for my family. I am a stay at home mom to four kids, and I like being able to bring in some money —Kristin, Florida"
Trim: According to a best-selling finance book called The Wealthy Barber by David Chilton, "a dollar saved is two dollars earned". With that said, you'd be doing yourself a favor by finding ways to save money on those expensive monthly bills. This free money resource named Trim will help you find ways to reduce your monthly expenses by negotiating better rates for you. You can also tell him which expense you want to get rid of and he'll do the job for you. He's free to use, so why not take advantage and save up to hundreds of dollars each month?
TaskRabbit: This is another free money-making app to help you earn some side hustle money. You can post almost any task or job online with TaskRabbit and earn extra income every month. For example, there are people who advertise to help assemble their Ikea furniture for some cash.
Ibotta: This is more like a free resource to help you save money, but as mentioned above, a dollar saved is two dollars earned. You can use Ibotta to save money on groceries by uploading your recipes with the app. You'll even get a $10 bonus just for signing up today!
10. Make money online using Medium
Medium is an online publishing platform where publishers or bloggers can write and share their content with millions of monthly readers.
It's free to join Medium's Partner Platform as a writer and make money based on the number of claps (similar to likes) you get for each post.
Aside from making real money, it can also be a great platform for bloggers to get traffic back to their blogs or website.
You can learn more about the platform and how Tom Blake makes money by writing on Medium.
11. Sell your stuff online
In the past, we've made money online from selling the stuff we don't use anymore.
We don't own a lot of stuff, but we still managed to earn over $5,000 online just from decluttering.
So, I'm sure everyone has something they can sell online to make some extra cash.
You could even make money by flipping old furniture and selling them online. This is one of the most creative ways to make money fast when you most need it! I personally make an extra $500 per month doing this. 🙂
Aside from the money, many studies show that decluttering and organizing your place will increase your productivity, decrease stress, and allow you to do more. According to USA Today, cleaning brings both wealth and health:
"Tidying up not only makes your environment more organized — it can improve mental health and help you make better money decisions, financial experts say."
Here are a few online platforms I recommend using when posting your stuff to sell. You can also download my free checklist here to see what you can sell online for some extra cash today!
– Decluttr
– Swap
– Letgo
– Poshmark
– eBay
12. Sell your unwanted electronics through Gazelle
Do you have an old Apple and/or Android device lying around? Not using that iPod or iPhone 5 anymore?
Well, the great news is you can sell your old electronics through Gazelle and get cash back. Who knows, you might have hundreds or thousands of dollars worth of old electronics that you're not aware of. 😉
Based on consumer reviews, they are easy, hassle-free, and quick! To date, Gazelle has paid out over $200 million to their customers and they have a 9.5/10 score on ResellerRatings!
🌟 You can learn more about Gazelle here. It is FREE to sign up! You can also get $10 for every friend you refer. 🙂
Wrap up on ways to make money online for beginners
Readers, are you ready to make money online?
If you want to make money online fast and for FREE, your best bet is to sign up for the best paid survey sites. You can make money online and get paid through PayPal or redeem FREE gift cards.
But, if you want more than just the quick and small wins, you can consider starting a blog through my easy step-by-step tutorial and implement these winning affiliate marketing strategies along the way. It will take some time and effort to build a blog but personally for me, it was worth every second of my life! Remember, there is NO such thing as making money the easy way!
I hope you found this post helpful. Have you tried other ways to make money online?
Enjoyed this post? If so, make sure to bookmark it or share it on Pinterest!