We will receive a commission if you make a purchase through our affiliate link at no extra cost to you. Please read our disclosure policy for more information.
Are you looking for real and legitimate ways to work from home and make money online?
Just like me, you probably searched for a ton of articles teaching you how to make money online only to find spammy websites that ask you to sign up for some shady seminars. They usually tell you that they can transform you into a millionaire overnight.
Before we get started, let's get one thing straight.
There is NO such thing as making fast and easy money!
But there are many legitimate ways to make money online; they just aren't the "get rich quick schemes" that we hear of all the time and it will require work.
Now that's out of the way, you probably face another problem.
I know, you need money now and you are probably sick and tired of living paycheck to paycheck. It sucks that most people don't make enough to cover their bills, credit card debt, and student loans.
Whether you want to make an extra fast $200 a day or find a good job that pays a consistent $500 every day online, the good news, though, is that you can increase your income, or potentially earn a full-time income by making money online!
You can make money from home or anywhere you wish as long as you have a laptop or mobile device with you!
PIN (OR BOOKMARK) THIS: I'll be updating this post so make sure to pin this image HERE and save it to your Pinterest board. That way you'll be able to easily come back to this page and learn everything you need to know about how to make money online!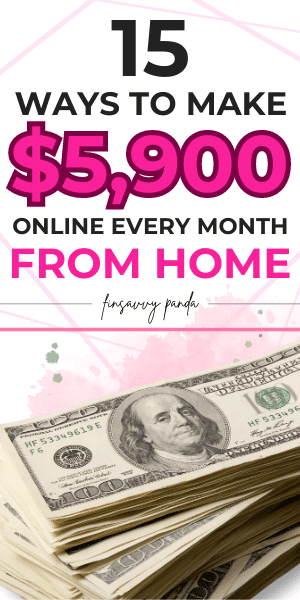 How I make money online using Pinterest
When I first wrote this blog post, I was still at my 9-5 job trying to find legitimate ways to work from home and earn a living online.
In fact, I only made my first $1,000 online with this blog using Pinterest when I originally published this post. Fast forward a couple of years, I quit my job to earn a six-figure income online as a full-time blogger.
You can also check out my personal story and experience on how I make a full-time income by using Pinterest – you'll learn that I went from earning my first $500 to over $10,000 per month within 18 months into my journey. I only share this because I want to inspire you to do something similar so you can finally earn more money to pay off your debts, save for your vacation, and live life with more financial independence. You know you deserve it!
I have to say that the only idea that really stuck with me all these years is starting a blog and using the Pinterest app. Just by focusing my efforts on those areas, I am able to earn money with display ads, affiliate marketing, and creating my own products.
Along with that, I am sharing the list below, which includes many of the side hustle ideas I've personally done to make money online while working a full-time banking job.
1. Make money online with surveys
You can make money today by joining the highest paid survey sites with your smartphone, laptop or desktop.
One of my favorite survey sites that I use to make extra money is Survey Junkie.
I'll admit you won't become the next Bill Gates by doing surveys. Not even close!
But they are tried and true ways to earn money online for free. They are also easy to do while binge-watching your favorite TV shows on Netflix! From time to time, I still pull out my phone to do surveys in the passenger seat while my fiance drives his car!
Why take online surveys? What's in it for you?
All top companies want to understand their consumers so that they can create the perfect products and services for you.
For them to do that, they need to understand YOU and what YOU want. That's why they are willing to pay you in PayPal cash or free Amazon gift cards in exchange for your inputs.
This is one of the easiest and quickest ways to make extra money online with no experience required.
How much money can you make online with survey sites?
Anywhere from $50 to $200 (or more) per month depending on your eligibility and the number of surveys you complete.
I know a lot of you are asking what are some survey sites that actually pay. Like you, I've personally tried A LOT of crappy survey sites where I would never qualify for any surveys! 🙁
Having that said, here is a quick list of the top online surveys for money that have worked the best for me and most users.
Survey Junkie – This survey site has one of the highest earning opportunities and it has a rating of 4.5 stars out of 5 on TrustPilot Reviews.
👉 Join Survey Junkie for free here and start earning money online immediately!
American Consumer Opinion (ACOP) – I use this legitimate survey site to earn cash for extra spending. This is also a free membership site and the company has paid out over $30 million in cash to users like you.
👉 You can sign up for ACOP for free here and start earning money online.
Swagbucks Surveys – I've been using this survey site for 10 years. It's my favorite way to earn PayPal cash online or free gift cards. My top choice is redeeming Starbucks gift cards for free drinks at Starbucks.
👉 Create a free Swagbucks account here and make money by becoming a survey taker. You even get a $5 bonus just for joining.
MyPoints – This survey site is owned by the same Parent company of Swagbucks. I use this to earn extra cash for free during my spare time.
👉 Join MyPoints for free here and get a $10 bonus.
2. Make money online with Branded Surveys
Aside from the several survey companies I listed above, you can also sign up for Branded Surveys, one of the most reliable and fastest-growing online survey sites today. This platform currently has over 3 million members and is rapidly carving a niche for itself in the make money online sphere.
Unique in its approach, Branded Surveys offers a plethora of tasks beyond just surveys, tailored to suit diverse profiles and preferences. As you engage, you'll see your rewards grow steadily.
What I really like about this survey site is the ease with which you can cash out. Unlike some platforms that require multiple steps for redemption, Branded Surveys allows users to effortlessly earn through PayPal. This convenience, paired with its reliability, makes it a standout choice for those looking to earn extra money on the side.
Make money online immediately today and snatch your welcome bonus of 100 points when you sign up for a free account with Branded Surveys here.
3. Start a blog that makes money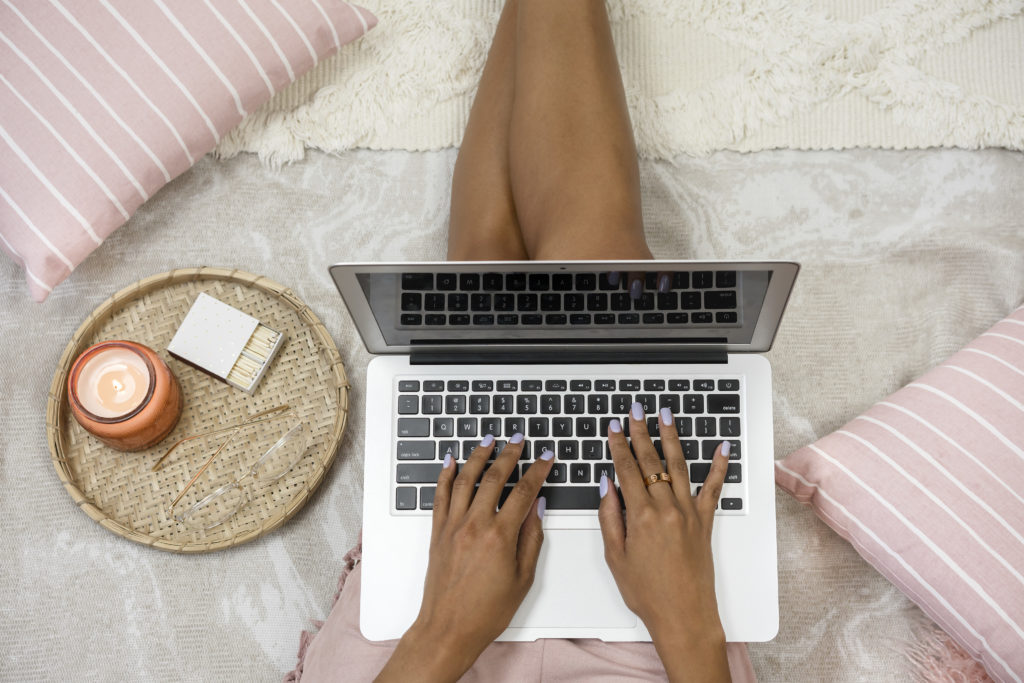 If you want to work from home and make money online, one of my top recommendations is to start a profitable blog with my free 7-day e-mail course here. I will show you how I went from earning an extra $500 per month to over $10,000 per month blogging!
I always mention this but I'll mention it again: If you asked me over a year ago, I had no idea that blogs could make money!
Make money online with Google
Here is a quick screenshot of my beginning blogging journey when I was learning and experimenting with how to make money online with Google using display advertising on my webpage.
As you can see in the screenshot, as a beginner, I was making money with Google Adsense and got paid $50 to $200 per month. 🙂


How to make thousands of dollars online
After my readership grew and I learned more about making money online with a blog, I switched ad platforms from Google Adsense to Mediavine.
With this switch, my website started earning over $1,000 in passive income every month using just display ads within less than 1 year of starting this blog.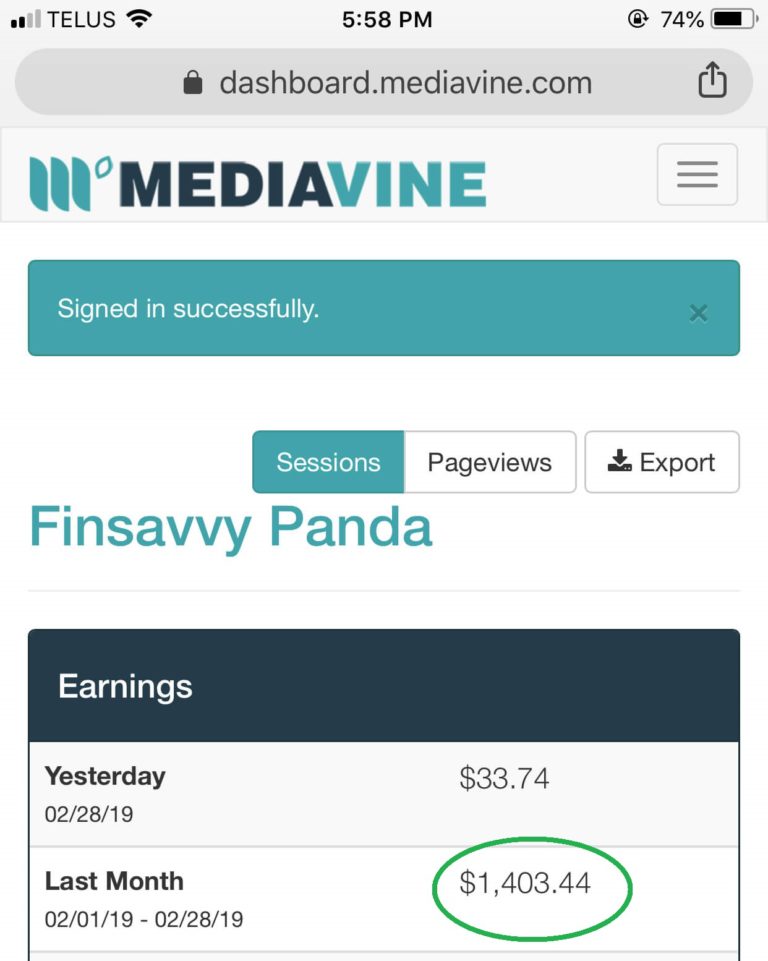 Make money online with affiliate marketing
Aside from earning with display advertising using Google Adsense or Mediavine, I also rely on affiliate marketing to generate another stream of passive income, which I talk about in my next point.
This may not be a free way to make money online, but it is extremely cheap to get started!
This definitely beats other traditional business models — I don't know where else you can start a business for this low. To be honest, starting this blog was one of the best investments I've made this year!
🌟 I started this blog just under a year ago and now it's one of my favorite ways to make extra cash ON TOP of my full-time job. Follow my blogging journey to see I went from earning extra money online to earning over $10,000 per month blogging today!

You too can start a blog for cheap with my easy step-by-step blogging tutorial here. You can start a blog at a discounted price for only $2.95 a month (that's over 60% off). Plus, get a FREE domain name ($15 value) when you sign up through my tutorial.

This low price is exclusive to Finsavvy Panda readers.
UPDATE: You can check out how I made $27,000 in a single month from blogging with my lessons here. You can also learn how I earned over $200,000 a year as a Pinterest blogger here.
Do you want to work from home and start a blog?
Are you a beginner and don't know where to start?
Join my FREE 7-day course where I will teach you how to start your blog and make money online for beginners! 🙂
How I Make Money Online by Blogging:
If you're interested, you can also check out my very honest blog income reports where I log my beginning blogging journey to show others that making money online is possible!
What I learned over the year is that you don't need to be the best writer nor an expert in what you blog about!
Here's a quick glimpse of my journey and how I made money blogging online when I started as a beginner.
4. Make money online searching the web
Want a fun side hustle to make a little extra?
Aside from filling out surveys, you can also make money online surfing the web with Swagbucks.
It's just like how you search for things on Google. The only difference is you're using their browser to search.
In addition to searching the web, you can redeem FREE gift cards or earn PayPal money by watching videos, playing games, shopping online, and answering some survey questions.
These are just mindless and easy tasks that you normally do every day. Again, this is not a way to get rich quick, rather it's really just icing on the cake! Plus, it's easy to use. 🙂
I personally use Swagbucks and I always write about them on my blog because they are one of my personal favorite cash and rewards programs!
I've been a member of Swagbucks since 2009 so I recommend them to my readers!
They are 100% legitimate and have paid out their members over $315,312,447 to date!
👉 If you're interested in earning FREE gift cards or PayPal CASH, you can sign up for Swagbucks and grab your FREE $5 bonus here. YES, this is FREE to use!

⭐️ Important: To claim your FREE $5 bonus, don't forget to verify the email from Swagbucks in your inbox!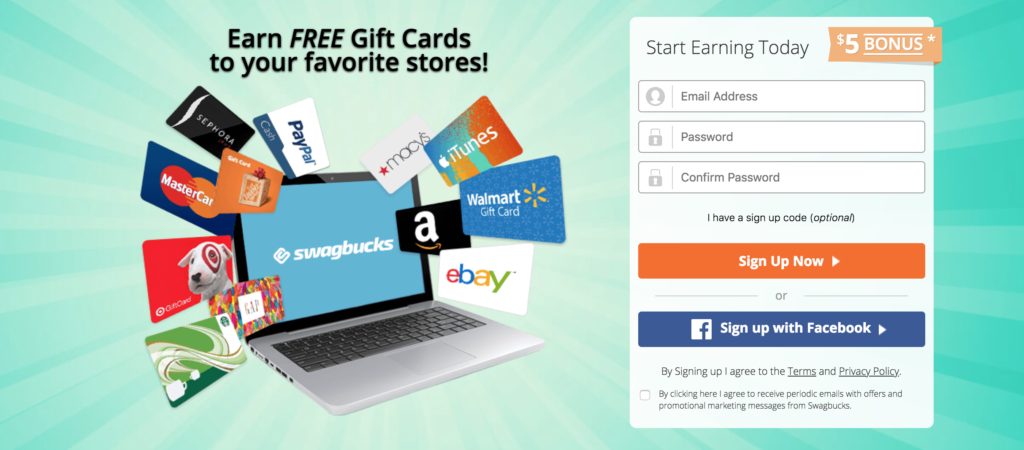 5. Become a Freelance Writer
With your trusty laptop and sites like Upwork, Fiverr, and Freelancer.com, making money online as a freelance writer becomes a real, tangible goal.
As you can see, there are a lot of jobs available – from writing and coding to designing and marketing. If you're bilingual, websites like Gengo or Blend Express are fantastic options, or consider starting and launching your own blog for greater control – this is exactly what I did to earn over six figures per year. You can check out how I became a full-time blogger writing for my own small website here!
But if you're on the hunt to look for clients, just make sure to always keep an eye on market rates to price your services fairly.
6. Become an Online Gamer
Online gaming has evolved from being a leisurely pastime to a profitable business.
As the years passed, it's evident that the world of esports is filled with opportunities to make money. From live streaming on platforms like Twitch, where audience donations can add up to significant sums, to becoming a beta tester for upcoming games, the possibilities are endless.
High-ranking esports players compete in global tournaments, where winnings can reach up to millions of dollars. Gaming influencers, with significant followings, can earn from sponsorships and brand partnerships potentially six or even seven figures a year depending on how serious you are.
Given these avenues, making a comfortable living, or even earning a fortune from gaming, isn't as far-fetched as it once seemed.
And hey, if becoming an online gamer isn't your thing, but you just like playing games casually and teaching people how to be strategic, consider starting a gaming blog – that, too, can allow you to earn money online.
7. Get Paid To Eat
The only way I can think of getting paid to eat and making money online is by starting a food blog or YouTube channel about the places you've visit.
This is where you can share your culinary journeys, taste-test unique cuisines, and provide insightful reviews. Imagine biting into a succulent dish, savoring its every flavor, and getting paid for your thoughts – sounds like a foodie's dream, doesn't it?
You might also partner with restaurants for sponsored posts, or host virtual cooking classes. And if your palate is adventurous enough, you could even make income by sampling exotic or quirky foods.
As your following grows, so does your potential for monetization. So, grab your utensils and get ready to dine your way to profit!
8. Make Money with ChatGPT
Let me let you know how I use ChatGPT to make money online.
Not only do I use it to help me make money on Pinterest, but I use it to help me make money blogging too!
It's like having a trusty sidekick that helps me create killer content that keeps my readers glued to the screen.
With ChatGPT by my side, I save so much time from coming up with content ideas and instead focus on growing my audience and making money.
I use it to automate my Pinterest and blogging operations and I honestly can't live without it. It's like a money-making recipe, and ChatGPT adds that extra spice to make it irresistible.
Thanks to this AI wizardry, my blog is able to generate a healthy income without me attending to all the mundane and administrative tasks!
9. Sell Your Shoes Online
Selling your shoes online can be a great way to declutter and earn some cash. It's exactly what I did when I dived into the world of earning my first income online.
In fact, from my personal experience, I remember posting my shoes on a platform like OfferUp and a few people had sent me money via PayPal just to hold the inventory for them. Many even offered to pay upfront before meeting up because they badly wanted me to not sell it to anyone else.
I have a full guide on ways to sell your shoes online, but here are my tips if you want to start selling your shoes online.
Start by cleaning up your footwear, making them look as good as new.
Next, take high-quality photos from different angles to accurately showcase their condition. Platforms like eBay, Depop, or Grailed are perfect for listing your items.
Provide a detailed description – include the brand, size, condition, and a fair price based on market values.
Remember, customer service is key. Respond promptly to inquiries and ship items, or meet up in person, quickly after making the sale. I had my phone with me most of the time so that I could respond quickly to questions that people had about my shoes.
With a little patience and strategy, your shoes can step off your rack and onto the online market!
10. Make Money on YouTube
Just like blogging, becoming a YouTuber can become a lucrative online business idea. And that depends on how much time you spend making helpful videos for your audience.
To start, you'll need to create engaging content that appeals to a specific audience. I always highly recommend choosing a topic you really enjoy talking about. Whether you're into gaming, cooking, or daily vlogs, passion is key.
Once you've got some videos up, focus on growing your subscriber base. The initial phase might feel like a slow climb, and you may question your efforts. But believe me, maintaining consistency and weathering the tough times can really set your channel's destiny.
Now, how do you make money? Very similar to blogging, there are several ways.
First, with enough views and subscribers, you can join YouTube's Partner Program, earning money through ad revenue. The more views your videos get, the more you earn.
Second, you can utilize sponsored videos. Brands often pay YouTubers to feature or review their products.
Last but not least, there's the exciting world of affiliate marketing!
With affiliate marketing, you get to recommend products that you genuinely use and believe in to your audience. And when they make a purchase through your referral, you earn a commission.
The affiliate commission rate depends on the company you team up with. So, by sharing your personal favorites, you're not only helping your viewers but also adding a little extra cash to your pocket. It's a win-win situation for everyone involved!
Remember, building a successful YouTube channel takes time. But with dedication, your YouTube journey could turn your passion into profit.
11. Make money with affiliate marketing
As mentioned, one of my favorite ways to make money online is through affiliate marketing.
Affiliate marketing is basically recommending products you love and/or believe will add value to your audience. After they make a purchase, you will earn an income. In other words, you can earn money online by providing value and solving your readers' problems.
You can make money using affiliate marketing without a blog. For example, if you have a large social media following or if you're an online influencer, you can recommend products and make money via your social media channels when your followers purchase products or services through you.
How to make money using affiliate marketing for beginners
Despite what I just said, I prefer using my blog to make money with affiliate marketing.
When I first started my blog, I became really interested in affiliate marketing after learning about an affiliate marketing e-course by an instructor who makes over $50,000 per month.
I signed up for affiliate marketing training, and to be honest, I wasn't expecting to make any money at first.
However, even as a new blogger WITH VERY LITTLE TRAFFIC, I was still able to make money online by implementing a few of her affiliate marketing strategies near the end of March 2018. Within a month, I earned more than what I spent on her course!
For example, I earned over $400 USD within the month after implementing her tips and I really regret not taking her course sooner.
Update: I made over $5,000 per month using affiliate marketing within less than 1 year of taking the course. Today, I earn over $15,000 per month just from affiliate marketing alone.

If you're interested in my progress, you can learn how to make money with affiliate marketing for beginners here. You will see how much money I made and how I progressed over the months.
Do you want learn how to make money with a blog using affiliate marketing?
Join my FREE 7-day course where I will teach you how to start your blog and make money online. I will also dive into affiliate marketing tips for total beginners! 🙂
12. Get Paid To Be an Online Friend
Looking to turn your sociable side into a money-making venture?
Say hello to the world of becoming an online friend! Sounds crazy, right? Getting paid to become an online friend?
It's like having a side gig where your charisma and charm pay off.
From providing companionship and conversation to offering virtual support and advice, the possibilities are endless. You can totally join platforms like RentAFriend or Friended and create an appealing profile. Go ahead and let your social butterfly wings take flight.
Whether it's being a virtual wingman, gaming buddy, or just a friendly ear, get ready to make connections and earn some extra dough while having a blast. So, go ahead and embrace your friendly nature – becoming an online friend is like getting paid for being the life of the digital party!
13. Make money online using Fiverr
Have you ever heard of the platform, Fiverr, where you can sell your skills and freelance services online?
To give you a bit of background, the name "Fiverr" came from the idea that you could sell your services starting at five bucks per task, job, or gig.
You can also check out how my friend, Peter, made over $200 on Fiver in a week in his post – how to make money using Fiverr in many different ways.
Some of them include freelance writing, social media services, digital marketing, virtual assistant services, using your photography skills, designing websites, creating business cards, and just about anything you can think of!
There are even people offering odd services like becoming your friend for a day.
Fiverr was founded in 2010 and they were very popular with their $5 to $10 gigs.
Today, freelancers still offer bids that start at $5 bucks but they are extremely hard to find given the demand for their services.
This is good news for you because as the seller, you can expect to make $100 or even $1,000 per job depending on what you offer and your level of expertise.
14. Earn money online by shopping
You can earn good money by becoming a mystery shopper, but that wouldn't qualify as an "online" hustle.
But what about earning money by shopping online?
YES, did you know that you can passively earn money online? Just by shopping for the things you normally buy?
I love talking about this because I do this myself all the time. Plus, I can show my readers how you can earn free cash back with Rakuten, which is one of my favorite ways to make money while spending.
Rakuten is my all-time favorite program because I can earn up to 40% of my purchases online. I'm basically getting paid just to shop for the items I normally buy online!
Rakuten works with over 2,000 retailers including your favorite stores like Apple, Walmart, Macy's, Nike, Foot Locker, Michael Kors, Groupon, Macy's and SO much more! You won't be disappointed with using Rakuten as a free way to earn money online while you shop.
🌟 If you're new, you can receive a FREE $10 bonus here after making your first $25 purchase online through Rakuten.

If you live in Canada, you need to sign up here to claim your FREE $5 bonus.
15. Earn money with free money resources
Speaking of earning free cash back with Rakuten (AKA Ebates), you can also earn free money with these money-making apps that don't cost you anything.
Here is a quick list of the ones I use and recommend:
Survey Junkie: I use this free money app to earn some extra cash each month by answering a few simple surveys. You won't make a boatload of money but it's good enough for extra spending. You can earn as high as $35 to $50 per survey.
Swagbucks: I've been using this resource since 2009 and it's how I earn some PayPal cash or an Amazon gift card each month. You can earn money online just by playing games, watching videos, doing some shopping, answering surveys for cash, and surfing the web.
TaskRabbit: This is another free money-making app to help you earn some side hustle money. You can post almost any task or job online with TaskRabbit and earn extra income every month. For example, there are people who advertise to help assemble their Ikea furniture for some cash.
Ibotta: This is more like a free resource to help you save money, but as mentioned above, a dollar saved is two dollars earned. You can use Ibotta to save money on groceries by uploading your recipes with the app. You'll even get a $10 bonus just for signing up today!
16. Make money online using Medium
Medium is an online publishing platform where publishers or bloggers can write and share their content with millions of monthly readers.
It's free to join Medium's Partner Platform as a writer and make money based on the number of claps (similar to likes) you get for each post.
Aside from making real money, it can also be a great platform for bloggers to get traffic back to their blogs or website.
You can learn more about the platform and how my friend, Tom Blake, makes money by writing on Medium.
17. Sell your stuff online
In the past, we've made money online from selling the stuff we don't use anymore.
We don't own a lot of stuff, but we still managed to earn over $5,000 online just from decluttering.
So, I'm sure everyone has something they can sell online to make some extra cash.
You could even make money by flipping old furniture and selling them online. This is one of the most creative ways to make money fast when you most need it! I personally make an extra $500 per month doing this. 🙂
Aside from the money, many studies show that decluttering and organizing your place will increase your productivity, decrease stress, and allow you to do more. According to USA Today, cleaning brings both wealth and health:
"Tidying up not only makes your environment more organized — it can improve mental health and help you make better money decisions, financial experts say."
Here are a few online platforms I recommend using when posting your stuff to sell. You can also download my free checklist here to see what you can sell online for some extra cash today!
Decluttr
Swap
OfferUp
Poshmark
eBay
18. Become an online virtual assistant (VA)
Get ready to unleash the potential of working as a virtual assistant (VA) and earning money online.
As a VA, you have the freedom to provide administrative, creative, or technical support to clients from the comfort of your own home.
Whether it's managing schedules, handling emails, social media management, or even website design, the opportunities are vast. Platforms like Upwork, Freelancer, or specialized VA websites can connect you with clients seeking your skills.
Set your rates competitively, deliver exceptional results, and watch your client base grow. With determination, organization, and excellent communication skills, you can turn your VA gig into a profitable online career. So, grab your virtual toolbox and get ready to thrive as a sought-after online VA.
Is it possible to make money online?
Honestly, before learning how to become a full-time blogger and earning a full-time income here, I had absolutely NO idea that people could make money online.
As a broke college student back in the day, I always thought the only way to make money was through a traditional 9-5 job, or a part-time job as a Barista at Starbucks. You know, something along those lines…
It wasn't until I was fed up with all my jobs that it led me to look for alternative ways to increase my income, make extra money, save money, and build wealth so that I could quit my job and work from home one day.
How to make money online from home (for beginners)
Just like you, I decided to randomly search for ways to make money on Google such as, "How to make money online" or "How to make money from home".
As a result, I saw a gazillion searches out there. I thought to myself, ah… this must be a common problem that most people are having (including myself).
With that said, I worked my butt off to put together this information just for you. I've even tried and done most of them myself when I was researching about this outside of my day job.
Whether you have a full-time job, a part-time job, or no job, there are many ways real ways to make money from home and online. And if you're a parent of a teen between the ages of 14 and 19, you can help your kid earn money too by learning about the best online jobs for teenagers.
Here are 10 legitimate ways beginners like you can start earning money online!
How to make money online for free (without paying anything)
For the most part, the list I created for you below are either free ways to make money or an extremely low-cost to get started.
My personal favorite way to make money online is by starting a profitable blog because it's super cheap to get started and it's how I make thousands of dollars per month online with a small website.
I will go into more detail about blogging for a profit after I've covered all the free ways of earning money with no investment.
Wrap up on ways to make money online for beginners
Readers, are you ready to make money online?
If you want to make money online fast and for FREE, your best bet is to sign up for the best paid survey sites. You can make money online and get paid through PayPal or redeem FREE gift cards.
But, if you want more than just the quick and small wins, you can consider starting a blog through my easy step-by-step tutorial and implement these winning affiliate marketing strategies along the way. It will take some time and effort to build a blog but personally for me, it was worth every second of my life! Remember, there is NO such thing as making money the easy way!
I hope you found this post helpful. Have you tried other ways to make money online?
Enjoyed this post? If so, make sure to bookmark it or share it on Pinterest!