We will receive a commission if you make a purchase through our affiliate link at no extra cost to you. Please read our disclosure policy for more information.
Christmas is one of my favorite holidays and for good reason. The soft glow of lights, the scent of pine, and joyful carols make it an unforgettable season I eagerly await every year.
Beyond the celebrations, I get to craft my favorite things to sell, which means extra cash in my pockets. Yay, what a great way to make extra money for Christmas, right?
The holiday market is ripe for handcrafted items, offering one of the best ways to make extra money when you need it.
Selling these unique pieces not only offers you a chance to make money, enabling you to save or indulge in festive shopping (hello Christmas splurges!), but it also feels deeply rewarding when buyers appreciate the fine details and workmanship in my crafts.
A few Christmases ago, I was actually flipping furniture, which is perfect if you're looking for wooden Christmas crafts to make and sell during the special holidays. It was actually one of my first creative side hustles that didn't feel like work. Many buyers were drawn to my creations, especially impressed by the delicate details of my stenciling and handwriting.
That was the turning point where I discovered ways to make money during the holidays – anything that is related to DIY or crafting!
I even created my own Christmas goodie bags, featuring reindeer designs made with my thumbprints, and gave them to my parents to sell at their workplace. Everyone loved them!
PIN (OR BOOKMARK) THIS PAGE: I'll be updating this post so make sure to pin this image and save it to your Pinterest board. That way you'll be able to come back to this page to learn the best DIY handmade Christmas crafts that sell like crazy!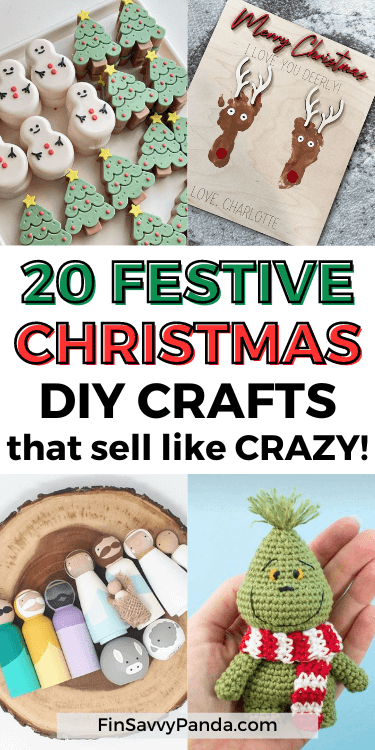 DIY Christmas Crafts To Make and Sell for a Profit
Today, I am seriously eager (and excited) to share tips on how crafting can be both enjoyable and profitable.
The expenses shouldn't be high since you can source many of these materials from everyday items around your home, thrift stores, or even yard sales.
Heck, you could even source them from your local Dollar store – just check out these cheap DIY Dollar Tree Christmas crafts and decorations that look store-bought but with a more personal touch of love! Yes, you guessed right – you could even make and sell those too!
Here are some Christmas crafts to make and sell for extra holiday cash – it's a great option if you're in need of money immediately. And who wouldn't welcome an additional income of $100 or even $200 a day?
1. Personalized DIY Ornaments
Alright, is it just me, or does anyone else get that fuzzy, "I wanna hug the world" feeling when they spot a Christmas tree dripping with handmade cuteness?
And let's talk about those homemade Grinch ornaments—come on, they're heart-melting (and, ironically, heart-growing)!
But what really gets me? The DIY crochet ornaments. You know, the ones so intricate you start wondering if the crafter is secretly a yarn-wielding wizard on a 36-hour coffee run.
These little showstoppers are way more than tree bling. They're like tiny yarn time capsules, capturing stories and memories for the fam that'll probably outlast the fake tree.
And selling these crafty gems? Well, that's not just a side hustle you can do from home —it's your backstage pass into someone's holiday traditions. So, don't side-eye these tiny treasures; they're memory-makers in disguise and your ticket to being the unseen elf in someone's festive season!
2. Handmade Christmas Cards
Next up is another one of my favorites that never go out of style.
Crafting and selling handmade Christmas cards can really add a personal touch to your holiday greetings. It definitely beats store-bought and many customers know it.
Featuring the most loved characters, such as Disney's Mickey Mouse or Charlie Brown and Snoopy if Peanuts is your thing, can appeal to a wide audience.
When it comes to gifting cash (I mean, who doesn't want to make these perfect money gift ideas more memorable by slipping them into cards?), I guarantee many people are willing to spend actual money on handmade cards rather than the ones you can grab from Hallmark.
3. Festive Candle Holder
Who can resist that warm and soft glow of a candlelight?
There are so many ways to do this and one of my favorite craft ideas for candlelight holders is using a mason jar. Yes, the good old classic spaghetti jar hidden under your grandma's cabinet.
Reindeers are a popular character to include. So, a mason jar with a painted reindeer outline becomes a beautiful, rustic luminary when a tealight is added.
On the other hand, frosted candle holders (many buyers' favorite), with their soft, diffused light, bring a serene, wintry touch to any decor.
Trust me, you need to make and sell a few of these to see how truly profitable they are. You just might be surprised that your version becomes the hit for the season!
4. Hand-painted Christmas Mugs
There's nothing quite like longing indoors with your favorite ugly Christmas sweater on a chilly winter day while savoring a warm drink.
You must especially feel cozy when that hot chocolate with marshmallows is served in a playful, hand-painted mug.
My particular go-to mug is the jolly snowman who says "I'd melt for you". Yes, you can use many expressions and sayings in your hand-painted cups.
Or maybe a cute depiction of marshmallows taking a delightful dip in steaming hot chocolate?
Your creative designs will infuse a bit of fun and whimsy into every sip. So go ahead and don't be afraid to start painting and selling these mugs for buyers to experience a delightful holiday with every cup they pour!
5. Wreaths and Door Hangings
If you are really looking for the best handcrafts to make and sell for Christmas, you can't forget about the classic wreaths.
There are so many different types of wreaths you can make. Honestly, there's classic and there's also modern. You can even go funky if you'd like.
All you need are supplies which you can mainly grab for your local dollar store.
Doorways that are decorated with festive wreaths set the tone for a holiday-filled home. These items have become popular to make and sell, especially when buyers are looking specifically for that unique, handcrafted touch.
Whether it's a wreath intertwined with candy cane motifs, decorated with playful gnomes, or accentuated with the merry sound of jingle bells, you'll never run out of ideas for Christmas themed crafts.
Selling these artful pieces ensures that homes everywhere can radiate the holiday spirit right from the doorstep.
6. DIY Christmas Stockings
Oh, how lovely it is! Imagine a warm fireplace adorned with a couple's stockings while they enjoy hot drinks on Christmas Eve. It's pure romance.
When it comes to decorating those stockings, your creativity knows no bounds. You can go for classic Christmas tree motifs or have fun with playful reindeer designs, complete with fluffy ears and a bright red nose. And don't forget the personal touch – adding their names to each stocking is a must; it makes them extra special.
Some crafters even take it up a notch by tucking little goodies inside as a delightful surprise. As the holiday season approaches, turning this craft into a money-maker becomes a delightful way to spend your time, creating something that someone else will truly cherish.
7. Felt or Fabric Tree Skirts
Let's face it, even Christmas trees appreciate a good outfit to flaunt.
Why let them stand bare when they can don a fashionable felt or fabric skirt? Not just any skirt, but one with flair, style, and maybe some sequins.
After all, even trees deserve to strut their stuff during the festive season! Selling these tree "ensembles"? Well, that's just giving everyone's tree the runway moment it truly deserves.
8. Gingerbread House Kits
If walls could talk, gingerbread walls would probably say, "Eat me!" But building them? That's a sticky, sweet adventure of its own!
Our kits provide everything needed to erect the tastiest real estate on the block. And if a candy cane goes missing or a gumdrop roof tile gets "taste-tested"?
Well, that's just quality control, right? Selling these kits is like offering a DIY dessert dream – just hope your creations make it to display before they're devoured!
9. Holiday-themed Soap Bars
Let's get something straight – these aren't your average soaps. They're the kind that might make you question, "Do I wash with it or hang it on the tree?"
Infused with festive fragrances like peppermint twist or Santa's secret spice, these soap bars can make you smell like you just hugged an elf! Selling these?
It's the cleanest fun you'll have this holiday season. Just remember, no matter how good they smell, they're still not for snacking!
10. Christmas-themed Jewelry
Heading to a Christmas party? Don't just show up, dazzle them!
With earrings shaped like twinkling stars or necklaces featuring shimmering snowflakes, you're bound to steal the spotlight. And these aren't just any accessories; they're handcrafted statements, turning heads and sparking conversations.
When selling such unique pieces, customers will see them as the festive touch worth every penny. After all, who wouldn't want to wear a little piece of holiday magic and stand out in the crowd?
11. Nativity Sets
Amidst the flurry of holiday festivities, the serene scene of a Nativity set offers a grounding reminder of the religious roots of Christmas.
Hand-carved or molded from clay, these sets depict the humble birth of Jesus in intricate detail. The radiant star, the wise men, and the gentle animals around the manger – every piece tells a part of the revered story.
Selling these artfully crafted sets is not just a commercial venture, but a way to share a deep and meaningful tradition with others, bringing the true essence of the season into homes around the world.
12. Festive Throw Pillows
If there's one thing people cozy up to during the holidays (apart from a warm fire and hot cocoa), it's festive pillows!
Think pillows embroidered with phrases like "Sleigh My Name", "Fleece Navidad", or "Santa's Favorite Spot". These aren't just fluff; they're crafts to make and sell like hot cakes!
When couches and beds get a touch of the Christmas spirit, it's almost like they're inviting Santa himself to take a break.
Are you thinking of selling these pillows? Well, then expect them to fly off your virtual or real-life shelves faster than reindeer on Christmas Eve.
13. Decorative Table Runners
Have you ever thought of your dining table as a blank canvas waiting for a festive masterpiece?
Enter the decorative table runners, turning every meal into a Christmas feast, even if it's just Tuesday night spaghetti!
Imagine elegant snowflakes cascading down the fabric or a serene winter village panorama. Selling these table runners isn't just about adding flair to dining decor; it's about weaving stories and memories into every meal.
As the centerpiece of many holiday gatherings, your crafted runners might just be the unsung hero of countless Christmas memories.
14. Scented Sachets
Oh, those crafty little sachets! Stuffed with the holiday dream team—cinnamon, pine, and orange—they're like Christmas ninjas for your nose.
One sneaky sniff and BAM! You're mentally chilling by a fireplace, singing carols off-key, and maybe, just maybe, trying to figure out where the heck grandma hid your ugly sweater.
Peaceful holiday moment? More like a festive ambush in your sinuses, and honestly, we're here for it. Bring on the sniffles!
15. Dancing Elf Slippers
Slide, tap, and jingle all the way with these delightful dancing elf slippers!
With curled-up toes and tiny bells, they don't just keep your feet toasty; they add a beat to your holiday step.
Whether you're grooving to Mariah Carey's Christmas hits ("All I want for Christmas is you…") or sneaking to the fridge for midnight cookies, these slippers make every step merry.
You bet you'll want to be crafting and selling them! You're essentially giving people the chance to moonwalk with Santa's elves. And let's face it: that's the kind of fun everyone's feet deserve during the holidays!
16. Festive Gift Tags
Ok, guys – let's be real here. A gift without a tag is like Santa without his reindeer—still great (or maybe not), but it's still missing a little flair!
Yes, I'm talking about festive tags that turn ordinary gifts into parcels embedded with personality. With witty sayings like "Shake to Guess" and "No Peeking Until Dec 25th!", these tags will most likely add some humor and charm to every present no matter the monetary value.
By handmaking them, you're giving gifts a voice, and trust me, they have a lot to say! So why settle for silent presents when they can whisper, shout, or even sing the joys of the season?
17. Christmas Lanterns
Who wouldn't want to light up this fun season by taking on a literal meaning with Christmas lanterns?
These aren't your typical lanterns that shed light into those dark areas. Oh no, they represent the glows of ambiance, casting soft, serene light patterns that dance on walls and bring warmth to those chilly nights.
You can be as creative and unique as you wish by covering them with snowflake cutouts, highlights of reindeer in mid-flight, or scenes from Bethlehem – all the crafting goodies you can grab from a thrift shop or even the Dollar Tree.
When you craft and sell these luminous beauties, you're brining in a centerpiece for countless holiday memories to families.
Plus, in a season where everything shines, having a product that literally does? Well, that's a bright idea for sure!
18. Crochet Patterns
Crafting cute crochet Christmas characters? Total Yuletide joy. Hunting down all those yarns and patterns? That's a tangled mess.
But here comes the game-changer: the Crochet Christmas Character Kit!
Packed with pre-cut yarn, adorable patterns, and that oh-so-essential hook, this kit is every yarn lover's holiday wish come true.
Why's it flying off shelves?
Because it's all about hassle-free crafting meets "OMG, I'm a crochet master" vibes! And you end up with a cuddly reindeer you might just keep out way past Christmas.
These kits aren't just cashing in on Christmas cuteness; they're your fast track to stress-free festive fun and a downright adorable holiday display. Because who doesn't want a homemade Santa squad?
19. Crochet Christmas Tree Topper
So, your Christmas tree thinks it's all dressed up and has nowhere to go? Think again!
No tree is truly complete without the crowning glory of a handmade tree topper. Whether it's a graceful angel who's decided to take a break from her usual cloud, a gnome who's ventured out of the garden for a wintertime jaunt, or a star that shines so bright it might just challenge the North Star for its job – each topper has its own tale to tell.
You'd be a smartie for taking on this profitable idea during the holidays. With these cute little topperes, you're proposing the ultimate tree promotion. Because why be a regular tree when you can be the talk of the tinsel town?
20. Wooden Christmas Signs
Now this is what I call my go-to side hustle when I'm on the lookout for profitable wooden Christmas crafts to sell!
Making wooden Christmas signs represent canvases that will be echoing holiday cheer this year.
Crafted with love and from raw timber, every grain tells a little story. But it's the hand-painted stencils, inspired by classics like Grinch or Charlie Brown, that truly bring these signs to life.
Seasonal quotes whether it's tradition, humor, or a bit of wit along with one or two images will transport them back to childhood Christmases – each sign is a blend of artistry and nostalgia.
Selling these isn't just a transaction; it's sharing a slice of Christmas spirit, seasoned with a dash of rustic charm and a sprinkle of pop culture. They're not just signs; they're memories waiting to be hung.
Enjoyed this post? Don't forget to share it and follow me on Pinterest! 🙂