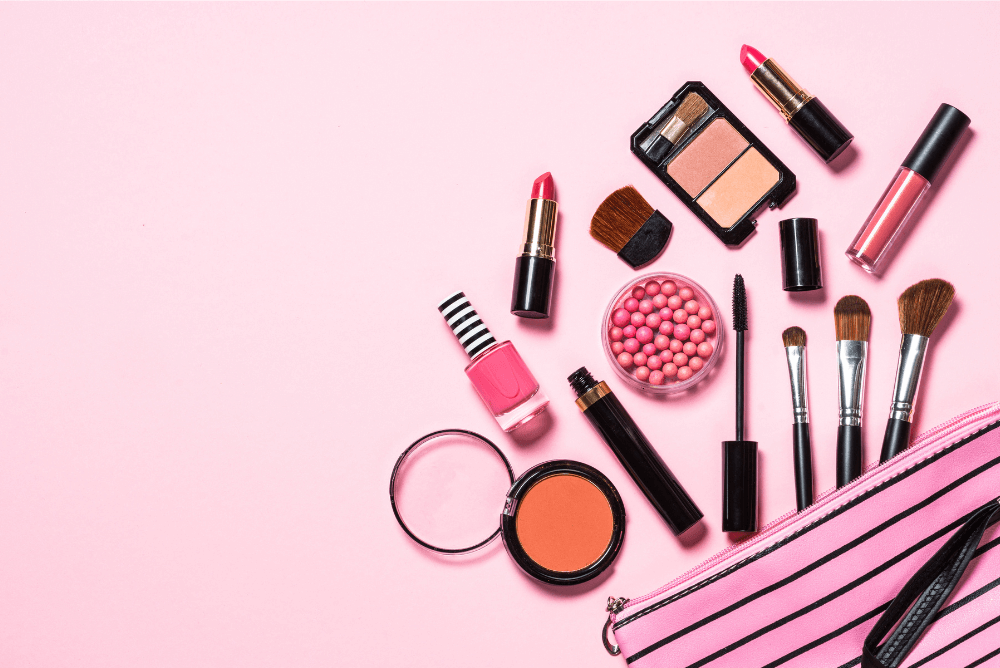 We will receive a commission if you make a purchase through our affiliate link at no extra cost to you. Please read our disclosure policy for more information.
A few weeks ago, my friend and I spoke over the phone. She revealed how depressed she was working from home and couldn't wear makeup for ages because of her WFH setup.
She thought touching makeup or dressing nicely was pointless now that she was working from home. Besides the weekly Zoom meeting, no one would see her new eyeshadow or notice her beautiful dress.
She thought I was the appropriate person to vent to since I'm a full-time blogger and I also work from home.
I told her that I know what she feels. It seems shameful to waste my money and energy when I am working from home.
Regardless, I still wore makeup (because why not?) and advised her to do the same, just like combing her hair, wearing a bra, and putting on normal clothes.
I supported my advice by saying that doing so would help her establish a routine and that I discovered so long ago that there's a proven study about putting on a bit of makeup and becoming productive.
According to research called "Lipstick Effect" by Harvard Medical School, women work best when they wear makeup. They feel smarter and confident, improving their cognitive abilities.
While I truly appreciate indulging in a makeup shopping experience, the discerning side of me hesitates before investing in a product that might not align with my skin type or remain unused before reaching its expiration.
After all, makeup products are expensive, and my conscience couldn't afford to spend all my cash buying beauty products.
I've got a little secret: before I buy any makeup, I always hunt for samples first. It's like test-driving a car – I need to know it's a good fit!
If your wallet's feeling the pinch, you're always game for a savvy saving tip, or just a total sucker for beauty freebies on the house (hello, it's me), I've got some killer tips that you'll love.
PIN THIS: I'll be updating this post so make sure to pin this image here and save it to your Pinterest board. That way you'll be able to come back to this page and learn how to get free makeup samples!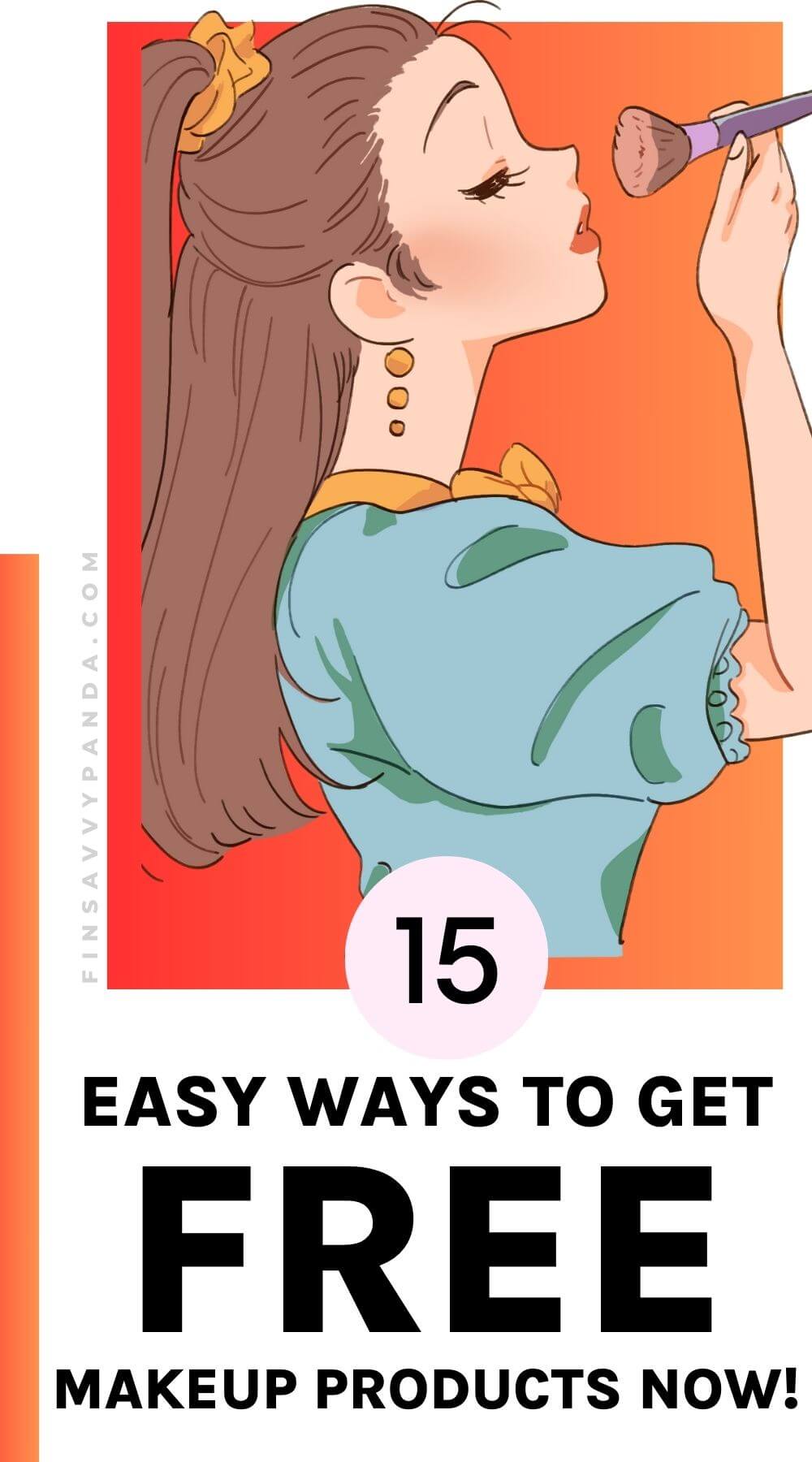 1. Get Free Sephora Gift Cards
Attention all Sephora lovers!
Now, if you're already a Sephora enthusiast, you likely know this. But for those who haven't joined the Sephora fan club yet, here's a little insider tip.
Beyond the usual discounts and beauty freebies, Sephora sometimes partners with other brands or companies to offer free gift cards with certain purchases.
And the best part? These goodies aren't just for online shoppers. When you visit a Sephora store, the friendly salespeople are primed to hand out three free samples to every customer.
Now, about those gift cards. One smart strategy to get them is by hopping onto sites like Swagbucks and Survey Junkie.
Both websites require you to complete quick and simple microtasks. For instance, Survey Junkie lets you answer surveys in exchange for PayPal cash or gift cards by sharing your opinions about certain topics.
Not a fan of answering surveys? Swagbucks offers exciting activities that will let you score free Sephora gift cards. These tasks include watching ads, playing games, shopping online, answering daily polls, and whatnot.
You are not required to be online most of the time; you can do them in your spare time. As soon as you earn $5 from your tasks, get your Sephora gift card in a heartbeat.
Pro: Free Sephora gift cards are the best gifts for makeup-savvy friends. If you're running out of ideas of what to give them this holiday season, give them gift cards. Nothing beats the joy of receiving a gift that you know a person would like. It makes them think they are special because you know what they love most.
Con: Free Sephora gift cards are not always available when redeeming your points, but no matter what, you can use the PayPal cash you've earned from the sites to treat yourself regardless.
2. Sign Up for Beauty Subscription Boxes
Who doesn't love a freebie, especially when it comes to makeup? Sample boxes let you play around with new stuff without the commitment. They let me dip my toes in without taking the plunge. It's like a little safety net for your wallet.
Beauty subscription boxes include various brand items for skin care, hygiene products, grooming, and makeup. Even your cute little pooch can have one too, but let's focus on beauty boxes for you.
Typically, this is how beauty subscription boxes work: you pay a subscription fee. Receive special curated beauty products each month. Try new products to know which one is best for you.
For beauty lovers, subscription boxes are a convenient, affordable, and appealing way to discover trendy products while getting that "Christmas morning feeling" of unwrapping gifts.
If you are interested in receiving beauty boxes for free, I would love to introduce you to Pinchme.
PINCHme sends free makeup samples by mail at no cost on your part. Okay, I hear you say, "Is free stuff online possible?" "Is Pinchme legit?"
PINCHme is legit, and they have been sending free stuff online since 2012. To qualify, create a profile, claim free samples, give feedback, earn Pinchme coins, and redeem rewards.
The whole point of this platform is to receive sample boxes and hear your feedback. Pinchme partners with major brands to help them get opinions from their customers, either to improve the brand or spread the word about the product.
However, getting samples is not as easy as it sounds.
Free samples go live on their site, usually every Tuesday at noon EST. It's on a first-come, first-serve basis, so you must hurry up whenever they are live to get you beauty boxes.
Pro: Users can receive samples with no strings attached. Free sample boxes are entirely free; if you qualify, you only need to sit back, relax, and claim it.
Con: You will not always qualify for every sample they offer, and they don't give out free sample boxes every day. It may take one or two weeks to see samples up for grabs. It can also take months for samples to arrive; the worst part is that they may get lost in the mail.
3. Join Brand Loyalty Programs
Starbucks is not the only brand that gives you a free item on your birthday. Yes, you read it right. Even beauty brands know how much your special day means to you.
Beauty brands provide gifts to their loyalty program members, even if you're just buying the basics like foundation, mascara, and blush. All you need to do is be part of their community.
As part of loyalty programs, you will be notified of their latest releases, deals, promos, coupons, and more.
Most of them also give out points for you to collect and redeem for a free item. (Note: Loyalty programs work well if you have installed the brand app on your phone)
The best loyalty program for me is Mac. I have been a fan of the brand since I started experimenting with makeup. At first, I thought they were overrated, but I realized then that the hype was worth it.
The MAC loyalty program offers you 15% off your first online purchase. I believe you can also receive discounts on other brands once you sign up.
The more makeup you buy, the more deals you'll get, plus they could invite you to Mac's exclusive events around the globe.
Pro: Many beauty loyalty programs offer members exclusive rewards, promos, and cashback. The money saved can add up over time, especially if you're a frequent shopper. You can use your savings to buy new beauty products or other daily essentials.
Con: To earn rewards or maintain your membership, you may feel pressured to spend more money than initially intended.
4. Request Samples When Purchasing Online
This isn't guaranteed, but if you frequently shop online with a particular brand, you can request makeup samples from them. Simply leave a kind note during checkout, and they might just grant your wish, much like a genie.
But do you know what is guaranteed? Some brands are so generous that you don't even need to request free samples from them. I mean, why not? This should be the bare minimum.
It's normal nowadays that if you purchase online, there's a big chance that a brand will offer some makeup samples for you to try. These samples are usually their latest offerings to entice you to buy it on your next purchase.
They don't advertise this perk, but beauty stores like Sephora, L'Occitane, Ulta, and Macy's have been doing this for years. Some may even offer free shipping when your order reaches a certain amount.
Take, for example, e.l.f Cosmetics. If you're shopping for some of their products, you can choose free cosmetic items before checking out. Don't ever forget about this – add at least one item to your card to unlock your freebie.
Pro: Nothing beats the feeling of receiving free items. When you receive your order and find all the free makeup samples, the happiness is unmatched for any makeup enthusiast.
Con: Makeup samples are typically small, so you might not get to observe whether the product suits your skin type.
5. Participate in Makeup Surveys and Feedback
Do you spend time browsing the internet? If yes, you might be interested in doing makeup surveys.
There are many review sites just waiting for you to notice them. (Note: There are also a lot of scammers out there so stick to the ones that are highly trusted)
Some famous and legit review sites in the beauty category are Branded Survey, InStyle Trendsetters, and Allure Beauty Enthusiasts.
But why do survey sites conduct makeup surveys? The short answer is to gather customer feedback or opinions.
Reviews from real people (like us!) help companies understand which products are popular, which ones work better for consumers, and how they can enhance their offerings.
In this manner, you're not only aiding the brand's growth but also assisting consumers in obtaining quality products from specific brands.
Branded Survey is my favorite site to earn beauty gift cards and get money to use on my makeup shopping spree.
But I always prefer gift cards as a reward. Gift cards are great for shoring up your finances and saving a little money each month.
For example, if you're shopping for makeup and don't have much money on hand but have gift cards instead, you might not be as broke as you think.
The site offers more than 140 gift cards that you can choose from, so basically, they have many makeup gift cards for everyone.
Pro: The more time and effort you put in, the more makeup gift cards you can redeem.
Con: Most survey sites have a minimum threshold before earning cash or gift cards. This is frustrating, especially if it takes time for you to meet the threshold. If you're a busy person who is not always online, getting rewards may take longer.
6. Become a Product Tester
I can't believe I've come this far in my quest for free makeup samples. As a self-proclaimed makeup budget fairy, I'm more than willing to provide insights into how product testing works.
Makeup product reviews are neither hoaxes nor frauds. You may have heard about opportunities where beauty brands provide free samples for you to test, and in return, they either pay you, offer more free makeup products (or both), in exchange for a review.
This can be a great side gig for some extra cash or, at the very least, to earn trendy, new makeup products.
For instance, L'Oreal offers a Consumer Testing Program that you can join. Upon joining, you will answer basic questions about yourself to help them match you to a product (makeup, hair, skincare samples, etc.) you can qualify for a test study.
The best part? You're not limited to L'Oreal products alone. The brand lets you review products from other brands they own, like Garnier, Maybelline, Lancome, Kerastase, and much more.
Other product testing sites like Influenster or Field Agent also offer free makeup samples. Influenster works pretty much like the L'Oreal testing program, where you're given a Voxbox full of freebies to review.
Field agents, however, will require you to become a mystery shopper or get paid to buy and try beauty products.
Pro: Most brands send off new products to test or review. This is exciting, especially for makeup enthusiasts who want to try products before they hit the market. This can also save you money on your beauty regime.
Con: Some testers may feel pressure to give good feedback since they receive the products for free. This may compromise the honesty of their reviews.
7. Visit Beauty Counters and Stores
Oops. Did you run out of money on your last visit to beauty stores because you squandered your finances on makeup again? *hugs you with consent*
I've been there, too. Perhaps you've been pondering if you could get freebies in cosmetic stores without actually buying anything.
It is. Can't believe your eyes? Let me reiterate: it is. So, you shouldn't completely avoid beauty kiosks the next time you're at the mall.
I can still remember the time when I visited Kiehl's. I was looking around, trying to know how much their eye cream was, and then a friendly sales lady came over and helped me out.
We discussed my concerns (sales ladies also make great beauty advisors, too!). Instead of persuading me to purchase, she went to the counter and took a sample sachet of their Line-Reducing Eye-Brightening Concentrate and gave it to me free of charge.
The sachet is generous enough for me to try for three days and decide whether I would like the product. I became obsessed with it, so I returned to Kiehl's to buy it.
It's not all the time that you will come across generous staff, so to make sure that you'll get free stuff, ask them for free samples and assure them that you'll buy if you like the product.
Pro: Free samples you get at beauty stores is a cost-efficient strategy as it allows you to test the product before committing to a full-sized item. This is more beneficial for luxury or high-end beauty products that are expensive.
Con: Free beauty products are typically limited. The specific product you may want to try may not be in stock. However, getting free products is still a win, right?
8. Follow Brands on Social Media
Does window shopping lead you to impulsive buying? I can relate.
Many times, I've promised myself I'd just walk around the mall to burn calories, only to end up heading home with shopping bags from Sephora. It's a bit embarrassing.
That very day, I resolved to find easier ways to score makeup samples, ideally without even having to leave my house.
Social media is a great place to find makeup samples if you know where to look.
Beauty brands often feature contests and giveaways using specific hashtags on social media platforms.
Giveaways usually happen on Instagram and Facebook, and you are free to join these competitions for an opportunity to win free makeup.
Keep an eye on hashtags like "free makeup giveaway" or "makeup giveaway" on Instagram. On the other hand, searching for "free makeup" in the Facebook search bar will also bring you posts and groups that give free beauty samples.
Are you on TikTok? If yes, watch Lives from Beauty Influencers, as they mostly do free cosmetic product giveaways.
Follow your favorite makeup brands and beauty influencers to keep updated on their next live session.
Pro: Beauty brands offer exclusive promos and discounts on social media accounts. By following them, you can get access to the deals that are not available elsewhere.
Con: Many beauty brands collaborate with influencers and celebrities to promote their products on their behalf. Since it's a collaboration, you may not get authentic reviews about the product, potentially leading to misleading buying decisions.
FAQs
How to get free samples of makeup?
Getting free makeup samples is a cost-effective way to try products before finally committing to a full-size purchase. The easiest way to do this is to ask the lady at the counter whether they have available samples for you to try.
If this is not feasible, either there is no product tester in stock, or you don't feel like going to beauty kiosks, worry not. You can request samples by leaving a note when shopping online at their store.
Also, some proven and tested strategies are participating in beauty survey sites, beauty subscription boxes, product testing, joining a loyalty program, and following brands on their social media platforms.
All these give you the chance to get free samples without much effort!
Does Sephora give free samples of makeup?
With the success of Sephora, it's hard to believe that they don't give free samples to their customers. So, if you're curious whether they really do provide free beauty samples, the quick answer is YES!
It's really pretty easy to get free stuff at Sephora. Getting free samples is not a problem at all. You know what the real problem is? To know which product is available for taking.
I know that free samples are a top priority for you, so I have some pieces of advice to help you get free Sephora products.
Ask for free samples in-store.
Order online to get free stuff.
Join Sephora's beauty insider program to win free products, exclusive access to sales, promo, discounts, and birthday treats.
Get makeup trials or makeovers in their store.
How do you ask for makeup samples?
The key to becoming successful (in getting free cosmetic samples) is simple: ask. However, asking for free samples can be daunting, especially for introverted people.
From feeling ashamed of approaching sales staff to worrying if you might get "no" as an answer, it's easy to miss out on getting free samples.
My first tip is never to feel embarrassed. Remember the saying, "If you don't ask, the answer is always no."
So be confident in approaching a sales assistant, whether onsite or online. Try to be friendly and approachable. After all, the staff don't know about you or your name.
If you want to ask for free samples in stores, you can visit at less busy times as it can lessen the embarrassment. Plus, staff are more accommodating when they are not rushed on their feet.
Enjoyed this post? Don't forget to pin the image below! Also, don't forget to follow me on Pinterest over here! 🙂