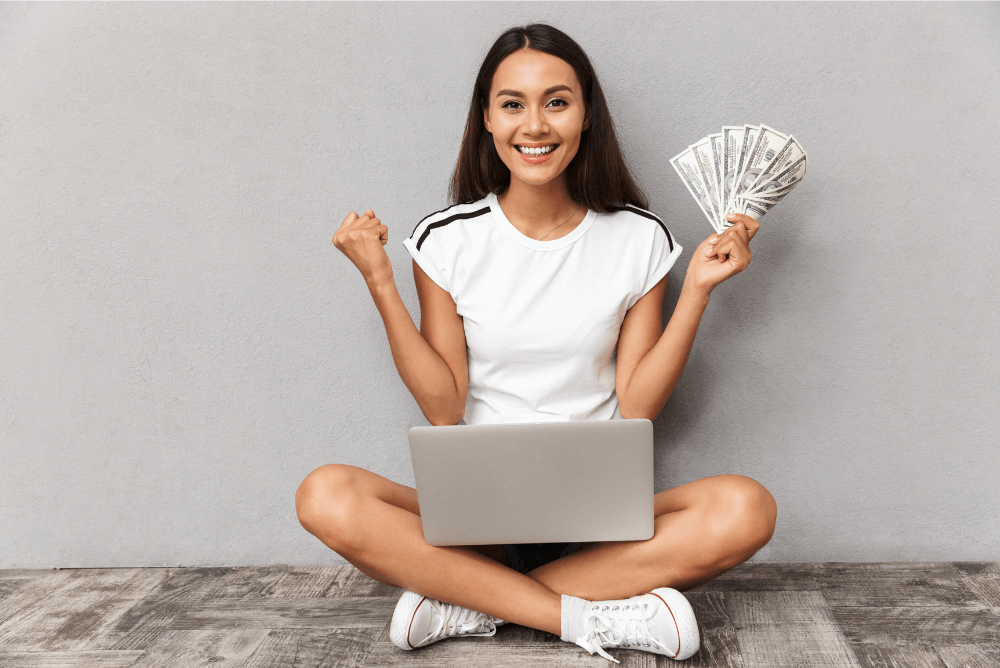 We will receive a commission if you make a purchase through our affiliate link at no extra cost to you. Please read our disclosure policy for more information.
Have you felt the pinch when you're out shopping lately? It seems like every time we hit the grocery store, our hard-earned dollars are stretched thinner and thinner. Long gone are the days when $100 could fill your cart with ease.
USA Today recently highlighted a 6% spike in consumer prices, and it's not just our grocery bills feeling the impact. Inflation is hitting utilities as well, with 36% of folks struggling to keep up with their regular expenses.
The economic horizon looks rather bleak, and whispers of a recession are growing louder. So, what's the best course of action? Hone your money-saving skills and learn how to rake in cash quickly.
Luckily, we live in a time bursting with opportunities to earn a pretty penny. From daily gigs netting you $200 to skill-based jobs pulling in a sweet $600, there's something for everyone. And if your schedule is tighter than a drum, one-day-a-week jobs are there to save the day.
To make your search a lot easier, I've narrowed down 14 jobs that you can do to make money quickly.
PIN (OR BOOKMARK) THIS PAGE: I'll be updating this post so make sure to pin this image and save it to your Pinterest board. That way you'll be able to come back to this page and learn the best ways to make money today!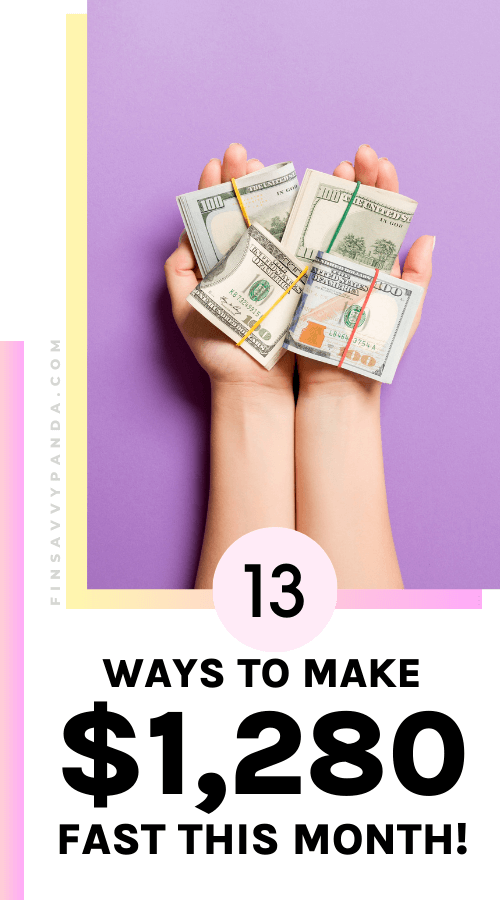 1. Food Delivery
In the face of a gloomy economic outlook, one industry seems to be thriving against the odds: food delivery. The recent pandemic has taught restaurants a valuable lesson—when times are tough, it's time to adapt. And adapt they did, by embracing the world of food delivery to keep business buzzing.
This is a silver lining for anyone considering dipping their toes into this bustling niche. An abundance of delivery apps is ready to help you earn some extra cash. If you're eager to start making money quickly, simply download a food delivery app and kick off the application process.
This gig is a dream come true for those who'd rather sidestep office politics and customer complaints. Your sole responsibility? Grab the grub and deliver it punctually.
As a delivery driver, you'll enjoy the flexibility to work part-time or just on weekends. And the best part? You pocket 100% of the tips you receive!
DoorDash is one reputable company to consider joining. With a whopping 15 million users nationwide, their drivers (known as Dashers) can earn close to $20 per hour. And during peak hours, when orders flood in, that rate can climb even higher.
Pros: This is an incredibly flexible job, perfect for those juggling busy schedules. Drivers can work during peak hours or on weekends.
Cons: Unfortunately, most delivery drivers are classified as independent contractors, which means they miss out on company benefits that regular employees enjoy.
2. Start a Profitable Blog
Starting a blog won't make you money fast but it will be a very lucrative side hustle in the long run. Blogging, in essence, involves penning your thoughts on specific topics for your website – just like the very post you're reading now, exploring ways to make money quickly.
Although blogging won't print you money in weeks or months, trust me, you won't ever regret creating one. When I first launched this blog, I was filled with uncertainty. I simply wanted to make some extra money and maybe even find an escape route from my corporate job.
In the beginning, it felt like I was shouting into the void – no audience, no readers. But soon enough, after a handful of posts, I witnessed my website traffic steadily grow. It was nowhere near today's numbers, but the fact that someone stumbled upon my site brought me immense joy.
That uptick in traffic was a clear sign that I was onto something. After the 6-month mark, my earnings skyrocketed. From a humble $703 to an impressive $2,797, and eventually, an astounding $27,000 in just one month! You can go through my blogging income series to have a first-hand look at my blogging journey.
Reaching those figures was no walk in the park. I dedicated time to learning what clicked and what flopped, figuring out how to attract readers and craft irresistible titles that begged for clicks.
I can't help but encourage my readers to take the plunge and start a blog, as it's a rewarding passion project that doesn't demand you quit your day job. While you nurture your website, your bank account keeps growing.
To spark your creativity, consider exploring these popular niches and create a blog that showcases your unique perspective:
Fitness Blogs – If you're passionate about health and wellness, create a blog that dives into the world of fitness. Share your personal journey, workout tips, or nutritious recipes. You could even focus on specific areas, like strength training, yoga, or running.
Fashion Blogs – For the style-savvy, consider launching a blog that celebrates your love for fashion. Share your favorite trends, outfit ideas, or even your own personal style journey. From budget-friendly fashion tips to designer insights, there's a world of possibilities to explore.
Parenting Blogs – If you're a parent with valuable experiences and advice to share, why not start a blog focused on parenting? Offer your insights on navigating parenthood, from toddler tantrums to teenage angst. Share relatable stories, helpful tips, or even product reviews to assist fellow parents in their journey.
If you don't know where to start, check out my FREE 7-Day e-mail course to learn how to start a profitable blog. It walks you through the entire process, step by step. And it's completely free!
Pros: Earning $100,000 with your blog is a realistic goal. Plus, you'll enjoy the perks of a low-stress gig while delving into the topics you're passionate about.
Cons: Building a successful blog demands unwavering dedication and commitment. When it feels like you're writing for an empty room, that's when you need to dig deep and find the motivation to keep creating engaging content.
3. Become a Freelance Writer
Would you believe me if I told you that you can earn up to $500 in a day just by writing? Well, it's surprising but you can easily make money by being a freelance writer.
Freelance writing isn't the kind of work where you'd be bored after a while because there's so much variety! It's not only about writing blogs. You can write newsletters, scripts, and even short, but compelling social media posts.
You can take on as little or as much work as you like, and most of the time, you have the freedom to choose what kind of output you want to do.
This job is open even for those without any experience, but a portfolio that showcases your skills is a must. I mean, you can't be a writer without writing first, right?
And even with a solid portfolio, you need to continuously improve your writing. The industry is competitive and constantly changing. You have to keep up to rake in clients, but once you get the hang of it, the clients (and money) will rush in.
Pros: You can take on as much or as little work as you want, so the earning potential depends on you.
Cons: It's not too easy to get clients if you're just starting out.
4. Social Media Management
Don't let your doom scrolling go to waste, turn it into money.
Being a social manager means you get to spend your time on social media while earning money. As long as you have a solid grasp of how social media algorithms work, you're bound to succeed.
This kind of job means putting on different hats. Some days you'll have to come up with strategies to grow a page, and on other days, you have to spend hours responding to comments. The diversity of tasks is actually what makes it all the more fun!
And you don't even have to master all the social media sites or apps. Some businesses will want you to just make TikTok videos, while others will make you focus on using Pinterest traffic strategies.
But with so many options out there, it's hard to figure out where to start. A simple Google search, however, will show you many resources to start your social media management journey. That's how I got into it, too! I actually didn't know you could make money with Pinterest, but when I realized how strong social media is, I went in and learned how I could use it to drive traffic to my blog.
So don't waste your time, find out what niche would work for you and become a social media manager. It could be your road to financial freedom!
Pros: It's rewarding, especially when you see the shares, comments, and engagement grow on your pages.
Cons: You have to be constantly online to keep up to date with everything. Yes, everything.
5. Offer Pet Services
A simple Google search reveals the immense potential and rapid growth of the pet industry in the coming years. As entrepreneurs and various publications have noticed, this niche is a goldmine for making a substantial profit in a relatively short amount of time.
In 2022 alone, American pet owners splurged a whopping $136.8 billion on products and services for their beloved furry friends. This impressive figure underscores the willingness of pet parents to invest in their pets' well-being. And as the years go by, these numbers are only expected to soar even higher as services become pricier and product costs rise.
The pet industry is teeming with potential, presenting an extensive range of diverse services for you to offer, all designed to cater to the varying needs and preferences of pet-loving clients.
Consider exploring some of these options:
Pet Sitting – Become a stand-in caretaker for pets while their owners take a break, either for a night out or an extended vacation. This role usually entails staying at the client's home, though occasionally pets might be brought to your own residence.
Pet Grooming – If you possess the skill and patience required to groom pets, this might just be the ideal profession for you.
Dog Walking – Get paid to walk and merge your passion for animals with your daily exercise routine by embarking on dog-walking adventures. Be ready to embrace various weather conditions, from sun-soaked days to snowy afternoons.
Pet Training – Though certifications are typically required for this role, the investment can quickly pay off as you acquire more clients seeking your expertise.
Additional services to consider offering:
Pet supply store
Pet photography
Pet massage therapy
Pros: With pet owners found far and wide, you'll never be short of potential clients to cater to.
Cons: Unlike corporate employees, you won't enjoy the same benefits, and you'll need to handle all marketing aspects of your business yourself.
6. Instacart
Imagine making a quick buck as a personal grocery shopper – yes, you heard it right! It might come as a surprise that there are jobs paying you to shop for groceries on behalf of clients. Companies like Instacart have been offering this service for over a decade, helping people earn money in a fast way.
Although the app typically sends payments like clockwork on a weekly basis, as a full-service shopper, you unlock the privilege of the Instant Cashout feature. Much like a fast pass at an amusement park, this perk lets you swiftly transfer your hard-earned money to your debit card, enabling you to enjoy your same-day paycheck.
Embracing the role of an independent contractor, full-service shoppers juggle both shopping and delivery tasks for their clients. As a "shopper," your mission is to handpick items from the client's shopping list, be it a bag of rice, a pint of ice cream, or a pair of succulent beef tenderloins – you'll skillfully scour the store to locate these delights. After two hours, you can access your earnings, which also encompass customer tips.
Alternatively, if you prefer to skip the delivery aspect, you can choose the in-store shopper position, focusing solely on fulfilling orders while leaving the delivery tasks to others.
Since full-service shoppers shoulder more responsibilities compared to in-store shoppers, they tend to earn higher wages, averaging around $17 per hour. This rate can increase during peak times and with faster deliveries.
Pros: You're in charge! Set your own schedule and determine how many hours you'll work during a shift.
Cons: Occasionally, you may face complaints regarding the items you've chosen, as clients don't have direct control over the selection process.
7. Sell Used Clothing
If you ever find yourself wondering, "How can I make money today?" the answer may be closer than you think – just take a peek inside your closet. Hidden among your wardrobe are clothes you no longer wear, waiting for a chance to find new owners. Thanks to the rise of innovative clothing-selling apps and platforms, you can now effortlessly sell your pre-loved clothes and make some extra cash.
When it comes to selling those clothes, presentation is key. Instead of simply laying them out on a bed for a snapshot, level up your photo game. Enlist a friend to model the clothes, make use of flattering lighting, and enhance the images using photo-editing tools.
This extra effort will make your listings stand out like a shining star in a vast marketplace, drawing more potential buyers to your items. Plus, it projects a professional image, boosting their confidence in doing business with you.
In addition to eye-catching photos, take a moment to craft thoughtful product descriptions. Be sure to mention the brand, the materials used, and how often the item has been worn. Highlighting its good condition (if applicable) will help buyers determine if the purchase is worthwhile.
You can sell your pre-loved clothes on various platforms, including:
Mercari
ThredUp
Poshmark
The RealReal
Facebook Marketplace
Pros: There are a lot of applications and websites available to expedite the selling process, giving you alternatives to general marketplaces like Facebook and eBay.
Cons: Shipping fees for sending out your clothes can nibble away at your earnings.
8. Get A Weekend Job
Why let your weekends slip away as you sink into your couch, engrossed in Netflix marathons and endless social media scrolling? Although the allure of Netflix and chill is strong, it won't help you pay the bills. So, why not seize the day and turn your downtime into a fruitful side hustle, earning extra cash along the way? You can explore a variety of weekend job options, like serving up smiles at restaurants, enlightening minds as a tutor, or capturing unforgettable moments as a photographer. With plenty of opportunities at your fingertips, transforming your weekends into a money-making adventure has never been easier.
Serving up smiles – Not only will you have the option to work just on weekends, but you'll also get the chance to interact with a diverse range of people and develop your customer service skills. Plus, who doesn't love bringing a smile to someone's face through great service?
Tutoring with a purpose – With well-paid online tutoring jobs, your expertise will always be in high demand. As a private tutor, you can earn around $31 per hour or more, depending on the subject's complexity. Embrace the opportunity to help students flourish and witness their progress up close.
Transcribing content – Lend a hand to companies by transcribing their audio and video content. Many brands and businesses require written resources to bolster their marketing materials, and your skills can make all the difference.
Capturing memories – Put your photography skills to work on weekends and create lasting memories for clients. With technical know-how and a keen eye, you can turn special moments into cherished keepsakes.
Event set-up extraordinaire – Whether it's weddings, fairs, concerts, or corporate events, coordinators always need assistance setting up and tearing down. Find these one-off weekend gigs on Facebook groups or Craigslist, and become an integral part of memorable occasions.
Pros: Although these are weekend jobs, they can be done part-time on weekdays as well – allowing you to earn more during the week.
Cons: There are remote jobs that pay far more than weekend work, and some don't even require leaving your house.
9. Sell Shoes
Want to discover the secret to earning some serious cash from the comfort of your own home? Look no further than your own shoe collection! With these two creative and unconventional ideas, you can turn your trusty kicks into a fountain of wealth. Say goodbye to boring and tedious ways of making money and get ready for a fun and exciting journey toward financial freedom with shoe selling.
First up, let's talk about selling those gently worn kicks that have been hiding in your closet for quick a buck. By following these three savvy tips, you can maximize your chances of making a tidy profit:
Give your shoes a thorough spa treatment. Don't even think about selling them until they're spick and span! Your buyers will appreciate the effort you put into sprucing up your kicks.
Snap some stunning shots. High-quality photos are essential to entice potential buyers, so make sure your shoes look like they're straight out of a magazine.
Be transparent about any touch-ups you've done. Buyers will appreciate your honesty about any repairs, which will only boost your credibility as a trusted seller.
Now, if you're looking to play with the big dogs and dive into the thrilling world of sneaker reselling, get ready for some serious cash flow. You've probably heard the tales of sneaker moguls raking in five or six figures per month but be prepared for a significant initial investment. You'll need to snag sneakers at the market or resell prices and buy in bulk to make it worth your while.
If you're ready to dominate the sneaker reselling game, check out these popular platforms to kick off your empire:
eBay – The OG online marketplace is perfect for new and experienced sellers alike.
GOAT – A sneakerhead's paradise, GOAT is the go-to for all things limited edition and exclusive.
Grailed – This community-driven platform is ideal for fashion-forward folks looking to score rare finds.
StockX – With a reputation for authenticity and reliability, StockX is a sneaker reseller's dream.
Instagram – Leverage the power of social media to create your own sneaker empire, one follower at a time.
Pros: It's easy to get loyal clients once you provide them with their needs. You can become the go-to source for the latest industry sneakers.
Cons: When you choose to do sneaker reselling, be prepared to drop a significant amount of cash as you'll need to purchase a considerable amount of inventory upfront.
10. Earn Free Money
Who doesn't love freebies and free money, right? Companies often entice consumers with irresistible offers like Spotify's premium service trials or banks dishing out a sweet $300 sign-up bonus. But did you know you can also earn free money through various money-making apps and websites? That's right – get rewarded with cash or gift cards just by answering paid surveys, watching videos, or shopping through their platform!
Swagbucks has got to be one of my all-time favorite apps for racking up rewards. My loyal readers know I'm a bit of a Swagbucks fan, regularly cashing in my points for $50-$100 gift cards from Amazon, Walmart, Sephora, and Starbucks. Honestly, the points and money I earn on the app help me cover those little everyday expenses.
Whenever I find myself with a spare moment or two, I take paid surveys to accumulate points. Sometimes, I even whip out my phone to answer surveys while riding shotgun with my husband – I mean, there's only so much road scenery one can take, right? It's time to make those points work for me!
In just a short span of a few weeks on Swagbucks, you'll discover that the bonus cash is a delightful treat, perfect for covering essentials like fuel, and groceries, or even satisfying that irresistible coffee craving.
And how could we possibly overlook Rakuten? As an enthusiastic fan, I must say, as a shrewd shopper, I appreciate the opportunity to earn cashback on purchases from participating retailers. That's precisely where Rakuten swoops in to save the day, offering cashback for eligible purchases. Simply browse through their website to find deals from participating retailers and earn cashback on your eligible purchases.
Pros: Your time is the only element you're paying here. No upfront capital or investments are needed.
Cons: The payout may not be as high as you'd like but getting gift cards can be enough.
11. Things To Sell To Make Money Now
When you take a look at the nooks and crannies of your home, you'll discover that clothes and shoes are just a small fraction of the items you can sell. Your personal gold mine of saleable items may include:
Enthralling books
Dazzling jewelry
Stylish furniture
Cutting-edge electronics
Coveted collectibles
Chic designer bags
Robust gym equipment
Transforming these hidden assets into hard cash can be a fast way to improve your financial situation. I remember a time when I needed money quickly and had to decide whether to keep my two designer handbags or find them a new home. Parting with them turned out to be a wise decision (albeit it wasn't an easy one), as I managed to earn $4,000, or $2,000 for each bag.
To maximize your profits and focus on the best things to sell, consider listing furniture on platforms like Craigslist or Facebook Marketplace. Many budget-conscious homeowners prefer to invest in top-notch second-hand pieces rather than paying for brand-new items, making furniture one of the most lucrative items to sell. Just keep in mind that handling the logistics of transporting large and bulky furniture can be somewhat tricky.
For a smoother selling experience, opt for compact and easily shippable items like jewelry, electronics, and books. They're far much easier to ship than heavy and bulky items.
Pros: No need to offer a product or service, you can turn your clutter into cash in no time.
Cons: For you to sell these items quickly, you'll need to make a tempting offer. That means pricing your items at a steep discount compared to the competition.
12. Mystery Shopper
Imagine getting paid to shop – not just earning cash back on your purchases, but actually receiving money from companies to visit stores and buy specific items. That's precisely what mystery shopping is all about!
As a mystery shopper, you'll go on thrilling undercover missions where you'll not only be reimbursed for your expenses but also play a vital role in offering companies valuable insights through detailed reports of your shopping escapades. The icing on this already delightful cake? More often than not, you'll walk away with the items you purchase, making your covert operation even more rewarding! WOO-HOO!
During your undercover shopping excursions, you'll be tasked with evaluating a range of store aspects. This might include gauging the quality of customer service, absorbing the overall store atmosphere, and testing the staff's knowledge of the products they sell.
Your keen observations help companies gauge the performance of their individual stores. With some businesses expanding beyond their ability to micromanage every location, they turn to third parties for unbiased evaluations.
If the prospect of being a mystery shopper piques your curiosity, several reputable companies offer these services, including:
BestMark
Intellishop
Field Agent
Market Force
As you venture into the world of mystery shopping, stay vigilant against scams. Keep in mind that legitimate mystery shopping companies will never ask you for money in exchange for a job.
Pros: You get to keep the items you have purchased. Plus there's usually no limit on how many mystery shopping jobs you can take.
Cons: Bear in mind that it may only be a financially viable option in lively urban areas where international brands and businesses are present.
13. Warehouse Worker
The online shopping revolution, fueled by behemoths like Amazon and countless other e-commerce platforms, has ignited a relentless demand for doorstep deliveries. As millions of people click "add to cart" daily, the backbone of this virtual marketplace – the warehouse workers – has become increasingly indispensable. These unsung heroes of the digital era work tirelessly behind the scenes, packaging, sorting, and distributing a seemingly endless stream of products, ensuring that customers receive their orders promptly and in pristine condition.
As a warehouse worker, your day-to-day tasks are as varied as the colors of a kaleidoscope. You may find yourself reporting faults, packing orders, sorting products, counting inventory, restocking shelves, labeling stock, accepting incoming orders, or moving items from one place to another. Embrace the excitement of variety as you might rotate stations every couple of weeks or tackle multiple responsibilities within a single week.
Some individuals who initially take on warehouse work as a side gig end up committing to it full-time, enticed by the potential for career growth. Climbing the ranks could lead to positions such as shift manager, logistics manager, and other managerial roles.
Warehouse jobs resemble a thriving marketplace, constantly hiring new employees to join their dynamic workforce. Some companies even offer same-day pay, making these positions attractive for those seeking quick cash.
Pros: Warehouse jobs offer a low barrier to entry and are constantly seeking new hires to fill their ranks. With the option to work during the early morning or late at night.
Cons: It's a job that requires physical effort from workers. You'll be carrying and transferring items on a daily basis.
14. Make and Sell Crafts for Money
"I need money today." Have you ever said those words to yourself, but didn't really want to go get a job? Well, making and selling your creations can be a fulfilling way to make money without committing to a traditional job.
I believe everyone has the potential to make crafts because there are so many things that we can create. Whether you make digital artwork, polymer clay keychains, or resin crafts, there's surely a market for your product.
And if you're not the type who wants to do this kind of thing all the time, seasonal crafts also have high earning potential. You can come up with Halloween or Christmas crafts to make and sell. There are also niches that are specific, but can still bring in money, such as funny-shaped candles or pinecone crafts.
With everything I mentioned, it's pretty obvious that making and selling crafts can be for anyone. Even if you think there's nothing you're good at creating, you can just explore until you find the one that suits you best. Hey, it's not only an additional income stream but also a new way to make yourself happy!
Pros: You get to do something you genuinely enjoy, without anyone managing you.
Cons: It's time-consuming and your income won't be stable.
FAQs
How Can I Make $100 Today?
There are several ways to make money fast today. With a full eight-hour shift, many of the jobs mentioned above can help you reach that goal in no time. However, if you're looking for a part-time or four to five-hour commitment daily, becoming a food delivery driver is an enticing option.
With an enticing average wage of $20 per hour, your earnings have the potential to soar even higher, thanks to kind-hearted tips and strategically working during peak hours. If you don't have a car, fear not – your trusty bicycle can transform into your own stealthy, money-making machine. I personally believe that, particularly in bustling downtown areas, opting for two wheels is the savvier choice. It allows you to weave through congested city streets effortlessly, ticking off more orders and ultimately catapulting you to the status of a top-earning delivery whiz!
How Can I Make $1,000 Fast?
The secret lies in your own stuff – that's right, your clothes, shoes, furniture, and other personal assets. Why is this the ultimate strategy? Simple: you don't have to hustle for hours or trade your skills for cash. You may have gotten to a point when you're always looking for how to earn money quickly today, but you might not realize that you've got everything you need right under your nose!
Think about it. Pairing up those old kicks with a few stylish jackets or accessories could easily net you a quick $1,000 in one day, even if they're gently used. And don't forget about your gadgets and household items – they could fetch even more than you expect!
Here's a pro tip: kick off your selling spree on Facebook Marketplace. If Lady Luck smiles upon you and you find a buyer nearby, you'll pocket 100% of the profit, free from shipping fees or other pesky costs.
Enjoyed this post? Don't forget to pin the image below! Also, don't forget to follow me on Pinterest over here! 🙂