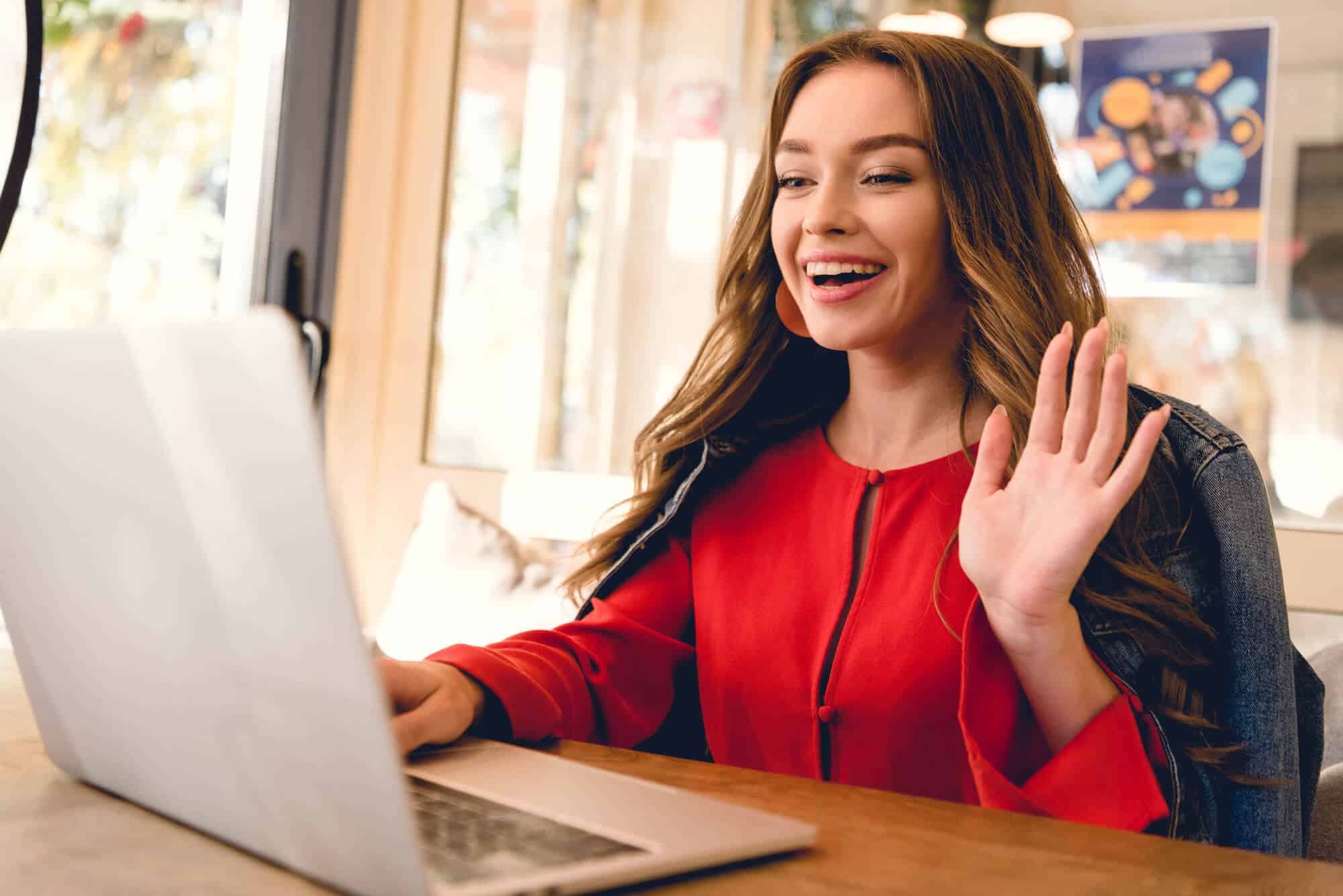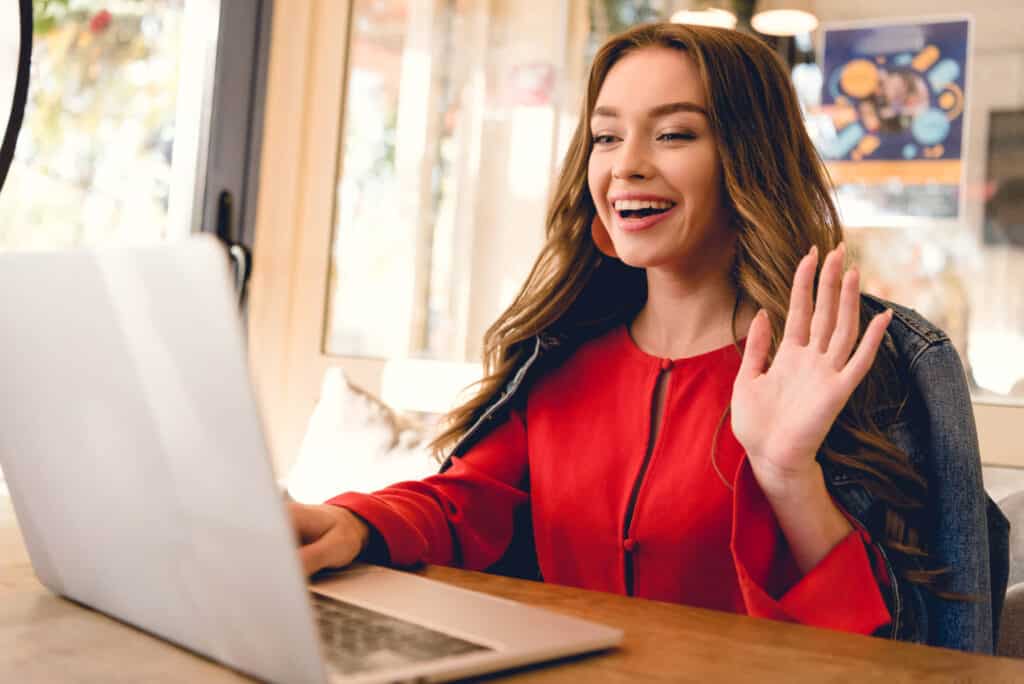 We will receive a commission if you make a purchase through our affiliate link at no extra cost to you. Please read our disclosure policy for more information.
It's time to shine and make money tutoring online!
Yes, we're talking about the best online tutoring opportunities for you, today!
Earning a little extra money is always a good thing, but it can be tough to find the time and energy to do so.
It's no secret that teachers are often overworked and underpaid. The same goes for students who are looking for ways to make some extra cash to help pay for tuition and other expenses.
But what if there was a way to make money by doing something you're already good at — teaching?
Online tutoring is the perfect solution for both teachers that are looking for side hustles and for students who want to learn how to make money in college. This extra money (if you decide to work one day a week), or full-time career, could help you achieve your financial goals and provide the flexibility you need.
Best paying online tutoring jobs
You could potentially earn $200 fast or $300 per day, depending on the subject you teach and your level of experience. The best online tutoring jobs allow you to work from home, set your own hours, and earn a great wage teaching on the side.
Students using your service love online tutoring services because they get one-on-one attention from an expert in their subject area, and they can learn at their own pace.
Working from home has never felt more flexible, and getting paid to teach is made easy with this online gig. There are many reputable websites that offer online tutoring jobs, and all you need is a computer and internet connection to get started.
Here's how to find online tutoring jobs that align with your skills, interests, and availability, ensuring a fulfilling and rewarding teaching experience.
The best part is that these jobs can be done early in the morning if you're seeking early morning jobs that pay well. Alternatively, if you're a night owl, they are perfect for those looking for work-from-home jobs at night.
Either way, I've listed my all-time favorite the best websites to help you find the top online tutoring jobs that pay up to $60 per hour – they are one of the highest-paying online tutoring jobs that you can find in the market today.
PIN (OR BOOKMARK) THIS PAGE: I'll be updating this post so make sure to pin this image here and save it to your "work from home" or "online tutoring jobs" Pinterest board. That way you'll be able to come back to this page and find the highest paying online tutoring sites to earn money.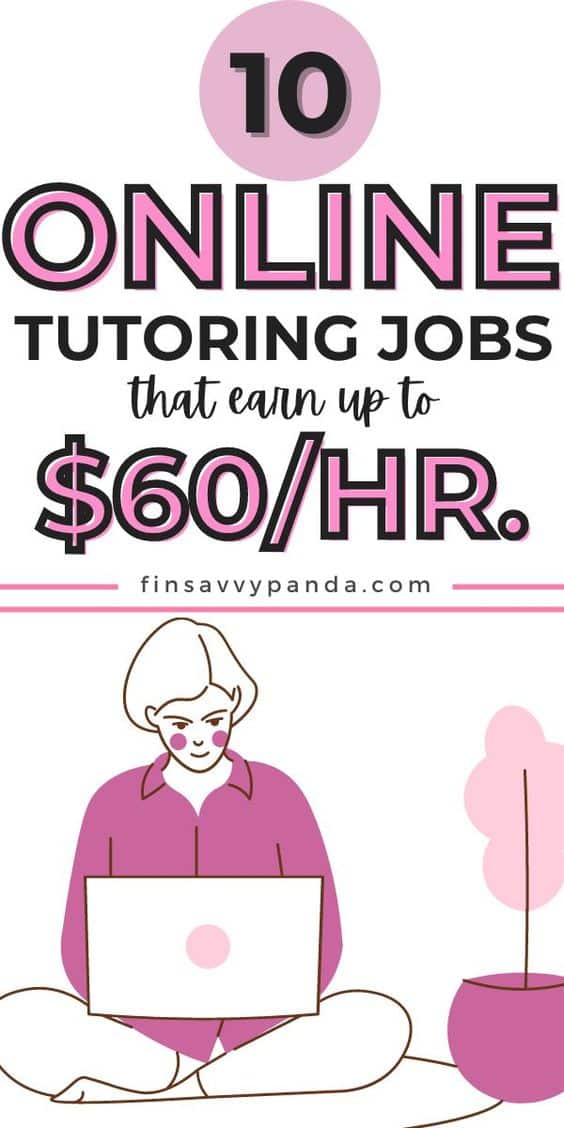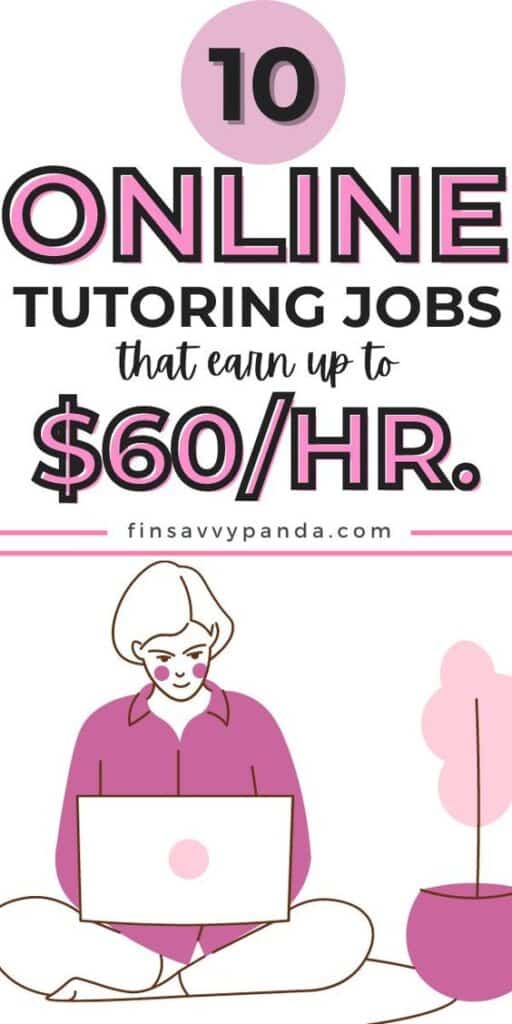 1. WyzAnt
WyzAnt is one of the most popular online tutoring websites that pay the most. They connect students with tutors in a variety of subjects, including math, science, English, and test prep. Tutors can set their own rates, and WyzAnt takes a cut of the pay for being the middle person.
Is it worth your time tutoring on WyzAnt? Absolutely!
Tutoring is one of the most profitable hobbies to make money without taking on another full-time job.
You can earn $30-$60 per hour teaching your favorite classes. The higher demand for the subject you're teaching, the higher the price you can charge per hour. Technical subjects, such as physic, computer science, and engineering, are highly sought after given their level of difficulty.
Payment is made through direct deposit to your bank account and tutors are paid weekly.
Pros: Flexibility on how you want to structure your lessons. You're independent and you get to charge a rate that you feel is fair.
Cons: WyzAnt charges a 25% platform fee. For example, if you earned $40 in a one-hour session, you'll get to keep $30.
2. Varsity Tutors
Varsity Tutors is a website that helps match students with tutors who can help them improve their grades and test scores. You can tutor students in different subjects, including coding, engineering, English, and foreign languages. Tutors can be paired with students of all ages, from elementary school through college. The typical pay for tutors is $15/hour with bonus rates.
Pros: You don't need to search for students. Varsity Tutors will do that for you.
Cons: You don't get to set your own rates, which means your earnings per hour are determined by the company.
3. Tutors.com
The summer break is upon us, and that means students will be looking for tutors to help them brush up on their academics before the new school year. If you're a teacher or college student looking for ways to supplement your income during the break or want a flexible job that you can do from home, Tutors.com is a great option!
Pay varies by subject. You can expect to get paid $13-$18 per hour, depending on your level. There is a rating bonus where you'll get extra pay when you obtain a certain percentage of 5-star ratings provided by students.
Pros: You can start as long as you're enrolled in a 4-year degree and you're at least in your 2nd year.
Cons: Pay is on the lower end of the scale compared to competitors.
4. Outschool
Do you want to teach fun subjects like learning how to play the guitar or how about teaching kids about the history of Pokemon?
With Outschool, you can design your own classes and get paid per student, per class. Outschool is an online platform that helps connect students with teachers for live, small-group classes which makes it a great option if you're looking for online tutoring jobs.
You have the ability to set your own hourly rate, but keep in mind that Outschool imposes a 30% service fee on how much you make.
Pros: Freedom to teach whatever your heart desires.
Cons: You have to come up with your own curriculum.
5. Skooli
When it comes to online tutoring platforms, Skooli doesn't mess around.
For starters, Skooli offers a level of flexibility that some other platforms simply can't match. With Skooli, you can set your own hours and work as little or as much as you want. That means you can make tutoring work around your busy schedule, not the other way around.
In addition, Skooli is there to help you market your services to students in need of help. The platform makes it easy to set up a profile and start tutoring online.
Tutors' pay is currently hovering around $25 per hour, which is higher than other online tutoring sites.
To qualify as a tutor, you will need to clear a higher bar in terms of qualifications. Skooli requires all tutors to have at least a bachelor's degree, and preferably a teaching credential or be currently enrolled in a teaching program.
Pros: Once your account earnings reach $100, you can request a payout via PayPal. Making money online with PayPal can be more convenient than other forms of payment.
Cons: Requires more qualifications than others.
6. TutorMe
TutorMe has established itself as one of the most reputable online tutoring websites, providing students with assistance in more than 300 subjects for all levels of grades. This popular tutor platform has thousands of qualified and experienced tutors who are available to assist students on a flexible schedule, making it an excellent resource for graduate students seeking part-time employment opportunities.
As long as you're 18 years old that has 2 years of teaching experience under your belt, and you're currently enrolled as an undergraduate student, you can apply to be a tutor on TutorMe.
You'll get paid $16 per hour on TutorMe, with a minimum session of 5 minutes spent with a student.
The downfall of TutorMe is that they are picky with their tutors where they only accept 4% of the applicants. So, if you're serious about becoming an online tutor, it's important to make sure that your application is polished and meets their requirements.
Pros: International tutors that speak fluent English are welcomed.
Cons: Low acceptance rate and pay rates are fixed.
7. Preply
Do you want to get paid to teach but you don't have any prior teaching experience?
While other online tutoring companies may require their tutors to have at least 2 years of teaching experience, Preply understands that there are passionate and highly qualified tutors out there who don't have quite as much "teaching" experience.
That's why Preply is such a great resource for anyone that is interested in becoming an online tutor. At Preply, you can find tutoring jobs that are open to both experienced teachers and students who are looking to make a little bit of extra money in their free time.
Yes, you can teach various subjects like algebra, chemistry, and statistics, but Preply is famous for teaching students languages. You can find many students of all ages wanting to learn different languages including but not limited to English, Spanish, French, Russian, and more.
As a tutor on Preply, you can set your own hourly rate and schedule. Tutors charge between $10 to $39 per hour, with the average rate being $18.30 an hour. During test and exam periods, tutors can set their hourly rates to as high as $50.
Pros: Lenient application process and prior teaching experience are not required.
Cons: Preply takes 100% of the commission on your first lesson with students (trial lesson). After that, they charge 33% of your hourly rate and it reduces to 18% commissions once you reach 400+ hours with students.
8. Smarthinking (Pearson)
Smarthinking, powered by Pearson, is an absolute delight for tutors seeking exciting online tutoring opportunities. Known for its exceptional quality and effectiveness, Smarthinking stands out as a top choice that injects fun and enjoyment into the tutoring experience.
With its user-friendly interface and robust support system, connecting with students becomes effortless, turning each session into a joyful and engaging encounter. What truly sets Smarthinking apart is the remarkable flexibility it offers. Tutors can work remotely and tailor their own schedules, allowing for a perfect work-life balance while embracing an enjoyable teaching experience.
Furthermore, Smarthinking covers a wide array of subjects, spanning from math and science to writing and beyond, providing tutors with an enriching and diverse teaching adventure. If you are a passionate educator in search of a thrilling and rewarding tutoring journey, Smarthinking is undeniably the place to be!
Pros: Smarthinking offers flexible work schedules, allowing tutors to have a healthy work-life balance and choose when they want to work.
Cons: The competition for tutoring positions on Smarthinking can be high, potentially leading to limited availability of tutoring slots and increased competition among tutors.
Online Tutoring Jobs for Beginners
If you're looking for a way to make some extra money, tutoring might be the perfect gig for you. Not only do you get to help others learn, but you can also set your own hours and work from home. Of course, there are a few things you'll need to keep in mind before setting up shop as a tutor. First, you'll need to know your stuff – after all, you'll be the one doing the teaching. Second, it's important to be patient and understand that not everyone learns at the same pace. And finally, remember that tutoring is a two-way street – while you'll be helping your students learn, they'll also be helping you brush up on your skills.
When you first start out, you'll want to make sure you're only applying to reputable websites. There are a lot of scams out there, so it's important to do your research.
Is tutoring a good way to make money?
Yes, tutoring is a solid way to make some extra cash. You get to use what you know to help others get better at school subjects. My husband tutored younger university students during his 3rd and 4th years, earning approximately 3 times more than the minimum wage.
Beyond the money, it feels good to help, and it's a chance to improve your communication skills. Plus, you can often work from home (scheduling video sessions) or set timings around your own schedule.
How can I make money from home tutoring?
Ready to cash in on your smarts from the comfort of your own home? Great! Here's your roadmap to making some money with home tutoring.
First things first: pick an area where you shine. It could be anything – solving math puzzles, chatting in Spanish, or jamming on the banjo. Once you've got your skill, it's time to start teaching!
When it comes to pricing, keep it real. I find it helpful to scope out what the competition charges and their level of experience. Aim for a price that people won't hesitate to fork over.
The next step is shouting out your brilliant tutoring service. Post about it on Facebook, pin a notice on your local bulletin board, or if you're a tech whiz, start a website and spread the word.
Just starting out? Don't shy away from offering a few free lessons. People love a deal, and if you ask for testimonials or top-notch reviews in return, you'll soon be selling your tutoring like hotcakes.
Don't forget to tech up. A good internet connection, a solid webcam, and you're all set for a rollicking online tutoring adventure.
This is a marathon, not a sprint. You might start small, but with patience and consistency, your home tutoring business will take off before you know it.
How can I become an online tutor with no experience?
It's often said that the best form of learning is teaching. So, don't worry if you're starting without any experience. Remember, everyone begins with no experience. As you progress and learn from each teaching session, you'll gradually improve and become more proficient.
You can become an online tutor with no experience by following these steps:
Identify what you're good at: You'll instinctively know the subject or skill where your confidence truly shines. Could it be English, Math, History, or even the Arts? This could be a subject you've mastered in school or a hobby you've honed to perfection.
Learn about teaching: Take the initiative to learn about teaching techniques and strategies. This could involve reading educational books, viewing online tutorials, or enrolling in a course focused on teaching or communication. Don't hesitate to observe videos of others teaching your chosen subject. By doing so, you can gather useful insights while adding your own unique twist, personality, and flair to your approach.
Get the right tools: Make sure you have a reliable internet connection, a good quality microphone, and webcam. Familiarize yourself with online tutoring platforms or video conferencing software.
Practice: Start by teaching your friends or family members. This will give you a sense of what it's like to teach and help you gain confidence.
Set reasonable rates: Since you're just starting out, your rates should reflect your level of experience. As your skills and experience grow, you can gradually increase your rates.
Market yourself: Create a professional profile on tutoring websites, or your own website, and utilize social media to spread the word about your services.
Gather reviews and testimonials: Encourage your first students to provide feedback. Positive reviews can help attract new students.
Continue learning and improving: Treat every tutoring session as a learning opportunity. Reflect on what went well and what you can improve.
What tutors are most in-demand?
Subjects that are most in-demand today are languages, math, and the sciences. This can change year to year, so it's important to stay up-to-date. This changes over time, as certain subjects and skills become more or less popular. For example, learning how to write codes is essential as we become more reliant on technology.
Languages are usually a safe bet, as there is always someone looking to learn a new language or improve their skills.
Again it's important to think about what you're good at — you have to be an expert in the subject you're teaching. If you can't teach the subject well enough, it doesn't matter how in-demand it is — you won't get students.
Which online tutoring company pays the most?
These best online tutoring websites mentioned earlier are listed as one of the top 10. Here are some popular online tutoring companies known for offering competitive pay rates:
Chegg Tutors: With a pay range starting around $20 per hour, it's a choice for many.
Wyzant: Offers high flexibility, with tutors setting their rates – often between $30-$60/hr. They might take a percentage of what the tutor charges allowing experienced or highly specialized tutors to potentially earn more.
Tutor.com: Pay varies by subject but generally ranges from $12-$35/hr.
Varsity Tutors: They offer competitive compensation, though it depends on the subject and grade level.
Skooli: Pay per minute system can yield high hourly rates for high-demand subjects.
Smarthinking (Pearson): Pay scales are tiered and based on subject matter expertise and experience.
These are well-known in the online tutoring space, but rates are subject to change. Some tutors may be paid by the hour, while others receive compensation per question answered or project completed.
Do tutors need a website?
Having your own tutoring website isn't a must, but it's a big plus. Yes, online platforms are a quick start to tutoring but they take a slice of your earnings. Your own website, however, boosts your visibility, lends credibility, and showcases your skills and happy customer testimonials. It's your unique brand, with your rates. It's a convenient hub for potential students to learn about your services, book sessions, make payments, and access resources. It offers more control compared to other promotional methods like social media. So, while not essential, having a website could be your secret weapon to professionalizing and growing your tutoring business.