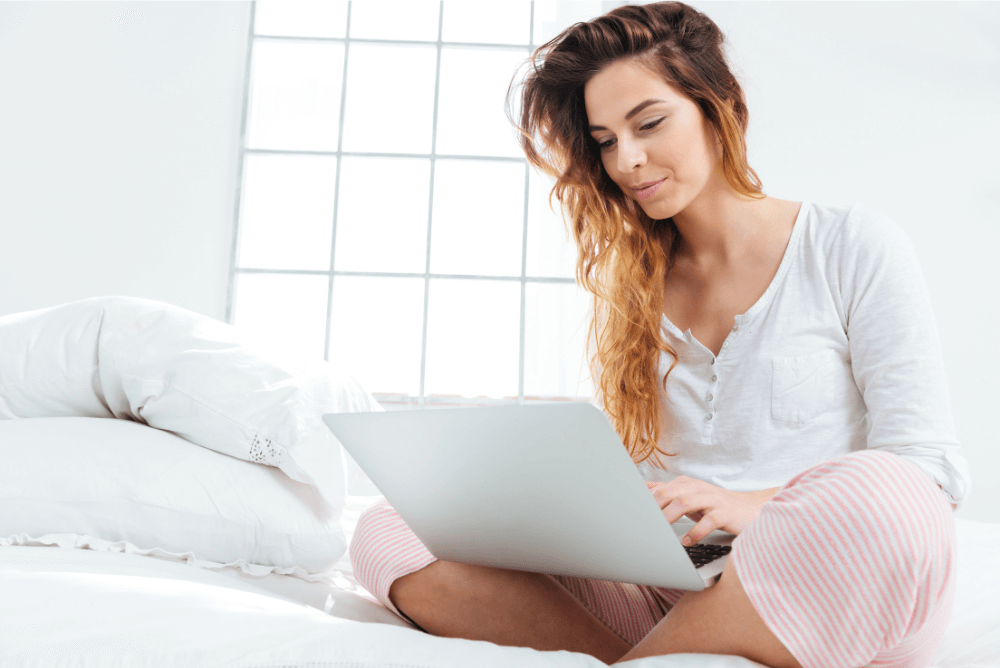 This post may contain affiliate links. Please read our disclosure policy for more information.
You sleep late and wake up late. You feel more energized during late evenings than in the mornings. You're a certified night owl!
Whether your sleeping pattern is by choice or something that can't be helped (like being a new parent), staying awake while others are in dreamland can lead to plenty of opportunities to earn money online.
You don't have to be physically present, either. The Internet has an abundance of work-from-home jobs from all over the world without you having to step out of your door. Now that's the work combination most night owls literally dream of!
The good thing is online remote jobs are open to almost anyone with the right skill set. Whether you're a mom looking for extra income or a teen looking to fund his hobbies, you can work online night jobs and from home in comfort and convenience.
Working at night isn't just for quick cash, though. Full-time, remote night job hiring is becoming more common as people worldwide learn how to use their time better working with others in different countries and time zones. If it's part-time jobs you're looking for, many companies prefer such compared to full-time.
Read on to find out about remote online jobs you can do during the night. They're a good way to take advantage of your waking hours and add to your income.
Make sure to save this image to your favorite Pinterest board for the best overnight and part-time jobs!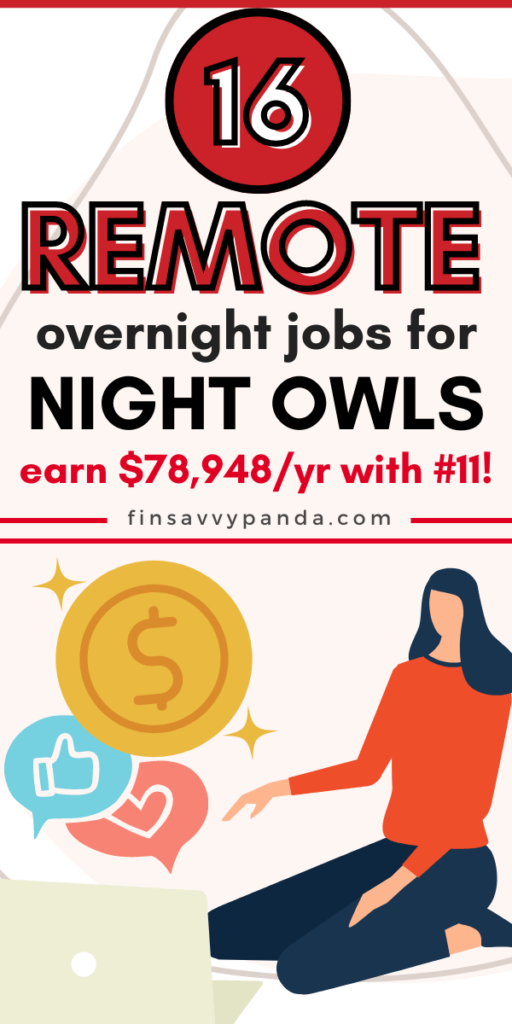 What Are The Most In-demand Remote Jobs?
The most in-demand remote jobs include:
Web developers and designers
Content creators and marketers
Software designers and developers
Virtual assistant jobs
Bookkeepers
Online customer service representatives
The demand for these jobs increased as more businesses shifted to a remote work model and placed more value on hiring remote staff and freelancers over traditional full-time employees. Instead of spending money and resources on expensive office space, companies can now invest in the right people to work remotely.
What Are The Highest Paying Remote Jobs?
Not all remote jobs pay handsomely (and the pay dramatically depends on the location), but software developers, web designers, product designers, and virtual assistants are among the remote jobs that take home a considerable amount of money. The pandemic has shown most businesses the importance of establishing their online presence.
These roles are essential for the shift to online, and thus the demand for them.
Other online jobs pay a little lower than others; this may be because of the low barrier to entry for some, like freelance writing or transcription, which makes for heavy competition in the market.
Below are some of the best overnight jobs you can try applying for. Again, the pay range differs for each remote position, but once you've mastered your skills, you can undoubtedly go for rates that make you earn a comfortable income.
1. Blogger
Average Salary: $45,488 per year (ranges from $33,478 to $120,000+ per year)
Growing up, I was told to go to school, get an office job and work hard to climb the corporate ladder.
I worked at an office for years and I hated it. Team meetings, deadlines, and office politics made me miserable. Sure, the pay was great and the hours were flexible, but it wasn't for me.
I'm not the only one who feels this way. A recent study found that 60% of Americans are unhappy with their jobs. That's a lot of unhappy people!
Why are we so unhappy with our jobs? I think it has to do with the fact that most of us are working in jobs that we're not passionate about. We're not doing what we love. We're not living our best life.
So, if you're unhappy with your job, it's time to make a change. Maybe it's time to try something different and do something that you're passionate about.
For me, that something was blogging. I never knew you could make money blogging from home until I stumbled upon a blog one day. I read the blog and they were making money by sharing their stories and experiences.
I thought to myself, "Hey, I can do this!" And so, I did.
I started my own blog as a hobby to share my saving money tips, ways to earn extra money, and personal finance journey to help others improve their financial situation.
It's been several years now and I absolutely love it. I'm passionate about what I do and I enjoy making a difference in other people's lives.
Who knew that I would be here today, making a full-time income from my laptop? I sure didn't. But, I'm so glad that I took the leap of faith and tried it. If not, I would still be working a job I hate.
How to make money blogging
The most common way to earn money with your blog is to get paid for displaying ads on your site. Ad networks like Google Adsense, which is a program that allows you to place ads on your blog, will pay you every time someone sees OR clicks on one of the ads. Don't worry, you'll still get paid even if they don't buy anything!
To give you an idea of how much you can earn with ads, here's how much I earned in a month from one of my blogs.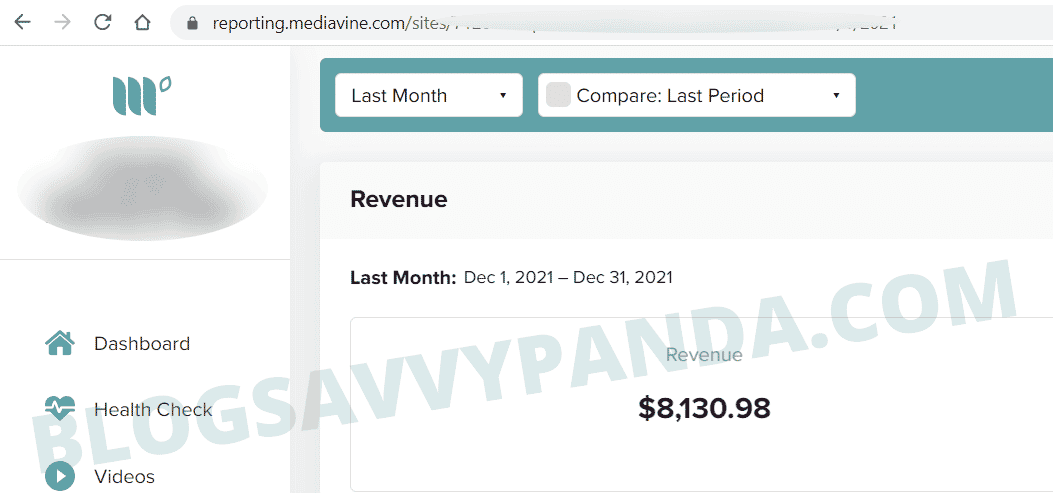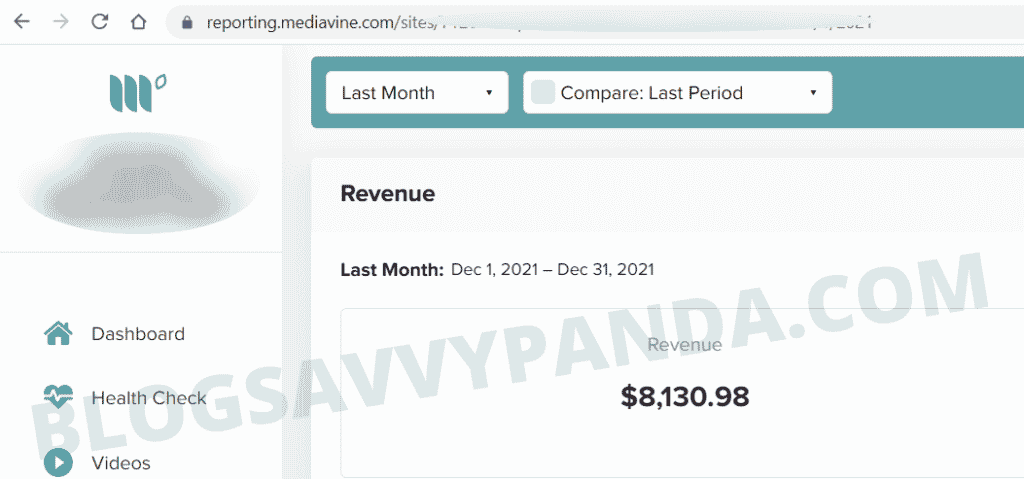 By learning how to use Pinterest to drive traffic to my website, I was able to earn more than $200 a day online.
If you don't want to display ads, there are other methods to make money with your blog. You can sell digital products, like eBooks, online courses, or printables to your readers. You can also partner up with brands as an affiliate and get paid when someone buys something through your link.
For example, let's say you're a travel blogger. You can become an affiliate for a travel company and earn a commission every time someone books a trip using your link.
Please know that blogging is NOT a get-rich-quick scheme where you'll make money overnight. It's far from that. In fact, it takes A TON of time, effort, and dedication to grow your blog and start making money.
However, if you're willing to learn and put in the work, blogging can be a very rewarding experience, both personally and financially.
You can read my raw and honest blog income reports to see how much I struggled in the beginning and how much I'm earning now. I shared my online journey from $0 to over $25,000 per month with my readers.
If you're interested but you don't know where to start, check out my FREE 7-Day e-mail course to learn how to start a profitable blog. I will walk you through the entire process, step-by-step.
Pros:
Make money doing something you love, freedom to work from anywhere, and have no boss!
Cons:
Requires a lot of time, effort, and persistence to make money blogging.
2. Freelance Writer
Average Salary: $69,510 per year
If you have a way with words, then freelance writing is the way to go when getting a remote online job. Freelance writing is a vast market where you can freely decide what to write and whom to write for.
You can be a freelance content writer and provide information to your readers. With copywriting, on the other hand, you will write with persuasion to get people to buy. Then, there is technical writing which is perfect for those who want to share their expertise without getting too sales-y.
YouTube channels, blogs, e-commerce sites, and social media platforms are always in need of content so there is no shortage of work for quality freelance writers. You can find writing gigs on LinkedIn, Reddit, and Facebook Groups, or you can create a profile with a content marketplace like Upwork or Fiverr.
Pros:
You can choose to work full-time or part-time, and with as many clients as you can handle.
There's a steady demand for good-quality writers.
Cons:
Your income may vary month to month compared to being an employee.
3. Virtual Assistant
Average Salary: $63,317 per year
Gone are the days when only big businesses could afford to hire assistants. As many took their businesses online, they also recognized the need for assistants to deal with other aspects of their business while they attended to more urgent ones.
The kinds of virtual assistants (VAs) are as diverse as the businesses they serve, and so are the tasks assigned to them.
If you're aiming to become a VA, here are the basic skills you must be familiar with: calendar, email, and project management tools. You must also know data entry, basic lead generation, and good oral and written communication skills. Some VAs communicate with their client's clients through voice calls, so it's important that you're comfortable speaking on the phone or making video calls.
Soft skills also help you in landing and keeping a VA job. Good communication skills, time management, a genuine love for learning, reliability; and a self-starter attitude are some of the skills clients want their VAs to have.
Pros:
Flexible working hours with competitive pay.
You can work anywhere you want, be it from the comfort of your home or in a coworking space.
Cons:
Not all clients offer health insurance and other benefits as you would in a company (the same goes for other freelance jobs).
4. Social Media Manager
Average Salary: $60,092 per year
Almost everyone is on social media, so businesses took advantage of that and started posting about their products and services online. The challenge: how to stand out when everybody's doing the same?
Enter the social media manager (SMM). As one, you will help your client stand out from the competition by making social media posts that target the audience and make them engage with the brand.
Your tasks will revolve around creating content, finding and using hashtags, scheduling posts, analyzing social media analytics, and reporting to your client. Additionally, you'll also need to answer posts' comments and ensure that your posts reach the target audience.
To be a good SMM, you must understand the principles of marketing and know which social media platforms your client's target audience is using. You should also be updated with the latest trends in social media, know how to use relevant tools, and most importantly, be creative.
Focus on one or two social media platforms and become an expert on them before moving on to others. For example, I spent the majority of my time mastering Pinterest and learning how to make money with it.
Pros:
Anyone can be a social media manager! Even teens can start working for small businesses and scale their way up.
Being an SMM is an excellent opportunity to grow with the client or the company.
Cons:
You have to constantly keep up with trends and learn how to adapt to different social media algorithms.
5. Online Tutor
Average Salary: $51,548 per year
Do you have the skills and patience to teach? Being an online tutor can help you earn extra bucks in your spare time. Most online tutor jobs involve teaching international students English as a Second Language (ESL), but tutors for other academic subjects also exist.
Students vary from younger elementary school kids to high school and even adults. Most of the time, you'll get to choose beforehand which age bracket you'd like to teach.
Online tutoring works this way:
You find a client
Follow a course outline on what to teach
Conduct online sessions with the students
You get paid!
Finding online tutoring jobs is very simple when you join an online teaching platform, like Wyzant or Tutors.com, or you can find clients on your own. All you need is to be confident on camera and be generally cheerful!
Pros:
It is possible to teach online without teaching experience on some platforms.
You can set your working hours and beginning rates.
Cons
The chances of getting hired are higher for those with degrees and TEFL/TESOL certifications.
6. Web Developer
Average Salary: $78,300 per year
If you're into building websites, you might want to try working as a web developer in your spare time. As a web developer, you are responsible for developing a site's look, feel, and interactivity. Web developer jobs pay handsomely, too!
Should need to be good with coding languages like HTML, CSS, and JavaScript. You'll work with a team to build different parts of the website such as the user interface, graphics, and user experience. You'll also be responsible for testing the site, fixing bugs, and making improvements as needed.
Web developers rank among the top-paid IT professionals in the industry. To do this job well, you'll need to be detail-oriented and passionate about building something from scratch. You'll likely spend many hours behind the computer and working alone writing codes, but the results are always worth it.
Coding is a skill that can take years to master, so be sure to stay up-to-date on new programming languages. The Internet has plenty of free online resources and courses that can help you learn the skills you need to be a web developer. Some coding bootcamps also offer part-time or full-time courses that can help you learn quickly.
Pros:
Web developer jobs are in-demand, and usually pay higher rates than other remote online jobs.
These jobs allow you to apply your knowledge creatively.
Cons:
Long hours and intensive work may be required, especially at the beginning of your career.
7. Transcriptionist
Average Salary: $58,536 per year
Can you type fast and have good listening skills? Try being a transcriptionist. In this remote online job, you type exactly what you hear from video and audio recordings-conversations, speeches, and phone calls.
You must have excellent listening skills, type quickly and accurately as possible and understand directions well. Sometimes you have to transcribe more than one person at once, so being able to identify who's talking at a certain point in time is an excellent skill to have.
Pros:
You don't need certifications to land a transcription job.
You have the choice of whether to choose minor or significant projects.
Cons:
You need a computer with higher specifications and storage to handle large amounts of data.
8. Bookkeeper
Average Salary: $42,237 per year
If you crunch numbers like it's nothing, then bookkeeping is an excellent way to earn money online. Bookkeepers record a company's transactions and business reports to be included in the accounting system. They prepare these records for an accountant to analyze later to help make business decisions.
Want to be a bookkeeper? You need to have both basic math knowledge and higher math skills. You can learn it through an online course or by taking college courses.
Pros:
There are plenty of free opportunities online to learn bookkeeping.
Bookkeepers are constantly needed as more and more businesses open.
Cons:
Learning bookkeeping may take some time if you don't have the background.
9. Proofreader
Average Salary: $52,465 per year
Can you spot grammatical errors a mile away? Does your head spin at the sight of wrongly-spelled words? You can't help yourself when you see poor spelling and grammar, so you might as well make money from finding and correcting errors. A proofreader is a proper job for you.
You must be able to read fluently in English and have good grammar skills to become a proofreader. It helps if you're very detail-oriented; it makes you spot errors and correct them quickly. A degree or diploma in English or journalism may be helpful, but you can be a proofreader as long as you can pass the tests given by the company or client.
Pros:
It's easy to get started- all you need is your computer and your knowledge of grammar and sentence construction.
There is a wide variety of clients to choose from. Examples are clients from the legal and educational fields.
Cons:
Proofreading can be tedious work, especially if you're dealing with a document with hundreds of pages!
10. Graphic Designer
Average Salary: $65,131 per year
You can make more money as a freelance graphic designer if you're the go-to person for logos, cards, invitations, posters, and other print and web-based materials. Graphic designers communicate the client's ideas through visuals. They use various tools like type, illustration, photography, and other images to create designs that express a message or share a story or concept.
As a graphic designer, you must not only have an eye for design, but you must also have excellent communication skills for you to deal with potential and current clients. You must also have a feel for what your audience needs to see. Does your design need to educate them or entice them into buying? You have to consider this when aiming to work as a graphic designer.
Pros:
You can get creative freedom with graphic design.
Your work is visual and therefore gets appreciated quickly.
Cons:
It may take multiple edits to agree with a client (remember to set boundaries).
Lots of competition in the industry.
11. Virtual Recruiter
Average Salary: $78,948 per year
Virtual recruiters help companies look for people to outsource. If this is your full-time job, you might want to look at being a part-time recruiter for remote online positions and make extra income from doing so.
Being a virtual recruiter involves posting hiring ads, interviewing the people applying for a job, assessing their skills, and communicating this information to the company.
You need to be as objective as possible if this is the remote job you're after. Unlike being a recruiter in a physical office, you have to rely on the documents submitted by the applicants and their virtual interviews instead of face-to-face interaction.
Pros:
It pays well compared to other remote online jobs (except for web developers).
You can reach more candidates when recruiting them online.
Cons:
It's harder to make decisions off online portfolios and virtual interviews.
You have to make hiring decisions that can affect the company.
12. LPN Per Diem Shifts
Average Salary: $64,320 per year
Are you someone in the medical field? Then this could be an excellent side job for nurses, doctors, and other medical practitioners to try.
Per diem shifts are overnight jobs that require you to be on standby for 24 hours at a time. That could mean anything from handling emergency calls to being present as required by the hospital or clinic where you work.
Per diem nurses can also be hired for seasonal staffing coverage, such as during the holidays, and for special events like conferences or conventions where medical staff may be needed.
One of the great things about per diem shifts is that you usually get paid a higher hourly rate than what you would normally earn in your regular job. Companies often use a higher wage as an incentive to take the position on short notice.
This makes it an attractive option for people who need to supplement their income without having to worry too much about hours or shifts.
Pros:
You could get paid a good amount of money (around $64,320 a year) for working the shifts.
You'll get to stay within your profession and gain more experience in patient care.
Cons:
Working shifts on short notice can be stressful, especially if you're not familiar with the hospital or clinic where you'll need to be present.
You will also need to invest some money in transcription software, a good computer, and a fast internet connection to work as an online translator.
13. Remote Data Entry Clerk
Average Salary: $38,112 per year
One of the easiest (in theory) among the remote jobs listed here is being a remote data entry clerk. In reality, being a data entry clerk is many things-you could just be copying and pasting data, updating posts and product descriptions, typing out information from printed forms into a database, and so many more.
No data entry job is the same as the other. Some involve ensuring that the pictures and the captions on a website match accordingly. Others needed to make multiple descriptions of the same product. One of my friends said that his job was to find existing services within an area and categorize the information gathered (name of service, location, price range, etc.).
Nevertheless, data entry is one of the best entry-level remote jobs you could try. Accuracy and the ability to adapt to a routine are great things to have when you want to land this job.
Pros:
Most data entry jobs are easy, and if you like repetitive tasks, it's for you.
You don't need extensive training for a data entry job (for all my data entry gigs, my clients trained me along the way).
Cons:
They pay a little lower than most online jobs.
There is a lot of competition in the market.
14. Online Technical Support
Average Salary: $52,889 per year
Do you have extensive knowledge of a particular product, such as a smart gadget or an online service? Do you have the ability to explain complex concepts, make them easier to understand without the jargon, and troubleshoot online? Chances are you'll do great as online technical support.
Like when someone's drawing tablet breaks down, none of your product's website's FAQs and troubleshooting guides work. This is where you're going to step in; you will assess the situation based on the information provided by the customer and suggest ways to fix it.
Ready to take on this job? Aside from your tech expertise, it helps to be patient and sympathetic to the customer's situation. As for the pay, online tech support jobs average $23.00 in the United States. Not bad for a part-time online gig.
Pros:
This job pays well, especially if you're a real expert.
It gives you opportunities to solve problems.
Cons:
It tends to get repetitive and stressful sometimes.
15. Overnight Customer Service Representative
Average Salary: $36,920 per year
Like an online technical support job, being a customer service representative allows you to attend to customer questions and concerns about the service or product they are using. When you're in the customer service representative (CSR) field, you'll usually get calls and queries about accounts, orders, and the dreaded complaints.
Unlike tech support, however, you won't be providing troubleshooting advice-you may connect the customer to tech support instead.
With tech-based products and services, the time of the day doesn't mean that a CSR has fewer queries to answer. Some customers are having morning issues with the service while it's evening from where you are, so most companies include overnight CSR positions.
Lots of patience and tact are needed for a CSR job. Most clients are frustrated during the calls and may shout or swear at you. Your job is to help them address their issues and do so with composure. Other than that, it's an excellent way to make your spare time productive.
Pros:
No need for courses to be able to apply as a CSR-the company trains you.
You can choose from chat, email, or voice CSR jobs (sometimes, a mix of two or all three).
Cons:
Some CSR jobs are seasonal-like during Black Friday, Christmas, and other holidays, then slow down to a trickle after.
16. Website Tester
Average Salary: $54,396 per year
If you spend a lot of time online, you might want to check out becoming a website tester. Website testers are responsible for testing websites and applications. As a tester, you'll need to use the software they are testing effectively and ensure that it works properly. This might involve inputting data or clicking through drop-down menus, going from one page to another, and assessing the ease of usage of the website.
You need good communication skills and basic website knowledge in an online remote job like this. You'll constantly be communicating with a team regarding your findings for the website.
Some companies also prefer hiring ordinary people to test their websites-no background in websites needed. Their goal is to keep the feedback on a website's user experience (UX) as close as possible to what standard website visitors experience.
Pros:
You'll get access to websites before others do.
Some people enjoy finding bugs and errors on a website.
Cons:
The pay depends on the complexity of the job.
17. Interpreter/Translator
Average Salary: $48,930 per year
You're the go-to person to watch foreign movies with because of your impeccable command of the language. You also happen to speak it well! An interpreter/translator job is something you can start doing.
Interpreters can be present in online meetings to help relay ideas and concepts as a meeting goes on in real time. On the other hand, translators may translate audio or video recordings (and movies!) and documents from one language to another.
Many fields need these services and hire people to do it online. The legal, business, medical and technical fields constantly need people to transcribe video and audio files for repurposing.
Aside from interpreting spoken language, you can also be a sign-language interpreter.
To become a sign-language interpreter, you need to have an American Sign Language (ASL) certification.
To qualify as an interpreter for other languages, you might need to take a course or two plus have extensive experience writing and speaking the said language. A certification should also be enough for you to land a job as an online interpreter or a translator.
Pros:
You won't need to have physical interaction with clients as interpreting and translating are all done online.
It pays a good amount of money (around $46,698 a year).
Cons:
You need to have expert-level oral and written fluency in the languages you'll be working with.
You will need to invest some money in transcription software, a good computer, and a fast internet connection to work as an online translator.
Tips On Finding Overnight Remote Jobs
Choose your niche
Choose the job that is closest to your current skill set. For example, if you can spot grammar errors a mile away, you should become a proofreader rather than a customer service representative.
Once you've found your niche, start upskilling (if you haven't already). There are lots of free resources on the Internet. Scouting for these free resources might take you some time, so another option is to enroll in online courses. Platforms like Coursera, Udemy, Skillshare, and others offer different classes to help your skillset level up.
Build a portfolio
Throw the excuses down the drain and make yourself a portfolio. "But I don't have a client yet," you might say. Then make samples! Do them as if you're doing them for an existing client. Don't let the struggle for perfection prevent you from making sample works.
Once you've passed the hurdle of making a portfolio (and probably gained a client or two), don't forget to update the contents now and then. Ask your clients if you can include the work you did for them as a portfolio piece. Better yet, ask them for a testimonial!
Update your social media profile
How do potential clients find you? Easy. Include the services you provide in your social media profiles.
Write social media posts using keywords that clients usually search for (for example, if you are an ASL interpreter, mention it in your Facebook bio to make others find you).
In LinkedIn, use keywords in your headline, summary, and work experience. Mention what you can do for them.
Harness social media to find potential clients
Remote job-hunting is now made easier with social media. My favorite way to get new clients is by joining Facebook groups related to my niche. Twitter is a minefield of opportunities, too, as well as Reddit.
Start by joining groups and following people with similar jobs and interests to the one you're looking for (like joining a freelance writers' group). Interacting with people in these groups-engagement makes you more visible and ready to find when someone wants to hire!
Don't be afraid to reach out!
Message the person you look up to in your niche. Cold email a pitch for your next story. Ask a friend if there are openings for remote work in their company. Put yourself out there, so they will see you're ready to help them!
Your efforts towards networking may not be an overnight success, but it's better for the long run. Once you've made several connections, nurture them, and communicate with them (even on unrelated, harmless subjects). On the other hand, don't hesitate to cut off ties with a nasty client! Remember to do it amicably, though.
Enjoyed this post? Don't forget to pin it! Also, don't forget to follow me on Pinterest over here! 🙂