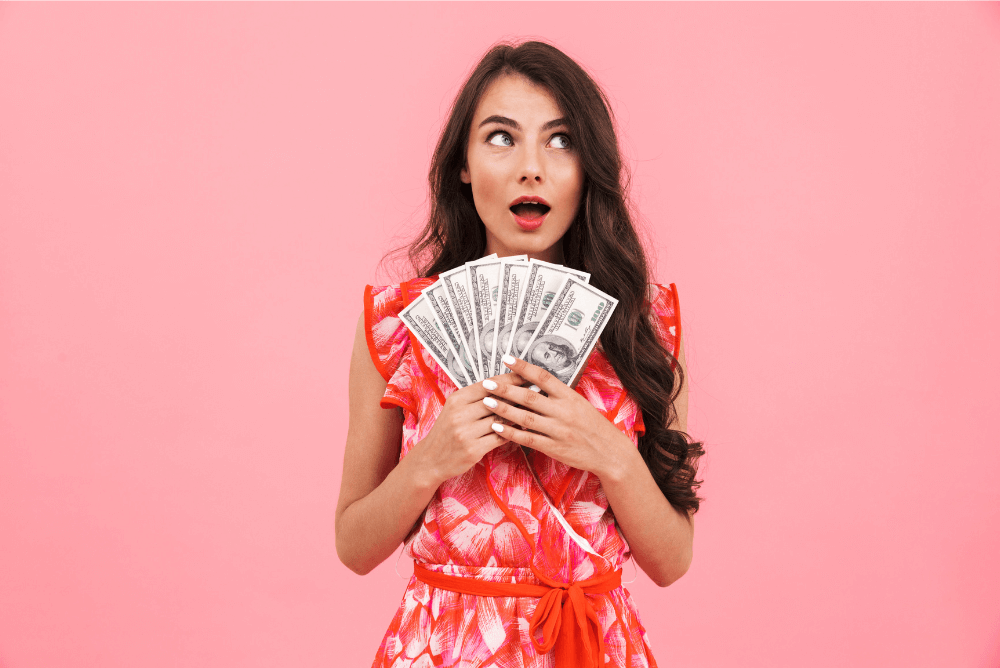 We will receive a commission if you make a purchase through our affiliate link at no extra cost to you. Please read our disclosure policy for more information.
3.96 billion…that is the average monthly active people on Facebook recorded on September 30, 2023, representing an increase of 7% year-over-year. This shows that the platform is still growing even after 18 years of being available to the public. This data also tells us that it's worth selling on Facebook Marketplace considering it has 495.7 million users and has a billion visits every month.
Flippers and resellers have even been able to make $1,000 in a single day through this platform, making it a missed opportunity for those who aren't using it to sell their goods. It's no excuse that you don't know how to sell things on Facebook Marketplace because it's as easy as a few clicks or swipes.
I personally like to browse the Marketplace just to see what items are being sold near me. It's fun to scroll through this page because you'll never know what sort of treasure you might find for a cheap price. That is exactly the mentality buyers have when they're visiting the Facebook Marketplace.
Don't count out Facebook Marketplace just yet if you're a flipper or someone looking to craft and sell things online. Your next buyer could already be scrolling through the endless list of possibilities on this platform.
Whether you're selling century-old figurines, vintage shoes, or even tiny homes, anything that catches a buyer's eye has the potential to turn into a sale. To help you get started, I've compiled a list of the best things to sell on Facebook Marketplace below.
PIN (OR BOOKMARK) THIS PAGE: I'll be updating this post so make sure to pin this image HERE and save it to your Pinterest board. That way you'll be able to come back to this page and learn the best things to sell on Facebook Marketplace.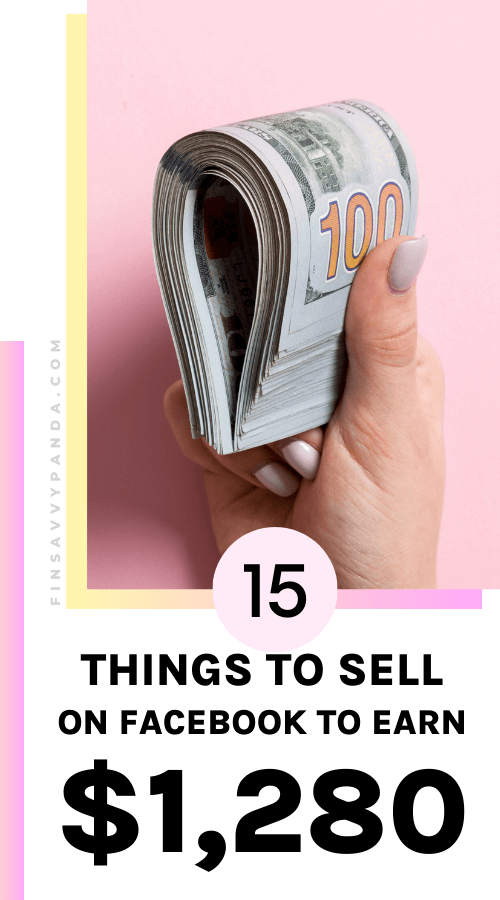 The Best Selling Items On Facebook Marketplace
Throughout this section, you'll discover the variety of items that can be effortlessly sold on Facebook Marketplace. While some sell more frequently than others, factors such as size, seasonality, and demand all play a role in determining what's popular amongst buyers. Winter jackets are popular items during the winter months, but they don't sell well during heatwaves.
1. Apparel
Your closet is a hidden gold mine. Don't just throw your old clothes away just because it doesn't fit you or they're out of style. You can still resell those items just like this 23-year-old who made $1,600 selling her old clothes.
Apparel can include items like shirts, pants, shorts, accessories, socks, and even shoes. If you've ever wanted to sell your shoes for money, Facebook Marketplace is the place for you. These items often have a second life waiting for them on these platforms, where a multitude of such articles are listed daily.
However, if you have gently used clothes in good condition that you no longer wear, there are alternatives to Facebook Marketplace for you to explore. In recent years, several effective and user-friendly applications have cropped up that specialize in selling used clothes.
Clothing resale apps like Poshmark, Depop, and The RealReal are brilliant alternatives. Poshmark appeals to a broad demographic and is excellent for selling anything from casual wear to luxury items. Depop is popular among younger audiences, making it the go-to for vintage or unique pieces. The RealReal focuses on high-end designer items and offers an authentication service.
Nonetheless, if you're comfortable with the social media environment and its broad reach, Facebook Marketplace remains a reliable choice. Its intuitive interface makes it easy to list items and connect with potential buyers in your vicinity.
When creating your listing on any platform, be transparent about any flaws, like small stains or loose stitches, by providing clear photos. Honesty upfront builds trust with potential buyers, increasing the likelihood of a successful sale.
For flippers who go to thrift stores and resell items online, you'll definitely love Facebook Marketplace's feature of letting buyers see the items near them. This allows you to save up on costs when your buyer just lives around town.
Shipping fees can make or break a buyer's decision to purchase your item. Eliminating that concern for them can increase the likelihood of a successful sale. This is advantageous for you as a seller because high fees won't eat into your profit margin.
2. Furniture
Selling furniture will always have a place in my heart. The topic always brings me back to the days I refurbished furniture as a hobby while making money in my spare time!
It required a bit of effort but the pay made every hard work worth it. I used to make an average of $500 per month while there were days that I only made $300. The biggest payout I experienced was around $1,000 per month – it got me thinking if I could do it full-time!
Although I never got to sell on Facebook, I spent time researching the marketplace and noticed one of the most popular items is furniture. You'll see lamps, sofas, chairs, tables, and cabinets. Some of them look brand new while others have missing parts.
A common mistake I see among sellers is uploading only one low-quality or even no photo of their furniture on the marketplace. It's important to consider that buyers would like to see the furniture from various angles before committing to a purchase. Wouldn't you want to inspect the material or fabric up close?
If you want to sell your furniture for money, make sure to avoid this mistake. Take several photos from different angles and do close-up shots as well. You're doing this because your prospects can't go to your house and physically inspect the item. So to compensate for that fact, you do the courtesy of taking different photos for them.
Remember to also take pictures of holes and stains. Don't worry, this won't bother the buyer too much if it's small. This only shows how transparent you are as a seller – a trait that buyers appreciate.
Here are the different types of furniture you can sell on Facebook Marketplace:
Sofa
Stools
Chairs
Bookshelves
Coffee tables
3. Electronics
You're leaving a lot of extra cash on the table if you're not using Facebook Marketplace to sell your electronics. These are top-selling products on Facebook or any platform because they're practical, compact, small, and easy to ship.
With a strategic approach, it's entirely possible to make a quick $200 in a day. When people get bored on their timeline, they usually go to the marketplace feed and check if there's something worth buying. As long as it's in good condition and the price is right, they'll purchase it in a heartbeat.
Some electronics sold here are:
Tablets
Watches
Headphones
Video games
Smartphones
Gaming consoles
When you're selling your personal electronics, don't forget to do a factory reset on those items. You don't want to be giving out private information and personal files to the buyer. Plus, it just seems unprofessional from your end if you haven't cleared out your family photos before sending the products.
A tip I can give you when selling electronics is to provide a detailed description. Take your time to list the year it was manufactured, the brand name, the number of years you've used it, and any scratches or defects the item has. Being specific about your item will reduce the number of questions the buyer will have.
Here's a good example of a detailed description of an iPhone:
Selling iPhone 13 Pro Max
Used For 6 Months
Includes 5 Different Casings
Comes With the Original Charger and Airpods
One Small Dent On the Right Edge Of The Phone
4. Fashion Accessories
If you've joined Facebook buy and sell groups before, you'll know how quickly items can be sold, especially smaller ones that are easy for sellers to ship out.
The fashion accessories you can sell are:
Belts
Muffs
Boots
Jackets
Bonnets
Earrings
Lanyards
Bracelets
Necklaces
Sunglasses
Eyeglasses
Take note, you don't want to be selling expensive items on the marketplace since people are not looking to spend big on this platform. Buyers just want things for everyday use.
Rather than taking shots from different angles, consider wearing accessories in your pictures to show buyers what they look like when worn. This technique is highly applicable to almost all of the items mentioned above.
You can also take zoomed-in and zoomed-out photos of much smaller accessories like earrings, necklaces, and bracelets. It gives different perspectives for the buyers and it stands out from the other listings.
Why limit yourself to one platform when you can showcase your items on Facebook Marketplace AND websites like Poshmark? Double the exposure, double the fun! By listing on multiple sites, you'll cast a wider net and reach a larger audience, giving you a better chance of scoring that sale. Remember, the more people who see your listing, the more likely you are to convert a sale. So go ahead and spread your selling wings!
5. Homeware
Individuals seeking to declutter their homes can effortlessly sell their belongings on Facebook Marketplace, which explains the abundance of home decor items found on the platform. You'll likely encounter a variety of items, such as:
Fans
Plates
Utensils
Glasses
Outdoor furniture
Wall Arts
Light fixtures
If you've got any of these items gathering cobwebs in your garage, consider putting them up for sale. Elegant or distinctive wall art pieces, for example, tend to sell quickly. Such items are sought after because they breathe new life into living spaces, making them visually appealing and engaging for guests.
Light fixtures, too, sell rapidly on the platform, particularly if they boast an appealing aesthetic. When buyers envision a fixture as the perfect addition to their home, they'll be eager to make a purchase.
That's why it's essential to invest time and effort into photographing these items. For instance, showcase plates and glasses by arranging them on your dining table, allowing potential buyers to appreciate their beauty. Avoid the temptation to take shortcuts, such as snapping photos of items in their boxes or still in your cabinets. Going the extra mile can make all the difference in securing a quick sale.
6. Sports/Fitness Equipment
Let me ask you a question: When you're in the market for gym equipment, do you head straight to official websites or online marketplaces? If you're like most people, you probably opt for the latter and search for second-hand items. And why not? After all, gym equipment serves its purpose as long as it's functional and not totally rusty.
The types of equipment you can sell here are:
Training cones
Barbells
Benches
Treadmill
Golf clubs
Dumbbells
Punching bag
Portable basketball system
Rackets
With the rise of garage gym and home gym setups, your equipment is bound to get sold quickly. Before you list your items online, be sure to clean and sanitize your items. And always be transparent on the condition of your gears.
For example, if your treadmill can only go a certain speed, then you need to include it in your description. You don't want to have a bad reputation as a seller and people calling you a scam. This will hurt your credibility and prospects will skip your listings.
7. Kids Clothing
Hey there, parents! Are your kids growing faster than a weed in springtime? It's okay because you can still turn those outgrown clothes into cash on Facebook Marketplace. Trust me, it's much better than letting them collect dust in the back of the closet or waiting for your siblings to have their own kids.
Kids' clothes are one of the hottest-selling items on the platform and for good reason. They're not used for long, and they cost a fortune at the mall. So, why not let someone else enjoy those cute little outfits and put some extra money in your pocket?
Plus, let's face it, kids' clothes are like the proverbial 'little black dress' – they never go out of style! So go ahead and declutter that overflowing closet, and make some quick cash selling your kids' clothes on Facebook Marketplace. Your wallet (and sanity) will thank you.
To sell kids' clothes quickly, I highly recommend you bundle them together and sell them as a package. You can separate the branded ones from the rest since they tend to have a higher quality.
The different clothes you can sell here are:
Shirts
Shorts
Sandals
Dresses
Onesies
Jumpers
Leggings
When it comes to pricing, you can scroll through the marketplace to see how much they are selling for. Remember if you want your items to sell fast, stay within the pricing range of what's currently on the market. Going too high might not appeal to your buyers.
In addition to Facebook Marketplace, there are other platforms out there specifically designed for buying, selling, or renting kids' clothing. Check out sites like Kidizen and ThredUp for even more options. Who knows, you might just find your next great deal or the perfect outfit for your little one.
8. Books
Bookworms who are on a budget prefer to settle for second-hand books instead of buying brand-new ones. If a book is popular enough, it is very likely to be found in the marketplace.
If you are a bookworm yourself and have lots of books that you no longer read, there are people willing to buy them from you. Most people think that selling these items won't make you rich, but Bryn, who travels the world, makes $140,000 in revenue by remotely selling used books on Amazon!
However, you won't reach that income instantly, but you have to start somewhere. Begin to sell from your own collection – at least you'll get to make some extra money clearing out some space on your shelves.
Remember your beloved "Where's Waldo?" books? Or how about your well-worn physics textbook? People would gladly buy those, especially when it's in good condition and there aren't any torn or missing pages.
Are you a master at flipping items? Well, have you considered diving into the world of bookselling? Believe it or not, some books are given away for free by their previous owners, and with enough time spent scouring the right platforms, you could strike gold!
And let's not forget about Facebook – the ultimate marketplace for underpriced gems just waiting for a savvy reseller like you to snatch them up and turn a quick profit.
Let me tell you about the time I spotted a complete Twilight book collection on Facebook Marketplace for only $10. I couldn't believe my eyes! I quickly checked the price of a brand-new collection on Amazon, and it was listed for a whopping $67. Talk about a goldmine for flippers like us!
If you want to make money from your passion for books, you'll definitely want to check my post on how you can get paid to read books!
9. Seasonal Items
Whenever the holidays approach, you should keep a close eye on your marketplace for an influx of seasonal items and decorations. Don't miss out on the opportunity to sell your own items during this time, as buyers are more likely to be searching for those trending products. With a bit of effort and timing, you can make a tidy profit from selling those items cluttering up your home.
Seasonal items could be:
Sun hats
Gift wraps
Beach outfits
Christmas tree
Halloween costume
Festive decorations
Christmas village miniatures
The key to selling seasonal items is to price them right – if you hit the sweet spot, they'll fly off the shelves. Buyers on marketplaces are looking for bargains, not new items they'll only use for a few days.
If selling isn't your thing, consider renting out seasonal items instead for a recurring passive income. You can rent out camping equipment, snow plows, beach umbrellas, hiking gear, and ski items to those in need. With the right approach, you can turn those seasonal items into a profitable source of income.
10. Gardening Tools
Springtime is synonymous with gardening and the tools that come along with it. However, smart buyers know that purchasing these tools off-season can be a smart financial move. As a result, sellers can capitalize on this demand and increase prices slightly.
If you have gardening tools like lawnmowers, garden rakes, pots, and wheelbarrows taking up valuable space in your garage, consider selling them on a marketplace. Just be sure you won't need them when Spring rolls around! These items tend to get overlooked when the season changes, so take advantage of the demand while you can.
In addition to tools, there's another surprising category that you can sell in the marketplace – plants! Nowadays, plants are not just for the garden anymore. They've become a popular design element for indoor spaces, whether it's in the living room, home office, or studio.
Plants do more than just make your living space look pretty! Plants can bring other advantages like improving air quality in the room, reducing stress, and supporting cognitive health. And no, we're not just talking about placebo effects here. There's actual research and studies that back up these claims! So, not only can you sell plants as a trendy home decor item, but you're also helping people improve their well-being.
11. Musical Instruments
Musical instruments are a common item found in many households. Perhaps you learned to play an instrument a few years ago, but now find yourself lacking the time to practice. This is a common experience for many people, and as a result, their instrument often ends up taking up space in their home.
Here are some instruments you can sell under this category:
Piano
Guitar
Violins
Drum set
Speakers
People who are interested in learning those instruments would buy second-hand items first because it's the cheaper choice. They'd upgrade to a newer item once they get the hang of playing it.
When selling these types of items, it's best to clean them first and make them presentable. Make them look shiny so that they don't appear overly used. You can also consider replacing the strings of your guitars and violins, which will make them more appealing to buyers since they won't need to be the ones replacing any missing parts of the instrument.
12. Collectibles
Facebook marketplace isn't only a platform for selling the usual items in the house, lots of collectibles can also be seen here. If you're a collector, try selling your items on this platform. I know, your go-to place for selling your collections is eBay, but there's no harm in trying another website.
There are actual collectors on Facebook who also buy things from the Marketplace. The most common items I see are:
Coins
Stamps
Toy figures
Funko pops
Comic books
Vinyl records
Trading cards
If you have a "grail" or a rare collectible, there are far better websites where you can sell it. However, if you need to make some quick cash, Facebook Marketplace isn't a bad choice.
This website is also a great place to discover underpriced gems if you flip collectibles. You can do arbitrage by buying from one platform and then selling it to another website for a higher price.
13. Pet Accessories
84.9 million or 67% of American households have pets. That's how large the industry you're selling for is when you decide to sell pet items. Additionally, the variety of animals that people keep as pets means that there's a diverse range of products that you can sell to meet their needs.
Some of the items you can sell on this market include:
Toys
Treats
Cages
Collars
Litter box
Pet bowls
Aquariums
Tiny swings
The list could be endless since you have a ton of pets to cater to. But for beginners, you can start by selling what items you have – just make sure it still serves its purpose.
Selling pet items can also lead to offering various pet services, which can serve as a lucrative side hustle. Some examples of services you can offer include pet grooming, walking, and daycare. The best part about these activities is that they are relatively low-cost, making it easy to get started with little investment.
14. Storage and Organization
Storage and organization products are among the fastest-selling items on Facebook Marketplace, as many households strive for a minimalistic aesthetic and seek affordable items to keep their belongings in order.
To capitalize on this market, you can sell the storage and organizers you currently own or purchase them in bulk from other websites. Be sure to price your items competitively and keep them within the range of similar products sold on the marketplace to maximize your chances of making a sale. By leveraging the popularity of storage and organization products, you can quickly turn unused items into cash and potentially even build a profitable business.
Examples of these are:
Bike racks
Trolly carts
Shoe racks
Shelf dividers
Stackable can racks
Grid wire hanging wall
Cable management box
Storage and organization products are highly sought after, not only for their practical uses but also for their aesthetic appeal. To showcase these items effectively on Facebook Marketplace, it's crucial to take clear and visually appealing photos. This can be achieved by using good lighting to highlight the product's attractive features. By highlighting the product's attractive features in your photos, you can entice potential buyers and increase the likelihood of making a sale.
15. Toys
Toys are another popular item to sell on these platforms, as they can often be purchased at a lower cost than their brand-new counterparts. In many cases, parents will check online marketplaces before heading to the retail store, as new toys can be pricey and may not last very long. This is why they usually settle for unopened boxes or used toys sold online.
I've personally come across unopened Hotwheels being sold at a steal price on the marketplace, presenting another arbitrage opportunity for flippers!
If you have used toys, you can sell them in batches or lots to make the deal sweeter. However, be sure to do a quick Google search to confirm that the toys or unopened boxes you're selling aren't collector's items.
You can also take the route of buying from physical stores and selling them for a profit online. Read how this shopper bought a $6 toy in one store and sold it for $150 online!
16. Vehicles
Though listing your used car on Facebook Marketplace might seem daunting, it's definitely one of the best things you can sell there. Dealing with paperwork is a given, but trading in at a dealership for its simplicity might not be the best deal. Dealers have profit goals, which can mean less money for your trade-in. You can surely get more cash for your car on Facebook Marketplace.
To maximize your chances on the Marketplace, it's so important that you have detailed listings with high-quality photos. All the information about your vehicle should be clearly stated. This includes the mileage, condition, and any modifications that the vehicle may have. These are all details that your potential buyer would want to know.
If someone is interested in your vehicle, they'd most likely want to take your car for a ride, so be prepared for a test drive. The test drive is a great opportunity for you to explain more about the car as well as build trust with your potential buyer.
One thing to keep in mind, though, is that you shouldn't expect your car to sell quickly. It might take time until you find the right buyer.
Tips For Selling On Facebook Marketplace
Most people would just list an item on Facebook and hope it sells. Unfortunately, if you'd like your items to get bought quickly, you have to put a little bit of effort into it.
Here are 5 tips on how you can effectively sell on Facebook Marketplace.
Tip 1: Take Quality Photos
You'd be shocked how many photos in the marketplace looked like they were taken in the early 2000s: low-quality, taken from a single angle, and not doing the items justice.
Trust me, you don't want to be those types of sellers. You need to take quality photos of your items if you want them to sell quickly. That's pretty easy to do, considering the default pictures that phones take nowadays are great.
One thing that helps in enhancing your photos would be using natural light. You can put your item in front of a window or a glass door where the light shows how magnificent your item is.
Tip 2: Do Your Research
It is your duty as a seller to do your research before selling an item on the marketplace. Search and browse the products you have on other platforms. Check their pricing, the images used, and the description – these will all help in making your listing better.
Some items don't sell faster than they should because the owner listed them at a high price. To not get into this situation, set your price a bit lower than your competitors (if you have any). This simple tweak will make buyers purchase your items over others. But, of course, if your item offers superior quality compared to others on the market, it may be appropriate to set a higher price. In this case, make sure to include details in the description explaining why your item is worth the extra cost.
Tip 3: Respond Quickly
Another crucial factor that can help you as a seller is responding promptly to inquiries. With so many other sellers available, it's easy for prospects to move on to the next one if you don't answer their questions quickly.
Keep your notifications on and be polite when answering. Even though some of the questions might already be in your description, just let it slide and answer them with respect. When the buyer feels that you're attentive and helpful, they will have more confidence in buying from you.
Consider offering a little freebie while you still have the buyer's attention. This can be a great way to incentivize them to message you and show genuine interest in your item. You never know – freebies can even be the deciding factor for a potential buyer.
Tip 4: Be Ready To Negotiate
Negotiations are a common occurrence on any selling platform. Even at in-person events like garage sales or exhibits, people will still try to bargain with you. But don't let it get you down! It's all part of the game. You don't have to get upset or annoyed when this happens. If you're open to lowering your price, strike up a conversation with the buyer and see if you can come to a mutually agreeable price.
It's important to stand your ground when it comes to your pricing. If you've set your price and you're not willing to negotiate, that's completely fine. You can politely let the buyer know that you can't go any lower and decline the negotiation with respect. You can also state in your description that the price is non-negotiable so buyers won't spend any effort on trying to contact you for bargaining purposes.
Tip 5: Market Your Items
Some sellers want to sell their items quickly but are not exhausting all of their options. Once you've listed your items on Facebook Marketplace, screenshot it and spread the word – share it on your Instagram and Facebook.
You can also share the link to your listing and post it along with the screenshot or the image. This way, people who view this will just need to click the link and they'll be directed to your items for sale.
Sharing your sold items on your socials will help in getting more eyes to your products. You might be surprised at the number of people in your network who are interested in what you're selling – your coworkers, your friends, and even your neighbors. And selling to people you already know can make the entire process a lot smoother and easier.
How To Sell On Facebook Marketplace
To get started selling on Facebook Marketplace, head over to the Home section of your account. On the left side of the screen, you'll see a range of different features available to you, including "Groups" and "Memories". Look for and click on the "Marketplace" option, which will take you to the home marketplace feed. If you're accessing Facebook on your phone, you'll find the "Marketplace" option located in the menu shown at the bottom of your screen.
Once you've clicked it, you'll be redirected to another home page where you'll see different listings posted. On the left side, again you'll see the different actions you can do. You can click on "Browse All", "Notifications", "Inbox", etc. Just continue going down that section until you reach "Create new listing" then click that.
Facebook will let you choose your Listing Type – is it "Items For Sale,"
"Vehicle For Sale," or "Home for Sale or Rent." Choose the option that fits your item the best.
After pressing, you can upload the photos of your item which is limited to only 10 photos. Under that, it has fields for you to input your "Title," "Price," "Category," "Condition," and "Description."
You can just skip the fields that are not applicable to your item. As you fill in these fields, they will appear on the right side of your screen – this shows what your listing would look like.
Facebook also asks about your Meetup Preferences, where you can select from Public Meetup, Door Pickup, or Door Drop Off.
After filling up all fields, you just need to hit the Publish button to make your listing live.
FAQs
What Items Sell Fast On Facebook Marketplace?
Almost any item above would sell fast on the platform but if I have to really pick from those things it would be kids' clothing. You can earn $500 in a day selling those things.
Kids' clothing sells fast because parents simply don't want to pay the full retail price of clothes only to see that their kids outgrow them in just a couple of months. To be smart parents and consumers, they would rather buy preloved baby clothes from someone near their place.
You can even bundle multiple items together to help them find a new home quickly. When buyers see that they're getting a great deal on a bundle of items, they'll be more likely to make a purchase without hesitation.
What Are Other Online Selling Sites and Marketplaces?
As the trend of online selling continues to gain popularity, an increasing number of alternative marketplaces to Facebook have surfaced. These platforms are taking advantage of the surge of sellers entering the digital space. To help you navigate these options, here are some of the most widely used online marketplaces:
OfferUp – With the ability to sell nearly anything from video games to health products, furniture, clothing, and more, OfferUp is a versatile platform.
Chairish – For those with high-end furniture to sell, Chairish is a marketplace catering to buyers with a penchant for expensive, vintage home furnishings.
The RealReal – This marketplace is an excellent option for selling luxury clothing and accessories.
Is it Worth Selling Things on Facebook Marketplace?
Turning to Facebook Marketplace for selling is often a smart move and worth it. All you really need are good things to sell on Facebook Marketplace. For instance, if you've got an old phone, you'll probably find local buyers in no time, saving you from shipping headaches. You can list stuff for free, from kids' stuff to gadgets. Messaging directly with buyers and seeing if you've got shared friends can be a bonus. Just be wary of shady deals and know there's no direct pay option. FB Marketplace has its perks, but it pays to stay vigilant.
Enjoyed this post? Don't forget to pin the image below! Also, don't forget to follow me on Pinterest over here! 🙂