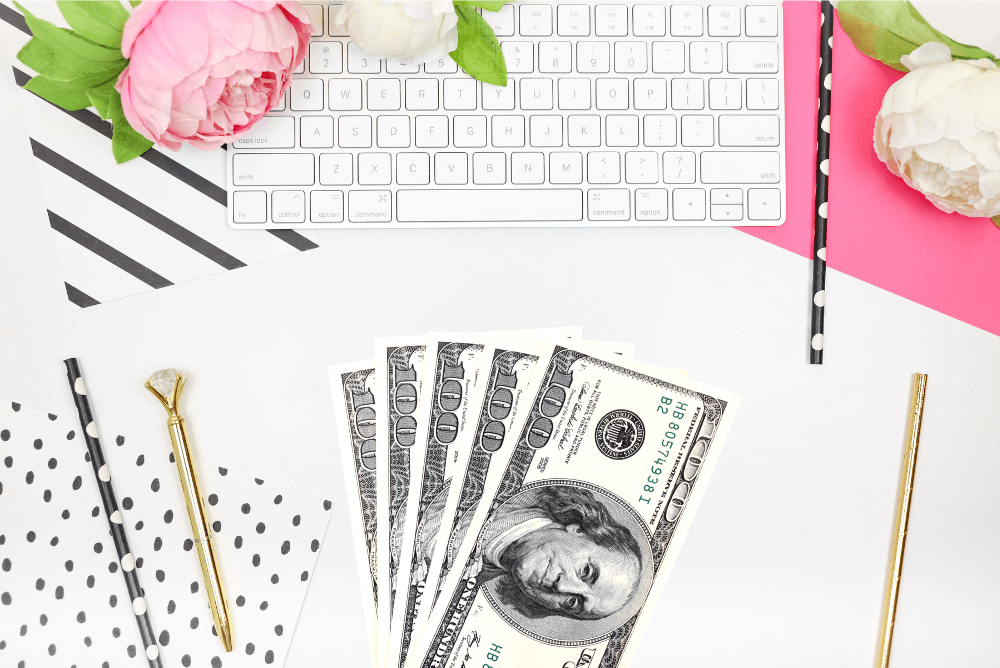 We will receive a commission if you make a purchase through our affiliate link at no extra cost to you. Please read our disclosure policy for more information.
Overwhelmed by a banking job I hated, I found myself constantly asking, "What to do when you hate your job?" but with determination and strategic efforts, I successfully created a new path for myself, earning an impressive $500 a day online!
Being able to make money online allowed me to quit my job!
To me, making an extra $500 a day sounds like a lot of money (and it is!) but I'm here to let you know that it's not mission impossible. When you put it into perspective, it's about $130,000 a year (with ~260 working days in a year) – which is doable for many people.
If you haven't hit the mark yet, don't worry. Here are some creative ways to make $300 a day so you can work your way up to the $500 mark. If you're up for the next challenge, try making $700 fast – even if it's not within a day or two, it's okay to aim for that target within a week or even a month.
⭐ Want to follow my online journey? Learn how I make $500+ per day online by using Pinterest! Don't miss out on one of my most highly-visited posts that gives you the inside scoop on how I earn a full-time living online:

👉 From Pins to Profits: How I Make Over $500 a Day on Pinterest! 👈 My readers can't get enough of this post – see why it's their top pick! 🤩
How To Make $500 a Day Online From Home and Offline
Yes, there are many day traders on Reddit making thousands of dollars a day, but what we don't hear are the days when they lose a lot of money. It's important to remember that the faster you try to make money, the greater the risk. So while it is possible to make $500 a day, you need to be clever and have a solid plan.
And once you've reached your goal of $500 a day, you may like the idea of increasing that bar to as high as making $1,000 in a single day.
I'm a strong believer that you shouldn't just chase the money, but rather do what you're passionate about – whether that's writing, cooking, web development, or whatever it may be. When you're doing something you love, the money will follow.
Most of these ideas will require you to put in some effort, but there are some simple and easy ways to make extra cash quickly for the week when you need cash now. Choose one or two methods from this list to start with and build up your income stream over time.
Here are my best ideas to help you get started!
1. Earn Money on Social Media like Pinterest
There's no denying that social media is one of the hottest topics these days. Whether we're talking about the latest news or just checking what our friends are up to, we're always on our phones scrolling through our social media feeds. And with over 4.7 billion active social media users in July 2022, there are a lot of opportunities to earn money on social media.
I never knew you could make a full-time income from social media until I started my own blog and learned how to make money from Pinterest.
I realized the potential of using platforms like Pinterest, Instagram, Facebook, and Twitter to drive traffic to my website and earn money with various monetizing strategies.
There are different ways you can make money on social media:
Become an influencer and get paid to promote products or services that you use and love.
Sell your own products or services like e-books, courses, or physical goods (e.g. workout clothes, jewelry, baby products).
Provide social media consulting services to small businesses or entrepreneurs that are new to the online space.
Run ads on your social media platforms to earn money on ads (about 50% of YouTubers' total revenue come from ads).
Become a social media manager to manage social media accounts for businesses.
Now, I'm not saying you're going to make big money on social media after reading this blog post. However, if you're serious about it and put in the time to learn, you can earn $500 a day from it.
You should specialize in a platform that you're most interested in and that you're good at. For example, if you're a great photographer, focus on Instagram. If you love to write, focus on Twitter or Facebook. Pinterest is great for all types of content, so that's where I choose to focus most of my efforts.
How I Make Money on Pinterest
When I was a regular Pinterest user, I pinned pretty furniture designs, DIY crafts, and home decor inspiration to my boards. But I had no idea that people actually made money from Pinterest by promoting their content and products on the app. I was shocked that I could make money from something that I enjoyed doing in my spare time!
As a brand new blogger, I knew that I had to get in on this and make use of Pinterest to get traffic back to my blog.
I didn't have any experience using Pinterest from a business standpoint, but I was willing to put in the time to learn it well. And I'm so glad that I did because now Pinterest is one of my biggest traffic sources and earns me a full-time income!
I'm not going to lie – I invested a lot of time and effort into learning Pinterest to get to where I am today. But this shows that if you're willing to put in the work, you can make a full-time income from social media too.
I documented my blog's journey from $0 to over $25,000 per month in my raw and honest blog income reports. You'll see how much I struggled at the beginning when I was barely making any money. But with time and persistence, my blog's traffic and income increased significantly.
2. Make Money Blogging
I want to share my personal story with you so that you know it is possible to make money blogging.
Just several years ago, I was working at my corporate job making a decent salary (+benefits and bonus) that allowed me to live a comfortable life. It was a comfy office job and the hours weren't terrible, but I wasn't happy.
There was something missing. I didn't feel like I was doing what I was meant to do with my life.
I had a burning desire to work for myself, be my own boss, and make a difference in the world. But I had no idea where to start or what that would even look like. All I knew was that I wanted out of the rat race.
At that time, the concept of making money and blogging online was completely foreign to me. I only discovered this option after researching ways to make extra money online. I was in disbelief but also intrigued – how could people make money just by writing online?
After following some amazing women who were doing just that – making a living from their laptops by blogging – I knew that's what I wanted to do too.
Start a profitable blog
I started my first blog in 2018 as a hobby while still working my full-time job because it was a very cheap hobby to start with very little investment. It cost less than a cup of latte a month.
I told myself that if I ever made any money from it, great! If not, no big deal, at least I tried it. Life is all about experimenting and taking risks, after all.
I wrote about things I was passionate like personal finance and ways to make extra money. I loved the fact that I could help people save money and be more financially independent.
Within 18 months, I started seeing some traction and organic traffic coming to my site. And shortly after my one-year blogging anniversary, I was making $5,532/month from my blog – which was more than my monthly rent!
Here's a quick example of how much I earned each day from multiple sources of affiliates (on average $500 a day), and this doesn't even include the total blog income I earned from many other avenues.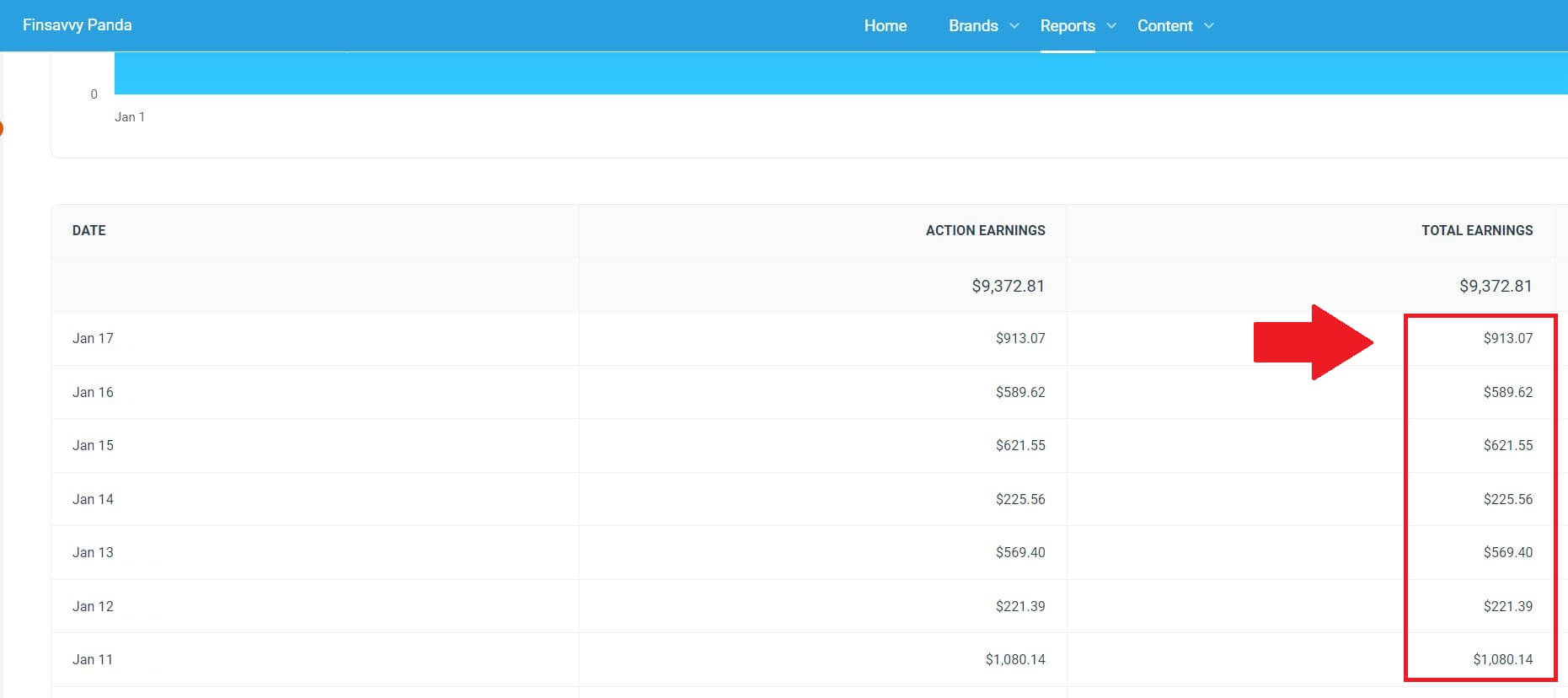 But it wasn't all rainbows and butterflies at first. It was a slow start as I was still trying to figure out this whole blogging thing. And, I'm not going to lie to you – it took a LOT of hard work, dedication, and time to grow a successful blog.
How to make $500 with a blog
I had to learn different ways to make money blogging, like how to get paid to advertise, how to make money with affiliate marketing, how to make and sell digital products, and more.
For example, with display ads, you get paid every time someone sees or clicks on an ad on your site. And with affiliate marketing, you get a commission whenever someone buys a product or service that you're promoting.
It was a steep learning curve, but I was motivated to make it work because I loved it so much and wanted to quit my job.
And now, my blog generates over $200,000 a year, earning more than $500 per day! (Yep, I quit my job to become a full-time blogger)
I'm not here to brag, but to show you that it is possible to make money blogging – even if you're starting from scratch with no experience. If I can do it, you can do it too!
You can start a blog about literally anything you want. Just pick a topic you're passionate about and start writing!
For example, some popular blog topics include:
Parenting
Health and Fitness
Recipes
Home Décor
Fashion
Beauty
DIY Projects
Travel
Personal Finance
The list goes on and on! Just choose a topic you're knowledgeable about or want to learn more about and start sharing your insights with the world.
If you don't know where to start, check out my FREE 7-Day e-mail course to learn how to start a profitable blog. It walks you through the entire process, step-by-step. And it's completely free!
3. Make $500 a day sending emails
So, I know this may sound quite odd, but it's true – you can earn $500 a day by sending emails from home.
I manage this because I run a blog accompanied by an email newsletter.
Beyond generating income through display ads, affiliate marketing, and selling products directly from my blog, I also monetize an email list of subscribers.
One day, I simply sent an email updating my readers about my recent activities, including a minor update to one of my products.
I wasn't trying to push sales or anything—it was just a friendly chat. To my surprise, many of them were interested in the product, and that day, thanks to their support, I made a little over $500 from my email list.
You can see in this screenshot that I earned $515.00 on that day: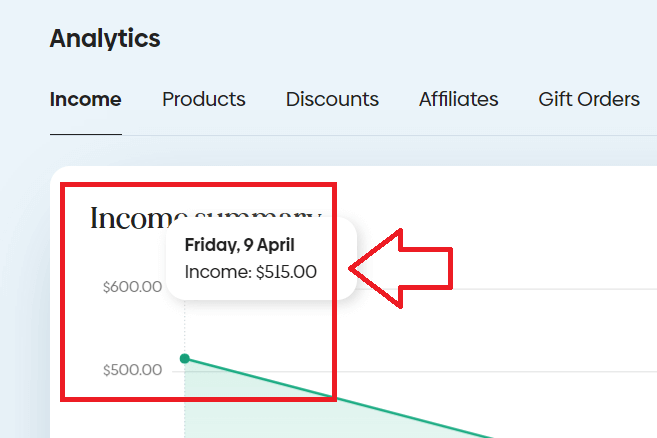 Here's how it works: I send out a weekly newsletter. This may or may not include promotions for my products, but I always aim to be as helpful as possible in addressing their problems. Once subscribers trust my advice and recommendations, they often become interested in purchasing items from my online shop.
For instance, here are some products featured on my blog:
With a diverse range of products like these, I regularly communicate with my email subscribers, informing them about these offerings.
When they identify something that they believe will benefit them, they make a purchase.
As you can see, the money I make from sending emails is different from the money I get from sending traffic to my blog!
If you are interested in learning how to start a blog of your own so you can make money from the comfort of your home, then you can join my FREE 7-day e-mail course on how to start a profitable blog for total beginners!
4. Get Free Money with Sign Up Bonus Offers
While you can't consistently earn $500 daily with this strategy, this is one of the easiest ways to make an extra $500 fast because it requires very little effort on your part.
There are legitimate companies and websites that will give you free cash just for signing up for their service or trying out their product. It's free money just for giving something a shot!
Businesses do this because they are trying to grow their user base and they know that the best way to do that is by offering freebies.
For example, Ally Invest will give you a $250 bonus for opening an account and making a qualifying deposit within 60 days. It's a pretty enticing deal if you're trying to get started with investing. Since it's right in front of you, then you may as well just grab their $250 bonus to help kickstart your investing journey.
To get another $250 or more, simply apply for a new credit card and make a qualifying purchase within the first 3 months. Credit cards like Chase Sapphire Preferred will offer sign-up bonuses worth $200, $300, or even $500! Just make sure to pay off your balance in full every month so you're not paying any interest on your purchases.
If you're planning on making a large purchase or traveling anyway, why not get free money to do it? Always read the terms and conditions of each offer before you sign up to make sure you understand what you're agreeing to.
There are also leading websites like Swagbucks and MyPoints that will give you a $10 sign-up bonus for creating an account. They offer cash back on online purchases, taking surveys, watching videos, and more. You won't get rich doing this, but they're easy ways to earn some extra cash in your spare time.
The point is to take advantage of sign-up bonus offers as much as possible to quickly boost your earnings.
5. Do Side Hustles
I honestly never thought of making $500 a day through a side hustle but after going through a series of trial and error, I eventually learned a lot and knew that it could be possible. It just takes one idea and a whole lot of persistent to eventually pursue that one side hustle you enjoy doing
Yeah, sure, when you're off work, it's easy to lean back and relax or watch TV. But if you need money this week to cover some bills or make a purchase, you need to start hustling!
Money doesn't just appear out of thin air – you have to go out and earn it. Why would you expect your life to improve unless you're committed to taking action and working towards your goals?
I literally tried so many side hustles to earn extra money from home including starting my own blog. I even remember being naive and thought it couldn't be that hard, but it was! Hard not because the tasks were actually difficult to do, but because there were a gazillion things I didn't know about before starting a blog. This actually applies to whatever side hustle you want to pursue. However, I was serious about it and determined to make my dreams a reality by putting in the extra work to make it happen.
Despite all the ups and downs I went through, I was able to quit my job and make a full-time income from my blog.
If I had to start all over again hunting for that perfect side hustle idea, I would say try several things to see what you like and don't like. Find something you're passionate about or that you're good at, and start hustling. Here are a few popular side hustles that can help you make an extra $500 fast:
Tutoring online – if you have experience teaching or are knowledgeable in a particular subject, you can sign up to be an online tutor. High-paying online tutoring websites like WyzAnt and Varsity Tutors allow students to connect with tutors from all over the world. You can set your own hours and rates, and earn extra cash while helping others learn.
Photography – dust off your old DSLR camera and start taking pictures! You can sell your photos online on sites like Foap and Shutterstock. If you take high-quality photos, you can easily make a few hundred dollars a day working as a wedding photographer or taking family portraits.
Fitness training – many people need help getting into shape. If you're passionate about fitness and helping others, you can start your own personal training business or offer your services as a fitness instructor. You can also become a certified nutrition coach and help people eat healthy and reach their fitness goals.
Flipping things – bargain hunters can make a lot of money flipping things like furniture, electronics, and clothes. You can find great deals at garage sales, thrift stores, and even on Craigslist. Once you find a good deal, invest some money to fix it up and sell it for a higher price.
These are just a few to get you started – there are endless possibilities when it comes to side hustles. When you're determined, nothing can stop you.
6. Launch an Online Business
Opening a physical store is expensive and involves taking on a slew of risks. You can reduce those costs and risks by starting an online business instead.
The obvious benefit of online stores is that you don't have to worry about the high costs of renting a place, holding inventory, and training staff. You can also reach a global market with just a few clicks – something that would be impossible with a brick-and-mortar business. Today's technology allows you to quickly and easily set up an online storefront with very little overhead.
For example, you could start an e-commerce store of your own using Shopify or WooCommerce. You can sell physical products, digital products, or a combination of both. Subscription boxes are extremely popular – you can curate boxes of products related to a certain theme or niche and send them out to customers on a monthly basis. This is a great way to build a loyal customer base and earn a consistent income.
Another option is to start a dropshipping business, where you sell products that are shipped directly from the supplier to the customer. Unlike traditional businesses, you don't have to hold any inventory or worry about shipping logistics. Your job is to market the products and take care of the customer service. This business model is low risk and has a high potential for profitability.
Not interested in e-commerce? You could also start a profitable blog, YouTube channel, or podcast. As you build up a large enough following, you can monetize your platform by selling advertising space, sponsored content, or promoting your own products and services. This requires time and effort, but it can be a very lucrative way to make money online.
7. Monetize with Affiliate Marketing
Managing products isn't for everyone. If you're not excited about dealing with the hassle of inventory and shipping, then you can earn a full-time income through affiliate marketing. You could potentially earn 500 per day working from home!
Affiliate marketing is a commission-based sales model, where you earn a commission for every product that you sell.
Think of the time that your friend told you about a great new product and you bought it because you trust their opinion. That's what affiliate marketing is – recommending products that you believe to people who will value your opinion.
For example, if you have a blog or a YouTube channel about running shoes, you could become an affiliate for a running shoe company. When someone clicks on one of your links and makes a purchase because of your recommendation, you earn a commission.
It's a win-win situation. The company gets more sales and you get to earn money via commission. And the best part is, you don't have to deal with any of the product stuff! All you need to do is send people to the company's website.
Affiliate marketing is one of the best ways to earn a passive income to quit your job, and it can be very profitable if you do it right.
8. Make money with Airbnb
Investment properties, whether they're single-family units, duplexes, or triplexes, are a solid way to build passive income.
But if you're aiming to pull in upwards of $500 a day, starting an Airbnb business might just be a juicier deal.
Sure, it can be a cash cow with those high rents, and who knows? Your property's value might even skyrocket.
But let's get real: running an Airbnb is no cakewalk. It demands way more hands-on attention than renting out to a family. With guests constantly coming and going, endless questions to field, and inevitable messes to tackle, is it worth the hustle? Perhaps. But it's crucial to know what you're diving into.
9. Flipping homes
Imagine giving a worn-out home a dazzling makeover and then playing matchmaker with eager buyers. That's the allure of real estate flipping: buy low, revamp, and sell high.
What's the catch?
You've got to have a sixth sense for spotting those hidden gems in the property market.
Post-purchase, it's transformation time — from fresh paint to full-on overhauls, all to ramp up its curb appeal. But it's not just about a makeover; sharp marketing skills, think Instagram-worthy staging and crisp photography, seal the deal. Selling swiftly is the golden ticket, especially with ticking property expenses.
While flipping could fill your pockets with an enticing $500 daily, it's not all sunshine. Unplanned repair costs, market twists, or an optimistic valuation can rain on your parade. That's where thorough research, a tight-knit crew, and a backup budget come to the rescue.
10. Become a Freelancer
This economy is full of opportunities for those who are willing to work hard. And thanks to the gig economy, it's easier than ever to find flexible, short-term work that pays well. By 2027, it's expected that about 50% of the U.S. workforce will be freelancers.
The allure of freelancing is simple – you get to be your own boss, set your own hours, and work from anywhere in the world. If you're good at what you do, you can charge a premium for your services.
As the digital world continues to grow, the demand for freelancers who can do things like web design, social media marketing, and content writing will only increase.
Here are some highly sought-after skills that you can use to start freelancing:
Web design – businesses of all sizes need an attractive and user-friendly website. If you have experience with web design, you can offer to build websites for clients.
Graphic design – from creating logos to designing social media posts, businesses need graphic designers to help them visually communicate their brand.
SEO – search engine optimization is a complex and ever-changing field, but every business wants to rank higher in search engine results.
Copywriting – if you have a way with words, you can start offering your services as a copywriter. You'll be responsible for creating compelling marketing materials like website copy, email newsletters, and social media posts.
If you have any of these skills or are willing to learn them, you can start freelancing and earn a great income online.
There are a number of ways to find freelancing gigs. You can use job boards like Upwork and LinkedIn or you can reach out to businesses directly. For beginners, a good start is to offer your services on Fiverr and slowly build up your portfolio and reputation.
Freelancing sounds amazing, but it's not for everyone. It can be tough to find consistent work, and you may have to sacrifice some of the stability and benefits that come with a traditional job.
11. Make Money with Apps
Listing your services on apps like Airbnb, TaskRabbit, and Lyft can be a great source of extra cash. And with the rise of the sharing economy, there are more ways to earn than ever before.
Although you may not be able to make $500 daily by using apps, you can certainly make some extra money each month. And if you're lucky, you may even find a long-term gig that can replace your current income.
Here are some of the most popular apps that can help you make money:
Airbnb – if you have an extra room in your house or apartment, you can list it on Airbnb and get paid when people stay there.
Uber – become a Uber driver and earn money by giving people rides.
Postmates – deliver food and other items to people in your city.
Instacart – become an Instacart shopper and earn money by grocery shopping for busy people.
TaskRabbit – TaskRabbit is a great app for finding odd jobs like furniture assembly, dog walking, and more.
Turo – this is an app that lets you rent out your car when you're not using it.
Neighbor – rent out your space (i.e. spare room, garage, basement) to people looking for a storage room.
Decluttr – clear your home by selling your used or unwanted items for cash.
Poshmark – an online marketplace where you can sell your used clothes, shoes, and accessories.
Facebook Marketplace – another online marketplace where you can sell just about anything.
Try different apps and see which ones work best for you. You likely find yourself using a few different apps to make the most money possible.
12. Find Odd Jobs in the City
When you have everything planned and the person that's supposed to help you cancels on you, it can be really frustrating. But what if there was a way to get paid for being that person's backup?
Scenarios like moving in furniture for a friend or painting someone's living room happen all the time, so there's definitely a demand for odd jobs. And since most people don't want to hire expensive professionals for these types of jobs, they're willing to pay someone else to do them.
Odd jobs that are in high demand include:
Furniture assembly – many people buy furniture online, but they don't always have the time or ability to assemble it themselves. If you're good at putting together furniture, this can be a great way to make some extra cash.
Painting – hiring a company to paint a home or apartment can cost a homeowner couple thousand of dollars. They would rather pay you several hundred dollars to paint 2-3 rooms for them.
Yard work – mowing lawns, raking leaves, and shoveling snow are all common yard work tasks that people dread, but they are money-making opportunities for you.
Cleaning – whether it's cleaning someone's home or office, there's always a demand for cleaners, especially for short-term rentals like Airbnb.
Handyman work – fixing leaky faucets, unclogging drains, and patching holes in walls are all examples of handyman work that people are hiring for.
Moving – many people don't have the time or ability to move all their belongings from one place to another. This is where you come in and charge by the hour to help them move.
Make-up service – doing someone's make-up for a special event or photoshoot is another service that people are often willing to pay for.
To find odd jobs in your city, search on Craigslist or ask around for recommendations. After you complete a job, don't be afraid to ask for a positive review from the person you did the job for. This will help you get more odd jobs in the future.
13. Invest Your Money
Want other passive income ideas? Well, I can say that investing your money is one of the best ways to make passive income. This is money that you make without a job or having to do any work.
You don't need a lot of money to start investing. You can open an online brokerage account with Robinhood or Fidelity for as little as $500. And once you're invested, your money will start working for you by earning interest or dividends.
You can buy stocks of individual companies (i.e. stock picking) that you believe will be successful. As the company grows, so will the value of your shares.
However, stock picking is extremely difficult and risky, so it's not recommended for beginners.
A better option for beginners is to invest in a low-cost index fund. This is a fund that tracks a wide range of stocks, so you're diversified and less likely to lose money if one stock goes down.
You can also invest in real estate.
This can be done by buying a property and renting it out but it's hard work to become a landlord.
An easier way to invest in real estate is through a real estate investment trust (REIT). This is a company that owns and operates income-producing real estate so you don't ever have to deal with tenants. You can buy shares of a REIT just like you would buy shares of a stock. When the value of the properties owned by the REIT increase, the shares that you bought will be worth more.
Investing is a strategy that you need to learn if you want to build long-term wealth. Put your money to work and let it make more money for you. This is what investing is all about.
But it's important to remember that there are risks involved. So don't invest all your money into one investment and always diversify your portfolio.
14. Create Your Own Digital Product
Current times have created the rise of the creator economy as more people turn to the internet to learn new things.
If you aren't familiar with the term, it's used to describe people who create digital products and content on the internet and sell it to their audience. These are your influencers, thought leaders, and favorite online entrepreneurs.
Now you might question that if you were to make money from this niche, do you need millions of followers?
No, you don't.
You only need a few loyal ones that love what you teach and preach on your platform.
I don't have millions of followers and yet I am part of the creator economy. This blog serves as my platform and my posts are my content.
I've been creating digital products for my readers like this free start a blog course including my paid products — the beginner's blogging e-book guide and Pinterest traffic course to help readers earn more online.
You could do the same with whatever topics you're good at. All you need to do is choose a profitable niche when you start your blog to sell digital products.
If you don't have any ideas about what digital product to make, check out these ideas below:
Ebooks
There are creators out there that have made five to six figures just by creating an eBook.
Your followers would pay good money if you condense all your ideas and knowledge into a single resource. Just like what I did with my digital products, and you can see in this screenshot that I was able to earn as high as $200, $500, or even $1,000 a day just by selling my own creations on my blog!


Do you have a ton of healthy cooking recipes that every gym lover would like? You can compile all of it in an eBook!
Online courses
The majority of people love to learn through videos. It's much more engaging and you can explain things clearly.
Let's say you're a yoga instructor, you'd be more effective teaching through videos than written content. You would most likely show how certain positions are done with the body rather than explaining it with pictures and text.
Subscription services
An example of this would be a paid newsletter.
This one's often overlooked but a newsletter is one way to build an audience and upsell your other digital products to your readers.
If you think this is not worth your time, remember that Hubspot acquired The Hustle – a company that makes newsletters and podcasts – for $27 million.
Other digital products include:
Music
Software
Digital art
Templates
Audiobooks
Photo presets
Web applications
Coaching services
15. Sell On Etsy
Looking for how to get 500 dollars fast? Etsy is one of your best bets to achieve this. It's perfect for people who sell handmade items.
The platform's been around for years but it's still proven relevant as creators turn Etsy side hustle into million-dollar businesses.
Setting up an online store on the platform is easy, fast, and cheap. It doesn't take you weeks to build one. You have plenty of choices in terms of the products to sell here.
Handmade items – These are your stickers, jewelry, pendants, paper designs, and crafts. Any product made by you is listed here. If you did work with a production partner, Etsy asks you to disclose it on your listings.
Vintage items – For an item to be considered vintage, Etsy shares that it should be at least 20 years old. Products here could be old furniture, old telephones, typewriters, coffee crates, and paintings.
Services – Sellers on Etsy aren't limited to physical products. They can sell a service but it should produce a new tangible item. You could even do some Tarot or psychic reading for users.
Etsy is just a fun platform to be on. You'll see different types of products that can give you ideas and get your creative juices flowing.
16. Start A Youtube Channel
When we see big Youtube stars flexing their income, we only see the tip of the iceberg.
What we don't get to see are hours of hard work and years of talking to no audience.
Mr. Beast's journey to the top was a long one, it took him 10 years to become the biggest Youtuber right now. It took him various trials and errors to know the type of content that was perfect for him.
As you start your Youtube career be ready to grind for years to get your subscriber count growing. You would undergo different phases as a content creator to find the category you feel comfortable in.
If you're wondering if being a Youtuber is worth pursuing, ZipRecruiter reported that a Youtuber's average annual salary would be $60,000 per year.
To give you an idea of where to start. Here are 10 popular niches on Youtube that are seen as profitable:
Vlogs
ASMR
Comedy
Docuseries
Video games
Challenge videos
Making money online
Shopping sprees/Hauls
Tutorials and Educational content
Personal Finance and Investments
A good place to start is to create content that's in line with your interests and passion.
Why? Because it's going to make the content creation process a lot simpler and more fun on your end.
17. Rent Out Assets
Renting is a popular passive income for many.
If you have something in your possession that you often don't use, consider renting it to others.
Almost anything can be rented nowadays. Take this 32-year-old sales professional who rents out his two boats to customers and earns close to $40,000 per month – that's a five figure passive income!
And how much time does he need to put in? A measly 30 minutes per day – and it's just for managing bookings.
You don't need to have a boat to make a side income from renting. You can start off with something small.
Are you thinking "I need $500 now"?
Start renting out your car. Turo and Hyrecar are companies that allow you to rent out your car for a certain rate.
Don't have a spare car?
How about a camera? KitSplit is a platform that can make you money by renting out your camera and other gear to its community.
Just as long as you have an item that's needed by someone or a group of people, know that it can be rented.
The most common thing to be rented out would be property. Heck, it's exactly what I do. I rent out my separate unit and that helps me cover my entire month worth of mortgage! Yes, house-hacking is a thing, and you could practically live for "free" if you're willing to become a part-time landlord.
Do you have an extra room? Or an apartment? Those can give you around an extra $5,000 per month depending on your location, size, and space.
Even a simple storage in your compound can be up for rent. Some of your neighbors who love to hoard stuff will gladly rent that space from you.
18. Flip Your Belongings
Sometimes you're so worried about what jobs to do to make $500 in a day that you're forgetting that you have valuable stuff that you don't use.
Think about all the clothes that you don't wear anymore.
Some of them are still wearable and there's a market for preloved clothes. There are tons of websites wherein you can sell your clothes online.
If you have designer clothes and branded ones, it's best to list them on TheRealReal or Vestiaire. To make sure you use the right platform, check out my list of the best apps to sell your clothes.
Do you have your own arts and crafts that you want to sell? Try Etsy. Yes, I already mentioned Etsy, but I love her so much that I couldn't help but to repeat it here.
Take a look at how this artist uses Etsy as another platform to sell her paintings and make around $22,000 per month.
Your old shoes and bags can be flipped in today's landscape as well. I've sold a couple of my luxury handbags before when I needed to make extra money. I sold them for $2,000 each!
There are a lot of other items that you can flip. Start now and look for things that you don't need anymore.
Want to be hardcore flippers? Look for used and old items, restore it to its former glory, and sell it online!
That's how this couple makes a thousand dollars a month by flipping furniture. They've also built a following online since they show they restore these items. Even, I had tried flipping my own furniture and earned an extra $500 to $2,000 a month prior to starting this blog. It's a lot of sweat equity but fun and worth the extra moola!
Tips On How To Make $500 A Day
Reading all of this at once may be overwhelming and you might not know where to start. Pick one that interests you and try it out to see if it's something that you can see yourself doing long-term. And if it's not, move on to the next one. Keep trying new things until you find something that works for you.
The most important thing is to take action and get started. It won't happen overnight, but if you're consistent and take actionable steps each day, you can definitely earn $500 daily.
Here are some tips to keep in mind if you want to make $500 a day.
1. Choose a method that scales
When you're first starting out, it's important to choose a method that can be scaled. That way, as you make more money, you can reinvest it into your business to help you make even more money. If it requires your time to make more money, then it's not scalable and it's not a good option.
2. Set a realistic goal
It's important to set a goal of how much money you want to make each day. This will help you stay focused and motivated. Don't expect to make $500 your first day. Start with a goal of $100 a day and then work your way up.
3. Stay disciplined
Don't get discouraged if you don't make as much money as you want right away. It takes a ton of time and dedication to earn a huge amount of money. Stay disciplined and keep working hard and you will reach your goal.
4. Be patient
No one gets rich in a matter of days or weeks. It takes time to build up a business so be patient and don't give up. Keep pushing forward and eventually, you will see the money come in.
5. Invest your money
Saving money alone will not make you rich. You need to invest your money if you want to build long-term wealth. Invest in stocks, and real estate or re-invest the money back into your business.
FAQs: Making $500 a Day
Step right up to my FAQs section, where curiosity meets wit in the quest to make $500 a day. I've handpicked the juiciest questions and seasoned them with my personal insights and experience. So, let's unravel the mysteries of financial success together – with a smile, of course!
Is it hard to make $500 a day?
Although it can be hard to make $500 a day, I can say from experience as a blogger that it is definitely attainable.
Before I achieved that $500 per day target, I earned nothing at first. That $0 slowly turned into my first $100 for the month!
In fact, that first $100 gave me hope, and deep inside of me, I knew I could turn that into my first $100 a day, $200 a day, $300 a day, and so on.
Despite the initial struggle, what I can say is if you're willing to work hard and maintain your focus, you can achieve earning $500 a day.
But don't make $500 a day your first goal. What about making $500 a month as your initial goal and slowly working towards your desired result?
During your progress, it all comes down to identifying your abilities, managing your time effectively, and adhering to a clear game plan.
Remember that every person's journey is different, so don't compare your first step to someone else's 100th step. Continue to go forward, learn, and make necessary adjustments.
You have the power to achieve your goals if you have courage and perseverance!
What is the easiest way to make $500?
I thought the same thing before I knew anything about making money online – "how can I make $500 fast?"
Initially, what I did was not passive. I was decluttering my wardrobe, making furniture to sell, crafting cards and small gifts for the holidays, etc. I was active and found many things that you could sell for fast money.
That didn't last very long as I ran out of things to sell at home. Plus, I didn't like the fact that everything was so "hands-on".
So, what did I do next?
Well, I can see the easiest and most consistent way to make $500 a month, a week, or even a day, is through writing a blog.
Yes, if you ask me today, I consider blogging the most fun way of earning!
However, just like anything that's worth it, gaining authority or a set of readers doesn't happen overnight. It's earned through consistency, accepting your past mistakes, and learning how to be valuable in your niche.
I started out with zero experience and zero readers. But I stayed consistent until I made my first $100. When I hit the $500 to $700 mark after a few months, I wrote a blog about it and shared it with my readers.
You can do the same with your passion regardless of what it is. It's like working out and being fit at the gym. When you keep pushing regardless of no to low results at the beginning, you'll be amazed at how your body transforms gradually over time without you even realizing it.
The same goes for making $500 a month or day in your financial journey. You'll earn $50 to $100 at first, but that will grow to $500 or more as you progress. In no time, you'll start seeing five figures enter your bank account.
How Can I Make $500 a day in passive income?
If you're searching for ways on how to make $500 in passive income, I have two answers for you – blogging and renting out your assets.
Most would answer by having investments in the stock market. I have nothing against it but it will take some time for assets to appreciate. It might take 5 – 7 years to see some significant gains as an investor.
If you'd like a passive income that can help you earn in months, I highly recommend that you start a blog and look for assets you can rent out.
A blog could make you money through something called affiliate marketing. This is one of my favorite ways to make money online, and it is one of the main sources of how bloggers earn passive income today.
As for renting, finding people to rent your assets just needs a bit of networking and marketing. As long as your asset is needed, it can print you money almost every week.
How can I make $500 a day in 20 minutes work?
Can you believe this question? I'm surprised at how many people think this way!
So, I'm going to get real with you: unless you're opening a new bank account with a sweet bonus, having a chat with your insurance company for some tough negotiations, or diving headfirst into high-risk day trading, the likelihood of making that kind of money so quickly is next to zero. Or, maybe if you have been collecting vintages or special edition sneakers for years, you can rake up cash in an instant by finding the best places to sell your special shoes.
We live in a tough world today, and life isn't a get-rich-quick extravaganza. It's easy to be lured by shortcuts or immediate solutions (trust me, I've been there), but after weathering scams and deception, I've come to realize that genuine success is rooted in unwavering dedication, perseverance, and clever tactics.
It was when I truly recognized that making $500 a day meant transforming my habits and genuinely committing to the work, that I experienced a real shift in my life. I won't sugarcoat it – it wasn't all glitz and glam. But embracing that reality paved the way for authentic, enduring success.
Now, if I ever bump into a genie offering that sort of deal, I'll be sure to let you know! Until then, focus on sharpening your skills, hunting for opportunities, and staying true to your goals – that's where the real magic happens.