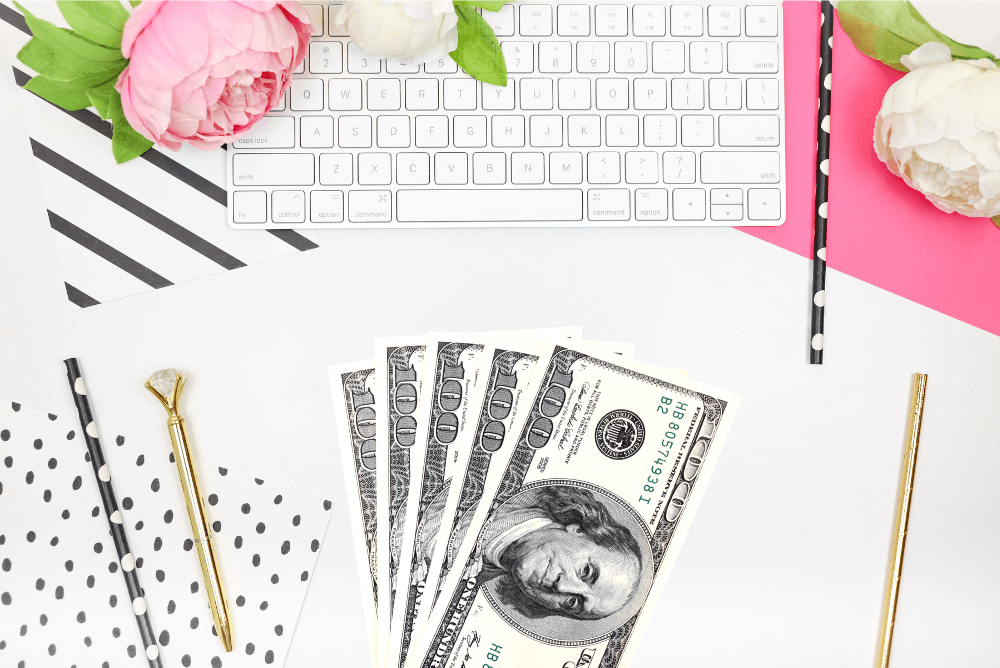 We will receive a commission if you make a purchase through our affiliate link at no extra cost to you. Please read our disclosure policy for more information.
Making an extra $500 a day sounds like a lot of money (and it is!) but it's not impossible. When you put it into perspective, it's about $130,000 a year (with ~260 working days in a year) – which is doable for many people.
If you haven't hit the mark yet, don't worry. Here are some creative ways to make $300 a day so you can work your way up to the $500 mark.
Yes, there are many day traders on Reddit making thousands of dollars a day, but what we don't hear are the days when they lose a lot of money. It's important to remember that the faster you try to make money, the greater the risk. So while it is possible to make $500 a day, you need to be clever and have a solid plan.
And once you've reached your goal of $500 a day, you may like the idea of increasing that bar to as high as making $1,000 in a single day.
I'm a strong believer that you shouldn't just chase the money, but rather do what you're passionate about – whether that's writing, cooking, web development, or whatever it may be. When you're doing something you love, the money will follow.
Most of these ideas will require you to put in some effort, but there are some simple and easy ways to make extra cash quickly for the week when you need cash now. Choose one or two methods from this list to start with and build up your income stream over time.
Here are the best ideas to get you started!
1. Earn Money on Social Media like Pinterest
There's no denying that social media is one of the hottest topics these days. Whether we're talking about the latest news or just checking what our friends are up to, we're always on our phones scrolling through our social media feeds. And with over 4.7 billion active social media users in July 2022, there are a lot of opportunities to earn money on social media.
I never knew you could make a full-time income from social media until I started my own blog and learned how to make money on Pinterest.
I realized the potential of using platforms like Pinterest, Instagram, Facebook, and Twitter to drive traffic to my website and earn money with various monetizing strategies.
There are different ways you can make money on social media:
Become an influencer and get paid to promote products or services that you use and love.
Sell your own products or services like e-books, courses, or physical goods (e.g. workout clothes, jewelry, baby products).
Provide social media consulting services to small businesses or entrepreneurs that are new to the online space.
Run ads on your social media platforms to earn money on ads (about 50% of YouTubers' total revenue come from ads).
Become a social media manager to manage social media accounts for businesses.
Now, I'm not saying you're going to make big money on social media after reading this blog post. However, if you're serious about it and put in the time to learn, you can earn $500 a day from it.
You should specialize in a platform that you're most interested in and that you're good at. For example, if you're a great photographer, focus on Instagram. If you love to write, focus on Twitter or Facebook. Pinterest is great for all types of content, so that's where I choose to focus most of my efforts.
How I Make Money on Pinterest
When I was a regular Pinterest user, I pinned pretty furniture designs, DIY crafts, and home decor inspiration to my boards. But I had no idea that people actually made money from Pinterest by promoting their content and products on the app. I was shocked that I could make money from something that I enjoyed doing in my spare time!
As a brand new blogger, I knew that I had to get in on this and make use of Pinterest to get traffic back to my blog.
I didn't have any experience using Pinterest from a business standpoint, but I was willing to put in the time to learn it well. And I'm so glad that I did because now Pinterest is one of my biggest traffic sources and earns me a full-time income!
I'm not going to lie – I invested a lot of time and effort into learning Pinterest to get to where I am today. But this shows that if you're willing to put in the work, you can make a full-time income from social media too.
I documented my blog's journey from $0 to over $25,000 per month in my raw and honest blog income reports. You'll see how much I struggled at the beginning when I was barely making any money. But with time and persistence, my blog's traffic and income increased significantly.
2. Make Money Blogging
I want to share my personal story with you so that you know it is possible to make money blogging.
Just several years ago, I was working at my corporate job making a decent salary (+benefits and bonus) that allowed me to live a comfortable life. It was a comfy office job and the hours weren't terrible, but I wasn't happy.
There was something missing. I didn't feel like I was doing what I was meant to do with my life.
I had a burning desire to work for myself, be my own boss, and make a difference in the world. But I had no idea where to start or what that would even look like. All I knew was that I wanted out of the rat race.
At that time, the concept of making money and blogging online was completely foreign to me. I only discovered this option after researching ways to make extra money online. I was in disbelief but also intrigued – how could people make money just by writing online?
After following some amazing women who were doing just that – making a living from their laptops by blogging – I knew that's what I wanted to do too.
Start a profitable blog
I started my first blog in 2018 as a hobby while still working my full-time job because it was a very cheap hobby to start with very little investment. It cost less than a cup of latte a month.
I told myself that if I ever made any money from it, great! If not, no big deal, at least I tried it. Life is all about experimenting and taking risks, after all.
I wrote about things I was passionate like personal finance and ways to make extra money. I loved the fact that I could help people save money and be more financially independent.
Within 18 months, I started seeing some traction and organic traffic coming to my site. And shortly after my one-year blogging anniversary, I was making $5,532/month from my blog – which was more than my monthly rent!
Here's a quick example of how much I earned each day from multiple sources of affiliates (on average $500 a day), and this doesn't even include the total blog income I earned from many other avenues.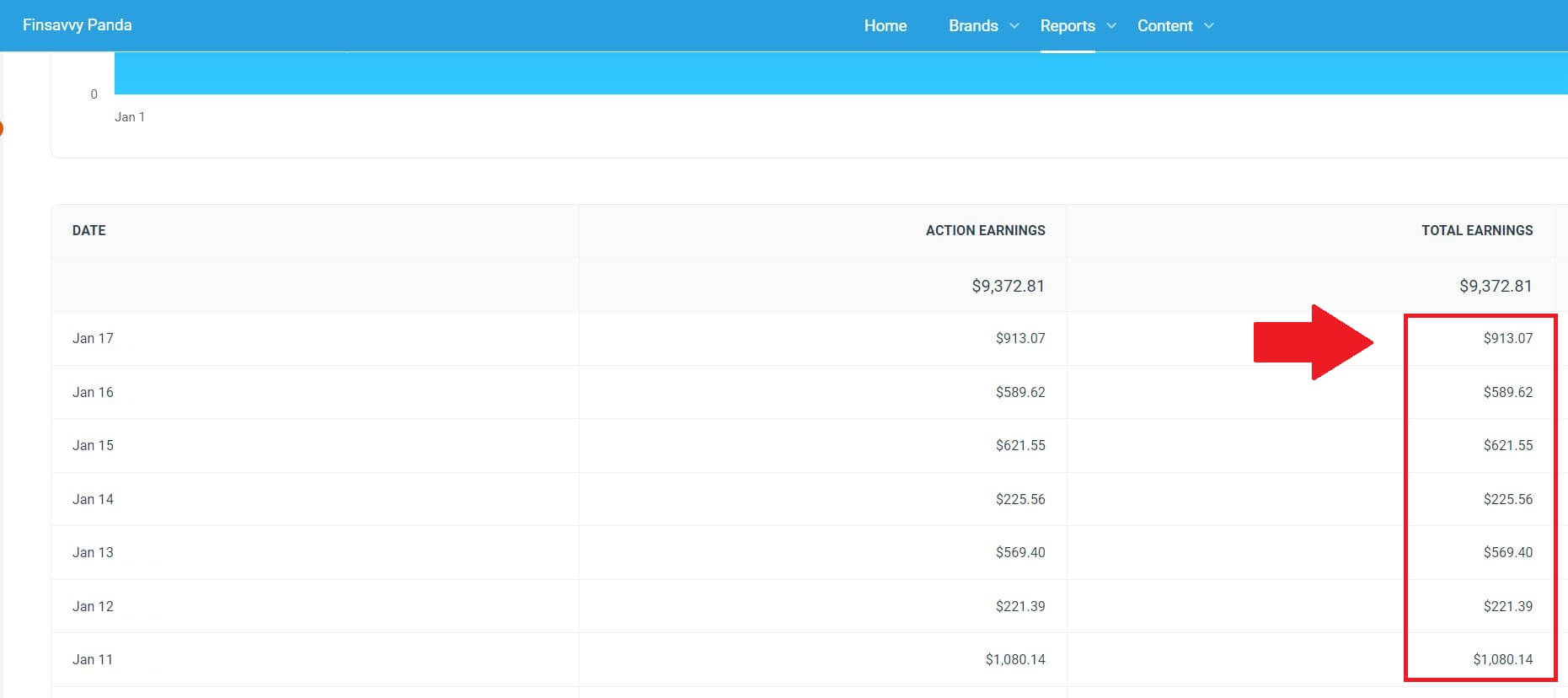 But it wasn't all rainbows and butterflies at first. It was a slow start as I was still trying to figure out this whole blogging thing. And, I'm not going to lie to you – it took a LOT of hard work, dedication, and time to grow a successful blog.
How to make $500 with a blog
I had to learn different ways to make money blogging, like how to get paid to advertise, how to make money with affiliate marketing, how to make and sell digital products, and more.
For example, with display ads, you get paid every time someone sees or clicks on an ad on your site. And with affiliate marketing, you get a commission whenever someone buys a product or service that you're promoting.
It was a steep learning curve, but I was motivated to make it work because I loved it so much and wanted to quit my job.
And now, my blog generates over $200,000 a year, earning more than $500 per day! (Yep, I quit my job to become a full-time blogger)
I'm not here to brag, but to show you that it is possible to make money blogging – even if you're starting from scratch with no experience. If I can do it, you can do it too!
You can start a blog about literally anything you want. Just pick a topic you're passionate about and start writing!
For example, some popular blog topics include:
Parenting
Health and Fitness
Recipes
Home Décor
Fashion
Beauty
DIY Projects
Travel
Personal Finance
The list goes on and on! Just choose a topic you're knowledgeable about or want to learn more about and start sharing your insights with the world.
If you don't know where to start, check out my FREE 7-Day e-mail course to learn how to start a profitable blog. It walks you through the entire process, step-by-step. And it's completely free!
3. Get Free Money with Sign Up Bonus Offers
While you can't consistently earn $500 daily with this strategy, this is one of the easiest ways to make an extra $500 fast because it requires very little effort on your part.
There are legitimate companies and websites that will give you free cash just for signing up for their service or trying out their product. It's free money just for giving something a shot! The reason why they do this is that they're trying to grow their user base and they know that the best way to do that is by offering freebies.
For example, Ally Invest will give you a $250 bonus for opening an account and making a qualifying deposit within 60 days. If you were looking to get started with investing, why not get a free $250 to help kickstart your investing journey?
To get another $250 or more, simply apply for a new credit card and make a qualifying purchase within the first 3 months. Credit cards like Chase Sapphire Preferred will offer sign-up bonuses worth $200, $300, or even $500! Just make sure to pay off your balance in full every month so you're not paying any interest on your purchases.
If you're planning on making a large purchase or traveling anyway, why not get free money to do it? Always read the terms and conditions of each offer before you sign up to make sure you understand what you're agreeing to.
There are also leading websites like Swagbucks and MyPoints that will give you a $10 sign-up bonus for creating an account. They offer cash back on online purchases, taking surveys, watching videos, and more. You won't get rich doing this, but they're easy ways to earn some extra cash in your spare time.
The point is to take advantage of sign-up bonus offers as much as possible to quickly boost your earnings. Remember to cancel any memberships or subscriptions that you're not using to avoid any unwanted charges.
4. Do Side Hustles
When you're off work, it's easy to lean back and relax or watch TV. But if you need money this week to cover some bills or make a purchase, you need to start hustling!
Money doesn't just appear out of thin air – you have to go out and earn it. You can't expect your life to improve unless you take action and start working towards your goals.
I could've settled for my day job and the salary that came with it. But I really wanted to quit my job and pursue my dream of being my own boss. I knew that I had to make extra money and eventually replace my full-time income to be able to do that.
So I started a blog as a side hustle from home. I was determined to make my dreams a reality and I was willing to put in the extra work to make it happen.
And it paid off! I was able to quit my job and make a full-time income from my blog.
Find something you're passionate about or that you're good at, and start hustling. Here are a few popular side hustles that can help you make an extra $500 fast:
Tutoring online – if you have experience teaching or are knowledgeable in a particular subject, you can sign up to be an online tutor. High-paying online tutoring websites like WyzAnt and Varsity Tutors allow students to connect with tutors from all over the world. You can set your own hours and rates, and earn extra cash while helping others learn.
Photography – dust off your old DSLR camera and start taking pictures! You can sell your photos online on sites like Foap and Shutterstock. If you take high-quality photos, you can easily make a few hundred dollars a day working as a wedding photographer or taking family portraits.
Fitness training – many people need help getting into shape. If you're passionate about fitness and helping others, you can start your own personal training business or offer your services as a fitness instructor. You can also become a certified nutrition coach and help people eat healthy and reach their fitness goals.
Flipping things – bargain hunters can make a lot of money flipping things like furniture, electronics, and clothes. You can find great deals at garage sales, thrift stores, and even on Craigslist. Once you find a good deal, invest some money to fix it up and sell it for a higher price.
These are just a few to get you started – there are endless possibilities when it comes to side hustles. When you're determined, nothing can stop you.
5. Launch an Online Business
Opening a physical store is expensive and involves taking on a slew of risks. You can reduce those costs and risks by starting an online business instead.
The obvious benefit of online stores is that you don't have to worry about the high costs of renting a place, holding inventory, and training staff. You can also reach a global market with just a few clicks – something that would be impossible with a brick-and-mortar business. Today's technology allows you to quickly and easily set up an online storefront with very little overhead.
For example, you could start an e-commerce store of your own using Shopify or WooCommerce. You can sell physical products, digital products, or a combination of both. Subscription boxes are extremely popular – you can curate boxes of products related to a certain theme or niche and send them out to customers on a monthly basis. This is a great way to build a loyal customer base and earn a consistent income.
Another option is to start a dropshipping business, where you sell products that are shipped directly from the supplier to the customer. Unlike traditional businesses, you don't have to hold any inventory or worry about shipping logistics. Your job is to market the products and take care of the customer service. This business model is low risk and has a high potential for profitability.
Not interested in e-commerce? You could also start a profitable blog, YouTube channel, or podcast. As you build up a large enough following, you can monetize your platform by selling advertising space, sponsored content, or promoting your own products and services. This requires time and effort, but it can be a very lucrative way to make money online.
6. Monetize with Affiliate Marketing
Managing products isn't for everyone. If you're not excited about dealing with the hassle of inventory and shipping, then you can earn a full-time income through affiliate marketing.
Affiliate marketing is a commission-based sales model, where you earn a commission for every product that you sell.
Think of the time that your friend told you about a great new product and you bought it because you trust their opinion. That's what affiliate marketing is – recommending products that you believe to people who will value your opinion.
For example, if you have a blog or a YouTube channel about running shoes, you could become an affiliate for a running shoe company. When someone clicks on one of your links and makes a purchase because of your recommendation, you earn a commission.
It's a win-win situation. The company gets more sales and you get to earn money via commission. And the best part is, you don't have to deal with any of the product stuff! All you need to do is send people to the company's website.
Affiliate marketing is one of the best ways to earn a passive income, and it can be very profitable if you do it right.
7. Become a Freelancer
This economy is full of opportunities for those who are willing to work hard. And thanks to the gig economy, it's easier than ever to find flexible, short-term work that pays well. By 2027, it's expected that about 50% of the U.S. workforce will be freelancers.
The allure of freelancing is simple – you get to be your own boss, set your own hours, and work from anywhere in the world. If you're good at what you do, you can charge a premium for your services.
As the digital world continues to grow, the demand for freelancers who can do things like web design, social media marketing, and content writing will only increase.
Here are some highly sought-after skills that you can use to start freelancing:
Web design – businesses of all sizes need an attractive and user-friendly website. If you have experience with web design, you can offer to build websites for clients.
Graphic design – from creating logos to designing social media posts, businesses need graphic designers to help them visually communicate their brand.
SEO – search engine optimization is a complex and ever-changing field, but every business wants to rank higher in search engine results.
Copywriting – if you have a way with words, you can start offering your services as a copywriter. You'll be responsible for creating compelling marketing materials like website copy, email newsletters, and social media posts.
If you have any of these skills or are willing to learn them, you can start freelancing and earn a great income online.
There are a number of ways to find freelancing gigs. You can use job boards like Upwork and LinkedIn or you can reach out to businesses directly. For beginners, a good start is to offer your services on Fiverr and slowly build up your portfolio and reputation.
Freelancing sounds amazing, but it's not for everyone. It can be tough to find consistent work, and you may have to sacrifice some of the stability and benefits that come with a traditional job.
8. Make Money with Apps
Listing your services on apps like Airbnb, TaskRabbit, and Lyft can be a great source of extra cash. And with the rise of the sharing economy, there are more ways to earn than ever before.
Although you may not be able to make $500 daily by using apps, you can certainly make some extra money each month. And if you're lucky, you may even find a long-term gig that can replace your current income.
Here are some of the most popular apps that can help you make money:
Airbnb – if you have an extra room in your house or apartment, you can list it on Airbnb and get paid when people stay there.
Uber – become a Uber driver and earn money by giving people rides.
Postmates – deliver food and other items to people in your city.
Instacart – become an Instacart shopper and earn money by grocery shopping for busy people.
TaskRabbit – TaskRabbit is a great app for finding odd jobs like furniture assembly, dog walking, and more.
Turo – this is an app that lets you rent out your car when you're not using it.
Neighbor – rent out your space (i.e. spare room, garage, basement) to people looking for a storage room.
Decluttr – clear your home by selling your used or unwanted items for cash.
Poshmark – an online marketplace where you can sell your used clothes, shoes, and accessories.
Facebook Marketplace – another online marketplace where you can sell just about anything.
Try different apps and see which ones work best for you. You likely find yourself using a few different apps to make the most money possible.
9. Find Odd Jobs in the City
When you have everything planned and the person that's supposed to help you cancels on you, it can be really frustrating. But what if there was a way to get paid for being that person's backup?
Scenarios like moving in furniture for a friend or painting someone's living room happen all the time, so there's definitely a demand for odd jobs. And since most people don't want to hire expensive professionals for these types of jobs, they're willing to pay someone else to do them.
Odd jobs that are in high demand include:
Furniture assembly – many people buy furniture online, but they don't always have the time or ability to assemble it themselves. If you're good at putting together furniture, this can be a great way to make some extra cash.
Painting – hiring a company to paint a home or apartment can cost a homeowner couple thousand of dollars. They would rather pay you several hundred dollars to paint 2-3 rooms for them.
Yard work – mowing lawns, raking leaves, and shoveling snow are all common yard work tasks that people dread, but they are money-making opportunities for you.
Cleaning – whether it's cleaning someone's home or office, there's always a demand for cleaners, especially for short-term rentals like Airbnb.
Handyman work – fixing leaky faucets, unclogging drains, and patching holes in walls are all examples of handyman work that people are hiring for.
Moving – many people don't have the time or ability to move all their belongings from one place to another. This is where you come in and charge by the hour to help them move.
Make-up service – doing someone's make-up for a special event or photoshoot is another service that people are often willing to pay for.
To find odd jobs in your city, search on Craigslist or ask around for recommendations. After you complete a job, don't be afraid to ask for a positive review from the person you did the job for. This will help you get more odd jobs in the future.
10. Invest Your Money
Investing your money is one of the best ways to make passive income. This is money that you make without having to do any work.
You don't need a lot of money to start investing. You can open an online brokerage account with Robinhood or Fidelity for as little as $500. And once you're invested, your money will start working for you by earning interest or dividends.
You can buy stocks of individual companies (i.e. stock picking) that you believe will be successful. As the company grows, so will the value of your shares.
However, stock picking is extremely difficult and risky, so it's not recommended for beginners.
A better option for beginners is to invest in a low-cost index fund. This is a fund that tracks a wide range of stocks, so you're diversified and less likely to lose money if one stock goes down.
You can also invest in real estate.
This can be done by buying a property and renting it out but it's hard work to become a landlord.
An easier way to invest in real estate is through a real estate investment trust (REIT). This is a company that owns and operates income-producing real estate so you don't ever have to deal with tenants. You can buy shares of a REIT just like you would buy shares of a stock. When the value of the properties owned by the REIT increase, the shares that you bought will be worth more.
Investing is a strategy that you need to learn if you want to build long-term wealth. Put your money to work and let it make more money for you. This is what investing is all about.
But it's important to remember that there are risks involved. So don't invest all your money into one investment and always diversify your portfolio.
Tips On How To Make $500 A Day
Reading all of this at once may be overwhelming and you might not know where to start. Pick one that interests you and try it out to see if it's something that you can see yourself doing long-term. And if it's not, move on to the next one. Keep trying new things until you find something that works for you.
The most important thing is to take action and get started. It won't happen overnight, but if you're consistent and take actionable steps each day, you can definitely earn $500 daily.
Here are some tips to keep in mind if you want to make $500 a day.
1. Choose a method that scales
When you're first starting out, it's important to choose a method that can be scaled. That way, as you make more money, you can reinvest it into your business to help you make even more money. If it requires your time to make more money, then it's not scalable and it's not a good option.
2. Set a realistic goal
It's important to set a goal of how much money you want to make each day. This will help you stay focused and motivated. Don't expect to make $500 your first day. Start with a goal of $100 a day and then work your way up.
3. Stay disciplined
Don't get discouraged if you don't make as much money as you want right away. It takes a ton of time and dedication to earn a huge amount of money. Stay disciplined and keep working hard and you will reach your goal.
4. Be patient
No one gets rich in a matter of days or weeks. It takes time to build up a business so be patient and don't give up. Keep pushing forward and eventually, you will see the money come in.
5. Invest your money
Saving money alone will not make you rich. You need to invest your money if you want to build long-term wealth. Invest in stocks, and real estate or re-invest the money back into your business.