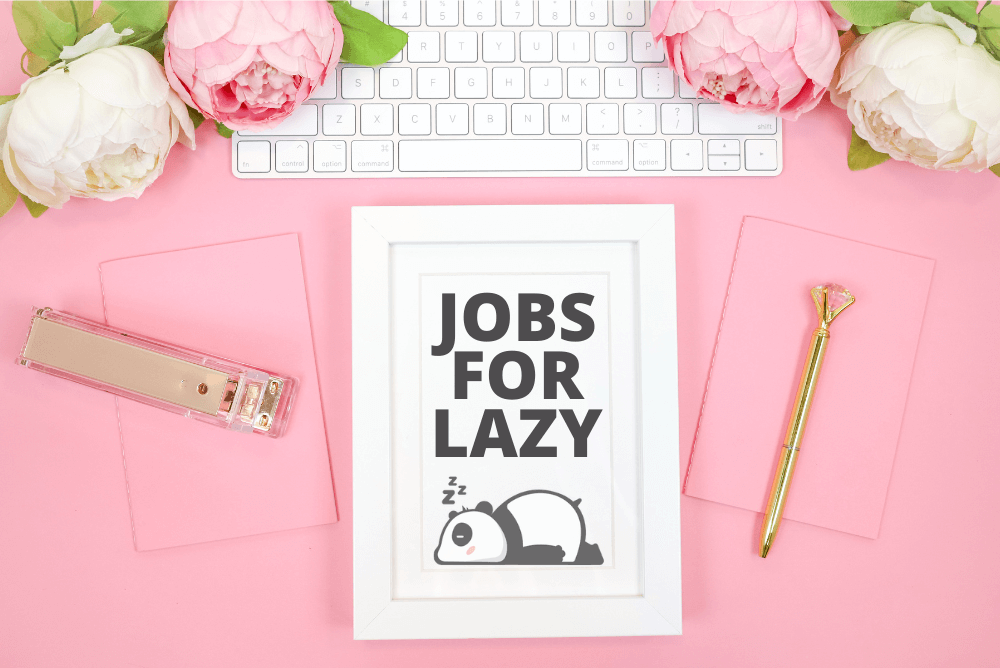 We will receive a commission if you make a purchase through our affiliate link at no extra cost to you. Please read our disclosure policy for more information.
It's hard to find a job that fits a lazy lifestyle.
Who doesn't want to find lazy ways to make money?
Ok, so, I never considered myself totally lazy, but I longed for a slow-paced, stress-free lifestyle. This desire led me to seek out slow-paced jobs with good pay. You might be like me, using terms like "lazy jobs" and "slow-paced jobs" interchangeably.
Your aim is to find the perfect lazy girl job (or guy job if you're a dude)—a flexible, non-technical remote position that lets you work from the comfort of your home. And not to mention, while enjoying a salary range of $50,000 to $80,000 without the burden of excessive efforts or daunting performance goals.
You don't aspire to spend all day working, but equally, you don't wish to while away the hours watching Netflix at home without making any money.
Imagine never having to wake up early again or slave away at a job you don't care about. That's why the ideal jobs for lazy people are ones where you can work from home and set your own hours.
I'm going to share the best jobs for lazy people to help you find something that's perfect for you!
You can expect to earn anywhere from $100 a day to as high as $300 per day (possibly more), depending on the job you choose, your natural talents, and the effort you're willing to put in to accommodate your "laziness"!
Of course, on those days when I'm not feeling 100% like a lazy girl (hm… maybe still 40% lazy), I could be earning as much as $500 or even making $1,000 a day!
Making Money Tips for Lazy People
Don't listen to anyone who tells you that making more money is impossible. It's not when you are determined! You can make $200 a day if you really want to.
It seems obvious, but the first step to making money is finding something you're passionate about. If you don't care about what you're doing, you're not going to stick it through to see the fruits of your labor.
Find something you love and you'll never work a day in your life!
Warren Buffett urged college students to find jobs where they would select if they had no need for money.
Personally, I'm passionate about personal finance, helping people earn extra money, and blogging. These are all topics I can write about for hours and hours and not get bored.
I was considered lazy at my previous banking job because I didn't have the "drive" to climb the corporate ladder. To my previous colleagues, "lazy" meant not working 50-60 hour weeks, turning down social invitations to go home and get some rest, and valuing work-life balance. In their eyes, I was unambitious and would never amount to anything because I wasn't willing to sacrifice my personal life for my career.
But just because I wasn't working myself to the bone doesn't mean I was lazy. I was just realistic about my capabilities and knew that burning the candle at both ends wasn't sustainable for me.
My previous manager would ask me why I wasn't keen on working overtime or taking on extra assignments to get promoted in the company. I simply replied that I wanted a job that allowed me to have a good work-life balance.
That was half true. The other half was that I didn't like the job.
It wasn't my passion.
I didn't care about the company's bottom line or making my manager look good. All I wanted was to do my 8 hours a day and go home to find something more interesting to do with my time.
So, if you're currently in a job that doesn't inspire you, don't be afraid to look for something else. It's not worth sacrificing your happiness for a paycheck.
Now, let's get into the nitty-gritty of the best jobs for lazy people!
1. Make Money on Pinterest
People use Pinterest for all sorts of things like recipes, travel, fashion, and home décor.
As a regular Pinterest user, I used it to get ideas and inspiration for my home décor, recipes, and furniture flipping side hustle. But I had no idea that people were actually making money from Pinterest until I started blogging.
I learned that bloggers monetized Pinterest by creating Pins that led users to blog posts or product sale pages. When you land a blog post from a Pin, you'll find all sorts of helpful information, tips, tutorials, and resources related to the topic. Most of the time, you'll also find ads, product promotions, sponsored content, and/or affiliate links.
When a Pinterest user clicks on one of your Pins and goes to your website, they have the potential of purchasing your product or clicking on an affiliate link or ad, which will earn you money.
Here are some ways to earn money on Pinterest.
If you're creative and have an eye for design, you can make money by creating Pins for other bloggers. For experienced Pinners, this can be a great way to make some extra cash on the side.
Alternatively, you can become a Pinterest Virtual Assistant, work as a Pinterest Manager, or even start your own website or blog and drive traffic to it through Pinterest (that's what I do!).
How I Make Money on Pinterest
Sadly, my blog didn't have any traffic in the beginning so I had to look for ways to drive traffic to my site. Otherwise, I wouldn't be able to make any money from my blog, and my dream of quitting my job would die.
I remembered reading that Pinterest was a great way to drive traffic to your website, so I decided to give it a try.
I invested A LOT of time and effort to learn everything I could about making money with Pinterest as I mention more details about it in this original post I wrote here. Every week, I tested different Pins, boards, and strategies to see what worked and what didn't.
You'll see how much I struggled at the beginning when I was barely making any money. I documented my blog's journey from $0 to over $25,000 per month in my raw and honest blog income reports. Slowly, but surely, my hard work started to pay off and I was able to drive thousands of pageviews to my blog from Pinterest. And as my traffic grew, so did my income!
If you're lazy like me, you can schedule your Pins ahead of time using a Pin scheduler like Tailwind. And once you have a batch of high-quality Pins, you can schedule them to be posted throughout the day and week.
Of course, you'll need to learn how to get traffic with Pinterest and create catchy Pins to earn a full-time income from Pinterest, but the upfront work is not too bad. And if you're good at the Pin creation process, it's even easier!
2. Start A Profitable Blog
When I was stuck at my corporate job, I tried many different side hustles to earn extra money with the hope of quitting my day job and working on my own terms.
I took paid surveys in my free time, flipped furniture after work, and eventually started a blog. I would spend my evenings and weekends working on my blog. I was so passionate about it that I didn't even consider it "work."
Out of all the side hustles I tried from home, blogging was my favorite because it allowed me to be creative and share my experience with people all over the world.
I had no idea it would take off the way it did, but I'm so glad I started my blog on a whim. Today I'm a full-time blogger earning more money than I ever did at my bank job.
I love what I do and I couldn't be happier!
I set my own hours, I work from home in my pajamas if I want to, and I don't have to answer to anyone but myself. It's the perfect job for me and my "lazy" lifestyle.
It didn't feel like work because I was writing about things I enjoyed talking to people about.
If you're not sure what to write about, think about a hobby or interest you have that other people might find helpful or interesting.
What is something you can't shut up about? That's a good place to start!
It could be anything from parenting tips to plant-based recipes to travel hacks.
Here are more topic ideas to get your creative juices flowing:
Fashion Tips
Cooking and Recipes
DIY Projects
Beauty and Makeup Tutorials
Pets
Parenting Tips
Workout and Fitness
Budgeting Hacks
Minimalist Living
Sustainable Living
Relationships
Home Organization
Don't worry, you don't have to be a great writer – I'm certainly not! – to start a blog.
I use Grammarly to help me with spelling and grammar errors (without it, this post would be in the trash can!).
The most important part about blogging is to choose a topic you're passionate about so you can share your knowledge and experiences with others.
If you're not sure where to start, you can check out my FREE 7-Day e-mail course to learn how to start a profitable blog. I will walk you through the entire process from start to finish and share helpful tips and resources to get your blog up and running in no time.
3. Take surveys from home
Are you ready to embark on an exciting online journey where you can earn money by taking surveys?
The internet is filled with countless websites eagerly seeking individuals like you to share your opinions and get rewarded for it.
Let me introduce you to one of my favorite survey sites that I've been using for over a decade – Swagbucks. It's a platform that not only offers gift cards for answering surveys and participating in polls, but also connects you with global companies, brands, and organizations hungry for your valuable insights. Your opinions will help shape their products and services during their development and marketing stages. Imagine being part of this influential process!
Swagbucks has already paid out $600,000,000 in rewards to its members worldwide. Now it's your turn to join the community of satisfied earners. You can easily spend just a few minutes on your computer, whether you're lounging on your couch or sitting at your desk, and start earning.
And hey, if you happen to have specialized professional skills like being an engineer or a marketer, you're in for an extra treat. Surveys that match your unique expertise are likely to pay you even more for your valuable opinions.
Get ready to earn money, have a say in shaping products, and showcase your knowledge in the exciting realm of online surveys. The opportunities are limitless, and the rewards are eagerly waiting for you.
4. Online Food Delivery
Are you a self-proclaimed lazy person looking for the best job options? Look no further! Food delivery services are a perfect fit for you. Yes, you can start earning money today while indulging in your laziness.
With the rise of online food delivery platforms like Uber Eats and DoorDash, you can work on your own schedule, delivering delicious meals to hungry customers without even leaving your couch. It's the ultimate lazy person's dream job!
No more dealing with demanding bosses or tedious office routines. Just grab your smartphone, hop on your bike or car, and start making deliveries. It's a hassle-free way to earn income, enjoy the flexibility, and cater to your lazy lifestyle.
Whenever I'm bored and have nothing else to do (because sometimes you're just tired of watching Netflix all day), I would make a run of deliveries to earn extra money while I'm out. You can see in this screenshot how I earned over $1,000 in the span of 11 days just by doing this as a lazy side gig: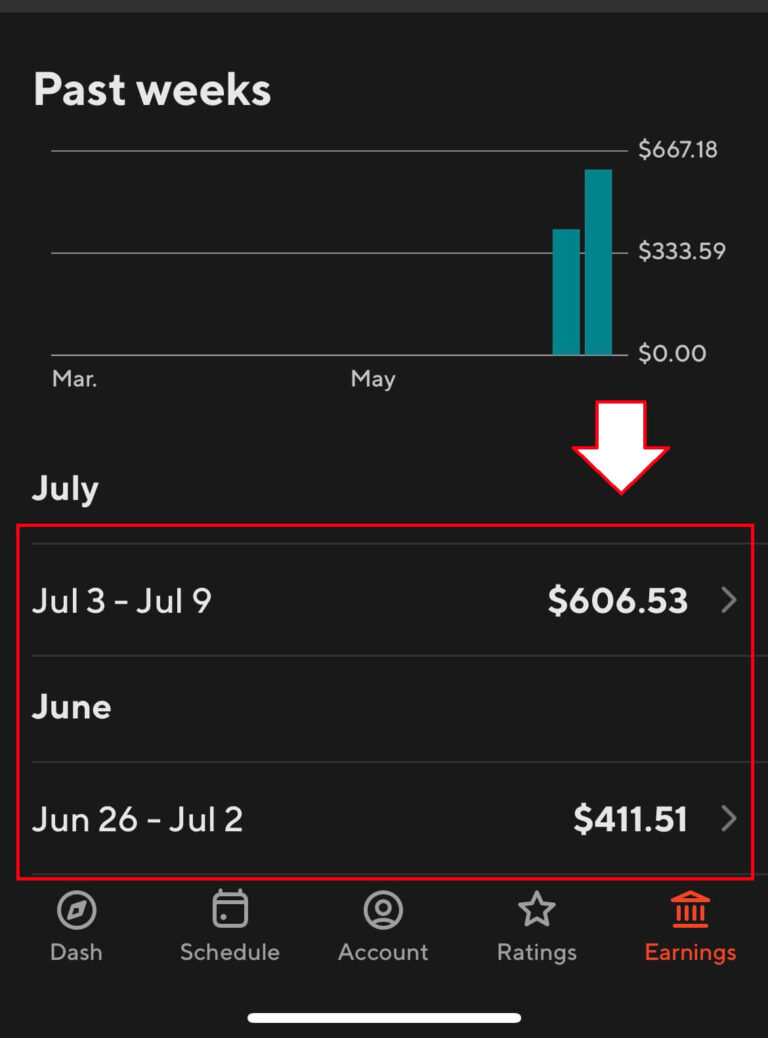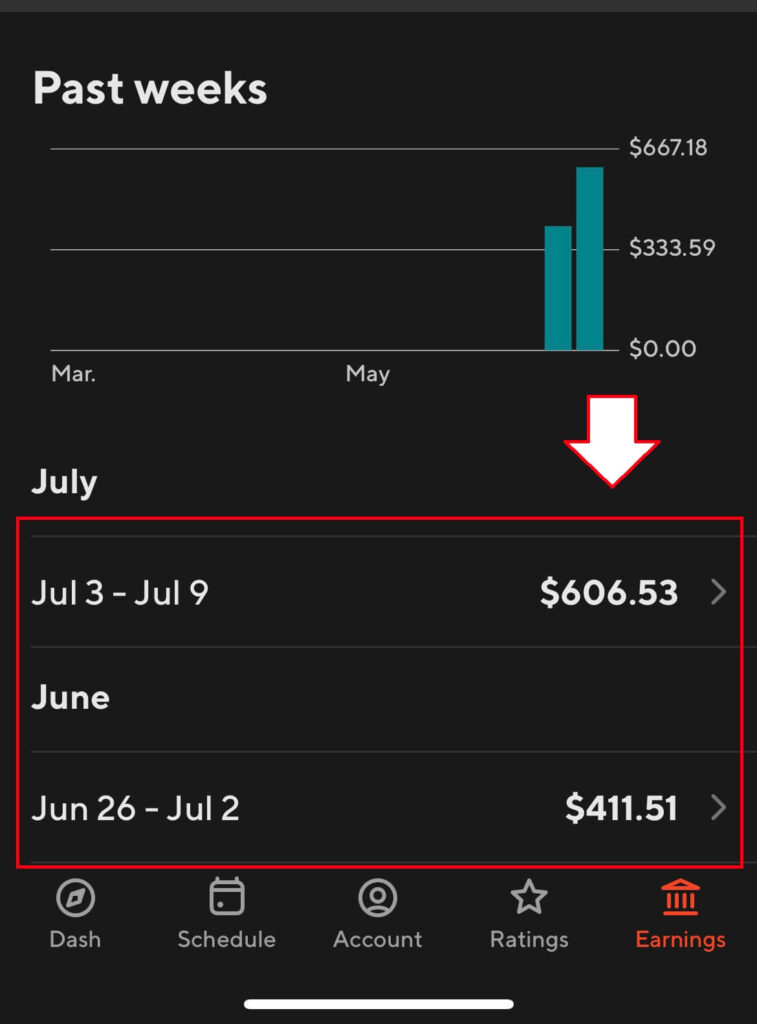 So why wait? Embrace the world of food delivery and turn your laziness into a satisfying source of income.
5. Earn Money with Affiliate Marketing
This is a "lazy" way (not easy!) to make money because it's mostly passive income.
How affiliate marketing works is you promote a product or service on your blog, YouTube videos, or social media channels and earn a commission when someone buys through your affiliate link.
In case you think the buyer has to pay extra for the product because you're getting a commission, that's not how it works.
The company you're an affiliate for will pay you a commission out of their profits. So, you're essentially getting paid to advertise for them which is a win-win for both parties.
It's a great way to monetize your YouTube channel or blog if you don't want to bother with creating and selling your own products.
For example, if you have a blog about fashion, you can become an affiliate for fashion retailers like Nordstrom, Target, or Macy's. Every time you promote a product, like your favorite summer shirt, from one of those retailers on your blog and a reader clicks on your affiliate link to make a purchase, you earn a commission.
Or, if you have a YouTube channel about makeup, you can become an affiliate for Sephora or Ulta. You can earn a commission on your favorite makeup products by creating videos about them and including your affiliate link in the description box.
You can get paid very well as an affiliate marketer (I earn a full-time income with affiliate marketing), but you have to put the effort into learning it. You can't simply spam your affiliate links everywhere online and expect to make money.
The key is to find products and services you're passionate about so you can give your readers valuable recommendations and gain their trust. No one is going to use your link to buy something if you don't know what you're talking about!
6. Flip Things for Money
From Flipping 101 to Property Brothers, viewers love to binge-watch house flipping. Professional flippers would buy up beaten down or a fixer-upper cheap, put some money into fixing it up, and then sell it at a profit. Huge profits!
However, Flipping houses require money upfront and you need to invest a lot of time to get the house into shape before you can list it back on the market. Every day that the house doesn't sell eats into your profits in holding costs.
This is not a side hustle for the faint of heart!
With that said, there are other things you can flip for cash without having to risk thousands of dollars and months of your time.
Here are some ideas on what you can flip:
Clothes – focus on lightly worn designer clothes, jeans in current styles, and name-brand children's clothes.
Furniture – look for pieces that just need a little TLC or an easy update with paint.
Toys – focus on popular character toys, baby/toddler items, and outgrown sports equipment.
Electronics – go for items that are a few years old but still in excellent condition. Tablets, laptops, and gaming systems are all popular items.
Collectibles – hunt for items that are in excellent condition and popular with collectors.
Websites – look for low-traffic websites with potential in niches that interest you.
As long as there's a demand for an item, and you can buy it for cheap, you can flip it for a profit.
Flea markets, garage sales, antique shops, and even online marketplaces are a goldmine for flippers to score items to flip.
Use online marketplaces like Poshmark, Craigslist, and Facebook Marketplace to sell your items. The RealReal is one of the best apps to buy and sell designer clothes online.
Keep in mind, that you will have to put in some effort to take quality photos, write good descriptions, and price your items competitively. The last thing you want to do is undervalue your items and leave money on the table.
7. Become a Freelance Writer
We're not talking about becoming a journalist or novelist, which requires a lot of hard work, dedication, and time.
Instead, we're talking about becoming a freelance writer where you get paid to write blog posts, product descriptions, and even social media posts for businesses and organizations. You don't need a degree in English or years of writing experience for these types of work-from-home jobs.
What you'll need are strong grammar skills, the ability to do research topics thoroughly, and write engaging content. While freelance writing gives you the flexibility to work from home and you can work when you want, you must be able to meet deadlines and write quality content that meets the client's needs.
Freelance writing is one of the top jobs for introverts because there's little interaction with clients as most of the work is done through email or an online content platform like Contently.
The pay for freelance writers is quite good. Beginner writers can expect to make $0.10-$0.15 per word, or $100 to $150 for a 1,000-2,000 word article. You could earn a few hundred dollars for a blog post or social media campaign, or you could make thousands of dollars if you're hired to write an eBook or whitepaper.
Seasoned writers can charge upwards of $0.50 per word or $500-$1,000 for the same article. It's just a matter of building up your writing portfolio and finding clients who are willing to pay you what you're worth.
Publishing companies, businesses, and even bloggers are always looking for quality freelance writers to create content for their audience.
One of the easiest ways to get started is by signing up with a content mill like Constant Content. You can browse through available writing assignments and choose the ones that fit your skills and interests.
Or, you can reach out to bloggers directly and ask about writing guest posts for their blogs. Not only will you get paid for writing, but you'll also get valuable exposure and traffic back to your own blog or website.
8. Get Paid to Walk Dogs
You might be too lazy to go to the gym, but you can certainly make sure you walk your dog around the block a few times every day. If you love animals, this is a great side hustle to earn extra cash.
Although all dog owners want their furry friend to get their daily exercise, not all of them have the time due to work or other commitments. You, on the other hand, have all the time in the world (or at least enough time to walk a few dogs each day).
You can offer your dog walking services to dog owners in your neighborhood. Next time you see someone out walking their dog, simply ask if they need help walking their dog in the future and let them know you're available if they need someone.
Another option is to create an account with dog walking apps like Rover and Wag! where dog owners in your area can find and book your services. What's great about Rover is that you don't need to find clients, they come to you.
For a new dog walker, you can set your rates lower, $20 per session, to attract new clients. Once you've built up a base of regular clients, you can start raising your rates to $30-$40 per session or more.
If you live in a highly populated area, you'll have a steady stream of clients and can easily make a few hundred dollars per week dog walking. To earn more money, you can even offer pet sitting services where you watch people's pets while they're out of town.
9. Get Paid to Sleep
Sleeping on the job might get you fired from your current job, but what if your job is to sleep? This might sound too good to be true, but it's actually a reality for some people.
There are legitimate companies that will pay you to sleep so they can study your sleep patterns. These companies and scientists are usually researching sleep disorders or developing new sleep-related products for everyday consumers.
For example, you might be paid to take part in a sleep study at a sleep center or sleep clinic. You'll be closely monitored while you sleep and will usually be given a private room where you can sleep comfortably.
Or, you can earn money to test out a new mattress and write about your experience. Casper is always looking for new product testers and reviewers to help them improve their products. Eachnight, a mattress reviewer website, was hiring "Nap Reviewers" to try and review different mattresses and share tips and tricks for getting a good night's sleep. Nap Reviewers are paid $1,500 to nap for 30 days.
If you're a light sleeper or have trouble falling asleep, this might not be the job for you. But, if you're a heavy sleeper and can easily fall asleep anywhere, this could be a dream job!
10. Work in IT Support
Many corporate jobs require you to be in the office during certain hours, but if you work in IT support, you can often do your job from home. And, since you're working remotely, you don't have to deal with a commute or office politics.
While you might be busy when there is an issue with a company's computer systems, you'll often have downtime in between issues. This makes IT support a perfect job for lazy people who want to earn a decent living without putting in a lot of effort.
The average salary for an IT support specialist is $50,529 per year, but you can easily earn more than that if you have a few years of experience or specialize in a certain area.
There are a few different ways you can work in IT support. You can be a technical support specialist who helps customers with their computer issues or you can work as a network administrator who helps maintain and troubleshoot a company's computer network.
To get a job in IT Support, you'll need to have some technical skills and knowledge. You can learn these skills by taking an online course or getting a certification in IT support.
As we move towards a more digital world, jobs in IT support will only become more in demand. So, if you want a stable career that you can do from the comfort of your own home, IT support is the way to go.
11. Work as a Security Guard
This is not a very exciting job, but it's better that way. After all, if you're working as a security guard, you probably don't want to be constantly running around and getting into adventures.
You've encountered plenty of security guards at shopping malls, office buildings, and other public places. They usually just stand around and make sure nothing bad happens. And, if something does happen, they call the police.
The pay is not great, but it's not bad either. The average salary for a security guard is $35,925 per year. And, if you work night shifts or weekends, you can earn a little bit more.
For lazy folks, doing third shifts or working the graveyard shift can be great. You'll have long periods of time where you can just sit around and do nothing. And, since there's not much going on at night, you won't have to interact with people.
To keep yourself entertained, you can bring a book, listen to music, or go on Reddit. Personally, I think the best use of that time is to expand your skill set by taking an online course or learning how to code.
Just make sure you're paying attention to your surroundings and keeping an eye out for any suspicious activity.
12. Video Game Tester
Your parents are always lecturing you about how playing video games all day is a waste of time. But, what if I told you that you could get paid to play video games?
From a gamer standpoint, you had your fair share of glitches where your character died unexpectedly by falling off the map or getting stuck in a wall. These glitches are frustrating for players and make the gaming experience less enjoyable. Not a single game developer wants to release a game with these kinds of issues.
Your job as a video game tester is to play the game and look for any glitches, errors, or bugs. This may mean you will need to explore every corner of the map, test out every character, and try out every possible scenario. Once you find issues, you document them and report it back to the developers so they can release a patch to fix it.
The basic requirement is to have a passion for gaming. But, it's also important to have good attention to detail, problem-solving, and communication skills. You'll be expected to play for a long period of time, so you should be able to stay focused and concentrated.
The pay is not the highest, but it's a fun job to do what you love.
13. Online Shopper
In a fast-paced world, some find themselves too busy to shop in stores, and even shopping online feels like a luxury they can't afford time-wise. That's where you come in!
You're the sought-after individual who can turn the tables by indulging in the delightful task of online shopping all day. Imagine being paid to do what you may already enjoy doing on those lazy nights, comfortably tucked into bed.
Of course, it requires being sharp and vigilant in your hunt for the best deals across the vast expanse of the internet. But hey, you'll be turning your passion into a legitimate occupation. So go ahead and seize this opportunity to make a living doing what you love – a dream scenario for any dedicated online shopper.
What is the easiest job that pays the most?
There is no such thing as an "easy" job that pays a lot of money. If you want to earn a high salary, you'll need to put in the hard work.
Everyone's definition of easy is a little different. Some people might find a job easy if it doesn't require much physical labor while others might find a job easy if it's not too stressful.
I find customer service to be hard work because you need to be able to be polite at all times and know how to handle difficult customers. For you, you might love working with people and find this job easy.
What's a good job for someone who doesn't want to work?
For those who prefer to avoid traditional work routines, a suitable job option is to pursue passive income streams.
Passive income refers to earning money with minimal effort or ongoing involvement. However, it's important to note that upfront leg work is required to establish these income streams. Once your ventures are up and running, you can gradually reduce the hours you dedicate to maintaining operations while still generating income.
One possibility is to invest in rental properties, generating income through tenants' monthly payments. Another option is to create and sell digital products, such as e-books or online courses, which can continue to generate income even when you're not actively working.
Building a successful blog or YouTube channel that generates revenue through advertisements and sponsorships is also worth considering. These opportunities require some initial effort from you, but they can eventually bring in a steady income with less ongoing work. They're perfect for those who want a more hands-off approach to earning money.
What are the best jobs for people who can't stand?
For people who have difficulty standing, there are still a variety of job options available.
Some examples include remote positions such as virtual assistant, customer service representative, or online tutor. These roles allow you to work from a seated or comfortable position. Additionally, jobs in the field of freelance writing, editing, graphic design, or programming can be performed while sitting.
Other easy jobs in administration, data entry, and transcription are perfect because you can do them while sitting comfortably. These options allow you to find fulfilling work that suits your needs and abilities. So don't worry, there are jobs out there that can accommodate you and provide a satisfying career. Just explore these options, and you'll discover the right fit for you.
How do I get a job if I am lazy?
If you happen to be a self-proclaimed expert in the art of laziness, fret not! There's still hope for finding a job that perfectly complements your preferences. It's possible that you're not lazy at all but simply haven't stumbled upon the right gig that ignites your enthusiasm.
In that case, let's help you identify roles or industries that align with your interests and talents. Seek out positions that offer the holy grail of flexibility and autonomy, like remote or freelance work, where you can avoid bosses breathing down your neck at all times. After all, who needs that kind of pressure, right?
Consider job opportunities that require minimal physical exertion, allowing you to operate at your own serene pace. Why rush when you can savor every moment, am I right?
Time to activate the networking superpowers! Reach out to friends, family, or acquaintances who might hold the keys to opportunities that match your unique preferences.
And hey, don't forget to flaunt your incredible skills and strengths through a skillfully crafted resume and cover letter. Highlight your ability to produce top-notch work while embracing a relaxed approach. Let them know you can ace it while enjoying some quality couch time.
Remember, finding the ideal job requires some strategic planning and a dash of effort. But fear not, dear lazy one, for a fulfilling career awaits you. So, go forth and conquer the realm of work, your way!
Conclusion
See? You reached the end of this article, which means you're not all that lazy!
I hope this article has given you some ideas about good jobs for lazy people.
I harp on the importance of finding a job you love because, if you're not passionate about what you're doing, it's going to feel like work no matter what you do. You could get paid a million dollars to do something you hate and it would still feel like work.
Do what you love, and the money will follow. That's my philosophy, at least.
What are your thoughts? What's the best job for lazy people, in your opinion? Let me know in the comments.