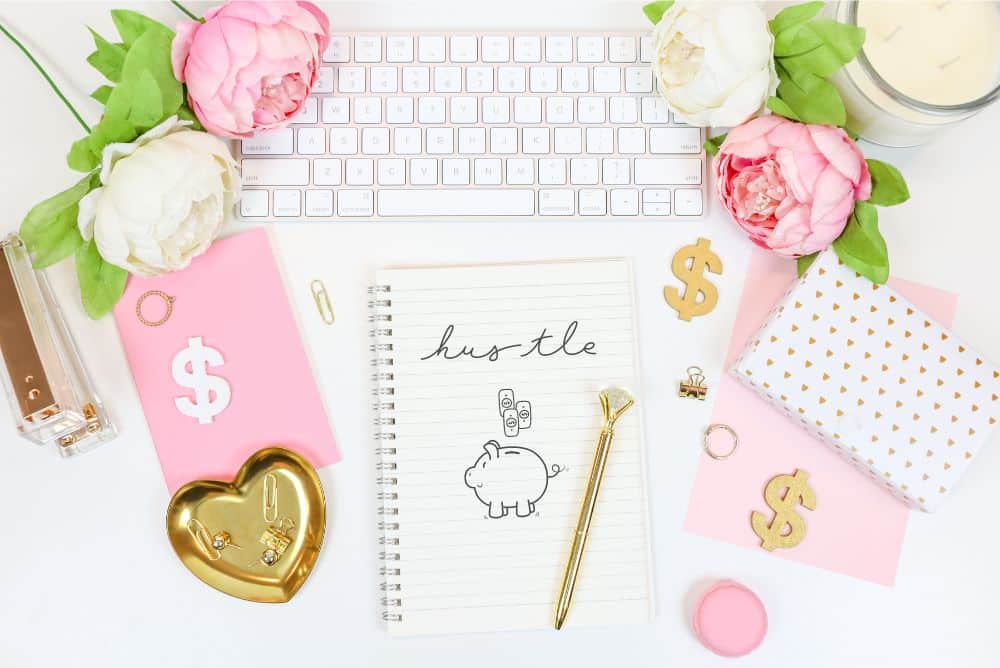 We will receive a commission if you make a purchase through our affiliate link at no extra cost to you. Please read our disclosure policy for more information.
As the global economy continues to change and become more remote, people are looking for additional ways to make extra money from home. Finding an additional source of income in the comfort of your own home is a great way to diversify your income. If you are able to more easily fit this side hustle into your schedule, you're going to have a higher chance of success.
Whether you are tired of your career and looking to pivot, or seeking strategies to make some extra money, this is for you! Starting an at-home side hustle is a great way to kick off a side business or even your next big career move.
In this article, you will find 15 of the best side hustles from home to make money. There is a side hustle for almost every skill set in this list. Let's go ahead and get started!
1. Make Money on Pinterest as a Side Hustle by Starting a Blog
When you think of a blog, you might be thinking of a personal blog where you write about your life. But a blog can actually be a great way to make money! You can start a profitable blog around any topic that you are passionate about.
For example, if crocheting is one of your favorite hobbies, you can start a blog about crocheting and share your knowledge and patterns with others. Once you build up a following, you can start selling crochet products like hats, blankets, and scarves. Perhaps you're really good at cake decorating. You can blog about that too and share recipes, how-to videos, and tips for beginner cake decorators.
The great thing about blogging is that you can make it a passive income stream. This means that once you put in the initial work of setting up your blog and creating content, you can continue to earn money from it even when you're on vacation! You can do this by running ads on your blog, partnering with brands to promote their products on your site, or selling your own products.
You can learn how you can start a profitable blog by using Pinterest through my personal story and experience here.
I also documented my blog income and Pinterest journey when I was a beginner, which you can check out here:
2. Sell Vintage Clothing Online
One up-and-coming side hustle that is becoming more mainstream is where people sell vintage or unique clothing items at a premium! You could check out local thrift shops and yard sales, or even purchase items online and then resell them at a higher price. With the best apps to sell clothes online, you can reach a larger audience of potential buyers and make some serious profits.
The most difficult part of this will be maintaining a solid inventory and then finding buyers. This could be a great side hustle to consider since you don't need to put in any work to make a physical product.
If you enjoy sustainable fashion and know how to promote your inventory, this is definitely one side hustle to check out!
3. Freelance Writing
This side hustle has been around for a while, but it has continued to be in very high demand! Yes, this one is freelance writing!
If you enjoy writing content and understand how to optimize for search engine optimization, then freelance writing could be for you. High-quality content is really important, but the truth is that many people do not want to take the time to write quality content! This means that there is a market for freelance writing.
You could start by offering your services on sites like Fiver or Upwork. You could also promote your services in various Facebook groups. As you gain more experience at writing, you can even make $300 a day!
4. Become a Virtual Assistant
Are you a busy mom or dad who is always juggling a million different things? If you're good at time management and have some extra hours in your day, you could become a virtual assistant!
As a virtual assistant, you would provide administrative support to businesses and entrepreneurs. While tasks vary by position, they could include things like scheduling appointments, email management, managing social media accounts, or even providing customer service. You can find plenty of virtual assistant jobs on sites like Upwork and LinkedIn.
The great thing about becoming a virtual assistant is that you can pick and choose the clients that you work well with.
5. Create a Print on Demand Store
Similar to dropshipping, print on demand has been booming every year, and for good reason! This is a business model that doesn't require any overhead. This means that almost everything you earn has the potential to be profitable.
One idea is to create an online store using Etsy. Etsy can be a great option for entrepreneurs if they do not want to create their own website and drive traffic to that website. From there, you can set up your print-on-demand store. You should also do some research on trending products and themes so that you can offer popular items.
6. Get Paid To Play Games
If you're looking for an easy and fun side hustle for extra pocket change, there are a few apps that will pay you to play games. You won't get rich playing games on your phone, but it's a great way to earn a little bit of extra cash in your spare time.
One of my favorite apps is Swagbucks!
Swagbucks is an app that lets you earn rewards for a variety of activities, including playing games.
To earn points with Swagbucks, all you need to do is download and play games from their partners. You'll then earn rewards that you can redeem for PayPal cash or gift cards to a variety of retailers, including Amazon, Walmart, Target, and Starbucks. I like Swagbucks because it's a very easy way to earn extra money with very little effort. Plus, it's a money-saving hack on how I get free drinks at Starbucks!
7. Make Stickers and Sell On Etsy
Collecting stickers is a cheap hobby for anyone, but sticker making is another at-home side hustle that has become extremely popular!
First, you will want to figure out what type of stickers you would like to create. You could also partner with another business who sells a lot of stickers and offer to make those stickers for them. You could sell that company the stickers at a wholesale price (because they will mark it up for their customers).
Depending on how many stickers you sell, you could definitely make a profit! The key here is to know your numbers and how much you spend on supplies.
8. Get Paid to Promote Local Businesses on Instagram
If you are a social media guru, one way to make some extra money is by building up a local Instagram page and then charging local businesses a small fee to advertise.
Posting ads to make money does not require you to have a huge following to make this happen. Micro and nano influencers are both becoming more and more popular for sponsorship opportunities because their communities are so engaged.
Another tip is to engage with all of the other local Instagram pages so that all of the local accounts are familiar with your work and can refer businesses to you.
9. Affiliate Marketing
Affiliate marketing is one of those elusive side hustles that sounds amazing in theory, but you aren't 100% sure it can actually work. There are so many ways that you can promote affiliate products to earn an income.
A few ways include blog posts that are SEO optimized (this takes a bit longer), as well as social media platforms like TikTok and Instagram Reels!
The key to promoting affiliate links is to make sure that your content and products are highly targeted to a particular audience.
The last thing you want to do is spend time creating content promoting a product to the wrong audience.
10. Make Money as an Online Tutor
Teaching others is not an easy task, but it is a very rewarding one. If you have teaching experience under your belt or have tutored students in the past, you can earn money by becoming an online tutor!
You could offer tutoring services in pretty much any subject that you are knowledgeable in. A few popular options include English, Math, Science, and History. You can find online tutoring jobs on sites like WyzAnt and Varsity Tutors that will connect you with students who need help in your subject area.
The main perk of online tutoring is that you can easily create your own work schedule to fit your personal life and work from home whenever you want.
11. Product Photography
With the continued rise in e-commerce comes the need for high-quality product photography! This is an excellent work from home side hustle for anyone that is creative and enjoys photography.
You could contact companies that sell products within a niche that you are interested in and pitch product photography services. There are many free resources online to help you with getting started in product photography.
You could also take your photography to the next level by editing your images in Photoshop. Product photography behind-the-scenes videos also do really well on social media, so this is another way that you could promote your work.
12. Resume Editing and Creation
If you are someone who enjoys helping people find their next career opportunity, resume creation and editing could be for you!
If you have experience with creating and editing resumes that have actually helped people find new roles, you could consider offering this service.
One of the best ways to promote these services would be on LinkedIn. LinkedIn is the perfect platform for anyone who helps in the job placement and recruiting space.
To take this a step further, you could niche down and specialize in a specific industry and solidify yourself as the resume and career expert in that space.
13. Flip Items on Facebook Marketplace
If you consider yourself to be someone who is great at finding valuable items, you could try flipping items on Facebook marketplace!
This seems like a really fun way to make money from home because you are finding potentially valuable items online, purchasing them, and reselling them.
One benefit is that you do not need to physically create a product or perform any services. This is what makes this side hustle particularly lucrative.
One recommendation is to specialize in a certain type of product, like electronics. If you do this, you may develop a reputation for selling products within that niche and get more customers.
14. Video Editing
Video editing is another side hustle that continues to be in very high demand and one of the best side hustles out there! Video editing is a necessary skill set because so many companies need videos to promote their businesses online. Almost every single social media platform prioritizes the use of video content, and this trend is not likely to slow down anytime soon.
With such high demand, you could definitely find video editing jobs on sites like Fiver and Upwork. You could also focus on a specific industry and contact companies within that industry to offer your services.
15. Sell Digital Products on Etsy
The world of digital products is growing so fast right now. One recommendation is to narrow down one area of interest. Next, begin asking your target audience what they need help with and what types of information would benefit them. From there, begin creating digital products and testing products to see which sell the best.
If you set up a Shopify store, you do not need to worry about setting up your own storefront. You could also do some research to find out which products or topics are trending and create products within those trending topics.
16. Social Media Manager
Social media management is as important as ever! This is one of the best side jobs for extra money because if you scale it, you could build a business and hire contractors to help you. You could grow this business to the point where your main task is to find business, and you work with contractors to fulfill the work.
There is also a lot of variety in social media management because there are so many social media platforms out there right now. It really depends on where you have the expertise and what work you enjoy doing the most.
How Can I Make an Extra $1,000 to $2,000 a month?
It's not hard to earn an extra $500 a month by trying multiple things to see what you like. But to make an extra $1,000 to $2,000 a month, you need to double down on one side hustle. Trying too many side hustles at once will cause you to lose focus and run out of time. Choose the side hustle that you might enjoy the most and go for it.
What Side Hustles Pay the Most?
When considering which side hustles are the most profitable, services are likely to be the winner when looking at single sales. You can charge a high amount of money for many services. Alternatively, if you sell stickers, your profit margins will be lower but this business is more scalable.
Conclusion on The Best Side Hustle Ideas
If you are looking to make some extra money or launch a side business, consider trying one of the side hustles listed above! There are so many ways to make extra money, but it requires perseverance. If you are committed to making extra money from home, do not give up. If the strategy that you are using is not working, try another one.