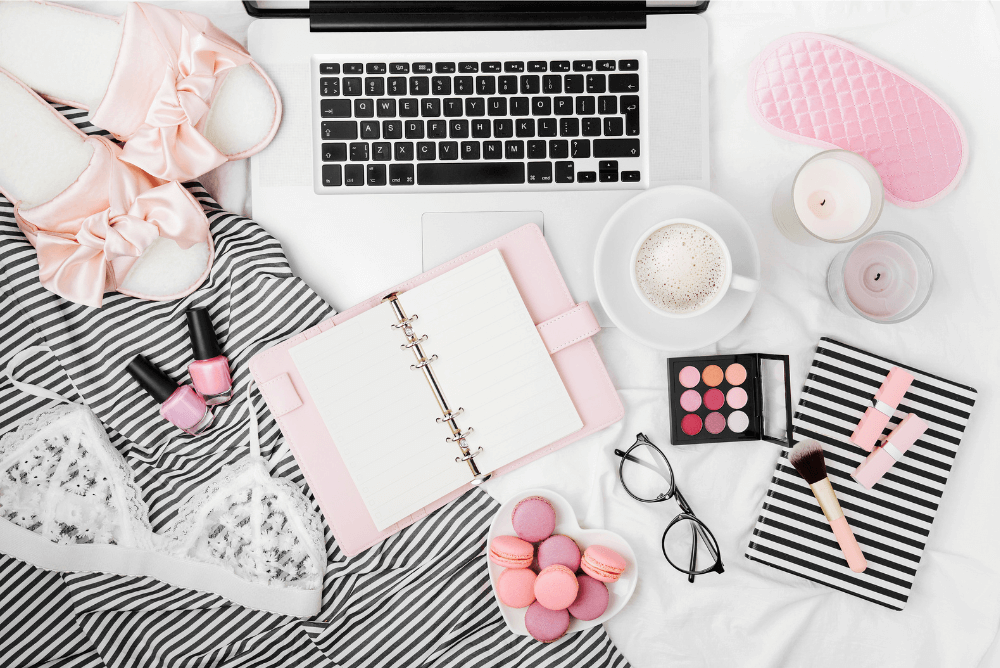 We will receive a commission if you make a purchase through our affiliate link at no extra cost to you. Please read our disclosure policy for more information.
Can you start a blog on Pinterest in 2023?
You bet!
Learning how to start a blog on Pinterest is a great way to get traffic to your site and promote your content.
Now, if you haven't started your blog yet, then I highly recommend starting one as soon as possible. This is your first step to monetizing with Pinterest!
Once your blog starts getting traffic from Pinterest, then you have the full potential to start making money online with this visual pinning platform!
You can read my story of how I was able to quit my job and earn a full-time income of six figures as a full-time blogger on Pinterest within 18 months of starting! I was actually very surprised that I doubled my income since 2019, and earned over net $200,000 blogging in 2021.
UPDATE 2023: Due to the season, trends, and the economy, my net income dropped in 2022, but I was still able to earn a net income of over $180,000 after all expenses in 2022 from blogging on Pinterest!
No one can ever predict income trends in the future, but my goal is to always earn at least a net income of $120,000 per year in my blogging business, so I can continue to live comfortably, save for retirement, and fund my desired lifestyle.
After blogging for 5 years (at the time of writing this), not only can I say that I love blogging but it has absolutely changed my life for the better. If you are new to FinSavvy Panda, you can also read all my previous blogging articles when you search for them in the archive of this blog.
I know you're super excited, so let's help you get started! Here are the steps to starting a Pinterest blog and account today.
Make sure to Pin this to your Pinterest board here so you can refer back to a detailed guide on how to start a profitable Pinterest blog!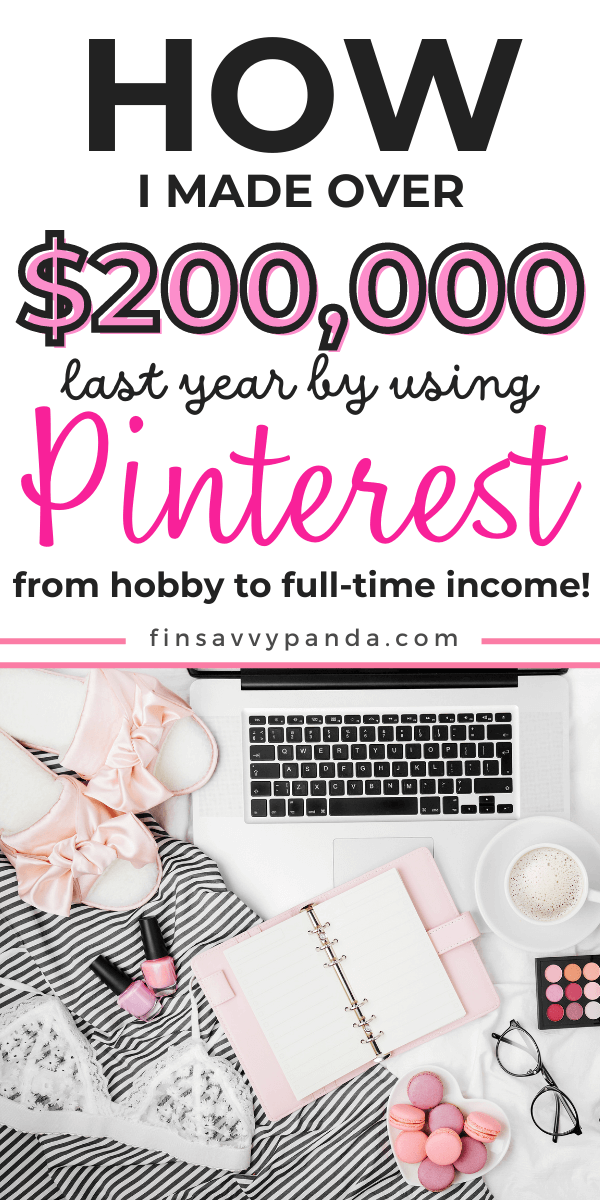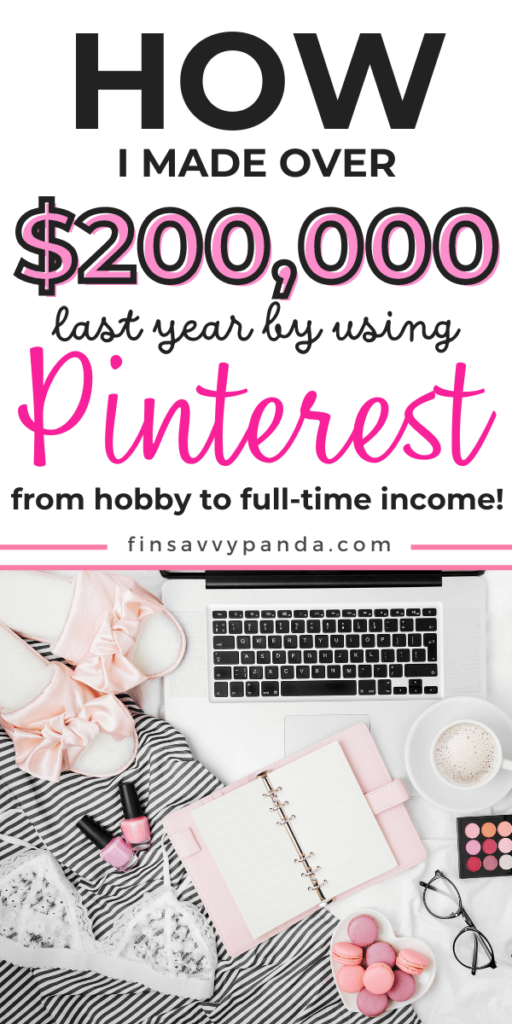 Step 1: Start a Pinterest Blog
The first step is to start your blog of course! 🙂
Without a blog, you won't have anything to work with. If you're a total beginner and confused about how to get started, don't worry. I have you covered.
I have helped many of my students start a blog on Pinterest, and you can use my step-by-step tutorial on how to start a blog here. It's super affordable, as low as $2.95 USD per month when you sign up for the annual plan and invest an upfront amount of only $36 USD! You can snatch this special discount in my Bluehost tutorial here.
I also have my FREE 7-day e-mail course that will teach total beginners, like you, how to start a profitable blog and use Pinterest to gain tons of readers and followers. This is the course I wish I had when I started using Pinterest for my blog.
Step 2: Set Up Your Blog the Right Way (Building a Solid Foundation For Your Blog)
Before you move along, you NEED to make sure your blog is set up correctly. You cannot just randomly sign up for a blog and expect to apply for Google AdSense and start earning money right after publishing 10-15 articles without having a plan or strategically writing for the proper audience.
I often see beginners get too ahead of themselves and they waste SO much time (as long as 1 or even 2 years) by thinking they can learn all of this on their own and not investing in a blogging education.
There are A LOT of things that go behind the scenes in building and running a profitable blog, which many beginners don't see. I give you the exact steps you need to take to build your blog the RIGHT way in my best-selling e-book, The Treasure Map To Blogging Success in 30 Days.
This affordable e-book will help you build a solid foundation for your blog before entering the next chapter of your blogging journey, which is getting traffic and making money.
This first step is very crucial because when you skip this step and don't avoid the costly mistakes I talk about, then your blog will likely fail without you ever understanding why. These are silly mistakes I often see when beginners refuse to invest in themselves and their blogs.
Investing in your blog as a beginner doesn't have to cost a lot. You can learn how affordable it is to start a blog as a beginner here.
Step 3: Create a Pinterest Business Account for Your Blog
Once you've set up your blog properly, you can create a Pinterest business account. It's free, and this will be your main source to promote your blog and content!
However, I don't recommend creating this yet if you haven't started your blog with at least 5-10 articles published.
Make sure you have your blog properly set up with some posts before you create your Pinterest business account because Pinterest will ask for your blog URL.
Step 4: Get Traffic from Pinterest and Promote Your Blog
Assuming you've set up your blog the right way, then the next step is learning how to get traffic!
I also have separate helpful articles so you can learn more about how to get traffic on Pinterest and how long it takes to get Pinterest traffic to your blog.
Once traffic starts coming in, you can start implementing the following monetization strategies to start earning an income online.
If you've already started your blog with at least 10 blog posts published, then you are ready to enroll in my FREE 7-day email course on how to skyrocket your Pinterest traffic in the next 7 days.
In my free Pinterest course, I will teach you how to get started as a beginner by setting up and optimizing your Pinterest account all the way to implementing the most effective traffic strategies so you can finally get pageviews on your blog!
Oh, and the best part is I'll also teach you how you can attract Pinterest readers that will fall in love with your blog so that they keep coming back for more! If this is what you want, then I welcome you to join me in my free course by signing up below! 🙂
Step 5: Make Money Blogging from Pinterest Traffic
As you're learning how to get traffic from Pinterest, you can start learning how to make money with your blog.
I explained four popular ways to for beginners to make money with their blogs as you keep reading near the end of this post in my FAQs section.
In addition, I talk about it in a separate article too. This post is all about my story and journey of how I started making money on Pinterest as a beginner with no experience.
How To Blog on Pinterest FAQs
In the remainder of this article, I am going to answer the following questions about how to blog on Pinterest.
Do You Get Paid by Pinterest Directly?
No, Pinterest does not pay you directly for using the platform as a consumer or pinner. However, as a creator or blogger, you can make money from Pinterest by promoting your blog, products, and services, or through affiliate marketing. If you have a blog or website, you can also use Pinterest to drive traffic to your site and generate income through advertising or selling products.
More recently, at the time of writing this, Pinterest has said they are rewarding creators by creating Idea Pins on the platform. You can tag products in your Idea Pins by using affiliate marketing (which I mention more about later). Pinterest also has a paid partnership tool where you can collaborate with your favorite brands by tagging their products too.
Aside from creating Idea Pins, my favorite method is to use Pinterest to drive traffic to my blogs, which has personally worked the best for me. This is the method that blew my mind when I started monetizing on Pinterest. Your goal is to get traffic to your blog and then use various monetization methods to make money such as display advertising, affiliate marketing, creating digital products, or offering your services. These are the four methods I explain in more detail below.
So, while you can't directly make money from browsing or pinning on Pinterest (unless you create Idea Pins for their platform), there are some indirect and great methods that you can use to earn income using this platform. It just takes a little creativity and effort to make it happen, so I highly recommend starting your blog and using the Pinterest platform to your advantage!
Once you have started a blog, you can use whatever monetization method you enjoy such as display ads, affiliate marketing, creating products, selling services, or even making Idea Pins!
Is Pinterest good for blogging?
As a social media and visual search engine, Pinterest can be a great way to share your blog content with a wider audience. This is how I promote my blog on Pinterest and earn a full-time income! I also show you how to start a profitable blog with my tutorial right here.
However, there are some downsides to using Pinterest for blogging. For example, if you use Pinterest primarily to drive traffic to your blog, you may find that most of your traffic comes from people who are just browsing the platform and they may not be loyal followers who are looking for your specific content. But to fix this problem, you need to understand how to create intentional content and attract the right audience on Pinterest.
Additionally, because Pinterest is a visual platform, it can be difficult to stand out from the crowd unless you have very eye-catching images along with click-worthy titles on your Pins.
Whether or not Pinterest is good for blogging depends on your individual goals and objectives. Pinterest has worked very well for me and the blogs I created. If you're looking for a way to drive traffic and get your blog noticed more visually, then Pinterest can be a great option.
Suppose you're primarily interested in attracting dedicated readers. In that case, you will want to learn how to leverage Pinterest keyword research for intentional traffic and apply a few strategies on your blog to keep your readers hooked.
At the same time, I highly recommend diversifying your traffic with other marketing channels and search engines so that you're not reliant on only one traffic source.
So, is Pinterest good for blogging? In my opinion, yes! It's a great way to drive traffic and promote your content. Plus, it's fun! It can also be a great source of intentional traffic when you spend the time to learn who your audience is on Pinterest.
How Do Bloggers Make Money on Pinterest?
Here are the four ways bloggers make money on Pinterest. I don't have a favorite as I like to diversify my streams of income today to avoid relying on one single source.
1. Display Advertising
The first way you can make money from your blog is by displaying ads. You've probably seen banner ads on other websites before, and this is how they work.
Advertisers like Mediavine and AdThrive will pay you a certain amount of money for every 1000 views of their ad, or every time someone clicks on their ad.
When I was a total beginner, I was using Google AdSense. Like you, I had no idea how blogging or Pinterest worked. As soon as I had enough traffic to my blog, I switched to Mediavine, and I never looked back!
Given I was so happy with Mediavine, I started a second blog. As soon as I met their requirements and got enough pageviews, I started earning an income with ads on my other blog!
I believe that learning how to earn display ads with your blog is one of the best and "easiest" first steps to making money online. I'm not saying it's easy, but it's the first step to seeing how things come together and work from someone who has absolutely no experience in making money online.
I say this because, from my experience, beginners have no clue what they want to do. There are too many parts and it's best to master one thing at a time before you start learning other monetization strategies.
So, my advice is to focus on setting up your blog for success. Next, create content for your audience. Then, you can learn how to increase your Pinterest page views so you can finally make some money.
Earning an income with ads can be very profitable, but it does require a decent amount of traffic to your website for it to be effective.
If you're just starting, then I recommend using Google AdSense as they are the most popular and easiest to get started with. But you will probably not be satisfied with the money you earn with Google AdSense since other partners you work with can help you earn a higher income.
2. Affiliate Marketing
A second way you can make money from your blog is by using affiliate marketing.
Affiliate marketing is a way for beginners to make money by promoting other people's products. You can do this by putting links to their products on your website or blog, and when someone buys the product through your link, you earn a commission from the sale.
This is a great way to make money, especially if you're just starting because you don't need to create your products.
There are thousands of affiliate programs available online, so all you need to do is find the ones that fit your niche and start promoting their products. A few affiliate programs include Amazon Associates, Clickbank, and ShareASale, and you can start signing up for almost any affiliate program.
There are thousands of different affiliate programs out there, so you can find ones that match your niche.
Once you're approved for an affiliate program, you can start promoting products you mention in your blog post on your Pinterest boards. When someone clicks on your affiliate link from your website and makes a purchase, you'll earn a commission.
Of course, it's not easy to convert your readers with affiliate marketing. You can't just expect to throw affiliate links everywhere and expect to make an easy commission.
To be successful with affiliate marketing, you need to have a solid strategy and make sure you're only promoting products that are relevant to your audience. This is easier said than done, but by learning and implementing the right strategies onto your blog, you'll be an affiliate marketing pro in no time. I also have an article on how beginners can make money using affiliate marketing.
3. Sell Products or Services
Another way you can make money from your blog is by selling products or services. This could be anything from e-books to online courses to physical products. Here are some examples of things to sell on your blog or shop once you're able to gain Pinterest traffic to your pages:
E-books
These could be anything from in-depth "how-to" guides to a roundup of your best recipes. As long as your e-book can help your readers with a specific problem, they are willing to pay a small price. Examples include the following:
A dummies guide to investing your way to $1,000,000
A diet plan for people with diabetes
How to decorate your home like HGTV
You could even offer a 10-day hair makeover challenge. I purchased an e-book for $39 from a blogger who has gorgeous hair!
Printables
These include printable sheets like budget binders, yearly planners, wall art, coloring pages, etc. If you're a creative individual and love to make printables, then this may be perfect for you!
Online Courses (or E-Courses)
Similar to e-books, you can create online courses to help your readers with a specific problem. It could be the same examples I said earlier about creating e-books. Many people upgrade their e-books by transferring the same content into a course format. With courses, creators may also include videos and tutorials as an add-on to charge more.
If you have something valuable that you think people would be interested in, then you can create a sales page and start selling it. This is a great way to make money from your blog, but it does require some work on your part to create the product and set up the sales page.
Not only that, but you would also have to know how to drive INTENTIONAL traffic to your blog before you think about what product to offer. It's not just any random traffic!
One HUGE mistake I often see beginners make is they become too hasty. They would launch a product without thinking about who their audience really is. The result is many beginners would blindly start a blog without building a solid foundation. That leads them to slap products onto their blog posts and sales page with no clue on how to properly market that product.
This usually leads to disaster, and I believe that beginners, who don't have any blogging or marketing background, can focus on learning how to get traffic to their blog posts and earn an income with display ads before they think about creating the perfect product for their audience. Learning how to get traffic and interacting with your readers can help you gain experience. In addition, it gives you a better understanding of their struggles and the kind of help they are looking for.
4. Offer Consulting Services or Coaching Programs
Finally, you can earn money from your blog by offering consulting services or coaching programs. This would involve helping people achieve their goals.
If you're an expert in something you're passionate about, then you can offer your services and help people achieve their objectives.
This is a great way to make money from your blog because you can charge a premium for your services.
My Pinterest Blog Income Reports, Blogging Progress, and Journey
I used to log my blog income reports as a beginner here if you want to see the progress. It's been my personal Pinterest and blogging journey for the last four years since writing this.
Now, I stopped publishing income reports because they took up my time. I was better off testing new ideas and strategies so I could teach you what works. I also focus a lot of my time on improving the diversification of my income stream using various ways today.
I hope you found this article helpful!
Are you going to start a blog on Pinterest? Don't forget to comment below if you have any questions about starting a blog and monetizing with Pinterest!