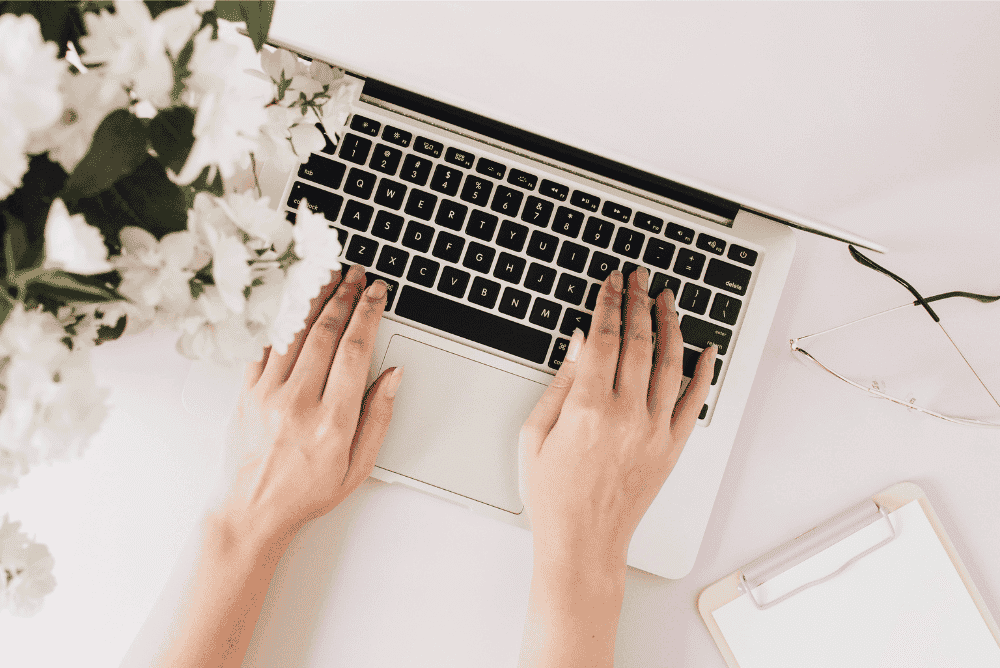 We will receive a commission if you make a purchase through our affiliate link at no extra cost to you. Please read our disclosure policy for more information.
If you're a Pinterest content creator or blogger, you may have heard of Tailwind – an app that allows you to schedule and publish your Pins so it gets seen on Pinterest by Pinners.
You may be wondering how Tailwind can help you with your Pinterest strategy.
Not only do many bloggers ask me for Pinterest traffic tips, but I also often get asked how to use Tailwind for Pinterest. So, in this post, I'm going to share how the app works and how you can start using it to grow your blog or business. As you may already know, I love to use Pinterest as a way to earn a full-time income with my blogs, so Tailwind is a must-have investment for me!
What I love about Tailwind is it can help you, or your VA, save time on your Pinterest marketing efforts. Instead of manually pinning every day, or using the Pinterest scheduler in your Pinterest business account (which only allows you to schedule up to 14 days), you can use Tailwind to schedule your pins in advance for months.
This means that you can spend less time on Pinterest overall, and more time working on other aspects of your business or blog. For me, that's spending more time on creating content, engaging with my readers, testing, and implementing new affiliate marketing strategies, and so on.
If you're somewhat new to Pinterest and want to learn how to explode your pageviews or increase your overall blog traffic, I have this free 7-day course called Skyrocket Your Pinterest in 7 Days here that will show you how. These are the strategies I used to increase my blog traffic from 0 to over 100,000 monthly pageviews, and in my free Pinterest traffic course, I share some of my secrets with you. 🙂
How To Use Tailwind for Pinterest Business Users
Pre-scheduling your pins could help you automate or even increase your Pinterest traffic if you are consistently pinning regularly. Like any social media or platform, Pinterest wants you to be active, so you must be pumping out new content and pins for them!
Not only can you save time from manually pinning, but Tailwind also offers some features that are not available on the Pinterest platform itself.
For example, Tailwind Communities are groups of like-minded people who share content. This is a great way to get your pins seen by other content creators, who will share your pins when you share theirs too! This allows everyone to increase their brand awareness in addition to getting more traffic when you are sharing each other's pins. It's a win-win for both sides!
Before going through this post, make sure to Pin and save this image to your Pinterest board for later so you can come back to this detailed tutorial about Tailwind: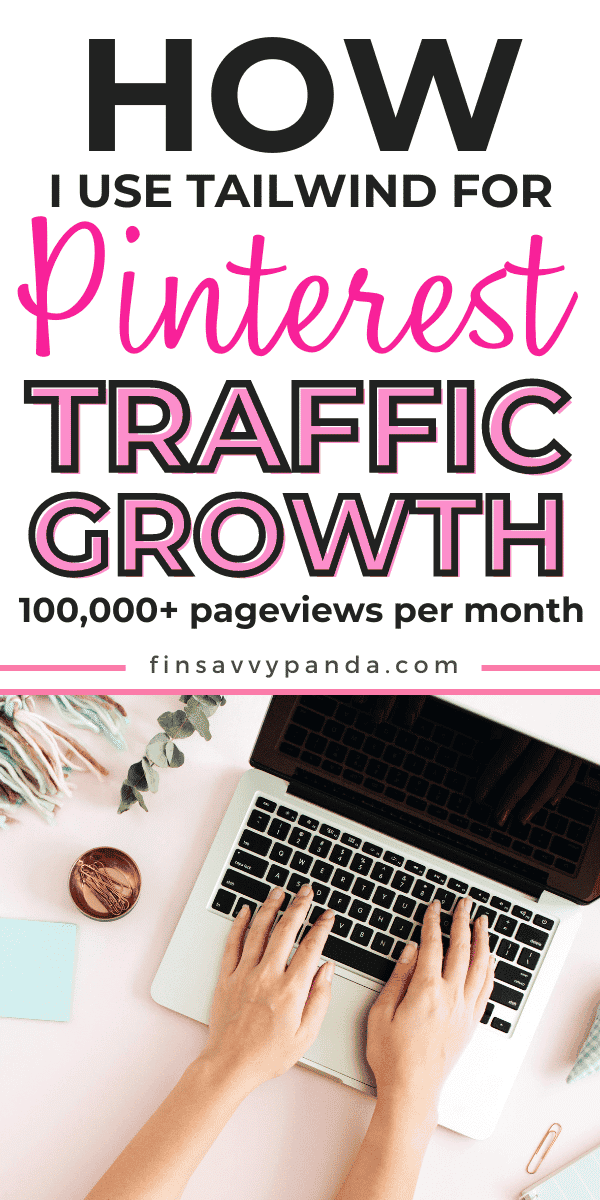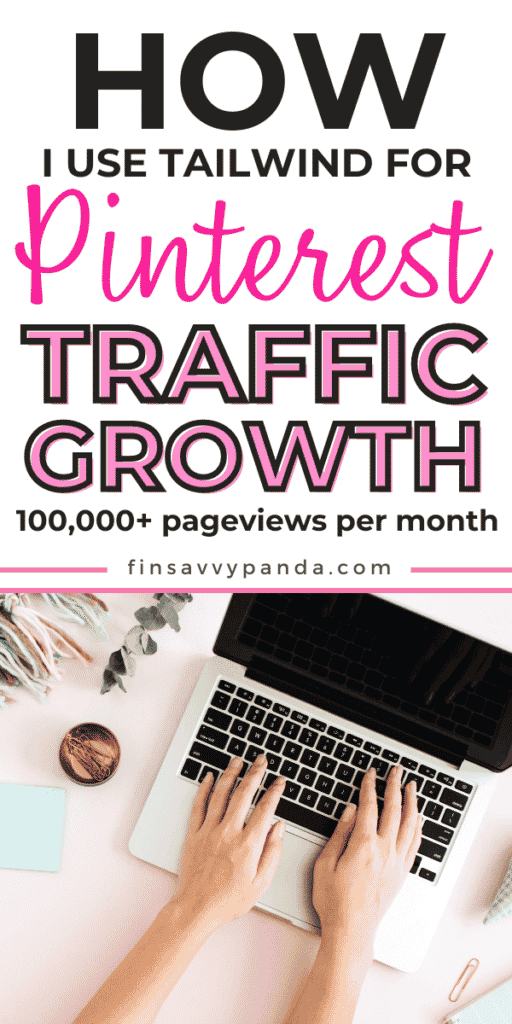 If you want to be able to schedule your pins days, weeks, and months in advance to save time from manually pinning on Pinterest every day, then read on! I'm going to show you how you can use Tailwind for Pinterest to automate your blog traffic.
GET A FREE TAILWIND TRIAL: If you're interested in trying out Tailwind for your Pinterest marketing, you can sign up for a FREE trial here with my link. This link will also offer you a FREE $15 Tailwind credit if you decide to purchase a plan. Once you've signed up, you'll be able to connect your Pinterest account and start scheduling pins.
Is Tailwind free for Pinterest?
Before you can learn how to use Tailwind for your blog and Pinterest account, you first need to sign up for Tailwind.
Yes, you can get started with a free Tailwind account, however, the features are very limited when you're on the free version. It's pretty frustrating because it only allows you to schedule 20 pins per month, which is not enough, and won't make any significant impact.
As mentioned earlier, you must be active and consistent on Pinterest, so I recommend pinning at least 3 to 5 Pins daily whether it's your own Pin or another creator's Pin.
You may think pinning a minimum of 3 to 5 pins daily is a lot of work, but it isn't when you have pre-made eye-catching Pinterest Canva templates like the ones here. They are the exact Pin Templates I use to streamline my blogs to bring over 100,000 monthly page views to each website!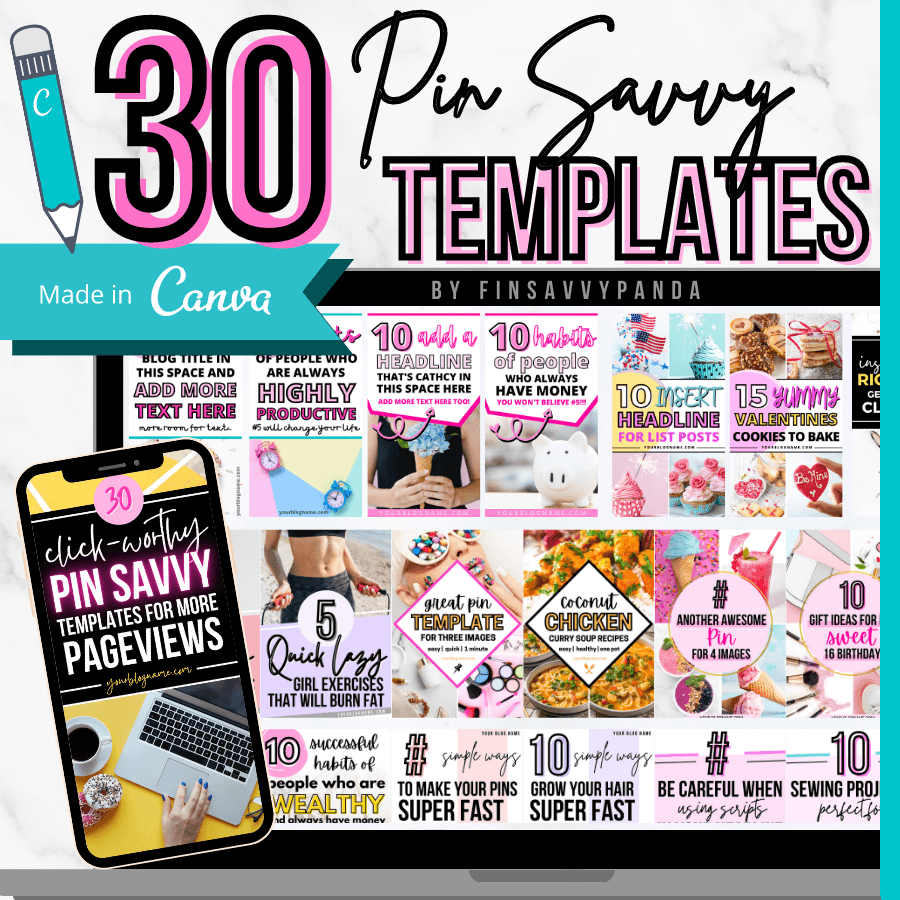 Having that said, you can always start with the free plan and see how you like the Tailwind platform before committing to a monthly or annual plan. If you are expecting to get a lot from the free Tailwind plan, then you are in for a surprise because it won't be helpful unless you manually pin on the Pinterest platform, or upgrade your Tailwind plan to schedule more pins into the Tailwind queue.
Tailwind Pricing: How Much Does Tailwind Cost?
For those of you with only 1 website, you can start with the lowest-price plan, which is the Pro Plan. This is only $9.99 per month when you pay $120 annually upfront (otherwise it would be $19.99 per month). So, by paying the full up-front cost for the year, you are saving 50% which is $120!
Under the Pro Plan, you get 1 Pinterest profile with 100 posts per month (that's on average 3-4 pins per day) if you schedule your posts one month in advance, 5 Tailwind Communities, and more. With Tailwind Communities, you can collaborate with other content creators by sharing each other's pins. This is one way to increase your traffic in the long haul when more and more people start sharing your posts and pins through Communities.
I use the Advanced Plan, their most popular plan because I find value in having unlimited access to as many Tailwind Communities as possible. The Advanced Plan is only $19.99 per month when you pay $240 upfront (otherwise it would be $39.99 per month). Again, by paying upfront for the entire year, you save 50% which is $240!
SPECIAL BONUS: You can click this link to get a FREE Tailwind trial along with a $15 credit which you can use if you choose to upgrade your plan. On top of that, when you sign up using my link, you'll be given a welcome bonus where you can purchase the Pro Plan and double your number of posts! In other words, instead of 100 posts per month, you'll get 200 posts per month! That's equivalent to 6 to 7 pins per day (compared to 4 to 5 pins per day without the bonus offer), which is more than enough pinning each day. With that many pins published, Pinterest will consider you as a business user who is active on the platform.
Creating a Tailwind Account
Now that you know the difference between a free and paid version, let's get started on helping you sign up and using Tailwind as a first-time user. This tutorial will work for both a free and paid account.
Step 1: Sign up with Tailwind by connecting it with Pinterest.
Again, you can use this special link to sign up for a free account and ensure you get a $15 credit along with your welcome bonus if you ever decide to invest in a Tailwind plan.
Click on "Sign up with Pinterest".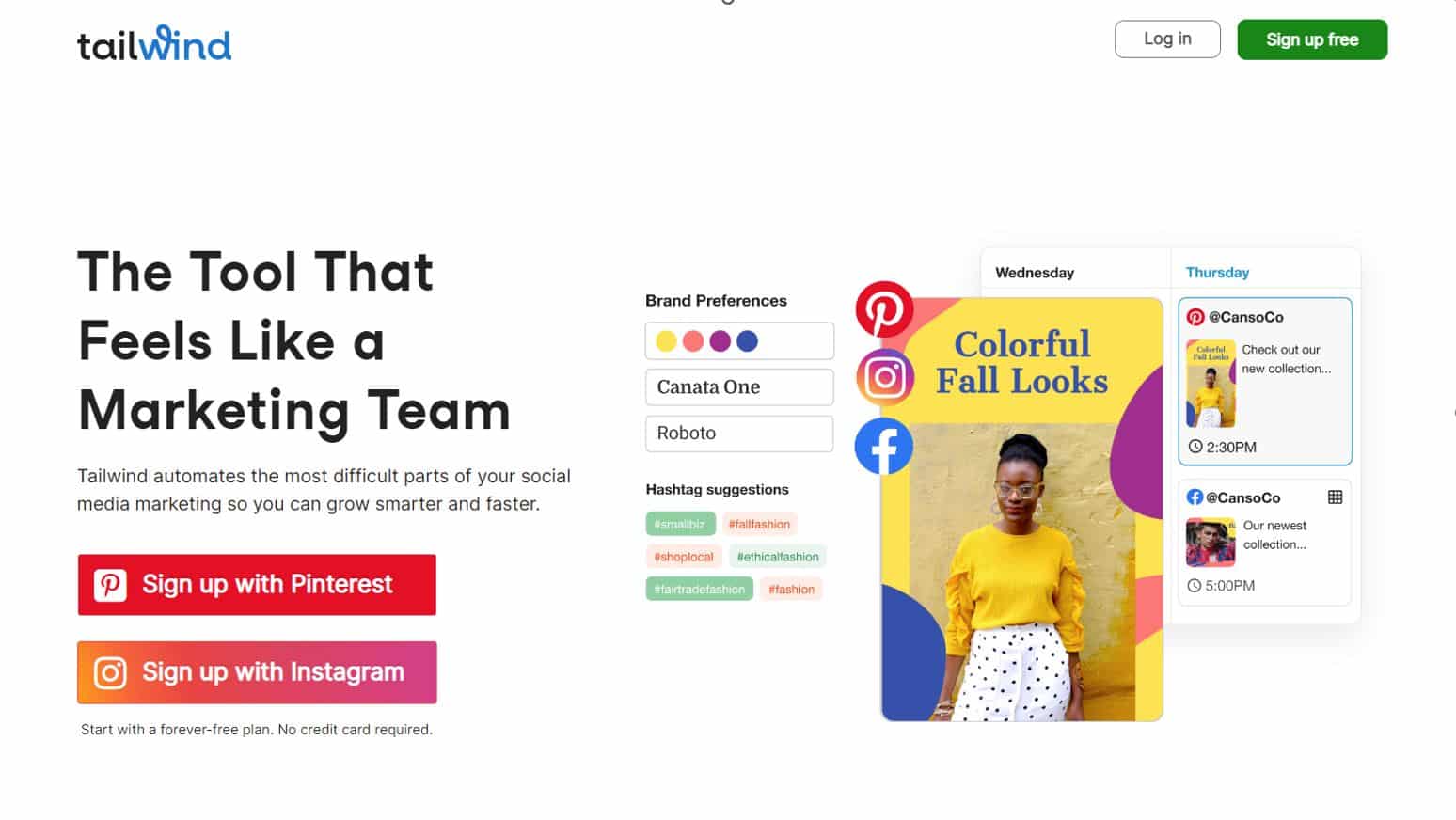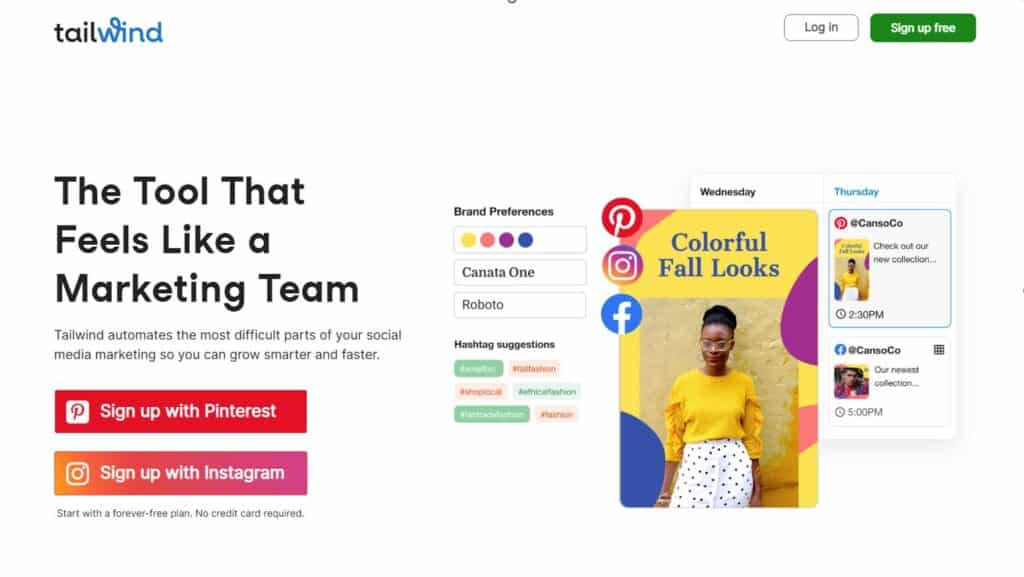 Step 2: Enter your email and password associated with your Pinterest account.
If you forget your password for Pinterest, just reset it.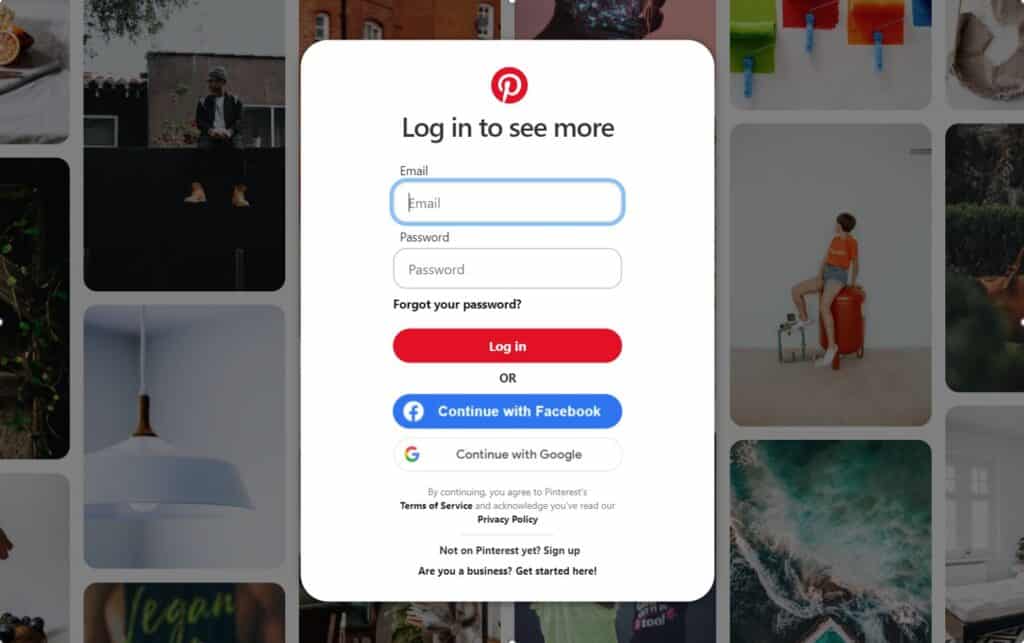 Once you input the correct password, click on "Give Access".
Now, you can wait for 5 to 10 seconds as Tailwind connects to your Pinterest account.
Step 3: Setup your Tailwind Account.
After connecting to your Pinterest account, you will see a screenshot like the one below. Here, you can enter your email address and password.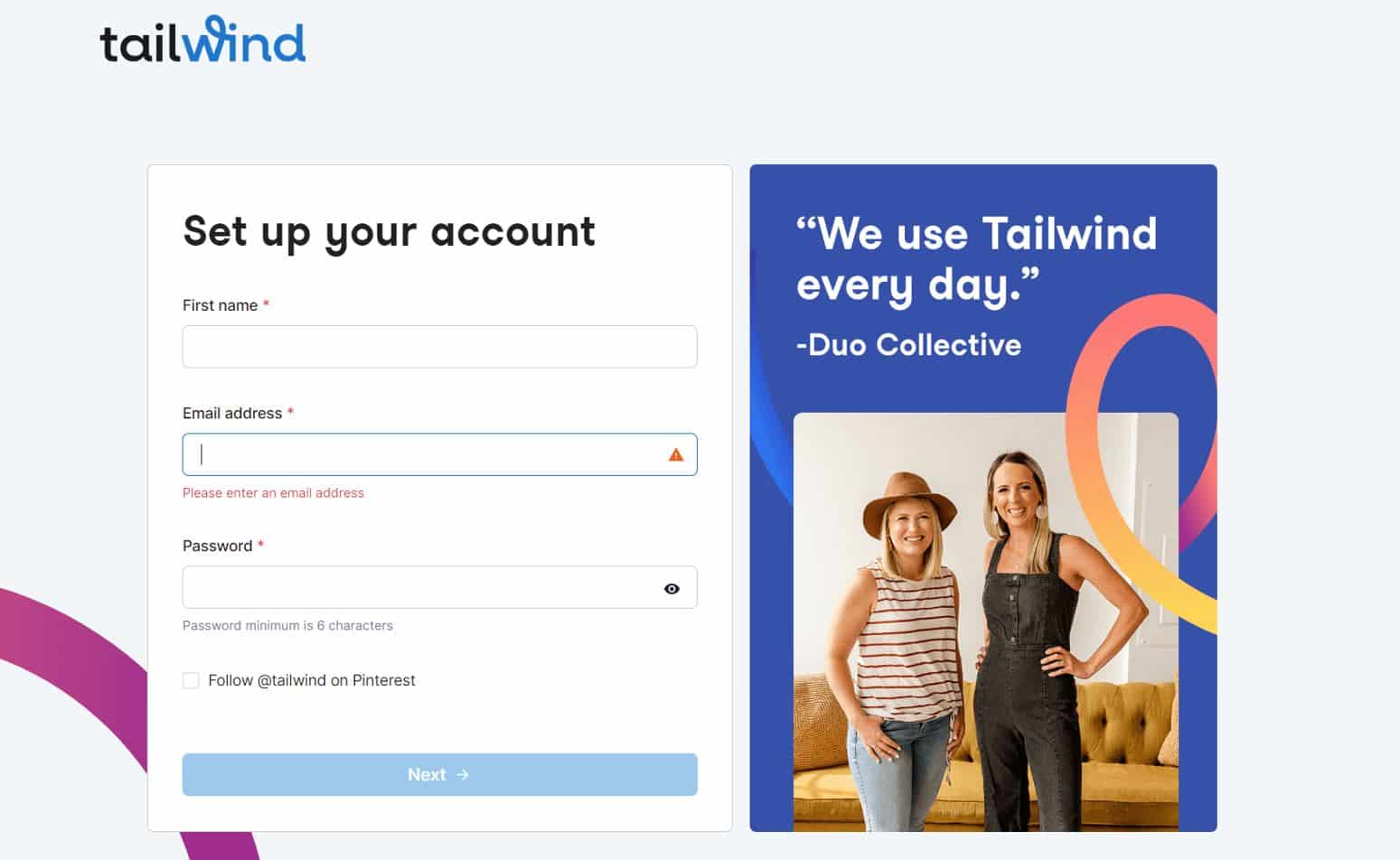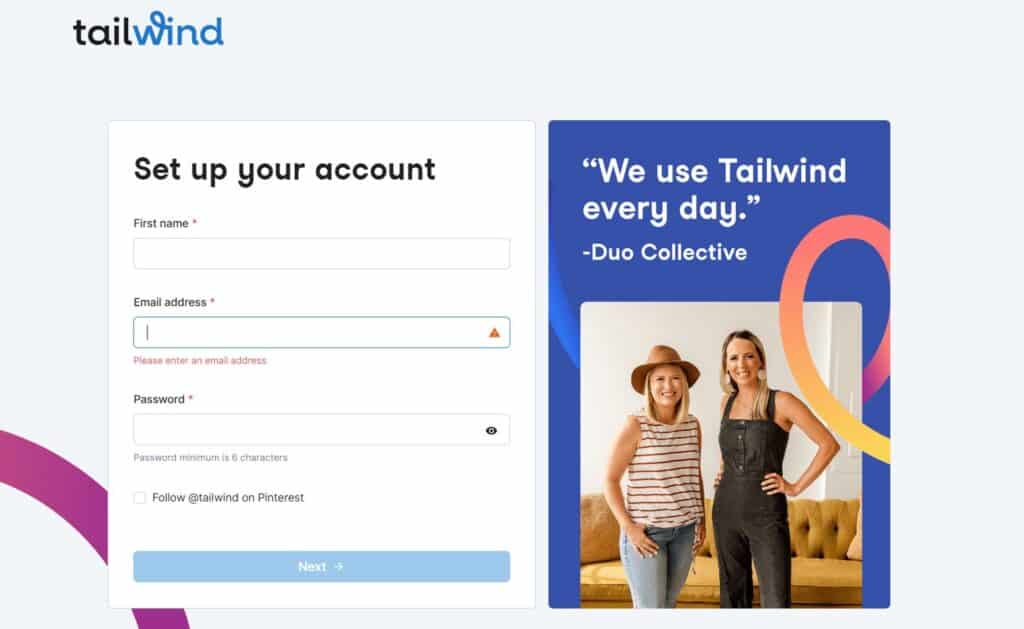 Step 4: Answer the question, "Which describes you best?"
Once you're in, you can choose what best describes you. I personally chose "Blogger" for my case.
Then, you can click on "Create Account".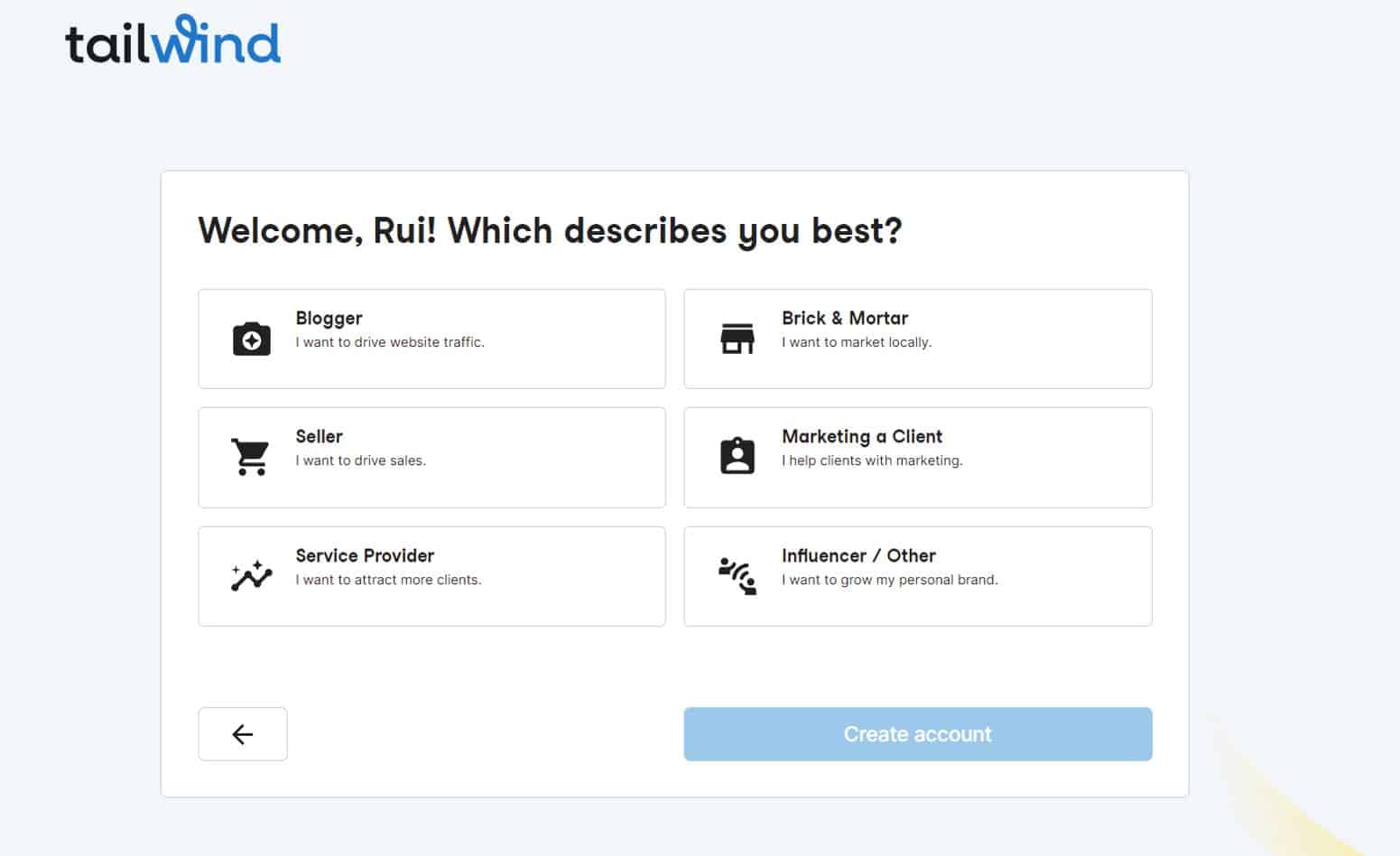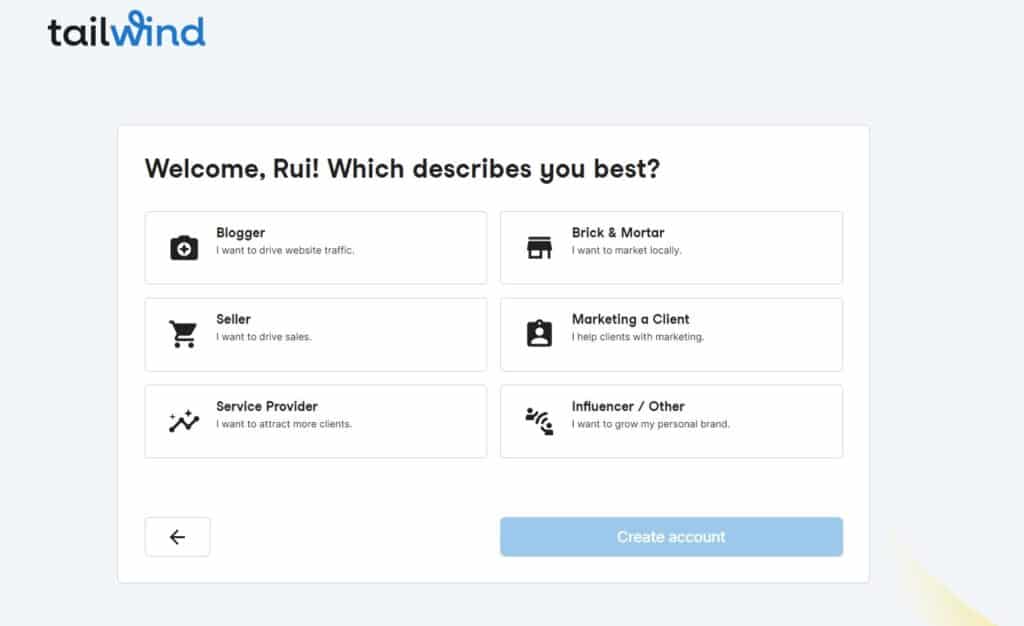 Step 5: Set up your Tailwind account.
Select "Set up all my accounts" to move on to the next step.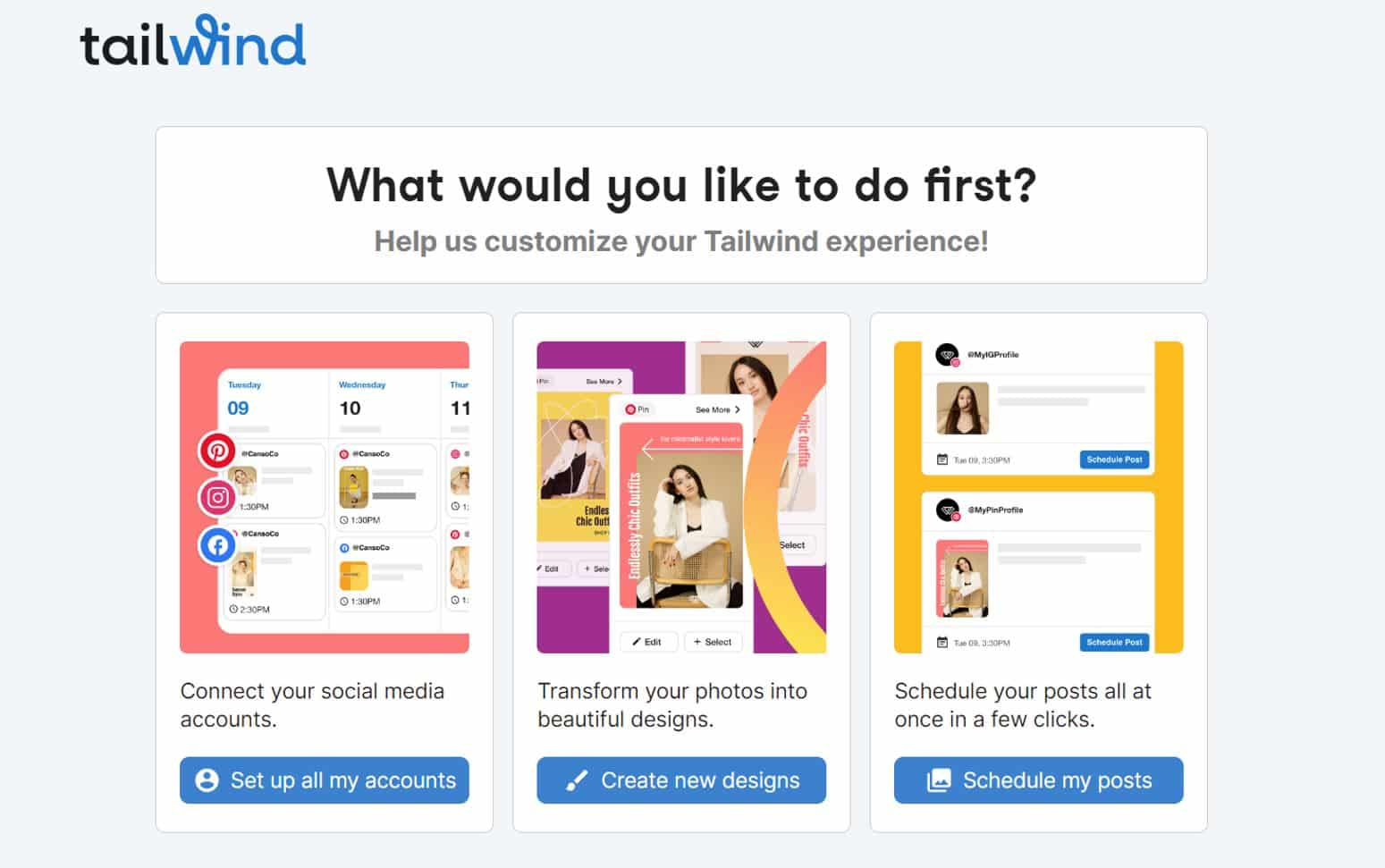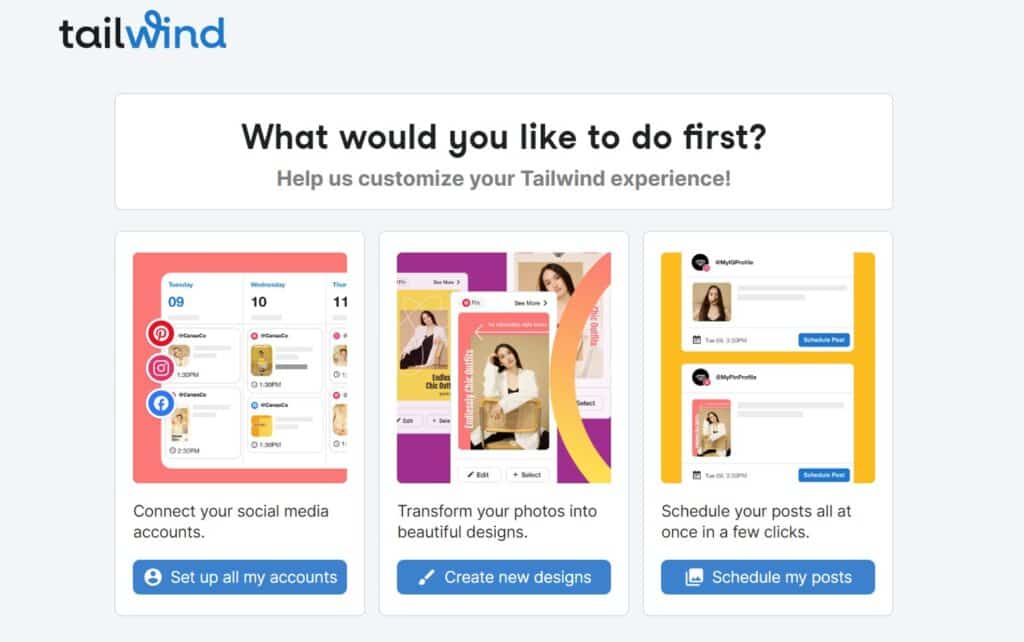 Once you're in, this special bonus pop-up may appear.
They will give you a special welcome bonus like this when you use this link to create your Tailwind account here.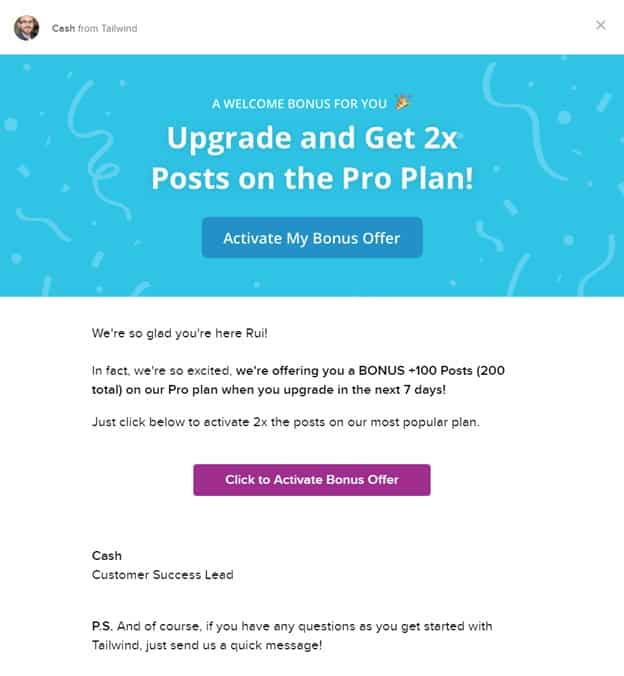 Even if this pop-up doesn't appear, you will receive the bonus offer when you upgrade your Tailwind plan within your free account.
Congratulations, you now created a Tailwind account! We can go through the next step by step tutorial, which will teach you how to schedule posts and pins for Pinterest using Tailwind!
How To Schedule Using Tailwind for Pinterest
As I mentioned, I am on the paid plan for two of my blogs, but I had to create a new free Tailwind trial account aside to make this tutorial. What I see on the dashboard of my paid accounts will be slightly different from the free version.
Step 1: Log into your Tailwind account.
Once you're logged in, your home page will look something like this: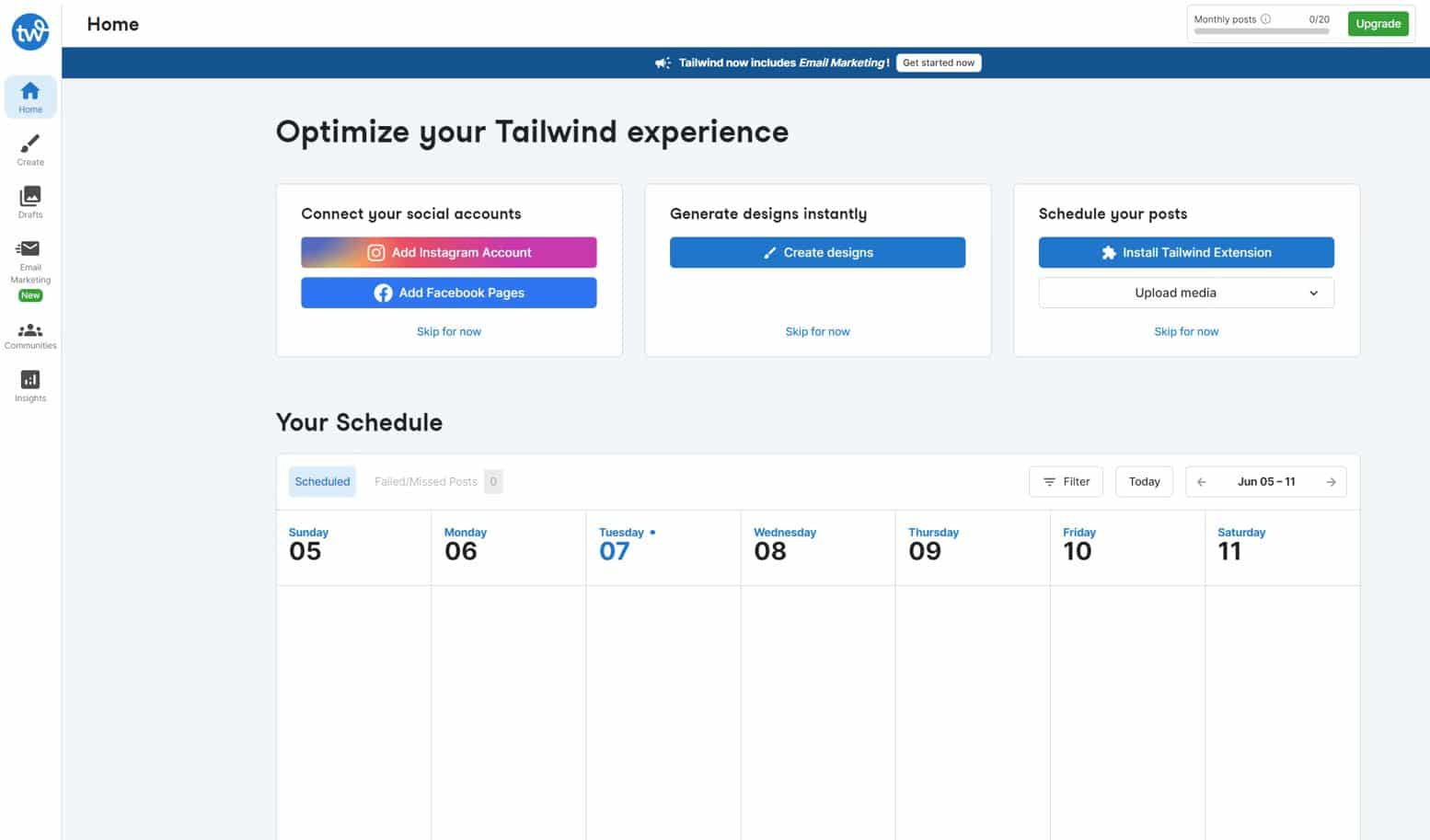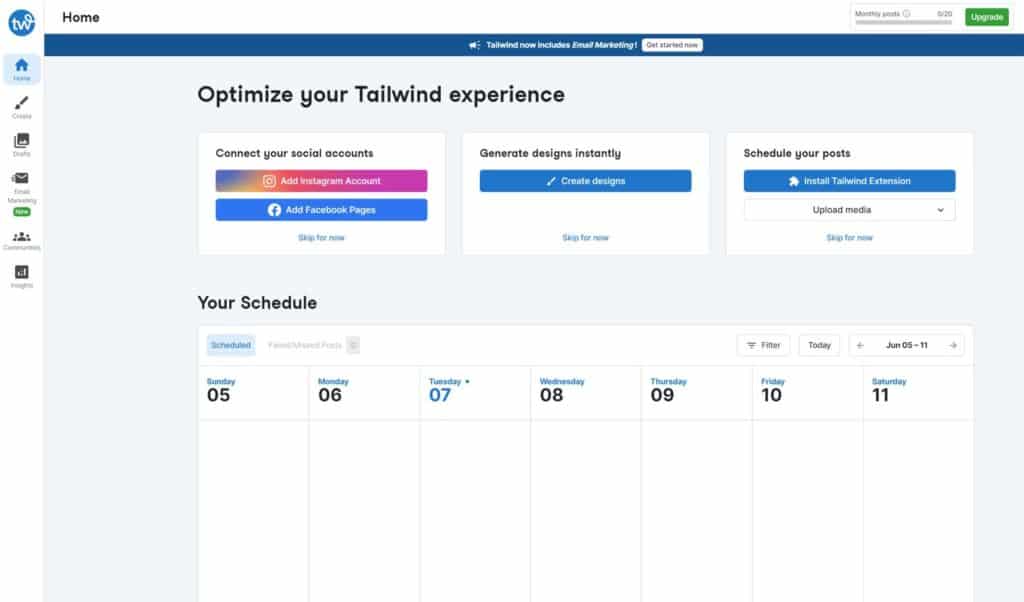 Step 2: Go to Publisher on Tailwind.
Go click on "Create" and then click on "Publisher".
Note: In the paid account, it will be called "Original Publisher" instead of "Publisher" and it's easier to access this from the paid account. In the free account, you always have to click on "Create" before you see the icon for "Publisher". This is where you can schedule your Pins for many future dates.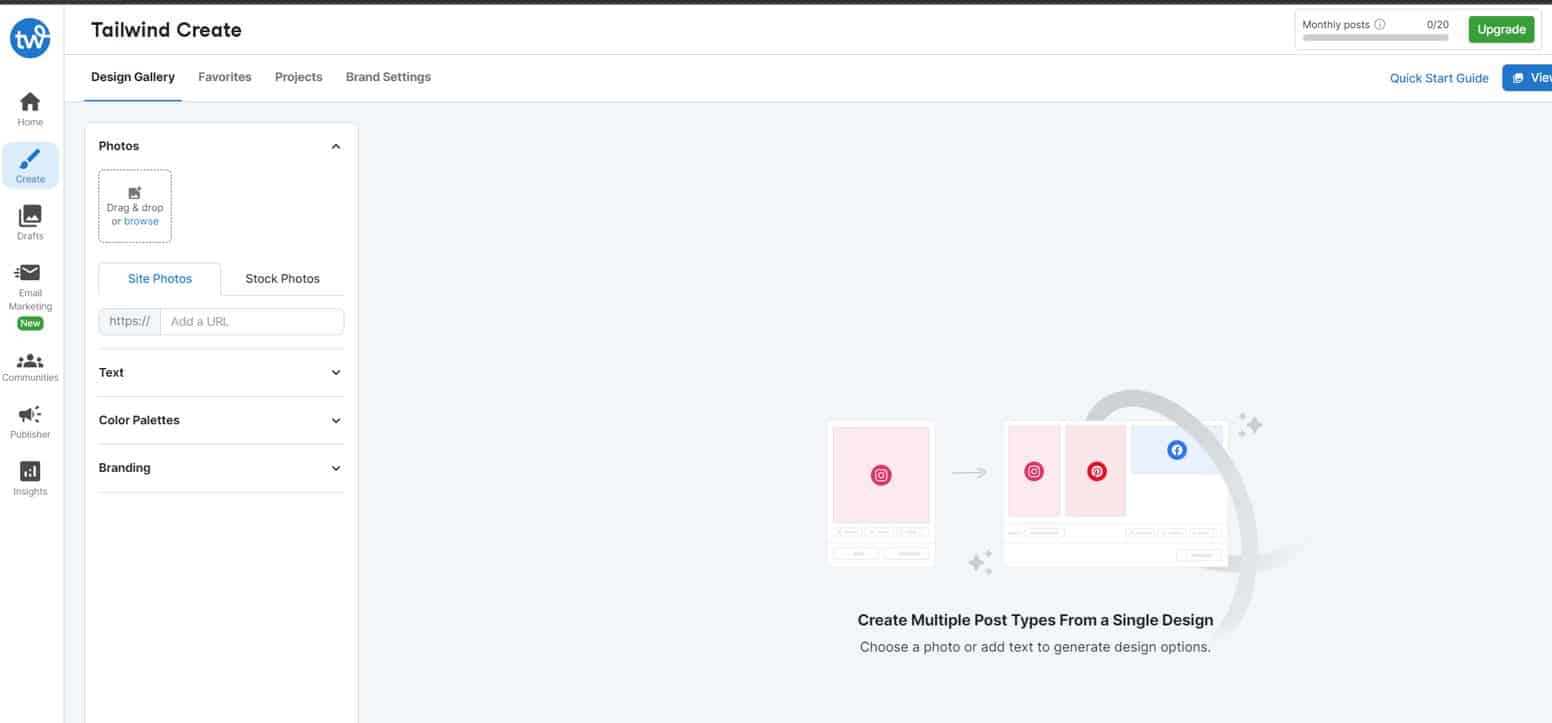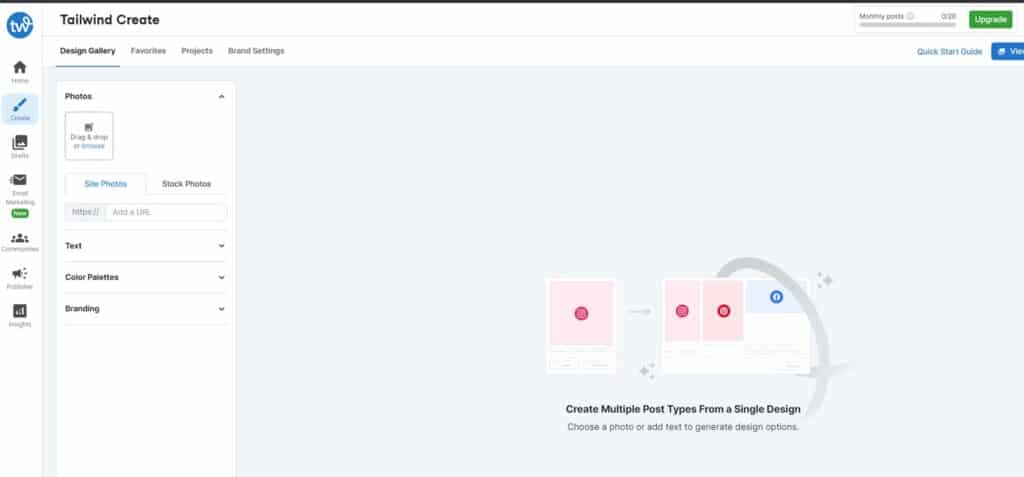 As you can see, the free account only allows you to post or pin a maximum of 20 per month.
You will need to upgrade to a paid Tailwind Plan if you want to post more. This is why I recommend taking advantage of their welcome bonus because it provides you with a bonus of an additional 100 posts on top of the standard 100 (that's 200 posts in total).
You can also get started with this free $15 credit and use it towards the Pro plan.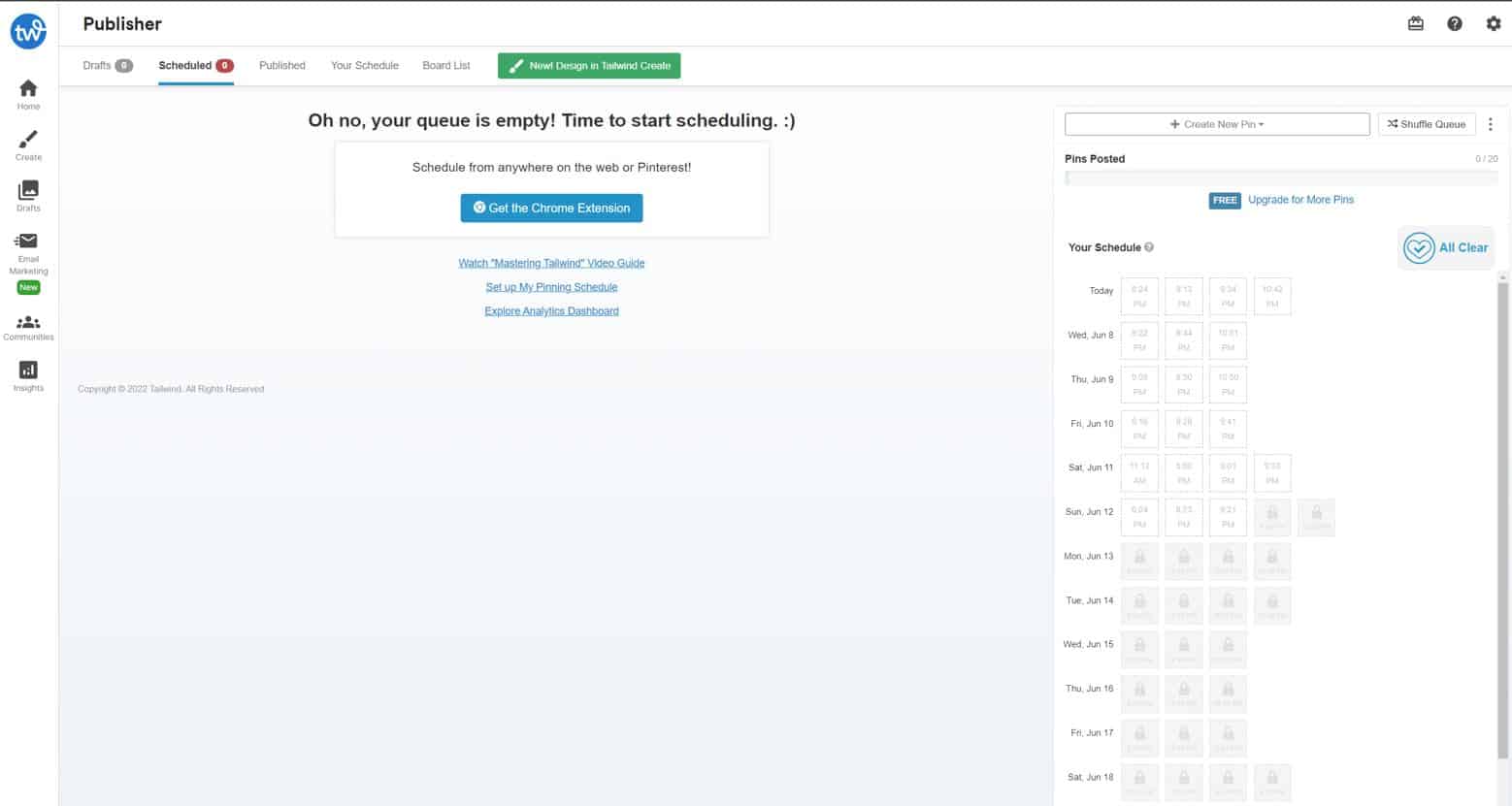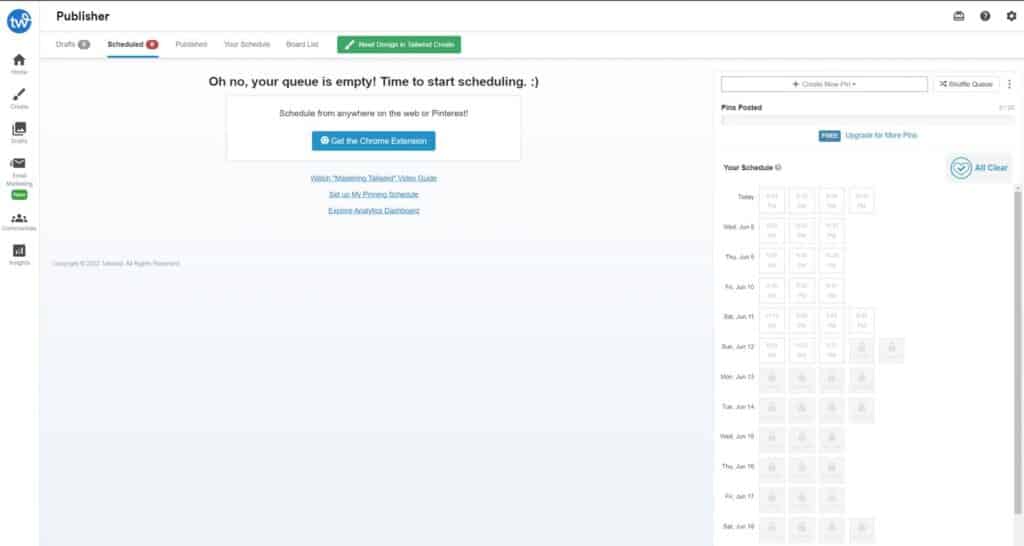 Step 3: Upload your pins from your drive.
To move onto this section, I am assuming you have already created your Pins on Canva and have them saved on your PC.
On the top right, you'll see a button called "Create New Pin". Click on that and select "Upload Photos/Videos". This will allow you to select your Pin to schedule into the Tailwind queue.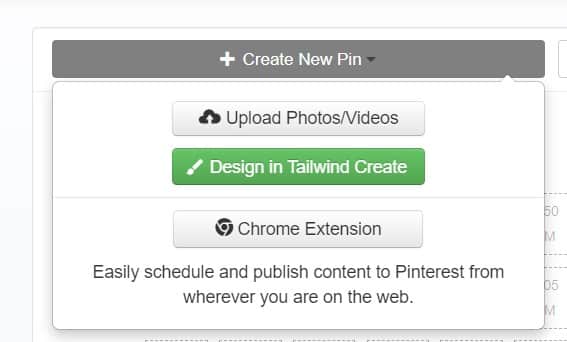 You can select as many Pins as you like to upload, or you can do it one at a time. Here is an example when I select two Pins to upload onto the Tailwind platform.


Next, I am going to use 3 pins as an example, so this is what your dashboard will look like when you have uploaded 3 pins.
Step 4: Complete the blank fields in your pins prior to scheduling them on Tailwind for Pinterest.
Now that your pins are uploaded onto Tailwind, it's time to fill in the Pin title in addition to entering your description about the Pin.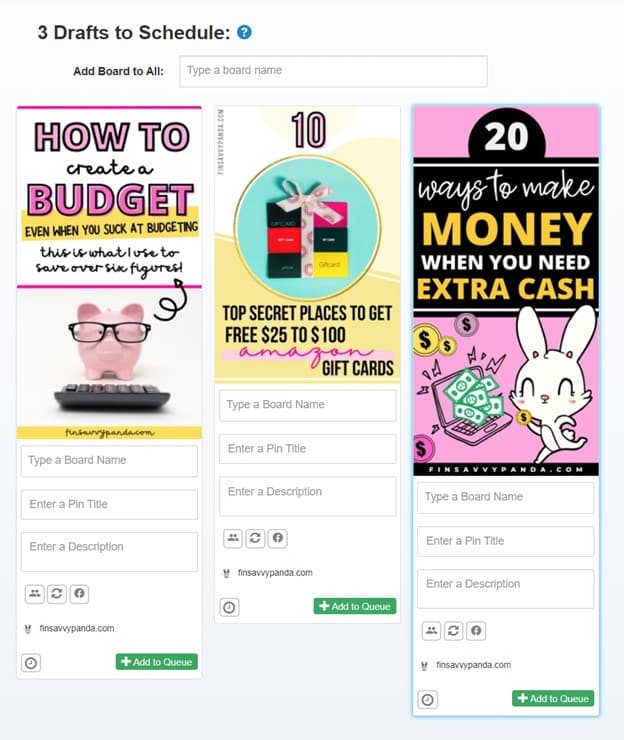 You will also select the relevant Pinterest board that you want to publish this pin on. Finally, you will input the URL to your blog post. You can see that my fields are empty right now, but let's use one of these as an example to help you visualize how to do this. I am going to use my Pin, How To Create a Budget, as an illustration. By the way, these Pin templates that I made are available for purchase here. It works for any blog niche you can think of, plus it comes with my e-book guide on how to use and design eye-catching pins to increase your Pinterest traffic and click-in rates!

You have the choice to type your board name or select it from the drop-down.
NOTE: If you recently created new boards on Pinterest, you may want to hit the "Refresh Boards List" to make sure it shows up in your drop down.
Because this Pin is about budgeting, I want to make sure I input it into the proper category, so I would choose any board that is about budgeting, saving money, frugal living, or general personal finance. In this case, I chose to schedule this pin to a board called "How To Save Money".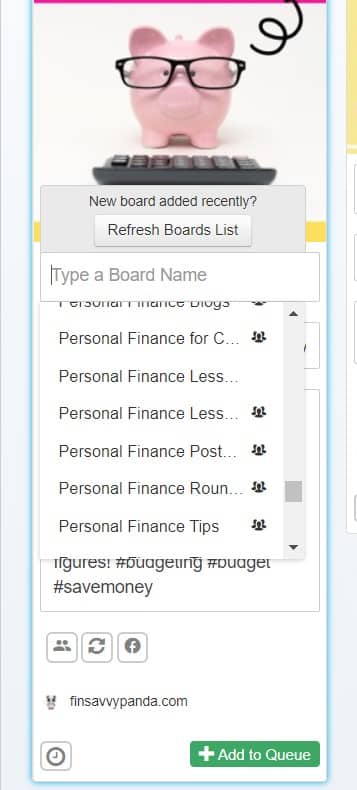 Step 5: Schedule your pin on Tailwind.
Before you hit the green light, don't forget to input the link to your blog post. It's a common mistake to make so try to keep this in mind. The worst thing that can happen is having your Pin go viral, or it gets a lot of saves, but suddenly people are going to your home page, which is not good.
Now, you can hit the "+Add to Queue" button.
Step 6: Choose the date you want your pin to be published
Looking at the image below, you can see I have around 5 to 6 pins scheduled per day on Tailwind.
Now you can move your pin around within the "Your Schedule" section (on the right-hand side) by holding the pin, dragging it, and dropping it into the slot you want. As you can see in the screenshot below, each slot will indicate a time on a specific date.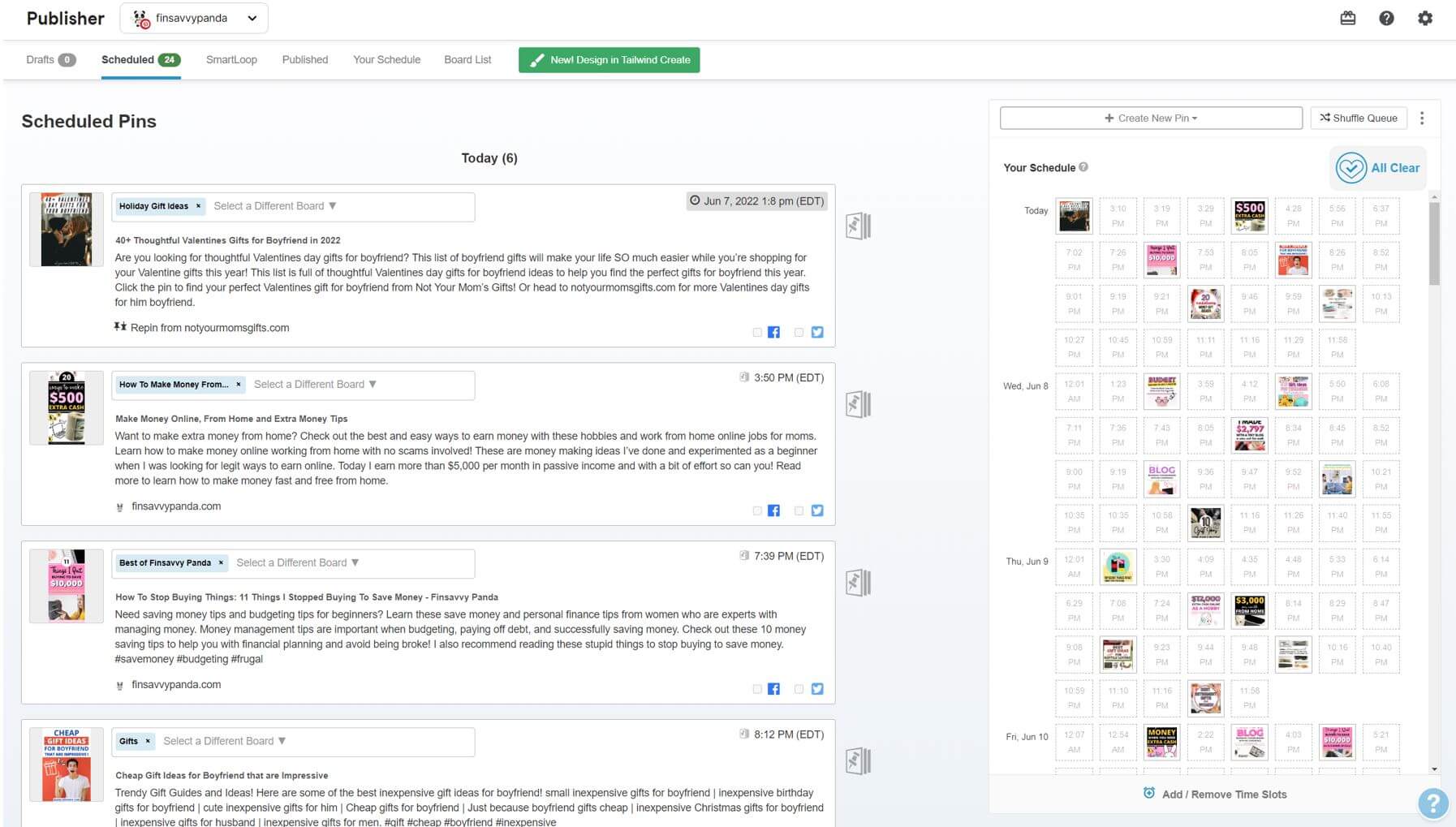 You can also "lock" the pin into each scheduled box by hovering over the pin and clicking on the lock icon, which comes in handy when you are randomly shuffling your pins in the Tailwind queue. I'm going to go into more detail about that in the next section.

Tailwind Shuffle Queue
One feature that Tailwind comes with is the "Shuffle Queue" which is quite handy for some people who don't want to think about when to publish. In other words, the shuffle feature allows the Tailwind app to randomize the pin scheduling for you.
When you decide to use this function, I highly recommend locking in the pins (mentioned previously) that you want to set a particular date and time for. The shuffle function may be helpful for the pins you don't care about setting a particular time or date for publication.
I personally prefer to choose specific dates and times for all my pins, so I never use the shuffle function on Tailwind. I admit this takes more time, effort, and brain juice to think about (e.g. thinking about what and what time to pin for particular posts), but I rather am intentional with my pinning than to let Tailwind randomly decide for me.
How To Unschedule a Pin on Tailwind
There may be a time when you want to unschedule your pins.
Here's how to do it.
Under the same tab, "Original Publisher" or "Publisher", you can review your scheduled pins on the left-hand side of the screen under "Scheduled Pins" and see if you're satisfied with the fields. Should you come across something that you don't like, or need to edit, you can simply hover over the box and click on the "Back to Draft" button.

This will send your pin back to draft mode where you can tweak your fields.
Select a Different Board on Tailwind
Another edit function they have is "Select a Different Board".
Perhaps you decided to pin this to a different board from what you originally chose. You can easily change that by simply selecting another board.
In this case, the board I wanted to save this pin to is "How To Make Moey From Home" but now I want to pin it to "Side Hustle Ideas", so I can quickly edit that on the spot without unscheduling the pin or sending it back to draft.

Tailwind Weekly Pinning Schedule
When you first sign up for Tailwind, you'll notice that you are given 5-6 pre-set time slots on each day to fill. You can quickly change this and/or add more time slots to your Tailwind pinning schedule.
Under the same page, "Publisher" or "Original Publisher", go to the "Your Schedule" tab.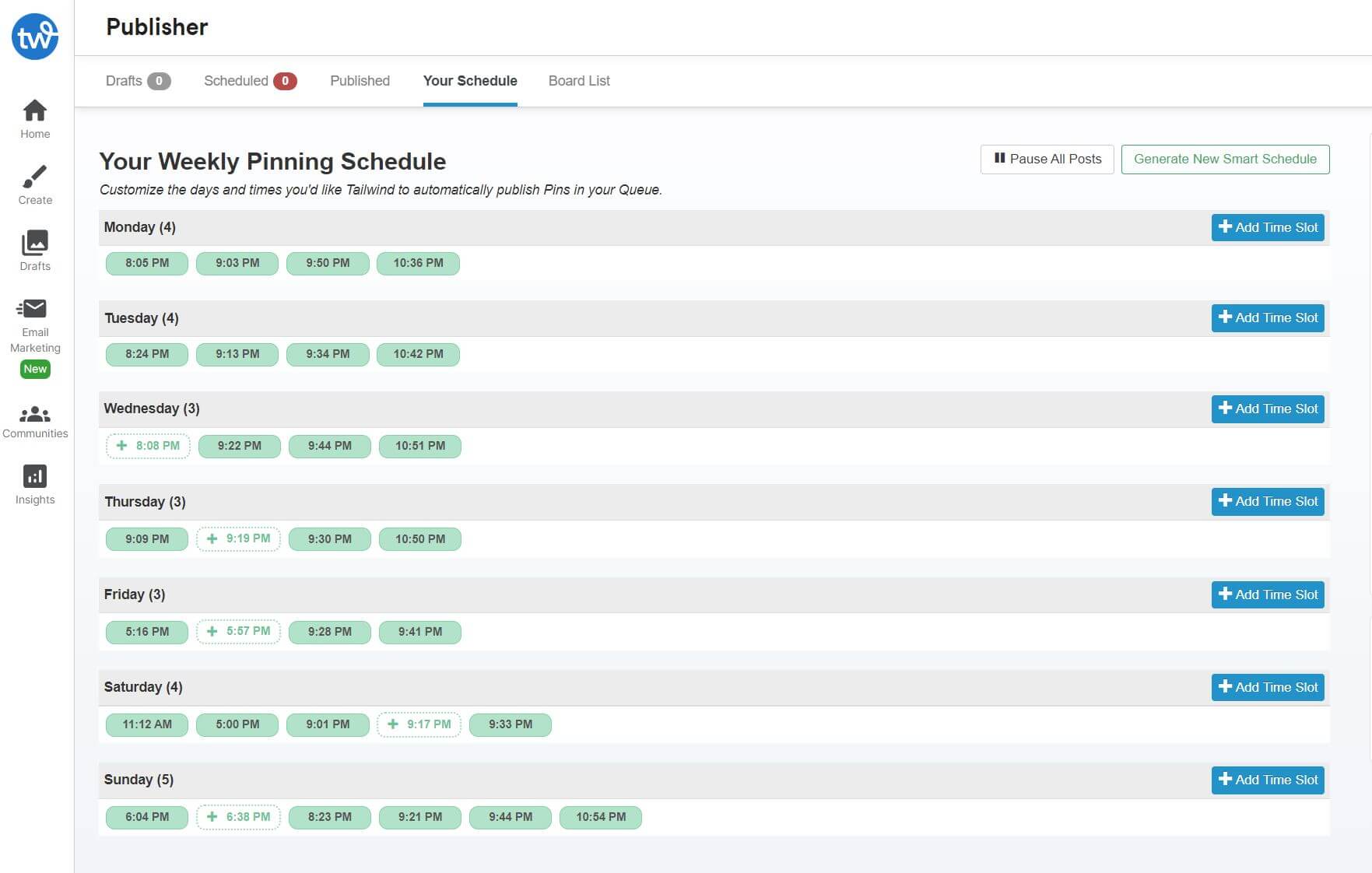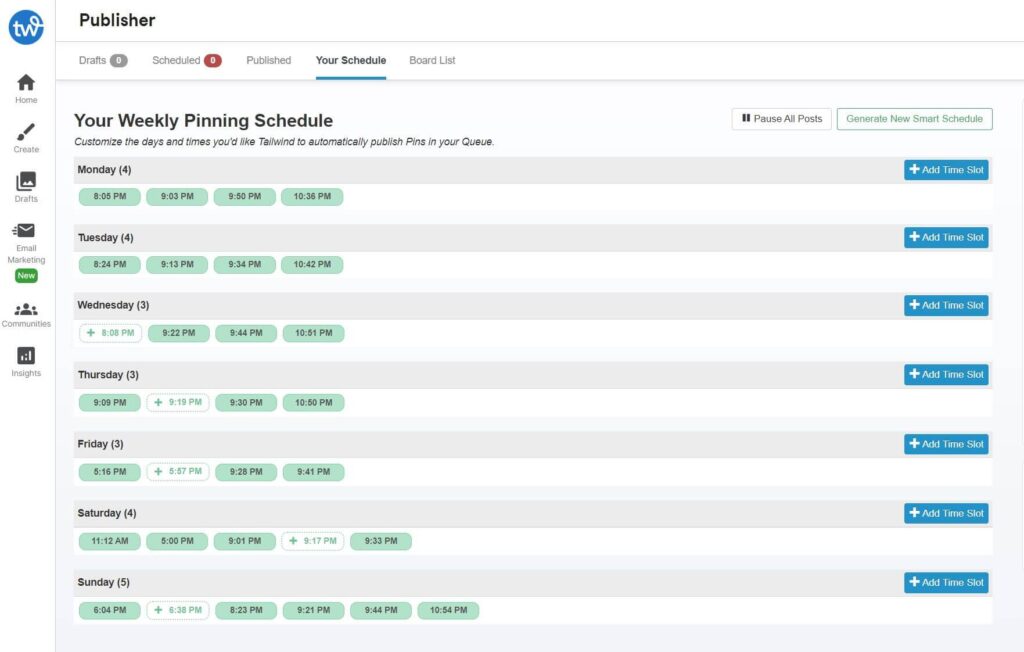 Next, you can click on the blue button, "+Add Time Slot" to allow you to increase the number of pins scheduled per day at the desired times you want. This also allows you to customize the days and times you'd like Tailwind to automatically publish Pins in your queue.
Be sure to set your Timezone on the same page before doing this.
Conclusion on How to Use Tailwind for Pinterest Traffic
If you're a content creator, then you know the importance of promoting your content on social media or search engines. And if you're looking for a new way to promote your content, then you should definitely consider using Tailwind for Pinterest.
As mentioned, Tailwind is a tool that allows you to schedule and publish your content on Pinterest. It's super easy to use and it can help you boost your content's reach especially when you take advantage of their feature, Tailwind Communities. I mentioned this feature in my post about how long it takes to get traffic from Pinterest, and I love using Tailwind Communities because is a great way to build up a following and traffic on Pinterest.
Overall, Tailwind is a great way to save time on promoting your content on Pinterest. Not only is it easy to use, but it can also help you reach a wider audience. If you're looking for a new way to promote your content, then you should definitely consider using Tailwind for Pinterest today!
I hope you found this tutorial on how to use Tailwind helpful for your blog and Pinterest traffic! If you have any comments or questions, please leave them in the comment box below and I shall answer them.