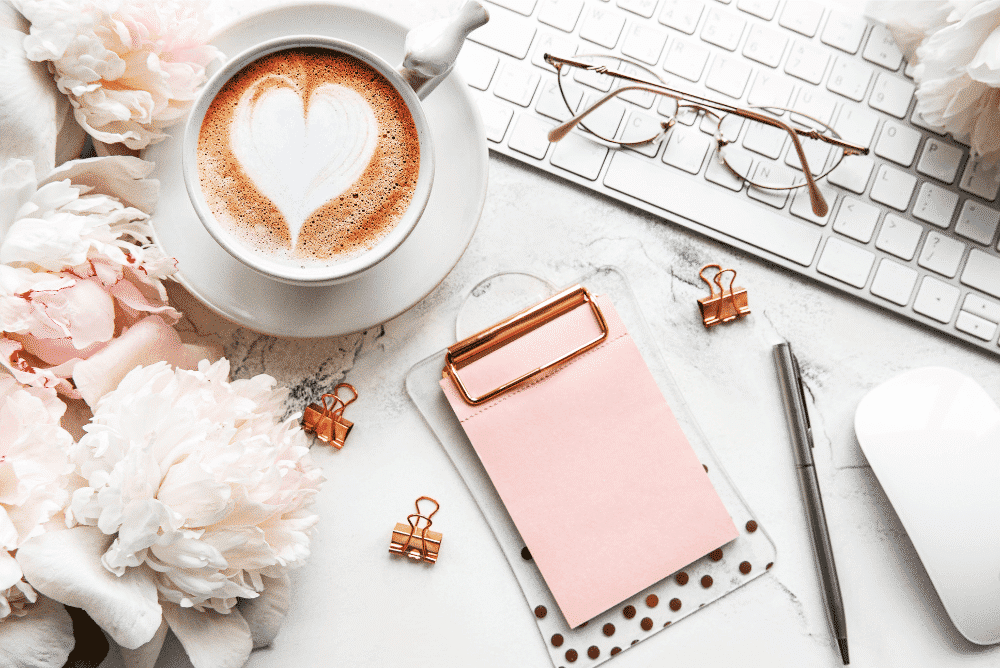 We will receive a commission if you make a purchase through our affiliate link at no extra cost to you. Please read our disclosure policy for more information.
Over the years of blogging and being a content creator, I often get asked this question.
"How long does it take to get traffic from Pinterest?"
Or, "How long does it take to grow on Pinterest?"
I decided to answer this question here on this post because, for one, it saves me time from individually answering my readers, so it makes things more efficient.
Secondly, based on my personal experience, I've seen so many people who misunderstand Pinterest in so many ways. From how it works to how you can make money from it, I just want you to have a better understanding of this platform.
First off, let me say this.
Making money from Pinterest and learning how to use Pinterest as a blogger is not a quick or easy process. Just like any other platform or source of traffic, it takes time, effort, and consistency to see results.
That being said, if you're willing to put in the work, you can absolutely make money from Pinterest.
In fact, I know several beginners who are making over $1,000 per month from their blogging and content creation businesses – all thanks to Pinterest traffic. And if you already follow me and know my story, I am consistently earning over $20,000 per month as a full-time blogger all mostly thanks to a great pinning strategy on Pinterest.
PIN THIS: Before going through this post, make sure to Pin and save this image to your Pinterest board for later so you can come back to this article for your reference: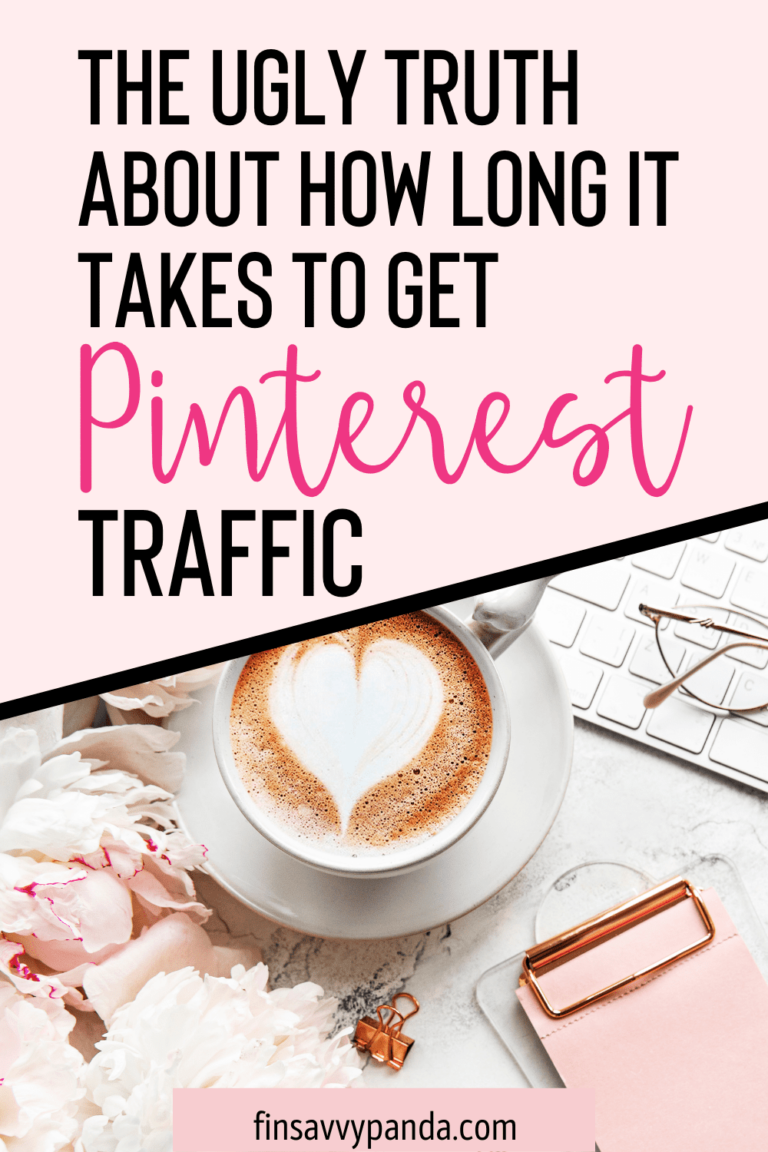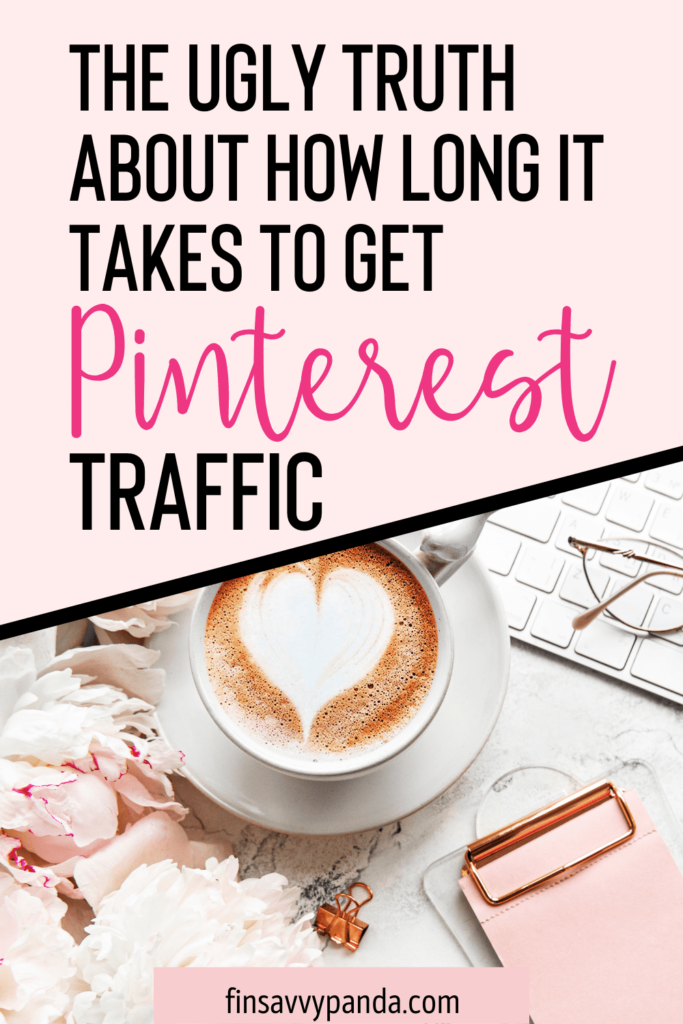 How to get traffic from Pinterest
I can go on and on about Pinterest traffic since there are various factors that will affect your traffic.
I actually included every single one of those factors in my best-selling guide, The Golden Compass To Pinterest Traffic, where I spill the beans on how I went from 0 to over 100,000 monthly pageviews with two of my blogs!
And yes, it's all free traffic from Pinterest. No paid ads!
This comprehensive A-Z guide teaches you everything about how to get free organic traffic on Pinterest.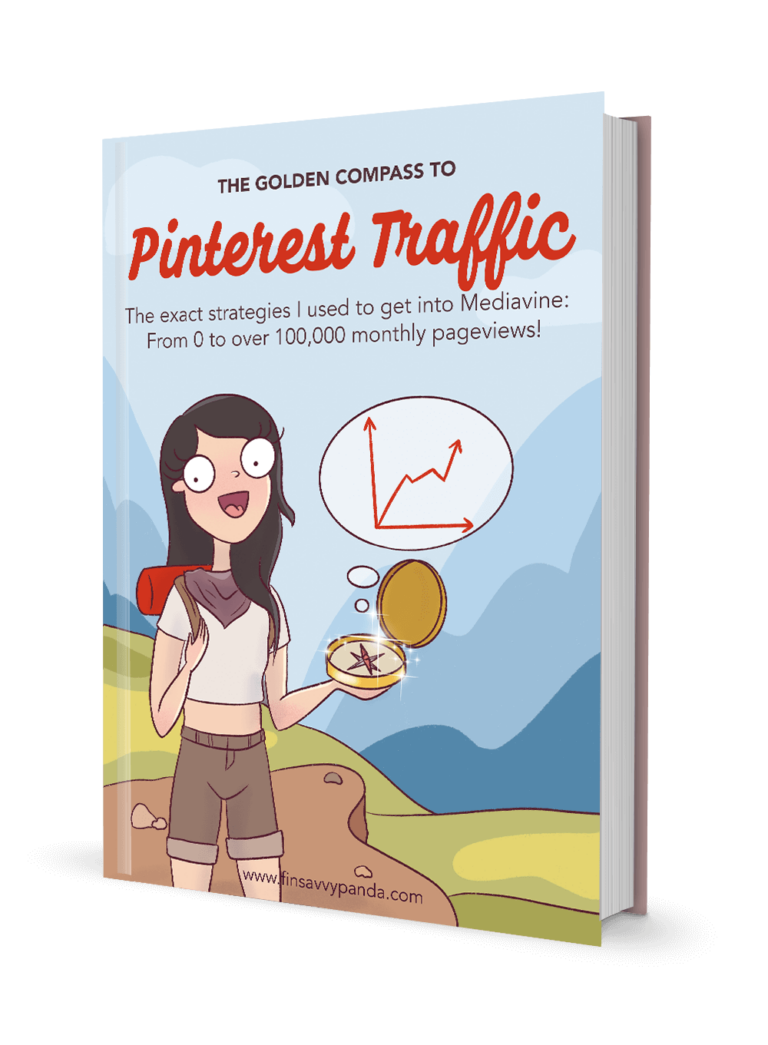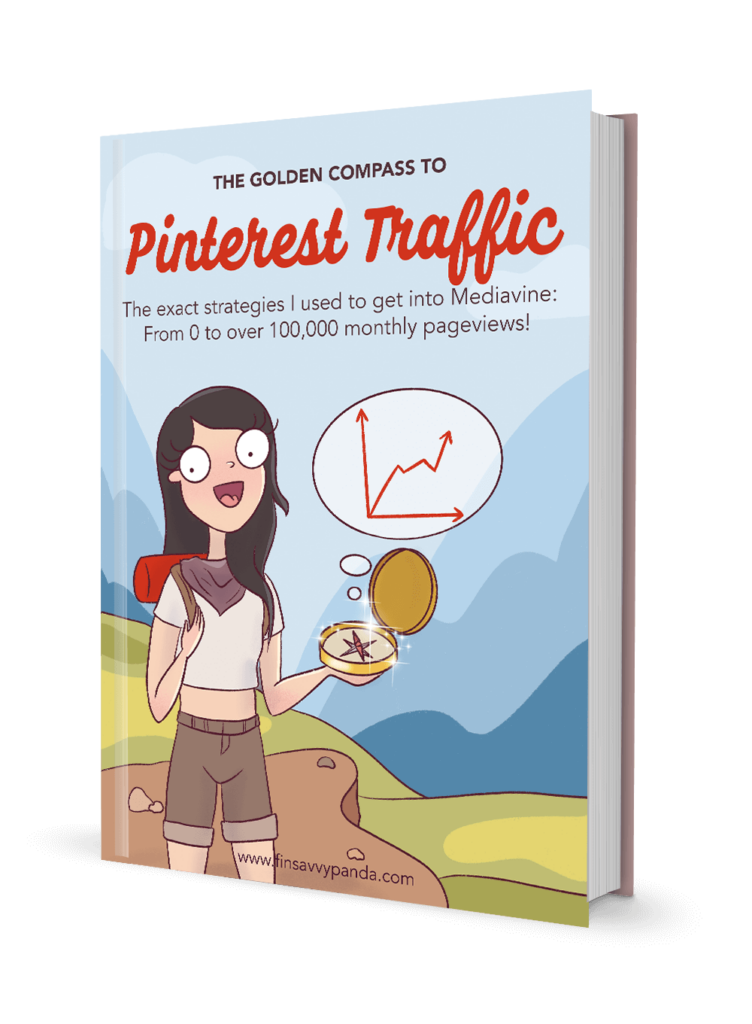 Honestly, this post would literally be 1,000 pages long if I went into the nitty-gritty details on how to get traffic from Pinterest.
And I know no one would be insane enough to stay on this page, so I won't elaborate too much on this article since you only want to know how long it really takes to get traffic from Pinterest. But here are the high-level basics on how to get more Pinterest traffic.
Write content that is Pinterest-friendly
Utilize SEO and Pinterest together
Create eye-catching visuals like these ones here
Use targeted keywords in your pin descriptions
Post regularly and consistently
Join Tailwind communities
Interact with other pinners
Create boards related to your niche
Use the Pinterest native or Tailwind app to schedule pins
Have a clear call to action on all your pins
Additionally, you should use Pinterest Analytics to track your posts, so you can make wise decisions on what you should write more about to increase your traffic even further.
If you're looking to learn more about Pinterest and how to increase your traffic, I also have a separate post here on how to get traffic on Pinterest and monetize your blog this year.
Along with that, I worked my butt off to create this valuable FREE 7-Day e-mail course, Skyrocket Your Pinterest Traffic in The Next 7 Days here, so you can finally get started on Pinterest and implement the right strategies on your blog and Pinterest account!
So how long does it take to get traffic from Pinterest?
It depends.
I know you don't like this answer, but it's the truth, and there are just too many factors that come into play.
It really varies based on how much time and effort you're willing to put into it. I know many people ask me how long it took me to get traffic from Pinterest. The truth is, as a beginner, it took me over 5 months to get my first 10,000 monthly pageviews on my first blog (the one you're reading here now) but mind you, this was back in late 2017 to early 2018.
After starting and launching a few blogs, I am now seeing that it realistically takes more than 5 months to see any real progress and traction with a new website.
Sometimes even 12 months depending on if the Pinterest algorithm isn't whacked and favors you.
So, if you're just getting started, it could take 3, 6, or even up to 10 months to start seeing results depending on a lot of factors.
Here are factors that will affect how long it takes to get traffic from Pinterest. I am saying this from the point of view of beginners who have absolutely no experience in blogging, creating a website, or getting traffic.
This also applies to intermediate bloggers who are getting Pinterest traction but feel that their traffic may be suffering a bit (or even a lot) lately.
1. Being consistent and putting in the effort
The truth is if you're consistent with your content creation, pinning, and marketing efforts, you could start seeing a consistent stream of traffic (and even sales!) within 6-12 months. I've tested this with my blogs and various Pinterest accounts to see a consistent pattern with this platform.
So, the answer to how long it takes to get traffic from Pinterest really depends on so many factors. The most important factor is how much time and effort you're willing to put into it.
If you're just starting out, it's going to take some time to learn the ropes and get everything set up.
2. Keep creating new content
Once you have things set up, it's important to start creating good SEO and/or Pinterest-optimized content, and keep doing it!
This is a big one and I'm going to sound repetitive here because it's so important. I also did some experiments and testing with this on a few blogs and accounts to really realize its effects.
If you don't have good content (notice I didn't say amazing content) on a consistent basis, no one is going to want to read your blog or visit your website.
One thing that I often see people neglect is creating new and good content consistently.
Some people create a few blog posts and completely stop because they think that's all they have to do.
No, you can't stop at 10, 15, or even 30 blog posts and leave your site hanging for 6 months!
Whether you plan to write 1 blog post a week, or 2 blog posts a week, you have to keep creating and inspiring your followers.
That's who you are: someone who inspires and helps your readers with whatever life problems they're facing.
Whether they're looking to lose weight, eat healthier, become a first-time mom, or choose the right beauty and fashion products to become more confident, Pinners, searchers, and readers are here to seek guidance from your blog posts.
If you want to see results with Pinterest (or any platform for that matter), you HAVE TO keep creating new content.
I am starting to sound like a broken record because it's true. No matter how many times I've said this to people who seek my guidance, they seem to miss the point and can't follow. So, I'm going to keep harping at this again until it gets nailed into your head.
It doesn't matter if you have 1 blog post or 100 blog posts. If you're not creating new content consistently and pinning it out, you're not going to get traffic from Pinterest, or your traffic may start to suffer.
3. Stop being a perfectionist
Continuing my point from above, I also notice there are perfectionists who can't seem to hit publish because they don't think their post is good enough.
Some of these perfectionists create only a few blog posts and then completely stop because they burn out trying to aim for A++ material when all you really need is a B for now. Like I said earlier, good is good enough and you don't need all your articles to be amazing.
So, stop trying to be perfect because there's no such thing as "perfect".
The great thing about blogging is you can always go back and make changes to improve it. Similar to what I said in the last point, you can't stop at 10, 15, or even 100 blog posts and never log back into your website to post something new.
4. Keep creating new pins
To get traffic from Pinterest, you need to be creating pins that are eye-catching and interesting. Take a look at some of the most popular pins on Pinterest and see what makes them so successful.
PRO TIP WITH CREATING EYE-CATCHING AND CLICK-WORTHY PINS: You can also use my special Pin Savvy Templates plus e-book bundle here to help you make as many pins as you need quickly and efficiently without sacrificing your time. These are the Pins I use on all my blogs to drive over 100,000 monthly pageviews to EACH one website!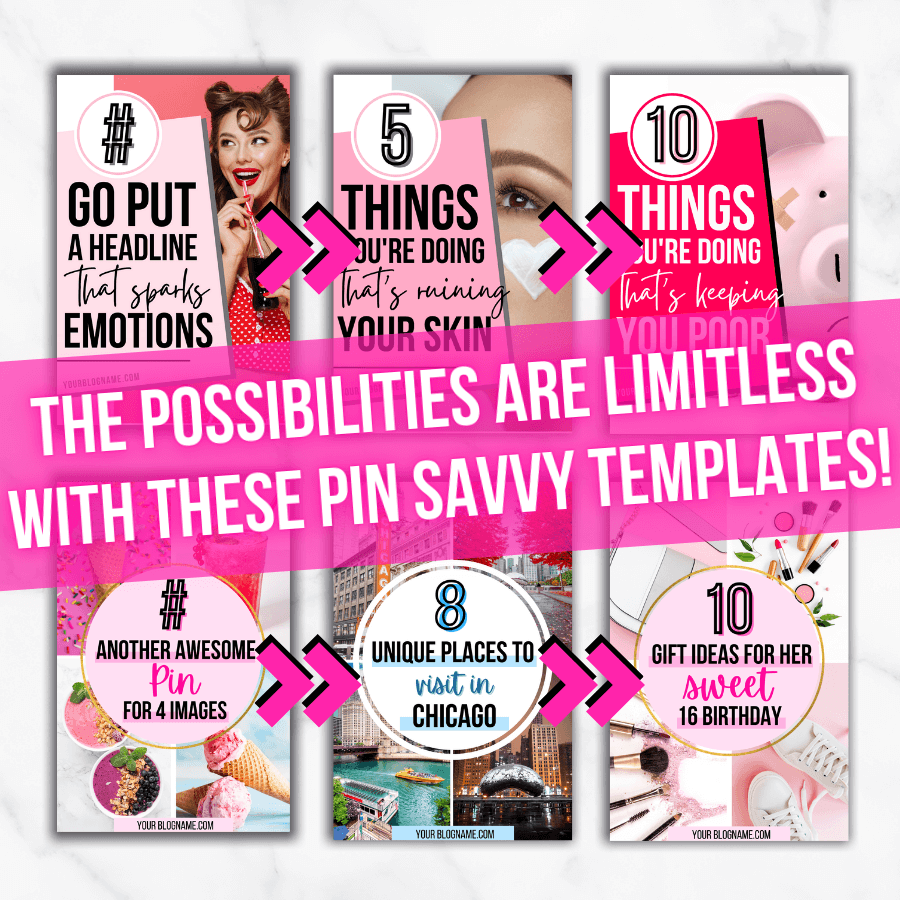 Pinterest likes it when you are consistent (as mentioned earlier) with not only creating new content but also new pins for them.
It's also important to be active on Pinterest. You can't just create a few pins and hope that people will find them. You need to be actively pinning other people's content (I recommend using Tailwind Communities, so other bloggers will share your pins, too), occasionally commenting on pins, responding to the comments on your pins, and collaborating with other fellow bloggers.
The more active you are, the more likely people are to notice you. And once they start following you, they'll be more likely to see the great content that you're sharing.
Now, I'm going to answer the most commonly asked questions related to the length of time it takes to see traffic results on Pinterest. I am always asked these questions by my readers via e-mail, so putting them here has saved me so much time from responding individually to everyone!
If you have any questions about Pinterest traffic, leave a comment on this post. I will answer you.
How do I get traffic on my Pinterest account?
There are a few things you can do to get traffic on your Pinterest account. By now, I am going to assume that you are already writing blog posts that are considered "Pinterest-friendly". Here are some lifestyle blog post ideas for Pinterest that may help you.
Another way is to make sure that your pins are not only high-quality and interesting but click-worthy! People are more likely to click on and share pins that they find visually appealing, and interesting which sparks curiosity. Another way to get traffic is to pin often and to share other blogger pins by using Tailwind Communities. This will help you get noticed by other users, and it will also help you build up a following.
FREE TAILWIND TRIAL: You can sign up for a FREE Tailwind trial here with my special link. With this same link, you'll also get a $15 credit if you decide to purchase a Tailwind plan. That's equvialent to getting a 2-month Tailwind subscription for free!

I have a post that gives you details about how to use Tailwind for Pinterest here.
I also have this FREE 7-day e-mail course, Skyrocket Your Pinterest Traffic in The Next 7 Days, that will provide you with more tips and tricks on how to effectively increase your pageviews for intentional traffic.
How long does it take for a pin to show up on Pinterest?
Based on my personal experience, it could take as quickly as 10 seconds to 1 minute for your pin to show up on the Pinterest home feed. This is Pinterest distributing your pin to users, and it is up to pinners to save or click on your post. In this case, you better hope that Pinterest is distributing your pin to the right audience who is interested in the category or topic of your pin.
Because if not, no one will be interested in saving or clicking on your pins, which means no traffic for you.
However, this answer becomes a different one if you're asking about showing up on organic Pinterest search results or the "More like this" feed, which are related pins.
You have to know the difference between being shown in the following places on Pinterest:
Pinterest home feed
"More like this" feed
Organic Pinterest search results
If you're asking for your pin to show up on both Pinterest searches and their "More like this" feed, that could take on average 3 to 6 months.
For goodness sake, it could even take 12 months for your pin to show up on Pinterest searches.
This is why doing keyword research, targeting our audience, and including those keywords or phrases in your pin description are important. Not to mention, the beginning of your blog post too.
However, the good thing is it could be shorter than 3 months. And honestly, that just depends on luck and the Pinterest algorithm.
I've seen many instances (when checking on another device and personal account) where my pins would show up on Pinterest search results in as little as a month. That is most likely the case for posts that contain long-tail keywords as opposed to more generic keywords that many people fight for.
Yes, generic keywords with higher search volumes will obviously bring in a ton more traffic if you're able to rank and show up on Pinterest searches for those search phrases, but the competition is much higher.
With such high competition, I do also like to include written blog posts with long-tail keywords that are more specific about a topic because I find myself ranking higher on Pinterest, and getting traffic, for those lower-key articles.
Can you go viral on Pinterest?
The short answer is yes, you can still go viral on Pinterest today (even in 2023 and beyond).
If you were a content creator back in the days when Pinterest was still young, between 2010 to 2018, you would have noticed how "easy" it was to go viral on Pinterest.
Compared to today, I have to admit it is a little more challenging to get a pin to go viral and explode your pageviews to over 300,000 monthly pageviews "without trying".
However, with the right mindset and determination, along with the right implementation of Pinterest traffic strategies, you can still get a pin to go "viral".
For example, I have a testing blog that I use to experiment with my Pinterest traffic strategies.
Just a few months ago before updating this article, I was lucky enough to get one of my blog posts to go "viral" within a short amount of time. It was definitely a Pinterest-friendly topic (e.g. home decor).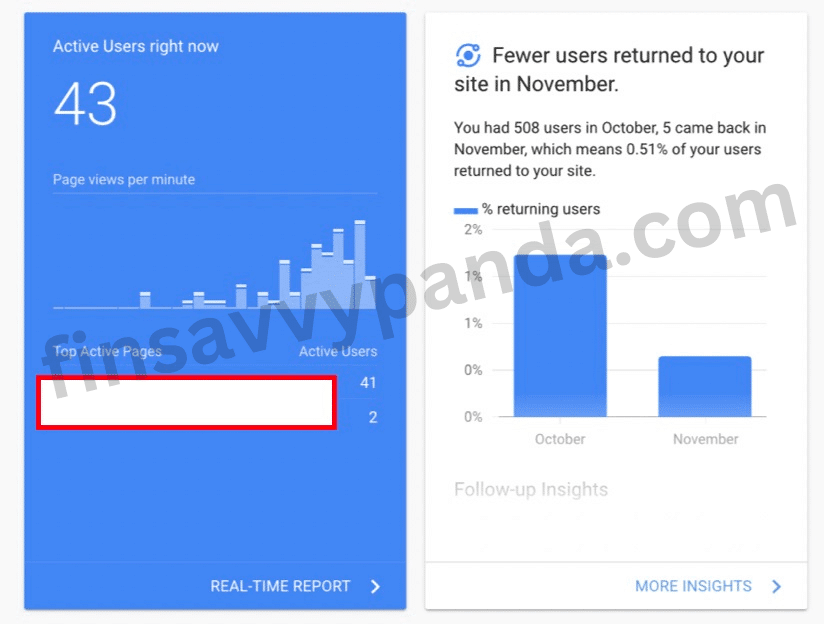 Although it's not like what it used to be (of course, things are always "easier" when it's new), we still have to be thankful that Pinterest exists. Without Pinterest, I wouldn't be here earning a full-time income!
And when I started back in 2018, I swear everyone then was already saying that you can't go viral on Pinterest anymore or that Pinterest is dead. Yes, people were already saying Pinterest is dead over 5 years ago when I was just getting started!
But hey, look!
My blog and Pinterest account are still alive today thus far. *Knock on wood*…
How long does it take a Pinterest pin to go viral?
I have to admit that Pinterest can be a bit wonky sometimes, so this is a difficult question to answer because it depends on a lot of factors, including the quality of the pin, how established your Pinterest account is, and how much engagement the pin receives.
Generally speaking, however, it takes a significant amount of time and effort for a Pinterest pin to go viral. For example, if a user has a large following and is highly active on the site, their pins are more likely to be seen by a larger number of people and, as a result, have a higher chance of going viral. That's why it goes back to being consistent with this platform (both creating new content and pinning) when you are new.
Additionally, pins that are visually appealing and offer useful information or tips are more likely to be shared, helping them gain traction and achieve viral status. On top of that, it's not so much about whether or not your pin will go viral, but how many actual clicks you'll get on your blog post, landing page, or whatever page you want them to visit.
Ultimately, there is no guarantee that a pin will go viral, but by following best practices and promoting high-quality content, users can increase their chances of success.
How to go viral on Pinterest
If you want to learn how to gain traction on Pinterest and increase your traffic, then you'll first need to adopt a "long-term", NOT a "short-term" mindset.
By doing that, you need to ditch the thought of "going viral on Pinterest."
Why?
Because a "viral pin" is just short-lived.
It's just a flurry of traffic that comes and goes quickly just like what I showed you above with one of my dummy accounts. Here is a recap: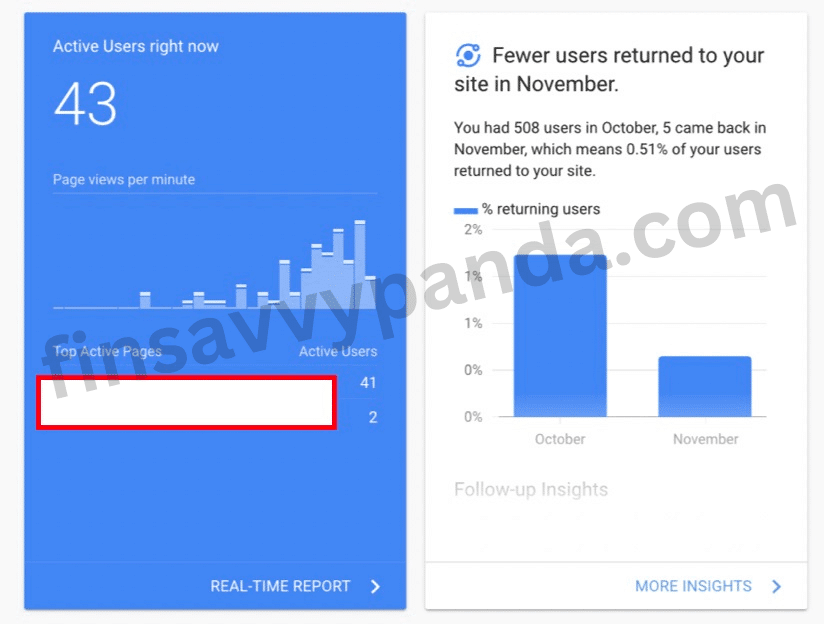 Instead, focus on building an audience of devoted followers and give them the content they want to see.
That means publishing new and fresh content on a consistent basis along with creating scroll-stopper pins that entice pinners to click on your posts. So that your traffic is more steady and consistent in the long run compared to random high spikes in traffic that don't really benefit you all that much.
And it's not just about publishing just any articles.
You need to be very intentional with your posts and I elaborate more on this particular strategy in The Golden Compass To Pinterest Traffic: The Exact Strategies I Used To Get Into Mediavine With Two Blogs.
Again, this is what consistent traffic looks like for my lifestyle blog. This is NOT considered "viral" because they aren't one-time occurring spikes that taper off quickly: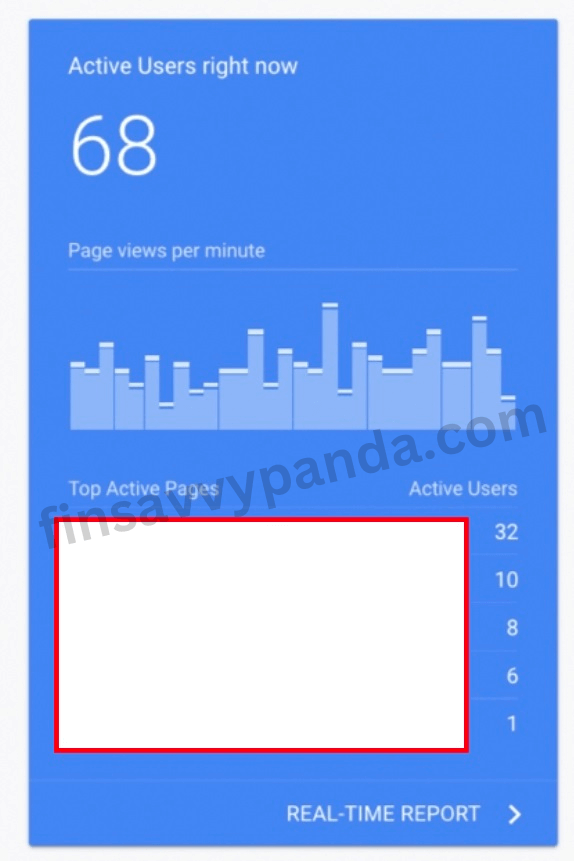 To learn more about how to get traction on Pinterest, read this bite-size Pinterest traffic guide here.
By taking a long-term approach and focusing on the quality over quantity (of your traffic), you'll be able to attract more organic traffic to your Pinterest account over time.
Is Pinterest still good for traffic?
Pinterest is not dead. At least not at the time I'm writing this. Knocking on wood again – ha!
In fact, it's still a fantastic source of traffic for many businesses and bloggers. I see this on both my personal finance and lifestyle blogs. Although I have to admit I get more traffic to my lifestyle blog because it does seem to be more Pinterest-friendly compared to topics about money and finance.
I don't listen in to any of the fear-mongering and noise out there. It comes down to REALLY understanding your Pinterest audience and paying attention to them. I recommend using Pinterest Analytics Overview, Insights, and Trends to your advantage. This will help you understand your audience and allow you to focus your efforts on how to help your readers.
When you do that, you'll continue to see an engaged following and consistent traffic from the platform!
If you're looking to drive traffic to your blog or website, Pinterest is still a great platform to use. While some social media platforms come and go, Pinterest has remained popular and continues to be a powerful traffic driver.
Why is my Pinterest traffic dropping?
A drop in Pinterest traffic is always temporary. I won't lie, it can feel like a rollercoaster, but I'm going to keep harping on this point: Be consistent and keep going at it. Trust me, it works, even though no one really tells you this because humans, by nature, love to sell fear.
But I am telling you this now. Even at times when your traffic is down (there may be an algorithm change or shift in traffic), you STILL need to keep creating new content and pins consistently. You can't stop because if you do, Pinterest will stop giving you traffic.
Yes, I mentioned there might be algorithm changes, and Pinterest may be reshuffling its traffic. When there's someone who's gaining traffic, someone else is dropping. But again, it could be due to the season, or it could be just a temporary shift.
Just like anything in life, there are good times and bad times. Just know that it will average out and you'll be fine as long as you are learning from your blogging mistakes, tweaking and making changes to what's working and what's not, and most importantly, being consistent with your content and pinning strategy.
By following this, you should see an uptick in your traffic in no time!
Just. Trust. Me… Okay? 🙂
Conclusion on How Long It Takes To Get Traffic From Pinterest
The bottom line is this: if you want to make money from Pinterest, you need to be in it for the long haul. It's not going to happen overnight. But if you're willing to put in the work, it can absolutely be a lucrative platform for your business.
In the beginning, Pinterest doesn't know what your blog or website is about. On top of that, they don't know if they can trust you when you are new. This is why it's so important to be active and consistent on Pinterest when you are starting out.
Again, it's not just about posting 10 to 30 blog posts and leaving it there. You have to keep doing it and putting in the effort to make this work out in the long run. I have to admit that at the beginning, it is quite the challenge, but once you've built a solid Pinterest foundation, I highly recommend coming up with a system that will help your traffic feel more passive.
Just remember that it takes time and effort to see results. But if you stick with it, I promise it will be worth it in the end!
I hope this article was helpful in understanding how long it takes to get traffic from Pinterest. If you have any questions, feel free to leave them in the comments below!
BEFORE YOU GO: Don't forget to check out The Golden Compass To Pinterest Traffic guide. So many of my readers e-mailed me over the years and asked me to create this A-Z Pinterest guide for them. So, I listened!

I poured my heart and soul into perfecting this guide so I can share all my personal experiences, secrets, tips, and tricks with you!

My goal is to help you get and/or increase your Pinterest traffic, so you can finally earn more money with your blog!