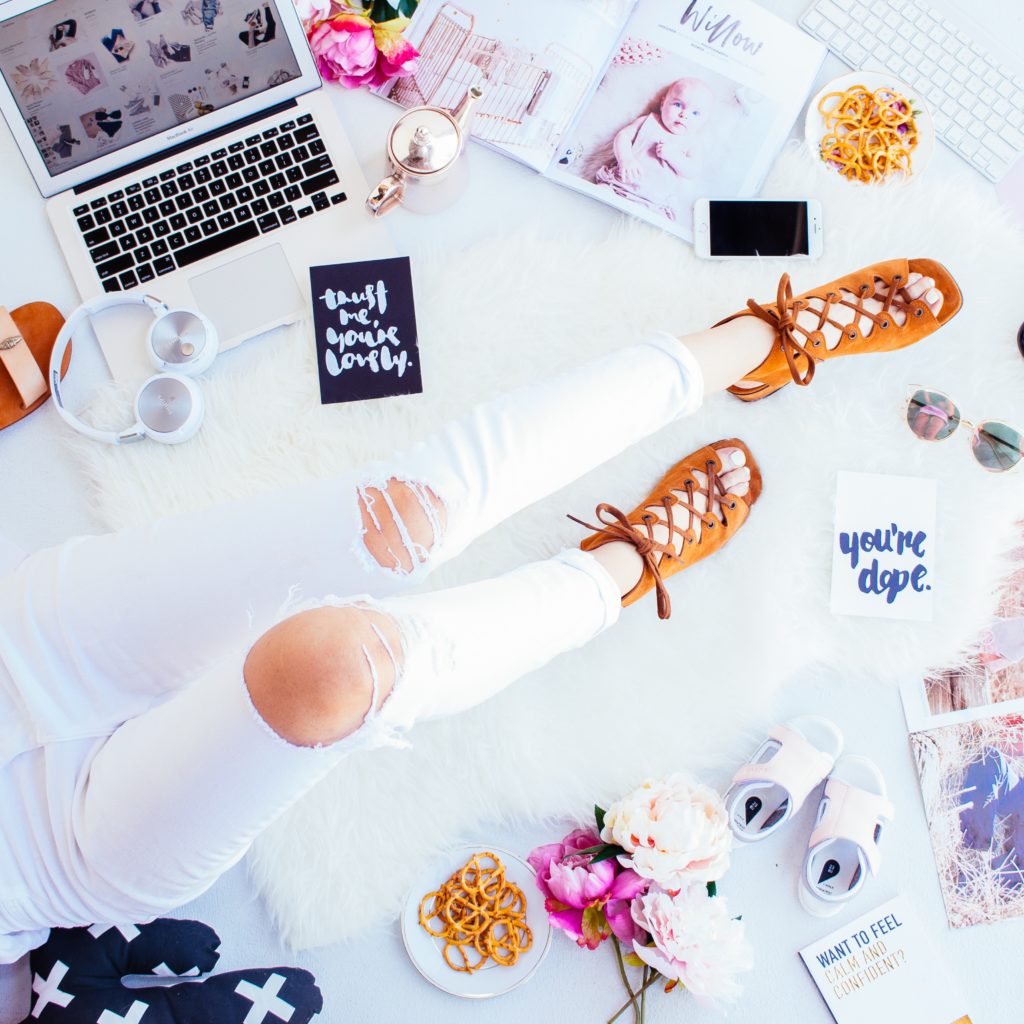 Disclosure: We will receive a commission if you make a purchase through our affiliate link at no additional cost to you. Please read our disclosure for more information.
Hello, my friends!
Welcome to my step-by-step tutorial on how to start a blog and make money for beginners the right way!
For those who don't know me, let me quickly introduce myself.
I'm Ling, the blogger of FinSavvy Panda. I've been recognized as a reliable expert in both the blogging and finance sectors, with my insights shared on credible platforms like Yahoo Finance, MSN, Nasdaq, GoBankingRates, and Wealthsimple, to name a few. I've also been featured on Mediavine, Jasper, Niche Pursuit, Starter Story, Swagbucks Blog, Rent Cafe, and more.
I started Finsavvy Panda back in November 2017 as a way to document my journey of earning extra money and saving what I could to achieve financial independence. Not only that, but my wildest dream was to quit my job (which I really hated) to earn a full-time income elsewhere.
That did happen – I blog full-time now earning a six-figure annual income today!
Oh, it was quite the journey, and I'm so happy to say that starting a blog worked out for me! In just several months of blogging, I was able to earn my first $100 blogging online! That first $100 grew to my first $1,000 and eventually $3,000!
As I learned more and more about blogging and how to monetize properly a website, my blogging income grew to over $5,000 per month within 1 year! Yes, that's right, in November 2018 alone, I earned exactly $5,532.13!
I didn't know what was going to happen next, but I took the leap of faith and was crazy enough to quit my job, and it has certainly paid off!
With a lot of hard work and determination, my blog income surpassed $10,000 per month in my second year of blogging, which was my goal when I started this website. That's over $120,000 per year in blogging income!
I'm now a full-time blogger, with a second website that's also making money with Mediavine's display ads, and I couldn't be happier with this decision. If you're looking for a way to make some extra money or even replace your current 9-5 job, then I highly recommend starting a blog!
I know you're here because you're looking for a comprehensive guide on how to start a blog and make money blogging for beginners, so you've come to the right place! I will show you exactly how I did it so that hopefully you can replicate my success.
I also have this FREE 7-day email course here that will teach total beginners how to start a blog and make money with it – don't forget to sign up for my daily lessons!
If you're just here for the step-by-step tutorial, you can scroll straight down to the section, "How To Start A Blog For Beginners Here".
🌟 SPECIAL ANNOUNCEMENT: I'm super excited to let you know that you can start your blog today with Bluehost for as low as $2.95 USD/month when you click and use this special Bluehost link HERE. That's over 60% off their regular pricing. I don't know when this low pricing will go away, so take advantage of it while it lasts!

Again, you can scroll down to the tutorial below and follow my easy step-by-step instructions on how you can get started today!
In this post on how to start a blog and make money for beginners, I'm going to cover the following topics:
Why Should You Listen To Me About Starting a Blog?
How To Start a Blog For Beginners Guide
How To Start a Blog With Bluehost Tutorial (6 Simple Steps)
How Do Bloggers Make Money With A Blog?
Is Making Money With A Blog Possible?
Why I Personally Started A Blog
The Blog Hosting Company I Recommend For Beginners
Why Starting A Blog Today Could Change Your Life!
How To Make Money Blogging and PROOF That You Can
How To Become A Successful Blogger
📌 I'll always be updating this how to start a blog tutorial post, so make sure to bookmark this page or click here and save this image to your "Blogging" Pinterest board – that way, you can refer back to this informative article that will walk you step by step on how to start a profitable blog!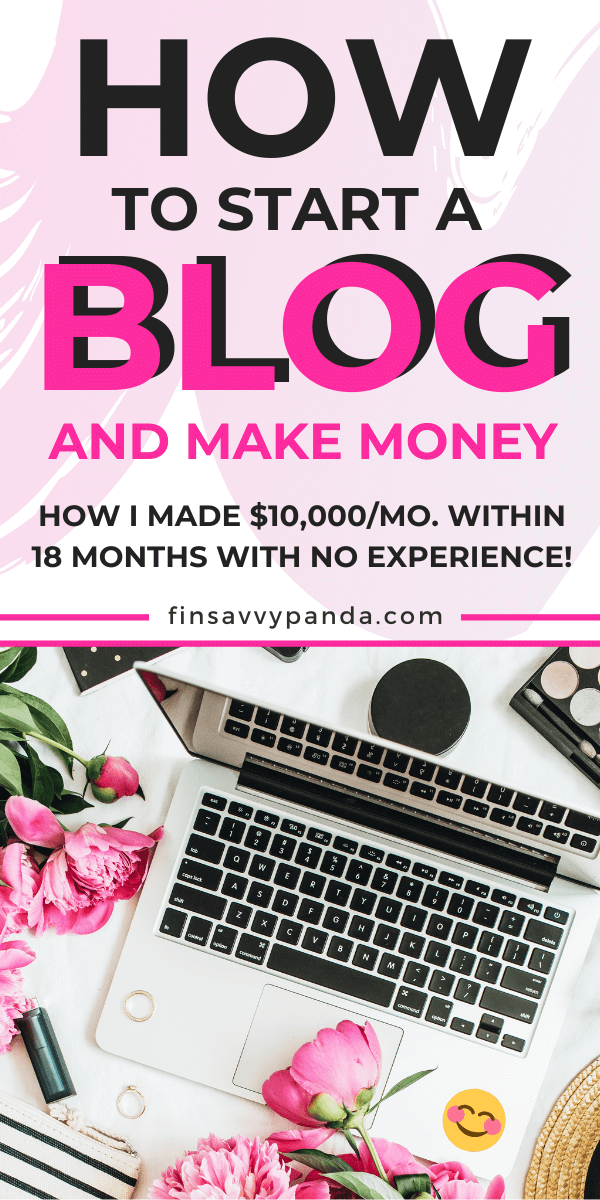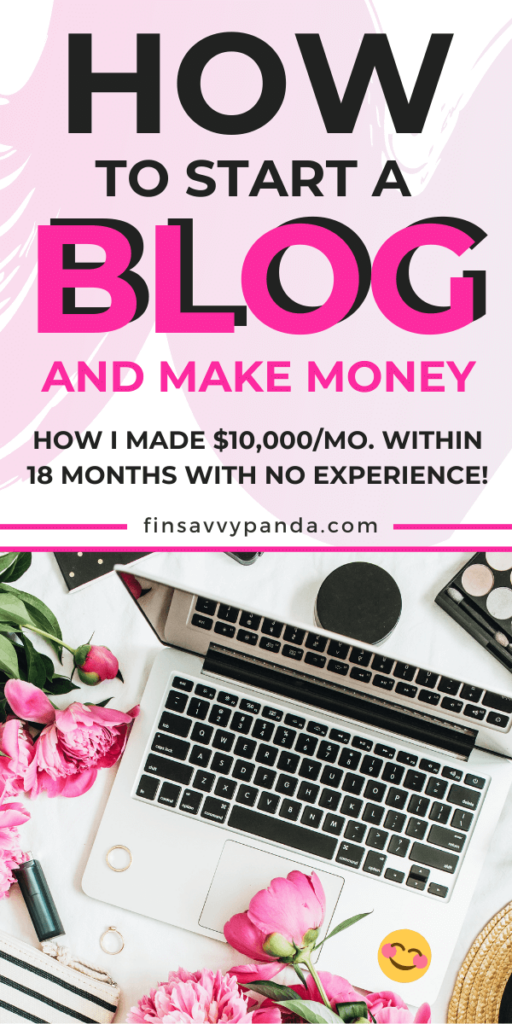 Why Should You Listen To Me About Starting A Blog?
Good question!
I would never state that I'm a "guru" or "expert" because, in my view, no one really is. There is always something new to learn in this blogging world whether you're a beginner or a seasoned blogger and no matter how much experience you have, there is always the potential for growth.
No one knows it all and I think anyone who calls themselves a "guru" is overcompensating for something.
I'm just a normal person who figured out how to start a blog and make money from it. I'm not some internet marketing genius or anything like that.
In fact, when I started my first blog I had no idea that I could share my content on Pinterest or that you could even make money from a blog! I just saw blogging as a way to share my thoughts and ideas with the world and build an online platform for myself.
I had no idea that it would lead to me making a full-time income from home, but I'm so happy that it did!
Even though I don't call myself a guru or genius, I have successfully started two blogs from scratch and earned over $120,000 in my second year of blogging.
I used to publish blog income reports as a beginner like this first one here where I made my first $703.57 in July 2018 all the way to $27,689.76 in March 2021. These reports are meant to show others that it is possible to make money blogging and I continue to do so as a full-time blogger even though I stopped publishing income reports.
UPDATE: I stopped posting blog income reports because they make me feel uncomfortable as I don't really like drawing any attention or talking about how much I earn. I only have them here because I am always excited to motivate beginners like to you to start your blog! Plus, I think it's a bit vain to publish how much money I make online, but you can check out some of my past reports if you're curious about my beginning journey.
I want to be completely transparent with you and show you that it is possible for anyone to make money blogging, regardless of experience or niche. Keep in mind that starting a blog takes work and dedication, but if you're willing to put in the effort, it can be an incredibly rewarding experience, both financially and personally.
You can also take a glimpse at the delightful comments, heartfelt messages, and inspiring testimonials I've been fortunate to receive from my incredible readers throughout the years. It's an honor for me to feature them here.
Allow them to serve as a wellspring of inspiration and motivation, encouraging you to embark on your own blogging journey today: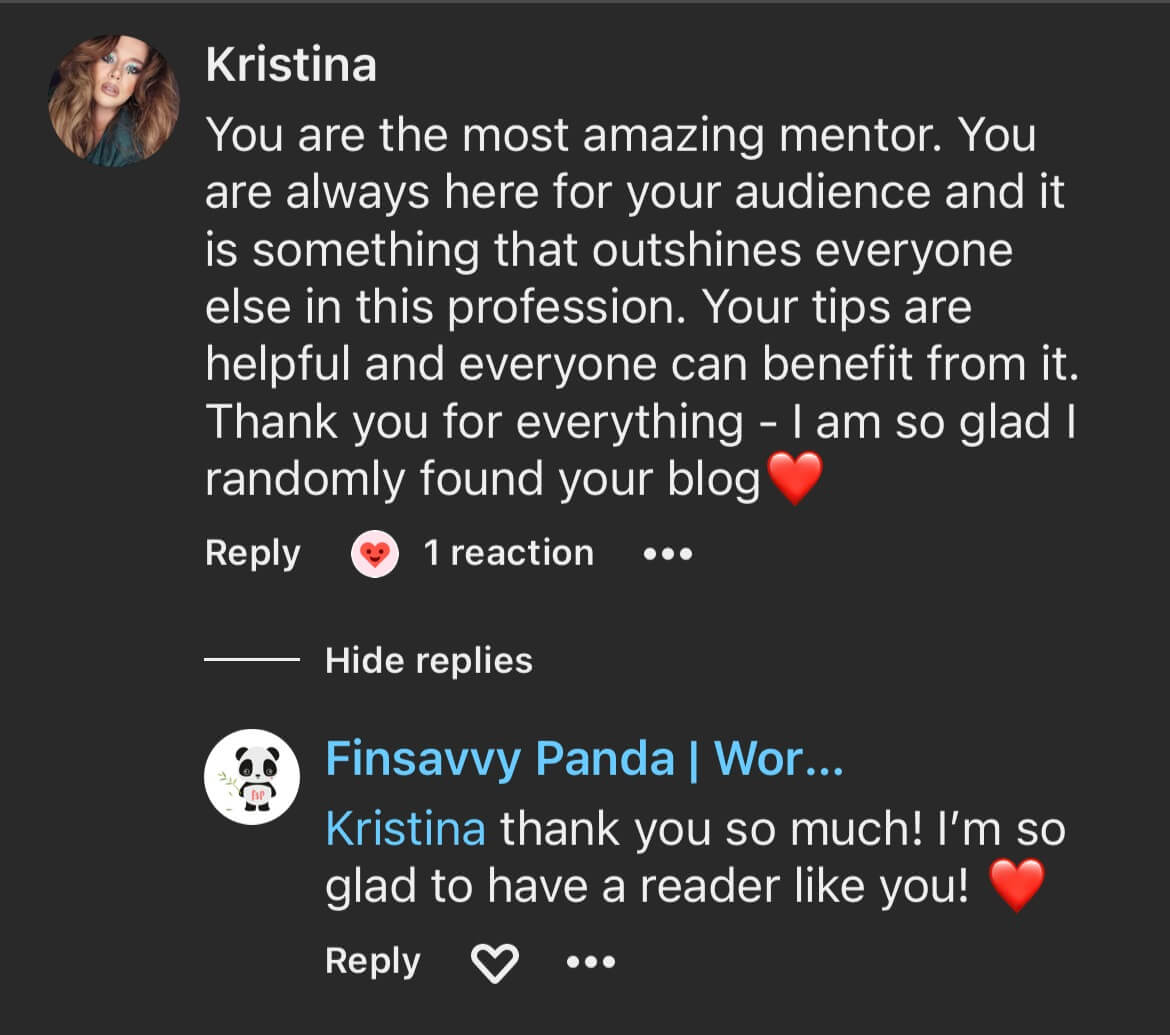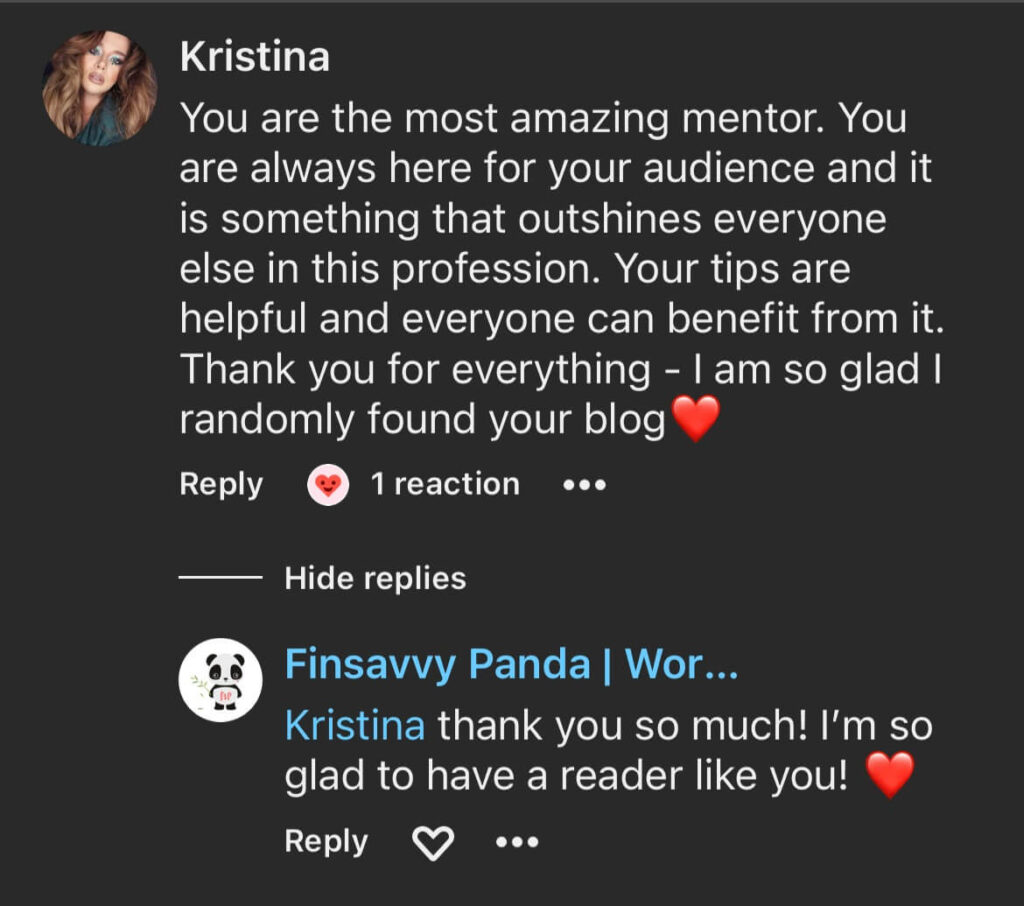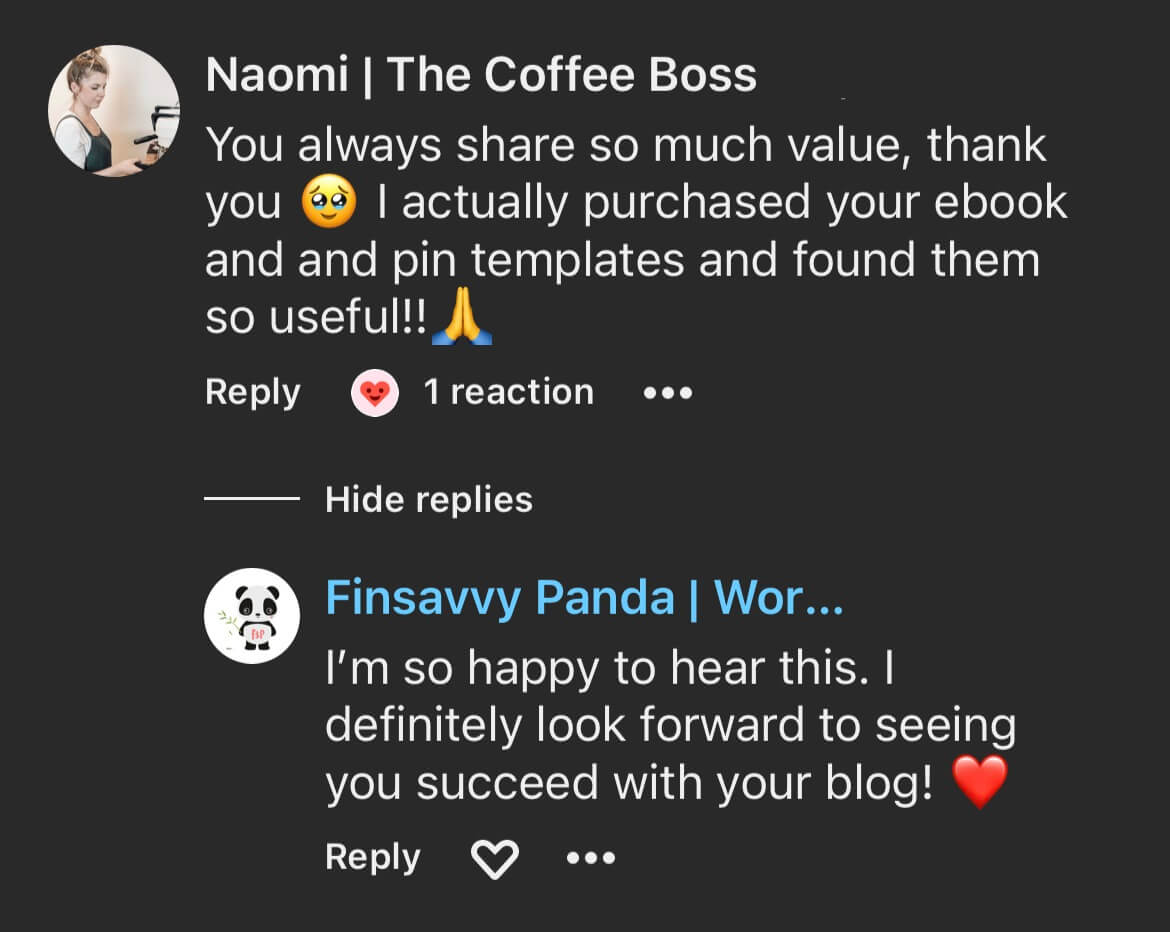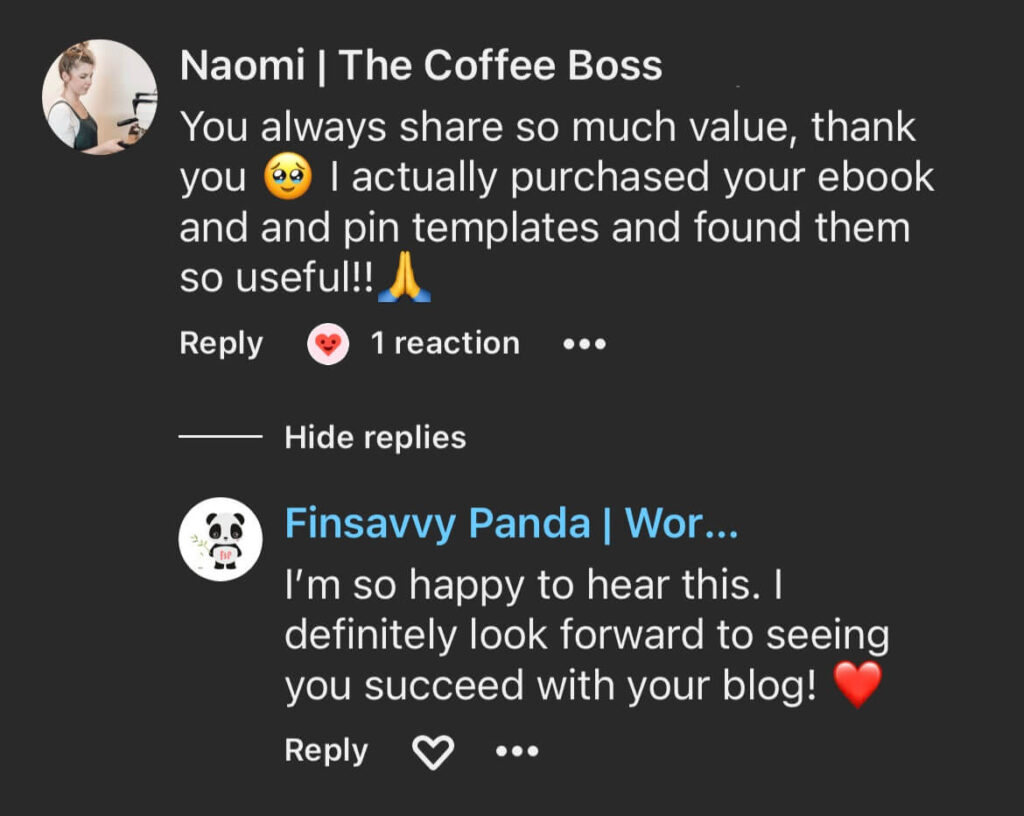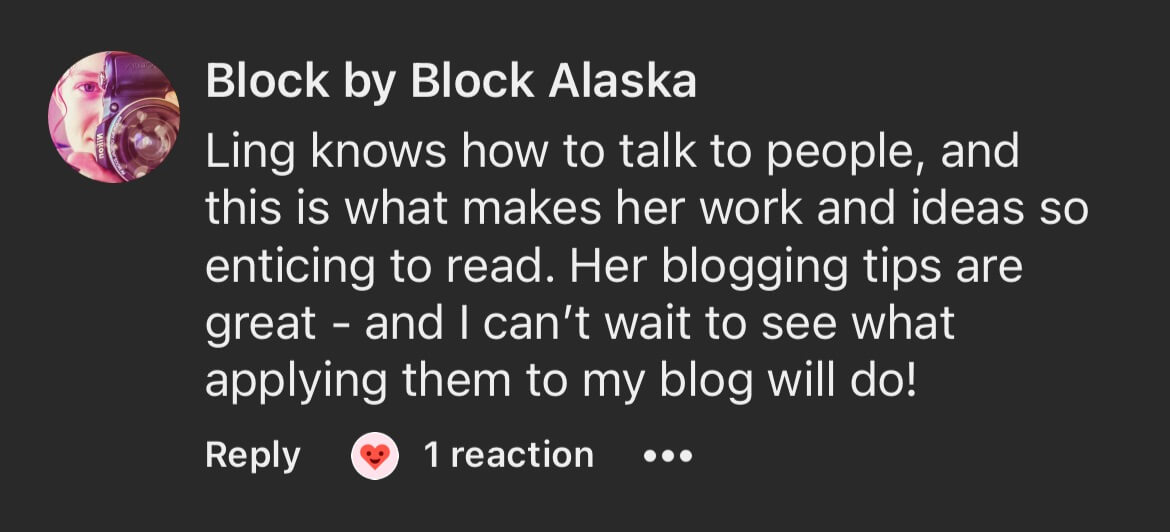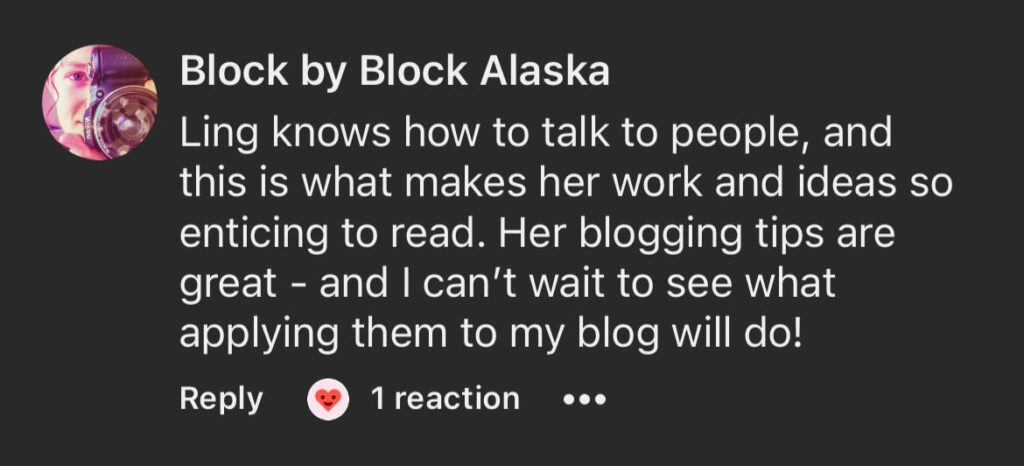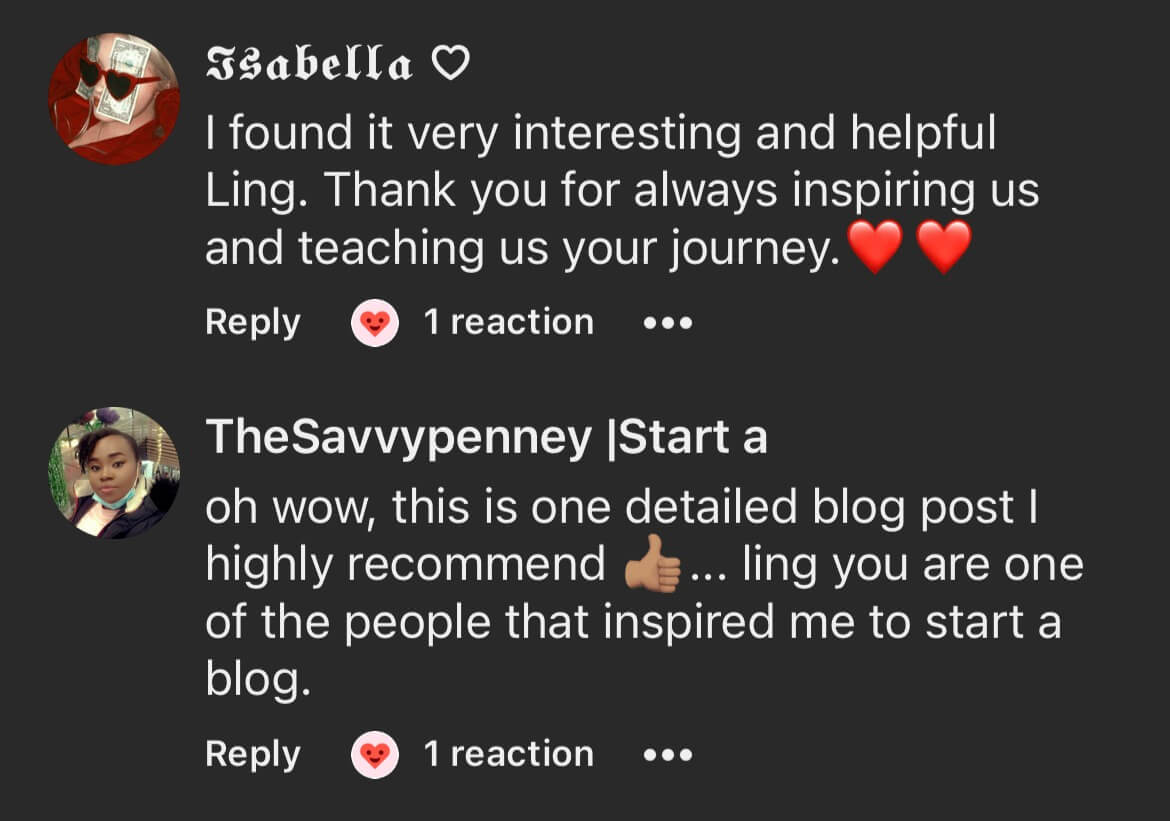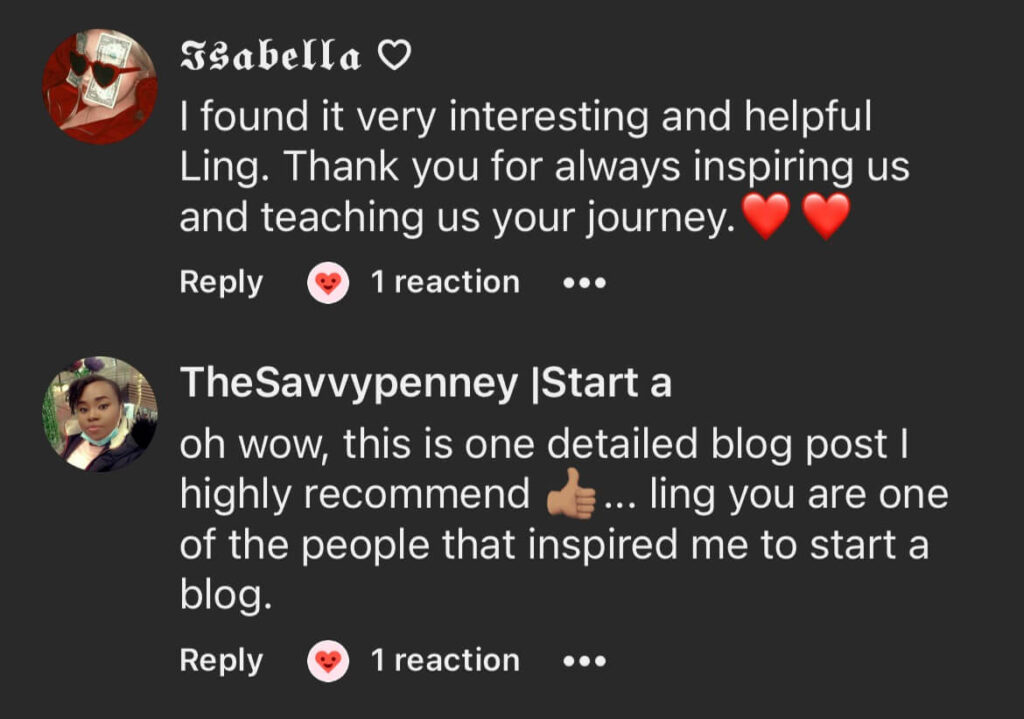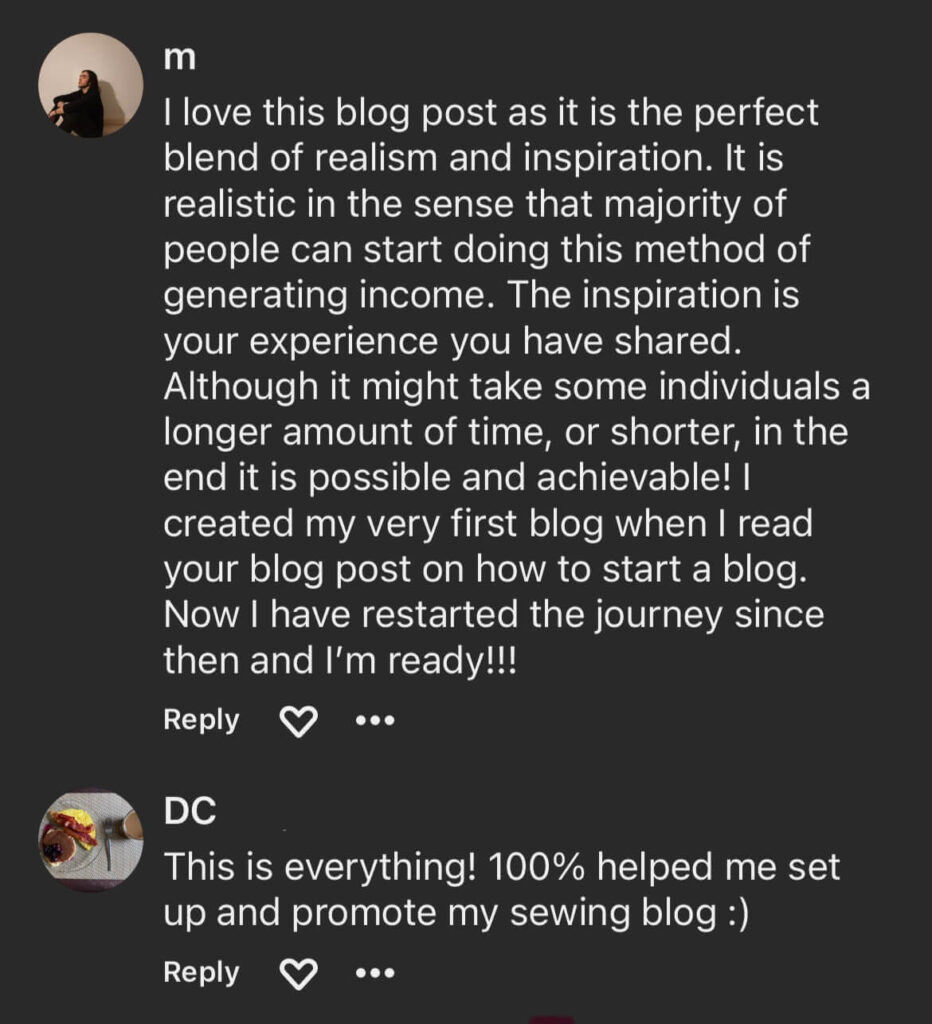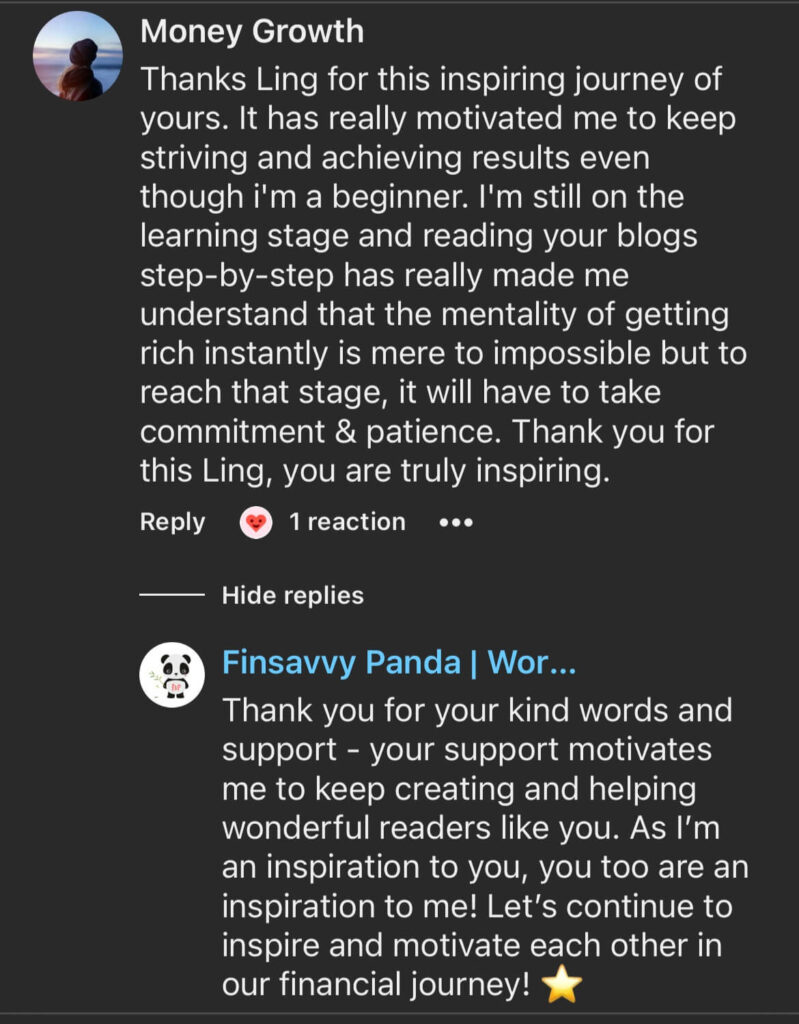 How To Start a Blog For Beginners Here
Whether you plan to monetize your blog or share your journey with the world, you're here because you decided to start the blog of your dreams. So, congratulations!
Special Pricing For Finsavvy Panda readers!
Here are my step-by-step instructions on how to start your blog along with my easy-to-follow 6-step tutorial below!
You will instantly get over 60% off plus a FREE domain name ($15 value) when you sign up through this link here when you go with at least the 12-month plan. That works out to be only $2.95 USD/month plus a FREE domain name. I've personally negotiated with Bluehost to get this special pricing for Finsavvy Panda readers!
To put things into perspective, that's equivalent to a cup of latte from Starbucks!
Now, let's dive into the details of how to start your very first and awesome blog, shall we?
1. Ask yourself these questions before choosing a niche:
This is where you ask yourself the following questions:
What do you love talking about to your friends and family (or even strangers), that you can't seem to shut up about? I know for me personally that I can't keep my mouth zipped when it comes to topics about money, personal finance, and blogging, that's for sure! 🙂
What are your strengths, skills, and interests?
Perhaps they're not your strengths or skills (yet). But what do you enjoy talking about?
What motivates you to learn and grow within that niche?
Most importantly, is this something you would talk and write about even if you weren't paid to do it? If you answered yes, you're definitely onto something!
For example, I was motivated because I wanted to improve and learn more. I didn't consider myself an expert when I started this personal finance blog, but I was confident enough to offer some tips based on my personal experience. I managed to go from $90,000 in debt to saving my first $100,000 in net worth by my mid-20s and I wanted to show people how to do it without a six-figure income.

I then started blogging about my journey on how I made extra money with this blog. I did these blog income reports on the fly, on live mode, while I was earning close to nothing! But I learned a lot along the way and eventually earned over six-figures per year.

The best part is that none of this felt like work or a chore to me because I enjoyed it. I was pretty much working for free when I wrote and published my blog articles at the beginning. It's like this, do you get paid to binge-watch Netflix all day? Probably not. Similiarly, I wasn't paid to write on my blog. It was my form of entertainment, but it eventually paid off when I learned how to monetize my blog.

There is no limit when it comes to learning. The best part is being able to learn and teach at the same time even though you don't consider yourself an expert yet! And trust me when I say it's okay to get started even when you don't know anything! I knew absolutely nothing about blogging or making money when I first started Finsavvy Panda!
2. Now, choose your blog niche:
There are so many different topics for you to blog about! Here are some examples:
Travel
Food
General Beauty
Makeup
Skin-care
Personal Finance and Money (that's me!)
Frugal Living
Entrepreneurship and Business
Career and Personal Development
Technology and Gadget Reviews
Healthy Eating
Health and Fitness
Crafts and DIY Projects
Parenting and Mommy Blogs
Real Estate
Home Renovations
Fashion and General Lifestyle
As you can see, there are so many different blog niches out there and you can blog about almost anything you want!
Just choose a blog topic that you are sincerely interested in. And let's not forget… you need to keep the reader in mind by solving their problems! This is where you have to think about what to write about on your blog, which leads us to the next step…
HOW TO CHOOSE A PROFITABLE NICHE: If you are having a hard time choosing a niche or topic to blog about, I highly recommend reading my comprehensive guide on how to choose a profitable blog niche here.
3. You might ask: Should I blog about my passions or be practical?
One common question I often get asked when someone is starting their blog is something along these lines:
Should I blog about my passions or should I go where the money is at?
Should I blog about my life?
Should I blog about something that's related to either my work or experience?
Here's my straightforward answer…
All (or most) of the above but make sure it captures your passion and interests!
Just because you're blogging about your passions and interests doesn't mean you can't monetize them! You can make money blogging about almost anything, as long as there's a demand for it and it addresses your readers' problems.
So, just the other day, one of my readers asked me a question related to this, and I thought I'd share it here with you because you might find it helpful. Despite her different interests, experiences, and current life challenges, you can still apply the same concept to yourself.
She asked me:
Hi Ling!

I came across your blog recently and basically deep-dived into how to start a blog. I've been considering it all weekend. I never liked actually speaking into a camera or talking, period, but I've always been better at writing.

I currently have a Pinterest that's not anonymous and my hobbies and passions have been hair & beauty. However, for the past few years, I've been dealing with real-life struggles that've been weighing my mental health down and I lost my desire for my passions.

So, I'm stuck between creating a blog attached to the beauty Pinterest page that I already have that speaks on beauty and hair topics or creating a separate anonymous Pinterest page that only covers mental health topics. Then the beauty blog can come second.

I guess my fear is that nobody talks about mental health all that much like it's not as popular as the other trends and it's not gonna draw traffic to me because people like the glitz and glamour side of life. But I feel my topics will be very relatable to others who live like me, what do you think?
My answer to her was:
You said you've lost your desire for your passions, but that doesn't seem to be the case.
Your current situation and life challenges appear to have shifted your passions from beauty to mental health, perhaps without you even realizing it. Now, you have a desire to blog about mental health.
Yes, there's no denying that beauty is an extremely popular niche when it's on the superficial level.
However, you might be surprised to know that mental health is a widely discussed topic. Many people seek help with this issue, and I've noticed a lot of discussions and searches for keywords related to this niche. They're searching for help anonymously behind the keyboard, so you can't say that it's not becoming more popular these days.
However, if you decide to start a blog on medical or health topics, proceed with caution. Platforms like Google and Pinterest might not promote your posts if you aren't a certified professional in the medical field.
That being said, this shouldn't deter you from blogging about your personal experiences and struggles related to mental health.
You could always start a blog in another niche, such as self-care, wellness, or mindful living, and weave in discussions about mental health to make your posts relatable. However, make sure that your blog post isn't specifically about diagnosing, treating, or curing any disease, be it related to mental or physical health.
The beauty of niches like self-care, wellness, and mindful living is that they allow you to seamlessly integrate beauty topics.
Regarding Pinterest, I always recommend creating a brand new Pinterest business account rather than converting a personal one to a business account.
4. Come up with 5-10 blog post ideas as a starter
Your blog posts need to provide value by solving a problem (or at least be entertaining to read)!
This is what I learned during my first year of blogging…
You DON'T need to reinvent the wheel.
You may think articles that solve common problems are saturated and that there's no point in creating that type of content. This is SO NOT true — there's a reason why they are common…
Because A LOT of people are searching for them and YOU have your own unique voice and story that offers value! Believe me, there are people who actually want to hear from you!
Some common problem-solving posts could be as simple as the following:
How To Declutter And Organize Your Bathroom
25 Smart Ideas For Organizing Your Kitchen
9 Simple Exercises For Women That Burn Calories Fast
25 Ways To Save Money Without Living An Extremely Frugal Lifestyle
How To Plan An Amazing Trip To New York City (5 Day Itinerary)
10 Ways To Look Pretty Without Using A Lot Of Makeup
How To Perfect The No Makeup Makeup Look
HOW TO WRITE YOUR FIRST BLOG POST: During this stage, you can come up with a list of blog post ideas for your website. I also have a separate list of blog post ideas specifically for lifestyle bloggers. This approach can be applied to other niches as well.

Once you have a list of 5 to 10 ideas, you can start learning how to write your first blog post and how to structure your layout.
5. Come up with a domain name
Now that you've got your niche, it's time to think of your domain name. Your domain name is essentially your www.yourblogname.com.
I know a lot of people overthink this because they want to come up with the perfect name. The truth is, there's no such thing as THE perfect name. But you may want to consider some words in your name that will help people search for you.
For example, if you blog about frugal living, it helps to include the word "frugal" in your domain name. In that case, a name like "little miss frugal" or "i am a frugal blog" would make sense, right?
Here's an example of a fashion blog. Similar to "little miss frugal" for the frugal living blog, you could name yourself "little miss fashionable" or "stylish petite" if you're someone who's fashionable and want to target petite people.
Please don't overcomplicate this step because I am telling you right now that your blog name does not determine your success or how well your blog does.
HOW TO COME UP WITH A BLOG NAME: If your head is spinning a lot, then you can use this tutorial to help you come up with the perfect domain name. But again, I warn you that there is no such thing as the perfect name. I mean, just say aloud, "Finsavvy Panda" – what the heck is that? Even a silly name like that is earning a full-time blogging income. Go figure, hah!
Anyway, let's get you started with my easy step-by-step tutorial below!
How To Start A Blog With Bluehost Tutorial (6 Simple Steps)
Ok, now is the moment! It's time for me to hand-hold you, so we finally create your blog account with Bluehost!
Step 1: Get Started
Click on the green button, "get started now" when you enter my Bluehost discount page right here.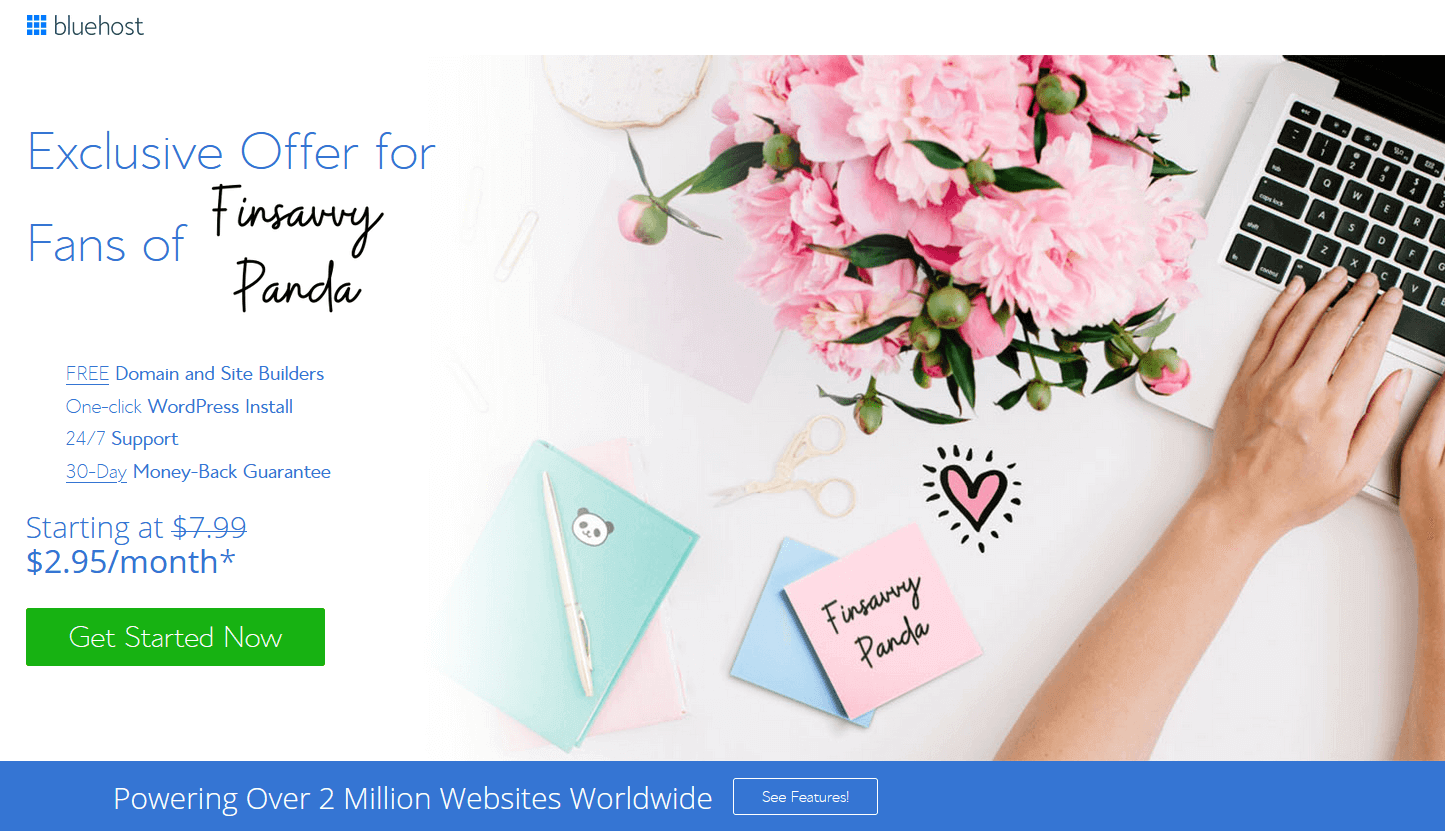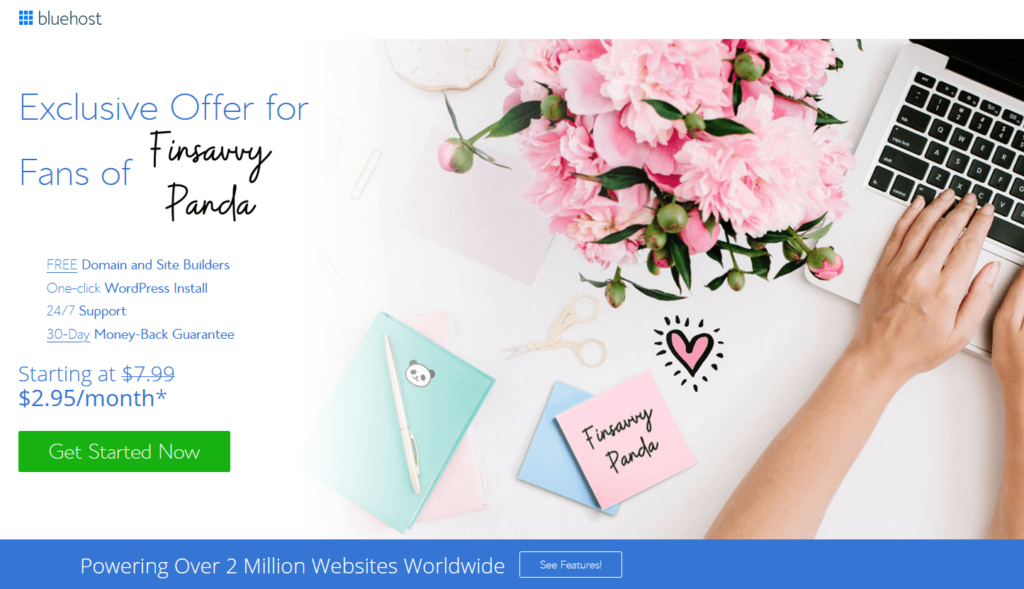 I recommend choosing the "basic" 12-month plan to get the cheapest price to start your blog — this is the plan I personally purchased when I first started.
This will only cost $2.95 USD per month through this special link here (pay full upfront) when you sign up for the 12-month plan.
You can ignore the "plus" and "pro" packages — "basic" plan is all you need. There's no need to pay extra especially when you're a beginner. I personally went for the basic plan when I was just a beginner.
Plus, you can also change any options later down the road if you decide you need more than just the basic plan.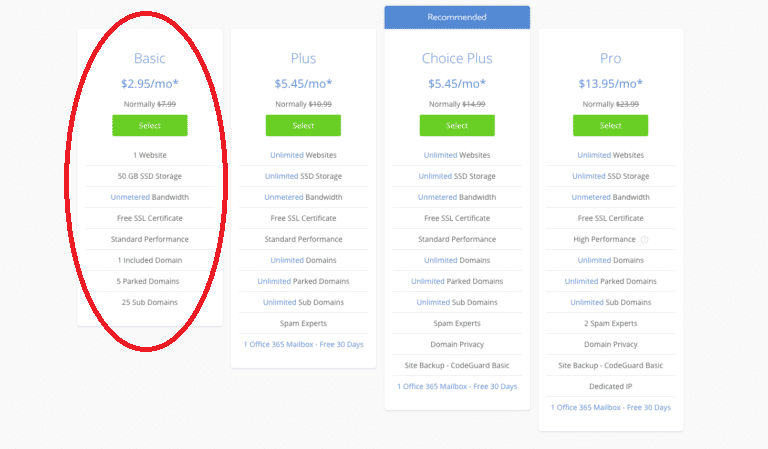 Step 2: Choose and Register Your Domain Name
Next, register your domain name (I went through some tips on choosing your domain name in the section above).
Again, this domain name is included for free as long as you sign up for at least a 12-month plan with Bluehost.
To get the best pricing, I recommend going for a hosting plan that is 12 months because you don't have to spend a lot of money to get started. I'd personally go with the best value plan!
Again, if you think about it, this will cost you less a cup of coffee a month.
Follow this step to set up your free domain name. 🙂
If you're still stuck, don't spend your time worrying too much about this. You can click on "I'll create my domain name later" so you can get started on your blog without the stress of picking a name first.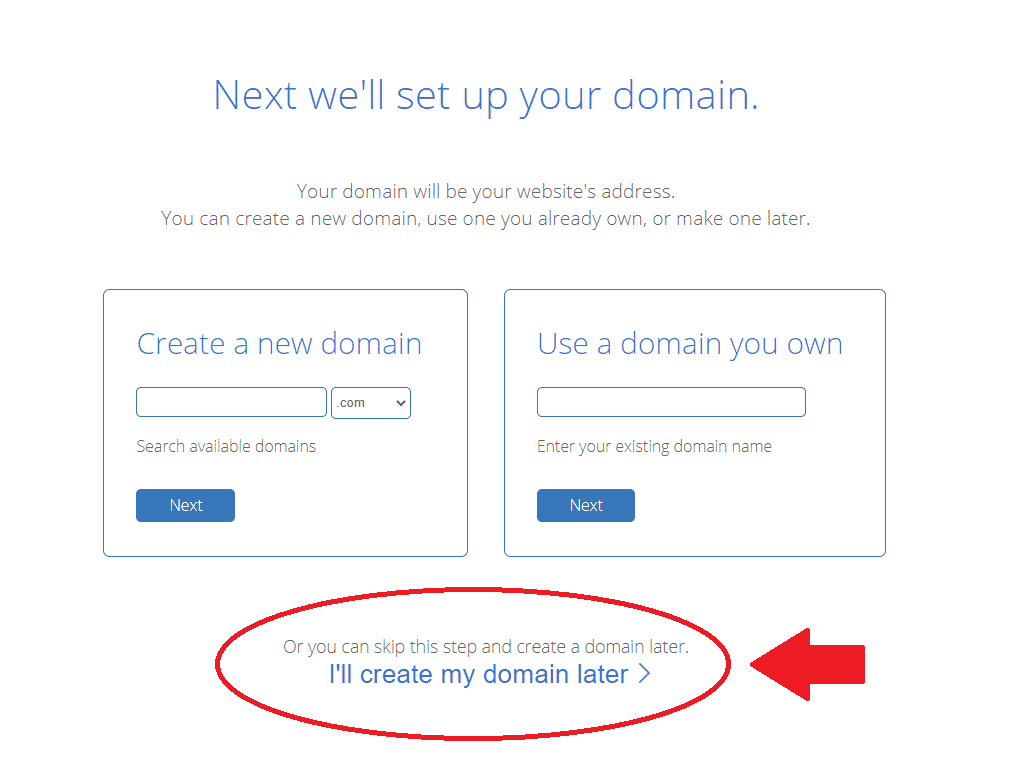 Step 3: Create Your Account
Account information: First, fill in the account information which includes your first name, last name, country, etc. by following the screenshot below.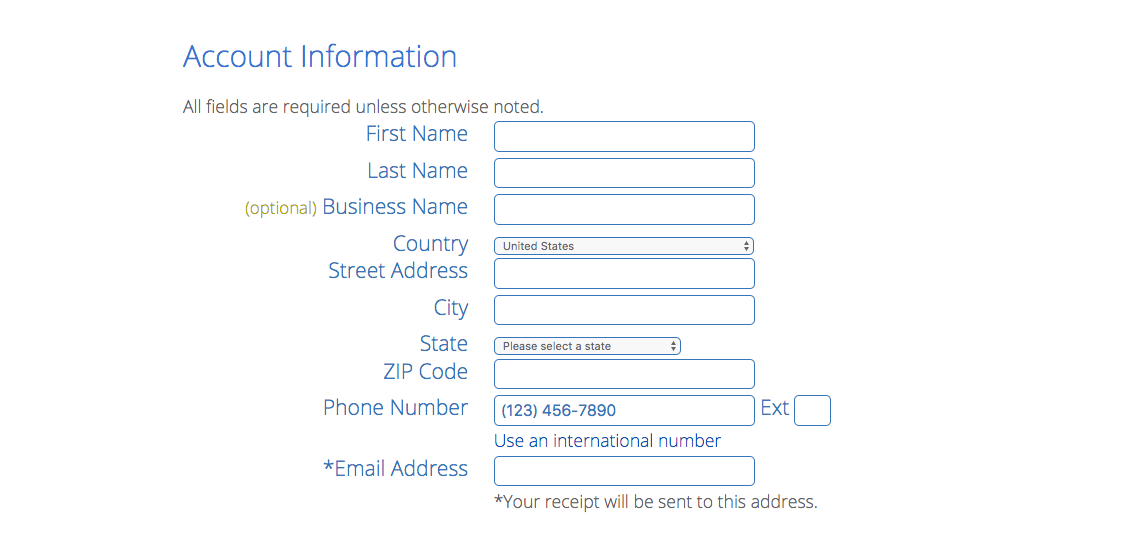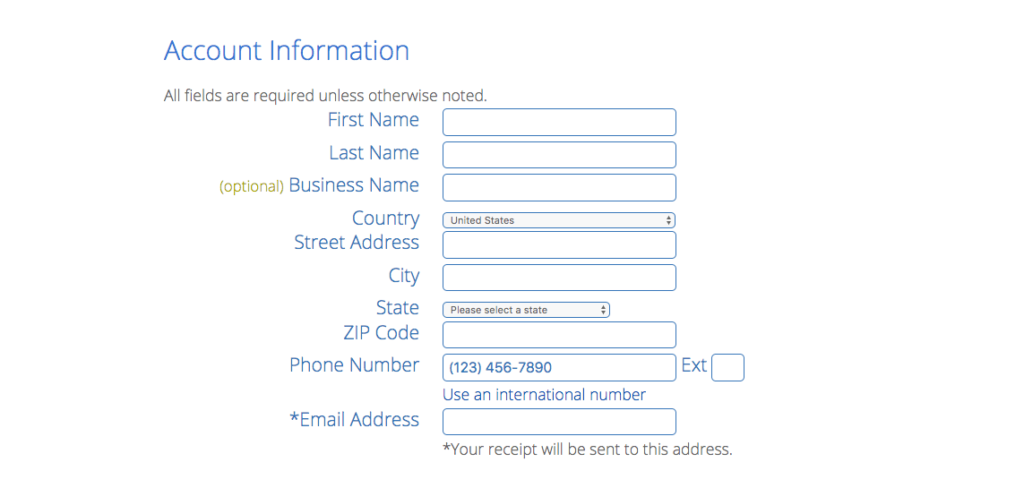 Package information: Now, make sure you've selected the account plan you want to go with. I went through the differences between the basic 12, 24, and 36-month plans with you above.
Package Extras: You'll see the following options:
Codeguard Basic
Bluehost SEO Tools Start
SiteLock Security Essential
You don't need any of these extras. You can simply ignore them for now. There's no need to pay extra especially when you're a beginner. Plus, you can also change these options later down the road if you decide you want extra features.
Payment Information: Now, follow the next step to provide payment information.
If you don't have or use a credit card, you have the option to pay with PayPal by clicking on "see more payment options".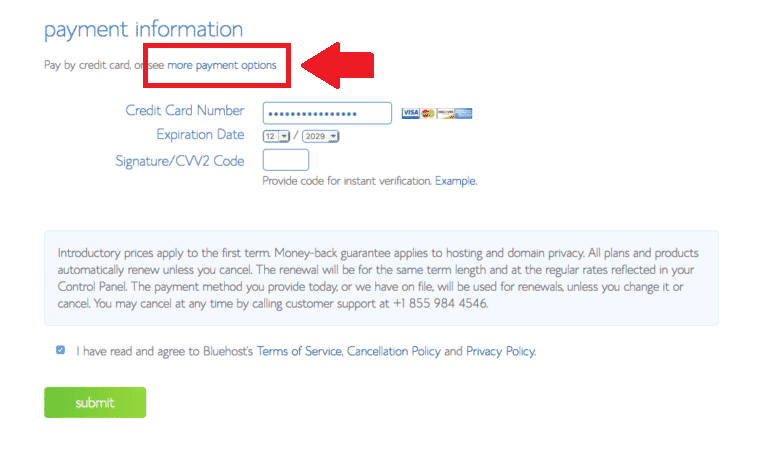 Already have a domain name?
If you already have a domain name (i.e. you're not registering for a free domain name), then skip to the next section.
You'll notice this page where they ask you to choose package extras.
You don't need anything else so make sure you uncheck that extra features. Plus, if you ever change your mind, you could easily make changes down the road.
Again, I kept things really simple when I started as a brand new blogger. 🙂
Step 4: Create a Password
Next, choose a password for your account, confirm it, and then log in.
Hint: It's best to choose a password that is NOT the same as your banking or private information. That's just common sense. 😉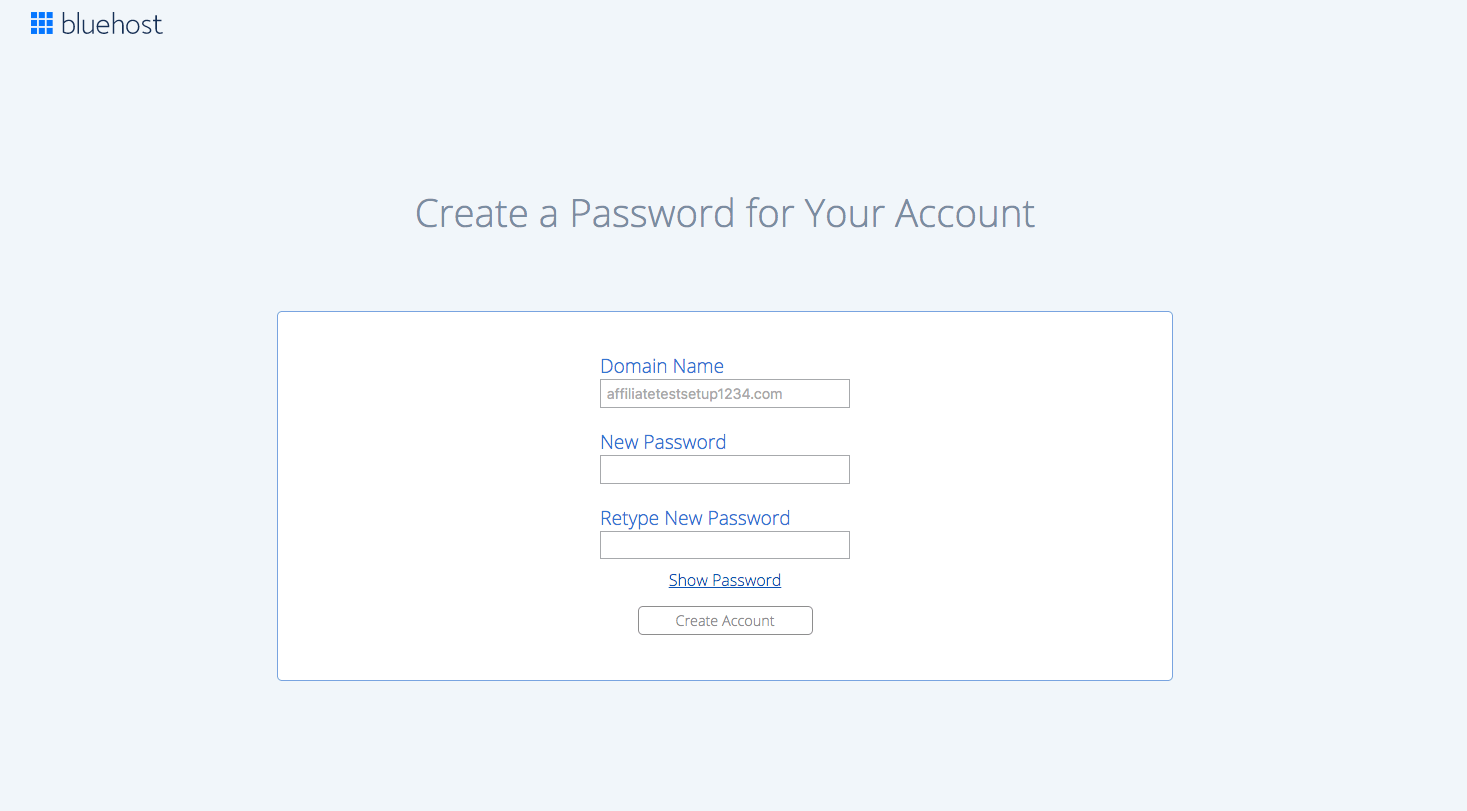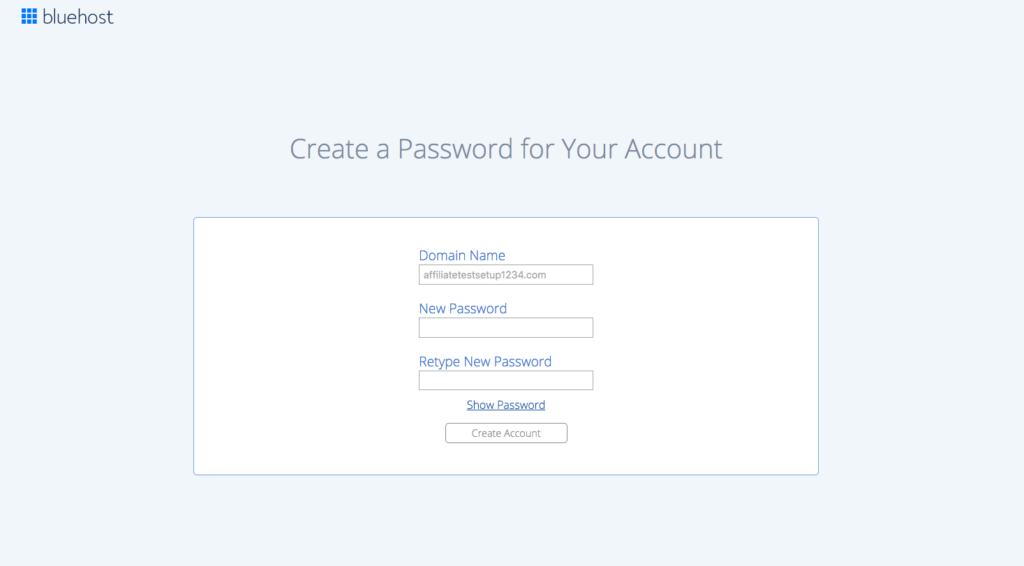 Step 5: Install WordPress on Bluehost
Don't worry, you're almost done! This is the most fun part!
Now that you've purchased your hosting service and free domain name, the final step is to install WordPress.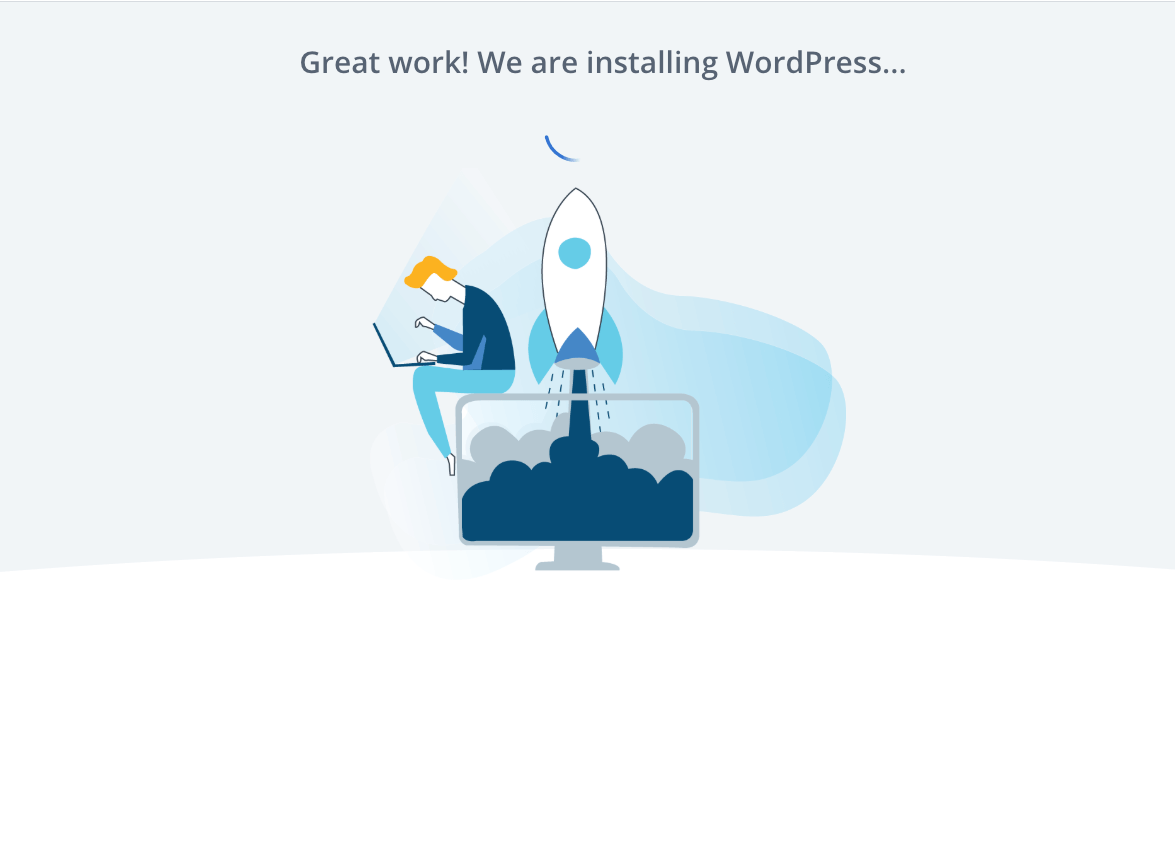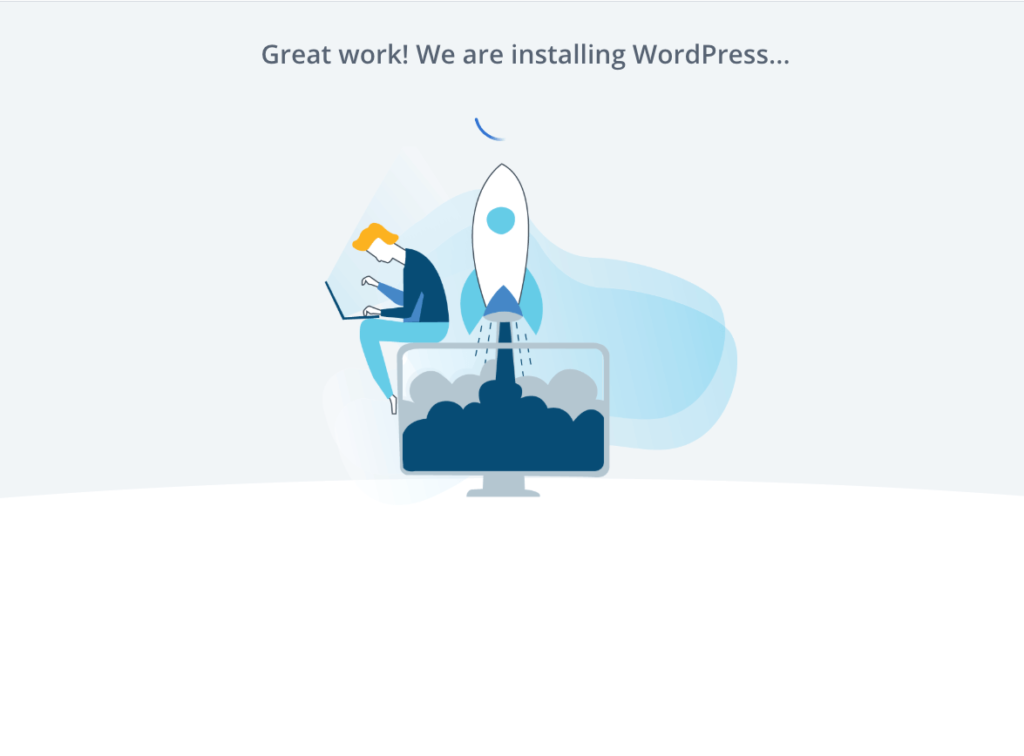 As you can see below, Bluehost will ask you to choose a theme. You can choose what you feel fits your personality.
If you're not ready yet, feel free to skip this step.
The free theme that I initially used on FinSavvy Panda was the Oslen Light. It took me about 2 years to change it because I spent most of my time building a strong foundation and working in the backend of things. As you can see, I focused my time and efforts on other areas of my blog that would generate higher returns. I often see that beginners try to "perfect" their theme and they get nowhere with their blog.
With that said, a free theme isn't going to stop you from making money on your blog as long as it looks modern, clean, and presentable. You can always choose/change your theme later. There's an abundance of free and paid themes! Once you get the hang of blogging with WordPress, you can get more serious about installing a specific theme you love.
For beginners, I recommend the Astra theme which you find search for once you've signed up for Bluehost – I have a separate post about how you can install the Astra theme and get started for beginners.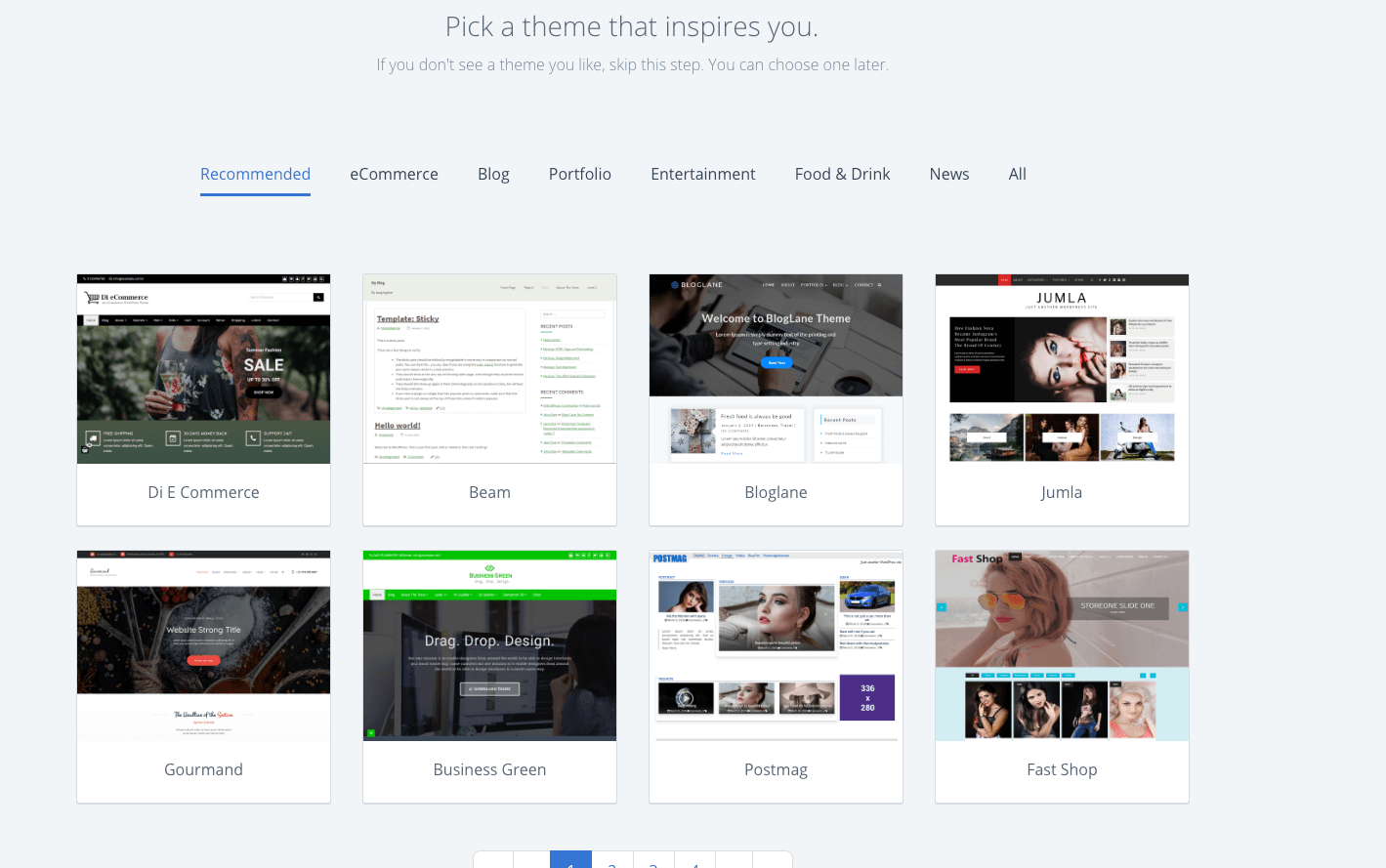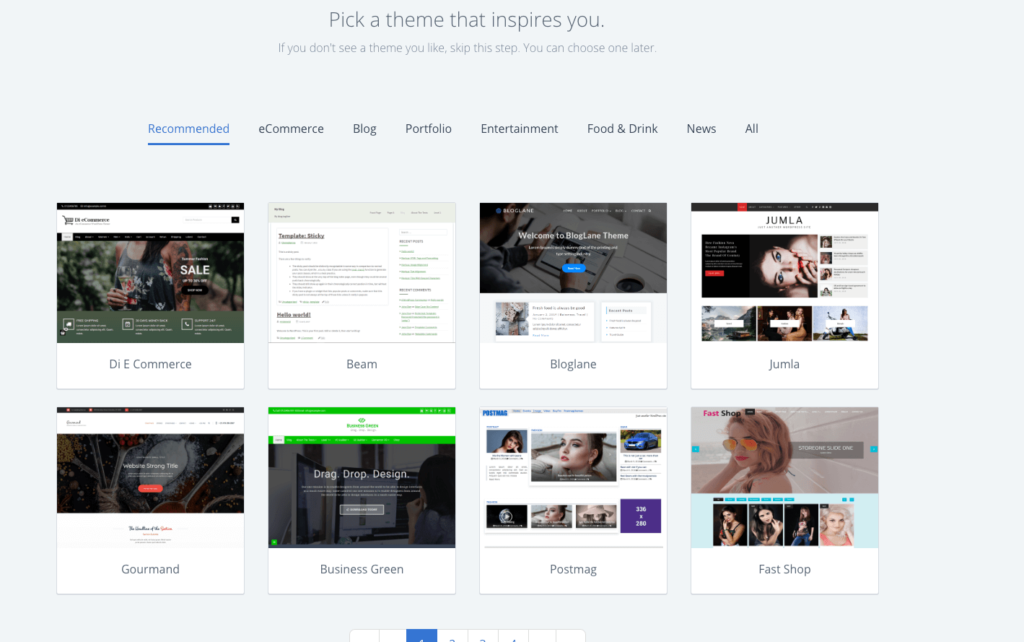 Step 6: Final Steps
Now that you've selected your theme, you can select "Start Building."


Next, Bluehost will ask: "What kind of site can we help you set up?"
You can choose either "Business" or "Personal." It doesn't really matter. You can even click "I don't need help."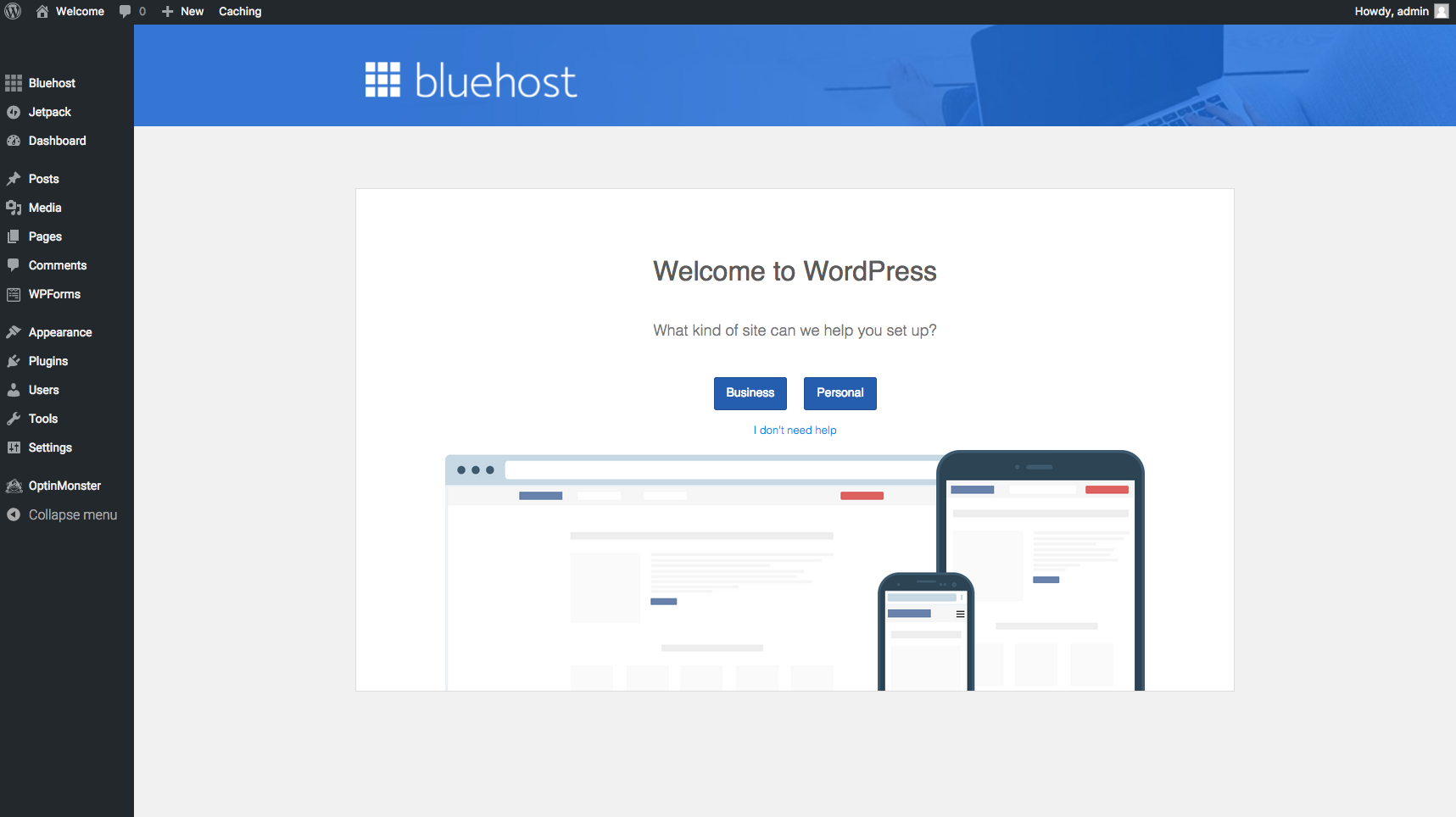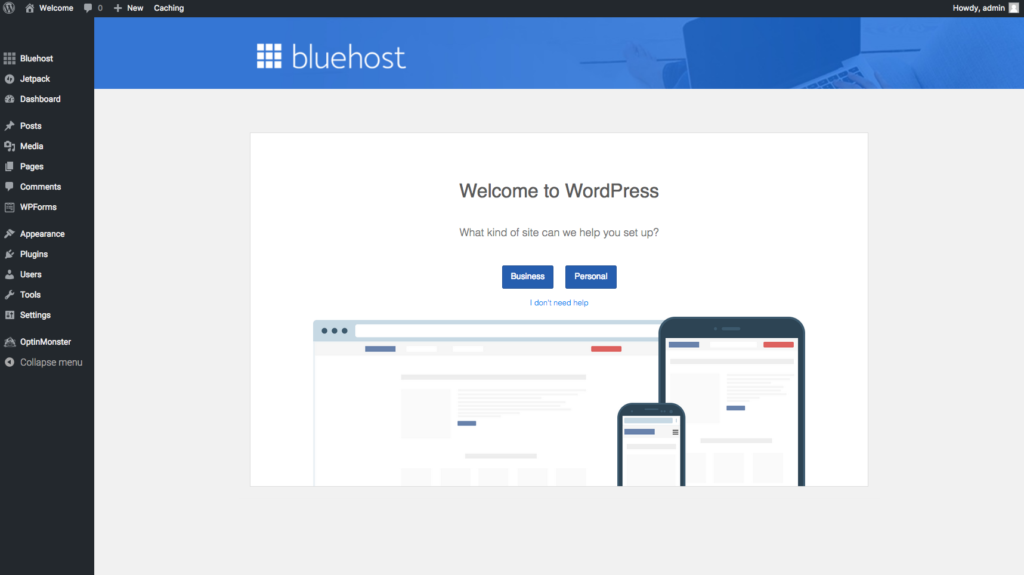 You are done with signing up for Bluehost! What are your next steps in building and launching your blog?
Congratulations, you're officially a blogger now!
Aren't you super excited?? Let's celebrate now!!
You can start your blogging journey now.
Going forward, you can log in to your WordPress dashboard and learn at your own pace. Bookmark this link so that you can easily access it when you want to log in.
MAKE SURE TO GO HERE: The link to your WordPress dashboard is: https://yourblogname.com/wp-admin/

For example, if your domain name is "ilovecrazycats.com", then you'll need to enter this URL into your browswer, so that you can start building your blog on the WordPress that's specifically powered by Bluehost: https://ilovecrazycats.com/wp-admin
If you just started your blog using this Bluehost tutorial, send me an e-mail at [email protected] and let me know! I'm always happy and excited to hear from my readers! I only answer genuine emails! 🙂
Should you have any questions, feel free to contact Bluehost support. They offer 24/7 via email, online live chat, or by phone.
For more information about the blogging tools I use to help grow my blog, feel free to check out my resource page here.
I also highly recommend adding the following goodies and blogging resources below that will quickly and easily help you start, build, and launch your blog. All you have to do is follow my advice to get the ball rolling!
The Treasure Map To Blogging Sucess in 30 Days
Because SO many readers ask me to help them build their blogs, I created a very affordable resource called The Treasure Map To Blogging Success in 30 Days to make it a lot easier for you. You can literally get started RIGHT NOW when you gain instant access to my ebook. This resource is aimed to help beginners like you save A LOT of time and money by laying out the EXACT steps to take in order to build a profitable blog from scratch with NO experience and NO tech skills required.
A lot of brand-new bloggers are seeing great results with their blogs right after following my simple blueprint. The best part is I made this guide super affordable for beginners – the information in this little gem is honestly worth more than what it's priced at (it's what my readers say to me all the time via e-mails)! You can learn more and read what many new bloggers are saying about this ebook here. 🙂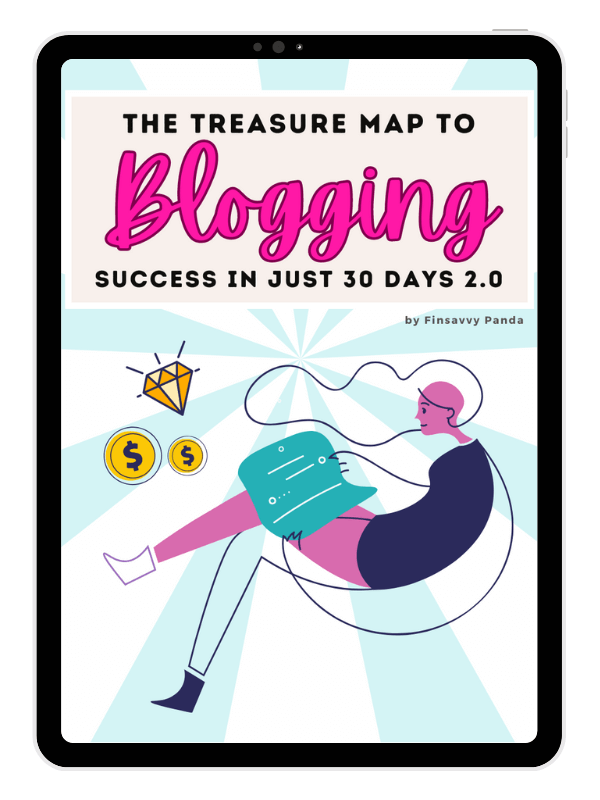 The Golden Compass To Pinterest Traffic
Once you've completed The Treasure Map To Success in 30 Days, you can level up to the next level with The Golden Compass To Pinterest Traffic. This super comprehensive traffic guide is jam-packed with TONS of golden nuggets and it will guide you on how you can get tons of pageviews on Pinterest, gain loyal followers, and attract raving fans so that you can start making money with your blog!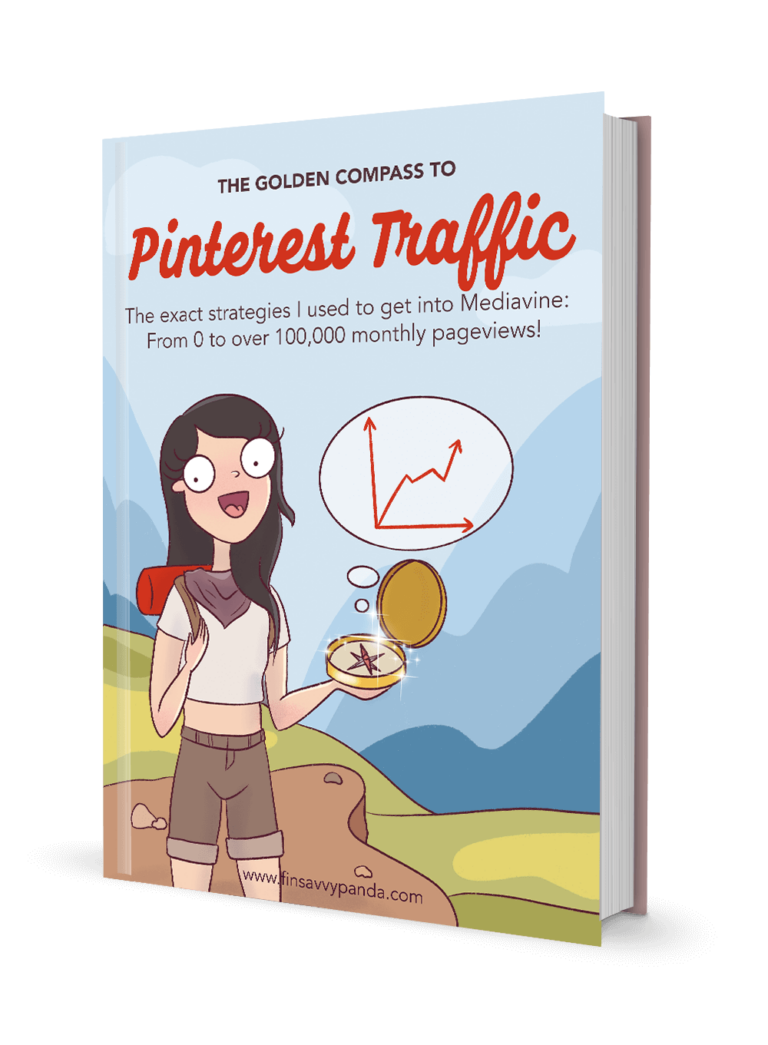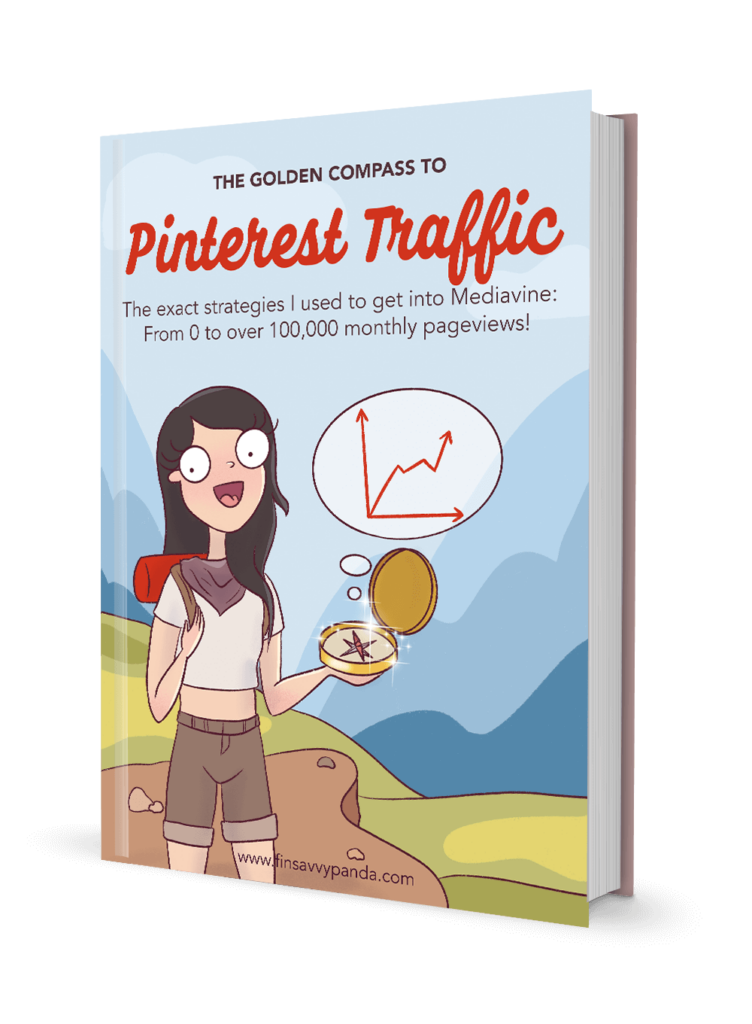 This is the complete guide that teaches you how I skyrocketed my traffic from 0 to over 100,000 monthly pageviews on Pinterest. I am confident that the valuable information in this guide won't disappoint!
Related resources about starting a blog and making money:
How Do Bloggers Make Money With A Blog?
Before I talk about how bloggers make money blogging, I want to first emphasize that this should not be your immediate focus yet.
Why?
Well, because most bloggers won't make money right off the bat in their first, second, or even third month of blogging. As I said earlier, it took me at least 6 months before I made my first $100 before that grew into a six-figure income blog, but magic can happen if you're patient and dedicated to your blog.
I wanted to get this out of the way first so that you understand that your primary focus should not be making money from your blog on day 1, but rather, creating quality content and building an audience.
Once you've built a strong foundation by following a guide like The Treasure Map To Blogging Success in 30 Days (which most blogging experts don't tell you about), the next step is to get traffic to your blog. You can get traffic from Pinterest if you wish to see faster results compared to the average blogger.
The rest will follow once you learn how to strategize your monetization methods.
Now, with that being said, there are many ways in which bloggers make money blogging. Here are some of the most popular methods:
1. Display Advertising:
One of the most common ways bloggers make money is through display ads.
According to RankIQ, a study found that food bloggers earn 42% of their income from advertisements (indeed, food blogs are one of the most profitable), with only 10% stemming from affiliate links. These food bloggers report a median monthly income of $9,169. Additionally, the same source identifies high-traffic niches that include not only food, but also parenting, lifestyle, travel, DIY, arts and crafts, outdoor activities, and beauty.
I can personally vouch for the lifestyle niche and say from my own experience that lifestyle blogs are really popular. My lifestyle blog gets more visits than my personal finance one, which means I usually make more money from ads on it. That's just how things are in this field. Plus, having a blog topic that works well on Pinterest is a big bonus!
Due to my initial encounter with display ads, I always tell beginners it's a great place to start. Compared to other monetization methods, it's one of the "easiest" if you don't have any experience in blogging, marketing, or running a business. That's exactly how I got started when I earned my first few hundred dollars with Google Adsense.
You can sign up for ad networks like Google Adsense, Ezoic, Monumetric, and Mediavine, or you can work with brands directly to sell ad space on your blog. I have personally used Google AdSense, Monumetric, and Mediavine.
NOTE ABOUT MAKING MONEY WITH ADVERTISING: In order to earn any decent amount with display ads, you will need a good amount of traffic to your site. I would recommend at least 10,000 pageviews per month before considering this method. For total beginners, I highly recommend learning how to use Pinterest to drive traffic to your blog as a way to increase your pageviews so that you can eventually start monetizing with display ads. This is the method that I personally used to go from zero to over 100,000 pageviews per month!

Many of my readers also requested me to create this complete A-Z Pinterest traffic guide called The Golden Compass To Pinterest Traffic: From 0 To Over 100,000 Pageviews that shows you exactly how I did it with two blogs!
2. Affiliate Marketing:
Affiliate marketing is ranked amongst the top three revenue generators for 31% of publishers. For a small subset, approximately 9%, it even serves as their primary source of income.
Based on my own experience, even personal finance blogs that don't have super high traffic can still make a good amount of money just from affiliate marketing. In fact, when you look at one of my prevoius blogging income reports, you'll see that affiliate marketing makes up about 50% to 80% of my blog's income. This clearly illustrates how it differs from the income sources of food and lifestyle blogs, as previously mentioned.
Although I also recommend display advertising as a good starting point, it's worthwhile to note that diversifying your revenue stream with affiliate income can provide a substantial boost to your blog earnings.
Now, you're asking what is affiliate marketing, right?
In simple language, affiliate marketing is when you promote a brand's product or service on your blog and earn a commission for every sale that you generate. This can be done through something called "affiliate links", which are special links that track your sales and give you a commission. You can think of it as a referral system where you're essentially getting paid for recommending a product or service to your readers. Think about those Rakuten's Cash Back Program or Amazon Associate links that you see on many sites. Those are affiliate links!
As an affiliate, you can promote anything from physical products like gadgets and clothing to digital products like e-books and online courses. And there are TONS of brands out there in nearly every industry that offer affiliate programs, so the sky is the limit when it comes to starting a blog and using affiliate marketing to earn an income.
Affiliate marketing is actually one of the most popular ways that many bloggers, including myself, make money online. It's also one of the easiest methods because you don't need to create or sell any products yourself! You can simply sign up for affiliate programs, get your unique affiliate links, and start promoting products to your audience.
For example, if I were to promote a personal finance book like "I Will Teach You To Be Rich" by Ramit Sethi on Amazon, I would first sign up for their affiliate program. Once I'm approved, I would then get a special link that I can share on my blog. Whenever someone clicks on that link and makes a purchase, I would earn a commission.
It's important to note that you will not earn a commission if someone clicks on your affiliate link and doesn't purchase anything. That's why it's important to promote products that you actually use and love so that there's a higher chance that people will actually buy something!
3. Digitial Products:
Another way to make money from your blog is by selling digital products, such as printables, e-books, courses, or templates. This is exactly what I offer on Finsavvy Panda:
As you can see, selling your digital products is a great option if you have expertise in a particular area or want to share your knowledge with others in a more tangible way.
4. Physical Products:
If you have a physical product, such as jewelry or home decor, you can sell it through your blog. This can be done by setting up an online store or partnering with a drop-shipping company.
5. Sponsored Posts:
Sponsored posts are when a brand pays you to write a post promoting their product or service. This is usually done in exchange for a fee or commission, but sometimes bloggers will also receive free products or services in addition to this.
6. Services:
You can also use your blog to sell services, such as coaching or consulting. This is a great option if you have experience in a particular field and want to use your blog as a way to connect with clients. For example, if you're a personal finance blogger who has proven to achieve financial freedom, you could offer budgeting or coaching services to your readers who want to replicate your success. Another example is a beauty blogger who could offer makeup consultations to readers who want to learn how to apply makeup like a pro.
There are many other ways to make money blogging, but these are some of the most common methods. The important thing to remember is that you should not try to monetize your blog until you have built up a solid audience. Once you have an audience, then you can start experimenting with different monetization methods to see what works best for you.
HOW TO MAKE MONEY BLOGGING FOR BEGINNERS: You can learn more about how beginners can make money blogging here and how bloggers get paid here – these posts are written based on my personal experience. On top of that, you can dig through my blog income reports through my blogging archieve here. I also have this one particular blogging income report post that often gets visits.
FAQs about blogging from my readers over the years
Since I want to elaborate and provide you with as much information as possible without overwhelming you as a beginner, here are some of the most frequently asked questions I received from my readers about starting a blog and making money.
Some of these questions may not be about money or income, but rather, what beginners should do and how they can get started.
1. What is Bluehost?
I get this same question over and over again, so I thought I'd answer it here.
Bluehost is a web hosting company that provides a platform for people to create a website or blog. For example, when I started this blog, Finsavvy Panda, I purchased the most basic web hosting plan to get started.
I also used Bluehost's basic plan to start my second blog – a lifestyle niche website, which also earns an income from display ads and affiliate marketing.
From Basic to Plus and Plus Choice, Bluehost provides a variety of hosting plans, making it easy for anyone to find a plan that fits their needs.
My advice for beginners is to just choose the basic plan (12-month, 24-month, or 36-month) to host your website.
Honestly, their plans are affordable, so you can start a blog without breaking the bank.
2. Can I start a "free" blog and make money?
I see that beginners are always trying to save money, and that makes sense because life is tough when your budget is tight.
But, there's a difference between being careful with your money and not wanting to spend it at all, even when it's a good idea. Many times, people think they're saving money, but they're really just focusing on the small stuff and missing out on the bigger picture, which can harm their blog or business.
What REALLY shocks me when I receive e-mails from people asking me the following questions:
Can I start a free blog and make money?
Can I make a full-time income without investing?
How can I make money with my blog (I want the full-time income you make) without investing?
Can I start a free blog and sell my own products to make money?
My quick and short answer is usually, "No, you cannot. You won't make money if you don't spend money."
How does it make sense when someone asks, "Can I start a free blog and sell my own products to make money?" You're expecting others to invest in your products, yet you're not willing to make a small investment yourself? Take a moment, look in the mirror, and reconsider your approach.
If you already have a limited mindset of "free this and free that" and you expect to make money, start a business, or grow your wealth without investing in anything, your blog will not survive. Don't be surprised to find yourself having trouble monetizing it too with a free host.
Successful bloggers who are serious about earning money with their blogs and generating a stream of income know it is essential to have an "investing" mindset. There is a lot of truth behind the saying, "you need to spend money to make money", or "you need to invest your money in order to make more money".
The great thing is you don't have to spend a lot and dump your entire life savings into starting your blog. Thankfully, the cost is nowhere near starting a business like a brick-and-mortar store.
The first step is to register and create a self-hosted blog, which leads to the next question below. The more reason that you should avoid creating a "free" type of blog or website.
READ MORE: How Much Does It Cost To Start a Money-Making Blog For Beginners (on a Budget)?
3. What is a "self-hosted" blog?
A blog that is self-hosted is one that is housed on a web hosting account that you have paid for. When you buy a Bluehost plan in this situation, you are "self-hosted," which means you are the blog's owner.
I wholeheartedly advise self-hosted blogs over "free" blogging services because they are more configurable and provide more functionality. This is particularly true if you want to monetize your site.
Comparatively, "free" blogging providers like Blogger and Weebly offer user-friendly blogging platforms that are typically cost-free. Free blog providers are completely cost-free to sign up with, but they have a lot fewer features than self-hosted blogs.
On top of what I just said, free blog servers frequently have restrictions on the number of posts or plugins you may use. Once more, if your goal is to create money from your site, you should avoid free blogs at all costs and stick with self-hosted blogs.
I'd also like to mention WordPress.com is another example of a "free" blogging host, and this is totally different from the version (WordPress.org) that comes with Bluehost. I answer this most commonly asked question next…
4. WordPress.com vs. WordPress.org – What's the difference?
All hosting plans purchased with Bluehost are powered by WordPress dot org. I recommend Bluehost because again, it's self-hosted! That means you are the owner of your blog, and yes, you want to be the owner of your blog! Why wouldn't you??
With the general term, "WordPress" that's thrown out there, it can be confusing to many beginners.
So, let's clarify this confusion.
There are two versions of WordPress – WordPress dot com and WordPress dot org.
As mentioned earlier, WordPress dot com is free hosting and I don't recommend it because you won't be the owner of your blog or website, which means you don't have control. On top of that, they can close your blog and remove all your posts at any time without warning.
WordPress dot org, on the other hand, is a website builder or program that comes with a self-hosted plan like Bluehost.
Note also that if you were to start a blog on a free platform like WordPress dot com, your domain name would look something like http://www.yourblognname.Wordpress.com. Just imagine www.finsavvypanda.Wordpress.com.
On the other hand, if you're self-hosted and go with Bluehost (which is powered by WordPress dot org), your domain name would look like http://www.yourblogname.com. Just like what you see on this website here, www.finsavvypanda.com. Yes, this is a self-hosted website!
Do you notice the difference? The latter is much more professional with a clean website address.
If you're planning to make money with your blog, it's definitely wise to go with a self-hosted (you own it) website plan.
I actually started my blog with Bluehost and I recommend them for beginners who are looking for something that's budget-friendly.
You definitely don't need any expensive plans as a beginner. I was still earning a full-time six-figure income when I was on the Bluehost basic plan (you can also search for all my previous income reports on this blog – I was still using Bluehost's cheapest plan).
I only upgraded to a more expensive plan afterward when my pageviews were over 150,000 per month (or even close to 200,000 monthly pageviews, can't remember since it's been a while since I made the upgrade). You can easily make the upgrade later when you start getting more traffic and income.
5. Is Making Money With A Blog Possible in 2023?
After blogging for 1.5 years (at the time of writing this), I am consistently earning over $10,000 per month with this very small blog! This allowed me to go from blogging on top of my full-time job to becoming a full-time blogger in 1 year.
UPDATE: In my 3rd year of blogging, it's crazy to believe that I'm now earning over $20,000 per month! And YES, still a very small blog!
Now, I have to admit that starting a blog and making money from it isn't a walk in the park.
However, it is VERY possible to make a nice amount of money blogging (with NO prior experience) as long as you set realistic expectations from the start.
Also, you'd want to take it nice and slow… Trust me, slow and steady wins the race! 🥇
You can do this! 🌟
After learning so much in my first couple of years, I can personally tell you that making money online with a blog is REAL!
You can also see some example screenshots for proof that I'm actually earning real money online!
$40,102.36 from just ONE source of income!


$2,455.64 from another source – one month of display advertising earnings!

$1,385.70 from another source of monthly earnings!


$2,015.20 from another source!

Aside from those few sources, there are many other sources that generate income for this blog!
And believe me when I say this… I'm NOT special or smart in any way!
I went through the beginner's journey (with ZERO experience) but still managed to make money with this blog! AND TRUST ME, if someone like me can do it, then so can you! I REALLY mean what I say! Of course, it wasn't all sunshine and unicorns, but the struggles and challenges allowed me to learn and grow within my first year of blogging!
I am really thrilled to share with you the EXACT steps I took to start a blog from scratch with NO tech and NO writing experience. That's why I created this FREE 7-day e-mail course to teach beginners like you how to start your blog the right way! Sign up below to learn how!
6. How can a beginner start blogging?
Total beginners like you can start blogging by following my step-by-step tutorial above to register your domain name, choose a web host, install WordPress, and start writing your first blog post.
As mentioned, you'll get a free domain name when you use my Bluehost link here to sign up for web hosting.
Bluehost is one of the most popular and well-known web hosts today, and they offer beginner-friendly plans that are perfect for new bloggers.
7. How do I start a blog with no money?
If you have plans to make money with your blog, which I'm sure that's your ultimate goal (otherwise you wouldn't be reading this article here), then you'll need to invest in your blog by purchasing the most basic hosting plan, which is only $35 for the whole year – that's equivalent to just $2.95 a month!
The great thing is you don't have to spend a lot of money as a beginner because there are many free tools and resources like my free e-mail blogging course here available online to help you get started.
Because starting a blog is so affordable, I recommend saving up at least $35 so you can purchase your hosting plan, which comes with a free domain name when you use this page to sign up.
Next, I encourage you to devote time and energy to your blog. You'll need to consistently post high-quality content, engage with your readers, build a presence on social media, and promote your blog to boost traffic.
I also encourage you to come up with a budget and save some money on the side so you can invest in blogging resources like these ones here in my recommendation list to help you fast track quicker than the average blogger.
Honestly speaking, I waited a little too long and my blog didn't make any money until I started investing a little bit of money. I SO regret not investing more into my blog right from the beginning and that was one of the biggest mistakes I made as a newbie!
To save you from making the same mistakes I did, you can learn more about how much it costs to start a blog on a budget here.
8. How do bloggers earn?
Bloggers don't get paid to write on their blogs.
For example, when I post and publish a blog post about my favorite ways to save money or how I earn extra money, I don't get paid for those articles.
No one is going to pay you for doing this but I'm going to explain how bloggers earn and make money for doing this.
Technically you could get paid for an article when a company wants to partner up with you to promote their brand by writing an article or review post about a specific product or service they offer – this is called a sponsored post. But as a beginner, you won't get to that point until you have a lot of followers or become an influencer online.
How beginner bloggers get paid is usually through display ads and affiliate marketing WITHOUT having to become popular or an online influencer. Geez, you can blog anonymously and still earn a full-time income through these methods!
Here's an illustration from one of my blog posts on how display ads look on my articles: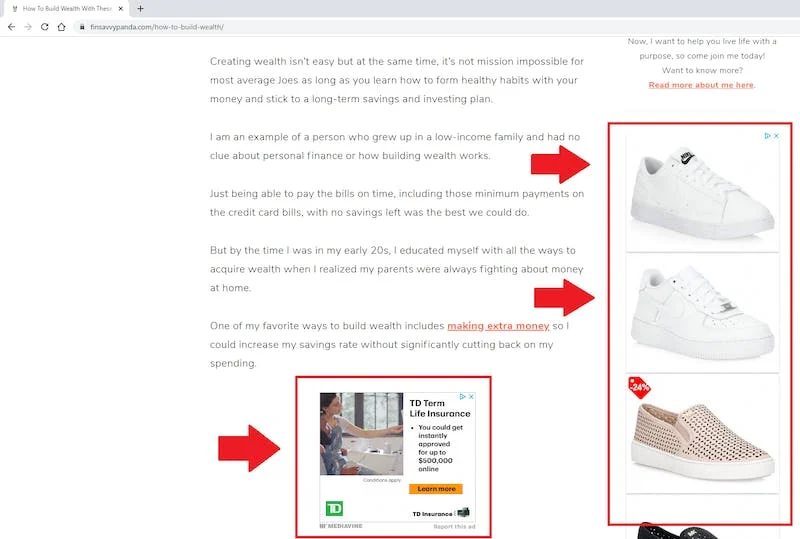 Here's how it works…
A beginner would write and publish blog posts and build up traffic to their blog through traffic sources like Pinterest or Google SEO.
Once you get enough traffic to your website, you can apply for ad management networks like Google Adsense, Ezoic, Mediavine, etc. so you can start putting display ads on your website.
When you get approved by an ad network like Google Adsense or Mediavine, these display ads will automatically appear on your website and you'll earn money purely from traffic or pageviews with this one method.
Making money through display ads was one of my first ways to start earning money with my blog when I was a beginner, and it's a great way to generate passive income once you set everything up properly.
Here's an example of my Mediavine earnings for one of my other blogs where I write anonymously:

I also explain in a separate article on how bloggers get paid. In other words how money hits your bank and/or PayPal accounts.
9. Can you make $1,000 a month with a blog?
Yes, you can make it, but keep in mind, there may be competition if you're going for more common, broad search terms compared to more specific ones, called long-tail keywords. I won't go into detail here, but basically, a long-tail keyword is super specific, while a common keyword is more general, covering a big topic.
Let's say you're writing a blog post about cake recipes. "Cake recipes" is a common keyword and many people are using it. But "Easy chocolate cake recipes for beginners" is a long-tail keyword because it's specific and targets a particular group.
I'll give you another example from my own experience writing about personal finance. If you're writing a blog post about saving money, "saving money" is a common keyword and it won't rank well on search engines like Google. But a long-tail keyword like "how to save money on a tight budget for single parents" targets a certain group and can get you a good ranking.
Again, you should not let the mindset of "high competition" or "highly saturated" stop you from achieving your dreams of starting a successful blog. If you can find a topic you love that's not too crowded and can gather a bunch of loyal readers, then you've got a real shot at making $1000 a month from blogging, even if you're just starting out.
Discovering low-competition keywords is critical to success. I share my tried-and-true strategies for achieving this in The Golden Compass To Pinterest Traffic, aimed at boosting your pageviews exponentially.
10. How much do first-time bloggers make?
Long answer short, most first-time bloggers don't make any money because they are still at the beginning stage where they are still learning.
However, if you're serious and committed to blogging, you shouldn't be surprised to see yourself make your first $100 within 6 months. That amount can greatly compound into thousands and even ten thousand dollars per month when you keep it up.
Seeing results like that depends on the topic you are writing about, how helpful your posts are to your readers, and the strategies you put into action. Most of this does require a lot of your time, especially at the beginning phases.
Most people often ask about my results and what I did when I was a first-time blogger. I usually tell my readers that when I first started my own blog, I put in about 1 to 2 hours a day, even though I was working a full-time job. I would consistently do this in the evening after getting off from work because I really loved the project and was excited about the idea of making my first $100 or even $1000 from blogging!
Some new bloggers might not make any money at first because they're busy creating posts and trying to get more readers. But, some might start making a little bit of money (like $50-$300 a month) pretty quickly from ads or selling other people's products for a commission. You'll even hear bloggers who make their first full-time income in 6 or even 3 months!
As bloggers get more experience and more people start reading their posts, they can make more money – from a few hundred to a few thousand dollars a month. Some even make enough to do it as their full-time job. But, it's important to remember that blogging isn't a fast way to make money. It takes a lot of hard work, time, and a good plan.
11. How long does it take to make $100 blogging?
You might be wondering, "How long can I expect it to take for my blog to start making money?"
According to ZipRecruiter, the average salary of a full-time blogger is 73,199 in 2023.
But, how long will it take to make your first $100 and eventually turn it into a sustainable full-time income stream?
As mentioned earlier, it really depends on things like the topic you're writing about (is your blog in a profitable niche?), how much time you're putting into your blog, and how much effort you're willing to make.
The fastest I've ever heard of someone making money (anywhere between $100 to $3,000) was within one to 3 months, but this isn't typical. Usually, it takes at least six months to start seeing any real progress.
You can check out how I made my first $100 blogging through Google Adsense here. And you can also check out my separate post on my other blog that answers the question, how long does it take to make money blogging?
12. How can you become a fast writer for your blog, even without prior experience?
I've been asked this question many times by my email subscribers.
For instance, one reader a week ago asked me this:
"Any advice for getting better (or quicker) at writing your blog posts as a beginner, keeping consistent, and getting your blog seen? If done the right way, what do you think can be achieved in your first year?"
I responded to them by saying:
I understand that writing can be overwhelming at the beginning. I personally had no experience writing blogs or any articles, for that matter.
I began by writing just one blog post a week when I first started my blog. It didn't matter if it sounded silly or if the flow wasn't perfect. Over time, as you write more, you'll naturally become faster without even noticing.
The key is to consistently publish at least once a week in the beginning, until writing becomes a habit. As you gain confidence, you can increase your publishing frequency.
During this period, it's important to learn about driving traffic, especially from sources like Pinterest — that's where I get most of my pageviews.
On top of that, there are now tools like ChatGPT that can boost your writing speed and efficiency. You can also check out how I use ChatGPT to help me make money as a blogger. This tool can help you brainstorm ideas and even refine your blog posts.
By making it a habit to produce consistent content and by optimizing your blog posts using Google and Pinterest SEO strategies, you'll begin attracting traffic to your blog earlier and can start monetizing through methods like display ads and/or affiliate marketing.
A quick story of why I started a blog
Long story short, my husband (fiance then) and I knew that we wanted to further improve our financial situation so that we could achieve financial independence. We also wanted to share our tips on how to become a millionaire by age 30 from scratch even when starting with no money. Believe me, we've been there – broke, living paycheck-to-paycheck, enduring a poor quality of life, with no inheritance in sight.
Both of us were raised by hardworking parents who had low incomes and earned minimum wages. In fact, both our dads were actually jobless!
We felt compelled to share our personal finance experiences and document our financial journey. This not only helped keep us on track with our finances but also curbed the urge to spend mindlessly.
Over a decade ago, way before I started this blog, I was already exploring online to learn how others were saving and earning extra money. To my surprise, our net worth saw a significant boost when I began following other people's blogs for financial advice.
At the same time, I was starting to dislike my day job A LOT, so blogging on the side as a hobby to learn how to make extra money online made me feel like there was something FUN to look forward to.
With that said, I took the plunge and started my own blog to keep myself from going insane while sharing our journey with the world in hopes to help those who struggle with personal finance.
In one of my blog posts about the top 10 things I stopped buying to save money, I even mentioned that I got rid of cable because of this blog… Nope, it's not a joke!
When I started blogging and getting the hang of things, my interest in blogging grew so I didn't really care much for TV anymore!
Not only was I able to save money by cutting cable – and becoming a happier person because of blogging – but I was also able to make EXTRA money on top of my full-time job with this new hobby!
Just imagine what an EXTRA $1,000 to $5,000 per month can do for you! 🤑 😮
In hindsight, I wish I started this blog sooner! I am so confident to say that you may feel the same too after you start your blog today! 🙂
The blog hosting company that I recommend
I personally went for the most basic Bluehost plan when I started my blog and I highly recommend them to new beginners like you!
When I was a beginner, Bluehost made it really easy for me to start my blog.
With that said, you don't need to be a tech genius to start a blog and launch your blog.
They have 24/7 customer support who can resolve your problems really quickly! As a new blogger myself, I've been really happy with their customer service to date!
Do not start a blog using a free platform!
I know you might be thinking of starting a blog for free on WordPress.com or Blogger.
DO NOT go that route!
It would be near impossible to make money when you sign up for a free blog because no one will take you seriously.
On top of that, applying to ad networks and affiliate programs will be extremely tough.
So believe me, you will want to start your blog the correct way by investing in a very affordable Bluehost plan here. You will thank yourself for doing this! It's honestly one of the best investments I've made this year!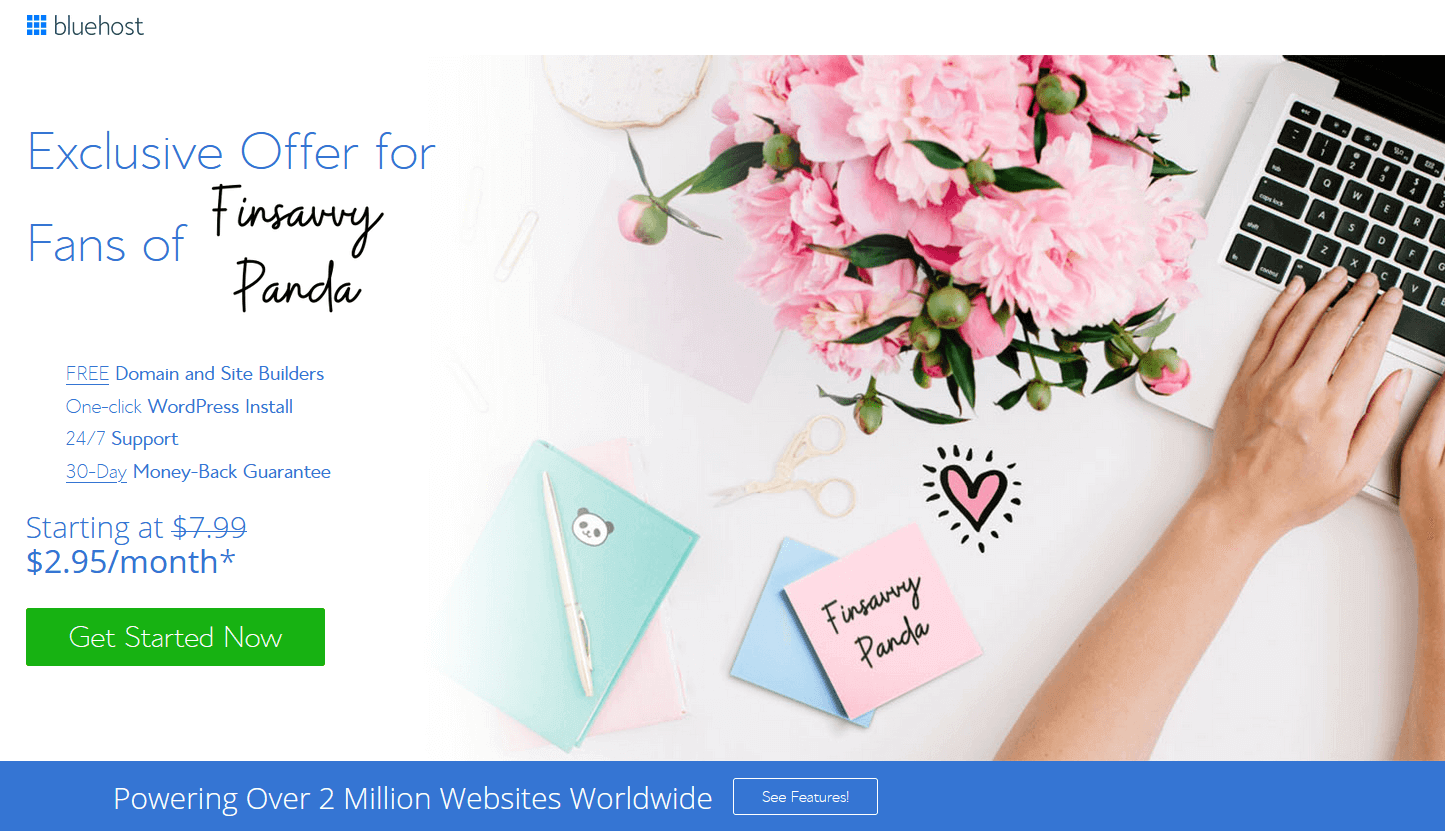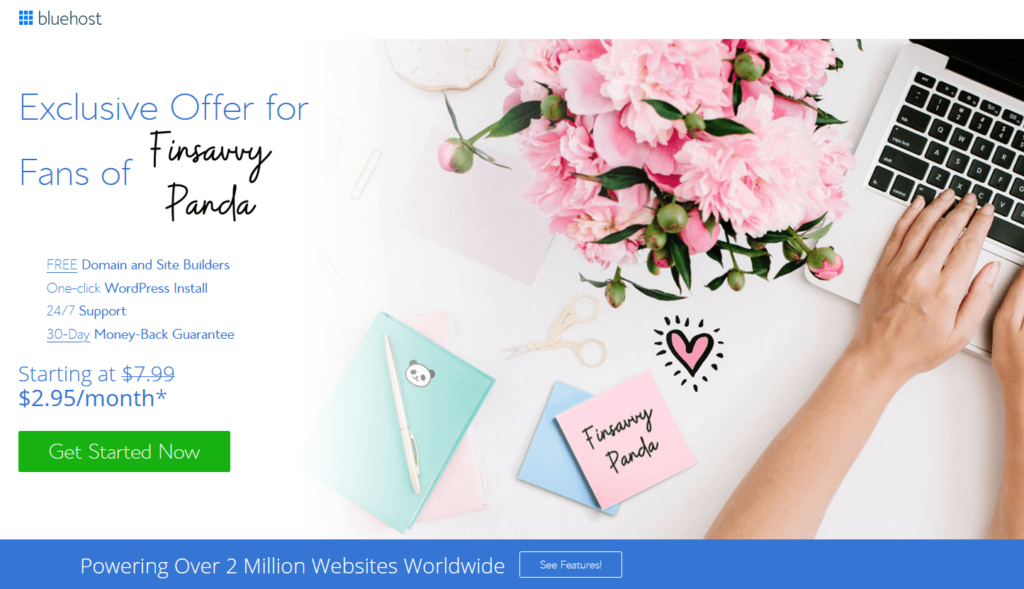 Why starting a blog today could change your life:
Here are five reasons why starting your blog today could change your life.
1. Improves your mental health – I can attest that starting this blog improved my mental health significantly! It gives me the opportunity to write about the things I enjoy talking about which is helping others manage their money and personal finance.
This distracts me from negative thoughts or being sad about my personal problems in life. Surprisingly, you won't even have time to feel sad or bothered because you'll be thinking about how to grow your blog!
2. Amazing learning opportunity outside of school and the traditional 9-5 workspace – Blogging is a totally different world! It's like a course on its own and there's so much you can learn! After starting this blog, I realized that there's more in life than just going to school and working the typical 9-5. You'll know what I mean once you get started!
3. Build connections with the online community – I've met some amazing people online and they are the people who will keep you motivated and going with your blog!
4. Tell your own story – Everyone has a unique voice when it comes to helping a reader with their problems. For example, if you blog about your debt-free journey and the steps you took to reduce your debts, your voice can offer value to a reader who can relate to your story.
5. Make money opportunities – I would have never thought that anyone could make money online through their blogs! I used to think that the traditional 9-5 and getting promoted was the only way to make money. My traditional and naive thinking is not true. You can definitely start a blog that makes money today to help you get out of debt, stop living paycheck to paycheck, save money for retirement, or even improve your lifestyle!
Proof that you can make money blogging:
It is totally doable if your intention is to start a profitable blog but keep in mind that creating a money-making blog is a marathon and not a race!
If you're hoping to become the next Bill Gates overnight, then this is not for you. You should just close this window browser and hope to win the next jackpot.
I am not here to guarantee you results because nothing in life is ever guaranteed (no matter how great other bloggers make things sound). BUT, I am extremely confident that you can reap huge rewards with your blog as long as you're patient and willing to learn!
Real proof with numbers:
As a new blogger, I actually made between $400 to $500 every month starting in April 2018.
To be totally transparent, this took me many months of learning. I was able to increase that figure to over $700 in July 2018 which I wrote about in my first blog income report here.
Four months later, my blog income increased to $5,532.13 in November! And fast forward another five months, and I reached my goal of earning over $10,000 in March 2019 – this number has been consistently growing!
There will be ups and downs each month, but I seriously would have never imagined making over $10,000+ per month today!
The great thing is it's cheap to get started and you could try it out to see how you like it. If I didn't take the chance to start my blog, I wouldn't be here right now. I'm honestly SO glad that I did! 🌟
Overall, I'm slowly learning and I know you can too, but please keep in mind that this is not a "get-rich-quick" scheme. Like Warren Buffett and his investment style, it will require patience and perseverance.
On top of that, you really need to believe in yourself. I admit that I have A LOT of self-doubts about myself BUT overall, you need to have the "I WANT THIS! I GOT THIS!" type of mindset!
As long as you enjoy what you're writing about, along with solving your readers' problems, the chances of establishing a profitable blog will likely be in your favor.
"It takes many years to make an overnight success."
How to become a successful blogger: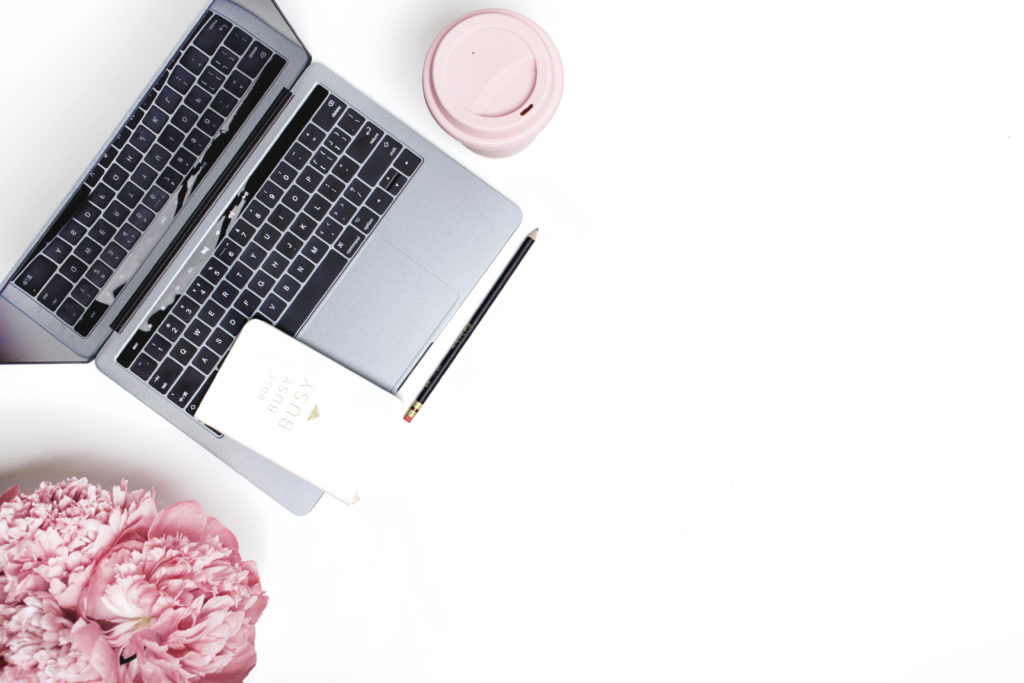 Since I started blogging, I noticed that there's one thing in common among the successful bloggers who became full-time bloggers and are making over $10,000 per month blogging…
They did not give up!
I have to admit that most of my life, I was a Debbie Downer who got discouraged and gave up easily after failing once or twice.
I was also a person with extremely thin skin who was sensitive to literally everything (I still am but getting better after starting this blog!).
So, before starting my blog, I kept in mind that to become a successful blogger, you must train yourself to have the following traits:
1. Thick skin – Not everybody will like you and that's okay because you're not here to solve the entire world's problem. I doubt anyone can do that! No matter how great your content or product is, you will come across haters. Haters are gonna hate and that's their problem; not yours!
The saying also goes: if you try to satisfy everyone, you will end up satisfying no one!
Remember, you're here to help your target audience and they will appreciate you. Those who judge, hate, or don't like you aren't your target audience! Forget them!
2. Persistence – Blogging is not always going to be rosy no matter how great other bloggers make it sound on their posts that go something like this: "How I made over $5,000 in my second month blogging from scratch!" It's great that some people are able to achieve such outstanding results in their second month, but don't lose hope over that.
I admit that I feel like crap too when I see those stories, but you just gotta keep swimming and think about what YOU need to do in order to achieve YOUR goals! The best way to spin this around is to learn from successful bloggers. Instead of feeling like crap and giving up, be inspired by them! Whatever you do, don't give up!
3. Curious – Be curious to learn. As I mentioned above, be inspired and motivated by successful bloggers!
Read their blog income reports because they break down where their income sources are coming from. In addition to that, they also talk about how they managed to skyrocket their monthly traffic from 0 to over 100,000 on Pinterest. Don't underestimate those blog income reports!
4. Don't be scared to invest in the right blogging education – I admit that I was SCARED to invest in blogging courses and e-books when I first started. I was afraid of being scammed by what they call it "sleazy online salespeople," but I took the plunge anyway because there is no such thing as free lunches! To my surprise, the few courses that I purchased made a huge difference in my blog traffic and income results. I actually wish I did this sooner!
🌟 RESOURCES: You can visit my recommendations page here to learn more about the blogging resources that helped me grow this blog.
Thank you for reading this far! I hope you found this information valuable. Now it's time to actually start your blog…
As always, I welcome beginners to sign up for my FREE 7-day e-mail course below to learn how to start your blog and start earning from home!
Over to you — I know that starting a blog may be overwhelming. But with patience and perseverance, you'll be ahead of all the other bloggers who gave up too soon and early in their journey! Please leave a comment below or e-mail me at [email protected] if you have any questions about starting your blog.
I would LOVE to hear from you! I answer all comments and e-mails that are genuine! 🙂
Enjoyed this tutorial? Be sure to pin this image and follow me on Pinterest here! 🙂