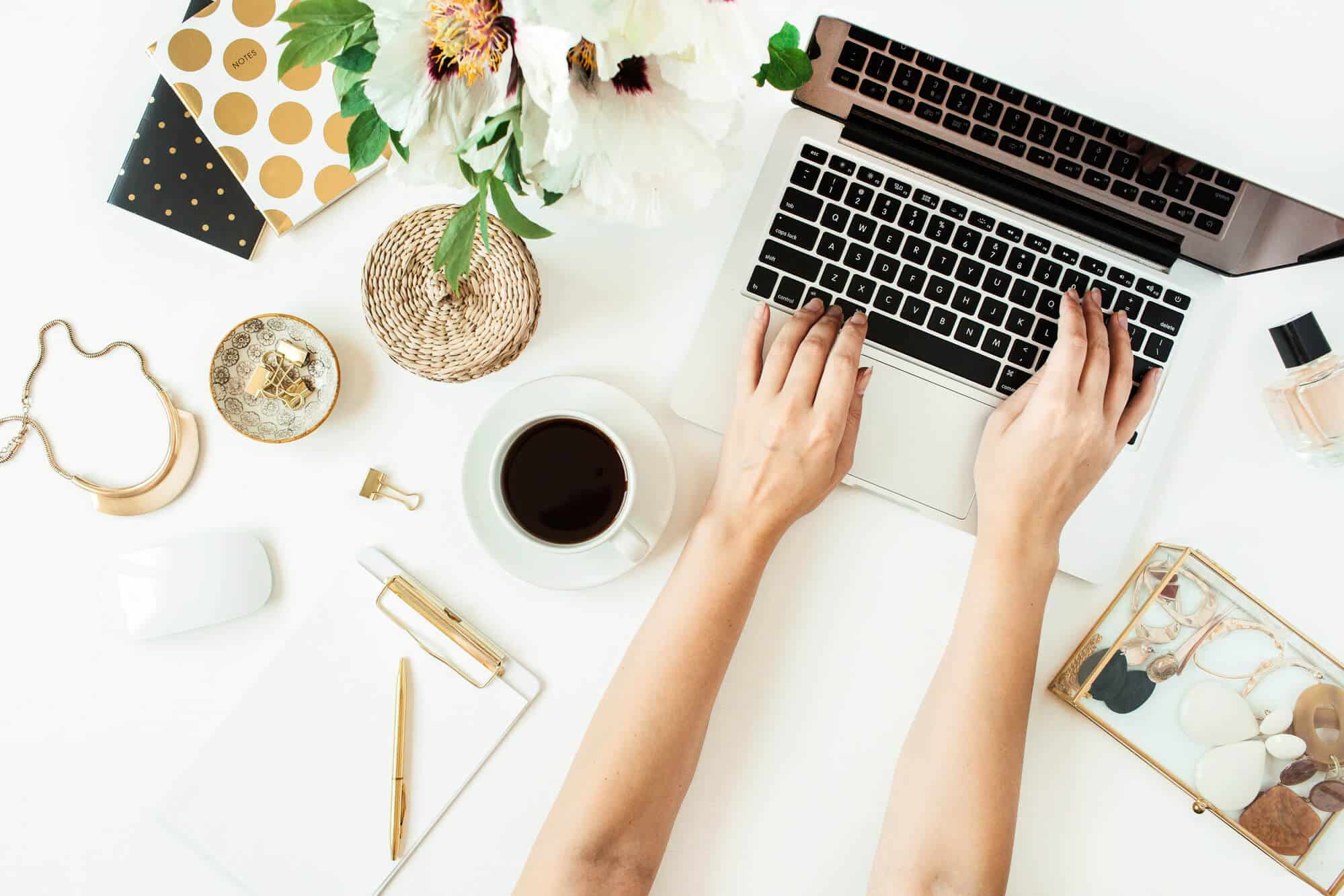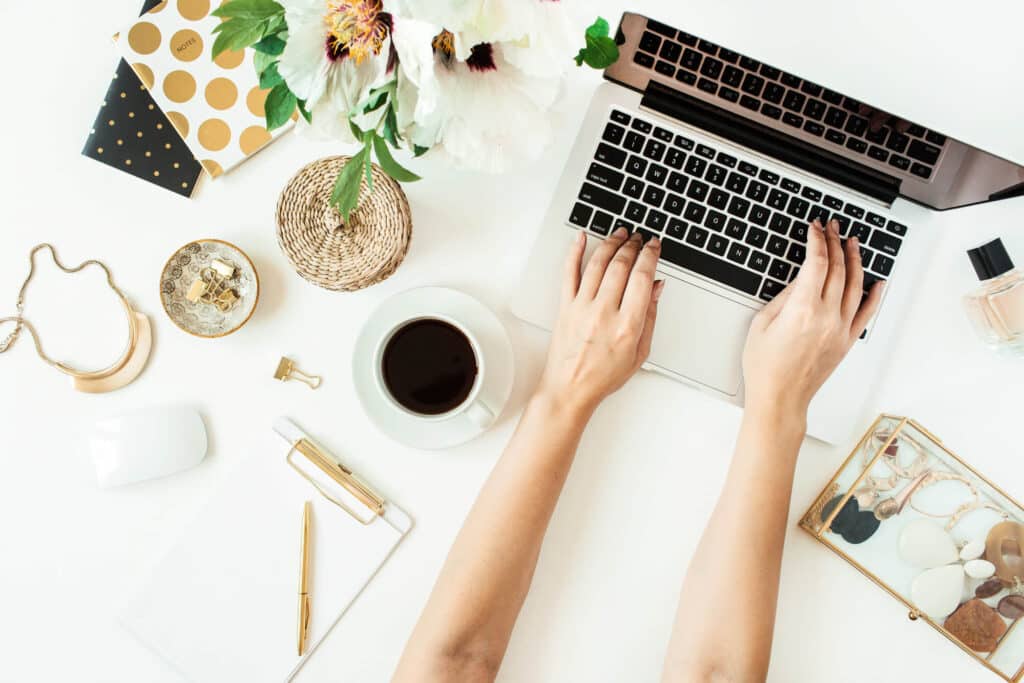 We will receive a commission if you make a purchase through our affiliate link at no extra cost to you. Please read our disclosure policy for more information.
Hey there! It's Ling here, owner of this blog, FinSavvy Panda!
I was just like you a few years ago – someone who wanted to earn money online and work from home (or anywhere in the world I desired to be) with a laptop.
Several years ago, I was a person with no experience in this online world, but I was excited and wanted to learn how to start a blog and make money.
I was SO inspired by all the fascinating stories of how bloggers were earning several thousands of dollars a month.
When I first started as a beginner, I was just looking forward to earning $300 to $500 per month in extra income, which with hard work and effort, I was able to make money online all by using Pinterest in my first 6 months of blogging.
Fast forward 1 year, I was earning an extra $5,000 a month blogging on top of my full-time job! You can even check out my raw and honest blog income reports I wrote for you. These income reports were written by me, from the perspective of a beginner, when I had no clue what I was doing.
And to be honest, I never really had the expectation to become a blogger (I'm still not used to calling myself a blogger), but in less than 2 years, I was earning over $10,000 per month as a full-time blogger with my small blog, which allowed me to earn more money, pay off debts, save more, and finally quit the job I disliked!
So, can blogging be a full-time job? I am living proof that it can be, indeed!
Here are just a few screenshots to prove that starting a blog by using Pinterest and making money online for beginners is REAL and possible!



Here is a preview of my blog income journey when I started as a beginner. Just like you, I started at $0 and wasn't making much money blogging until many months into my journey.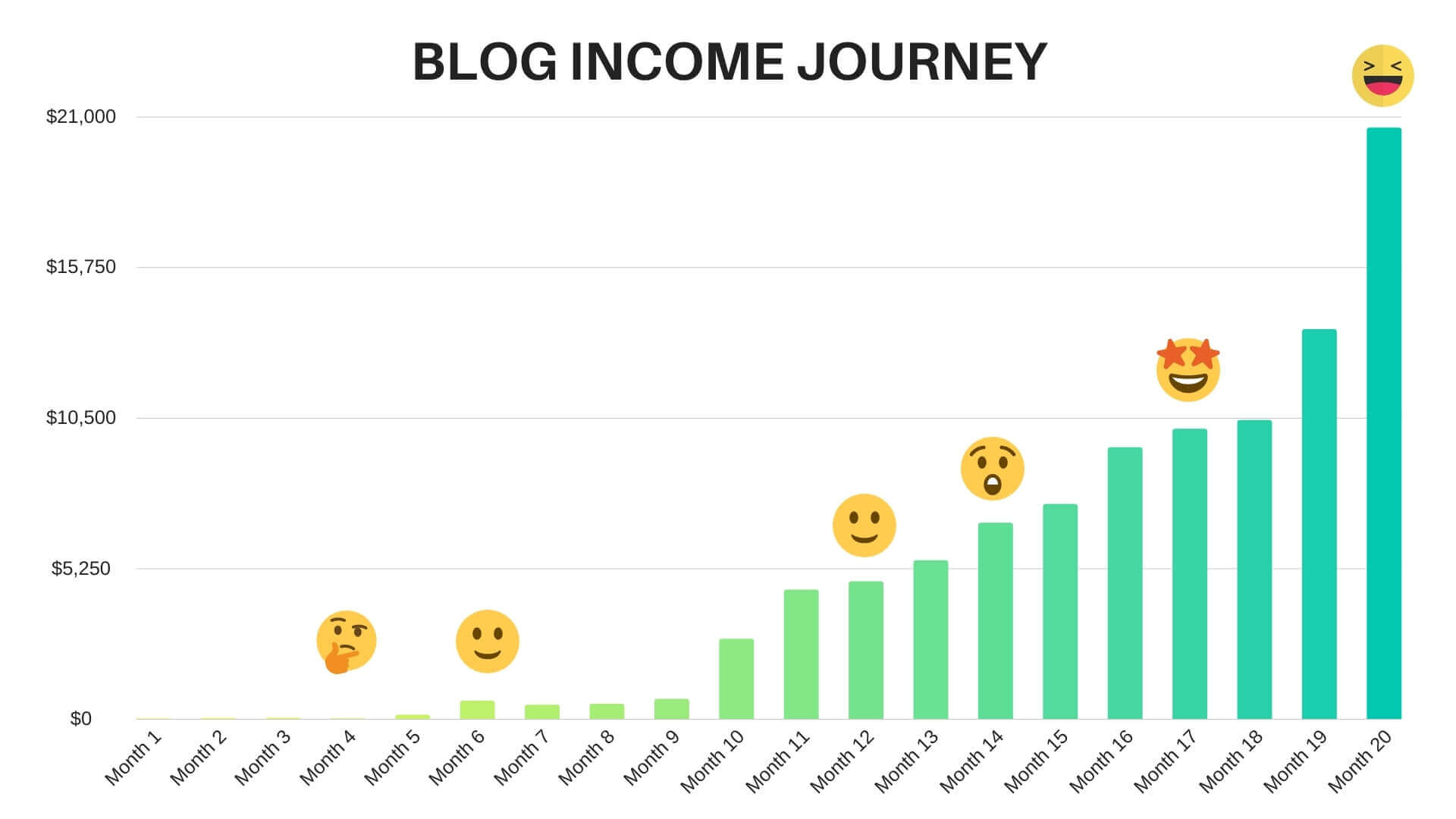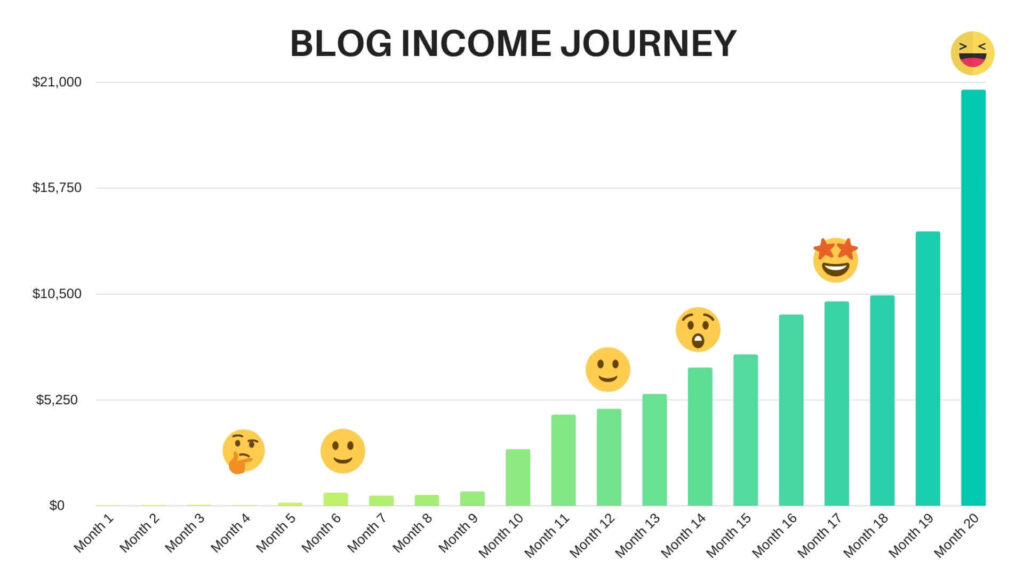 PIN (OR BOOKMARK) THIS PAGE: I'll be updating this post so make sure to pin this image HERE and save it to your Pinterest board. That way you'll be able to come back to this page and learn how you can make money from your blog!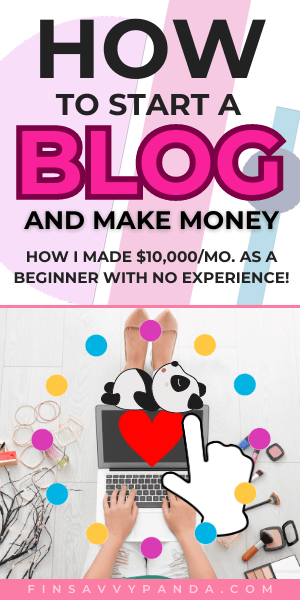 Starting a Blog To Make Money for Beginners
All because I took the courage to start this little blog of mine, I'm now able to work from home and earn money online while being able to spend more time with my family and friends.
Today, I can skip a day or two of work and no boss will be breathing down my neck. I can take a 2-hour lunch break, and no one will question where I was.
Just imagine…
As a mom (or dad), you can work from home and spend time with your kids and not have to miss their first recital.
I definitely enjoy this lifestyle much more because I have the freedom to work where I want and when I want.
I have to admit that there will be challenges when you first start your blog because everything will seem quite overwhelming and confusing, but I promise that things will become better when you motivate yourself and spend time each day learning something new about blogging.
I've had many struggles and roadblocks while building this blog, but I didn't let those setbacks hold me back. For example, I knew that two of my biggest weaknesses was my writing in English, and my lack of technical skills. On top of that, I was very nervous and lacked a lot of confidence because growing up, I was surrounded by a negative and toxic environment, so I never thought myself as worthy enough to achieve anything in life.
Luckily, when I found out that you don't have to be a good writer, or know how to code, I started my blog on a whim!
I felt a tiny spark of hope and there was a calling within me. So, what I did was I kept learning and implementing everything I could learn about what makes a blog profitable, and by the time you know it, I became a full-time blogger earning over six-figures a year online! I still think to myself, "how crazy is that?"
Well, crazy or not, it happened, and I'm here to motivate and inspire to start your blog too!
I want to let you know that NO MATTER where you're from, what your background is, the level of your education, or how old you are, ANYONE can start a blog and make money online with no experience!
That's because your readers are not here to read a professionally written research paper. No one's got time for that!
They are here to learn more about you and how you can help them with something, which I will elaborate on later in this blog post.
On top of that, starting a blog with Bluehost powered by WordPress here makes it easy for you to set up your blog without any technical or coding skills required. I will elaborate on this later too.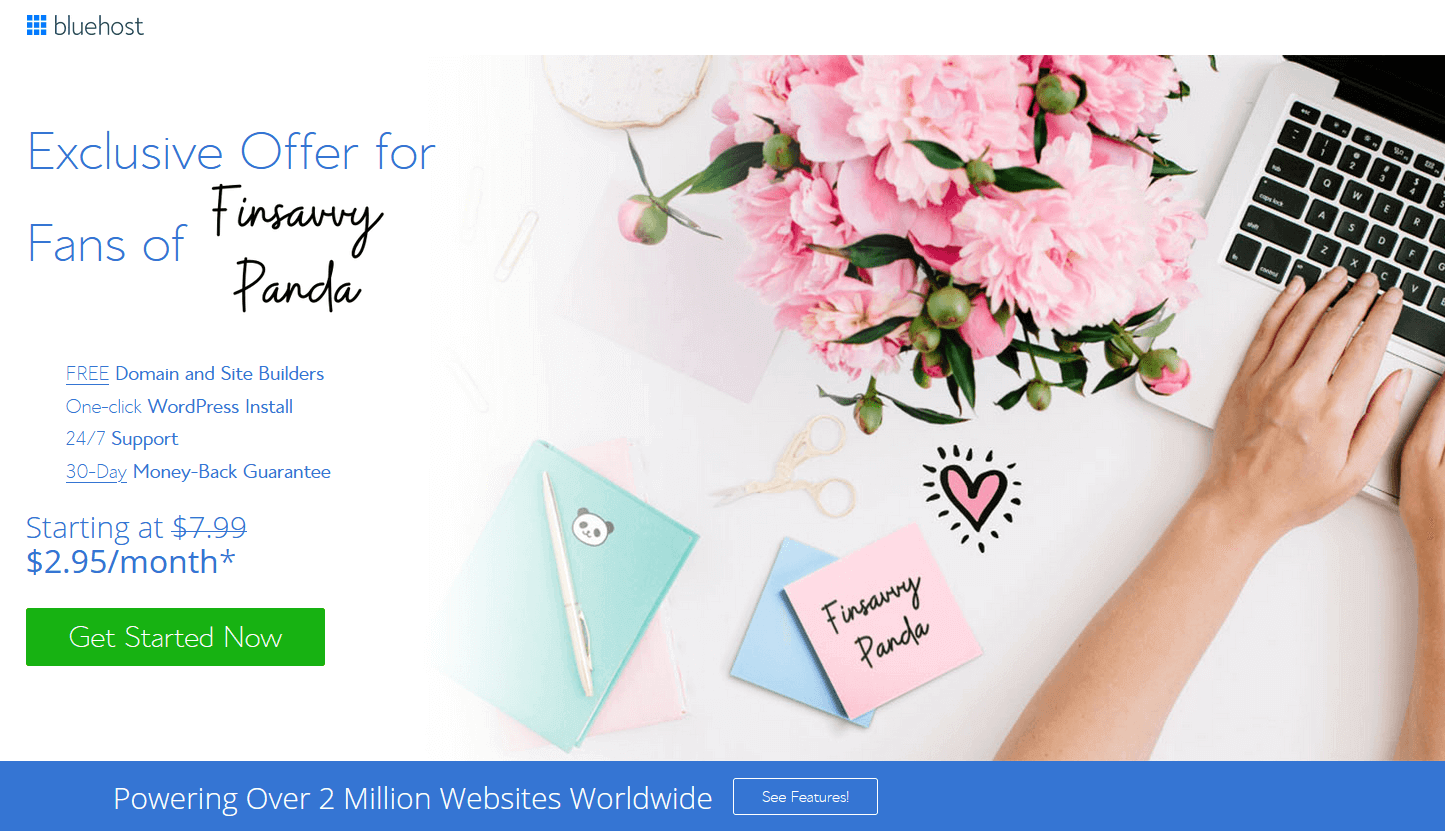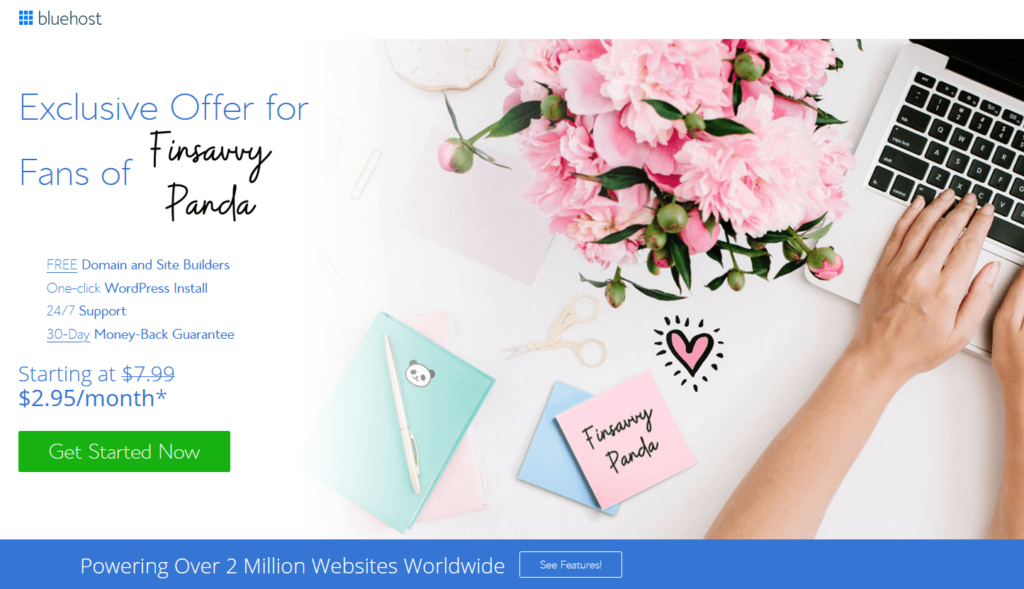 When you start a blog using this exclusive page here, you'll save big and get 60% off web hosting and pay as low as $2.95 USD a month for 12-months (all paid once and upfront, which is less than $36). Plus, you'll get a FREE domain name ($15 value) when you use this page to start your blog and go for at least the 12-month plan. I encourage you to take advantage of this low pricing because I don't know when their prices will go up.
This is seriously one of the most affordable ways to make money today, and I'm SO glad I started my blog with Bluehost when I was a beginner! This is the web hosting I recommend to all my friends and readers. In fact, they are all happy that they started their blogs with Bluehost too!
I also offer my exclusive FREE 7-day email course to teach total beginners like you how to start your blog from scratch. I show you the EXACT steps I took to start a blog all the way to building traffic and earning a full-time income with NO tech and NO writing experience. My e-mail course has helped thousands of people start a profitable blog and I would love to help you too. Sign up below to learn how!
How To Start a Blog and Make Money as a Beginner
In today's blog post, I will teach you everything you need to know about starting your blog and making money with it.
This is a very long and informative post on how to start a blog and make money with it. You don't want to miss out on this valuable information, so make sure to bookmark this page or save it so you can refer back to it when you're ready to start your blog!
OK, are you excited?
I know I'm very excited for you and I can't wait for you to start your blog! There are exactly 10 steps to starting a blog and making money as a beginner, so let's dive in!
Step 1: Choose a profitable blog niche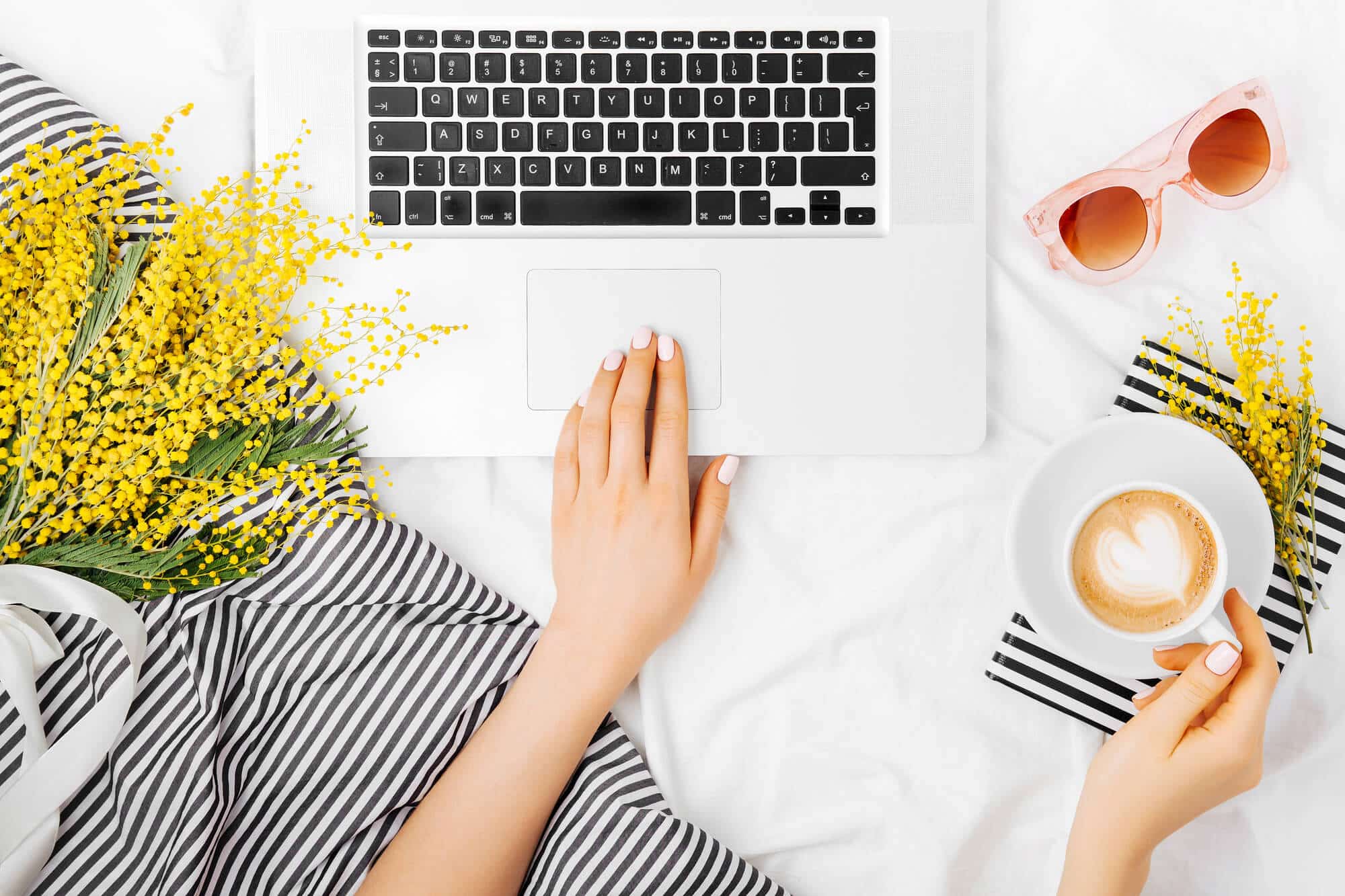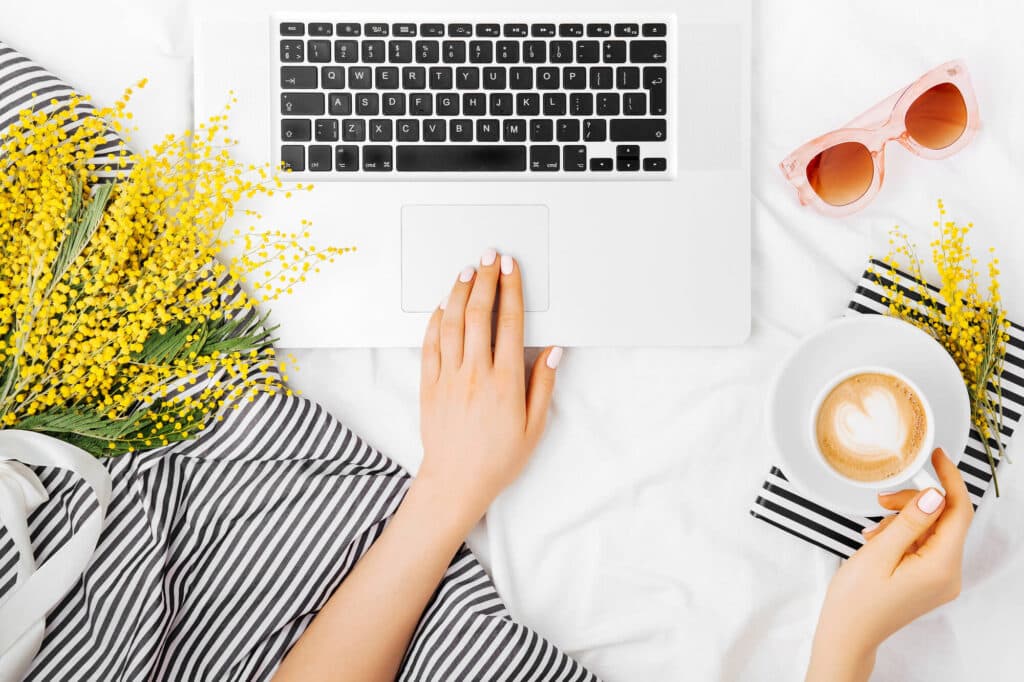 If you want to start a blog and make money with it, the first thing you'll want to do is determine a blog niche that is profitable.
In other words, what will your blog be about that?
For example, this blog that you're reading now is everything about personal finance, saving money, and finding ways to make money. There are A TON of profitable niches to choose from and I included a list of them for you when you read further below.
When choosing a blog niche, always keep in mind that readers come to your page because they want something from you. This is the first thing you must consider and it's what separates a blog that makes money from one that doesn't.
Whether it's a "how to" tutorial on something they're searching for (e.g. how to start a blog and make money like the page you're reading now) or a motivational speech to get them inspired by you, they are looking for something that will benefit them.
They are not on your blog to read about your personal stories unless it is a story that inspires them or motivates them to become a better version of themselves.
So, before you choose your blog niche and ideas on what to write about, I highly recommend choosing 1) a topic you enjoy talking about while 2) being able to help or serve your readers.
It's important to hit these first two points:
A blog niche that will keep you interested
A blog niche where you can help and serve your readers
In other words, don't choose a topic just because you think it will make money. Sure, it may work out, but can you really keep writing about something you don't have any interest in?
For instance, the Keto diet has been a very popular and profitable niche for many years, but I personally don't know anything about it, and I have no interest in learning about this diet. If I decided to start a blog on this subject matter, I'd probably not succeed because it would feel like a dread writing about something I have no interest in reading or learning more about. However, if you love everything about Keto diets and you have a passion to learn and teach others about this topic, then definitely go for it!
At the end of the day, what I'm trying to say is you don't want your blog to feel like a chore or another 9-5 job just solely for money.
I encourage you to use the diagram below to help you hit your sweet spot! The closer you are to the yellow star, the better for you!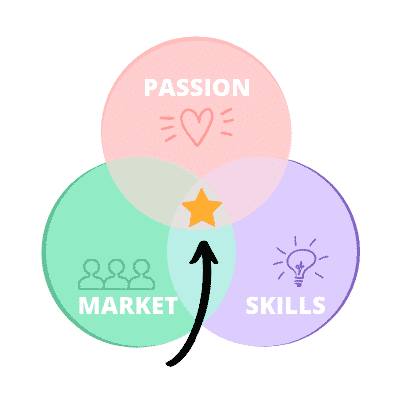 Passion
What is one topic you could talk about all day long without feeling bored about it? Could it be fashion, travel, home decor, renovations, healthy living, exercising and working out, well-being, positive mindset, gaming, religious matters, crafts, parenthood, math, organizing your home, budgeting, personal finance, money matters, entrepreneurship, business marketing, etc.? This list can literally go on and on because there are SO many things you can blog about!
Skills
What are you good at? What do you usually get compliments on? What excites you so much to the point where you are keen on learning that skill?
Market demand
Is your topic very popular? Is it highly searched for? For example, self-development, happiness, fashion, beauty, makeup, healthy living, workouts, home organizing, home decor, DIY renovations, personal finance, budgeting, money matters, business, tech, marketing, etc. are popular topics that get searched for every single day! There are many more topics that get searched by people every second!
A List of Profitable Blog Niches
Now that you understand which three elements to hit, let's help you choose your blog niche.
There are SO many different profitable niches for you to choose from and here is a list of examples and ideas for you. I'm sure there is at least ONE from this list that you'll be interested in blogging about whether you're an expert or a beginner who is just learning about it.
Remember, the best form of learning is teaching someone, so even if you're not an expert in the field, don't hesitate to start your blog in any of these topics. I know many people who didn't start off as experts (in fact, many were newbies in the topics they were blogging about) but by starting their blogs, they were able to learn on the go while teaching it on their blogs!
Here is a list of some examples that are very popular! You could blog about almost anything and share your stories along with some tips as long as it helps your readers. By the way, this list is not in any particular order.
Parenting and Mommy Blogs
Food, Meal Planning, and Recipes
Travel, Entertainment, and Eats
Healthy Eating
Health, Fitness, Workout, and Exercises
Food and Diet (you can blog specifically about one diet if you like)
Arts, Crafts, and DIY Projects
Sewing and Crocheting
Upcycling, Thrifting, and Refurbishing
Real Estate
Home Renovations
Beauty, Fashion, and Make-up
Relationships (Family, Marriage, Love, etc.)
Personal Finance, Budgeting, and Money Matters
Frugal Living
Minimalistic or Zero-Waste Living
Home Organizing or Decluttering
Organizing Your Life (printables, agendas, planners, etc.)
Productivity and Time Management Hacks
Self-Development or Self-Improvement
Positive Mindset and Happiness
Entrepreneurship and Business
Career and Personal Development
Technology and Gadget Reviews
Graphic Designing
General Lifestyle
As you can see, the ideas out there are unlimited!
Again, you can blog about almost anything as long as you are sincerely interested in that topic.
AND let's not forget this: Make it about your reader. You need to keep the reader in mind by solving their problems! Your blog posts should provide value by doing just ONE of the following (you don't necessary need all):
Inspiring or motivating
Solving a problem
Entertaining
Step 2: Decide What to Write About
Now, you might be thinking to yourself…
"What should I blog about?"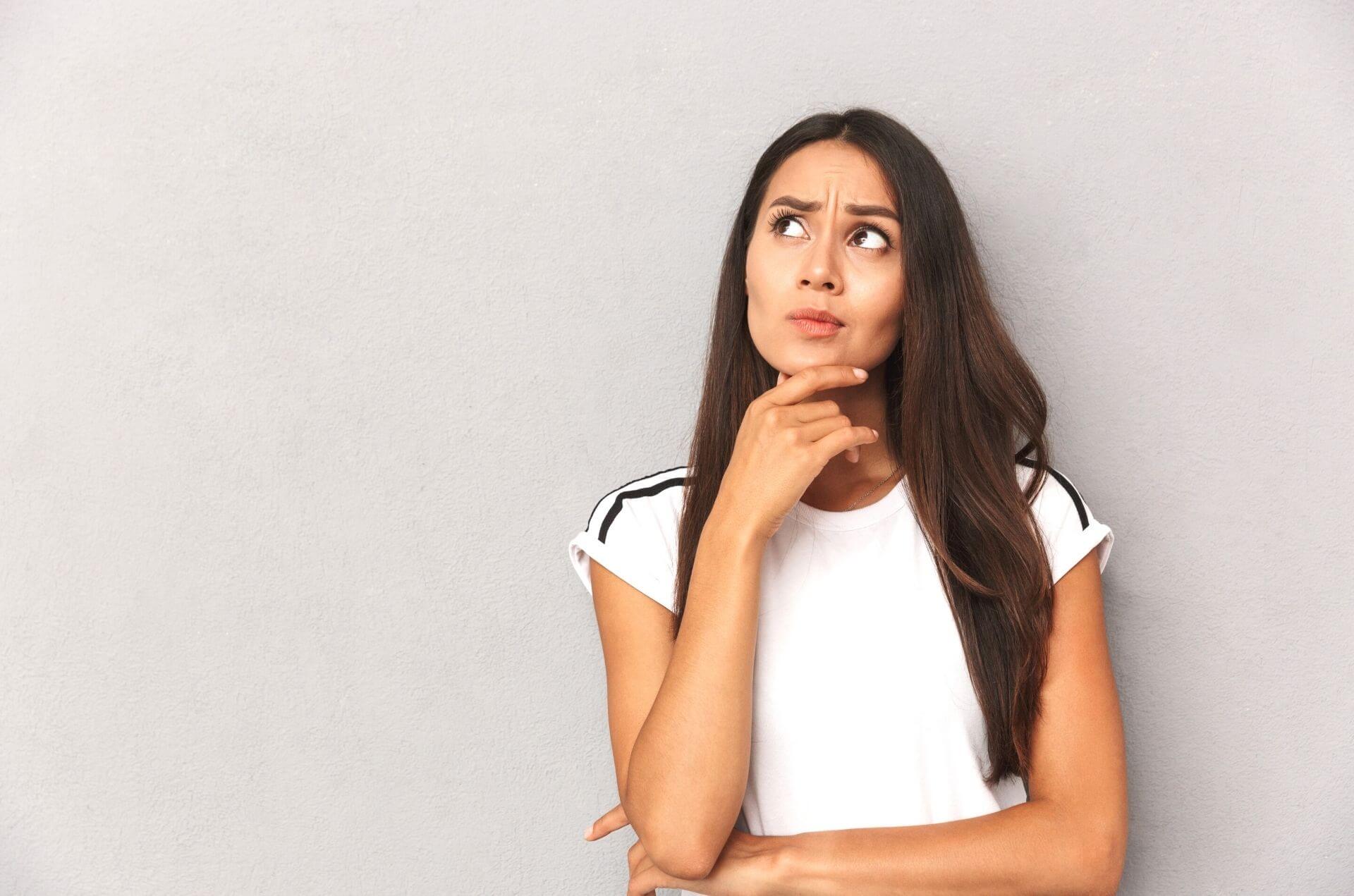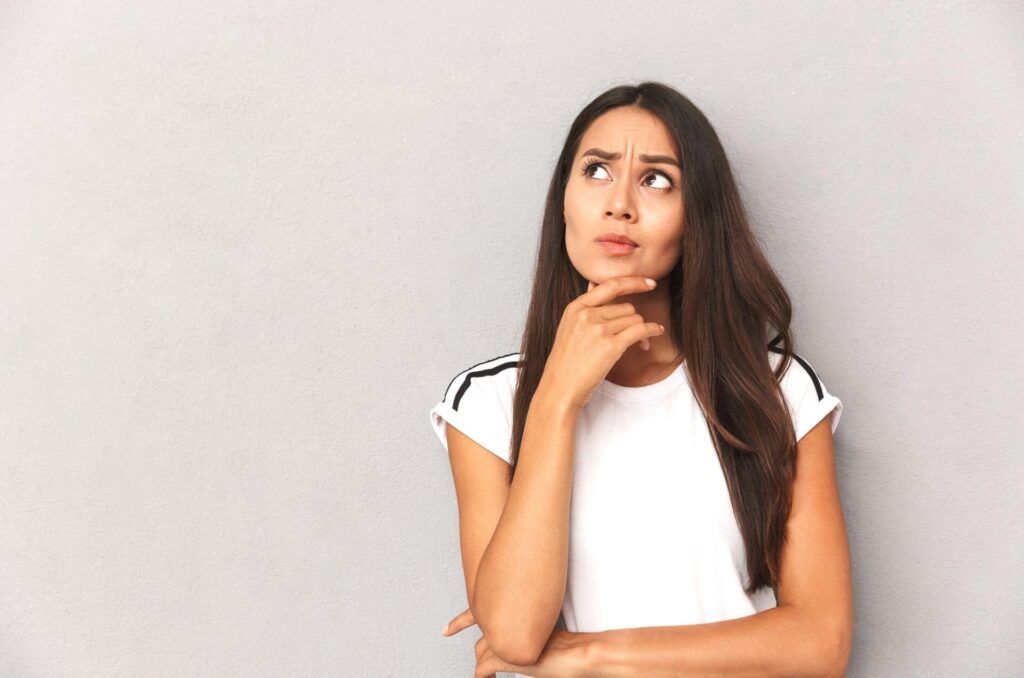 Just like you, there are billions of other people out there who want answers and solutions to their problems! Remember that your readers are desperate for help and they want someone like you to inspire, motivate or guide them to where they want to be.
Put yourself in your reader's shoes. When you land on any page, you want to know how that blog post can inspire, motivate or help you solve your problems!
Blog Post Ideas and Examples
Think about the time when you turn to Google or Pinterest for answers. You were probably searching for a lot of "how-tos" or other types of questions on that search bar such as:
Personal Finance Blog Post Ideas:
How can I save $600 a month
How to start investing with $100
How create a budget for beginners
Wedding Planning Blog Post Ideas:
How much money do you need to save for a wedding
How to plan a wedding with no money
How to plan a wedding during covid
Exercising and Healthy Living Blog Post Ideas:
How to lose weight without exercising
Can I lose 20 pounds in a month
How to do a squat properly with instructions
Parenting and Mommy Tips Blog Post Ideas:
How to put your baby to sleep
Newborn essentials list
Postpartum recovery
Beauty and Skincare Blog Post Ideas:
How to get rid of acne in 20s
How to get rid of premature wrinkles in 30s
How to do a messy bun with long hair
Home Décor and Home Renos Blog Post Ideas:
How to tile a kitchen backsplash like a pro on a budget
How to make your small space look bigger
How to refurbish and paint old furniture
Travel Blog Post Ideas:
Things to do in New York City on a budget
Places to visit in Chicago
7 Day Itinery Japan
Food and Recipes Blog Post Ideas:
How to make a healthy banana bread recipe without sugar
The best lasagna recipe with ricotta cheese
Healthy Fajita chicken burrito bowl recipe
You see what I mean? You search for questions like that because you're looking for help, so those were some blog post ideas to get you thinking of what you can write about!
Going back to the 3-circle diagram above, my point is if you want to enjoy blogging while being able to earn an income, your ideal spot is to hit all these 3 elements — passion, skills, and market demand. I know it's easier said than done, but if you really put the time and effort into figuring this out, you will be rewarded and I know you will as you start drafting more blog posts!
You don't need to be an expert to start a blog and make money!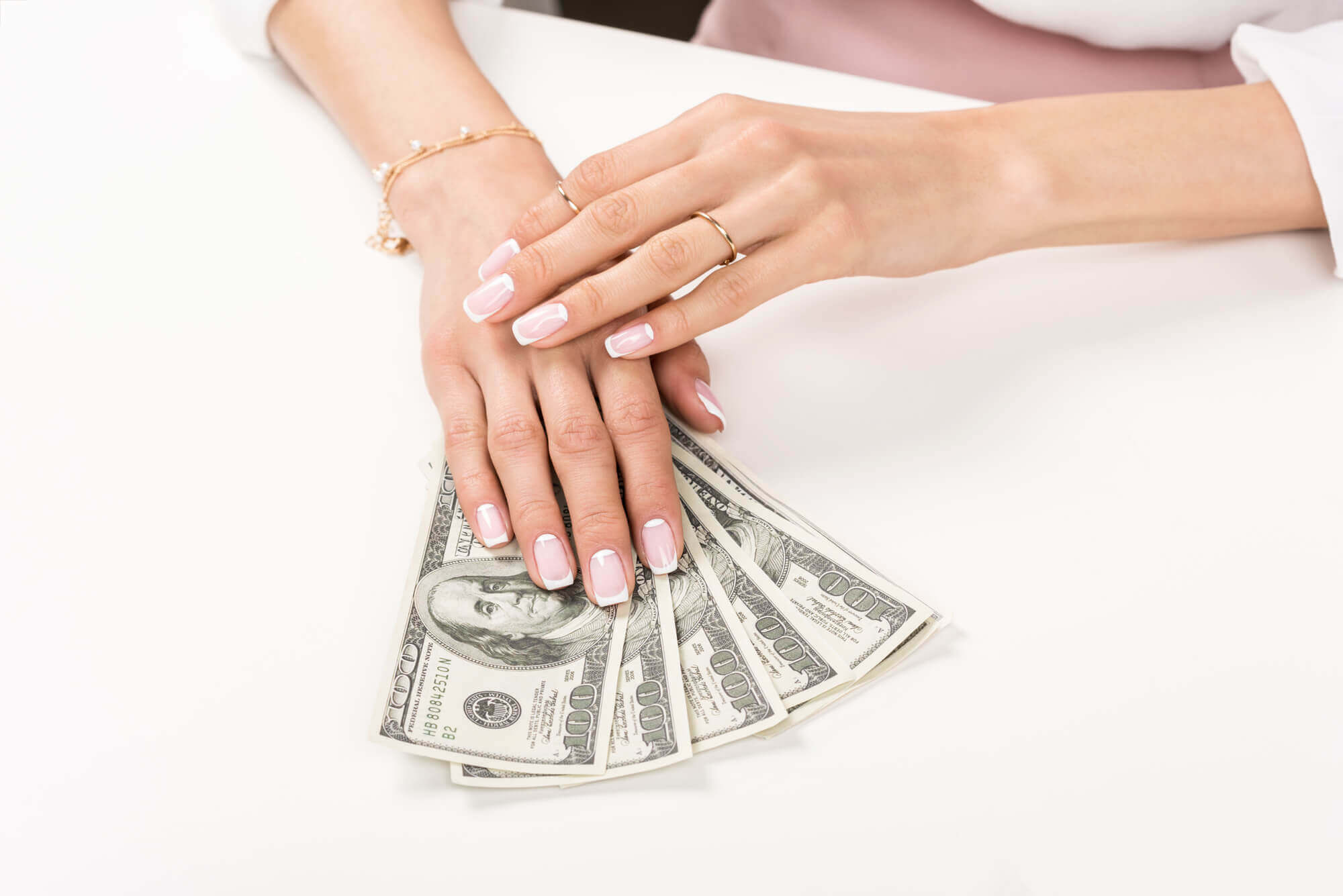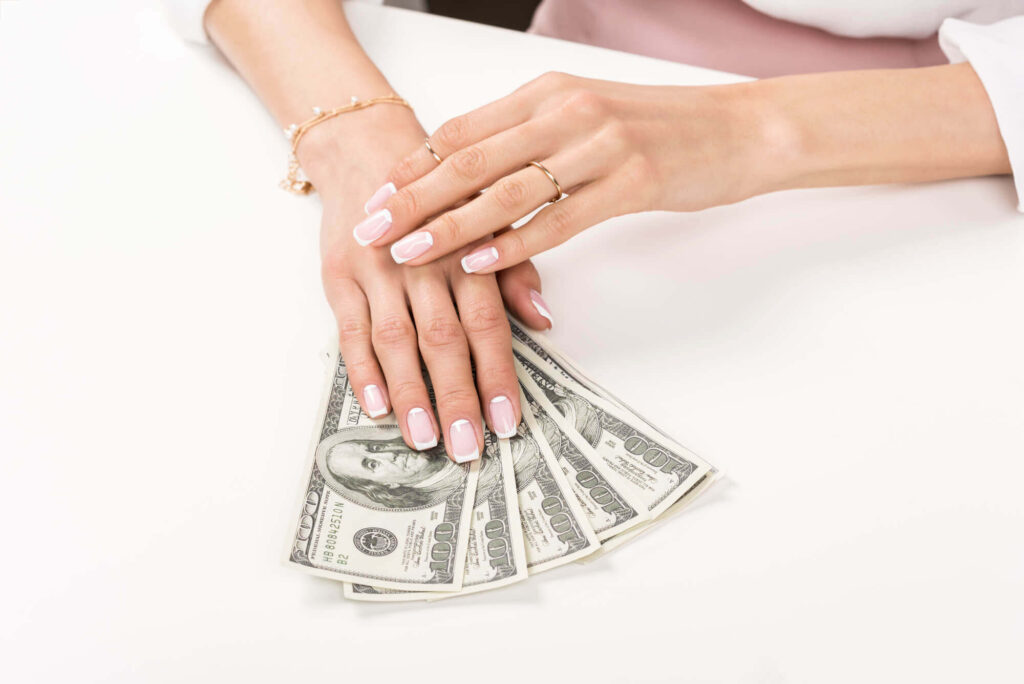 Honestly speaking, I was not an expert in anything when I first started this blog (I'm still not an expert). I was just as lost as you are right now and had no clue how to start, where to go, and what to do.
I started this blog on a whim and learned a lot of things on the go. Those small incremental things I learned is what allowed me to build a small audience and earn a full-time income of over $10,000 per month with this small blog in less than 2 years.
So, I am going to repeat this again. You DON'T have to be an expert in your field to be considered skilled. You can document your learning journey and teach others your mistakes and what you've learned.
For example, it could be your journey to becoming a more organized person, be better with managing your money, losing weight, getting out of debt, etc.
Your journey, things you've learned, and lessons add a ton of value to your readers because you're helping them get from point A to point B – this is more relatable. You don't necessarily have to be an expert and help them get from point A to point D, H, K, or Z as that may be too overwhelming for your readers!
This should give you a better understanding of what you can blog about while being able to offer help to your audience who can relate to you. And believe me, you WILL have RAVING fans who want to hear more from you even if you don't see yourself as an expert – you are an expert in their eyes because you are 1-2 steps ahead of them. You'll be surprised but believe me when I say there ARE tons of people who are 1-2 steps behind you and want to learn from you!
On top of that, don't ever think that your blog niche is saturated or is high in competition and that you won't stand out.
This world is full of abundance and there is never enough information for people to consume.
People love consuming information and trust me when I say they want to hear from YOU specifically because you have a unique voice with different life experiences and stories that other people don't have.
Step 3: Choosing Your Blog Name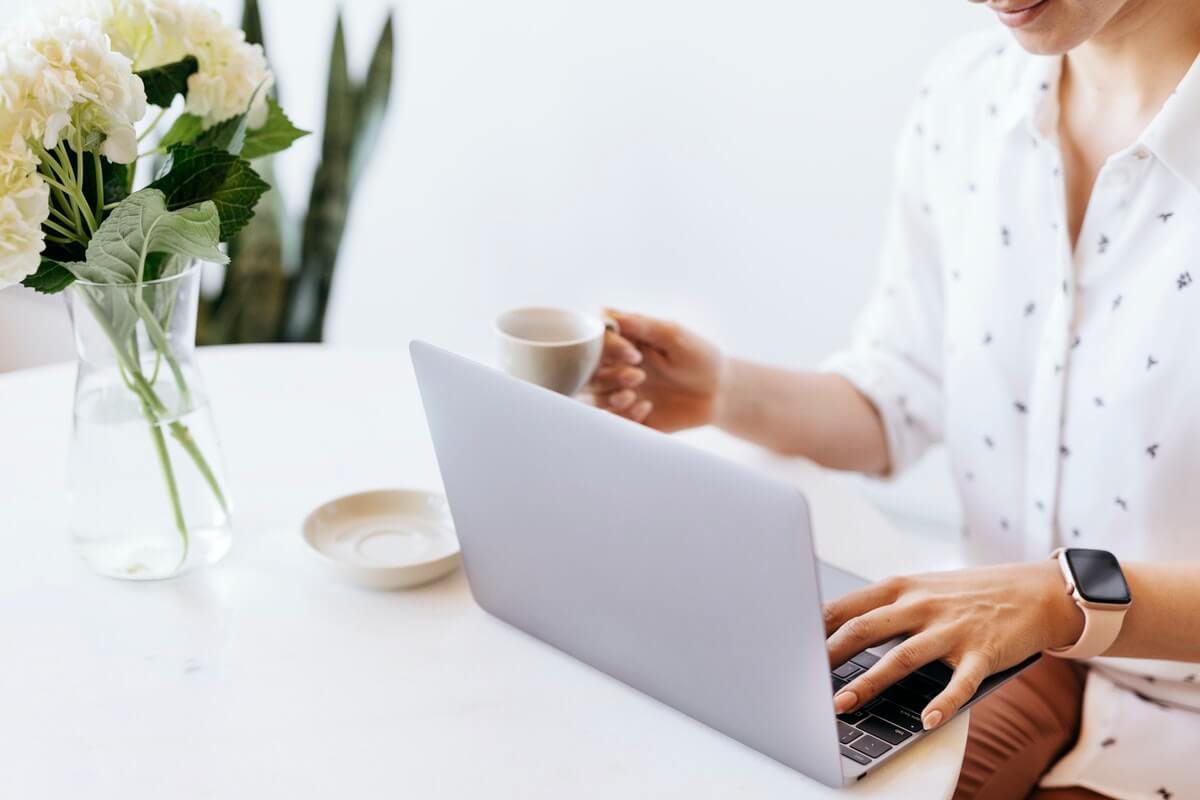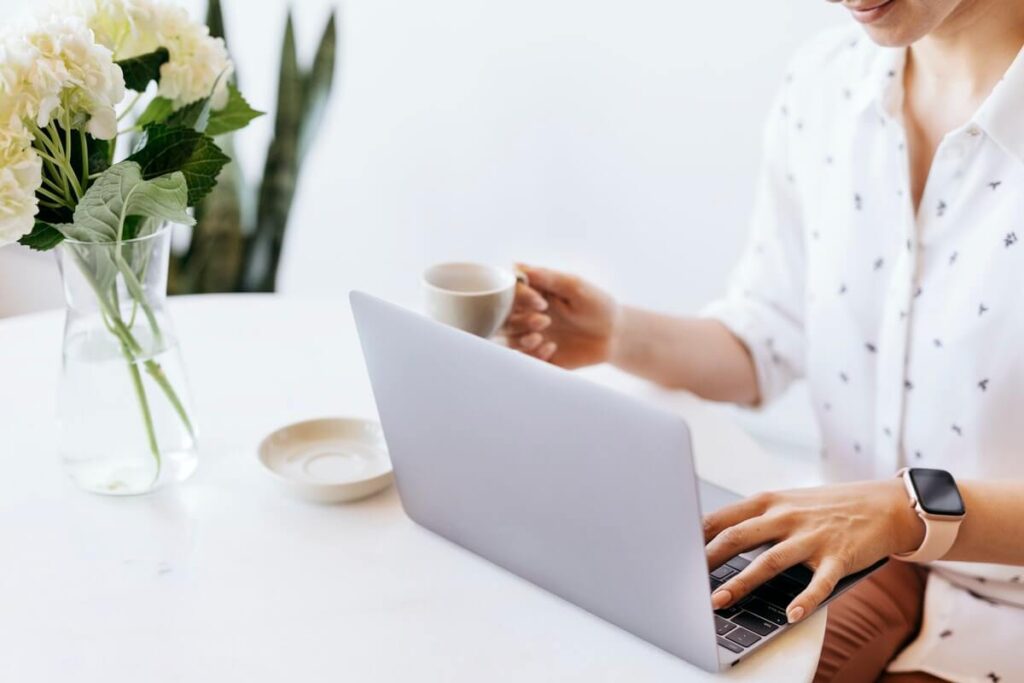 Now that you've decided on your niche and what to blog about, the next step is to come up with a blog name.
The biggest excuse most people have for not getting started on a blog is that they can't pick out a name for their blog. I don't want this to discourage you from taking that next step. I want to help you brainstorm some ideas.
If you already have a domain name in mind and the name is available, then it's your lucky day! I highly recommend you start your blog now and act on it quickly because you'll never know who will take your blog name! This actually happened to me when I started a second blog (I waited a week and it was gone), and it happened to my friend when he started his first blog. Until this day, he painfully regrets not starting his blog immediately when the name he wanted was still available.
If you still can't decide on your blog name (AKA domain name), you can still start your blog and choose your name later. Bluehost gives you that option here. That way, you can start building your blog and writing your content without having to think about your domain name yet.
So, when I was thinking SO much about my blog name, I had a lot of thoughts that went through my mind and it was VERY overwhelming!
Can you relate?
This leads to my next point when it comes to choosing your blog name…
There is no such thing as the perfect blog name!
Just like you, I was extremely excited about starting my blog, so I wanted to come up with the perfect name!
Truth be told, there's no such thing as the perfect blog name. I spent so much unnecessary time overthinking this and I don't want the same thing to happen to you.
Thankfully, I stopped overthinking and I just went for my blog name. If I thought or planned too much, I wouldn't have started my blog and I wouldn't be here to share my journey on how I make money blogging.
Plus, I later realized that your name isn't going to make or break your blog. If you don't like your name, you can always easily change it down the road.
For those of you who don't know yet, my name, "Finsavvy Panda" is supposed to mean "financially savvy" panda because I blog about personal finance things (and I decided on the Panda because I like the animal and I have some personal sentimental value attached to it).
Even though I get many questions about my name, it didn't break my blog in any way! But now that I have more experience in blogging, here is just ONE thing I would've done differently when choosing a name.
Things to consider when choosing your domain name
If I could change just ONE thing, I would've consider a name that's simple and easy to remember.
Choose words or phrases that are easy to remember:
I would've also used words like "finance", "dollar" or "money" in my name because it explains what I blog about.
If you blog about arts and crafts, you can use words like: Arts, artsy, crafting, crafty, painted, paint, paintbrush, brushing, strokes, etc.
If you want to start a parenting/mommy blog, you can use words like: Mommy, mom, mum, motherhood, mama, parenting, parenthood, etc.
One last example.
If you blog about food, cooking, recipes, or healthy living, you can use words like: Yummy, yum, delicious, tasty, recipe, spice, spicy, hot, salty, sweet, healthy, eating, kitchen, spatula, pan, eats, bites, etc.
Sigh… when I was a complete newbie, I used the name, "Finsavvy" along with an animal, the "Panda"! What on earth was I thinking? I was TRYING to be "unique" and "different"…*FACE PALM*
Lesson learned: It's good to be "unique" and different, but don't try to be TOO "unique" or "different" when it comes to choosing your domain name. Just be straight forward with your words and make sure your blog name is easy to remember.
Today, I get a ton of e-mails from people asking me "what does Finsavvy mean?" and "why Panada?"
Although my blog is earning a healthy income regardless of what my name is, I admit I have a minor regret in using "finsavvy" and even "panda" in my domain name. But, again, anyone can easily change it later so it's not a huge problem if you ever change your mind.
An option to choose your blog (domain) name later
Again, if you're not sure what niche to choose or what to blog about, you can still go ahead and start your blog and choose your name later.
And don't worry, I know many people who choose their names while they are in the progress of writing content and setting up their blogs.
Don't forget to check out this resource that helped many brand-new bloggers who have NO experience create their blogs from ground up in just 30 days: The Treasure Map To Blogging Success in 30 Days
DON'T spend your time worrying too much about this. Bluehost has an option here to choose your name later so you can get started on your blog without the stress of picking a name first.
Proceed to Step 4 below for a quick and easy tutorial on how you can start your blog!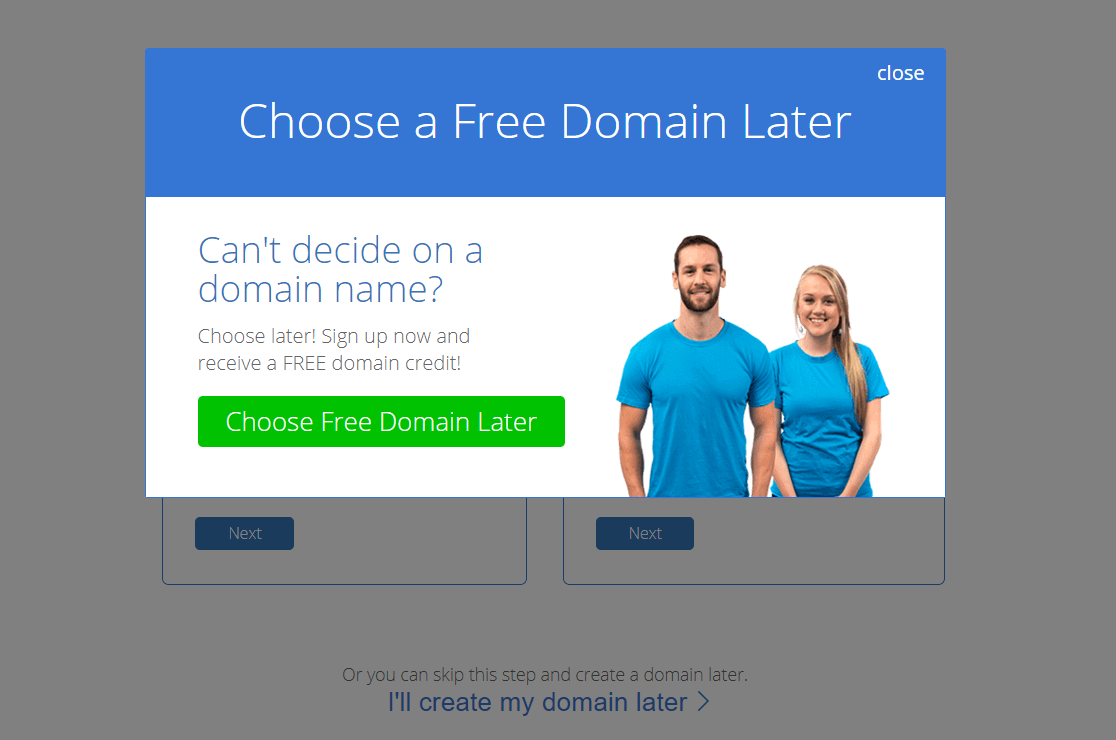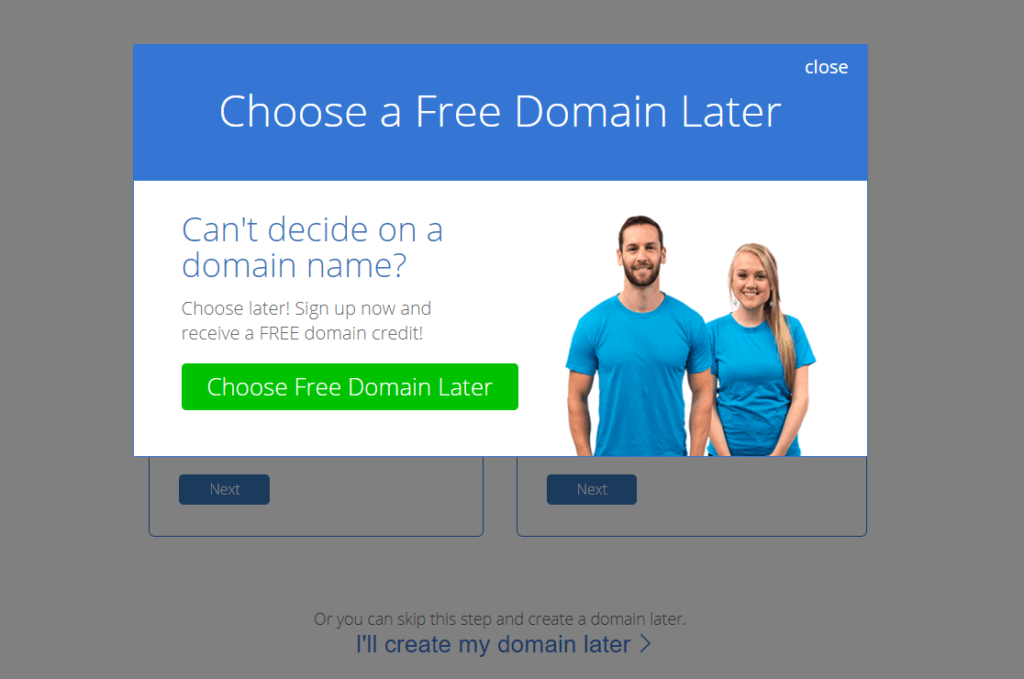 If you have a domain in mind, then great! If not, that's okay because you can still start your blog and choose your name later.
Go ahead and follow this step-by-step tutorial to start and register your blog today!
Step 4: Invest in a basic web hosting plan
You are going to be super excited because we are going to FINALLY help you start your blog! Follow this simple step-by-step tutorial so you can start building your blog and having fun with it!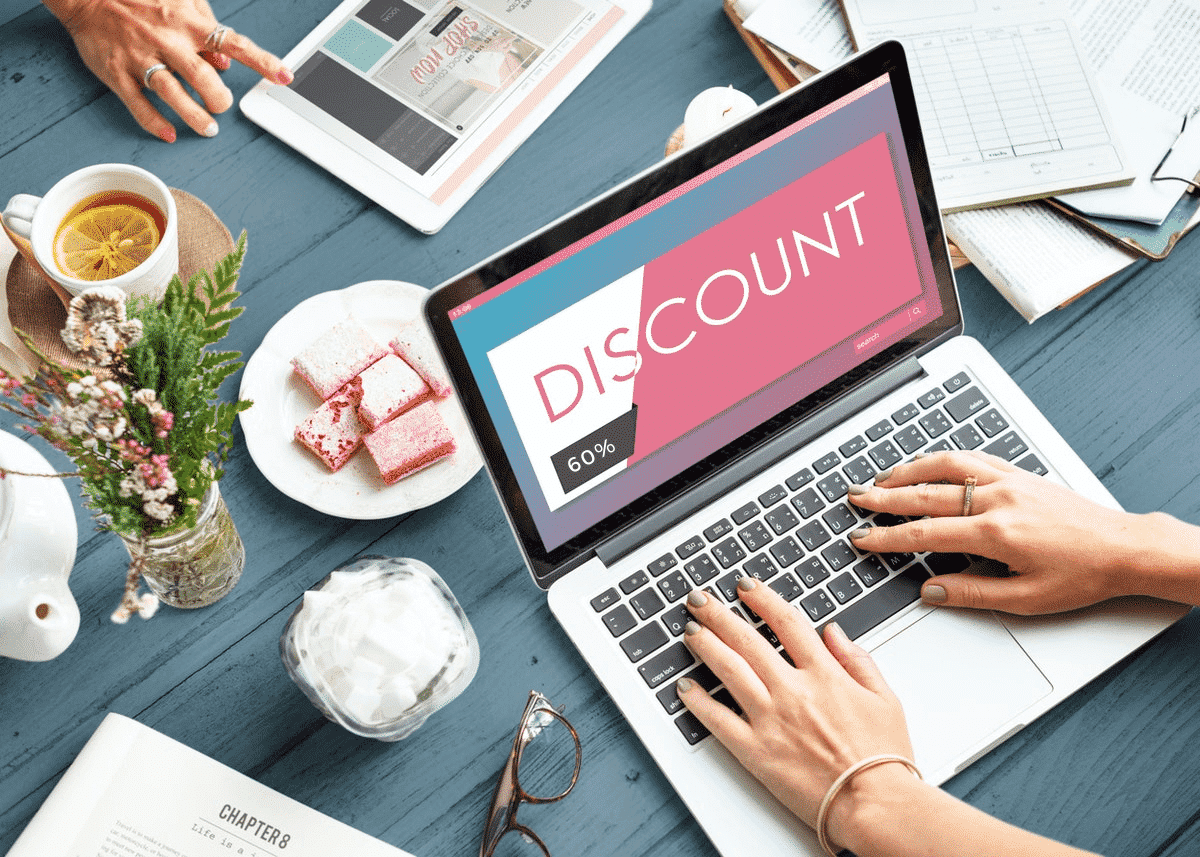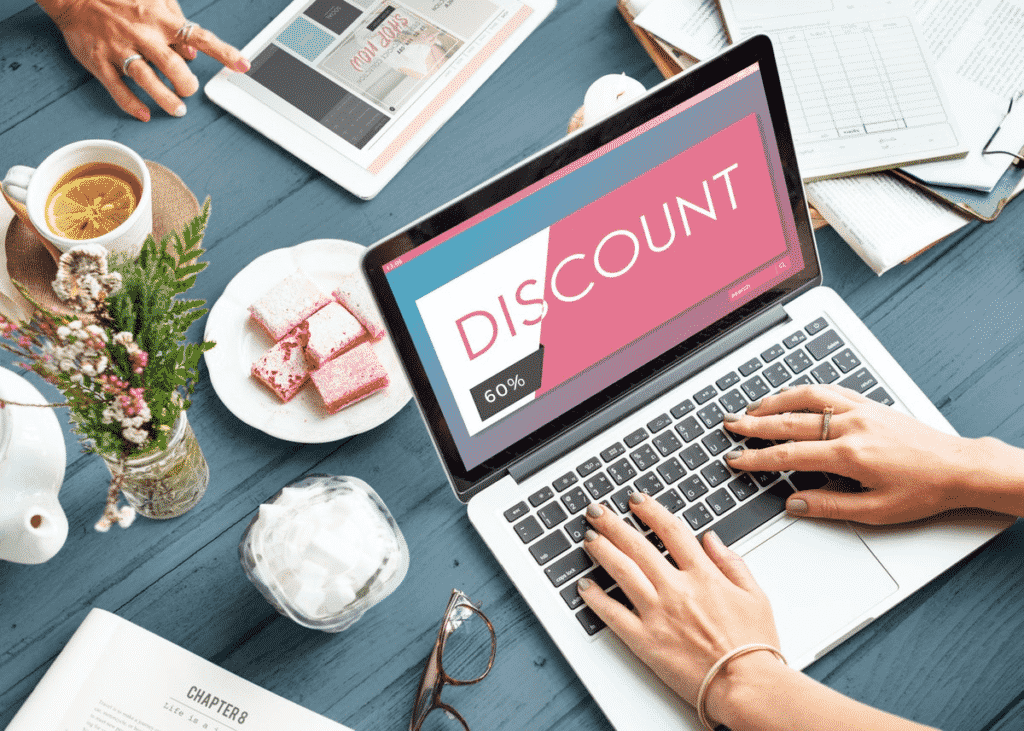 Before we dive into the tutorial on how to start and register your blog today, I want to mention that it is important to invest in an affordable web hosting plan and go self-hosted.
I started this blog, Finsavvy Panda, using this affordable Bluehost plan here and I have no regrets because if I didn't start my blog, I wouldn't be here sharing my blogging story! By starting my blog with a simple web hosting plan, I was able to make a full-time income as a new blogger!
Why you should NEVER sign up for a "free" blog
I NEVER EVER recommend signing up for any "free" blogs if you want to make a real income with your blog.
First of all, when you purchase at least a 12-month hosting plan using my exclusive discount page here, you'll instantly get 60% off plus a FREE domain name (a $15 value)!
I ALWAYS recommend investing in basic web hosting plan because for one, it is so cheap to get started (literally the cost of a cup of latte a month) and you will actually OWN your blog. When you sign up for a blog that doesn't cost anything (like blogger platform), you don't actually own your blog and you won't make money on those platforms.
Secondly and most importantly, you'll want to purchase a hosting plan, because it is a basic essential and a MUST have if you want to actually earn with your blog. Advertisers and companies will only take you seriously and want to partner up with you when you own your blog! This is the route my blog took and that's why I am able to earn over $10K per month with my self-hosted blog! Don't be afraid to invest in yourself. This is SO important if you want to make any real income!
1. Getting started with Bluehost!
Click on the green button, "get started now" when you enter this Bluehost discount page right here.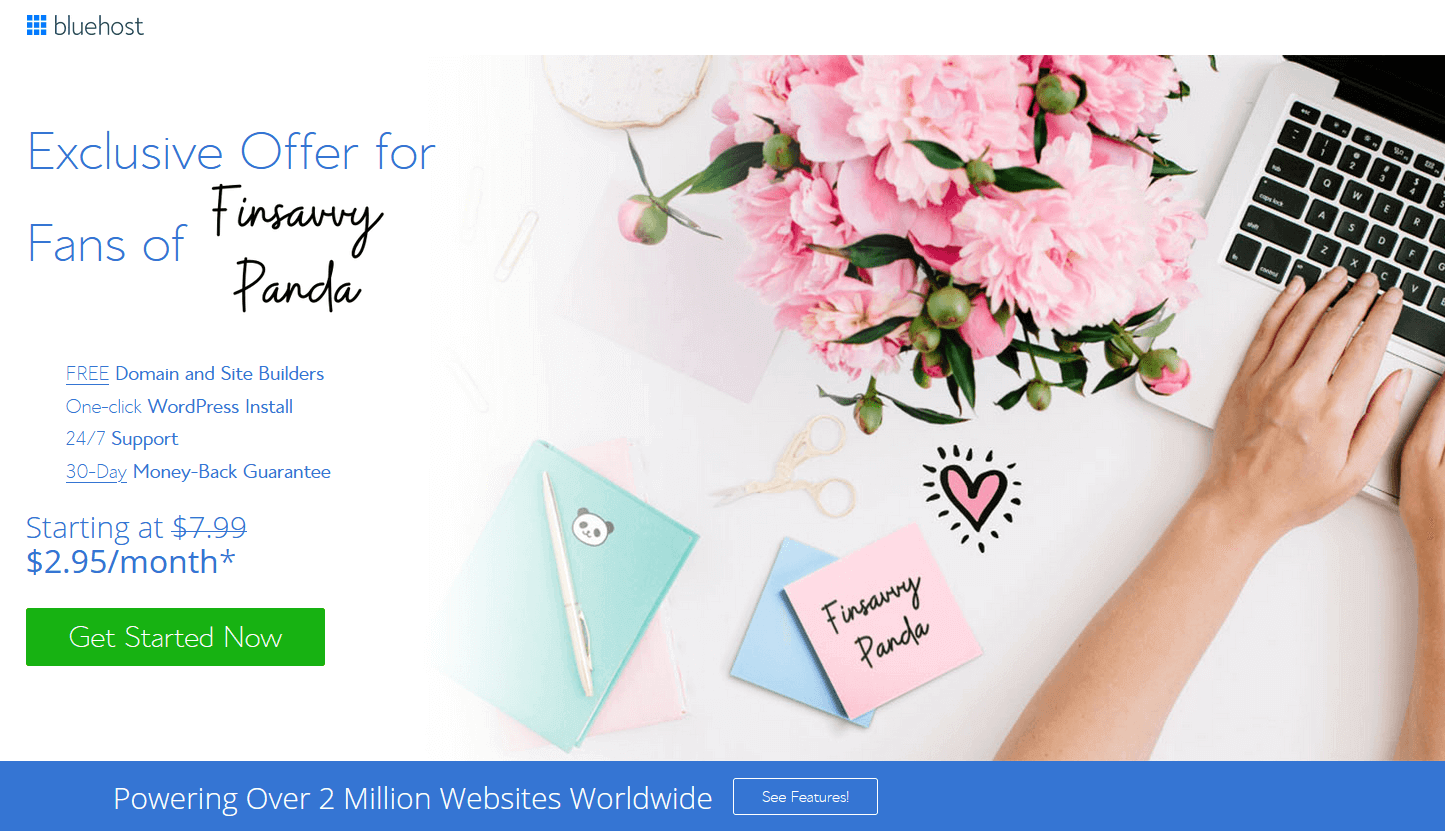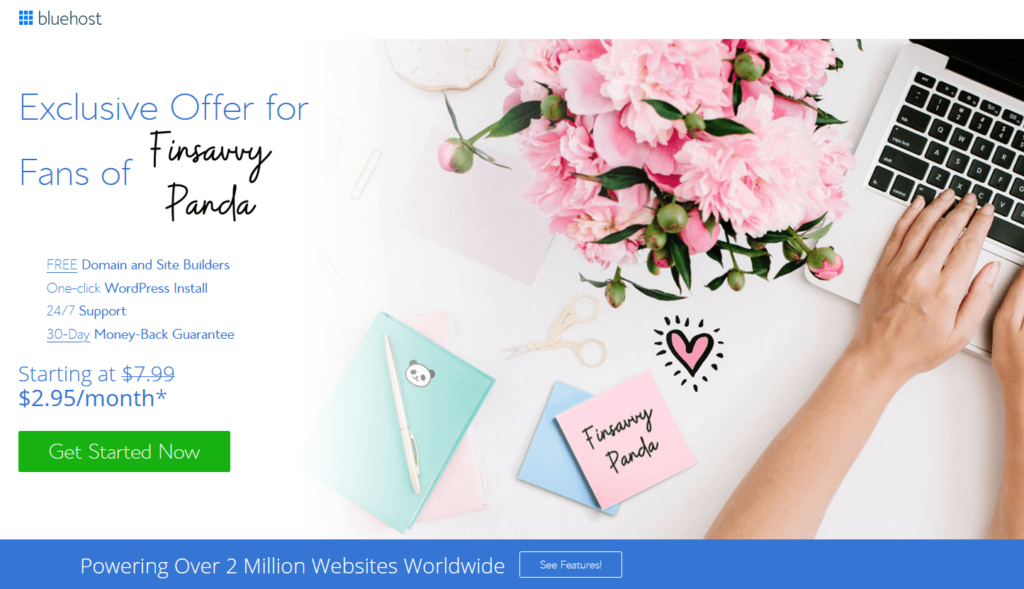 I recommend choosing the "basic" 12-month plan to get the cheapest price to start your blog — this is the plan I personally purchased when I first started.
This is affordable and it only costs $2.95 USD per month using the special discount link above (pay full upfront) when you sign up for the 12-month plan.
The 12-month plan makes a great choice if you want to try out blogging without spending a lot of money upfront. Plus, you still get a FREE domain name as long as you sign up for the 12-month plan through this link.
You can ignore the "plus" and "pro" packages — "basic" plan is all you need especially when you're only starting one blog.
There's no need to pay extra especially when you're a beginner. Plus, you can also change these options later down the road if you decide you want extra features.
2. Choose and register your domain name
Next, register your domain name (I went through great tips on how to choose your domain name above).
Again, this domain name is included for free as long as you sign up for at least a 12-month plan with Bluehost.
To get the best pricing, I recommend going for a hosting plan that is 12 months because you don't have to spend a lot of money to see how you like blogging in your first year.
I'd personally go for the best value which is the 12-month plan. You can follow the steps to set up your domain name.
Don't have your domain name ready?
As mentioned, if you don't have your domain name ready. You can click at the bottom "I'll create my domain name later" as you can see the screenshot below.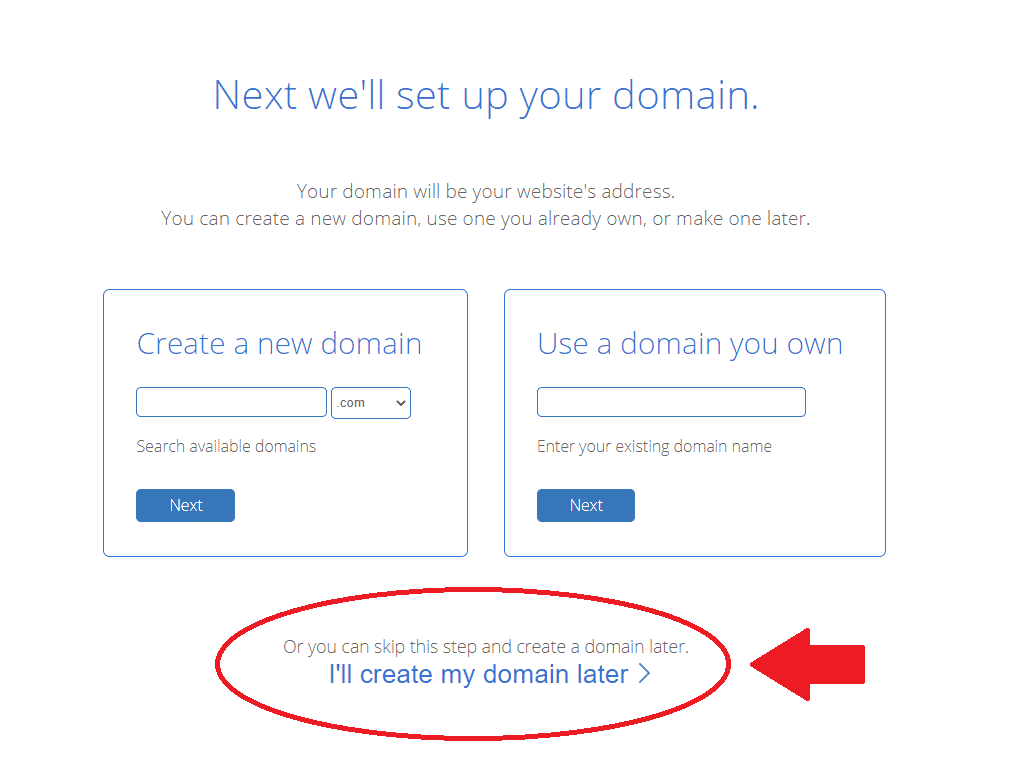 3: Create your account
Here you will create your account by filling out the following information.
Account information:
First, fill in the account information which includes your first name, last name, country, etc. by following the screenshot below.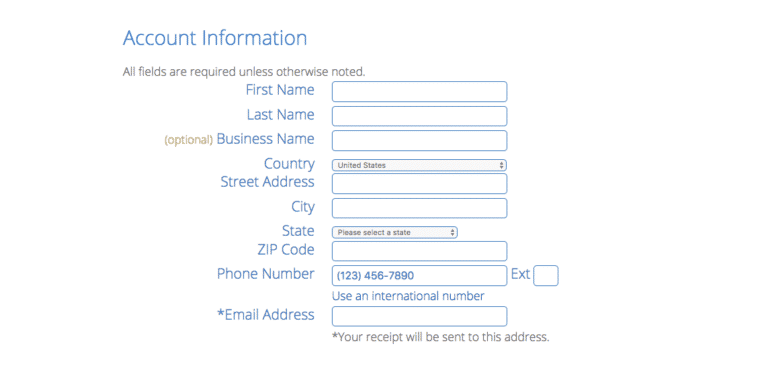 Package information:
Now, make sure you've selected the account plan you want to go with. I went through the differences between the basic 12, 24, and 36 month plans with you above.
Note that depending on where you reside in your country, the pricing in your currency will be automatically converted based on the current exchange rate. If you live in countries like Canada, the U.K., Australia, or anywhere in Europe, you'll see your own currency. But if you reside in other countries not listed here, you should see this in terms of US Dollars.
Package Extras:
You'll see options like the following:
Codeguard Basic
Bluehost SEO Tools Start
SiteLock Security Essential
You don't need any of these extras. You can simply ignore them for now. There's no need to pay extra especially when you're a beginner. Plus, you can also change these options later down the road if you decide you want extra features.
Payment Information:
Now, follow the next step to provide payment information.
If you don't have or use a credit card, you have the option to pay with PayPal by clicking on "see more payment options". It is free to sign up for a PayPal account.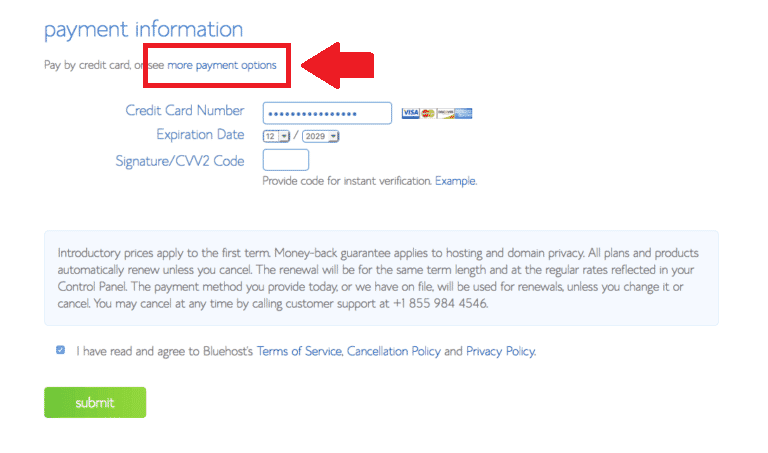 4. Choose your password
Next, choose a password for your account, confirm it, and then log in.
Hint: It's best to choose a password that is NOT the same as your banking or private information. That's just common sense. 🙂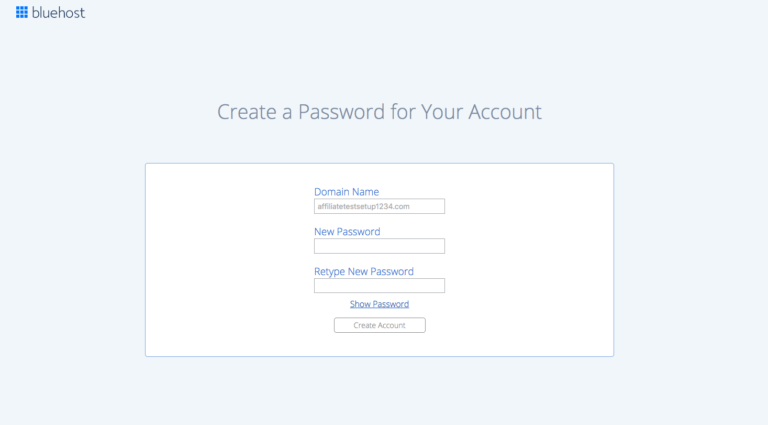 5. Install WordPress
Don't worry, you're almost done! This is the most fun part!
Now that you've purchased your hosting plan along with your free domain name, the final step is to install WordPress!
Bluehost makes this super easy with their 1-click WordPress Installation button.
Once you've clicked it, wait until WordPress is installed.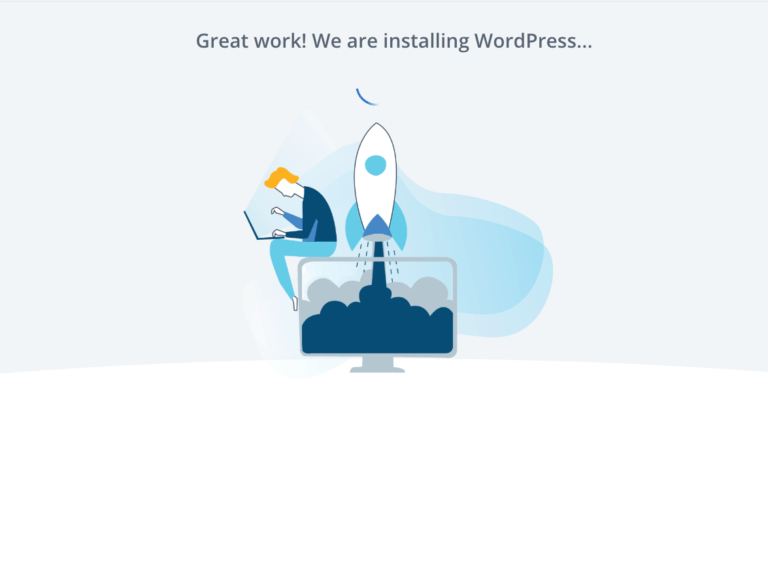 As you can see in my screenshot below, Bluehost will ask you to choose a theme, which you can play around with now or later. You can choose what you feel fits your personality.
6. The final step to registering your blog
Now that you've selected your theme, you can select "Start Building."

Next, Bluehost will ask: "What kind of site can we help you set up?"
You can choose either "Business" or "Personal." It doesn't really matter.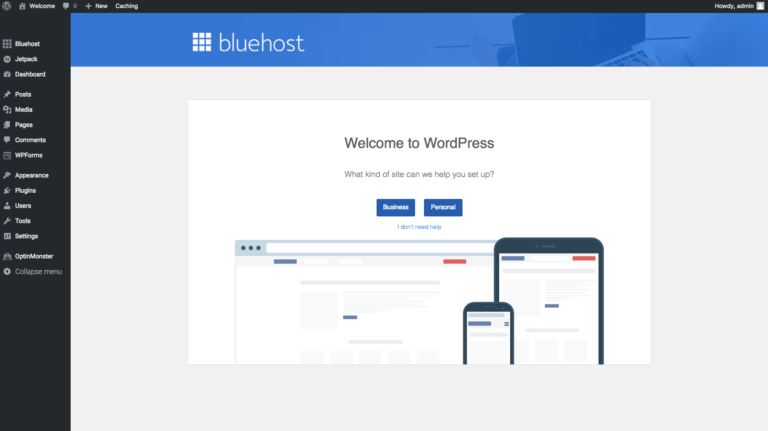 Going forward, you can log in to your WordPress dashboard and learn at your own pace.
Bookmark this link so that you can easily access it when you want to log in.
The link to your WordPress dashboard is: https://yourblogname.com/wp-admin/
If you have any questions, feel free to contact Bluehost support. They offer 24/7 via email, online live chat, or by phone.
The Treasure Map To Blogging Success in 30 Days!
You can learn everything you need with this very affordable blogging resource here on how to create and build a profitable blog from scratch with WordPress as a beginner in 30 days. Many of my readers have purchased this ebook and were able to quickly build their blogs faster than the average person.
I highly recommend focusing your efforts on building a solid foundation at the very beginning before you dive deep into learning traffic and monetization strategies as creating a strong foundation is what will set you up for long-term blogging success.
I see too many beginners who neglect this very first part (including myself when I was new at this) and end up making many mistakes with their blogs without realizing until later and they all regret not setting up their blogs properly the first time! Just TRUST me on this one. You're going to thank yourself down the road for setting up your blog properly today.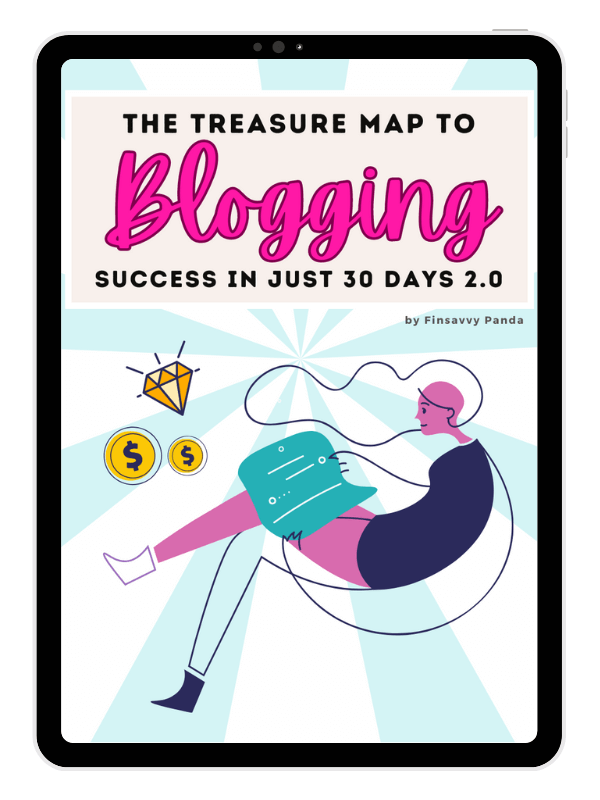 Step 5: Customize the look of your blog
Congratulations on starting your blog!
Now it's time to customize your blog and make it look pretty and presentable for your future readers!
Installing your blog theme
In your WordPress dashboard, go to "Appearance" ==> "Themes."
There are many free and paid themes you can choose from, and WordPress makes it easy for you to add the desired blog theme you'd like here.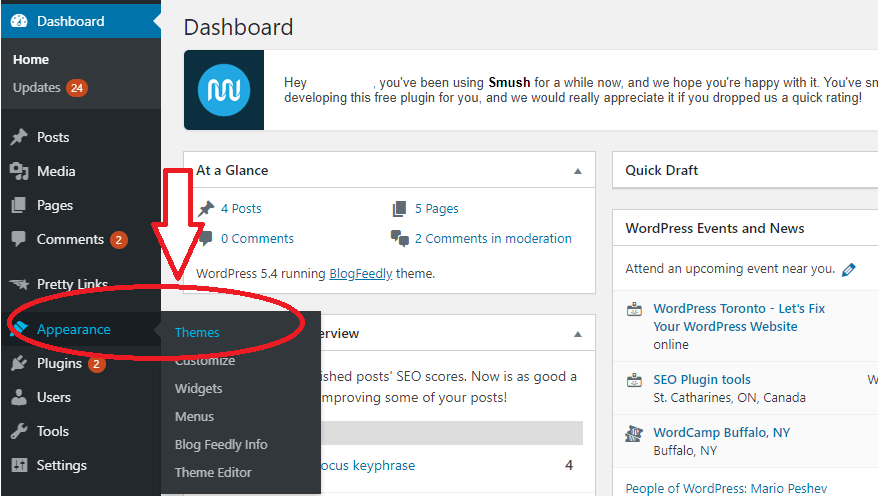 When I was a beginner, I was using the Oslen Light theme which is free. I only changed my theme later to a paid version because I was focusing my efforts on other areas of my blog that would generate higher returns at the beginning while I was still learning.
With that said, going for a free theme now isn't going to stop you from making money on your blog as a beginner. Just make sure it looks modern, clean, and presentable.
You can always choose/change your theme later. There's an abundance of free and paid themes!
Once you get the hang of blogging with WordPress, you can get more serious about installing a specific theme you love.
Step 6: Create your blog pages
Blog pages are different from your actual blog posts (these posts are what you write about on your blog to share with your readers), and your pages will usually be displayed at the top of your blog menu.
As a beginner, there are at least 3 pages you'll want to create:
1. About Me Page
In simple terms, you can think of your "About Me" page as your quick 1-page biography or resume.
Though you can add some personal things about you to make you more relatable (and it's always a good thing to add a personal touch), your "About Me" page isn't ALL about you.
Instead it's about HOW you can help your readers. Again, your readers only care about themselves and they want to know how you can help them!
What are you offering on your blog that will help your readers' problems?
For example, in your about me page, you can talk about your personal story or your struggles (e.g. money, beauty, weight, eating healthy, confidence, etc.) but only use it as an anecdote to help your audience who may be going through a similar struggle as you. Along with that, be sure to mention how your blog will help them with that specific problem.
If you are blogging about getting out of debt, mention your personal struggles and what you did to pay off $X amount of debt.
If you want to blog about your struggle with weight, it's okay to talk about your journey and what you've done or what you're currently doing to lose weight and become healthier.
Everyone wants to become a better version of themselves no matter what topic it is, so if you are blogging about self-development or self-improvement, you can talk about any of your past or current problems (e.g. your struggle to find happiness or self-confidence) and talk about the steps you took that helped you overcome those issues.
Can I start a blog anonymously and still make money?
You might be thinking this:
"Can I blog anonymously and still make money blogging? Do I have to put my face out there? I'm a very shy person and I don't feel ready to spell my name and face on the blog."
Here's my answer:
Yes, absolutely! You can blog anonymously.
In fact, when I first started, I was totally 100% anonymous and didn't have any pictures of myself but I was still able to earn a full-time income!
I'm just as shy and introverted as you if you are asking this!
On top of that, I know many bloggers who don't reveal their full names or picture but they are still very successful and doing well! The important part is learning and understanding how bloggers actually make money blogging!
2. Contact Me Page
As a beginner, you can make this simple by including your name and e-mail address. That's enough to get started, so nothing fancy here. You can also include a separate "Work With Me" page or put it together with your "contact me" page for potential advertisers to find you.
3. Privacy Policy Page
Before we start, I want to say that I'm NOT a lawyer, so please don't take this as legal advice. This is just what I learned, so it's always good to consult a professional if you want to learn about the legalities of blogging.
A privacy policy is a legal document or a statement where you disclose how you gather, use, and manage a reader's data. In summary, it outlines your data processing practices.
If your website collects personal information from your visitors, then you need to write this on your website. It must include information such as category types of personal data collected, methods of collection used, and reasons for collection methods of storage and security of the data, and whether third parties have access to the data.
Any type of personal information includes name, email address, credit card information, phone number, etc.
Creating a Privacy Policy Page in WordPress
WordPress makes it easy to set up your privacy policy. Here is a quick tutorial for beginners on how you can get this done.
In your WordPress Dashboard, go to "Settings" ==> "Privacy" to create your Privacy Policy Page.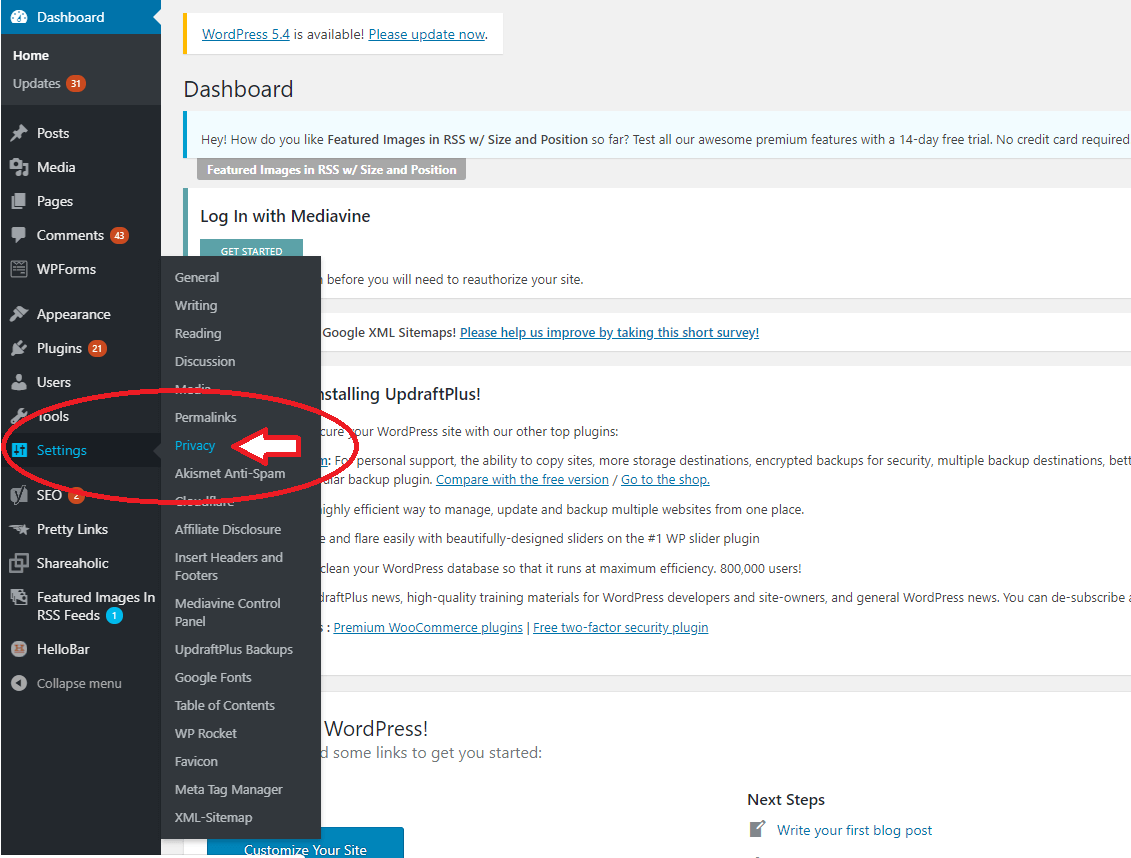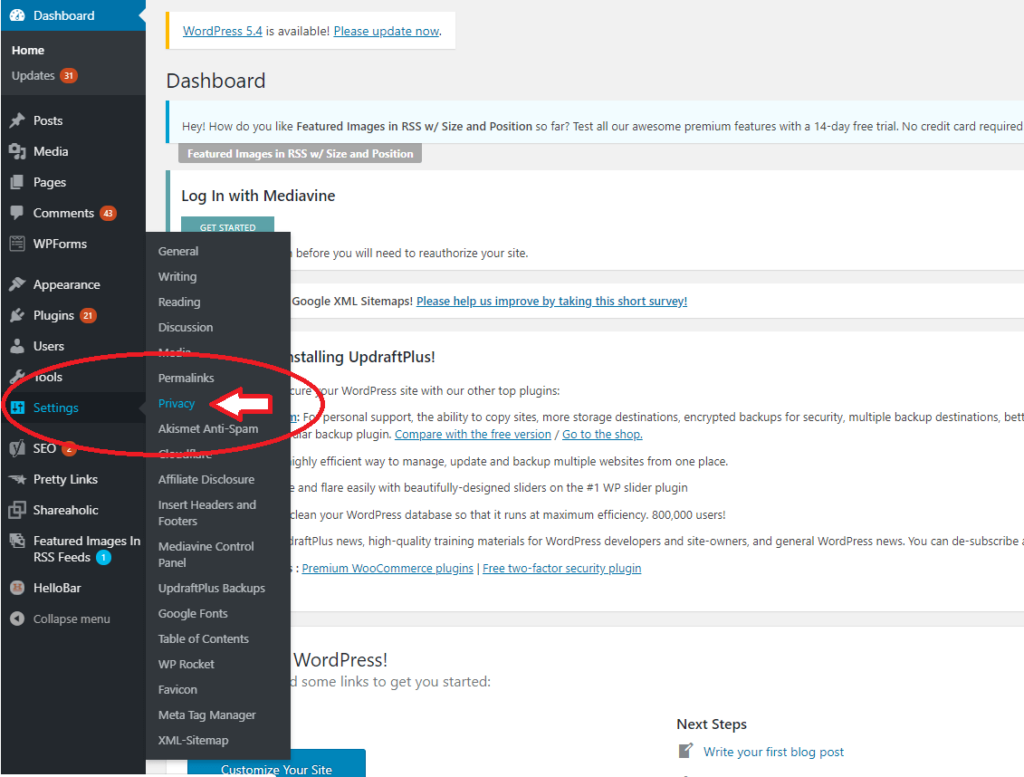 Next, click on the button called "Create New Page" as shown below.


You'll see a premade privacy policy template and you can tweak it based on what your blog is about. This is the free version of a privacy policy template that most beginners use.
I also recommend drafting a disclaimer and terms of conditions page, which I mention about next.
Disclaimer page
When you put a disclaimer on your blog, it means you're not legally held responsible for anything you write or publish on your website. Put simply, this will protect you from lawsuits.
How you create your disclaimer will depend on which niche you're in and what you blog about.
For example, if you blog about personal finance, you don't want to be held liable for any financial damage of the reader. If they say that they followed your financial advice but lost money, they could sue you when you don't have a proper disclaimer on your page.
Similarly, if you write about health and wellness, you don't want to be held responsible for any damages if that person said they followed your health advice but it did not work out for them.
On top of that, having a disclaimer will protect you from issues like having information on your blog that is not current. Someone could sue you for this and it can happen when you have older content that is not updated on your page (this may reflect incorrect information) because events are always changing.
Now that you are aware of these events, you will want to add a disclaimer on your website.
You can learn more about disclaimers and how to draft one by using this guide on how to write a blog disclaimer.
Terms & Conditions page
Terms & Conditions establish a legal agreement between a business (your website or blog) and its customers.
According to TermsFeed, a Terms & Conditions page is important because it sets the rules regarding how customers use and pay for your products or services. They can allow you to enforce those rules in court and they can limit the amount of money you have to pay in damages if you make a mistake.
You can also learn how to write your Terms & Conditions here.
Step 7: Write and publish your first blog post
I went through the steps above on how to choose your niche and what to blog about. Now it's time for you to actually write and publish your very first blog post!
In your WordPress dashboard, go to "Posts" ==> "Add New" to draft your first blog post.
I highly recommend you create headings and subheadings in your blog post to organize the layout of your article.
You'll also want to avoid a wall of text by breaking text and sentences like this
You see what I'm doing here.
And here…
I am breaking up my sentences to create more white space as this makes it easier for the reader to read.
Another thing you'd want to do as you write more blog posts is to link them to each other especially if they are related in the topic.
For example, you'll see that I interlink to my other blog posts on this article that are related to making money with a blog.
If I want to direct my reader to one of my blog income reports, I can interlink my February blog income report post like this.
To interlink your blog posts, highlight the blurb or text you want to create a link with and click on the little "link icon" in your WordPress when you're drafting your blog post.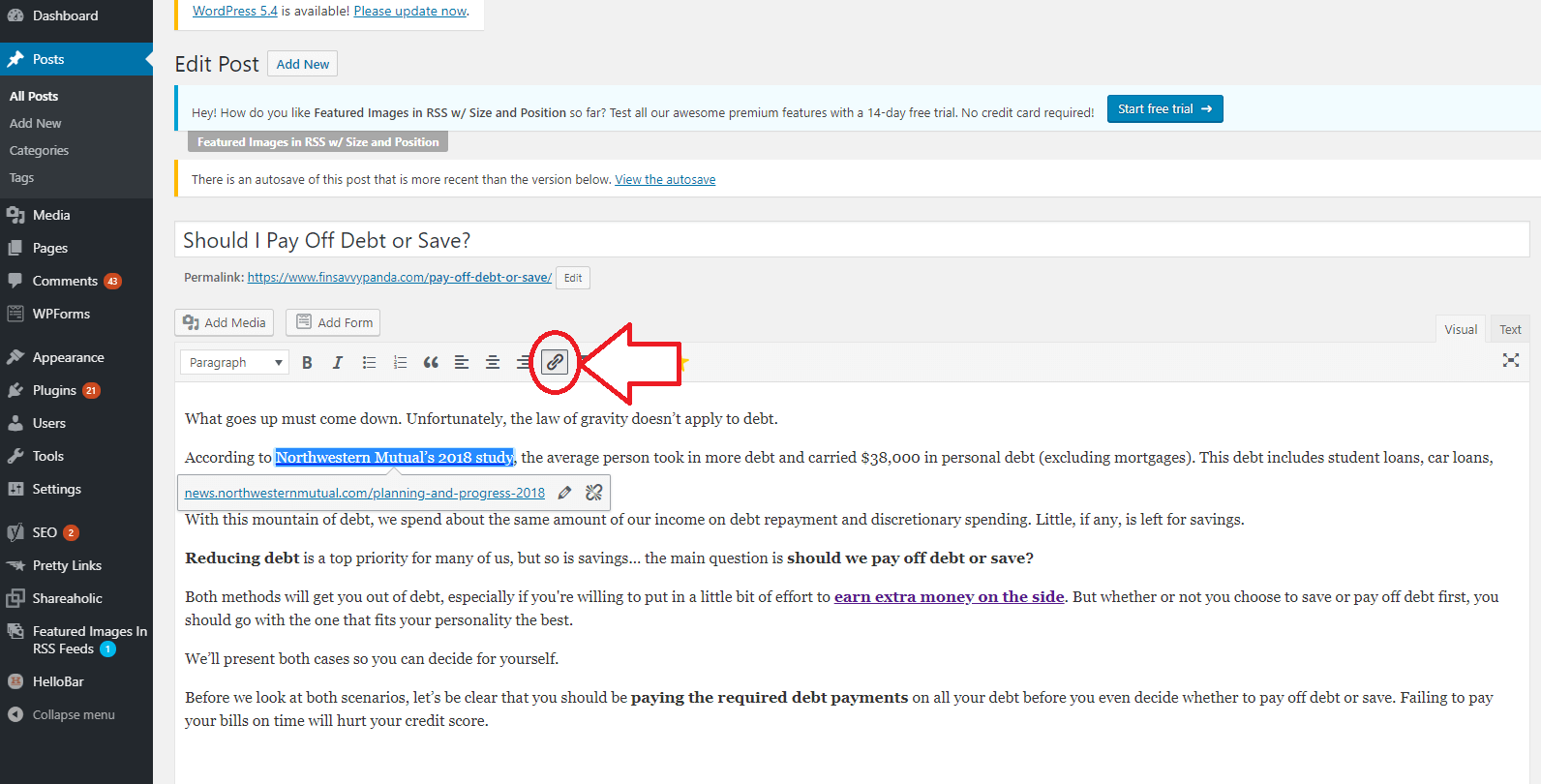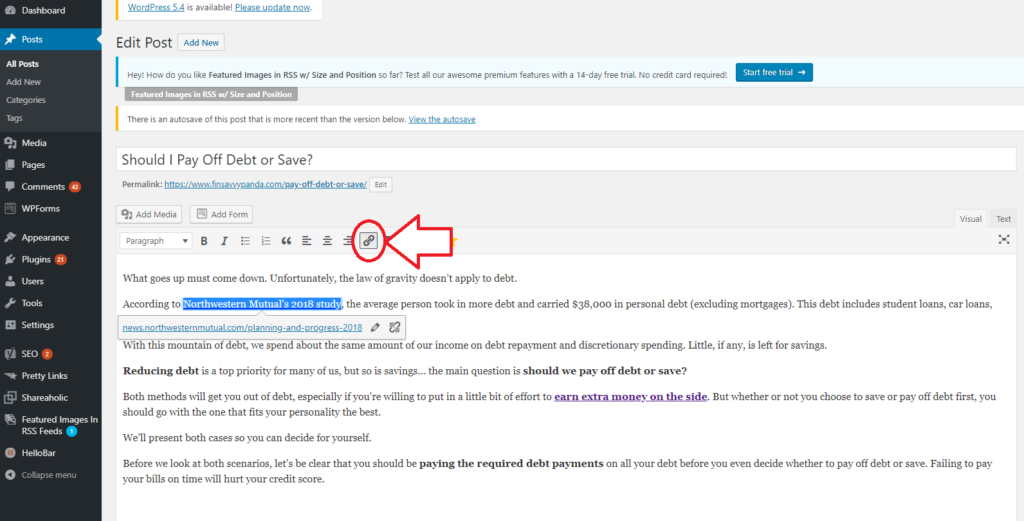 Now, you can input your desired URL address and save it.
The whole point of interlinking to other blog posts or sources in your article is to direct your readers to more useful information to learn more about something. It could be the URL to your other blog post or to another website that provides more information.
Step 8: Finding images for your blog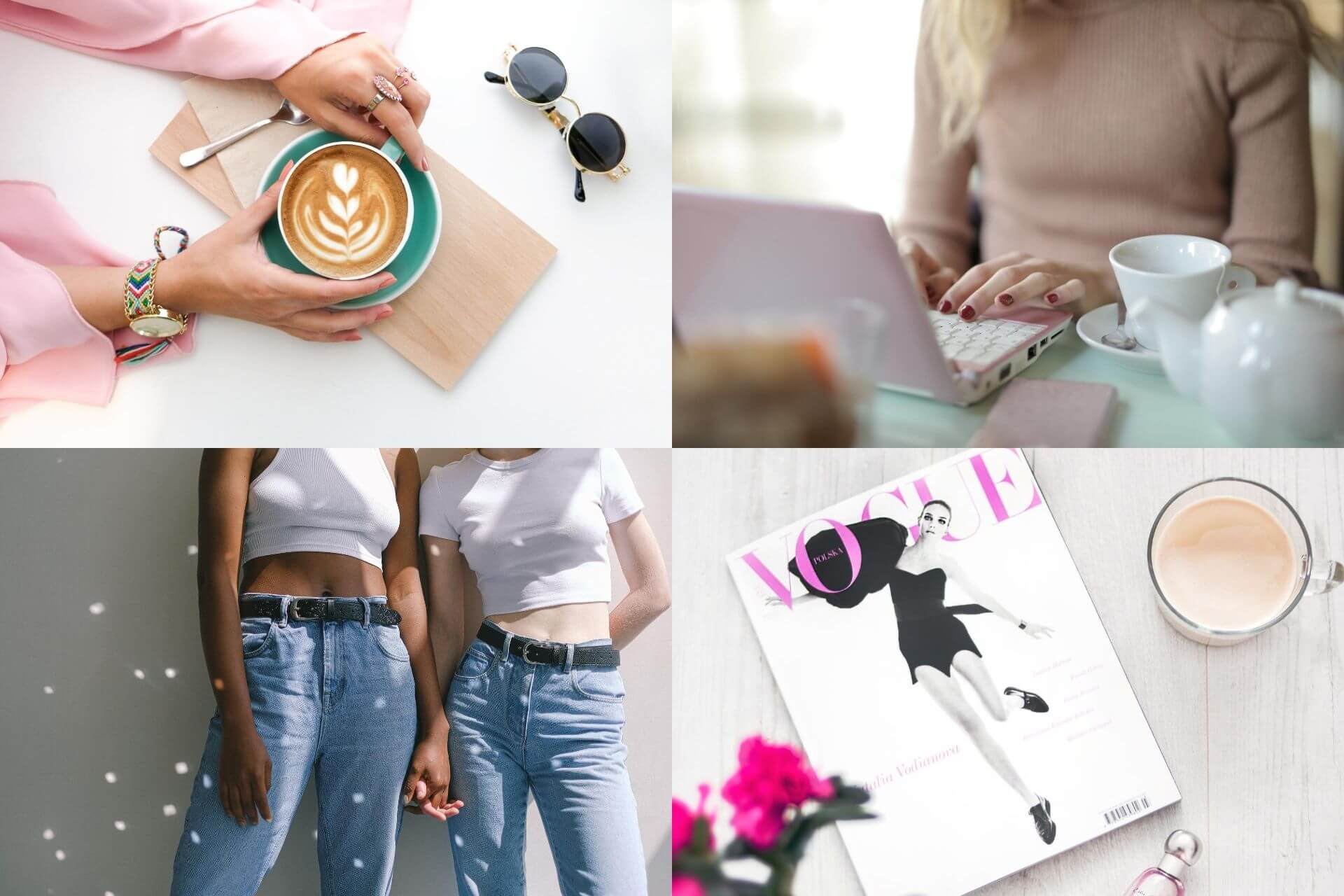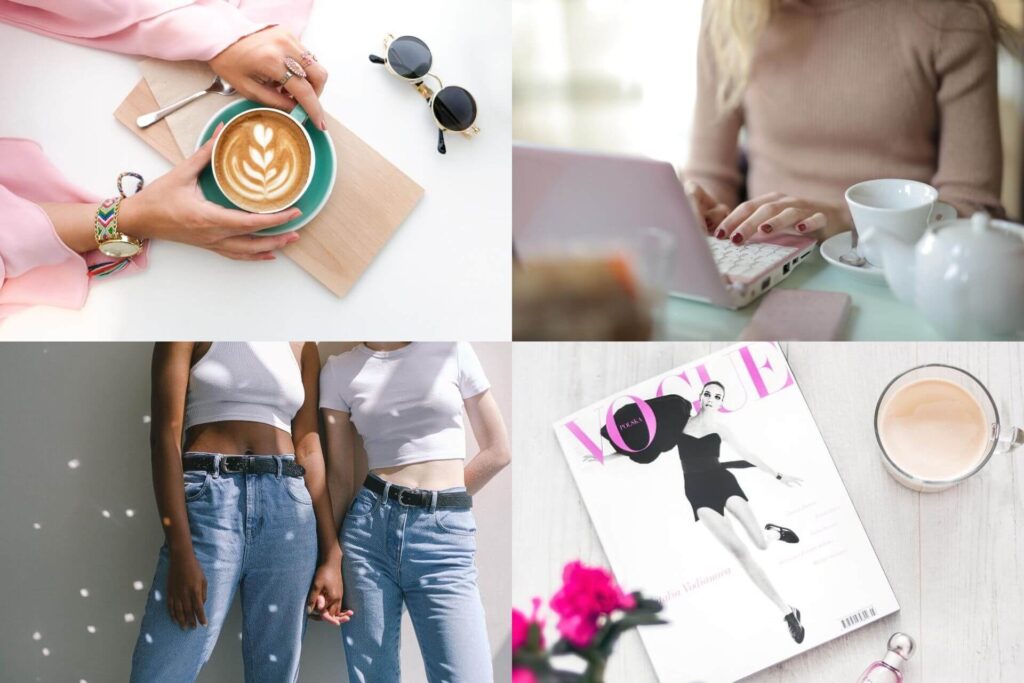 Your blog posts wouldn't be complete without images, so here are some of the most popular places you can look for free stock photos to use on your blog:
When I was a beginner, I relied on a lot of free stock photos because I wanted to try out blogging to see how it works out. But as I started earning money with my blog, I invested in premium stock photos for more and higher quality selections. There is a limit to "free" things, so if you want more options, you can invest in premium stock photos, but I'm telling you in all honesty, as a beginner, you don't need them right now.
Step 9: Promote your blog and get traffic
Once you have your blog set up properly and written at least 5 to 10 blog posts, you are ready to start promoting it for blog traffic. You can use social media channels like Pinterest, Twitter, Instagram, or Facebook to promote your blog.
Due to my introverted nature, I personally love and use Pinterest to drive the majority of my blog traffic as you can see in the screenshot below – 608,761 pageviews in a 3-month period.

You can set up a Pinterest business account here to get started. It's free to sign up for and use and as I said, it's what I've been using to drive a lot of my blog traffic – and YES, this is 100% free traffic; not paid ads!
Because I've been using Pinterest for 5 years and counting to earn a full-time income with my blog, I spent a lot of time creating this FREE 7-day e-mail course on how to skyrocket your traffic on Pinterest here.
If you're a brand new blogger, or a blogger who wants to diversify their traffic with Pinterest, then I welcome you to join my free course where I show you how I increased my traffic from 0 to over 100,000 monthly pageviews.
I was able to replicate the same strategies from my first blog onto my second blog, which both got into Mediavine earning me an income with display ads month after month.
I am also working on another brand new blog, which I am confident will get accepted into Mediavine too!
As you may already know, no traffic equals no income! So, you can join my FREE Pinterest traffic course below to steal my Pinterest secrets and hacks on what I do with my blogs to get consistent and long-lasting traffic that allows me to earn over six figures per year as a full-time blogger!
Step 10: Make money blogging
There are many ways you can start a blog and make money with it. Here are some of the most popular ways to make money blogging.
1. Display advertising
This is probably the easiest way to earn for beginners. I only say it's easy because when you first start, you can apply for Google Adsense and start placing ads on your blog to earn from traffic. BUT, it's tough to monetize with ads when you're new because you likely won't be getting as much traffic. I personally started with Google Adsense and was excited to see my first $1.45 in my account, LOL! Woo-hoo, let's celebrate!
It took me many months before I got my first paycheck from Google which was a couple of hundred dollars.
Once your blog traffic increases, you'll be able to work with higher-paying ad companies. When I grew my blog traffic to 30,000 monthly pageviews I was qualified to apply for Mediavine which allows me to earn 5X the amount compared to Google Adsense given the same number of pageviews!
Mediavine changed its requirements and now requires you to have at least 50,000 sessions (about 55,000 to 60,000 pageviews in the last 30 days) to apply.
Instead, I recommend beginners focus on building traffic to reach 10,000 monthly pageviews and apply for Monumetric. This also requires a $99 upfront "setup" fee, but it doesn't ask you to pay from your pockets. Instead, it deducts that payment from your ad earnings once you're qualified to apply and have the ads set up on your blog, so it doesn't feel like you actually paid for anything.
Once you reach 60,000+ monthly pageviews and qualify to apply for Mediavine, you can make the decision to switch over if you'd like. I highly recommend Mediavine, and you should switch over if you ever reach that many pageviews, because they have phenomenal service! I definitely recommend them!
2. Affiliate marketing
Affiliate marketing is one of my favorite ways to make money blogging. With affiliate marketing, you recommend a product that you love and/or believe would benefit your readers (by using your affiliate or referral link). When the reader makes a purchase or signs up to something, you'll get rewarded with a commission at NO extra cost to your reader.
I love using this as a monetizing strategy on my blog because I can recommend almost any product that I think will be useful for my readers. Plus, if I'm already enjoying the product, I may as well mention it to my readers because it could help or benefit them as well! It's a win-win!
You can learn more about what is affiliate marketing and how to make money with affiliate marketing for beginners here, however, I don't recommend brand-new beginners to immediately try to make money with this method.
I always recommend starting your blog, creating your website and publishing at least 5-10 blog posts, and learning how to get traffic to your blog before looking into affiliate marketing strategies.
3. Selling your own products and services
This is a fantastic way to help your readers while monetizing your blog. Instead of selling other people's products through affiliate marketing, you can create your own products or services and sell directly to your readers and followers.
Just a few examples of products you can sell on your blog are ebooks, printables, and online courses. On top of that, you can offer your services online such as 1-on-1 coaching on literally anything you're which can include teaching English, financial planning, social media services, freelance writing, web design services, and so much more!
4. Sponsored posts
I left this for last because I don't personally have experience with this. Also, keep in mind that it takes a while to write a piece of content (at least for me because I'm a super SLOW writer), so for most beginners, I don't see a high ROI with sponsored posts when you compare it to affiliate marketing. For now, I'm likely going to focus my efforts in other areas to monetize my blog.
However, if you're interested, you can still make a decent amount through sponsored posts. Regardless of how little you get paid as a beginner, everyone has to start from somewhere. Companies will pay you a flat fee for mentioning or writing a review about their product on your blog. Like affiliate marketing, you should be 100% genuine and honest when you are writing a sponsored post. You can land a sponsored post opportunity when you directly reach out to the company and pitch them your ideas.
By the way, please don't interpret this as I'm saying sponsored posts aren't good. I've heard stories of many bloggers who are able to successfully make thousands of dollars every month with sponsored posts! This is just something I don't see working for me personally.
Related posts on how to start a blog and make money for beginners:
Keep learning and investing in yourself to make money blogging
I sometimes get asked questions like this:
"Can I start my blog without paying anything? I don't want to pay and still make money. How can I do that?"
As I mentioned earlier, I ALWAYS recommend investing in a basic self-hosted plan because for one, it is so cheap to get started (literally the cost of a cup of latte a month) and you will actually OWN your blog. When you go the "free" route, you don't actually own that blog and you won't make any real income.
I highly encourage you to make the effort and motivate yourself to save as little as $30 to $50 each month by monitoring and reducing your spending on things that aren't as important to you. In no time, you'll have enough money to invest in a web hosting plan, which only costs as low as $2.95 a month!!!
Overall, don't be afraid to invest in yourself by purchasing a hosting plan and a few blogging resources to help you and your blog grow faster. My blog wouldn't have taken off if I didn't invest in resources or tools as a beginner.
You can still start off by buying just the basic hosting plan and learn all by yourself and purchase a resource or two whenever you're ready. The best thing about blogging is it's so affordable and you can do it at your own pace. But, always remember that investing in yourself is SO important if you want to make any real money with your blog!
Once you start earning more money with your blog, don't be afraid to reinvest that money back into tools or other blogging resources that will help you grow. It also goes without saying: You must spend money to make money.
FAQs About How To Make Money From Your Blog
Because I receive a lot of questions from my readers about how to start a blog and monetize it, I decided to add this FAQs section that will help you get started.
1. How do beginner bloggers make money?
Beginner bloggers who are serious about learning how to make money with their blogs would invest in a budget-friendly host. I personally purchased the host I mentioned in my tutorial above because it was affordable and beginner-friendly.
Next, most beginner bloggers need to choose a profitable niche and write blog posts that will help their readers. Usually, beginners will learn how to drive lots of traffic to their blog, so that they can earn their first income through methods like display advertising.
Once you understand how to drive traffic and earn with ads, you can start implementing other monetization methods like affiliate marketing, sponsored posts, and even selling your own products.
It's worth noting that most beginners don't start off making money with affiliate marketing, sponsored posts, or selling their products and services until they get the hang of driving traffic to their blogs. To illustrate, in my early blogging days, I primarily generated revenue through display ads using platforms like Google AdSense and Mediavine.
I followed a similar approach with my second lifestyle blog as well. I held off on incorporating other income-generating strategies until I successfully monetized through ads, which was possible thanks to significant traffic.
2. Can you make $1,000 a month with a blog?
Yes, even as a novice, you can earn $1,000 monthly from blogging.
Going on this blogging journey might feel like an uphill battle initially, but with a commitment spanning 6 to 12 months, you'll begin to witness amazing results. I hit my first $1,000 milestone within the initial few months, and this income stream quickly snowballed into a full-time six-figure income in the subsequent months.
3. How do bloggers get paid?
Bloggers can get paid via PayPal, direct deposit, or physical checks. I have a post that explains how bloggers get paid. You can also learn how beginner bloggers make money here.
4. How long does it take to make $100 blogging?
Several years back, hitting that first $100 from blogging was a lot faster and easier.
Nowadays, though, you might need at least six months to make your first $100 from blogging. But remember, this isn't a hard rule – everyone's different. I've seen some bloggers, even ones just starting out, make their first $100 in their third or even sixth month. For others, it might take 8 to 12 months.
For me, my first $100 came from Google AdSense, and I've shared my own story and experiences on how bloggers make their first $100.
Some people need more time and that's okay due to modern society's busy lives. It also depends on how much effort and consistency they put in. But the good news is that once you've made your first $100, getting to the next $100, and eventually to $1,000, feels a lot easier!
And hey, FYI, I'm not saying that blogging is easy and requires no work. I am just saying that with persistent effort, a well-defined strategy, and a sprinkle of patience, it can indeed become a viable source of income.
5. How can I make $100 a month blogging?
You can make $100 a month just by figuring out how to get more people over to your blog. No traffic, no money – that's just how it works!
To pull in that first $100, then $1,000, and finally get to where you're making a full-time income, you need to have a rock-solid game plan. This includes nailing down your traffic strategies, like knowing which keywords to use and really getting who your audience is. You need to get where they're coming from even if you have a different view or perspective!
When it comes to getting pageviews for your blog, I really encourage you to use Google along with other social media platforms like Pinterest to learn how to get traffic and gain followers.
I love Pinterest, it's what I use to drive most of my traffic, and that's what I wholeheartedly recommend! I also have a blueprint here that details the exact strategies I use to get traffic and make money using Pinterest!
6. Should I start one or two blogs?
This is a question I often get asked which kind of surprises me.
I don't know about you, but when I was a beginner, I never had plans to start more than one blog. But nonetheless, I get asked this a lot like this one here:
Hi Ling! First of all, I'm loving your blogging course! Thank you so much for offering this!

I have an idea, or some ideas, of what I want to blog about. I don't know if I should do one blog or several blogs, though. Like, maybe start out with one and see how it goes, or just do one and blog about all of the topics I want to cover on it. 😅
My answer is this:
I highly recommend starting with just one blog and one topic.
I understand that you may have several interests and the urge to blog about many different things. However, by doing this, you may confuse your readers, and they may not remember who you are because you can't be a jack of all trades.
If you decide to start multiple blogs, you won't have the time, capacity, and resources to upkeep all those blogs.
You may want to focus on just one particular topic and keep writing content around that area until you have at least 10 related posts before moving on to the next topic.
For example, if you decide to start a blog about college lifestyle, you can spend time writing your first 10-15 posts about fashion outfits for young women before moving on to makeup looks for college students or money-saving hacks for college students.
By focusing on only one blog and one topic at a time, you'll reap bigger rewards in the long run as you grow your website, and you won't need to worry about maintaining too many blogs at once.
Summary on How To Start a Blog and Make Money
Phew! We made it to the end of this long and informative tutorial on how to start a blog and make money for beginners!
I hope you found this in-depth guide helpful in starting your blog. Let's do a quick recap on what you need to do today to start your blog and earn an income online.
Step 1: Determine your blog niche
Step 2: Decide what you want to write or blog about
Step 3: Choose your blog name (AKA domain name)
Step 4: Invest in a basic and affordable webhosting plan like Bluehost
Step 5: Customize the look of your blog with WordPress (you can learn more about this ultimate guide to building and launching your blog with WordPress in just 30 days)
Step 6: Create your blog pages (e.g. About Me, Contact Me, Privacy Policy and Disclaimer pages)
Step 7: Write and publish your first blog post
Step 8: Promote your blog to get traffic (e.g. Twitter, Facebook, Instagram, Pinterest, and search engines)
Step 9: Apply monetization strategies to make money with your blog (e.g. display advertising, affiliate marketing, sponsored posts, and product creation)
Step 10: Continue to learn and invest in yourself with these blogging resources and recommendations.
Have you started your blog yet? If you have any questions about how to start a blog and make money, be sure to leave a comment below and ask away. I'm more than happy to help and will answer your questions! 😊