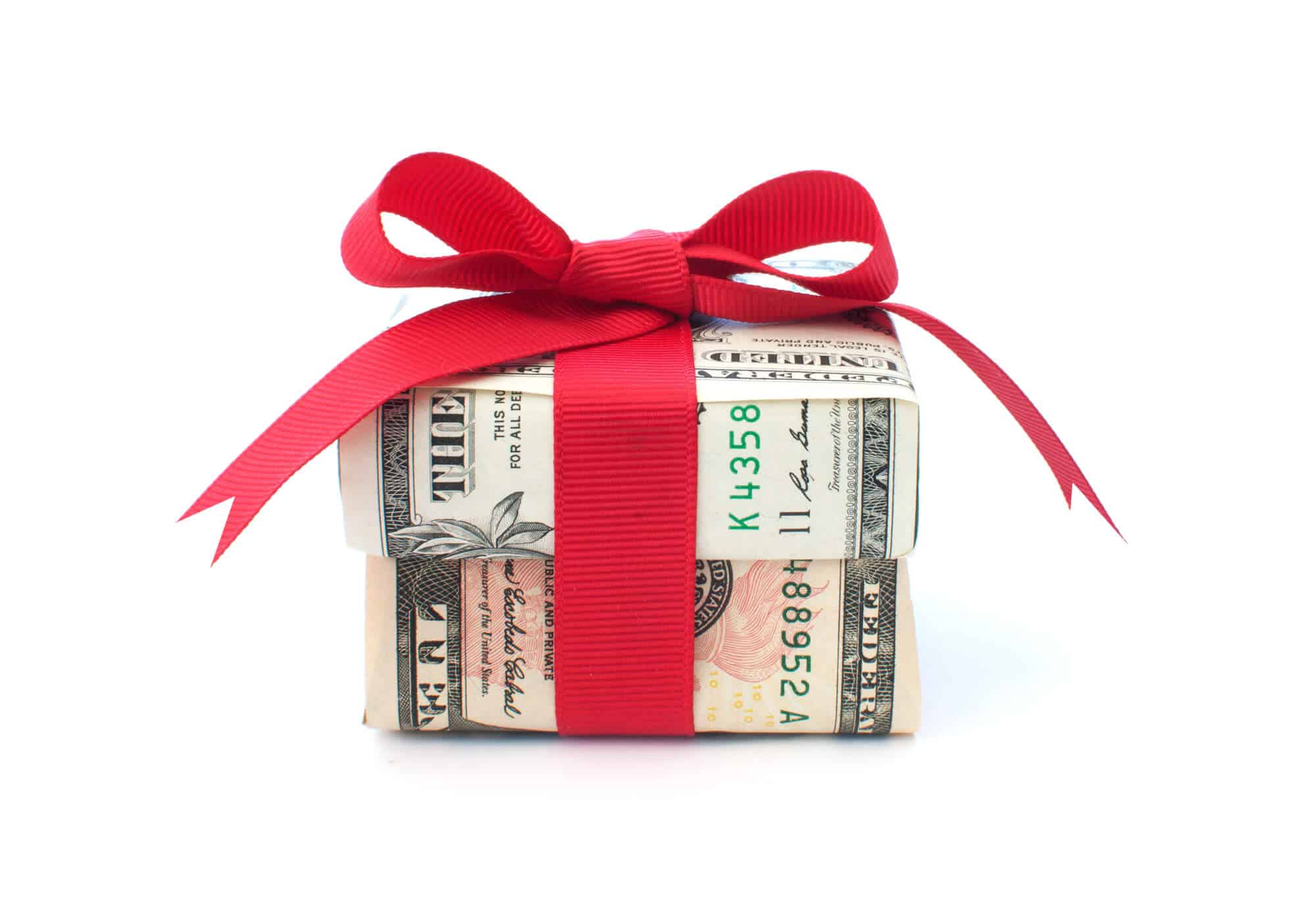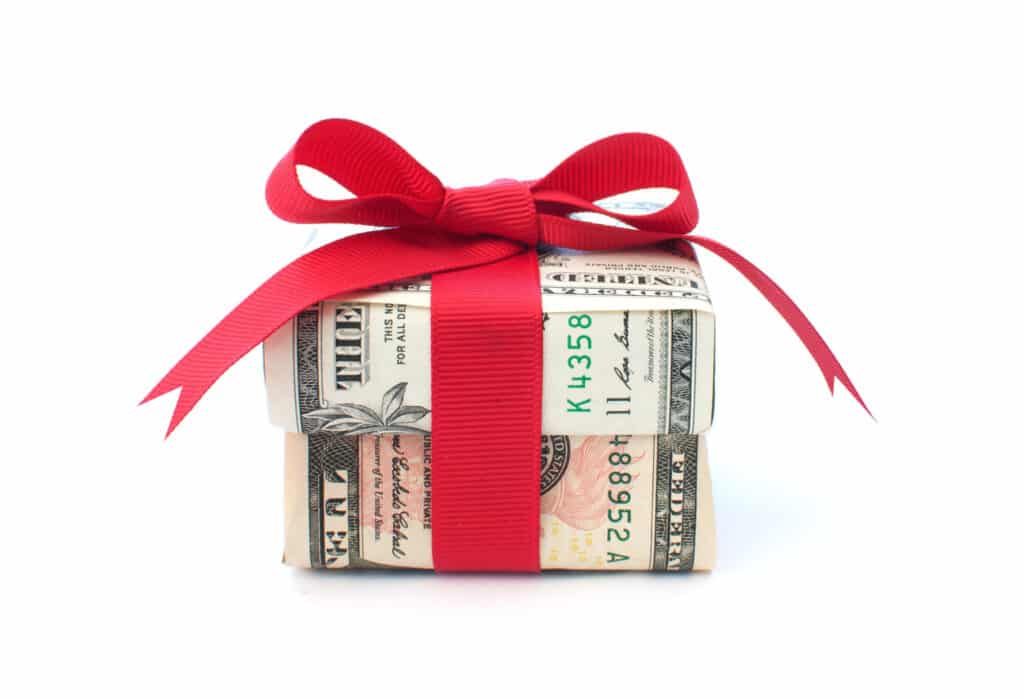 We will receive a commission if you make a purchase through our affiliate link at no extra cost to you. Please read our disclosure policy for more information.
Are you looking for the best money gift ideas or some creative ways to give money?
Just like you, I was on the hunt on finding the most unique money gift ideas on Pinterest because I wanted to buy and craft things for the special people in my life.
I enjoy using Pinterest not only because I'm able to make over six figures per year with this social media as a fun and casual hobby, but I also love how I can rely on Pinterest to find great gift ideas for people who only want money or gift cards.
But what makes a good money gift idea? How do you come up with creative ways to give money that everyone will love?
Whether it's a special occasion like your friend's Birthday, Graduation, Valentine's Day, Christmas, New Year's, or any holiday you can think of, we often wonder how we can gift cash without coming across as unthoughtful.
Creative Ways To Give Money as A Gift
Yes, you can give money and look very unthoughtful depending on how you give it.
One of the most impactful ways to give money, and by far my reader's favorite are #1, #2 and #3 on this list – scroll down to read the deets. Why? Because they are gifts that keep giving and could change someone's life, and I highly recommend you consider these powerful ideas.
Sure, cash, or gift cards, whether in the form of Amazon or Starbucks gift cards, seem like one of the most practical gifts, but they're not as impactful or life-changing. I must admit that I get the 10 seconds giddily feeling whenever I receive money or gift cards from the shops I like to buy stuff from!
That's why I enjoy earning free Starbucks gift cards or Amazon gift cards by using these legitimate online survey sites during my spare time.
That way, the person who gifts me money or gift cards will know it doesn't go to waste compared to gifts that add no value or things that I won't be using. You know those gift baskets filled with a lot of random knickknacks and things you don't personally use and end up collecting dust over the years at home?
Overall, it's just fast and easier to gift money instead of spending hours, days, or weeks deciding on what to buy for that special person.
PIN THIS: I'll be updating this post every season, so click here and save this image to your favorite Pinterest board – this will bring you back to the most updated and newest cash gift ideas!
The Best Money Gift Ideas
If you're someone looking for fun and thoughtful ways to give money, then you're in the right place.
As I said, I like receiving cash and free gift cards myself, and I know many people who actually prefer this! And because I LOVE unique and creative ideas combined with a bit of crafting, I'm creating a list of the best ways to gift money to your friends, family, coworkers, and even your neighbors!
There are so many unique ways to give cash without looking like a lazy and unthoughtful person. In fact, these money gift ideas will make you look thoughtful and creative. I am very confident that the recipient will LOVE these money gifts because it will look like you spent some time on them. This is especially true for #1, #2, and #3 on this list!
And trust me, it doesn't take that long to do. This will actually save you time and the hassle of thinking of what to give. The best part is they're practical and the person will actually put that money you give into good use!
Here are the best and most creative ways to give money to anyone and on any occasion – you can apply the same concept whether it's for a Birthday, Graduation, Wedding, Christmas holiday, or even for a Baby Shower!
There's really no limit on creativity when it comes to giving cash, so go nuts on these money gift ideas!
1. Gift $15, $25, or $50 in PayPal money online (for free)
Need a creative way to give money as a gift without pulling cash from your wallet?
Why not earn it (for free) instead, and gift it to someone special?
I absolutely love this strategy to earn free money!
With Swagbucks, you can take online surveys to collect points, then redeem them for PayPal cash in amounts like $15, $25, $50, or even $100. Imagine gifting that easily earned money to a friend or family member for their birthday, Christmas, or any special occasion. It's a personalized gift that truly shows you care.
I've been earning free cash with Swagbucks for over a decade, using it to create memorable gifts for my loved ones. So, why can't you?
Here is a screenshot of a $50 PayPal gift card from Swagbucks that I can redeem for cash – I can choose to keep it for myself or gift it to a recipient, like my mom or a close friend, for a special occasion such as Christmas, graduation, or a birthday: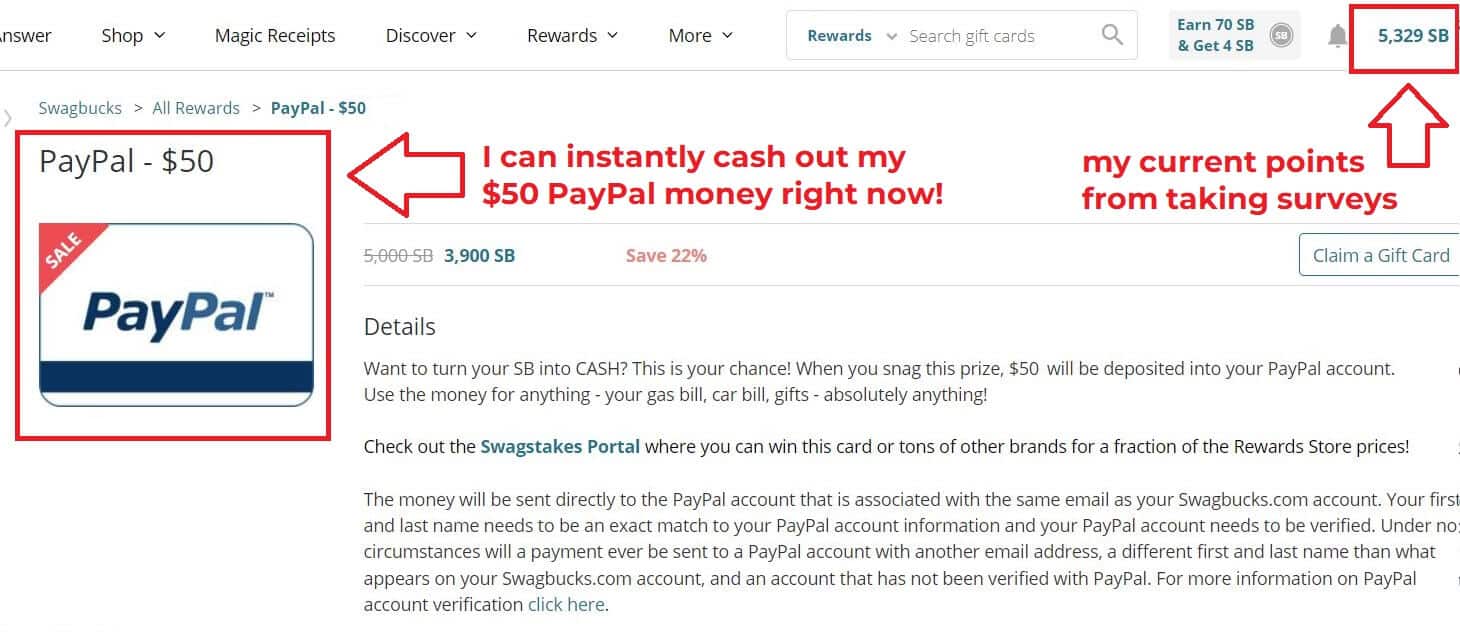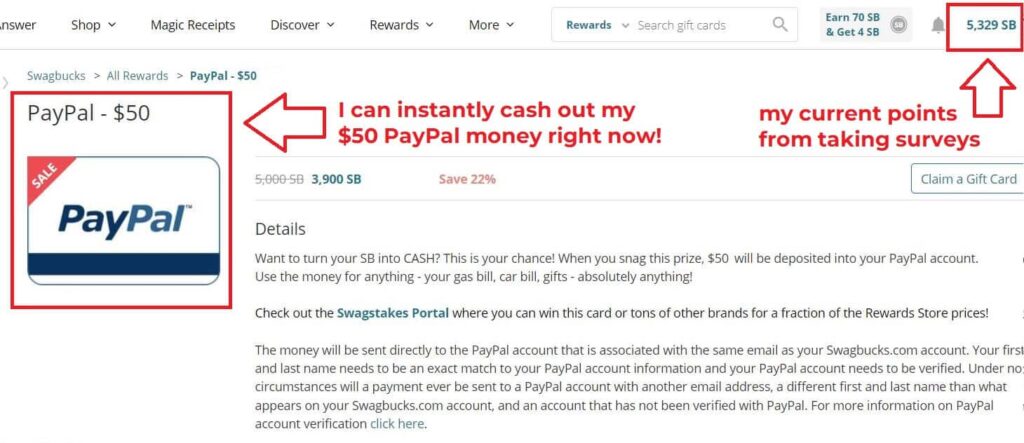 Simply by sharing your opinions on products, services, or trends, you can accumulate points that translate into real monetary rewards. With dedication and regular participation, those points can quickly add up, giving you the flexibility to redeem them for PayPal cash.
It's a win-win opportunity that turns your thoughts into cash, but what's even more powerful is the chance to gift money to friends or family.
Yes, you're contributing valuable insights that help shape brands and industries, but the real joy and impact come from transforming those rewards into meaningful gifts, adding a personal touch to your online earnings.
Earn free money with Swagbucks today – sign up through this special link and get a $5 bonus instantly. Just verify your email (it takes 5 seconds) to secure the bonus. It's free, and I've been earning cash answering surveys on my phone for over a decade. Try it in your spare time!
Related post: Top 10 Survey Sites To Earn PayPal Money Online Today
2. The gift of an investment
Want to know a simple gift that keeps on giving?
Gift a slice of their favorite company with stocks!
Just a quick heads up – I'm not providing financial advice, and any money moves you make are totally on you. But let me share a nugget from my own experience, just as a fun story, not advice!
Flashback to 2013, I bought my hubby Apple (AAPL) stocks for his birthday, which is more exciting than just gifting cash, right?
Well, he thought I'd gone bonkers – 'Apple, really?' he said. Well, roll on to today, and that 'crazy' gift has ballooned by a whopping 900%! His skepticism turned into a happy dance on his way to the bank. Guess
who's laughing now? That's the power of a well-picked stock gift. Talk about an apple a day keeping poverty away!
Imagine them waking up each day, sipping coffee, and casually mentioning they own part of a tech giant or a hot new startup. And it's not just about the bragging rights – this slice of corporate pie can grow into a whole delicious dessert over time.
Plus, it's the gift that keeps on teaching, subtly schooling them in financial literacy. It's the perfect combo of fun, future, and finance!
3. The gift of a profitable blogging venture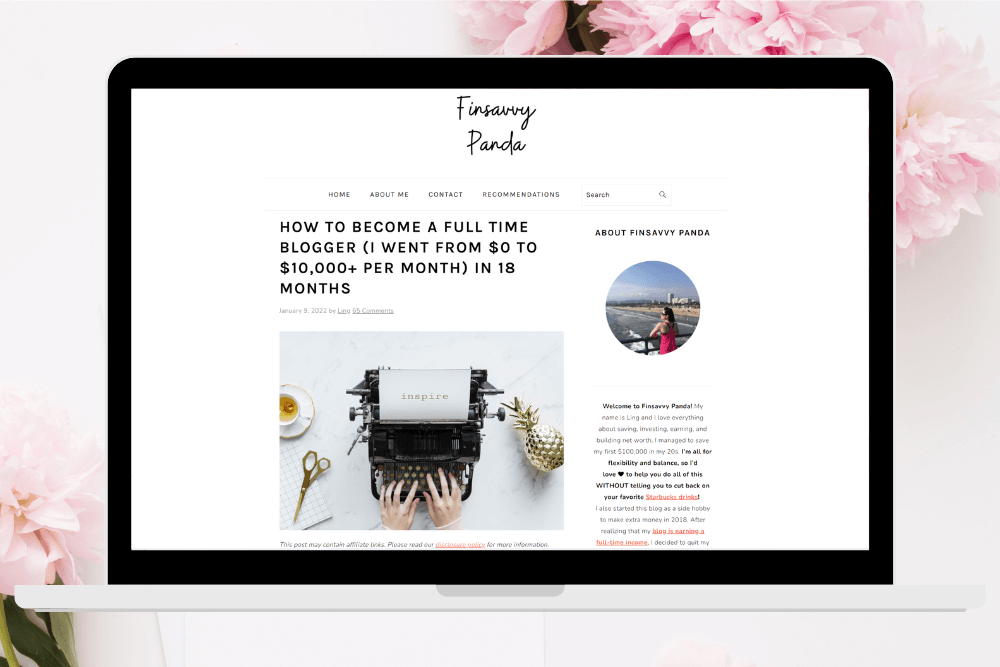 This next money gift idea is a total life-changer. It's not just my favorite, but also something that's seriously switched things up for both me and my husband.
Imagine starting a blog as a fun hobby and it snowballing into a $120,000-a-year gig within 18 months – that's what happened with me and here are some screenshots below as living proof.
I was pleasantly surprised by the unexpected achievement of earning $1,936 in just a single day through my small and personal blog. Yes, in ONE single day!


Earnings of $6,392.10 in a month on my other hobby blog – yes, I started a second blog when this blog, Finsavvy Panda, started earning over six figures a year:

If you're interested, you can check out the full story of how I went from hobby blogging to becoming a full-time blogger here, including how I make over six figures per year on Pinterest here, which are my readers' all-time favorite posts!
And no, you don't need to have any experience to start a money-making blog. Trust me, I had absolutely zero knowledge in tech, writing, etc. but I learned and made the best decision in my life!
As I was excited about how a little blog like this was able to earn a full-time income, I decided to gift my husband his own piece of the blogging world.
I paid for his hosting plan, and just like that, he was in the game.
And hey, if you're curious about the ins and outs of starting a profitable blog, check out this detailed guide. The best part? It's super affordable to kickstart at just $36 – talk about an affordable yet impactful gift, right?
And guess what? He loved it so much, he quit his 9-5 job to join me on this blogging journey. As if the excitement from those Apple stocks from my story above wasn't enough, right?
I only share this story because it's a gift idea that keeps on giving, my friend. Seriously, it's a game-changer. Heck, you might even want to jump on board and start one yourself if the idea tickles your fancy!
So, here's my advice if you want to give a monetary gift that's not only thoughtful but creates a lasting impact: Think about gifting them a head start in the blogging world. A domain name or a year's hosting could be
the ticket to turning their passion into cold, hard cash.
We're talking about more than just a present here – it's a golden opportunity for an income stream. Now that's what I call a gift that could pay some serious dividends!
4. Piggy Bank filled with Money Inside
This is a SUPER fun and cute way to gift money to a kid or young adult. It will also work for adults who are looking for inspiration and motivation to save more money!
Simply grab a beautiful piggy bank like this special one and fill them with coins and/or cash of your choice.
Not only is this practical, but it's a unique way to give money without appearing like that boring person who just hands out cold cash!
If you're looking for unique piggy banks for both adults and kids, then I encourage you to check out this list of the best piggy banks for adults. I promise you and the receiver will love them!
Here are more creative DIY piggy bank ideas to gift cash for that special person:
5. Money Puzzle Box Holder Gift
This practical yet unique Money Maze Puzzle Box will make the perfect money gift for any occasion. That includes Birthdays, Mother's Day, Father's Day, Christmas, and even Graduations.
Simply slip in cash, jewelry, or any small item you wish to surprise the recipient with. The receiver will be super excited to solve this money puzzle maze to receive their special gift! This is definitely a fun and exciting way to gift money without looking like that unthoughtful person!
Trust me, you can't go wrong with this cash gift idea. In fact, I recommend stocking up on these so you can use them at the last minute when you're looking for a unique way to give cash!
For more ideas like this, I also have a list of the best money puzzle boxes to gift this year, so definitely check them out!
6. Sneak Cash Inside a Starbucks Tumbler
It's no surprise that Starbucks makes one of the top gift choices because, let's face it, who doesn't love Starbucks?
That's why we have a separate list of the best gifts for Starbucks lovers.
One of the easiest ways to gift cash, or even a Starbucks gift card, is to sneak them inside of these pretty Starbucks tumblers by hiding the money between two packaged coffees or hot chocolate. We guarantee that you won't go wrong with this simple yet practical gift idea! The truth is everyone wants some winter holiday cash alongside their Starbucks gifts.
7. Surprise Money Bath Bomb
Whether it's a birthday, graduation, or holiday gift, one way to promote relaxation to the recipient is through a money bath bomb. But it's not just any regular bath bomb you pick up from a drug store or beauty shop.
What makes it unique and interesting is these surprise bath bombs actually have money inside!
With these special types of bath bombs, the lucky person who receives the money bath bomb gift has the chance of winning up to $2,500 in grand prize! It's guaranteed to have at least the rare $2 USD bill, so there is real money hidden inside these bath bombs.
If you want to have some fun and surprise your friend, family member, or coworker, consider picking up a few of these. It's similar to gifting a lottery ticket for the thrill and excitement. Who doesn't like to be excited when it comes to unwrapping a special present?
To sweeten this gift, consider inserting some cash on the side, or even a gift card to their favorite place, and seal it with a hand-written card. The main purpose of this gift is to make it fun, memorable, and exciting for the person who receives it.
8. Money Card Holder
If you're NOT a crafty person and looking for the quickest along with easiest solution possible (and the fact that you really don't have all the time in the world), then pick up these pretty holiday money cardholders for Christmas and slip in some brand new crisp bills with a personalized message.
In today's world where most people turn to e-gift cards or e-cards, the fact that you're writing a personalized message and gifting it in person, or mailing it to their home address, is already considered a thoughtful gesture.
For something generic, pick up these money cardholders for any special occasion – they work for Birthdays, Weddings, Baby showers, Graduations, Valentine's Day, and even for winter celebrations.
For us, we love panda hugs instead of bear hugs, so this very pretty panda cash card holder will make the perfect money gift for panda lovers!
You can stock up on any of these card holders and you'll still look thoughtful without having to scramble at the last minute!
Speaking of pandas, we have a list of the 50 best panda gifts for panda bear lovers, which you can easily pair with some cash or a gift card when you decide to pick up one of these panda themed gifts.
9. The Lucky Money Tree Gift Card and Cash Holder
You can mix up a variety of cash and gift cards with this money tree holder with LED lights.
C'mon – Who wouldn't want a LUCKY money tree on their desk or home office space?
We're a huge fan of money trees as a gift of prosperity, wealth, health, and healing, so we even have a list of the best money tree gift ideas for you to explore!
10. Money Clip Wallet Gift
Shopping for your boyfriend or husband? Look no further!
You can slip in some dollar bills and/or gift cards in one of these sleek and functional money clip wallets for men. I highly recommend #5 from the list because it's one of the most popular money clip wallets for the guys.
This will be his favorite gift of all time! 🙂
11. Dollar Bill Origami
I personally folded different variations of dollar bill origamis using these super easy dollar bill origami tutorials, brought them to a Kris Kringle (AKA White Elephant) party, and it was the hottest gift item being stolen and the most sought-after gift at the exchange!
I'm telling you… people will not admit that they want money as a gift, but their actions speak louder than words!
People actually LOVE the gift of cash, especially when it's folded in the form of some cool origami paper bills, so you can't go wrong with it since it's one of the most practical money gift ideas!
12. DIY Coke Cash Tree Money Gift Idea
If you're looking for a fun and creative way to give money, then consider giving the gift of joy with these soda cans!
There are exactly 12 Coke cans here, so you can do the math and arrange the dollar bills and gift as much money as you like.
Look at how pretty and thoughtful that looks – I guarantee the Coke lover will appreciate this money gift!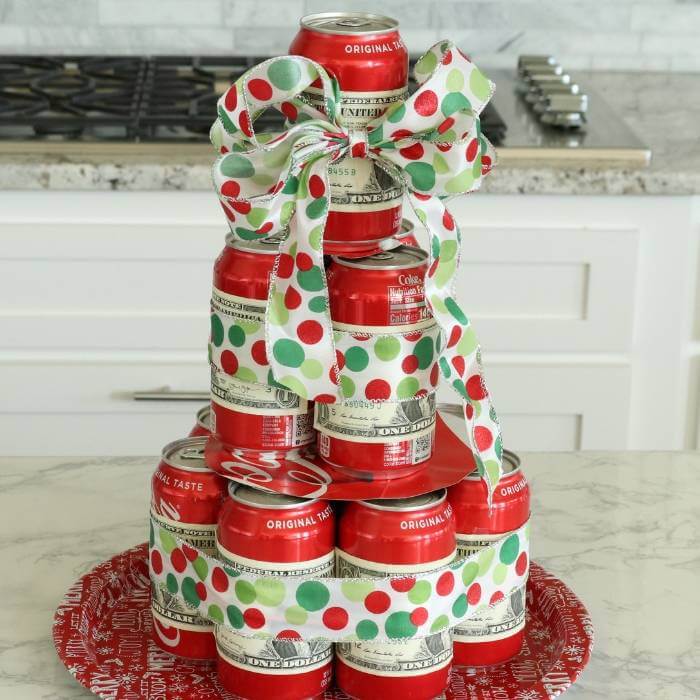 Source: Passion For Savings
13. Money and Gift Card Basket
Instead of a gift basket filled with snacks, chocolates, sweets, or hot cocoa, consider gifting a basket filled with gift cards to the receiver's favorite shops along with some fresh dollar bills!
This money gift idea works for Birthdays, Graduations, and even for Christmas!
These cash gift baskets beat the prepacked ones filled with random products that people may not end up liking. Those big baskets usually cost over $50 and can go for hundreds of dollars, so why not give cash in a crafty basket like this?
In addition to that, you can slip in a small item you know they will enjoy.
For example, if your girlfriend loves O.P.I nail polish, and you know she uses them often, then include an inexpensive mini set into the basket to make it look fuller and more creative.
Now that's what I call practical and thoughtful!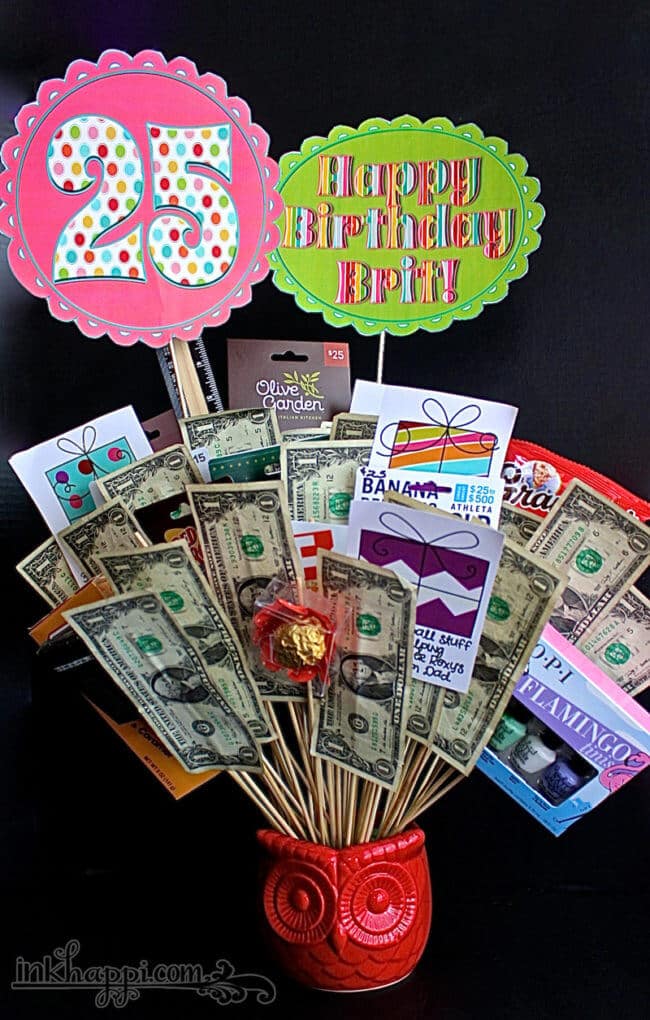 Source: Ink Happi
14. Slip Money and Gift Cards into a Deck of Cards
I actually did this one year and slipped a $20 Starbucks gift card in a deck of cards along with a $20 bill for a Secret Santa exchange at work.
The person who unwrapped the present was SO angry at receiving a deck of cards and said "REALLY? Seriously? Who is inconsiderate enough to give a deck of cards???"
Someone screamed aloud, "Open the deck of cards! Maybe there's something else inside!"
So, she did.
Her face turned from super furious to jolly and happy once she saw that there was a $20 Starbucks gift card along with a $20 bill inside.
But she got very upset again when someone stole her gift during the White Elephant exchange game – ha, that tells you that people actually do want practical gifts like cash!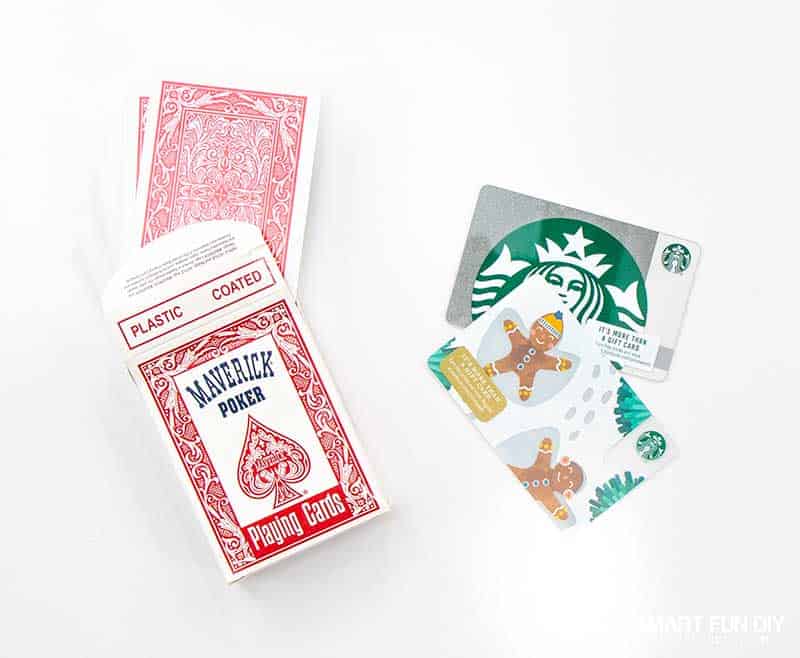 Source: Smart Fun DIY
15. Money Birthday Cake Gift Idea
This is not to say to replace an actual cake with a cake made of dollar bills.
I mean, baking delicious cakes for someone special is practical. Who doesn't love cake, right?
In fact, you can still gift a real cake and craft another one separately made of real money to showcase your crafty and creative side.
Source: Life In Between
16. DIY Money Wreath Gift
This DIY Money Wreath will make a cute graduation cash gift – any fresh graduate will love to receive money in this form!
For the holidays, you can also gift money by creating a Christmas wreath!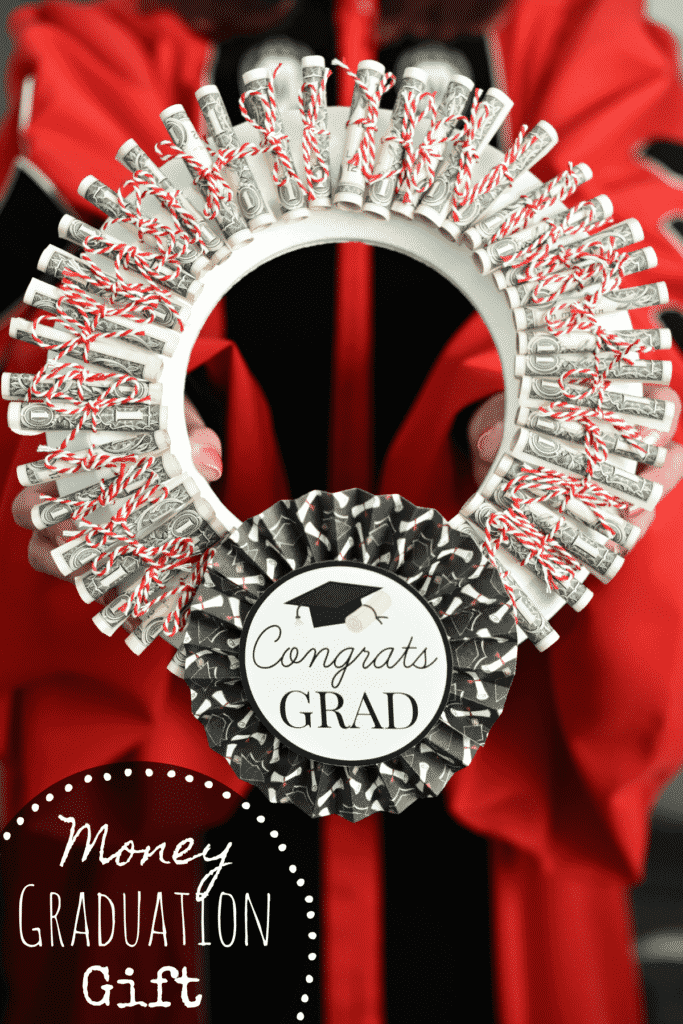 Source: Crazy Little Projects
17. Book of Money Gift
If you're a crafty person and you appreciate the work of art, then consider making one of these pretty DIY covers and turn it into a book of money.
Again, who doesn't want money? We can all use a little bit of money after the holidays to pay off some debt, right?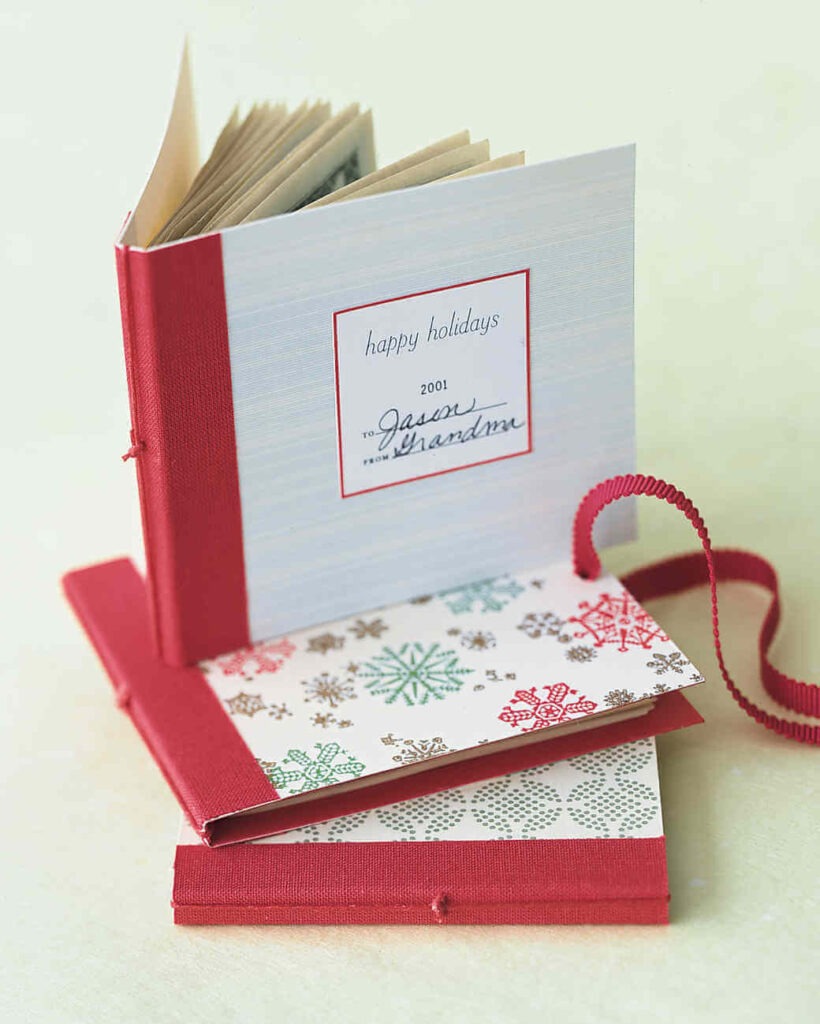 Source: Martha Stewart
18. Money Rosette
What another fun and special DIY money gift idea for graduation!
Make one of these Money Rosettes for your friends' or family members' graduation! If you want to give money as a gift, then you can't get any more thoughtful than this!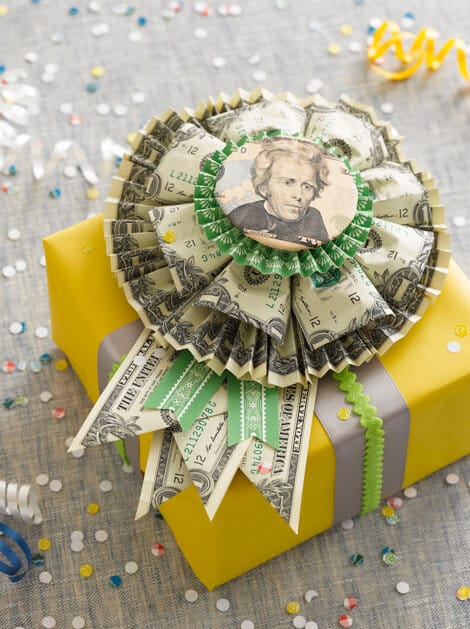 Source: Inspired Barn
19. Pizza Box with Some Dough
Consider gifting money in a Pizza box for the person who loves pizza.
This sign says, "You can't live on pizza, so here is some dough".
But you can also make a different personalized message like "The best part about pizza is the dough" – this one is personally my favorite message to use in a pizza box. 🙂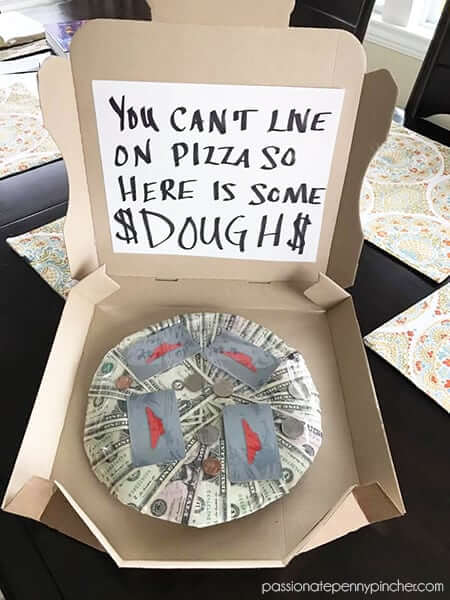 Source: Passionate Penny Pincher
20. McDonald's Money French Fries
This is perfect for the person who loves McDonald's fries. I mean, who doesn't love McDonald's, French Fries?
What a cute, funny, and humorous way to give money as a gift!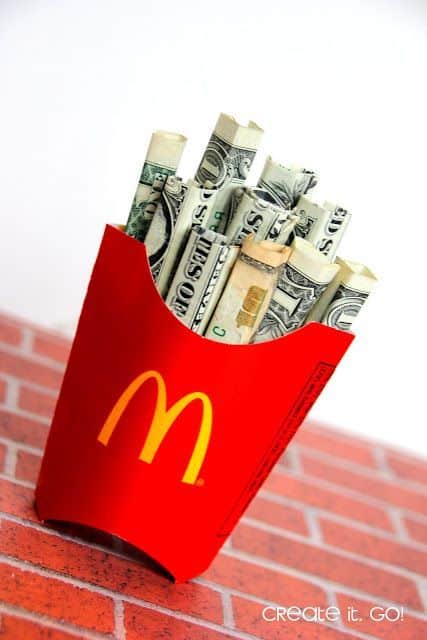 Source: Create It Go
21. Creative Ways To Give Money Inside Balloons
You can insert some cash into a Birthday, Graduation, or Holiday balloon as a creative way to give money.
You'll cherish these memories especially when you see the receiver who's getting scared and excited to pop the balloons open for the money inside.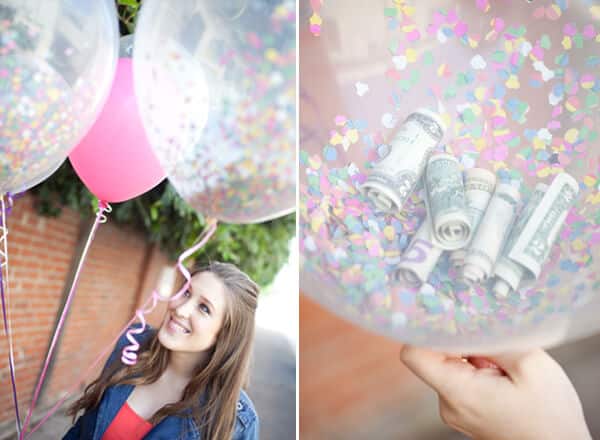 Source: Sugar and Charm
22. Emergency Cash
Everyone needs an emergency fund sometime in their life.
Why don't you start a small one for them by framing it in a photo frame like this?
What a funny way to give money – the receiver will love it and get a good laugh out of this!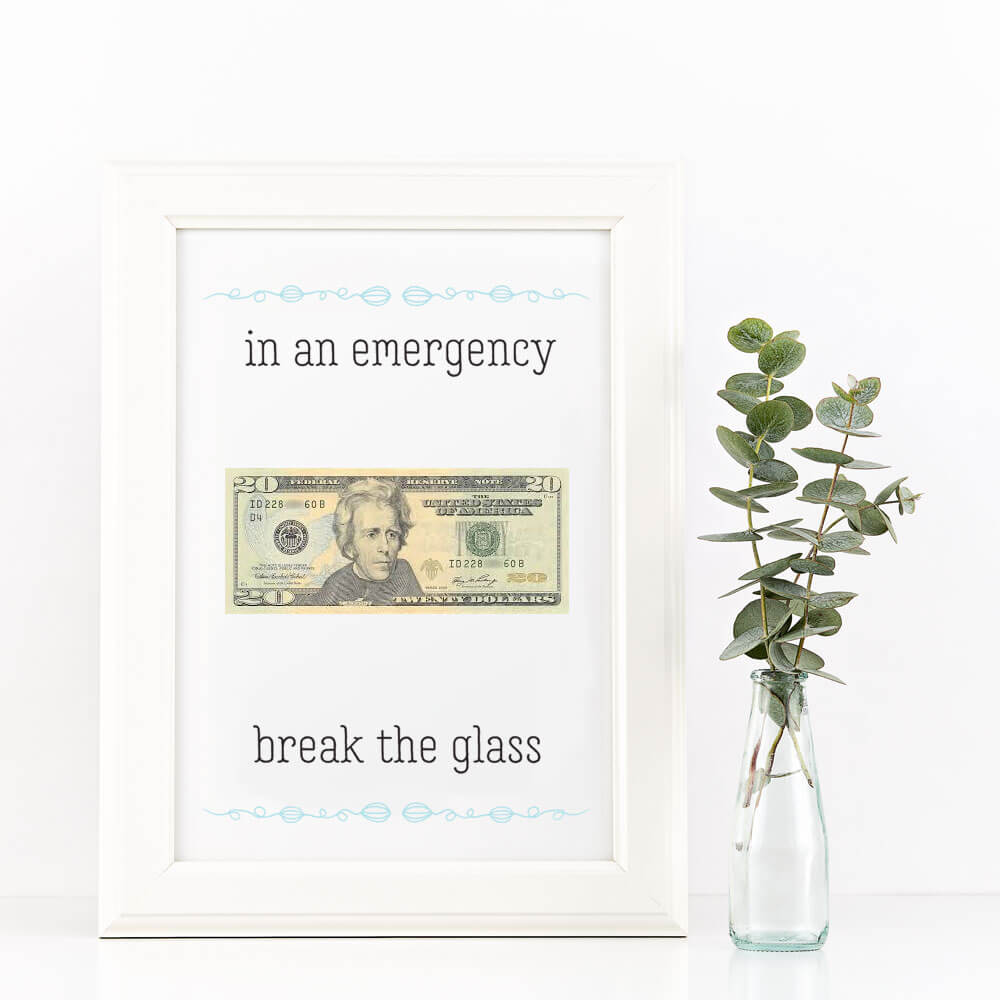 Source: Sendomatic
23. DIY Money Origami Graduation Caps
These cute graduation hats make a great gift for a new graduate or anyone who is graduating in the coming year.
Simply follow the tutorial on how to fold a graduation hat using dollar bills and make a DIY tassel on the side to attach them to the money bill.
Source: Sugar and Charm
24. Money Shirt Gift Idea
Instead of buying a shirt as a present (because you might not know the person's size and personal style), you can simply be unique and gift him a shirt made of real dollar bills. He can use the money to buy all the shirts he wants.
This would make a great Graduation, Birthday, or even Christmas present if you want to give money in a fun way. This is also a perfect gift for the guy who is celebrating his new job or career!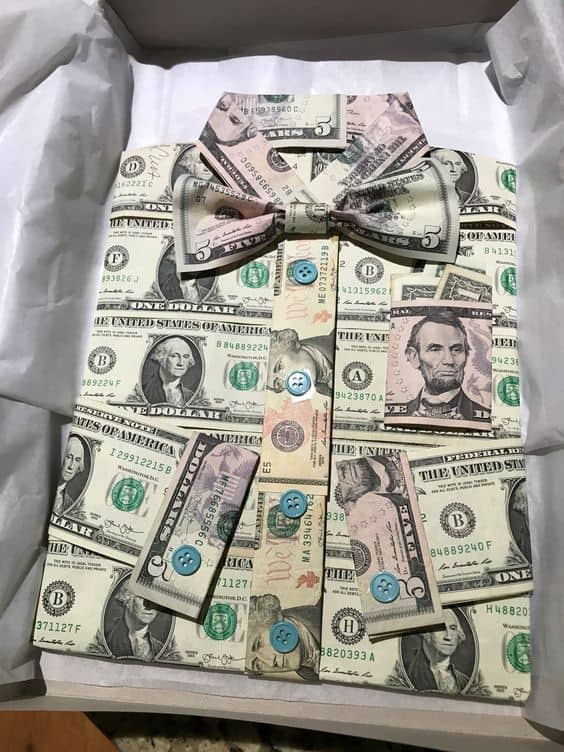 Source: Pinterest
25. Photo Album with Money
This would make a perfect gift for someone who likes to collect coins or dollar bills.
Simply insert all the famous faces of real dollar bills into a photo album or make it into a scrapbook gift if you want to go the extra mile!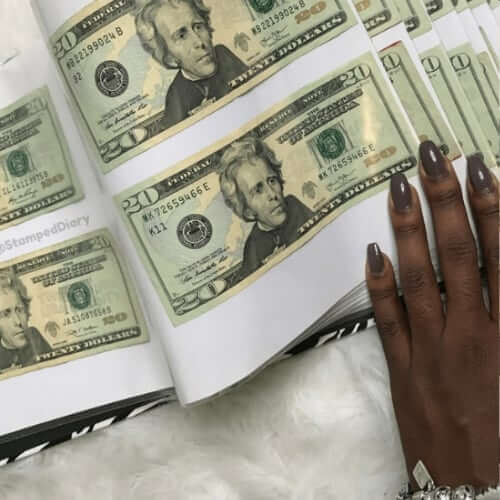 Source: Pinterest
26. DIY Money Tree Gift Idea
Creating a DIY Money Tree will make it look like you spent the time and effort to make something special for your friend or family member. You can also fill the pot with some different variations of coins.
Who wouldn't want to put one of these on their office desks or tables?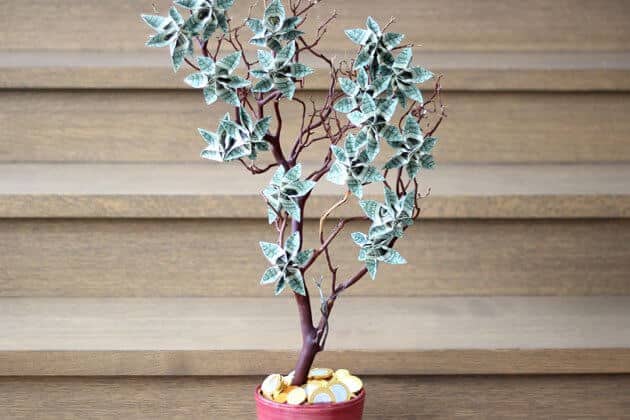 Source: eHow
27. Play-Doh Money Gift Idea
Everybody loves to spend money on fun things, so what better way to gift them money using a "Play-Doh" container?
They will treat the "dough" as "Play" money – allowing them to spend it on whatever they want without feeling guilty about it.
Everyone wants to receive some fun play "dough", right?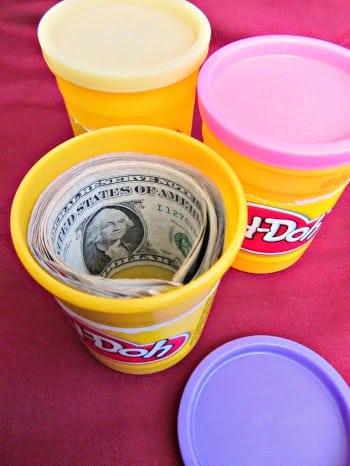 Source: Pinterest
28. Hidden Money Inside Jar Gift
A special and unique way to give money is to fill a glass jar with their favorite candies or chocolate and surprise them with cash inside the jar!
To make it more thoughtful and personal, you can add a note inside.
This is one of the most practical ways to give money and I guarantee everyone will love this money gift idea whether it's for a Birthday, Graduation, Wedding, or Christmas! The trick is to decorate the jar that corresponds to the event that you're celebrating with them.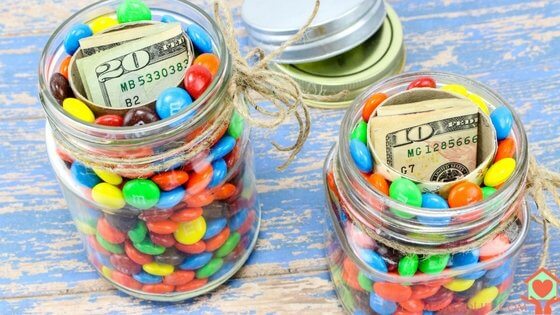 Source: My Home Based Life
29. Graduation Gift with Money in Jar
Another creative and practical way to gift money in a mason jar is to roll the money into diplomas and fill them into the glass with an enclosed graduation hat!
All new graduates can use some extra cash!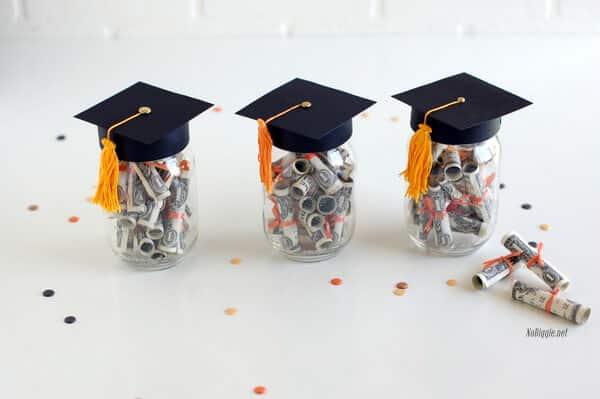 Source: No Biggie
Christmas Money or Cash Gift Ideas
All the above ideas on how to give cash as a gift are great for any special holiday including Christmas too! But I wanted to create a separate list here of the best money gift ideas here that are perfect for Christmas.
These are all Christmas-themed cash gifts and they are my personal favorites that I like to do whenever I am giving money as a gift during the holiday season. I hope you enjoy these too!
Speaking of ways to give money for Christmas, have you also considered these creative ways to make extra money for Christmas? I recommend checking out this post so you can earn and save $1,000 by Christmas!
30. Candy Bars Wrapped with Money
Grab the person's favorite candy or chocolate bars and wrap it with money with a ribbon over it to make the gift look thoughtful and presentable.
If he or she is into healthy eating, you can grab healthy energy bars or snacks as an alternative to candy bars.
You can even insert a gift card if you know the person's favorite go-to store.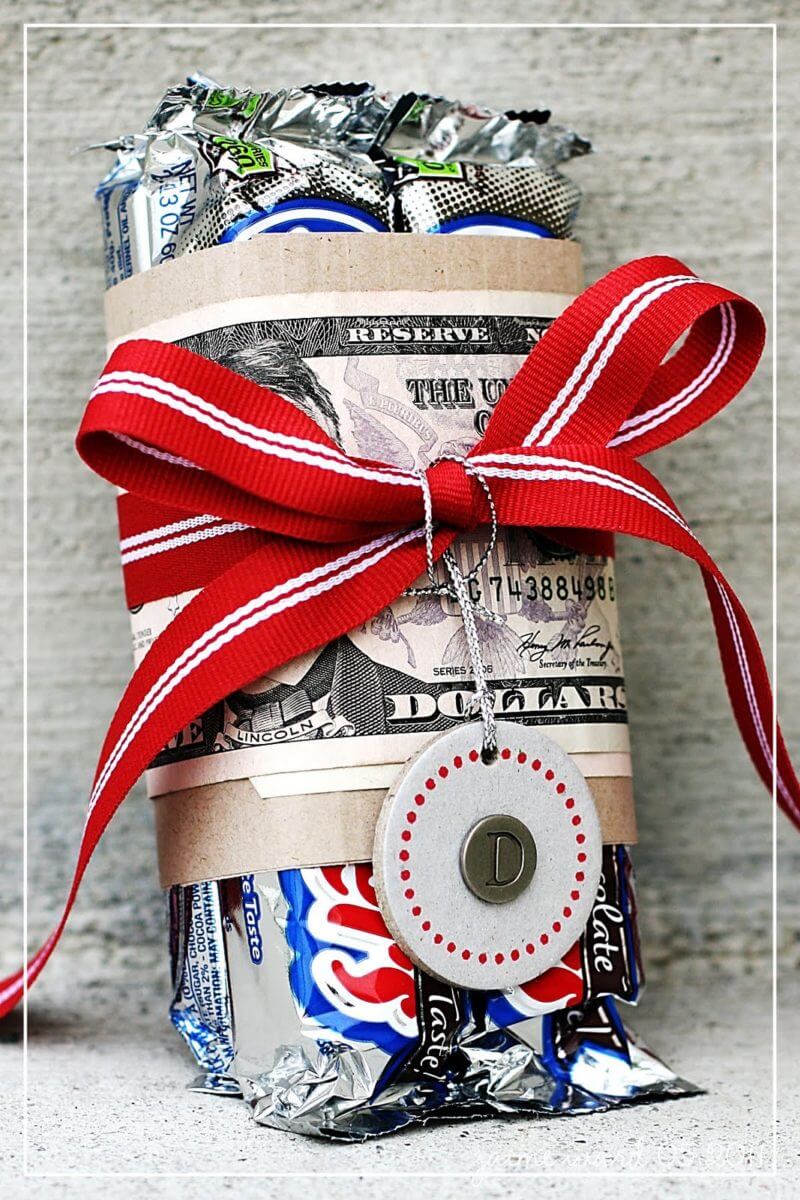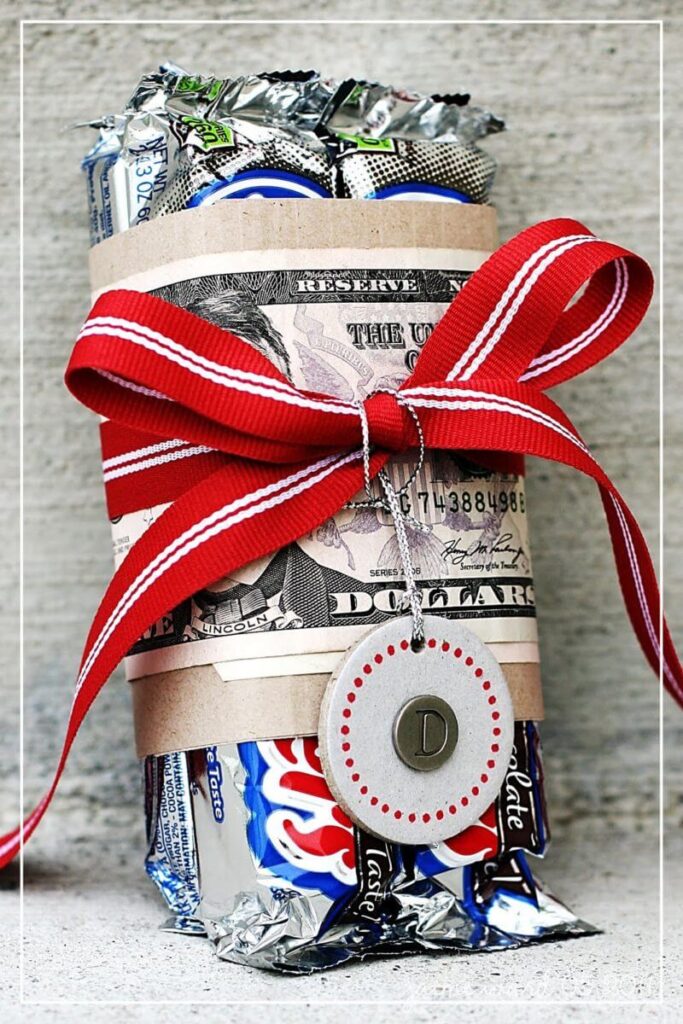 Source: Pinterest
31. Keeping it Simple
If you're looking for glass jars or mason gift ideas with money, then a simple way to give cash is to fill it up in a jar and attach a bow along with a personalized message.
This is one way to keep it nice and simple especially when you're running out of time and ideas!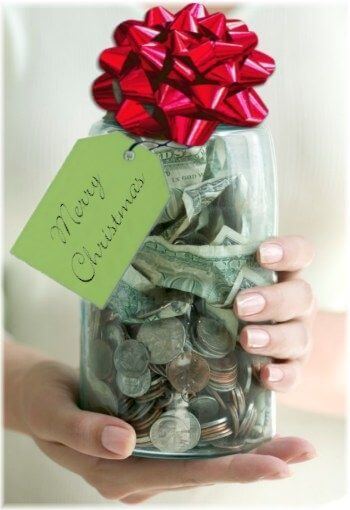 Source: Pinterest
32. DIY Christmas Envelopes
Another simple yet creative way to give money is to create DIY Christmas (or Graduation, Wedding, Birthday, etc.) envelopes and insert fresh bills into them.
As always, add a personalized note and sign it off to add that personal touch.
People always appreciate anything you've made or wrote by hand regardless if you give them cash or not.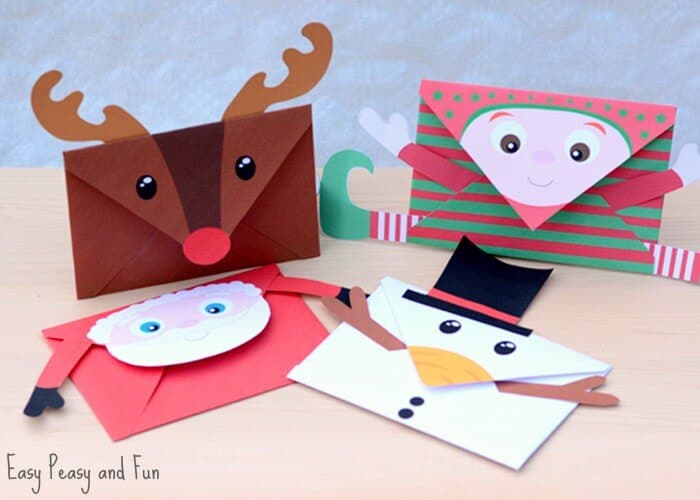 Source: Easy Peasy and Fun
33. DIY Money Bouquet
An alternative to receiving a bouquet of flowers for a Graduation or for Christmas is to gift them in the form of money.
The best part is the receiver will be able to put the money to good use. Or maybe they will keep it as is and leave it on their desk as a décor piece. At least they know that they can use the money when they really need it in case of an emergency. 😉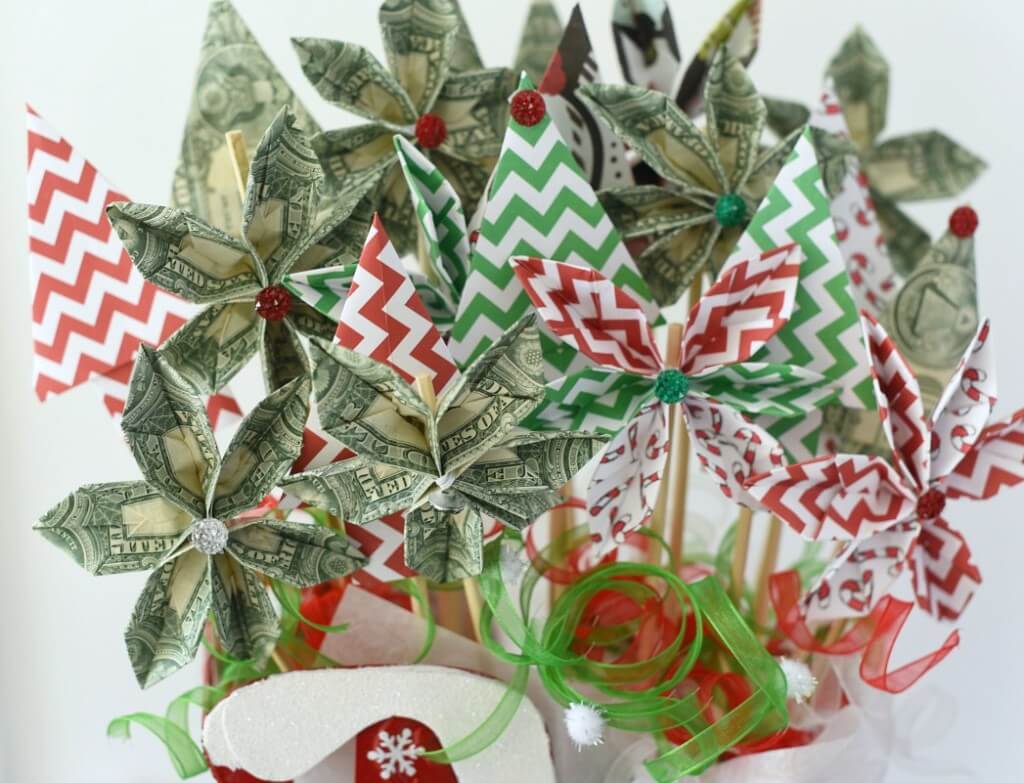 Source: Fun Squared
34. Creative Ways To Give Money with Origami Flowers
If you want to give flowers or faux flowers for a celebration, you can always slip in some money in the form of origami flowers.
This is still considered a very practical and thoughtful gift for any occasion.
Remember, people love to receive money as a present, so you can't go wrong with something creative and fun like this!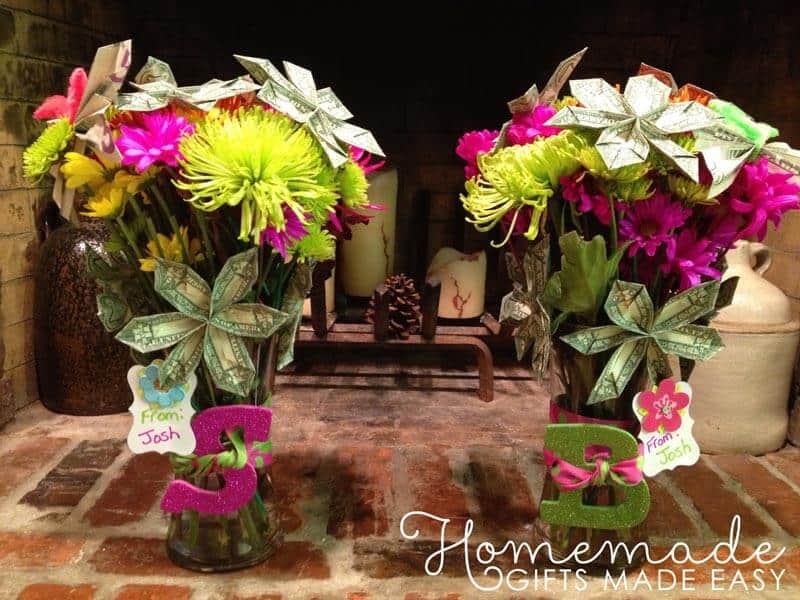 Source: Homemade Gifts
35. DIY Christmas Tree Cash Gift
A fun and creative way to give money this Christmas is to try these cute little Christmas tree crafts using real cash. You can be extra generous and fill up those trees with $20, $50, or $100 bills – the recipient will be jumping for joy this holiday and appreciate this gift.
36. Creative Cash Gift inside Christmas Ornament
Surprise your friends, family, and even coworkers with this ornament filled with bills and coins. You can purchase these ornaments from any dollar or craft store and fill them up with cash. I particularly love giving these for Christmas because they're fast to make while saving you so much time from shopping for the perfect present!
37. Beautiful Origami Money Tree Cash
If you enjoy origami as much as I do, then you'll love making these origami Christmas trees.
Every year, I search for tutorials like these so I can make them for Secret Santas or Kris Kringle. I will tell you from experience that this type of monetary gift never fails because, at the end of the day, most recipients want money even though they say they don't. The smile and glow on their faces when they receive these, especially in the domination of $50 and up, speak louder than words.
38. Surprise Cash Hidden Inside Christmas Chocolate Box
Surprise your friends with a box of chocolates mixed with coins and cash! The money in these boxes sure makes a sweeter gift than the chocolate themselves. They want to be packing on the wealth and not sugar or calories! 🙂
39. Cute Holiday Golden Deer Holding Money
This cute lil' deer with a "money bow" makes a great cash gift for Christmas. So adorable, anyone will appreciate it.
You could even pop a red pom-pom on his nose with a glue gun and call him Rudolph the red-nosed reindeer!
40. Christmas Tree Wreath with Cash Craft
Christmas Wreaths are a thing, so why not create one for the recipient with cash? Add a little red bow and a jingle bell to make it a magical Christmas gift that they'll never forget! Oh yeah, just make sure they don't end up putting this at the front door for people to steal.
FAQs About Creative Ways to Gift Money
Many of my readers have asked me about ways to give money, so I've decided to address those questions in this section.
1. How to decorate money as a gift?
Decorating money as a gift can elevate its presentation, making it feel personal and thoughtful.
One popular method is to use bill origami, turning currency notes into intricate designs like butterflies, flowers, or even clothing items.
Another approach is to create a money bouquet. Roll up the bills, tie them with ribbons, and arrange them like flowers in a vase or a decorative box.
For special occasions like birthdays or holidays, consider placing bills inside transparent balloons filled with confetti before inflating. This makes for an exciting gift reveal.
If you're gifting to a book lover, use money as a bookmark inside a new book.
These creative presentations add an element of surprise and show the recipient that you've put thought into their gift, beyond the monetary value.
2. What is a nice way to gift money?
Gifting money can sometimes feel impersonal, but there are thoughtful ways to present it that add a special touch.
One elegant method is to fold the bills into origami shapes, like hearts or flowers, and present them in a beautiful box or tied together with a ribbon. This not only offers a monetary gift but also a keepsake that showcases the effort and thought you put into it.
Another idea is to incorporate the money into a thematic gift – for instance, placing bills inside a travel guide for someone dreaming of a trip, or in a piggy bank for a young saver.
By adding a creative twist, you transform a simple cash gift into a memorable experience that shows you care.
3. What are funny ways to give money as a gift?
Being a funny money gift giver and adding humor to monetary gifts can make the experience memorable and enjoyable.
One comical method is the "money pizza". This is honestly one of my personal favorites! You can easily place folded bills in a pizza box in lieu of actual pizza slices.
Another idea is the "endless money tape". What you do is tape bills end-to-end and roll them up in an empty tissue box, letting the recipient pull out their "never-ending" gift.
For the more adventurous, create a money-filled scavenger hunt or bury bills in a small container labeled "buried treasure" in a sandbox.
Alternatively, freeze bills in a block of ice, making the recipient "break the bank" to get their gift. Funny and cute joke, right?
Oh, I love this witty fun when it comes to giving funny money gift ideas! The funny "inflation" gift involves giving a balloon with a note saying "Sorry about the inflation", and a coin or small bill inside.
You can see that these playful presentations not only gift money but also the joy of laughter and a lasting memory, which is worth more than the money gift itself!
Giving Money as a Gift
One of the most practical and easiest ways to gift something is usually in the form of cash or gift cards. By the way, you can learn how to look for free gift cards online here.
This ensures that people can use it and buy whatever they want. They will actually put to good use!
Instead of buying things that people don't want or wasting it on products that end up collecting dust or in the garbage, consider these fun and creative ways to give money when you're running out of ideas.
You can't go wrong with these practical cash or money gift ideas!
The beauty is they also work for literally any special occasion and you can gift money whenever and in whatever form you want.
Just don't pull out a plain white envelope and stuff it with cash since that will make you look lazy and unthoughtful. 😉
Enjoyed this post? Don't forget to pin it! Also, don't forget to follow me on Pinterest over here! 🙂