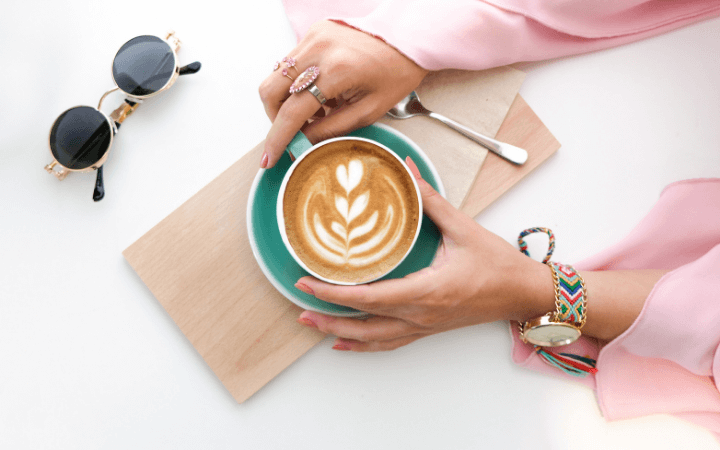 This post may contain affiliate links. Please read our disclosure policy for more information.
Whether gift giving is for celebrating a birthday, graduation, job promotion, or special holiday, Starbucks gifts tend to make it to the top list of the best practical gifts – and for good reasons.
If you're shopping for a Starbucks coffee lover, the first point to remember is that the season or special day is never complete without new festive drinks and merchandise from Starbucks.
From the moment the holidays come into view, the proverbial coffee company from Seattle has its dedicated customers from the world rushing out to the mall for its latest trendy specials and offerings.
The good news is that shopping for the Starbucks mega fan is easy, and it doesn't have to break the bank either. After all, we are a personal finance blog dedicated to help you budget, save money, and make some extra cash wherever it's possible!
It's also why we have a post on the best Starbucks hacks on how to get free coffee and drinks for all the Starbucks fans out there looking for ways to save some moola.
Best Starbucks Gifts for Starbucks Lovers
Hunting down the perfect gifts for people who love Starbucks has never been made easier!
At the price range of $20 to $40, these 10 cool Starbucks coffee gift ideas are readily accessed online via Amazon, Etsy, and the Starbucks virtual storefront. All items make for excellent stocking stuffers, Hanukkah presents, or the intraoffice Secret Santa exchange gift.
Another way to make your Starbucks gift unique and memorable is to sneak some surprise cash, or even a Starbucks gift card, along with your gift. Many people have asked us for some of these creative ways to give cash as a gift to recipients in a special way, and that's what we highly recommend!
If you're ready to get into the holiday spirit, then there's no better way to start than with a Starbucks-themed gift with some holiday cash tucked in. What's even better, these Starbucks gifts don't stop giving once the festive season comes to a close. Your Starbucks-obsessed friends will enjoy these gifts year-round, on any occasion, especially during their routine trips to the globally-renowned coffee shop.
Even if you're not shopping for the habitual Starbucks drinker, the following budget-friendly list of 10 holiday gift ideas, from cozy sweatshirts to personalized phone cases, is guaranteed to impress any coffee lover in your close inner-circle.
Speaking about coffee lovers, we thought you might want to check out our other list on the best coffee gifts for coffee lovers under $20.
Without further ado, we present you with the 10 best Starbucks gifts for the year!
Be sure to pin this Starbucks Gift Guide on Pinterest!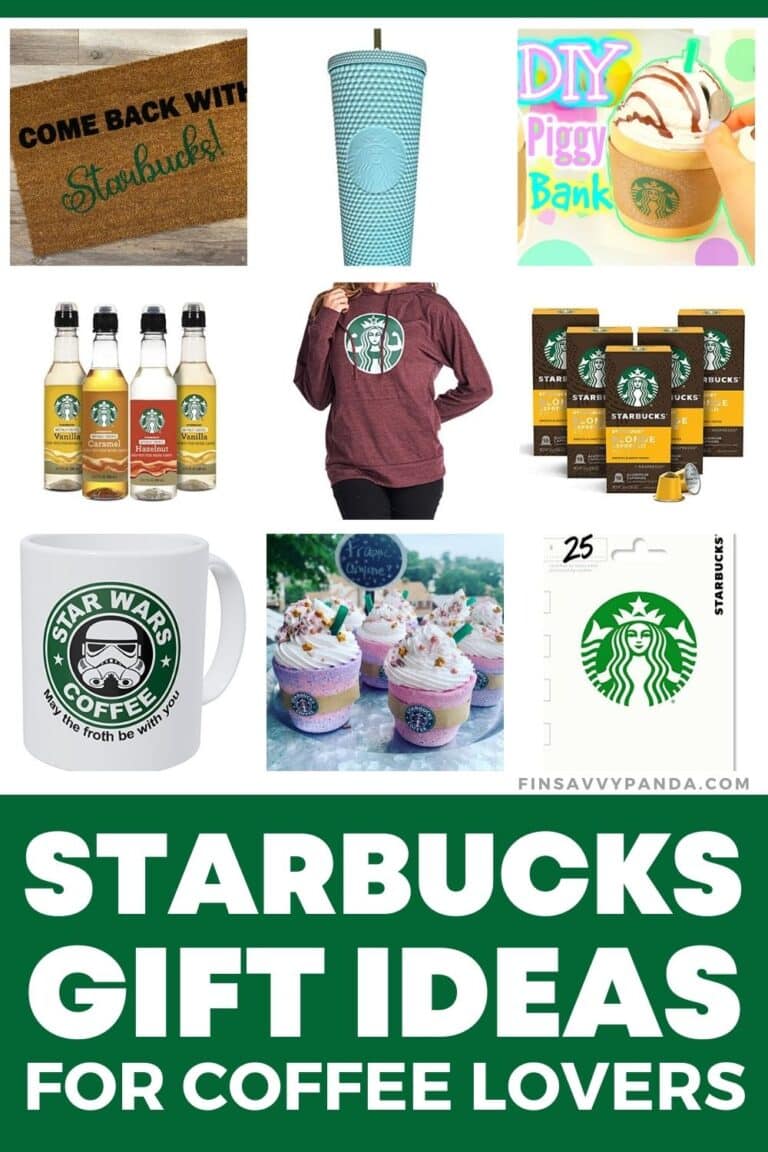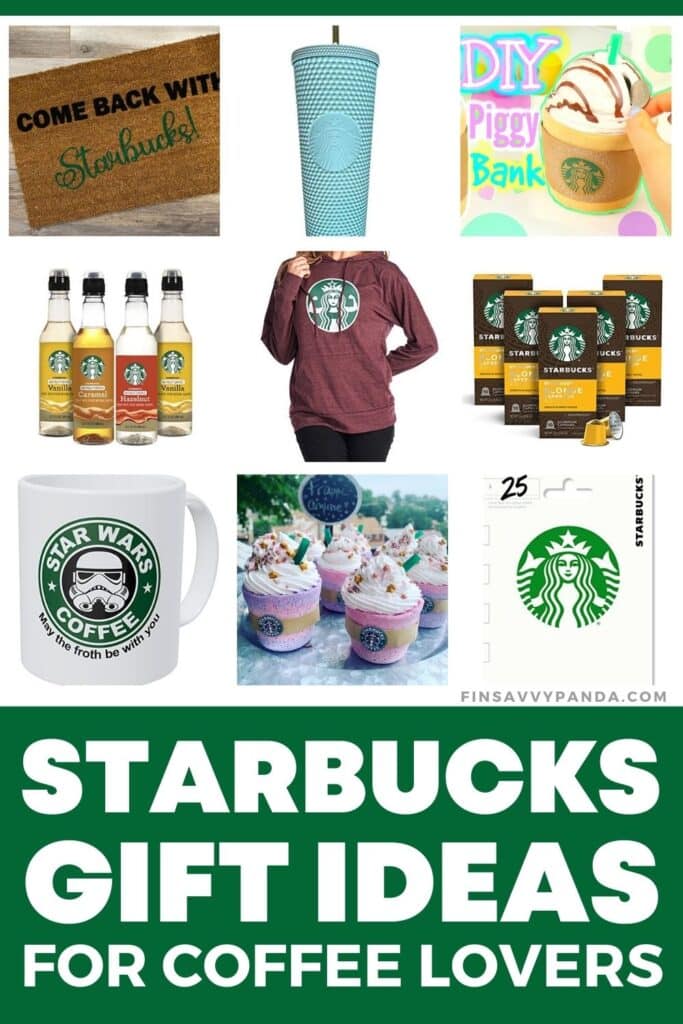 1. Starbucks Gift Card
The classic Starbucks gift card is always first on the list because it never fails!
When you're running out of time, you can always quickly purchase a simple Starbucks gift card from Amazon here.
To make it more thoughtful, you can always pair that Starbucks gift card with any simple coffee mug or tumbler for the recipient to enjoy their coffee every day. Not only is the person you're gifting this gift to is a Starbucks lover, but maybe they're a cat lover, dog lover or even panda lover. You can shop around for almost any tumbler gift from Amazon including these ones here:
2. Starbucks Holiday Season Red Confetti Ceramic Coffee Mug
Your collection of coffee mugs tell a story – the places you've been, the colors you like, and the holidays you've enjoyed. This super-cozy Christmas red mug can be purchased on Amazon. All coffee buffs will appreciate this cup because its Starbucks branding is low-key, imprinted on the inside of the mug rather than the outside to reflect a clean and timeless classic design.
While the material consists of high-quality ceramic, the mug's white-bespeckled exterior is reminiscent of rustic tin camping mugs of yore. The mug is an attractive ceramic, but that doesn't mean it's any less utilitarian. At 16 ounces, the mug can also be used as a bowl for warm servings of holiday soup or a smooth portion of your favorite after-dinner coffee-bean ice cream.
At an affordable price point, while falling on the higher end of our list, it's ensured to serve your Starbucks merchandise fan as a classic collector piece for many holiday seasons to come. This mug is an excellent gift choice for the discerning coffee drinker who enjoys brewing French press and premium drip beverages at home.
3. Starbucks by Nespresso, Blonde Roast Espresso
What better gift for a Starbucks coffee lover than Starbucks espresso coffee?
This ten-count, pack of Blonde Roast Espresso is compatible with the Nespresso Original Line system. If your recipient already has this brewing system or, alternatively, if you've just presented one as a gift, this is the ideal Starbucks item!
The product was developed to interface perfectly with the Essenza Mini, Pixie, CitiZ, Lattissima, KitchenAid, and Creatista Nespresso Machines.
As to the roast itself, Starbucks Blonde is one of the company's lightest roasts. Its low acidity, softly balanced and mellow flavor at the pallet makes it one of Starbuck's more approachable espresso blends. And you know full well, the espresso bean is strong. Starbucks gives it a six out of 10, making it essential for the coffee connoisseur who loves expresso, but doesn't prefer an overly bold roast.
Each espresso capsule brews anywhere between 0.85 and 1.35 ounces of savory beverage. You simply install the Nespresso capsule to the machine and select, depending on your preference, the expresso or ristretto brew size.
The Blonde Roast Espresso is another fantastic gift idea for the coffee aficionado who prefers to enjoy this medium-intensity, classic espresso drinks from Starbucks at work or at home.
4. Starbucks Unicorn Frappuccino Bath Bomb Gift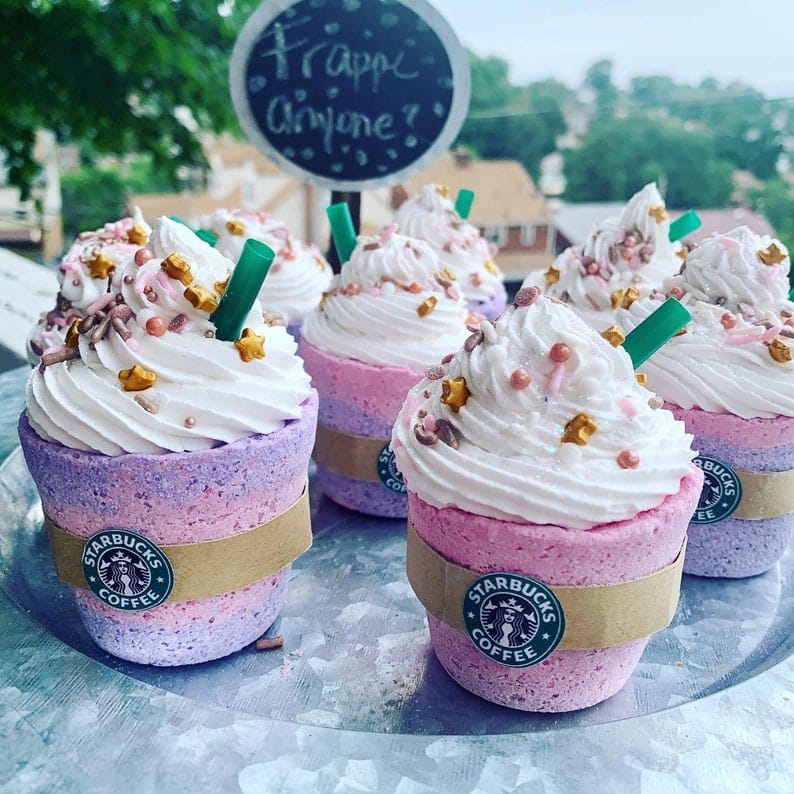 When it comes to Starbucks obsession, there's no way a true Starbucks fan isn't a Frappuccino lover either!
I mean, who doesn't love indulging in those tasty Starbucks Frappes all year round especially when they came out with their limited Unicorn Frappuccino in 2017?
Well, you can bring them back today by gifting one of these beautiful Starbucks Unicorn bath bombs for that person in your life who loves Starbucks and unicorns!
Whether you're looking for a birthday, bridal shower, graduation, or holiday gift, these cute little bath bombs, in Lavender scent, will help the Starbucks obsessed fanatic relax at home in their bubble bath. Available on Etsy, these bath bombs come in 2 sizes — the mini frappe (3oz.) and the Venti (9oz.).
If you aren't familiar with the craze and hype over bath bombs, then you'll want to consider gifting these cash money bath bombs too — they'll actually surprise the recipient with real cash inside each bath bomb!
5. Starbucks Hot Cup Ornament
After finding this decorative gift draping from the evergreen, the charming red cup ornament will leave your Starbucks fan in the festive spirit.
These limited-edition holiday mugs are available at the low cost of $7.95 at authorized Starbucks stores and their online marketplace. But they tend to move quickly. Should Starbucks be out of stock, it's still possible to encounter one through storefronts like Mercari in new condition. Keep in mind that new, limited-edition Starbucks items found at second-hand resellers sites like Mercari are often marked-up considerably during the holidays.
Despite all, even on these sites, this unique holiday gift is not likely to cost more than $20, and it's well worth it if you're shopping for a dear one who's really into the Starbucks brand.
Just imagine awakening to your morning gift exchange session to enjoy a freshly brewed cup of coffee or a warm cup of eggnog from this eye-catching ornament dangling from your tree.
This is the kind of holiday gift that shows you put a lot of special thought into your gift recipient. If, for example, you just met a friend or a new business associate at your local Starbucks, this Red Hot Cup Ornament is a fabulous way to impress a new friend or associate while commemorating that first holiday experience the two of you shared.
6. May the Froth Be with You Coffee Mug
This 11-ounce ceramic Starbucks-themed coffee mug is assured to bring endless joy to your favorite Starbucks lover who's also an avid fan of the Star Wars franchise.
The funny printing on both sides reads, "Stars Wars Coffee" may the froth be with you. Because there's a bit of brand blending here, you're not likely to encounter this custom mug on either the Starbucks or Star Wars official websites.
That aside, the mug is an inspiring gift idea for the Starbucks and Star Wars merchandise collector, to be sure. It can be found on Amazon at an affordable price, with free returns, presuming you're subscribed to Amazon Prime's shipping service.
This quirky novelty mug is guaranteed to arrive at your door, in just two days, inside of a durable box for safe and sound delivery.
The modern and attractive coffee cup, comprised of 100% high-quality white ceramic, is completely safe for microwave and dishwasher use. If you've found yourself in a place where you're shopping for a birthday girl, Secret Santa exchange, or someone you just recently met, this humorous "May the Froth Be With You" coffee mug makes for a great conversation starter piece at the office.
7. Starbucks Double Chocolate and Peppermint Hot Cocoa Mix Gift Box
You might be surprised, while few and far between, not all Starbucks lovers are coffee lovers too.
Should you find yourself shopping for one of these unique gift recipients, the Starbucks Double Chocolate and Peppermint Hot Cocoa Mix Gift Box is the complete option. The six-pack of hot cocoa can be purchased from Amazon, with shipping included, courtesy of Starbucks and its official store on the site. You do not need to have an Amazon Prime subscription to enjoy complimentary shipping.
What's neat about this gift is that while the hot cocoa mix is stored inside, the cups can be used as Christmas tree ornaments as well.
The cups aren't reusable, and most shoppers buy them for their ornamental value and to enhance the holiday gift exchange experience. Even the kids can enjoy a smooth and delicious hot cup of rich cocoa from Starbucks.
Perhaps even more importantly, Starbucks has committed to ethically sourced cocoa. The company ensures that all its coca is grown, harvested, and traded in an ethically conscious and transparent way, all the way through the supply chain.
Even better, the hot drink is super easy to prepare. You simply pull the ornament cup from the tree, mix eight ounces of hot milk with the luscious chocolate-rich mix, and enjoy.
8. Starbucks Logo Sweatshirt
Cozy up this holiday season with this classic sweatshirt from Amazon – there are a wide range of colors to choose from that will be the perfect match for any Starbucks lover.
If you have a hard studying law student in the family, and you know that she is constantly at Starbucks pouring over the books (and coffee), this is a great way to acknowledge all the hard effort.
This simple evergreen on gray cotton sweatshirt, indeed, gives way to a retro collegian feel. At the same time, a gift like this maintains the warm and relaxing vibes of the holiday season.
Verified purchasers report it runs slightly oversized. But the consensus is that this simple, yet beautiful, custom-made sweatshirt sporting the Starbucks logo is super comfy.
9. Starbucks Florida Sunshine Stainless Steel Tumbler
For those of you spending the holidays in the Sunshine State this year, we recommend this pastel and steel tumbler from Starbucks to help etch your vacation experience in time. It will hold 16 ounces of your favorite drink, supports an easy spill-proof snap-on lid, and it's made of heavy gauge BPA-free plastic and attractive stainless steel.
The tumbler is budget-friendly to include complimentary shipping courtesy of Starbucks ' official Amazon storefront. If you're out of town, and in a pinch, don't forget you can always arrange for local shipping to a convenient Amazon drop box to ensure this amazing Florida-themed Starbucks gift arrives at just the right time.
10. Starbucks Bubble Mint Cold Cup
The season isn't cold everywhere, so if you're shopping for the morning cold brew enthusiast in the tropics, your recipient won't be disappointed with this minty green portable cup for cold beverages.
It's available for $18.95 at exclusively licensed Starbucks retailers in the US and Canada, only. A gift in the form of a limited-edition item such as this Bubble Mint Cold Cup can make all the difference for the serious collector of Starbucks merch.
You can find these 24-ounce cops only or on the Starbucks website or within grocers, airports, hospitals, and all other retail authorized to distribute proprietary Starbucks materials.
The cup's iridescent green does a fine job keeping with the theme of holiday spirit. The environmentally conscious Starbucks drinker will be delighted to know the well-insulated cup and its integrated plastic straw are entirely reusable.
As the holiday shopping season progresses, you might find these cups are in limited supply at official Starbucks retailers. Should that be the case, and you are sure your Starbucks merchandise collector down south will love it, then you might try sites like eBay. You usually find them there – albeit it is often for a rather steep up-charge.
11. DIY Starbucks Piggy Bank with Gift Card
That person in you life who goes gung-ho and dreams about Starbucks all day long could be excessively spending money on their favorite Frappuccinos and Lattes!
If that is the case, then consider gifting a DIY Starbucks piggy bank for them. That way, you'll help them save money for their Starbucks fund in a fun and meaningful way. It's made with a real Starbucks plastic cup and you can watch this tutorial by Karina Garcia (I also clipped the video below for your convenience) to see how to make one. Your Starbucks-obsessed friend will sure love the idea of a coin bank especially when you pair it with a Starbucks gift card. Simply hide the gift card, or fill it with some cash, inside the piggy bank and you'll have yourself a handmade gift that's unique and thoughtful.
If DIY isn't your thing, you can consider picking up one of these cool and unique piggy banks for adults and hide your Starbucks gift card inside for the recipient. There's also piggy banks that are coffee-themed to satisfy any Starbucks lover!
12. Starbucks Doormat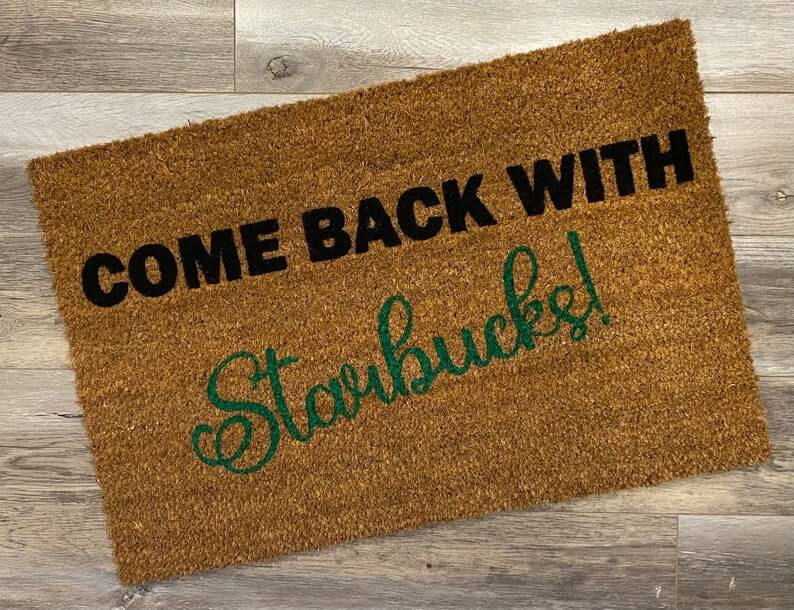 While this "Come Back With Starbucks" Doormat might be enabling your family member's Starbucks obsession to an unhealthy level, it's still one of our favorites on this list. When you know, you know. But, of course, there are times when you want to let everyone else know.
This customized mat was fabricated through an eco-friendly nylon process that uses adhesive and nylon fibers for both a classic and lasting doormat design. It's 100% fade resistant so the color will hold up longer than the doormat itself. Available in two sizes, 16″ x 24" and 24″ x 35", your Starbucks coffee latte lover will adore this highly original and well-considered gift.
13. Starbucks Lover Gift Personalized Case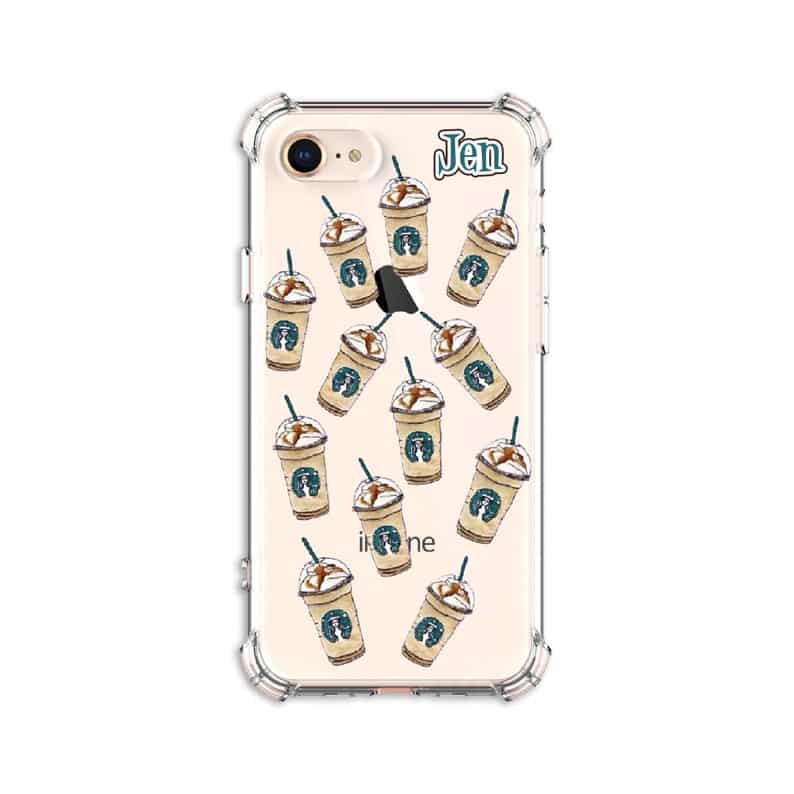 If you know your gift recipient is a Starbucks superfan and isn't afraid to express their love for Starbucks to the world, then this personalized phone case from Etsy is the go-to item for any gift giving occasion. This is the cutest gift ever and will make any Starbucks lover's phone the talk of the party.
For starters, this adorable phone is customizable. You can add your recipients' names to the case, making it a one-of-a-kind collector's piece, as each case is made to order. The case works with most modern iPhones such as the iPhone, 7, 7 Plus, 12, 13, and SE along with several Android models like Galaxy S8, S8 Plus, Note 8, and Note 9.
Not only is the case a great homage to Starbucks, but it also offers premium phone protection.
The clear bumper case forms a shock-absorbing frame, safeguarding the phone against impacts from and damaging drops and scrapes that cause abrasion. The raised bezel allows the user to lift the camera off the flat surface for use. The case's advanced shockproof technology is attributable to its high-quality materials. When it comes time to exchange the phone for the newest model, this awesome personalized Starbucks case ensures that the device always stays in optimal condition.
Wrap Up on Starbucks Gift Ideas
Whichever Starbucks gift or gift set you choose from this list, we guarantee that the Starbucks coffee lover you're thinking about will find these ideas useful!
And whether you're looking for a birthday, graduation, anniversary, or holiday gift that won't break the bank, we have a list of the best and most practical budget-friendly gift ideas here for you!
I hope this article helps you pick out the best Starbucks gifts for that special someone!
We are a personal finance blog helping you to find the most optimal ways to budget, save money, and make extra money. For more personal finance and money tips, be sure to follow Finsavvy Panda here on Pinterest!