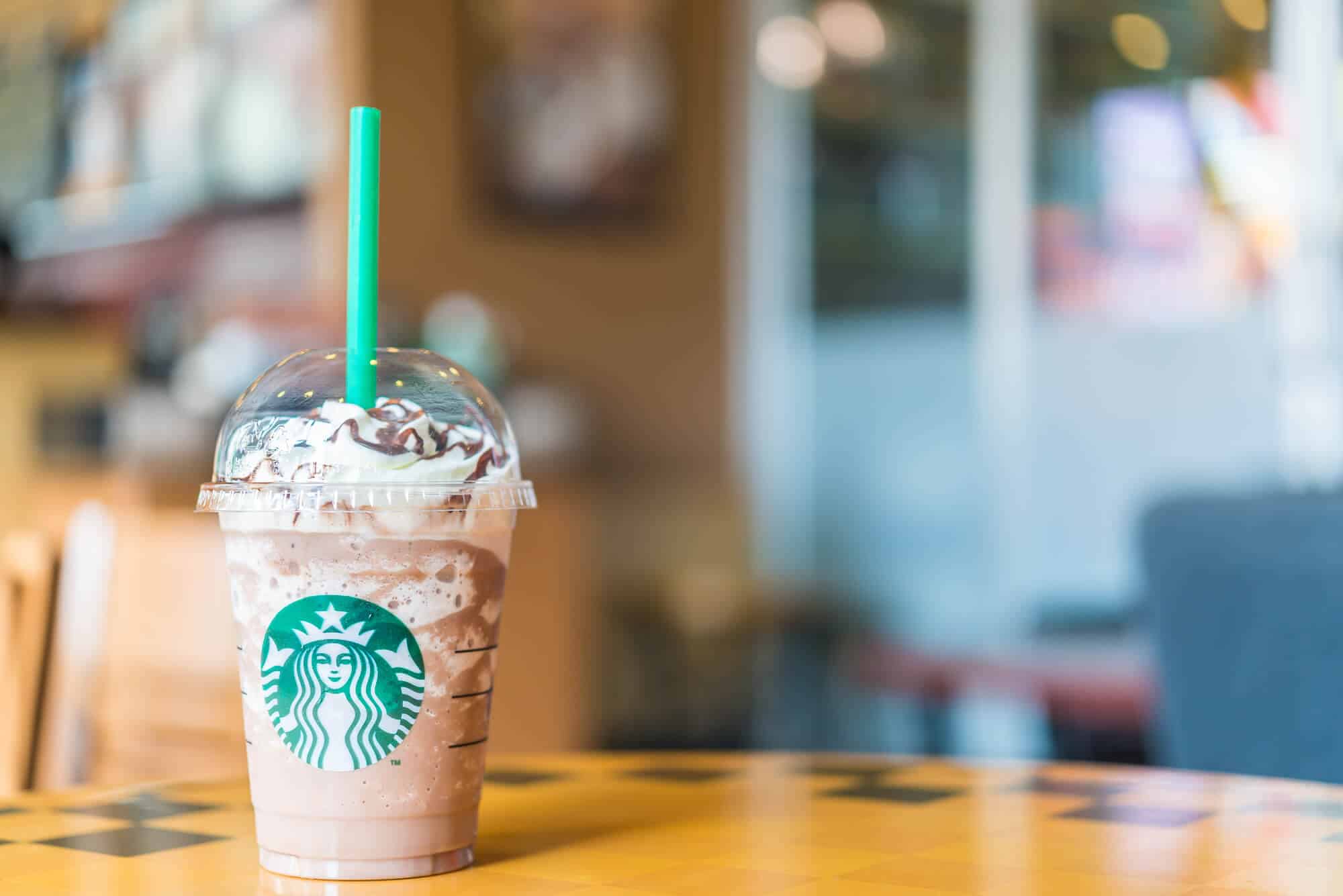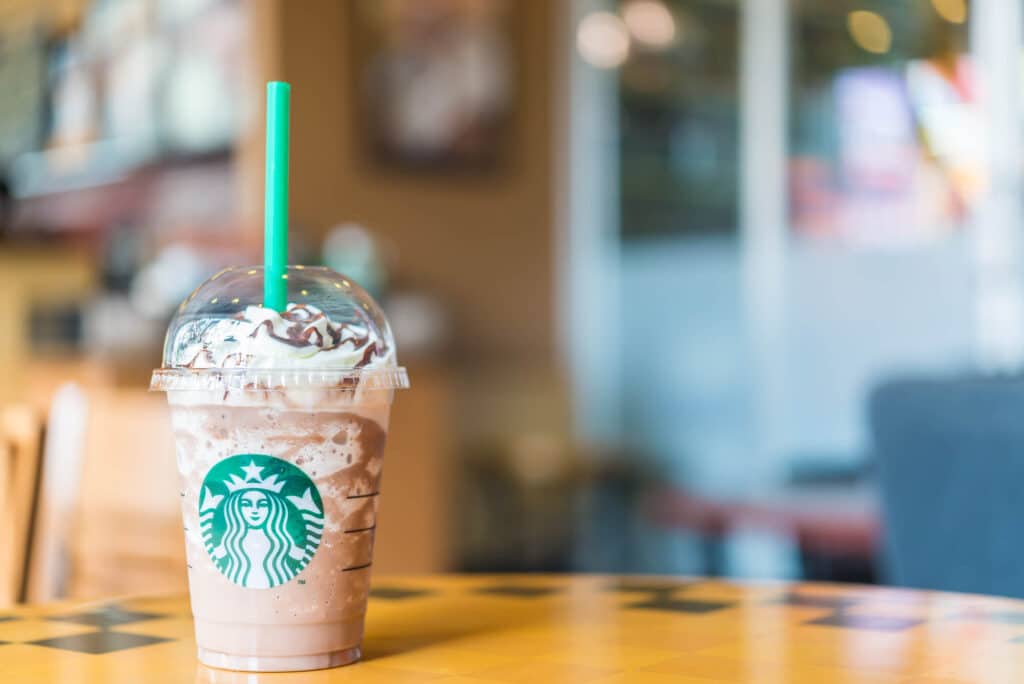 We will receive a commission if you make a purchase through our affiliate link at no extra cost to you. Please read our disclosure policy for more information.
Nowadays, Starbucks is everywhere. Every shopping mall, leisure space, and crowded street has multiple coffee branches enticing coffeeholics to get their cup of joe.
The popularity and success of Starbucks is indeed unbeatable. Currently, Starbucks has over 35,000 stores worldwide and is expected to reach 45,000 branches globally.
Hence, I would love to ask: Who doesn't go to Starbucks these days? Okay, I know many people don't, but I don't think their population is greater than those who do.
I don't know if it's just me, but holding my Frappuccino from Starbucks gives me a boost of motivation and makes me feel organized. It's a simple pleasure that lifts my mood.
However, I realized (so long ago!!) that Starbucks can be expensive, and the money spent here can really add up, especially if you're a frequent visitor with gold status.
Spending around $3 on a grande pike every day adds up to roughly $1,095 over a year. And for those of us who love Starbucks, who hasn't felt a bit like Sherlock Holmes, searching for those free Starbucks deals or happy hour offers? It's something many of us can relate to, myself included.
I mean, nothing beats the feeling of knowing you could get Starbucks discounts, gift cards, or freebies from your favorite coffee chain, right?
Well, I did the hunt to help my fellow Starbucks lovers like you get the caffeine they need without compromising their budget and, of course, your Starbucks addiction. *wink*
PIN THIS: I'll be updating this post so make sure to pin this image here and save it to your Pinterest board. That way you'll be able to come back to this page and learn the best ways to get Starbucks deals.
1. Join the Starbucks Rewards Program
For many people, Starbucks not only awakens the brain but also entices all of our senses. And of the best things ever introduced by this coffee chain is their Starbucks Rewards program.
I can't help but feel that any Starbucks lover who hasn't signed up for their loyalty program is missing out on their life. Or should I say, are you really a Starbucks fan if you're not part of the Starbucks Rewards community?
Starbucks Rewards program is popular among customers for the benefits and opportunities it provides.
Know a friend who enjoyed a free Starbucks birthday drink on the house? Bet she's part of the Starbucks Rewards crew!
By joining in, you'll start racking up points for every cup you buy. Before you know it, you'll be cashing them in for things like fresh coffee beans, quick bites, fancy tumblers, or even that drink you just can't resist.
Wondering what else is up for grabs with those Starbucks Stars you collect?
25 Stars – free drink customization
100 Stars – baked goodies, brewed, hot tea, iced coffee, and packaged snack
200 Stars – handcrafted drink (cold brew, latte, and more), or hot breakfast
300 Stars – sandwich, at-home coffee, or protein box
400 Stars – Starbucks merchandise (worth up to $20)
The best way to earn Stars and redeem rewards is through the Starbucks mobile app. Creating an account doesn't cost anything and is quick and easy – provide your name, birthday, email address, and password.
Pros: Starbucks rewards members with a free drink on their birthday. This is probably one of the reasons why customers wanted to be part of the Starbucks rewards community. Starbucks will email you two days from your special day to remind you of your free drink. Who doesn't want to be reminded and be given a present on your birthday?
Cons: You can get addicted to earning stars or trying to be Gold members. Starbucks offers challenges in exchange for Stars, which requires you to purchase any of their offerings. This encourages you to spend more money than save.
2. Limited-Time Seasonal Promotions
Got summer blues? Or do you miss summer seasonal drinks like the Chocolate Java Mint Frappuccino?
Well, head on to the Starbucks store near you as Buy One Get One (BOGO) deals, also known as ThursYays deals, are back to help you ease the coming of fall.
Starbucks addicts, you know the drill – buy one handcrafted fall beverage and get one of equal or lesser value ($10 max value) for free!
You may not get your summer favorite drinks, but you can enjoy their fall offerings such as Pumpkin Spice Latte, Pumpkin Cream Cold Brew, Chai Tea Latte, Caramel Apple Spice, and much more!
I went to Starbucks the other day (Thursday) at Starbucks to work on the blog and ordered a small pumpkin spice latte (just kidding, I ordered tall). The best part? They gave me another drink of the same size free of charge.
I didn't realize it was Thursday, so I wish I had a friend with me. However, getting two drinks during my visit also means spending more time for myself at Starbucks and being productive.
Thursdays are indeed better than Fridays this September. From September 7 to 28, customers can score complimentary handcrafted fall beverages if they buy one after 12 p.m.
To score a freebie, get one from any of their seasonal drinks. You can also order through the Starbucks app or advise the barista to apply the promo upon checkout.
Pros: This Starbucks buy-one-get-one promo is perfect for sharing a drink with your loved ones to celebrate the season. Pay for one drink, and you'll get another one for free without ripping your wallet.
Cons: The ThursYays deal is only available to participating Starbucks locations in the United States. The promo is likewise unavailable on food delivery apps like Starbucks, DoorDash, and Uber Eats.
3. Happy Hour Promotions
If you really want to save money, the best time to visit Starbucks for a caffeine fix is during happy hour.
I can't count the number of times I went to Starbucks, but one thing is for sure – happy hour is the most magical day to get free and discounted drinks.
Not to mention that it usually happens in the afternoon – the time when I typically struggle with midday malaise.
This offer allows you to receive a free drink at Starbucks. It is the perfect day to bond with "budgetarian" friends who love Starbucks without feeling guilty that they are splurging over a venti-sized coffee.
As of writing, the happy hour runs on certain Thursdays from 2 p.m. to 7 p.m. The time is intentionally set in the afternoon to avoid the afternoon slump, where people are usually tired and less driven.
To participate, make sure you install the mobile app on your smartphone. The deal was formerly available to reward members, but fortunately, Starbucks has changed the rules.
You don't need to be a rewards member, but I still advise that you be part of the community to enjoy daily perks like free coffee and tea refills.
The app will notify you of when the happy hour is and automatically add the Starbucks coupons to your account.
Here are some Happy Hour Offers you can enjoy at Starbucks:
BOGO Free Frapuccino (Venti or Grande) on selected items
BOGO-free Handcrafted Espresso (Venti or Grande) on selected items
50% Handcrafted Espresso drink (Venti or Grande) on selected items
$3 Handcrafted Espresso drink (Venti or Grande) on selected items
Discounted Iced Teas (Venti, Grande, Tall)
Pros: Starbucks happy hour deals can save you on drinks. It gives discounts and free items on qualifying drinks. The qualifying drinks are mostly the items customers opt for.
Cons: Not everyone can participate in Happy Hour deals. If you want to kickstart the day with a morning coffee, unfortunately, this deal is unavailable around this time. Happy hour offers are also location-specific, and the Starbucks near you may not be one of the participating outlets. Check the store locator icon in the app to know if the store you're visiting offers the deal.
4. Free Starbucks Gift Card Deals
Who does not love gift cards? The euphoria of earning a Starbucks gift card without spending a single penny is unmatched.
Earning gift cards is like being handed a guilt-free ticket to spend on something you would not dare purchase. It could be used to buy new shoes, clothes, books, etc.
But what if you can get free Starbucks gift cards without any hassles and money coming from you? Well, Starbucks fan or not, anything you can buy for free is fair game when it comes to the ever-glorious prepaid plastics.
Many websites offer free Starbucks gift cards, but not all are legit or worth your time.
However, if you join the right websites, you can get a handful of cards. The legit sites, though, are always free to join.
Some of the best sites for getting free Starbucks gift cards are Swagbucks, Branded Surveys, Survey Junkie, Rakuten, MyPoints, etc.
To become a member of these sites, you must create a profile, and do specific tasks in exchange for cash and points, which are redeemable for Starbucks gift cards.
Some tasks include answering surveys, watching videos, playing video games, shopping online for cashback, etc.
If you have extra money though, you don't need to do these micro tasks to earn free gift cards. You can buy them yourself at Starbucks or Raise for a discounted price. You can still save money this way.
Pros: Starbucks gift cards are the perfect gift for friends who frequently drink Starbucks. Not only are they affordable, but they also show you're attentive to what they enjoy.
Cons: Getting gift cards from reliable sites takes time and effort. If you are not patient and hardworking enough, earning one will take even longer.
5. Use the Starbucks App
You're running late. You need a coffee in the morning. You walk into Starbucks and can't wait to get a hand on your cup.
But then, you realize you left your wallet at home. Bummer. However, what if I tell you can avoid all these problems? What if you could walk into Starbucks, order your favorite beverage, and pay for it through your phone?
That's the perk of having a Starbucks app. You can place orders ahead of time, pay for your drink (yes, there's no need to queue the line!), and earn rewards. And the best part is that *drum rolls* you can use in any Starbucks worldwide.
So, if you're a regular Starbucks customer, you will make your life a lot easier by using the Starbucks app.
I love how user-friendly the app is. It is so easy to navigate that even Aunt Susan, who is 65 years old, can use it.
I am also not a fan of complex technology, so when I see that the app is easy to use – trust it.
Pros: The Starbucks app is more than just a quick way to order your drink. Free drinks and other rewards are built in there. It's the best way to earn promo, deal, start, and track your Starbucks spending.
Cons: If the server suffers from a glitch, you'll need to stand and line and order at the counter.
6. Take Advantage of Star Days
Starbucks is extra generous in giving Stars during Star Days. For non-Starbucks members, Star days are not far off when our teacher in grade school gives out stars for a job well done. These stars can earn free Starbucks food, drinks, and merchandise.
Star Days happens several times a year. Starbucks members are notified of the event through email and the app under its Offers or Home Tab.
On every Star Day, Starbucks gives away a thousand Stars to qualifying members. If you want to collect more Stars to score a free signature mug or other Starbucks products, don't miss out on participating in Star Days.
You can get 1 Stars for every $1 spent using cash or credit and 2 Stars for every $1 spent using a registered Starbucks card.
This double-Star promo is available for almost any item you can buy in Starbucks. Are you a rewards member? You are guaranteed to receive a personalized double-Star each month. Check your email on your upcoming day.
Free drinks require 100 Stars. If your Stars are not enough, all is not lost! You can get extra syrup or espresso shots for only 25 Stars. That's a significant savings already. If this does not make you starry-eyed, I don't know what will!
The Star Days program is only available for Starbucks Rewards members. So, if you are not yet a member, this is another reason why you should become one today.
Again, all you need to do is sign up through the app, provide your name and email address, and create a password.
Pros: Star days allow you to earn more Star than you would typically receive on ordinary days. That big boost makes it easier for you to get rewards, i.e., free drinks and food sooner.
Cons: Non-Starbucks members are not eligible to join the promotion.
7. Bring Your Own Cup
Get this: Clean Water Action threw out a wild stat – Starbucks is churning through 8,000 cups every single minute. Do the math, and that's a whopping 4 billion every year!
And with Starbucks being pretty much everywhere you look, it's no surprise they're leaving quite a footprint. But here's some good news: a while back, Starbucks decided to make a difference. They started urging folks to walk in with their own mugs to reduce all that waste.
Want to help out Mother Earth? How about using that cup your dad gifted you last Christmas for your Starbucks fix? Or maybe even grandma's funky cat mug?
P.S.: A sweet deal for eco-friendly folks like you: a $0.10 off your order for bringing in your cup. Plus, if you're in the Starbucks club, catch an extra 25 stars during their promos.
Sure, it's a small saving, but think about it: less trash, more cash. Win-win!
Pros: Reusing your cup is good for the environment and can save you a lot of money in the long run. When this money adds up, you can use it to buy another drink.
Cons: The reusable cup promo cannot simultaneously be used with other promos (i.e., Double Star Days).
8. Follow Starbucks on Social Media
Want in on some insider tea? (Or should I say coffee?) You can actually win free stuff online from Starbucks' giveaways without even cracking open your wallet. Yup, it's a thing!
The Starbucks regulars among us might be thinking, 'Old news.' But if this is news to you, well, welcome to the club!
Considering how everything's costing an arm and a leg these days, we Starbucks enthusiasts have got to stay on top of those deals.
The hack? Tuning into Starbucks' social media channels. There are many exclusive deals, coupon codes, free coffee moments, and Stars just waiting for you. Starbucks' Instagram posts and stories have been my go-to for the latest offers and promotions when I miss their newsletters.
Since Starbucks is global, they've got dedicated social media accounts for each country and even local outlets. So, say you're in Canada, just hit up Starbucks Canada on social, and you're set with all the local deals. No need to go following every Starbucks account out there – the deals can change depending on where you are and the time of year!
Pros: Starbucks often runs contests and giveaways on their social media platforms where you can win gift cards, drinks, and merchandise. Following them will increase your chances of participating and winning.
Cons: Starbucks is a giant coffee chain, and they utilize social media to announce their latest deals. If you are the type who easily gets enticed by any Starbucks deals, this could be a disadvantage. Participating in any promotion, you see online, may wreak havoc on your budget.
FAQs
What Deals Does Starbucks Have?
It's raining freebies at Starbucks, especially this fall season. First off on the list, of course, is the BOGO promotions that happen every Thursday in September. Buy one fall seasonal drink of your choice and get one of a lesser or equal size for free.
And if you're thinking of ways to keep your Starbucks expenses in check, I've got three words for you: Get. The. App. It's your new BFF to go for sweet deals all year round, from Happy Hour, Starbucks Rewards, Gift Card Offers, Birthday Rewards, Mobile app Exclusive Offers, and much more!
What Day is BOGO at Starbucks?
Mark your calendars for every Thursday this September! That's right – on September 7, 14, 21, and 28, it's all about BOGO.
Just a heads-up, you'll need to be a Starbucks rewards member and swing by after 12 p.m.
Also, ahem, no doubling up – it's a one-deal-per-week thing. No sneaky buy-2-get-2-free action.
Still, a pretty good way to score a free drink without emptying your wallet!
How Does the 50% off Starbucks Work?
Good news, pumpkin spice tribe! If you have missed the 50% WinsDays promotion during the summer, where drinks are at 50% off on Wednesday, you are free to join the next BOGO deal this fall.
Although it's not a straight-up 50% discount on one drink, the September Thurs-YAYS or BOGO promo allows you to get two drinks for the price of one. It works out to be half-off.
For example, if you order one grande-size spice latte for $6, the barista will give you another one at no cost to you. It's like you have paid $3 dollars for each drink.
Make a note to drop by with a friend or co-worker on Thursdays this September and savor the savings.
Enjoyed this post? Don't forget to pin the image below! Also, don't forget to follow me on Pinterest over here! 🙂