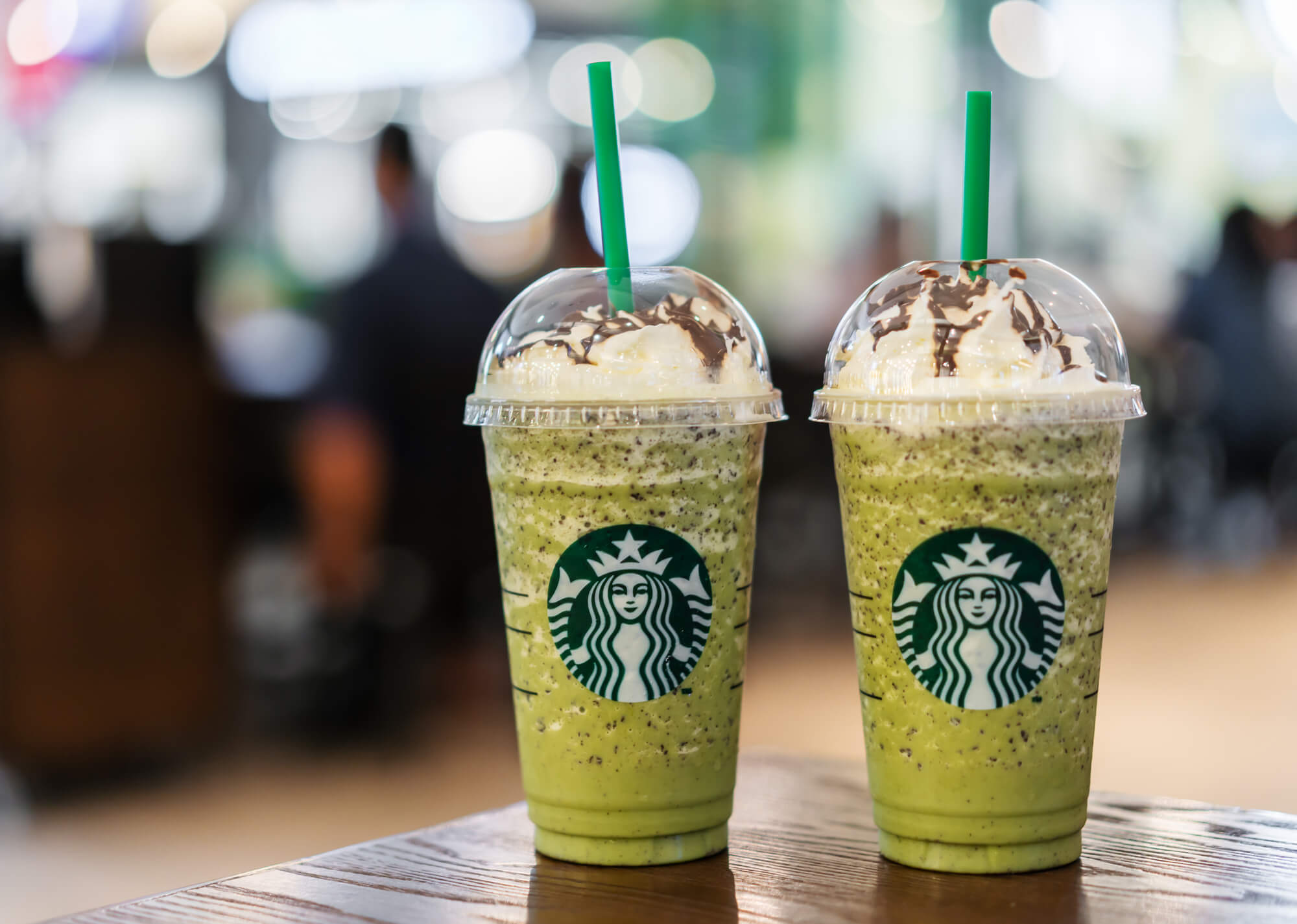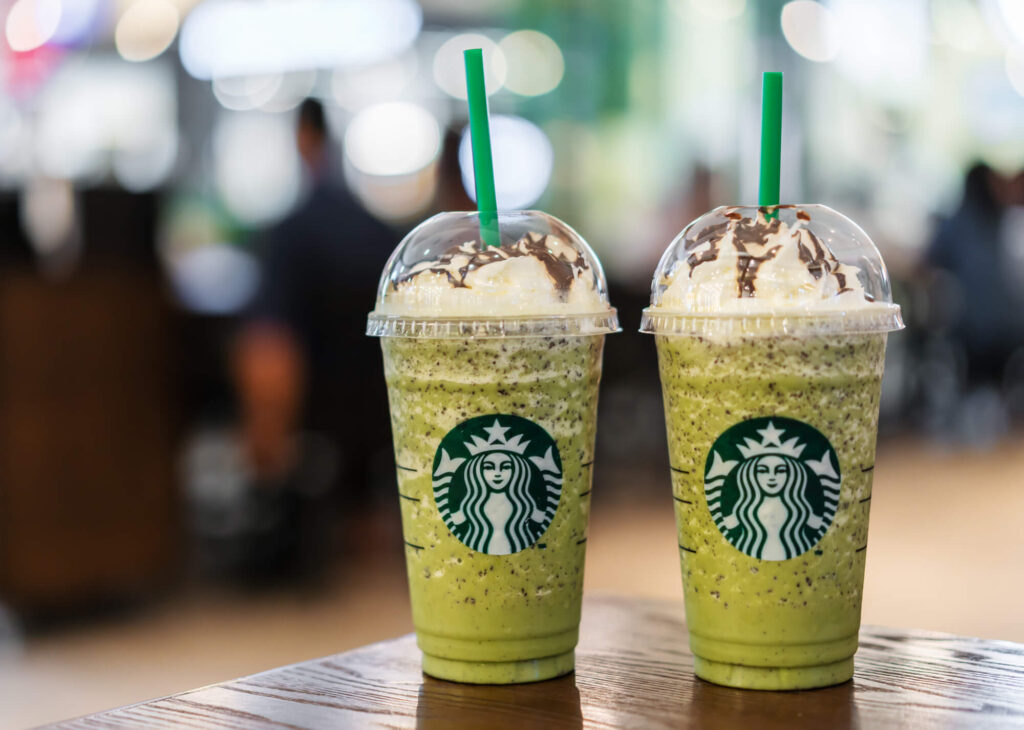 We will receive a commission if you make a purchase through our affiliate link at no extra cost to you. Please read our disclosure policy for more information.
As a Starbucks frappuccino lover, one of my favorite ways to save money as a broke student back then was taking advantage of all the Starbucks specials and finding ways to get free drinks.
Scoring great deals during their happy hours was one way for me to save money. Not to mention, I also take advantage of these not-so-known hacks on how to get free drinks from Starbucks, which I highly encourage you to check out if you like freebies and want to save money.
Aside from those other Starbucks hacks, I've been taking advantage of the Starbucks Happy Hour deals since the early days of 2011, so I'm going to tell you everything you need to know about the Starbucks Happy Hour special today!
By the way, I used to call them the Starbucks Frappuccino Happy Hour because their promo didn't include anything else beyond their blended drinks.
The first Happy Hours used to be between 3 p.m. and closing time at all participating Starbucks stores in the U.S. and Canada on select Thursdays. This is no longer the case but read on to find out about their NEW happy hours.
Make sure to bookmark this page on your browser: I'll be updating my post weekly, or whenever I get the inside scoop on Starbucks' next best deals, so make sure to bookmark this page and check back every now and then!
You can also find out what drinks are included in the U.S. and Canada menus during their Happy Hour promotions between 2 p.m. to 7 p.m. at Starbucks!
Starbucks Specials and Deals November 2023
UPDATE ON NOVEMBER 14, 2023: It's the most wonderful time of the year! Starbucks has rolled out its anticipated holiday drinks filled with festive flavors. Some of the favorites are the Iced Gingerbread Oatmilk Chai, Peppermint Mocha, and Iced Sugar Cookie Almondmilk Latter, along with other beloved holiday drinks.
Starbucks is anticipated to have the "Red Cup Day." Red Cup Day typically falls on the third Thursday of November. So this 2023, it's expected to happen on November 16. On Red Cup Day, customers who buy a holiday drink will receive a limited-edition reusable cup.
I hope you enjoy your special treat this November! While you're at it, you can also check out how I get free Starbucks drinks here and in the post below! Discover my Starbucks money-saving hacks that you can apply to this November 2023 BOGO to make the deal even sweeter!
UPDATE 2023: As a frequent visitor to Starbucks for work, I've observed that promotions were more prominent and frequent in the pre-Covid era. Their frequency seemed to decrease or even ended after 2020 began. I remember they did have a BOGO special one time near one of my locations during late 2020.

Now, as things are returning to normal, who knows – Starbucks may introduce these promotions again. Hopefully, right? I really miss those days! 🙁

Interestingly, I noticed that in 2022, they held these events on several random Tuesdays in July (including other random days). Occasionally, they would also notify us via the app about BOGO (Buy One, Get One free) deals. So, it's worth subscribing to their email or downloading their app. You can also bookmark this page to come back for frequent updates!
Starbucks Happy Hour
Now, all you frappuccino addicts are probably familiar with the Starbucks BOGO Happy Hour program.
But for those of you who have no clue about this, I'll be answering every question you have about it along with other Starbucks deals and special offers. 🙂
⭐ Do you want to my secrets to getting FREE Starbucks? Before you read on, don't forget to check out how you can get free Starbucks drinks all year round. 😊
I made sure I took advantage of all those clever hacks so I could score free coffee and special drinks more often. The more hacks and coupons you use, the more free drinks you can get.
One hack that I highly recommend is using a free money-saving app called Swagbucks – you can check out my honest Swagbucks review to read how you can use the free app.
This app allows you to earn points through online activities such as shopping, watching videos, or taking surveys for money. You can redeem these points for free gift cards to numerous outlets, including Starbucks! By combining this with Starbucks' own reward system, you can maximize your benefits, turning routine internet browsing into coffee breaks! 😉
When is Starbucks Happy Hour?
Starbucks periodically offers "Happy Hour" promotions, typically on select Thursdays from 2 p.m. to 7 p.m. This is why it's also known as the Starbucks Thursday deal. However, the days, times, and frequency of these promotions can vary by location and over time. It's not always the same for every Starbucks location.
During these Happy Hours, Starbucks usually offers discounts such as buy one, get one free, or half-price on certain drinks.
To stay updated, I recommend keeping an eye on Starbucks' advertising platforms. They typically announce upcoming Happy Hours via their app or through email subscriptions. Starbucks Rewards members also receive notifications of Happy Hour promotions through the mobile app.
What is Starbucks Happy Hour?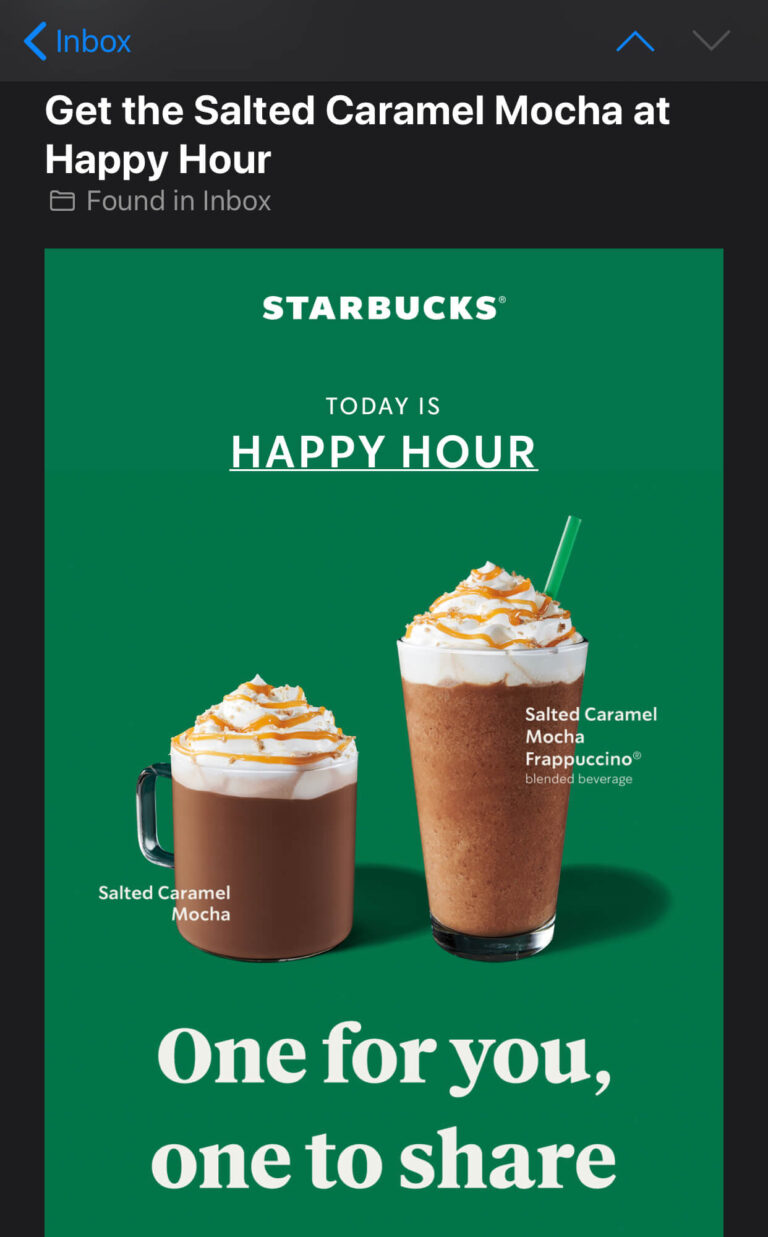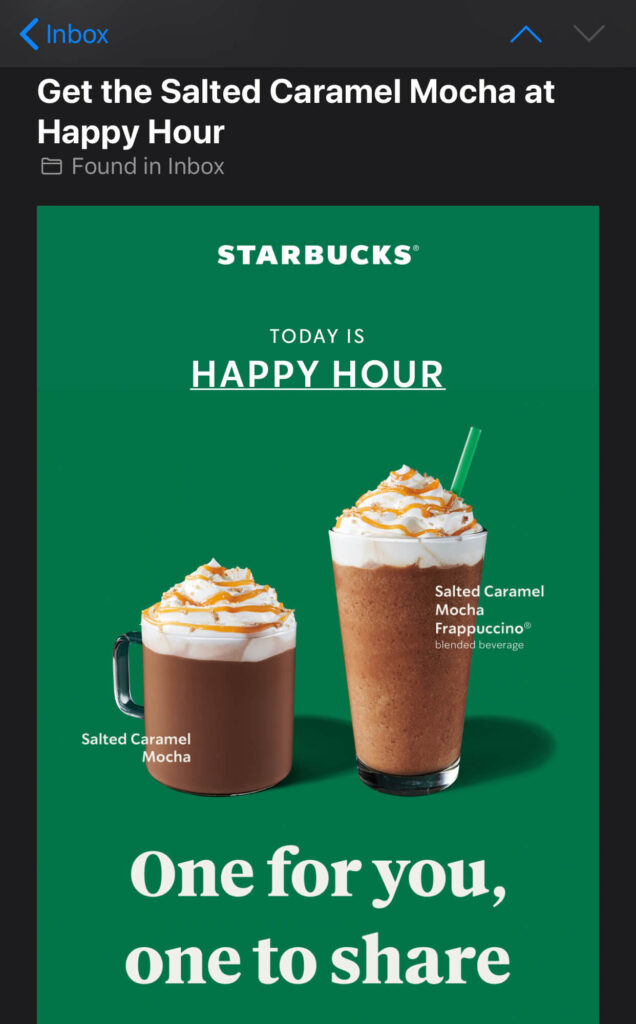 According to the company, the special promotion will allow you to buy one and get one free on ANY handcrafted drink between 2 p.m. to 7 p.m. on select Thursdays. This includes their delicious Frappuccinos!
Not sure what a handcrafted drink is? Click here to find out what qualifies as a handcrafted drink.
Anyway, that's pretty much a half-off special, or what most people like to call "Starbucks BOGO" (buy one, get one free).
With this Starbucks buy one get one deal, I recommend bringing one of your buddies or coworkers to go with you. 🙂
It's also a good idea to use these free Starbucks gift card hacks to use on top of their deals.
Here's what the company wrote on their Happy Hours page:
"Meet a friend, plan a date, escape from the office—Happy Hour is now from 2–7 pm on select Thursdays and it's buy one, get one free on ANY handcrafted drink (size grande or larger).
That means you can enjoy everything from iced coffee to cold brew, macchiatos to matcha, Pink Drink to Frappuccino® drinks. It even includes Nitro, where available."
You don't need any happy hour code or coupon to redeem your drink. I generally just walk into the coffee shop and ask for my order.
But to be notified about the Starbucks specials beforehand, I recommend becoming a registered member and a user of their app so you don't miss out.
When you're subscribed to their e-mail, they give you an early notification about their Happy Hour days. Based on my experience, they notify you 1 day in advance.
With that said, keep an eye out on Thursdays so you can redeem the Starbucks BOGO deal.
What is a Starbucks special handcrafted drink?
As mentioned earlier, the Starbucks BOGO Happy Hour special includes any handcrafted beverage.
That basically means almost anything that the barista has to create or make at the store. The company has said this does NOT include hot coffee, hot brewed tea, ready-to-drink beverages, and Starbucks Reserve® beverages.
So, the drinks they include in their Happy Hour menu are hot drinks like Salted Caramel Hot Chocolate, Hot Chocolate, Lattes, Mochas, Starbucks' signature Frappuccino Blended Beverages, and Iced Teas. These are all considered "handcrafted" drinks.
Read the list below to find out more in detail. 🙂
What is included in Starbucks Happy Hour?
You may be wondering what's included in the happy hour menu. Or perhaps you may be deciding what drink to order.
Here is a list of some Starbucks handcrafted drinks you can try at the next happy hour special. The drinks in bold font are my top recommendations.
Again, remember that this excludes hot coffee, hot brewed tea, ready-to-drink beverages, and Starbucks Reserve® beverages during this special promo.
Frappuccino Blended Beverages
Pumpkin Spice Frappuccino
Salted Caramel Mocha
Caramel Ribbon Crunch
Mocha Cookie Crumble – This tastes really similar to the Java Chip drink except it doesn't include chocolate chip bits. Instead, it has crumbled Oreo cookie bits mixed. A really delicious drink if you're feeling for something sweet!
Caramel
Caffeè Vanilla
Coffee Frappuccino
Espresso Frappuccino
Java Chip – this drink is perfect for you if you're a chocolate chip lover!
Mocha Frappuccino
White Chocolate Mocha – This drink tends to be really sweet every time I order it as-is, so I usually ask them to make it less sugary for the perfect taste!
Green Tea Crème – I don't see this on the menu but it's great for green tea lovers! One of my favorites!
Vanilla Bean Frappuccino – Also not on the menu, but you can still ask for one if you love vanilla ice cream because that's almost exactly how it tastes! Really good!
Hot Lattes
Pumpkin Spice Latte – Who can resist the to-die-for PSL? This drink is one of my favorites during the Fall!
Starbucks Blonde Pumpkin Spice
Caffeè Latte
Cinnamon Dolce
Matcha Green Tea Latte – A really good drink, especially if you love matcha! It has a bittersweet taste and leans more towards the bitter side.
Hot Mochas
Salted Caramel Mocha
Caffeè Mocha
Skinny Mocha
White Chocolate Mocha – Yum! This one is really delicious and I personally ask for the Skinny version for less fat!
There are a ton more options to choose from but looking at the full menu will likely make your head spin! 😕
Starbucks Specials
I highly recommend signing up for the Rewards program and downloading their app to make sure you never miss out on any Starbucks specials.
I'm a user of their app and I like how they make it super convenient for you. The app lets you order your drink with your phone. You can also track your Stars and Rewards.
Aside from their Happy Hour for their BOGO drinks, Starbucks also offers other special deals to help you save money on your favorite items from the menu.
For instance, the company was offering a Starbucks Breakfast Sandwich and a tall brewed coffee for $4.95 for two weeks.
I generally pop by Starbucks to work on my blog, so I usually catch their specials like these. You should try their Everything Croissant Breakfast Sandwich with ham and cheese — it's actually pretty good! 🙂
Here, check out a couple of these specials I got notified about as a loyal Starbucks Rewards member.
Here's a previous notification in my inbox about their Happy Hour special.
This one wasn't your typical Starbucks BOGO special. Instead, you could get half-off (50% off) just by buying any one blended drink.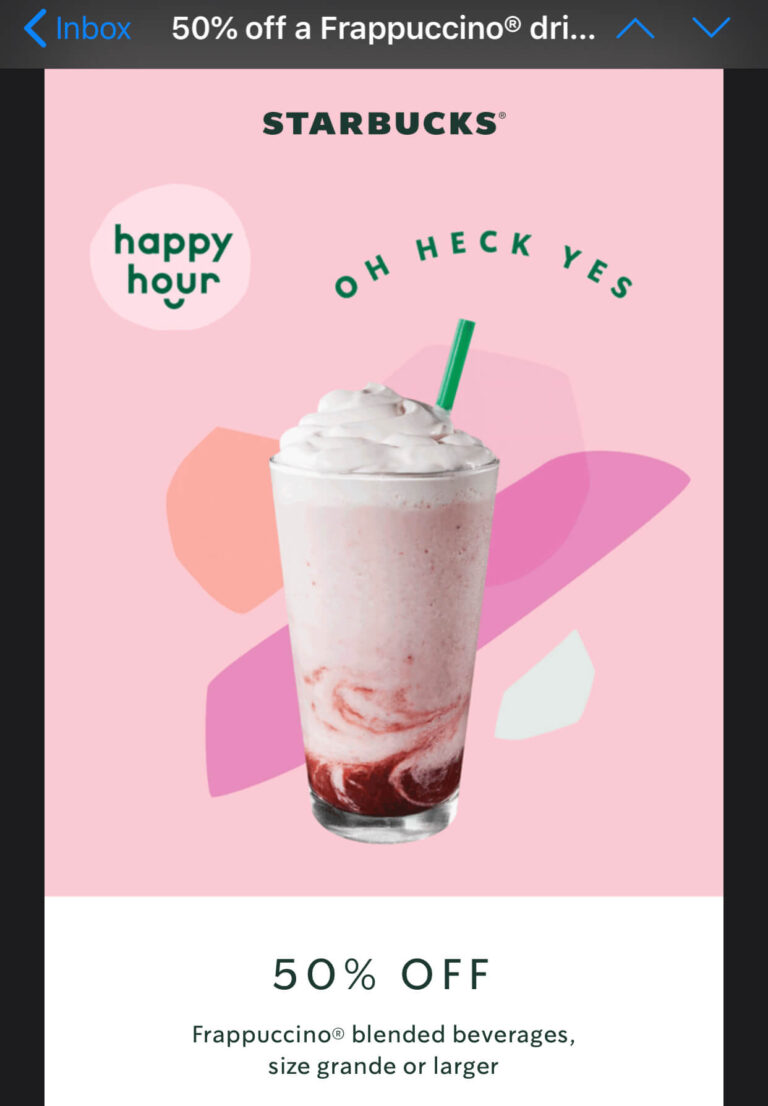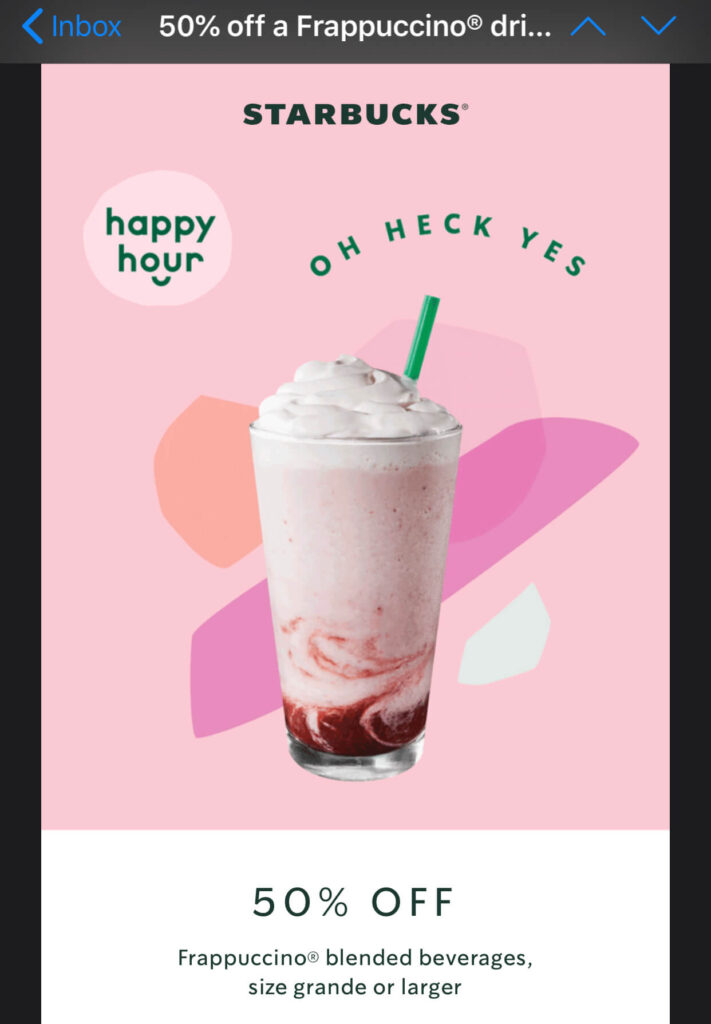 And here's one special for collecting bonus stars on top of your regular stars when you try their promo and deals.
As I mentioned earlier, the Pumpkin Spice Latte (PSL) is one of my favorite drinks, and I get this every fall, so why not take advantage of the bonus stars for more free drinks? 🙂
Again, you can become a registered member and start collecting stars to qualify for a ton of free Starbucks coffee and drinks!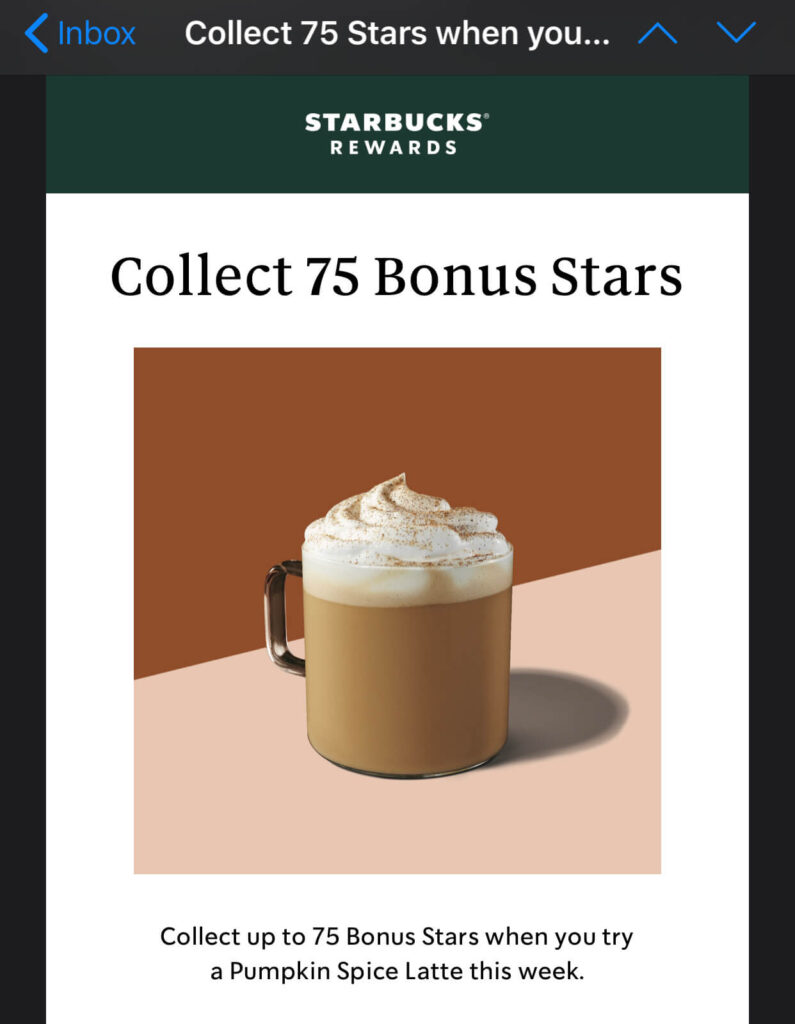 Can I Get Starbucks Delivered?
In many cities and regions, Starbucks deliveries via UberEats and DoorDash have become increasingly popular. From my firsthand experience as a Dasher, I've delivered countless Starbucks beverages, showcasing how common these orders are these days. To get your Starbucks delivered, use the UberEats app or, in some locations, the DoorDash app. However, keep in mind that there's a dedicated menu for delivery, so not every favorite item might be available.
Readers, are you redeeming your second free drink at the next Starbucks happy hour special?