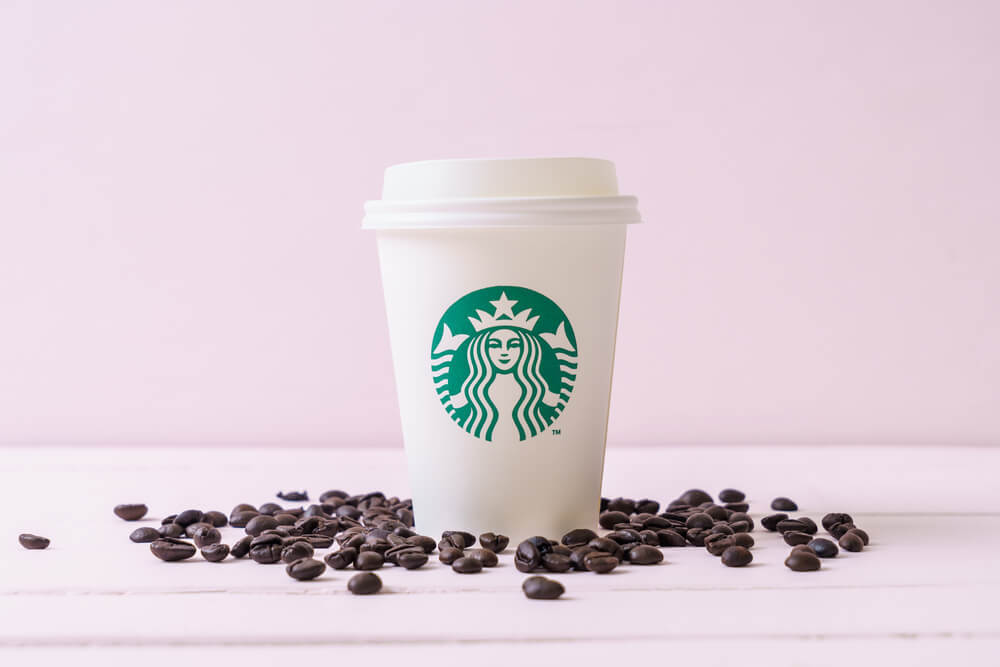 We will receive a commission if you make a purchase through our affiliate link at no extra cost to you. Please read our disclosure policy for more information.
My love for Starbucks started back in university. I remember going to Starbucks to study for hell week aka examinations week.
Whenever I sipped on Starbucks coffee and reflected on the money I had spent for a cup, my mind brain would invariably experience an "Aha" moment, prompting me to think, "I need to be more productive" or "I should focus on completing my tasks."
Nowadays, though, Starbucks has become my safe haven where I can comfortably set up my laptop to blog while drinking my beloved matcha latte paired with a warm Everything Bagel with herb & garlic spread.
I admit that I have a slight Starbucks addiction; however, I also realized that my habit can put a dent in my bank account over time.
Sure there are many ways to get discounts at Starbucks, but who would not want to have their mermaid coffee for free?
And that's when I started figuring out a lot of ways to get free Starbucks. To those living in the mantra: "the best things in life are free," listen up yo!
With minimal effort, you can easily enjoy Starbucks happy hour and get your favorite beverage without overthinking about the cost.
Here are 8 ways to get free Starbucks gift cards.
PIN THIS: I'll be updating this post so make sure to pin this image here and save it to your Pinterest board. That way you'll be able to come back to this page and learn how to get free Starbucks gift cards.
1. Swagbucks
Swagbucks is a cool money-earning app because you can easily earn cash and *drum rolls* Starbucks gift cards.
To do so, you must participate in any of these things: watching TV, searching the web, shopping online, playing games, and simply sharing your opinion.
To earn free gift cards online, you need to earn points called SB from the platform. Accumulated points can be redeemed for coupons, sweepstake entries, and gift cards from Starbucks, Amazon, Target, Apple, etc.
Shopping through the Swagbucks portal and doing surveys are popular and easy tasks to earn points. It will take you 500 SB to get a $5 Starbucks gift card.
The coolest part? You can earn a $10 (1,000 SB) bonus by signing up on the platform.
Thus, if you do not redeem your 1,000 SB sign-up bonus for cash, you can use it to get two $5 Starbucks gift cards instead.
Pro: Doing micro tasks on Swagbucks is a good little earner to help you collect more SB for a gift card. For instance, completing 5 short surveys will give you 1,300 SB, equivalent to 2 Starbucks gift cards.
Con: The points may accumulate more slowly than you would like, so turning your points into cash or gift cards may take time. On the other hand, other tasks that will give you so many points, like answering surveys, may be less interesting, but you will still do it anyway because they offer more SB.
2. Branded Survey
Branded Survey is like Swagbucks as it can also give you free Starbucks gift cards for answering surveys.
However, unlike Swagbucks, the tasks here are limited to answering surveys. If surveys are not your cup of tea, apologies but feel free to skip this option.
But if you're looking for the best survey sites out there, look no further. Branded Surveys is one of the best and most legit survey sites for earning money and gift cards.
Your income potential may not be much, but getting gift cards is straightforward. You will only need 500 points to cash out or get a free Starbucks drink.
How does it work, you ask? Follow these steps and get your favorite Starbucks beverage in a heartbeat!
Create a profile
Complete short surveys online
Collect points
Redeem points for Starbucks gift cards (or PayPal cash)
Are you a college student who loves to study at Starbucks or someone who has time to spare? Then consider answering surveys on your downtime or when you're binging Netflix.
Pro: Branded Surveys know how frustrating it could be not receiving your incentives from answering surveys instantly. You can cash out your points or receive your electronic Starbucks gift cards for about one to three business days.
Con: You will not always be qualified to complete a survey. So, while getting a gift card is easy, earning points is not and usually requires much patience.
3. Survey Junkie
Back in my student years, I relied on the bus for my school commute. And we all know how slow buses are…. Rather than checking Facebook during my bus rides, I answered surveys to earn additional money. So, here's another legit survey site where you can win Starbucks gift cards and make money with PayPal.
What could be better than earning cash on the side and getting free coffee by doing something I love, especially if it doesn't require much time and effort?
Survey Junkie is an online market platform that rewards members for accomplishing surveys, browsing the internet, and completing profile questionnaires.
They collect suggestions and opinions through consumer surveys and provide feedback to successful brands in household products, beauty products, technology, etc.
If you don't like how Branded Surveys give your random questionnaires, then you will love how Survey Junkie matches you with a survey you would like.
After you make your profile, the site will give you surveys that may fit your criteria. If you pass the screening process, which is a way for companies to ensure they are sending surveys to the appropriate demographic, you will earn points for every survey accomplished.
Pro: It's so easy to make your free time into free coffee. By visiting your Survey Junkie account daily and checking new surveys, you can get free Starbucks e-cards. You don't need to check the site from time to time, as you can get email notifications when new surveys are available (and they don't take very long!)
Con: Getting disqualified for a survey may happen, especially if you're inactive on the site. But the more you answer surveys, the more you'll get surveys you can qualify for.
4. Rakuten
Now that I don't work a 9 to 5 job in an office, I hate going to a physical store to shop.
Driving to the store, parking the car, waiting for assistance, and standing in line to the cashier seem like a waste of time.
I know I'm not the only one who feels this way. In fact, the number of digital buyers in 2023 will reach 2.64 billion, which makes up 33.3% of the world population.
I prefer online shopping as it allows me to skip the hassle of going to the physical store. After all, most stores have a generous return policy in case the thing you buy looks different.
What's the point of telling you this? If you're into online shopping like me, you may want to shop at Rakuten, one of the best cashback apps today.
Rakuten works with over 3,500 stores, and shopping through the app allows you to earn cashback.
The company has grown over the years with approximately 15 million members and has paid around $2 billion in cash back.
They pay in cash through a check every quarter, which you can use to buy Starbucks coffee or use the cashback to get a free Starbucks gift card as a reward.
Pro: Rakuten has many cashback offers at various stores you used to shop at, like Amazon, Target, Adidas, Old Navy, etc. So, you will always find a good deal.
Con: Your cashback rewards are only paid quarterly. If you bought something in September, getting the check via mail may take a few months. That said, it may also take time for you to get Starbucks drinks from your rewards.
5. Raise
Looking for free Starbucks gift cards the easy way? Shopping discount cards at Raise or trading your unused gift card is the wittiest tactic to get Starbucks gift cards.
Raise is a money-saving platform that serves as a middleman for buyers and sellers who wish to buy and sell gift cards (from stores, restaurants, hotels, etc.) at a discounted price.
According to a 2018 report, Raise has reached over 2 million users and has helped people save around $150 million by purchasing discounted gift cards.
You may want to follow this guide to get a Starbucks gift card through Raise:
Sign up for free.
Go to the "Buy" tab and search "Starbucks." If you want a different store, search the store or filter by price, sale specials, or category.
Unfortunately, you can't find a swap option at Raise. However, you are free to sell your unused gift cards and use the money to buy Starbucks gift cards. This method is like trading unused ones with gift cards you would like to use.
Don't you like the prices you see or have not seen Starbucks gift cards for sale? You can turn on the Brand Alert to notify you when a gift card from Starbucks at your desired price is available.
Gift cards you bought are delivered in a heartbeat or within 24 hours, while physical cards are then shipped to you for free for about 14 days.
Pro: Gift cards sold on Raise don't expire. So, if you want to give Starbucks gift cards to your fellow Starbucks lover friend on special occasions, you will save a lot of money buying here.
Con: There's no guarantee that you can sell your unused gift card. So, you might need to buy a discounted Starbucks gift card. But, listen. If you are willing to buy that Pumpkin Spice Latte at Starbucks anyway, then why not use that $10 gift card that you purchased at $8 at Raise?
6. MyPoints
Do you love shopping online? Fond of watching videos on the Internet? How about reading online articles? Or have you ever given your opinion through an online survey?
If your answers are all yes, then you would love MyPoints. However, if you are not the type of person who spends more time online, you might want to skip this site for now.
MyPoints is one of the oldest yet reliable cashback sites still existing today. Established in 1996, the site offers various ways to earn points, which you can redeem for gift cards to famous brands and restaurants, Starbucks included.
I love how generous Mypoints are in giving bonuses. If you create your account today, you'll get a $10 welcome bonus (as long as you spend $20 for the first month).
To earn more points, you only need to do the abovementioned things, like shopping online, watching videos, answering surveys, and more.
On the other hand, you need at least 4,000 points to get $25 in PayPal cash, while 700 points are required for most gift cards like Starbucks.
Pro: If hanging out online is your thing, MyPoints suits your lifestyle. The site requires you to be online most of the time to get amazing rewards.
Con: Rewards are not instant. If you want physical Starbucks gift cards, you might need to wait around 10 days to receive them through the mail. However, e-gift cards usually take 24 hours. The latter, therefore, is your best option.
7. InboxDollars
I admit that I have wasted so much time streaming Netflix. But when I stumbled on the idea of doing micro tasks like taking surveys online, shopping online, reading emails, etc., I thought I found redemption.
Take online tasks, make money, earn Starbucks gift cards in my PJs, while binge-watching Netflix? Yes, please!
InboxDollars works like Swagbucks. It is an online leader in terms of survey space and cash rewards.
The platform is only available in the US. However, it has an alternative site available in Canada called Daily Rewards.
InboxDollar has plenty of tasks to help you earn points, but the most popular is answering surveys.
You will earn points for every task accomplished, and once you hit $15, you can redeem it immediately.
The site offers plenty of payment options. You can get PayPal cash or a Starbucks gift card, among others.
Pro: InboxDollars sucks you in with a generous $5 sign-up bonus. To get started, you only need to provide your email address, desired password, confirm your email address, and get your $5 extra.
Con: The minimum cash out is the biggest disadvantage at InboxDollars. You can't request a payout or receive your eGiftCard until you reach $15.
8. Online Contests and Giveaways
Does joining online contests and giveaways for a free Starbucks gift card ever cross your mind?
If not, this is your sign. Submitting your entry on online giveaways is a fun and easy strategy to win your much-awaited gift card from Starbucks.
I don't want to be a gatekeeper, so I'll tell you which platform is helpful to you to get free stuff online.
Instagram is the best place to find giveaways. Big corporations and small businesses often use giveaways to promote their social media accounts – this is part of their marketing strategies.
They sometimes partner with influencers to offer contests and giveaways. Big companies often have thousands of entries, but they also have many participants, so you must have been very fortunate to win.
Small businesses, however, often have only dozens of entries, giving you more chances to win.
To find these free Starbucks gift card giveaways, you might want to try to look up the following hashtags and their corresponding number of posts as of writing:
#giveaway (46,941,660 posts)
#Starbucksgiveaway (52,760 posts)
#freegiftcards (86,927 posts)
Instagram allows you to follow hashtags. Follow these hashtags to avoid searching them daily and finding them in your feed instead.
Some websites also offer free giveaways around the web. If you want to join, make a separate email address so you will not be bothered receiving random emails from these sites.
Pro: Online giveaways don't compel participants to do time-consuming tasks to win free Starbucks gift cards. Most of them will only require you to follow their social media. While some will only ask for a like, share, or comment on their post.
Con: Entering a giveaway contest online will not guarantee a sure win, as your winning or not winning will depend on your luck.
FAQs
Can you get a $10 Starbucks gift card?
Yes, you can get a $10 Starbucks gift card in various ways. For instance, you can buy a $10 gift card from any Starbucks branch or other retail stores like Walmart and Best Buy.
You can also participate in online surveys like Swagbucks and other survey sites to get one.
To do so, create an account, say Swagbucks, perform tasks, and collect points. You will need 1,000 points by doing small tasks (completing surveys, shopping online, playing games, etc) to get a $10 Starbucks gift card.
If you don't like to go through the hassle of performing tasks that don't interest you, you can join giveaway contests online or buy a discounted $10 gift card at Raise.
How can I get free Starbucks gift card codes?
Platforms with a credible reputation, namely Swagbucks, Branded Survey, and Survey Junkie, facilitate ways for individuals to secure these codes.
After signing up for free, they typically provide users with several tasks, primarily centered around surveys.
If surveys aren't your preference, Rakuten and other cashback platforms provide a promising alternative.
Take note: Websites flaunting instant free Starbucks codes can be deceiving. Using these so-called 'generators' leaves you vulnerable to scams, personal data breaches, and malware threats. Trust in methods that have stood the test of time.
How to get a free Starbucks on your birthday?
If you want to get spoiled on your special day at Starbucks, join the company's reward program. It's absolutely free and Starbucks will give you one free drink or food item on your birthday.
To get your birthday freebies, you need to accomplish these things:
Become a Starbucks Rewards member at least a week prior to your birthday.
Accomplish a form and ensure your birthday is indicated in the account information.
Earn a star by making at least one transaction (i.e., scan or pay using the Starbucks app) before your birthday
Once you become a member, you will receive an email from Starbucks 2 days from your special day, reminding you of your birthday reward. On your birthday, let the barista know you will be using your birthday reward, so you will not pay for it.
Enjoyed this post? Don't forget to pin the image below! Also, don't forget to follow me on Pinterest over here! 🙂