We will receive a commission if you make a purchase through our affiliate link at no extra cost to you. Please read our disclosure policy for more information.
We all love free stuff.
Whether it's the joy that accompanies the arrival of a new child, prompting moms to seek out free items for their babies, or the anticipation of a special occasion like a birthday that ignites a hunt for celebratory birthday freebies, our shared affection for these costless treasures is undeniable.
And if you realized how much free stuff is there online, you'd be kicking yourself for only learning about it now.
Legitimate websites and companies have been giving out free products and coupons to their customers for many years. Wait a minute, what's the catch, you ask?
Well, it's quite simple, companies want to promote their products and services to new customers in order to generate more sales. By giving out free stuff, they can get more people to try their services, increase brand recognition, and provide their customers with loyalty reward programs.
Why do people love going to Costco? Other than saving money on weekly groceries and their unbeatable $1.50 sausage and drink combo, Costco offers free samples!
People swarm around the sample stations like bees over honey to try new products that they may not have known about. Next thing you know it, they're in the checkout line with a bunch of items they weren't planning on buying.
If you're new to acquiring free things on the internet, this is the best blog post for you.
You may also want to read: 16 fun and free frugal activities to do when you're bored.
PIN THIS: I'll be updating this post so make sure to pin this image here and save it to your Pinterest board. That way you'll be able to come back to this page and learn the best ways to find free stuff online.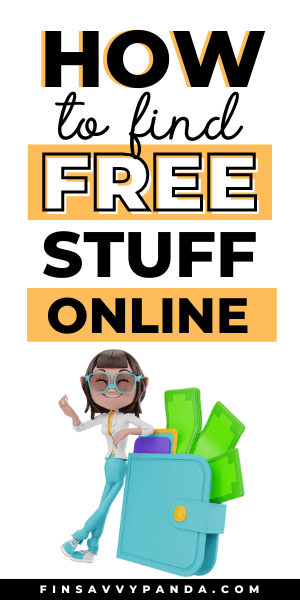 How To Get Free Stuff Online
I've listed popular websites and apps that you can take advantage of instead of lining up at Costco and waiting for free samples anymore. From having free hotel stays to having free food delivered to your doorsteps – I'll be sharing how you can get it all in this post.
I've used many of these websites to receive cash back and discounts to help me save over $10,000 a year when shopping for everyday needs.
If you're wondering if the ways listed below are completely free, you should understand that there's no free lunch in life. However, the things you'll be doing here are so simple and easy that you wouldn't even break a sweat!
So if you're interested in claiming these freebies, let's get right to the post!
1. Free Sample Products
We all know that most stores offer free samples for their customers to try in order to entice them to buy the full-sized product. Again, Costco is notorious for dishing out free food while you shop.
Department stores like Macy's and Nordstrom also give samples of fragrances and beauty products as your browse their stores.
But did you know you can receive the same thing online?
Check out the website Free Samples which offers its email subscribers free coupons and samples of different brands. You'll get vitamins, skincare, access to giveaways, and coupons to restaurants.
Another site you should visit is PINCHme. It has partnered with big brands like Unilever, P&G, Nestle, and Starbucks to give you free samples. On this site, you have the responsibility to test out the items given to you for free. After giving your feedback, you get to keep the sample products!
Other freebies websites include:
SampleSource
Freeflys
BzzAgent
2. Free Birthday Stuff
Birthdays are a fun celebration. After all, it's the day that you were born into this world!
Yes, give me some of those birthday freebies, please!
If you're looking to get free freebies on your special day, the first place to look at would be your close group network. Some of your closest friends, coworkers, and families might have sent you some cash and virtual freebies as a gift.
Additionally, businesses usually have a birthday rewards program where they'll send out coupons or discount vouchers as a birthday gift to you. These gifts are sent digitally to your email, which may end up in your Promotions tab so make sure to check that folder!
Companies do these types of programs because it has greatly benefited them throughout the years and has resulted in higher transaction rates and more revenue.
If you're looking for companies that have a special treat for their customers on their birthdays, check out the ones below:
Food and Drink
Chili's
Del Taco
Chick-Fil-A
Auntie Anne's
Apparel
Target
Old Navy
American Eagle
Personal Care
Sephora
BareMinerals
The Body Shop
Entertainment
AMC Theatres
Barnes & Noble
3. Free Money
Free money? Yes, free money!
Banks and financial institutions are handing out $100 to $500 for every customer who opens a new account with them, even if it's online.
This is an underrated way to get free money since you just need to apply for a new credit card or open a bank account. Chase Freedom Flex is a cash back credit card that doesn't charge any annual fees and it gives you $200 bonus after you spend only $500 within the first three months of opening the account.
People regularly overlook this activity because they are afraid of having many bank accounts. But if this ain't a concern for you, check out these banks that give you free cash:
Opening a bank account with SoFi will give you a $250 sign-up bonus.
While Bank of America gives out $100 by opening a checking account with them.
Another option is having a Wells Fargo Active Cash Card which has a bonus of $200.
4. Free Coffee
If you're a coffee lover like me, then a percentage of your monthly expense also goes to buying your beloved coffee drinks.
Since I'm big on saving money and love being a smart consumer, I found a way to get free coffee online.
An online rewards website called Swagbucks is a gold mine to get free gift cards, Paypal cash, and other freebies. I've been using it since 2009 and have been enjoying the benefits of answering simple paid surveys and polls.
Their rewards program has been a way for my fiancé and me to get free drinks at Starbucks when were still broke college students!
Apart from free coffee coupons, Swagbucks is seen by many as a platform to earn extra money online.
If you'd like to know more about the website, read my honest review on Swagbucks.
5. Free Gift Cards
InboxDollars is very similar to Swagbucks because it's also an online rewards program that people use to get free gift cards and PayPal cash.
Aside from the usual freebies, what makes InboxDollars one of the top choices is that users can get cash back on your groceries by uploading your recipets.
I remember getting Amazon gift cards just by finishing 3-minute to 25-minute surveys while waiting for friends to show up. They can also pay you cash where you can earn $0.50 to $5.00 for each survey completed.
The activities to do on Inbox Dollars could be:
Watching videos
Trying out services
Taking online surveys
Signing up for products
Just by creating an account with them, you get a free $5 bonus immediately and enjoy your daily rewards.
6. Free furniture
Free furniture was one of the first things I sought when I discovered the world of online giveaways.
Initially, I was only searching for complimentary furniture because I was excited to refurbish and sell them for a profit. The only way I could earn money while keeping my expenses low was by finding free items that would otherwise end up in a landfill.
This pursuit allowed me to earn an extra $500 to even $2,000 a month by flipping the furniture!
You may be interested in this for the same reason. Or perhaps you want to find free furniture to furnish your apartment or home inexpensively. That's a savvy move too, as it lets you save money while also benefiting the environment!
7. Become a Product Tester
Every company has quality control to ensure their products meet quality and safety standards before they can be released to the public. Product testers are the gatekeepers to check if the items are fit to be sold in different stores and websites.
The way this works is businesses will send out items to product testers to get honest feedback and evaluation. In return, product testers get paid by submitting a detailed report. In most cases, testers get to keep the product to themselves.
As a product tester, you have a time frame to work with – it can be a few days or weeks. Within that time frame, the companies also expect a detailed review of the tested product.
If you're wondering what products you can review as a tester, here are some of them:
Toys
Clothes
Footwear
Electronics
Video games
Beauty products
Household items
Opportunities are everywhere in this line of work. You can work for major brands but there are websites that give you more freedom on what products to test. Check out:
BzzAgent
Influenster
UserTesting
SocialNature
8. Become An Influencer And Get Free Products
Becoming an influencer might have some negative connotations to it but it actually serves you well when you have an engaged audience.
Take Elana's story – she's an Amazon influencer and makes at least $1,000 with just affiliate commissions!
Being an influencer expands your options to earn money. And the best thing about it? Different brands will come flooding your inbox with product offerings when your audience fits their market.
These businesses will be coming to you with the hopes of getting their products in front of your followers.
For example, a Beauty influencer on YouTube that tailors her content to audiences from 20 to 35-year-old women can be an affiliate partner with beauty brands like Sephora, Dermstore, and Ulta Beauty. These companies will send free products to the creator and have influencers talk about the items in their videos.
So being an influencer isn't all negative. It also has its perks and benefits, especially if you're looking to get items for free!
9. Free Food
Remember that free food you see in Whole Foods and other supermarkets? There's now an online version of that, Five Star Home Foods, but it's way more hassle-free because you don't need to leave your home.
They give out a free week of portion-controlled meat, fruits, and vegetables to their shoppers after you make a purchase from them. It's super convenient because it's delivered right to your doorstep.
Another website worth looking at is Hills Home Market. They have a slogan on their site that says, "We want to give you free food!"
Hills Home Market offers a sweet deal since you don't have to do anything to receive a package of all-natural food. You just need to schedule your free samples and fill in their contact information.
10. Check Social Media To Get Free Products
Social media is no longer seen as a platform to post pictures and tag people anymore. It's also used as platforms to build an online presence and deploy marketing campaigns.
There are two ways you can make money through social media. The first path is to build a following and reach out to brands for product reviews.
Of course, you'd have to convince businesses why they should even consider giving you free products. You could mention the demographics of your following and how it matches their target audience.
Now the other route to take is by joining contests held by your favorite brands and influencers. This is one easy way to get free things online while doing minimal effort. We'll talk more about giveaways below.
The usual mechanics of these giveaways would be to just simply take a photo of yourself with the product and put a certain hashtag on the description of the post.
11. Free Hotel Stays
You can usually get free hotel stays through credit card points or vouchers given to you by companies. However, you can enjoy this benefit by being a mystery shopper for hotels.
For those who aren't familiar with how it works, mystery shoppers are regular people hired by marketing agencies to go to a store, restaurant, or hotel and pose as a customer.
That person will be tasked to do different things like buy a certain product, order a specific food, or observe the customer service of the establishment. In return, you get paid to share your experience and insights with the company.
To start your journey as a mystery shopper for hotels, you'd have to find a company that provides this specific service. These are some reputable companies in the industry:
BestMark
CoyleHospitality
MysteryShopperAmerica
It's best to do your research first and find out if a company is legitimate. After your research, read their application process and see if you're qualified.
12. Look For Free Coupons And Discounts
The opportunity to find free coupons and discounts is everywhere if you're willing exert a little bit of effort. Websites and apps reward their users that go the extra mile to save money by giving them online discount codes for different brands like Ben & Jerry's, Campbell Soup, and Cheerios.
Kroger is my favorite website to get coupons and instant cash savings for everyday home goods. When you create an account with them, you will have access to coupons for items like cereals, fresh vegetables, bread, and many more products.
Rakuten is another popular site that also offers cash back. People who hunt for coupons will be happy to know that Rakuten works with over 2,000 retailers, which means that your favorite store will likely be partnered up with them.
Personally, I have been using Rakuten for more than 10 years now and I make sure to log in everytime before I shop online to see if the stores offer cash back on Rakuten! I have also written a review about it before for those wondering if they're legitimate.
Other websites that offer the same service:
Ibotta
Honey
Groupon
SlickDeals
RetailMeNot
13. Enter Free Giveaways
We talked about giveaways with brands a moment ago but did you know that there are certain websites dedicated to giveaways?
There are many of them, so let's discuss the popular ones:
Facebook Marketplace – Yes, good ol' Facebook. Although the majority of the listed items on the marketplace come with a price, there are those who list items for free. Most of the free stuff in the Marketplace are larger items that the owner wants to get rid of.
TheFreeSite – The name should have given it away. This site offers different free products and digital goods for its users to enjoy.
Freeflys – One of the best options if you're interested in free full-sized or sample-sized items. Simply fill up an information sheet and the company will send the items to you.
14. Free Shoes
Getting new kicks for free is obviously one of the best parts about finding free stuff online.
But don't you worry, my amigo. These shoes aren't replicas or defects, they're the real deal.
I love Nike, Adidas, and New Balance! Who doesn't? They give out free shoes to regular joes like you and me because they use this information for research and development.
But getting free shoes isn't a walk in the park as you need to meet certain criteria like height and weight.
For example, you can be a product tester for Adidas. You just have to meet their minimum requirements and you're good to apply.
The same goes for Nike. You're not limited to trying out shoes, they can also send you apparel to test out as well.
Your tasks usually involve testing the durability of the item so you should take notes of any observations you've come across with the product. Examples of these could be:
Insole is hard when running
Fabric of the shirt gets easily ripped
hoes are slippery even on concrete
Sole sticks too much on hardwood floors
Of course, any discomfort or defects should be reported to the company so they can investigate the issues.
While participating in these programs, make sure not to reveal any information to the public if you're testing new versions that haven't yet hit the market.
Related read: Best places to sell your shoes for cash
15. Sweepstakes
Sweepstakes are online prize promotions where the winners are chosen from a group who have completed a list of tasks.
These are brand marketing efforts that raise awareness and visibility for their products and services. Some of these campaigns are a way for them to get free marketing from people who support their business.
Here are awesome examples from the past:
There are also sweepstakes giveaways that require very little of effort from your end. Usually, it involves entering your personal information, liking, following, sharing, and tagging friends to enter into the draws.
Examples of these would be:
It's best to always be on the lookout for these programs by checking the socials of your favorite brands and make sure to read the instructions carefully!
16. Free Trials
When you purchase something before knowing if it will satisfy your needs, you run the risk of being disappointed and wasting money. Companies have offered free trials to alleviate your fears, allowing you to sample new products and services risk-free.
Think about entertainment subscription services. They often give their users a free 7-day or 30-day trial before they're charged a monthly subscription fee.
Hulu has a 30-day free trial
Discovery Plus has a 7-day free trial
Audible offers a 30-day trial and 2 free audiobooks
Apple TV has a free 3-month trial for any purchased Apple device
Even fitness centers offer free one or seven-day free trials to new customers. After the trial period is over and you like the service, you can choose to keep it or cancel it before they automatically bill you.
17. Free Educational Materials
Aside from getting free items and products, you can also get free educational materials to improve your current skillset or learn an entirely new skill.
You can go to platforms that offer free courses like:
Udemy
Coursera
Skillshare
Khan Academy
Another website that's full of free educational resources would be YouTube! In fact, 93% of YouTube viewers use the website to learn and be informed.
Even Google is giving out free courses for its users. And it's not those crash-course types of videos, it's a full-length video course that runs for hours. Categories here are Digital Marketing, Career Development, and Data.
18. Free Credit Report
Another interesting freebie you can get is a free credit report that will show you what your current credit score is.
A credit report is a summary of your credit history and shows the status of your credit accounts and financial standing with banks. Your credit rating will determine whether you'll get approved for a new credit card, car loan, or get the lowest interest rates when borrowing money.
These credit reports generally cost money if you request them from agencies, but AnnualCreditReport.com gives it to you for free.
The website is sponsored by the big three major credit bureaus – Equifax, Experian, and TransUnion, and is authorized by Federal Law.
You can expect these companies to ask you for sensitive information like your Social Security Number, date of birth, and address – these personal data are required to give you an accurate report. You could provide those pieces of information as long as you're on the right website.
19. Free Stock, Free Cryptocurrencies
We've all been told that investing in stocks is one way to get passive income and reach financial independence. Fortunately, several companies offer free stocks through their applications and services to help jumpstart your investing journey.
Many investing applications give out free stocks or cash bonus in exchange for your registration and initial deposit into your account. Here are some examples:
You can enter to win up to $1,000 worth of free stock with SoFi.
Robinhood gives you free cash worth up to $200 to buy your first stocks.
Now, if you want free cryptocurrencies, you'd need to be active on Twitter because several businesses arrange contests where they give out free cash to followers. You might be able to win free cryptocurrencies or NFTs by participating in these giveaways.
20. Free Museum Tours
Want to see cultural artifacts and visit beautiful museums?
With today's innovation and virtual tours, you can visit well-known museums in London, New York, Paris, Seoul, Amsterdam, and other places in the comfort of your home!
Interested in seeing the Egyptian mummies and the ancient Rosetta Stone? Visit The British Museum in London.
If you're looking for French artworks that were made as early as the 1840s, virtually walk through Musée d'Orsay in Paris.
How about works done by the famous Van Gogh? You could virtually see his artwork up close in the Van Gogh Museum in Amsterdam.
21. Craigslist
Craigslist is still widely used for good reasons. From finding the best weekend jobs to things for sale, it's a platform to find free items. And the best feature is it has a "free stuff" tag that will show you where you can find items for free of charge in your city.
You can simply google "Craigslists [your city]". Click on the link, browse the "For Sale" section, and click on the "Free" word. It will redirect you to a page where you can see all the listed items for zero dollars!
Take note that you don't have to manually scroll through items if you know what you're looking for. You can use the search bar and type in the item or a keyword that describes your item.
FAQs
Are online freebies actually free, or is there a catch?
You will typically need to put forth a tiny amount of effort to obtain that "free" good or service. The majority of people consider it to be free because there's no charge and it isn't a significant or demanding compromise.
Businesses give out free products as part of their marketing campaigns, whether that's market research purposes or building brand loyalty.
For a variety of reasons, large companies like Adidas or Nike allow non-paying customers to test their new items because they want to see how it will perform in real life scenarios like rough terrain, in a basketball game, on the concrete floor, etc.
You will always have to do something in return to get a free item. Think of it as you trading in your time to test out a product, or to answer several survey questions, in return for the free stuff.
How can I get free stuff right now?
The fastest way to get free things would be to check out Craigslist. It has more than 250 million users that visit the website every month. Can you imagine how many items are sold and bought on the platform on a daily basis?
With that amount of monthly traffic, a good percentage of those have listed their items for free. You don't even have to spend money on shipping fees because you can search for items located near your place.
Some of the things you'll see here are:
Toys
Kids clothing
Furnitures
Kitchenware
Dishwashers
Bed mattress
Gym equipment
Outdoor essentials
What website can I get stuff for free?
There are a ton of websites to look out for to get free stuff. I've mentioned a lot above but my favorites would be:
Rakuten – I enjoy shopping and Rakuten gives me cash-back opportunities for most of the stores I love including Nike, Sephora, Dyson, and so much more.
Annual Credit Report – I'm big on my personal finance. I like to have an overview of my credit standing and history. And if I can get a credit report for free, I would take it!
Swagbucks – I've been using Swagbucks ever since my college days. It has helped me get multiple discounts and free coffee on the side. It's what made some of my past time more productive since I would use it to answer surveys and watch videos in exchange for Amazon and Starbucks gift cards.
Enjoyed this post? Don't forget to pin the image below! Also, don't forget to follow me on Pinterest over here! 🙂