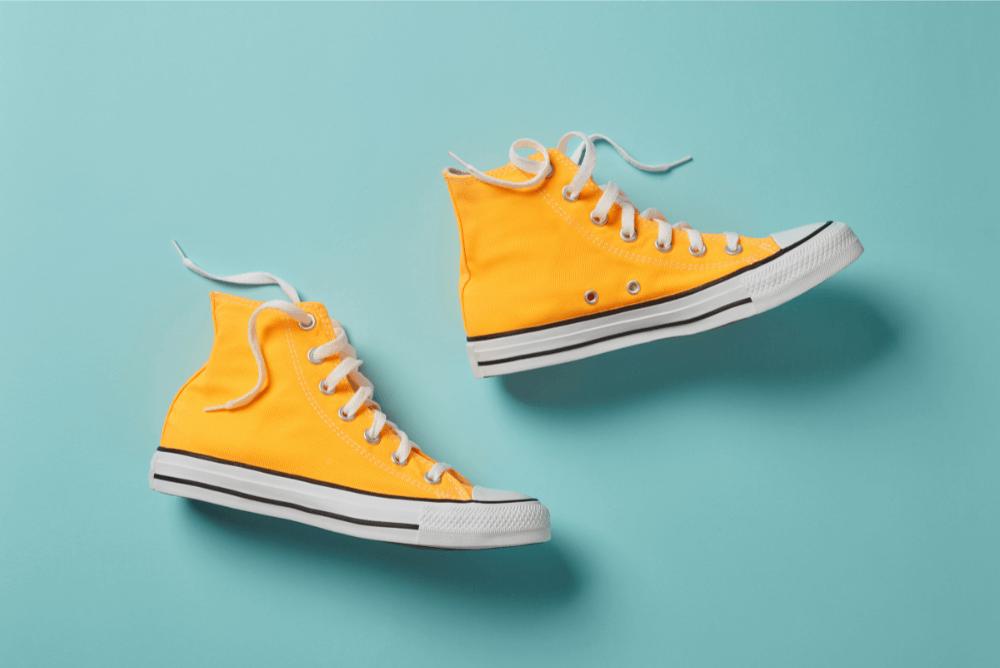 We will receive a commission if you make a purchase through our affiliate link at no extra cost to you. Please read our disclosure policy for more information.
If you're like me, your closet is running low on space and you need to get rid of some shoes. Donating your used stuff to charity is a good cause, but what if you need quick money to pay for bills or an upcoming holiday?
Selling your shoes for cash is one of the best ways to make $200 or even $300 in a day or less without stressing about getting a weekend job or waiting for a paycheck to come in.
You can even make up to $500 in a single sale if you sell designer or high-end shoes!
People are ready to purchase your used shoes from you regardless of whether they are brand new or have been worn once, twice, or many times. And it's not only people, there are even stores that buy shoes for cash.
We've shown you where to sell clothes online and easy side hustles to make money fast.
Now we're giving you the best places to sell your shoes for cash.
Whether you have a few pairs of sneakers or an entire collection of designer shoes that you no longer wear, there are plenty of top-rated online sites and apps that can help you get the best deal for your kicks.
I'll list the different platforms that can make you a sale in no time. I've used some of them to buy and sell other things as well.
PIN THIS: I'll be updating this post so make sure to pin this image here and save it to your Pinterest board. That way you'll be able to come back to this page and learn the best places to sell shoes for money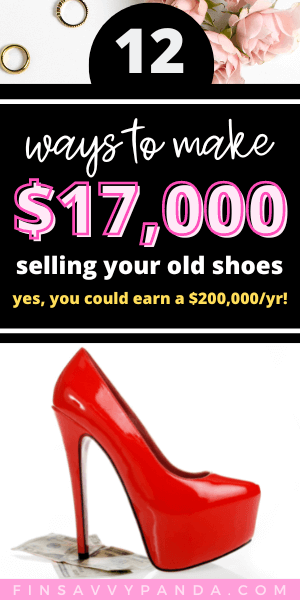 Best Places To Sell Shoes Near You
If you want to sell shoes, the first thing you should think about is, "Where can I sell my shoes for cash near me?"
Why?
Because you don't have to worry about shipping costs and paying commissions. Those extra fees will reduce how much you'll get at the end of the day.
So if you could completely take them out of the equation or minimize the fees as much as possible, you'll have a bigger payday.
1. Facebook Marketplace
If you're on Facebook, chances are you already know about Facebook Marketplace.
With the Facebook Marketplace, you can declutter and earn money. Doesn't sound believable? Well, let me tell you that I easily earned over $500 a month just by selling my things on the platform.
But when it comes to shoes, how do you effectively sell them on Facebook Marketplace? You honestly won't have a lot of trouble because shoes are one of the best selling items on the app.
It's all about making them presentable in the pictures you post. Clean them as much as possible and take high-quality photos. The better your items look on the listing, the more chances you have of selling them quickly. And remember not to grab photos online so the product doesn't look inauthentic.
When putting the description, be honest with the condition of the shoes. Give as many details as possible so there will be less back and forth.
If you haven't listed your shoes (and other items) on Facebook Marketplace, you might be missing out. There are no fees to list your items! And when a buyer places an order for shipping, only 5% will be charged to the seller. I have to say it's the best place to sell used shoes.
2. eBay
Almost anything can be bought and sold on eBay. I scroll through eBay when I'm bored just to see what people are selling. The craziest stuff can be found there, like a ghost in a jar, so I can only imagine how much you can sell shoes for.
Business Insider recently posted 10 best-selling sneakers on eBay. This will give you an idea of what type of shoes people are looking for on the platform.
As much as you want to set the price for your Nike Air Force 1, buyers look at recent purchases of your item to see if your listing is overpriced.
If it is, then you might have a hard time selling your shoes. As a result, the best strategy for you as a seller is to base your price on recent sales.
When it comes to fees, eBay will take 8% of the sale price. It's best to account for this fee when comparing different selling platforms.
For new sellers, your first 250 listings are free on eBay. After that, it costs $0.30 for every item you post on eBay. This won't benefit you if you're planning to sell actively, but if you're selling just to clear your closet, then that number of listings is more than enough.
3. Craigslist
Craigslist has been around forever. It's where millions of users buy and sell. You can easily sell your used baby clothes for cash. Furniture selling is very popular and electronics is a big category as well.
This can be another channel for you to list your shoes for sale. You could have listings on eBay, FB Marketplace, and Craigslist. You don't have to be limited to only one website. The more platforms you put your items on, the more people will be looking at your listings, right?
As you use multiple platforms, you want to quickly delist your items once they get sold. You don't want to disappoint customers by keeping your listings active when they're no longer available.
It's usually a good idea to call the buyer first when delivering products personally on Craigslist. Have a feel of the conversation. If something sounds off, it's best you don't push through with the transaction. That's usually how sellers get robbed or set up by scammers.
But if you think everything is good from both sides, pick a location where there are a lot of people. It can be a mall or a coffee shop. Always prioritize safety before making that sale.
4. Consignment Stores
There's no denying the hype behind sneaker culture. It's no longer underground as more mainstream media outlets feature this movement. Many sneaker consignment stores have opened as a result of the buzz surrounding this market.
To name a few popular consignment stores:
If you're not familiar with the selling process with consignment stores, it works like this:
The consignor (seller) will bring their sneakers to the consignee (retailer) and the store will help sell them. If the item is sold by the retailer, the seller will have a percentage of how much it was sold. The split of the profit could be 60/40 and sometimes 50/50.
Sneaker resellers like this option due to its convenience as they don't have to spend time listing on different platforms. They let the stores take care of all of the marketing and finding buyers. The icing on top is that you don't need to deal with delivering or shipping the items yourself.
5. Garage Sales
Shoes are hot items in a garage sale. They're saleable especially when it's in good condition. Be sure to disinfect and deodorize your old shoes to attract more buyers. Customers are willing to adjust their budgets higher when they see a pair that looks clean and smells fresh.
When you open up a garage sale and decide to include some of your shoes, make sure that they can be easily seen.
As soon as people see it, they'll gravitate towards the item to check if it's their size and the price is right.
You can put on your buyer hat as well when you see a garage sale. Look for bargain shoes in the pile of things displayed. If you see them, check if it's in good condition and if the price is worth it. You can flip those pairs into higher prices making you some profit on the side.
Of course, you need to check if the price is fair or if it is still worth it to be resold.
Best Places To Sell Shoes Online
Selling your shoes face-to-face limits your potential customer pool and necessitates setting up a time to meet the buyer. That's why the most common way of selling things nowadays is online. You get to leverage the thousands of visitors that these websites get on a daily basis and these visitors are all interested in purchasing something.
Never ask yourself, "Where can I sell my shoes for cash online?" after discovering these remarkable platforms.
6. Poshmark
I've read numerous articles over the years about how people made profits by reselling goods on Poshmark. Although there's a ton of coverage on people selling on the platform, it still feels like it's an underground secret. It's like a way to earn money through an app that only a few know about.
You might question how much money could be made selling secondhand fashion. Well, check out this couple that made $200,000 in revenue on Poshmark. And you know what they were selling? Shoes!
Poshmark allows sellers to list sneakers, t-shirts, leggings, bags, bikinis, and many more. If you have it at home, you can probably sell it through the app. Unlike eBay where the seller has to cover the shipping cost, Poshmark provides sellers with prepaid shipping labels that are paid for by buyers.
If you're interested in flipping things, I highly suggest you try out different categories to find out what you like to resell. You can start off selling t-shirts and workout clothes. If it doesn't feel right, give jackets and handbags a shot.
You'll usually start all over the place but with experience and time, you'll get to find the category that works for you.
7. OfferUp
OfferUp is an online marketplace where sellers can list just about anything. In the app, you can sell clothing, electronics, collectibles, pieces of furniture, and shoes.
Due to the fact that it is not a specialized app that exclusively sells sneakers, it is extremely similar to Craigslist. Users can search through a wide variety of categories.
Unlike other applications, listing in OfferUp is completely free. That's why it's a popular website to sell items. Additionally, it doesn't cost much to advertise listings. When you need to sell something quickly, you only need to spend $1.99 to push up the number of views on your ad.
As a seller, I suggest that you avoid in-person transactions if you can. That scenario just invites unnecessary risks and increases the odds of a buyer renegotiating. It's a common tactic by some buyers to do one last haggle.
8. The RealReal
I know there are some of us who have expensive tastes, and if you're anything like that, head over to The RealReal. It's the best selling platform for designer shoes like Givenchy, and Gucci.
The RealReal brands themselves as the marketplace for buyers and sellers who are looking for designer items. The website has all kinds of designer items, so it's definitely not hard to sell your designer shoes here.
As I browsed the site, what stood out to me were deals like some Chanel earrings that were sold for $900 and an Audemars Piguet watch for $35k! So if you want to sell your designer items for a reasonable price, there's no other place to see. The people here are willing to splurge on their shopping.
The way selling works on TheRealReal is that you need to sign up and schedule a pickup time with the company to get your item. Alternatively, you can ship to their office address or drop the items off personally.
After receiving your item, the company will do all the selling for you. Their experts will do the authentication process to protect both parties from counterfeits and disputes.
But you have to read the fine print because they can apply an immediate 20% discount to your item. If you're selling a handbag for $300, and they put a 20% discount on it, the bag is now open to the market for $240. They get a 50% commission when your items are sold. Which leaves you with a $120 profit for a $300 product.
You have to decide whether your time is worth it or not. The advantage of this website is that you'll experience a hassle-free sales process.
Take note that as the price of your items increases, so does the commission rate.
9. StockX
StockX is a known secondary market for buying and selling sneakers. It's like a stock market but for trading shoes and designer items. That feature is what made me interested in the first place.
It's compared to the stock market because the prices on listed products are not determined by StockX but by the people who bid and buy shoes in real time. As the seller, you place an asking price and when the bid/ask meets, the transaction happens.
If you're not into deep in the sneaker game, just observe the platform and see how much some of these sneakers are selling for. You'll be fascinated by how some sneakers are worth $30,000!
There's no need to complicate the selling process here. It's just like eBay where you create a listing for your shoes and set an asking price for bidding. And like an auction house, people can place bids or buy them directly.
10. Grailed
Grailed has a physical store in New York but you don't have to go there to sell your shoes. They have a website where you can just upload your item and post three photos of it.
The business is a place for high-end designers, sneakers, and streetwear brands. But they do have lower-end items as well.
It's entertaining to browse the site since it has a bunch of listings from brands like Nike, Adidas, Balenciaga, and others – an ideal place to find a good deal too.
It's crucial to be aware of and provide all pertinent information when offering shoes for sale. Aside from the basic info and good pictures, make sure to include small specific details. This will help Grailed in authenticating your product.
These small details could include:
Outsole
Wash tag
Brand tag
Sneaker box
Inner size tag
Serial number (if applicable)
All of these might seem natural and nothing worthy of looking but these are small details that help tell that your product is legitimate.
As you browse through the listings, don't be surprised if the sneakers are cheaper than retail. It doesn't automatically mean they're fake. Secondhand items are cheaper by nature unless they're limited editions and rare.
11. GOAT
Another well-known app for selling sneakers is GOAT. However, only approved and verified persons are allowed to sell on the platform. Since apparel and accessories sellers are also applying, the approval process can be lengthy.
GOAT encourages you to sell your used sneakers on the website. You just need to provide the necessary information about the shoes when listing them.
You could follow how the other sellers curate their product descriptions. Go to their homepage and select a shoe to check. Read the description and you can mirror that style.
Personally, I like their website's navigation. It doesn't take you a lot of clicks to find an item up for sale. Also, when you hover over the price, it quickly shows you the prices for different sizes. Another plus is that their support team is quite helpful when it comes to inquiries.
Now, for the seller fees, GOAT takes anywhere between 9.5% to 25% commission depending on your seller rating. The higher your rating, the lower the commission. New sellers are charged 9.5% and if you cancel orders, your seller rating will go down.
12. Mercari
Mercari started as a Japanese eCommerce giant connecting buyers and sellers of used items. In 2014, they expanded to the United States, and since then, they have become one of the most well-loved used marketplaces.
Many people prefer selling on Mercari because they have a lot of categories that you can sell into. You're not limited to just common items like clothing. If you want to sell your used shoes, they will let you list them. But if you have more unusual items like an inflatable pool and a used side table, you can sell them on Mercari, too.
The platform also allows you to create a bundle of similar items – a way to make you sell your items quicker.
It's free to list your items on Mercari, but if you're able to sell your item, you will be charged a 10% fee and a payment processing fee of 2.9% plus $0.50 for each item sold.
With more than 350K new listings daily, you can bet that there will be someone interested in buying your used trainers.
FAQs about the best place to sell shoes
What is a good way to sell shoes?
Prioritize your visuals if you want to sell shoes online.
Exceptional and authentic photos are necessary because these are what potential online buyers can rely on. It's better to take high-quality videos showing the shoes from all angles to really show their unique features and design.
And please, when you do decide to sell your shoes online, don't take advantage of the fact that buyers can't inspect the shoes. Be honest about the condition and value. If there is an issue, say it.
Pricing can be tricky because you want to pocket as much profit as you can from the sale but at the same time, setting higher prices can scare off potential buyers. Take some time to check out what others are charging for the same kind of stuff. And keep in mind that price isn't the only factor that buyers care about. Sometimes, by giving small sweeteners like free shipping or a discount if they buy more than one thing can win over a customer.
Above all, give good customer service. Yes, even if you're just decluttering. Ask your customers to leave reviews. Trust me, it will be better in the long run.
What is the best app for selling shoes?
Given its reputation and vast user base, eBay is the best app for selling shoes. You receive the first 200 listings for free on the well-known platform that is the website. People use this website to find items that are less expensive than those found in retail stores.
Just make sure to be detailed with your description and photos. The buyer's journey on eBay can be stressful especially when the item they're looking for can be a replica. This means you have to convince customers right away that your shoes are genuine as soon as they land on your listing.
Is selling shoes a good hustle?
Yes, selling shoes is a good hustle.
In fact, I've sold many old sneakers, boots, and runners, and I'd be lying if I said I didn't make good money from them. If you want to earn extra money, I'd definitely recommend selling shoes.
You can even gradually grow your presence online as a shoe seller. Other people are actually selling shoes as their full-time job and it's possible to earn enough to support your daily lifestyle. In order to make a name for yourself in the industry, you'll have to be adaptable and keep up with the trends. This might sound like a lot of work to the average person, but if you love shoes, it's a dream job.
Is it worth it to sell shoes?
The simple answer is it depends.
Personally, I think it's worth it to sell shoes. That's because most of my shoes are gently worn and some are collectible. Given how well I maintain my shoes, it's easy to sell them and I've made a decent income from this side hustle.
However, if your shoes can barely last a year, it might not be worth your time.
There are honestly a lot of things to consider before selling your shoes, such as associated costs and market demand. If these things are in your favor, selling shoes can be quite profitable!
Enjoyed this post? Don't forget to pin the image below! Also, don't forget to follow me on Pinterest over here! 🙂