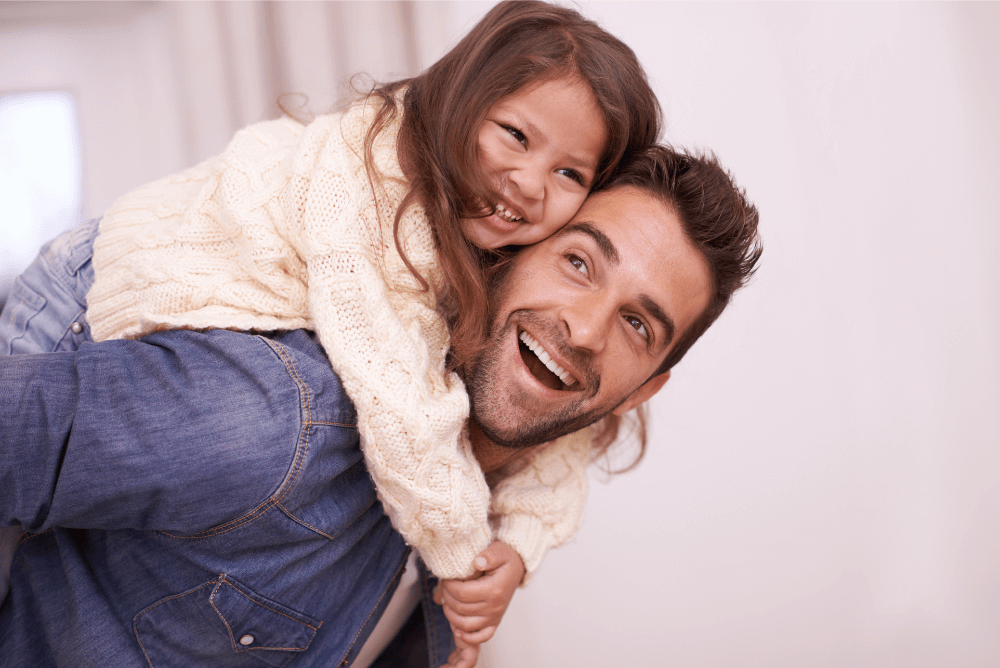 We will receive a commission if you make a purchase through our affiliate link at no extra cost to you. Please read our disclosure policy for more information.
The best stay-at-home jobs for dads give you the freedom to work from home and structure your work day to fit your busy schedule at home.
These jobs don't need you to be physically present at an office or follow strict working hours. In fact, many of these jobs can be done online or remotely from your home office.
With talks of an incoming economic recession, your priority should be making good money as early as now and providing for your family.
In addition to working from home, some of these jobs, like graphic design and social media management, can be studied for and learned. whereas in other positions, like being a delivery driver or a dog walker, you can rely on your personal experience.
Grab your pen and paper, and take note of the jobs that speak to you!
PIN THIS: I'll be updating this post so make sure to pin this image here and save it to your Pinterest board. That way you'll be able to come back to this page and learn which jobs are the best for stay-at-home dads.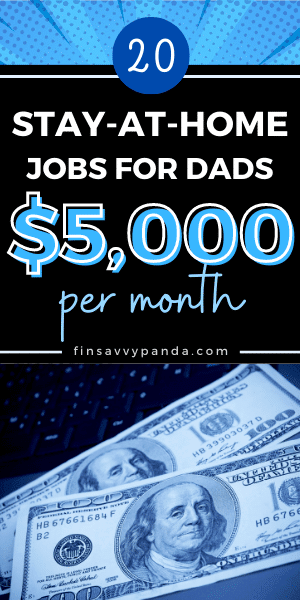 Best Work From Home Jobs for Dads
It can be difficult to support your family as a stay-at-home father, so many dads are seeking methods to make ends meet.
However, there are numerous flexible side hustles you can do at home or during your availability window that can offer a steady source of money while also giving you the freedom to be present for your kids.
1. Freelance Writer
Average Salary: $56,800 per year
I always thought that you had to have an English degree or write like Shakespeare to find work as a freelance writer. However, this is far from the truth. You don't even have to show any sort of certification. You just need to know how to write content that's engaging for readers and have them wanting to read more!
Becoming a freelance writer is easy when you love reading and writing. Needless to say, you're creative, have good grammar and spelling skills, and enjoy learning different topics. The content you create will need to grab the attention of the readers by the throat and make them think about your message.
This shouldn't be a problem if you know how to turn in plain words and transform them into amazing stories. Companies and business owners will pay for your writing expertise to educate, inform, or entertain their audiences.
Sites like Upwork and Fiverr are great platforms to find your first freelance writing gig.
As much as you want to set your own rates for this job, you'd have to settle for what the employer is paying you when you're just beginning. But as you gain more experience and have built a writing portfolio, you can set your own freelance writing rates.
Pros: You'd be able to make money out of your writing. You can also work whenever you like and wherever you please as long as you submit the article on time.
Cons: If you choose to be a freelancer, you're only working on a per-project basis. So if the job's done, you're on the hunt for another project again. This makes the salary unstable.
2. Virtual Assistant
Average Salary: $61,700 per year
Gone are the days of assistants needing to be in person. Forbes even said that social media celebrities want to work with virtual assistants (VA) more than traditional personal assistants.
As more businesses launch online businesses over opening physical stores, entrepreneurs, influencers, and brands have also started hiring remote jobs to reduce start-up costs. As a full-time stay-at-home parent, this can be a perfect opportunity for you to ride the trend.
Never underestimate the value of virtual assistants. They actually play an important role to make the whole online business operation run as smoothly as possible. Without them, business owners will need to take time away from growing revenue and spend time doing daily administrative work, which is not the best use of their time.
Aside from the usual administrative tasks like answering emails and managing calendars, you might be expected to help with client outreach, following up with clients, growing email subscribers, and booking sales calls.
Depending on the activities you'll be doing, sometimes you'll be required to be online at the same time as your employer. This means that if your boss lives halfway across the earth in an opposite time zone from yours, you'd have to be awake during your evenings.
Luckily, there are plenty of VA positions that let you work whenever and wherever you like because the tasks aren't time sensitive. So if you have errands to finish in the morning, you could start your work in the afternoon.
Pros: If you work for an employer who's in a niche where you have plans to create a business, you'll learn the ins and outs of that service.
Cons: There is a learning curve for using various technologies, such as Google Workspace, Asana, and Canva. As a VA, you'll use a variety of platforms and programs, so it's wise to familiarize yourself with them to increase your odds of getting hired.
3. Start Your Own Online Business
Average Salary: $68,465 per year
Launching an online business is like setting sail on a voyage of discovery. With the right preparation and a little bit of courage (and luck), you can find success and financial freedom in the vast ocean of the internet.
So if you've been dreaming of starting your own business for years, now is the best time to do it.
Online platforms like Shopify makes it easy for non-tech-savvy people to build a professional-looking website with just a few hundred dollars. If you want to sell products, you don't need to invest and stock inventory because you can have wholesalers hold onto the supplies for you.
Times have definitely changed. If you're itching to launch your own business but don't have any ideas on what to sell, here are some niches you can consider:
Dropshipping
Custom apparel
Coffee business
Men's grooming products
Essential oils
Kitchen supplies
Pet supplies
Pros: If you can scale your online business, the money you make can be more than enough to top the salary you would have made working for someone else.
Cons: Some businesses might need initial investment with no guarantees of you having an ROI.
Stay-At-Home Dad Jobs That Pay Well
The more technical skills you have, the better. With some training, you can comfortably earn more than $60,000 a year. Although these jobs might need some specific knowledge, you can learn the skills online or through a course to help you succeed.
4. Web Developer
Average Salary: $66,593 per year
Web developers have it good since their profession is booming in this digital age. Some of these jobs allow them to get paid while working remotely at home!
You might question why web developers have a high-paying salary. What makes their skill important?
Well, almost every business and brand whether big or small needs a website to make a buzz in today's business landscape. Plus they're leaving a lot of money on the table if they don't have an online presence.
Web developers can create websites that are suited to the needs and wants of these businesses. As an advantage, you're not limited to what a website template offers. A great web developer can make every single detail you want possible.
A project that a web developer can do would be creating a website for a local restaurant. The developer then creates individual pages for menus, reservation options, contact information, and FAQs page.
Web developers go beyond website design – they also have their hands on web applications, bug resolution, data security, and website function.
If you want to dig deeper into this niche, check out these high-paying web developer jobs.
Pros: It's a very high-paying job when you increase your client list. It won't be hard to pitch this service since it's in demand.
Cons: Web development requires technical skills. You will need to learn and brush up on your coding skills.
5. Graphic Designer
Average Salary: $58,423 per year
Graphic designs are essential in the digital world. People hate seeing walls of text when reading content. So to make information less boring to understand, companies use images, videos, and graphics to make the content more entertaining.
"A picture is worth a thousand words."
Sometimes, a graphic designer is all it takes to capture the essence of a brand.
If you do have the ability to make visually appealing graphics like infographics, illustrations, and logos, you can easily earn $1,000 a week doing what you're passionate about.
If you're a beginner, try practicing on Canva. It's a great platform to create simple yet beautiful graphics.
But you'd want to learn more complex software like Photoshop and Illustrator because there are things that these software can do that beginner-friendly platforms can't.
To help you help begin this journey, take up graphic design courses on platforms like Udemy and Skillshare. But if you want to take the free route, YouTube has numerous channels that are focused on teaching the basics.
Unlike most jobs in this list, graphic designers usually have to submit their work within a certain time period. It's because their output is often paired with what the freelance writers have written.
So if you're quick to turn an idea or inspiration into your own graphics, you can try this out!
Pros: The demand for graphics will remain high. You'll never run out of potential clients.
Cons: Takes time to practice and hone skills. You can't read a graphic design book and expect to be great at it immediately.
6. Repairing Gadgets
Average Salary: $40,670 per year
For some reason, my electronics tend to malfunction after a few months it's out of warranty. It doesn't make sense to toss it in the trash and buy a new one when I can spend less than half of the price to fix it.
I'm sure I'm not the only one in this situation. And that's why you can make a great side hustle out of fixing broken electronics such as laptops, cell phones, and tablets.
Fixing damaged Apple products used to be impossible for consumers, but with Apple's Self-Service Repair Store, you can now repair Apple devices by following their manual guide using genuine parts.
This nifty talent can even open your doors to the creator economy and help you start a brand focused on this skill set of yours. You can create a YouTube channel where your content can be about repairing gadgets or restoring old electronics. There's a demand for this niche since many people rely on YouTube to see if they can repair their own damaged items before taking it to a repair shop.
Pros: You'd know how to repair gadgets and you can be the go-to person for repairs among your friends, family, and coworkers.
Cons: Looking for clients can be difficult at first. But word of mouth can work in your favor if you restore gadgets in a timely manner.
7. Tutoring
Average Salary: $50,898 per year
Getting good grades is analogous to getting a head start in life. Please tell me which parent doesn't want his/her child to get straight A's in school and get into a prestigious university.
If you have a deep understanding of a certain topic that goes beyond surface-level information, tutoring is a hidden gem to making good money. Core subjects like math, science, English, and computer science are very popular for obvious reasons and can easily earn you $300 a day.
There are multiple platforms that hire tutors to teach different age groups or educational levels and other websites that only teach a certain subject.
For example, Preply is best for language learning. Mathnasium specializes in math, while Chegg Study teaches all sorts of subjects to students.
When it comes to time flexibility, you'd have to be mindful of the students as well. If you're only available in midnights, the tutoring platform might connect you to a student with a different time zone.
Essentially, there are two routes you can take to earn money as a tutor.
First, you start a tutorial service independently. This means you'll need to market your service yourself to find clients.
Second, you can join tutorial platforms and apply as a tutor.
My suggestion is to join online tutoring platforms and teach as many students as you can. After you've shown your expertise, you can start your own tutorial service and charge premium prices.
Pros: You get to teach a topic that you already know. You only need to brush up your knowledge of it.
Cons: The teaching progress is dependent on the learning speed of your students. Patience is a must in this field.
Easy Jobs for Stay-at-home Dads
Simple jobs can often mean below-average pay, but they offer the flexibility you need to take care of young ones. These easy jobs are the ones you can do on the side when you have extra time in the day or week. Although these are just side gigs, they can still give a good boost to your family income.
8. Yard Work
Average Salary: $47,900 per year
You'd be surprised how many homeowners are on Craiglist looking for someone to mow their lawns, trim the hedges, and pull out the weeds that are taking over their beloved flower beds. Whether they're busy at work or have bad backs that prevent them from doing physical tasks, they'd be glad to hire a helping hand.
In addition to getting paid cash after each job, being outdoors and getting your hands dirty in the garden can be quite therapeutic when you need a break from the kids.
This job requires very little training and you don't need to have a green thumb either. But of course, if you have some experience in landscaping, you can take on larger projects and make more.
If you're serious about getting your foot into this industry, there are companies that can train you to be an expert in this field and will also give you a certificate after the program.
Some yard work responsibilities that you should be ready for include:
Preparing flower beds
Applying fertilizers to plants
Trimming and cutting plants
Digging an area for gardening
Raking leaves and cleaning pathways
Pros: It's a relaxing job since you're focused on just making the garden beautiful for the owner.
Cons: 100% sweaty and physical work. You will be exposed to the sun for long hours.
9. Translator
Average Salary: $67,300 per year
Translating software do a good job of translating words individually, but when it comes to putting the words into context, they fail miserably. How many times have you seen sloppy translations that don't even make any sense?
Would you trust translation apps to translate your legal documents? Probably not.
Until machines can properly translate the nuances of different languages, humans will still be an integral part of translation services.
Important documents such as legal contracts and medical records must be translated carefully to ensure accuracy. If you are bilingual or multilingual, doing translation work is a no-brainer.
Professional translators get paid well and often have flexible hours to work at home. To secure more translation jobs, you need to prove your capabilities by taking tests that the company will administer. Your translation needs to be flawless as accuracy cannot be compromised in this field
Being a translator can lead you to have your own translating business. But it's best that you get hired for it first before you start your own service. You can start by applying as a freelance translator for translation agencies or accept one-time projects for clients who need ad-hoc translation projects.
Pros: You're getting paid to translate words into a language you are fluent in.
Cons: The company you work for will usually set the rates which means you'll be paid less.
10. Delivery Driver
Average Salary: $79,900 per year
One of the most flexible and popular jobs on this list is earning money for delivering items. There's no shortage of work and you can drive according to your own schedule.
Remember that delivery drivers don't just deliver food. They can also deliver pieces of furniture, bulk packages, and groceries. There are plenty of options you can try out in this field.
The main responsibilities of a delivery driver are to be on time and deliver items safely. But this is much easier said than done. Delivery drivers need to deal with traffic and delays from the restaurants themselves.
Most companies in this niche make sure you earn above minimum wage. Take Amazon Flex, for example. Its average hourly wage is $20. UPS drivers approximately earn $23 per hour. It's a great side gig to try and see if it works for you.
Pros: Flexible time schedule that allows you to make extra money whenever you're free to deliver.
Cons: It's a competitive side gig. You need to be quick on accepting orders/requests especially when you're driving for a popular app.
Best Evening Jobs for Dads
If your only time to do work is during the evenings, I have a list of jobs for you night owls! This is perfect for dads that are busy during the day and still have the energy to work during night time.
11. Social Media Manager
Average Salary: $59,145 per year
Rather than spending your leisure time on social media scrolling, why not work as a social media manager and get paid by businesses?
There's a good chance you already know how social media platforms work. All you need to know now is the audience of your employer and what makes them engage in posts.
Being a social media manager might look like a simple job but it plays a significant role in a business's growth.
A local boutique might only have a brick-and-mortar store and no online presence. You can pitch your service to them to make their brand known more to people.
You'll use your skills to craft catchy headlines and descriptions. Collaborating with influencers to increase brand exposure and learning how to use ads on different social media platforms to reach their target market.
I personally use Pinterest to drive traffic back to my blog. I can't imagine how any business can survive without having a presence on social media.
Pros: It's a fun job if you're into social media and online marketing.
Cons: You need to be on top of trends. You don't want to be late to the news and changes to platforms.
12. Do Uber Eats
Average Salary: $29,012 per year
Uber Eats is a tried and tested way to make money in your free time. Some say that it remains undefeated when it comes to being a driver due to its demand and flexibility. After all, we all need to eat and Uber is a multinational company.
With Uber Eats, you can work when you feel like it or if you have extra time within the day. You can do this right after your house duties at night. Set a couple of hours to do some deliveries.
To make your time worthwhile, Uber mentioned that the busiest period is dinner time. It generally starts at 5:00 PM and ends at 9:30 PM.
Unlike other delivery apps, you don't have to schedule in advance if you want to work. This means if you've found yourself in a position where you need money immediately, you can just hop in your car, open up the app, and start earning.
Pros: There are enough delivery jobs to keep you busy, especially if you live in a big city.
Cons: As you take on more jobs, you'll use your car more. Frequent wear and tear will lead to higher repair costs.
13. Work As A Realtor
Average Salary: $95,800 per year
You can still work on being a real estate agent even if you're only available in the evenings! As a matter of fact, the busiest time for real estate agents is during the evening. Clients often work during the day and look for a home to buy or rent when they're off work.
You could learn a lot about the industry on YouTube but if you want to get a license and become an official real estate agent, you need to take classes. With today's online resources, almost anyone can learn how to be a real estate at their own pace. So if you're only free in the evenings, check out the following websites.
The CE Shop can help you with exam preps, pre-licensing & post-licensing processes, and continuous education. Colibri Real Estate, on the other hand, allows you to enjoy flexible learning.
It's no secret that being a real estate agent is a lucrative job but it does require patience from your end. The process of being certified and passing exams can't be done overnight. And closing deals isn't as frequent as you want.
Pros: Unlimited income potential. There's no ceiling to how much money you can make in this field.
Cons: There are guaranteed slow days in this profession where you won't make a sale for a month or two.
Best Weekend Jobs for Stay-at-home Dads
If meeting people and expanding your network are things you like, you wouldn't want to miss out on these jobs. The work here is very satisfying and well worth your time. The best thing? You can do them even just on the weekends.
14. Flipping Things
Average Salary: Depending on the items you've flipped.
When I was working at my full-time job, flipping furniture has been my go-to activity to raise extra cash. I bought old coffee tables, nightstands, and drawers that people were willing to let go at a huge discount and refurbished them on the weekends for fun.
I cleaned the pieces thoroughly, sanded off the previous coat, and applied a fresh coat of paint to make it look brand new. After that, I sold the items on Facebook Marketplace and OfferUp with a huge margin over my purchase cost.
It wasn't hard to earn $700 in a month when I had buyers lining up to purchase my refurbished furniture.
Resellers like Gary Vaynerchuk created a playlist on his YouTube channel called Trash Talk to show his fans that flipping can be a profitable hobby.
Upfront capital isn't required for flipping since you can start by going through your own items and selling them.
Look for lightly used clothes, appliances, and gadgets. You can even make money on your power tools or toys that your kids don't play with anymore! Flip them and use the money you've made to purchase other items to sell.
Browse through eBay, thrift stores, and garage sales to find quality products at rock-bottom prices. When you resell them, use platforms like Craigslist, Facebook Marketplace, and eBay to quickly find buyers.
It's extremely satisfying to buy an item for cheap and make a profit off it.
Pros: Anything is flippable.
Cons: It takes an entrepreneurial spirit and a keen eye to spot potential in any product you want to flip.
15. Serve At Restaurants
Average Salary: $45,300 per year
Full-time servers aren't robots and need days off to rest and relax. That's why most restaurants look for part-time servers to cover the weekend shifts.
A quick Google search of "part-time restaurant jobs near me" will show you where to hand in your resume.
Having prior experience in the restaurant industry is a big bonus employers look for. But don't worry if you've got no experience. As long as you're friendly, polite, and can take orders quickly and accurately, you'll be considered a great candidate.
Some businesses are quite flexible with their schedule so you can simply talk to your shift manager about how many hours you'd like to work on the weekends.
Tips will be a big chunk of your paycheck so be sure to bring your smile with you and show diners your excellent customer service.
It's a fast-paced job and you need to be on your toes, but it's rewarding when you pick up great tips from happy customers.
Pros: You can work whenever you have spare time within the week. It's a good way to earn money for something that's coming up.
Cons: Tips aren't guaranteed and can vary from shift to shift.
16. Online Personal Trainer
Average Salary: $52,600 per year
Personal training can now be done online. It's amazing how the internet has made a way for people to train and coach without meeting face-to-face.
Since you won't be physically there with your client at the gym, you'd have to be specific and clear with your workout programs.
Educating your clients about all things nutrition, diet, and exercise are basic tasks that you need to be knowledgeable about before becoming a personal trainer.
To get your name out there, you can start a personal fitness website and write informative blog posts about health and fitness for your potential clients. Aside from that, having social media pages can help you promote your services. You can even create free sample workout programs for prospects so they can get a glimpse of what to expect when they join your program.
To succeed as an online personal trainer, you need to be in touch with your clients regularly. Give frequent updates on their progress and make adjustments to their workout plan.
Pros: You manage clients remotely. In your downtime, you can focus on other money-making opportunities in this field like creating content or digital products.
Cons: Frequent calls are needed. You want to motivate and remind your clients to stick to their diet and follow the workout program.
Fun Stay-at-home Jobs for Dads
A fun job is where you can bring out your creative side! It's also a position where you can talk about your interests, passion, and the things you love. Fortunately, the online world has given us the opportunity to monetize these things making us excited to show up for these jobs.
17. Start A YouTube Channel
Average Salary: $60,000 per year
There's a niche for everything on YouTube. So if you think no one likes what you do, just think about the 2 billion users that this platform has.
What's exciting about creating a channel is producing content that you love. This might start out as something you do as a cheap hobby but as you grow your channel and gain more loyal subscribers, you can take it to the next level and start monetizing your channel.
Monetization strategies like displaying ads, curating sponsored content, and selling your own products are just a few ways to make money out of your channel.
Here are a few top tips from MrBeast (one of the most-subscribed YouTubers):
Tip 1: Go above and beyond
When creating videos, don't settle for mediocre work. Go beyond what your subscribers expect from you. Would you want to watch a video where you can clearly tell that the creator didn't put any effort into making it?
Tip 2: Delegate
Don't go through this journey alone. You can't do everything yourself. MrBeast's team consists of his friends! Have a team to help you brainstorm and bounce around ideas.
Tip 3: Embrace data
Numbers don't lie. Data is the only way to objectively know what works and what doesn't.
If you stay long enough and be persistent in creating great content, the monetization of your channel whether that's through ads or sponsorship will eventually happen.
Pros: You get to entertain, teach, and inspire people around the world.
Cons: It's going to take time before you establish a name and start earning your first $100 from your channel.
18. Sports Referee
Average Salary: $56,300 per year
You haven't thought about this, have you? This is perfect for any dad that's a die-hard fan of basketball, baseball, football, or any other sport.
But we know that just because you're passionate about basketball doesn't mean you know every technicality of the game, which is crucial when you want to do a referee gig.
However, passion helps a lot. It will motivate you to learn about the guidelines and rules of the sport. You won't think of it as a prerequisite to landing this job. You can think of it as a way to learn more about the sports you love!
Becoming a referee will need some specific training. Some committees might ask for some certifications as well. So it's best you prepare these things before you pursue this job.
To look for certifications and training, you can search for "(your sports) referee certification (your state)". Your Google search should look like this "basketball referee certification Miami". These searches will lead you to organizations for which you can register training for.
Pros: It's a blast to do play an active role in a sport you love.
Cons: You'd have to invest some time to learn the rules by the book.
19. Photographer
Average Salary: $51,300 per year
You might have picked up a photography hobby before. But because of life, you were busy with other things. This is usually the case for people who wanted to do photography on the side.
If you still have that love for photography in you, pick up that hobby again and start earning with it!
Of course, you'd need to shake off the rust and practice your shots.
If you have a friend that's a professional photographer, ask them if you can shadow them when they work with a client. Tell them that you'd just like to practice. You'd take care of your own food and transportation.
You can also ask some of your friends to be your models. It's a fun activity to try out while practicing your your angles, lighting, and post-production techniques.
After you're more confident with your photos, it's time to open yourself up for business! Start telling people like your family, friends, and coworkers that you now offer photography services at a family-friend rate.
Pros: When doing photography at events, your gas and food are usually paid for by the client that hired you.
Cons: Having a portfolio is a must so you'll need to do some free work to build your portfolio of photos.
20. Dog Walker
Average Salary: $48,800 per year
Doesn't it break your heart knowing that your furry friends don't get to go out and play when their owners are busy with work? Well, here's your chance to make sure that doesn't happen.
Let's focus on talking about pet-walking apps like Rover and Wag!
Rover is an app for pet parents, specifically, dogs and cats. It's a platform where you can take care of dogs as a side gig!
The services offered aren't limited to walking, you can also do house sitting where you stay for the night in your client's home taking care of their pets. There's boarding where you take in a pet and let it sleep in your own home.
Wag! is much like Rover since it also has different dog-care services. If you're qualified to do proper dog training, Wag! has a 1-on-1 service that can be another source of money besides walking dogs.
You should consider getting dog training certifications if you want to gain the trust of pet owners and charge more for your services. Companies like Karen Pryor Academy and Certification Council for Professional Dog Trainers can help you get started.
Pros: You get to do some exercise as you get paid to walk the dogs.
Cons: You'd have to market yourself to increase your client list.
Enjoyed this post? Don't forget to pin the image below! Also, don't forget to follow me on Pinterest over here! 🙂