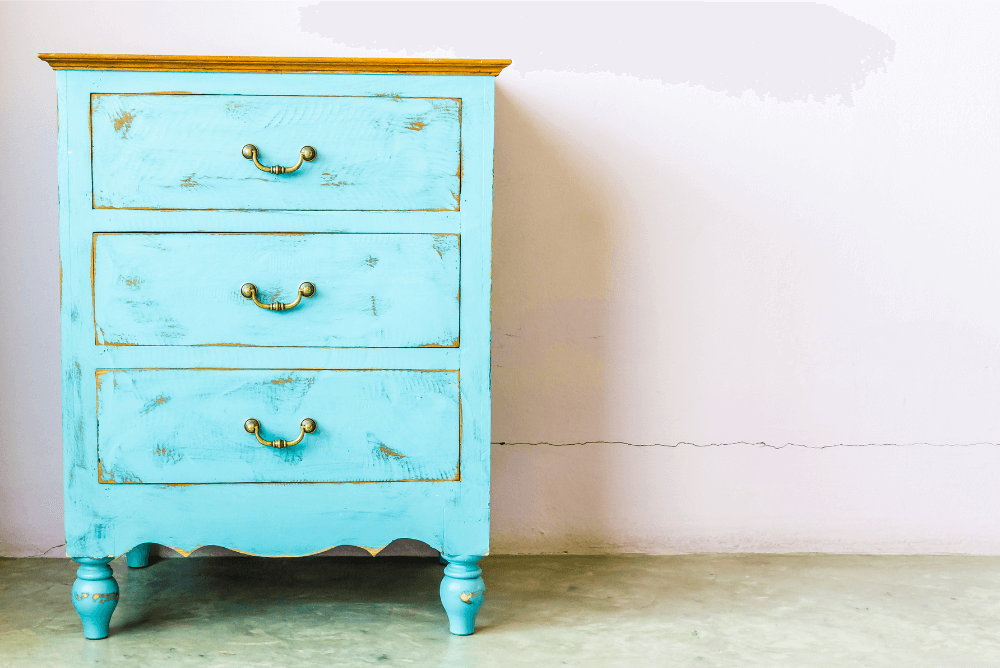 We will receive a commission if you make a purchase through our affiliate link at no extra cost to you. Please read our disclosure policy for more information.
Woodworking is seen by many as a creative outlet. It helps people relax and escape the responsibilities of everyday life.
However, woodworking today is no longer a pastime, it is now a hobby that can be very profitable.
In today's time, you have a ton of options to monetize your woodworking skills. Regardless if you make a dining table or a small candle holder, you have the choice to sell it online or through local listings. You can even start a woodworking class as a second job to earn a steady monthly income.
With enough exposure, companies can hire you to do some commission work like custom tables and chairs for a restaurant. That type of project alone can net you five figures once the item is done.
If you've done woodworking in the past and or you're thinking of building a career in this space, now's a perfect time to dust off your passion and start crafting!
PIN THIS: I'll be updating this post so make sure to pin this image HERE and save it to your Pinterest board. That way you'll be able to come back to this page and learn the ways to earn money by woodworking.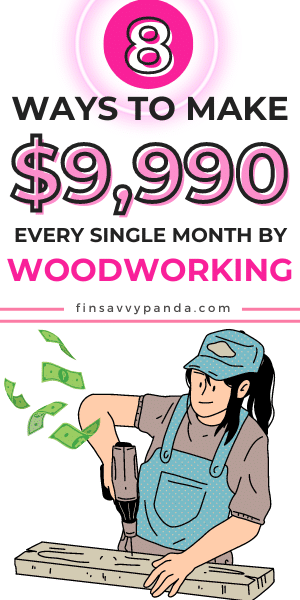 What Tools Should You Buy to Get Started
Most people get confused about where to start with their woodworking journey. Do you enroll in a course? Or hire a 1-on-1 tutorial with a teacher? Jumping right into learning the skills needed is a logical decision but you'll soon realize that buying the tools should come first.
Your tools are what makes woodworking possible. Without it, you'd just be looking at a pile of wood. So what tools do you need in order to sculpt and carve wood? Check out the basics tools below:
Tools For Measurement
Ruler
Pencil
Square
Tape measure
Tools For Refining Wood
Wood
Saw
Clamps
Power drills
Screw Drivers
Spokeshaves
Cleaning Essentials
You don't need to buy all of these right off the bat. Take on smaller projects that require basic tools and as you progress, invest in more specialized tools that can be used to make intricate pieces.
Dewalt, Milwaukee, and Bosch tools are excellent choices. Despite the fact that these products are more expensive than DIY-friendly brands with lower prices, they will last longer and deliver better results.
Where to Buy Wood for Your Woodworking Projects
Now that you've gotten the tools, what's next? The second most important item to have is wood!
If it's your first time doing woodworking, it can feel like you're doing a lot. You'd have to pick up tools you've never used before and now you'd have to look for pieces of wood.
That feeling is completely normal. It's a process that everyone goes through. The good thing is, you only need to go through it once.
Since you're just starting out, it's best to go for softwood. These are woods that came from fir, redwood, pine, and cedar. They're the cheaper woods so it won't cost you that much.
Check for softwood in your local Home Depot and wood specialty stores. It's fairly easy to find since this is the type of wood used by builders to build houses.
Your other options are Craigslist, garage sales, or wood from demolished homes.
1. Make and Sell Furniture
Creating furniture as a weekend job doesn't have to start big and grandiose. Start with the basic ones like a shoe rack, a bookcase, floating shelves, or a small coffee table. Smaller items are much easier to deliver locally and cheaper to ship to online buyers.
Once you've gotten the hang of doing these smaller pieces, you can level up your woodworking side hustle and aim for bigger ones.
You can start creating a picnic table with some ergonomic designs. A backyard lounger is pretty sought after since most people want to have a laid-back chair in their backyard.
If you want to get paid big money, a project to go for would be wood designs.
Look at this woodworker who got paid $50,000 for a Beauty and the Beast fireplace mantel.
He did a total of 350 hours for the project but he explains it didn't feel like that. Goes to show that time really passes by when you're focused on woodworking.
Other furniture projects you can craft that sell like hotcakes would be kitchen tables, exquisite wine racks, bathtub caddies, garden benches, and wood art.
Pros: Items made here are easy to sell. It makes all your hard work rewarding when someone purchases your work.
Cons: Projects like these can take weeks or months to finish.
2. Start a Woodworking Blog
Woodworking is hard when you don't have anyone to guide you from the start. Beginners often find themselves lost and confused when it comes to certain techniques. A blog is a fantastic method to educate and inspire other woodworkers, as well as to share your passion with the world.
Your blog can be the place for novices to get free information and learn the fundamentals of woodworking. You can write about the techniques and tools you use when crafting pieces or share your lessons learned and failed projects, so others don't make the mistakes you made.
Here are some types of blogs for you to think about:
A DIY blog – You can share DIY projects with pictures and videos of your steps and progress. The more detailed it is, the better.
Woodworking tools review – In this type of blog, you share your opinion and experience when working with different tools. This can open up sponsored post opportunities for you.
Educational blog – You teach your readers on what are the best tools to use for certain projects. You can also share tips and guides on how they can be better woodworkers.
Throughout the years, I've been consistently vocal that anyone who has a creative passion should start a blog. If I hadn't started my blog, I would be stuck at a job I hate and not be doing what I love.
After several months of pouring my heart into writing and learning how to monetize my website, I made my first $700. Eventually, I grew my blog's income to more than $27,000 a month which led to me quitting my job and becoming a full-time blogger.
All of this can be achieved with your own blog as well, but you need to take that first step. If you're unsure where to start, you can join my free 7-Day email course that will teach you how to set up your blog and ways to monetize it.
Pros: Blogging is proven to be a lucrative side hustle. You could make money through affiliate links and sponsored posts.
Cons: Competition is high but with enough value, you can build your own reader base.
3. Flipping Furniture
If you've tried flipping garage sale items, then you could most definitely do the same thing with furniture. In fact, it's one of the most fun things to do on this list.
I personally flipped furniture in the past and refurbishing furniture was a hobby of mine to make money on the side. As a beginner, I would earn $75 a week but on average I would take home an extra $500 a month.
Although selling big pieces of furniture usually means bigger profits, I stuck with smaller pieces like coffee tables, side tables, and nightstands. They're lighter to carry around, easier to work with, and faster to finish.
Looking for items to refurbish was like going on an adventure! I would go treasure hunting at garage sales, thrift shops, and browse online to find old furniture at a steep discount.
Once I found a piece that I loved, I would wash and sand the previous paint off. If the product had any dents or scratches, I filled the holes with wood filler and used an orbital sander to smooth off the imperfections. I would then go to great efforts to paint the piece to give the furniture a fresh appearance!
It's absolutely amazing how a piece of furniture that looks worn out can be transformed into a beautiful piece of furniture with a little bit of creativity and effort.
For me, flipping furniture was a great way to make an extra $500 a month from home while enjoying the creative process of finding and transforming furniture pieces.
Pros: You can be creative with refurbishing and make money along the way.
Cons: It might take time to find a buyer for your item so you will need extra space to store your products.
4. Sell Woodworking Plans
When you have the talent to create pieces from scratch, you could make money by offering woodworking blueprints.
This is a fantastic approach to develop your personal brand online while assisting others with their efforts. Woodworkers can go to your website and search for projects to build.
However, being able to build something from scratch doesn't automatically make you capable of guiding and assisting others through written, visual, or auditory means. You must be able to instruct others successfully even when you are not physically there to do it.
Here are 4 steps to think about to get you started.
Step 1: Explain the function of the piece you're making
Are you making a dining table? How many people can use it at one time? Or are you making a cabinet? What can it store?
By answering this early in the process, you paint a picture in the woodworker's head. They can envision the finished product even before starting. This helps with the general direction that you're aiming for in this plan.
Step 2: List down the materials needed
Describe and be specific with the tools needed. Include the type of wood required.
Step 3: Create a rough sketch
Sketch technical drawings of your planned furniture. Make sure to include the dimensions (e.g. 2×4, 2×8, and 4×4).
Step 4: Finishing touches
Explain what other things they need to do to make the finish much smoother.
The woodworking plans you create can be marketed on blogs, Etsy, and Amazon.
Pros: Selling woodworking plans allow you to help beginners make their first pieces. They will continue to buy from you if they enjoy your guides.
Cons: There's a learning curve when creating woodworking plans.
5. Start a Woodworking YouTube Channel
Create a YouTube channel to share your passion with the world and earn money from it. YouTube is a popular platform used for both pleasure and education.
Like blogging, building a successful YouTube channel will take time, but if you have a sizable subscriber base and viewership, you can start to monetize it.
You can develop a range of popular woodworking videos on YouTube, including:
Step-by-step tutorials
Educating beginners on how to use woodworking tools
Product reviews on different brands of tools
Challenge videos
Ask me anything (AMA)
Whether you have hundreds or thousands of viewers in every episode, you can approach companies for an affiliate deal. You can contact your favorite woodworking brands and join their affiliate program.
Affiliate marketing is one of the best ways to make money online. You can leverage your influence and following by sharing your affiliate link of products you personally use.
When people buy using your link, you will get a certain percentage from that purchase. It can act as a passive income too since you can just leave those links on the description of your videos.
In addition to affiliate marketing, businesses may also approach you. They could offer you a sponsorship opportunity where they'll pay you if you include one of their items in your videos or if you produce a video that is exclusively devoted to evaluating them.
To boost your reach, you can always leverage social media. This artist shares that his woodworking business gets more sales than normal thanks to social media platforms. You can do the same when promoting your online content.
Pros: Having a YouTube channel is a platform to show your expertise to people and be approached by brands.
Cons: Building an audience will take time and creating quality videos will require many hours of editing.
6. Teach Woodworking Classes
Classes are a big thing in woodworking. Beginners to professionals in this field still take classes because there's always something new to learn.
There are three routes to take in holding woodworking classes:
The first would be to have an in-person group session. This is quite similar to a classroom situation where you have multiple students to guide. There would be a goal to craft a piece during that session. Depending on how long it takes to complete a project, the lesson may run for several sessions.
Now the other route to take is personal instruction. This setting is much more intimate and hands-on. You'd be teaching your student one-on-one. Beginning woodworkers often prefer this option because they can freely ask questions to you, as the instructor, and learn faster.
The last route to take would be an online woodworking class. Here, you can have pre-recorded videos on how to craft a certain item. This acts as a passive income to many instructors since they only need to record the videos once and perpetually sell them on their website. Additionally, you can post your videos on websites like Udemy and Skillshare.
Pros: Videos live forever. Students can rewatch tutorials whenever they want.
Cons: You'd have to find what differentiates your classes from others.
7. Restoring Antique Wood
High-quality furniture may be very, very pricey. In addition to the financial value of antique furniture, homeowners value the fine craftsmanship and distinctive beauty of the objects that can't be found in large box stores.
This may be a really satisfying job for those of you who are skilled and knowledgeable in restoring antique furniture to its previous glory. Many people seek expert artisans to restore the charm of their antique furniture.
If you're planning to enter this niche, you should know that restoration is not as easy as it looks.
The cleaning solution for one type of furniture might not work on others. For example, a leather protection cream can be effective to clean leather furniture but applying it to Polyester won't be as effective.
A lot of people that do their own restoration make a ton of mistakes. They're doing more harm than good to the precious furniture. Here are some common and costly mistakes to avoid:
Not cleaning properly
Don't go straight to painting the furniture if you haven't cleaned every side of it yet. And when I say clean, I mean really cleaning it by taking out cobwebs and making the furniture dustless from top to bottom. You can use a wood cleaner on the surface to remove dirt and grime. Afterwards, wipe it multiple times with a damp cloth to get rid of specks of dust.
Doing the repairs at a later stage
One of the few things you need to do at the early stages of the restoration is to do the necessary repairs.
Replace the screws, fill the holes, repair the cracks, and reattach the broken legs or joints. If you do this after the finishing or painting stage, you're going to lessen the quality of the final outcome.
Rushing the job
I get it, you want to make money as fast as possible but you can't rush restoration jobs. The whole process doesn't take one day. It can take weeks to complete a successful restoration.
Pros: You get to put your skills to the test. The more time you spend on fixing and creating pieces, the better your woodworking skills become.
Cons: It requires a lot of upfront work. You're also not sure if there's a buyer willing to spend cash on this item.
8. Become a Carpenter
There are many parallels between carpentry and woodworking. However, a carpenter's work involves much more than just crafting wood. They also carry out installation and construction.
Carpenters often deal with construction materials and are more focused on the durability of their projects. This is crucial for a carpenter because their job frequently involves creating pillars for buildings. They obviously strive to create the strongest work possible.
Even though it requires a lot of physical effort, the occupation is high in demand as everyone dreams of owning a home.
If you're a known carpenter in your neighborhood, you can be the go-to guy for creating projects like building a shed, a mini-playground, or others.
Your own family may benefit from your handyman talents as well. Since you are capable of doing the work yourself, you wouldn't need to pay someone.
Pros: Carpenters have regular working hours and earn additional money on the weekends.
Cons: There might be less work if you don't belong to a carpenters union.
How to Sell Your Woodworking Projects
Selling your woodworking projects won't be a problem because demand for handcrafted and unique products is growing. People don't like cookie-cutter products that they can find anywhere.
Prior to starting your projects, you need to determine whether there is a market for the product you have in mind. Spend 1-2 hours researching online to see what sells the best. That way, you won't be stuck with a piece of art that only you will appreciate.
The best platforms to list your finished product would be Etsy, eBay, and OfferUp.
You'd want to try out Etsy first. It's known to be a marketplace where creators can sell their handmade items. You'd see a lot of shops on the platform selling their hand-crafted furniture and jewelry. You can see some of the products sold here!
You may also sell your products directly to your followers if you have a blog or YouTube channel. Your followers would be more than happy to support you by buying the things you've created.
Small Woodworking Projects for Beginners
Here are some easy small woodworking projects to make money.
Floating shelves – These can be done within a few hours and it's in demand. Floating shelves have fixings hidden within the shelf board – giving that floating effect.
More and more people opt for floating shelves due to their minimalist feel while displaying their personal items at home.
Garden tables – Building garden tables is a good addition to any household. A table like this can be enough for a gathering or a simple get-together for most families. There's not a lot of material needed but the item is very functional.
Sofa cup holder – You'd be amazed at how useful this piece is. This is best for people who relax on the couch with a cup of coffee or beer.
Most Profitable Woodworking Projects to Build and Sell
A profitable woodworking project is something that has a high demand, can be made quickly and efficiently, requires minimal materials and labor, and can be sold at a price that yields a healthy profit margin. The key to success is finding the right balance between cost and quality.
Wooden wall arts – This is a project that allows you to unleash your creativity. The designs are sometimes complex and make visitors look at them twice. It's what makes it appealing to buyers and it's a great addition to an empty wall.
Wine racks – Wine collectors have the budget to buy expensive wines which only means they'll have a big budget for your wine racks as well. You're also catering to restaurants and bars that want to have an exquisite design for their drinks.
Dining table – Eating together as a family is important to many people, and they're willing to pay a hefty price for a beautifully crafted dining table. The design should be timeless and the wood should be of high quality to withstand heavy use.
Pallet tool shelves – These are perfect for dads who don't want to store their tools inside a box. Pallet tool shelves make it easy for them to grab tools since it's only hanging on the wall.
Box shelves – People buy these items for both aesthetics and functionality. It can hold books, flower pots, figurines, and many more.
Can I make a living woodworking?
Absolutely. Millions of people all over the world do this for a living.
Is it easy? Not really. Since woodworking requires time to finish, you can only accept limited projects at a time.
However, you can always scale your business by hiring employees and staff. They can help you produce items at a faster rate.
Maintaining high-quality production is one thing you need to keep in mind when recruiting workers. Woodworking is a one-time activity where you have to start over again if the quality isn't up to standard.
Is DIY woodworking profitable?
It's a pretty lucrative industry, especially if you have a diverse set of skills. You can create products for clients and turn their concepts into reality.
You may target businesses and people that want specially made furniture, cabinets, and other items. These customers frequently respect excellent craftsmanship and are willing to pay more for it.
Another option is to hold workshops and tutorials for people that interested in learning woodworking. For a more passive approach, you can also sell your products on your website or create a YouTube channel to showcase your work.
Enjoyed this post? Don't forget to pin the image below! Also, don't forget to follow me on Pinterest over here! 🙂