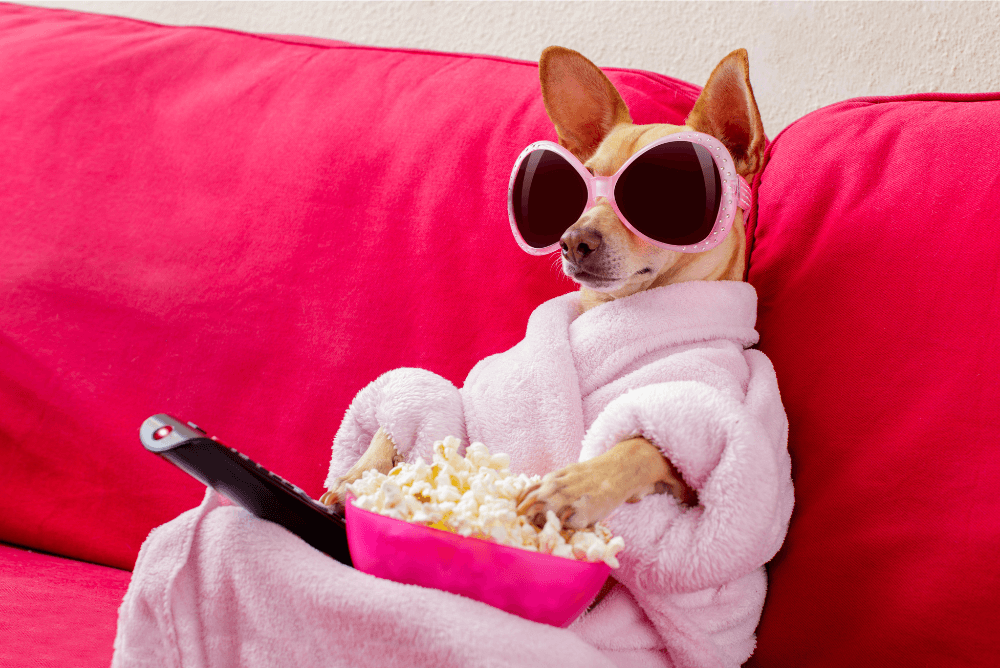 We will receive a commission if you make a purchase through our affiliate link at no extra cost to you. Please read our disclosure policy for more information.
At the end of 2022, Netflix had a staggering 231 million paid subscribers. That's eight million more compared to 2021's fourth-quarter report.
This demonstrates how large of a business Netflix is and how it continues to expand as households choose streaming over traditional cable TV.
When you hear the term "Netflix," you only think of movies like Red Notice and TV shows like Stranger Things. But what if you could combine your favorite pastime activity with earning a paycheck? That's right — you can get paid to watch Netflix!
Like you, I was shocked when I first learned about this. On the platform, I've binge-watched Marvel movies whenever I needed a good break from work. If someone told me that I can make money while watching movies, I would have taken that offer in a heartbeat!
So I dug deeper and researched other people's experiences. It turns out that there are various ways to monetize your screen time, like becoming a Netflix Tagger, doing closed captioning, creating videos, and more.
If this sounds all foreign to you, don't worry, I'll discuss every single way to make money while watching Netflix.
Get your notes ready and I'll show you how you can be more productive while binging your favorite shows.
PIN THIS: I'll be updating this post so make sure to pin this image here and save it to your Pinterest board. That way you'll be able to come back to this page and learn how you can make money by watching Netflix!
Can you get paid to watch Netflix?
You can, indeed. Being a Netflix Tagger is one position you may take on. Your primary duty is to keep the platform organized and help viewers find the shows they are looking for by using tags.
Or you might even start a blog for Netflix programming. This is one method of creating a personal brand around a passion – critiquing films. Numerous others will read what you have to say, which will establish you as an expert in this field.
1. Become A Netflix Tagger
What is a Netflix Tagger, exactly?
To put it simply, a Netflix Tagger is someone who watches programs and shows on Netflix and labels them to a category where they belong.
The same people are also responsible for tagging different keywords to different shows.
For example, if you type "Comedy Drama" in Netflix's search bar, the movies that show up should be within that genre.
Tags are crucial since they enhance user experience. It makes people more inclined to use the platform when an app is intuitive and easy to navigate.
What happens if the tags created by a Netflix tagger are incorrect? Users may choose to stop using Netflix and switch to HBO or Disney Plus instead, where it is simple to discover shows in the appropriate genre.
When you search "Action and adventure," the algorithm suggests "The Da Vinci Code," for example. Obviously, that advice didn't get you to the information you were looking for.
Due to this inaccuracy, you can lose patience with Netflix and cancel the service altogether. That's why Taggers are needed.
To find jobs as a Netflix Tagger, you can simply browse their job posting page. Type in "Tagger" in the search bar and it'll direct you to any relevant jobs. The more professional job title of a Netflix Tagger is Content Editorial Analyst.
You'd know if there's an opening in your location because Netflix includes the country where they're hiring. For example, "Content Editorial Analyst – Korea" or "Content Editorial Analyst – Japan".
2. Start A Netflix Shows Blog
Writing is a dream job of many especially when they get to write about things they enjoy. Now if you love watching shows and movies, you can earn a living off that passion by creating your own blog.
Starting a cinema blog can be your personal place on the internet where you can freely express your opinion, reviews, and critiques on various shows.
If you disliked a movie despite the contrary, you can write down the different points why you hated it. And the best thing? No one will take it against you since you're posting it on your own website.
In terms of earning money, bloggers earn an average of $45,000 per year. However, don't expect the big bucks immediately. Your blog will take time to grow and it will depend on the type of content you post, your traffic, and the number of subscribers you have.
It took me more than a year to earn $100,000+ with my blog. Check out my income reports like my first $703 a month to $27,000 a month, which allows you to see my blogging progress – from $0 to full-time income.
READ MORE: How I Became a Full-Time Blogger Earning Six Figures Per Year
Over time, your website can act as a passive income for you depending on how you choose to monetize your site. My favorite way is affiliate marketing, displaying ads, and selling digital products. You can learn more about how blogs really make money – you'll be surprised to hear that you DON'T have to write content every single day to earn a great income.
There are different choices that you can go with when starting a blog that's Netflix-related. Your emphasis can be:
Classic movies
New releases
Upcoming shows
You can even go deeper into subcategories like:
Animes
Family cartoons
Award-winning shows
Critically Acclaimed Programs
The most fun type of blog would be the one that's dedicated to a single show. For example, you can dedicate a blog on:
Wednesday
Ozark
Squid Game
3. Create A Channel For Netflix Content
It's no secret that video content has been the dominating force on almost all platforms. This goes to show that people crave video content over other styles.
If you want to enter the creator space and you love watching Netflix, you could also go the route of creating videos.
To make your time worthwhile, it's best you go with the top platform for videos – YouTube!
Everyone uses YouTube for entertainment, and creating a channel is free with substantial rewards after you've amassed a sizable audience.
Before we go further into discussing the monetization options, let's give you some themes or ideas on the type of channels that you can start:
A review channel of current shows
Interesting facts about a Netflix movie
Create a 10-minute synopsis of movies
Give out funny opinions on trailers and shows
You can make money with a YouTube channel in different ways.
Ad revenue is the most popular method of monetization. Users find it annoying, but content creators find it very profitable. You can get paid to advertise on your channel once you join the YouTube Partner Program.
Memberships in channels are another method. Here, you can charge for memberships in return for perks that your subscribers can make use of.
You can also have your own merchandise to sell. You can sell your own t-shirts or hoodies to your fans.
4. Host Podcasts For Netflix Shows
The beauty of a podcast is you can talk about anything you like. As you tackle various topics along with your co-hosts, you build an engaged audience at the side. This can open up partnerships with sponsors for brand placements.
Almost anybody who wants to publicize their opinions now has a podcast programme because to the low barrier to entry in the market.
This is perfect for you if you're a movie geek, K-drama lover, or a frustrated film critic, you can now start your own podcast from home.
Just so you know, there are already a bunch of podcasts that concentrate on Netflix. However, you shouldn't let this discourage you from launching one because it's your unique voice and opinions that will separate you from the rest.
Continue reading below for more ideas and inspiration on what various shows have to offer:
5. Do Close Captioning for Netflix Programs
Netflix tried to conduct the subtitling internally as part of a test program named "HERMES," but it didn't work out and the translation services were discontinued after a year.
Netflix is a streaming service and all their efforts are geared towards providing the best streaming experience for their subscribers. This is why they don't bother with doing the closed captioning themselves.
As a result, the captions are provided by the films/shows in accordance with their agreement if they want their content to be available on Netflix.
In some cases, media production companies outsource these tasks to an agency.
An example of this would be Vanan and Rev. They cater to clients that need captioning for their shows or movies. These companies are also proficient in multiple languages – expanding their reach to overseas clients.
If you want to get paid to watch movies, this is one gig that you should consider.
Keep in mind that this is not a simple task. The work may be considerably harder than you anticipate.
Anyone with transcription experience is aware that it can take two to three hours to provide a transcription for a one-hour video. Since movies can last anywhere from 1 hour 30 minutes to 2 hours 30 minutes, you must pay close attention to be as productive as you can with your time.
Another skill you need to have is being creative with your words. You're not only transcribing words here. Even the sound effects should be put into words and they must convey the same feeling as what it sounds and shown in the film.
An example of this would be captions from Stranger Things – Season 4. You'd read subtitles like "tentacles squelching wetly", "Eleven pants," and other great wordplays.
Although the viewers can't hear the audio, just reading the captions will accurately convey the mood of the scenario.
6. Indirect Ways to Earn Money Watching Netflix
There are instances when we take up our phones while watching Netflix and begin scrolling. This can be the result of the movie's prolonged conversations or just plain boredom.
When this happens, you could take legitimate paid surveys on your phone while you wait for key scenes to come on screen. Your life won't change drastically, but the additional cash can be used to pay for your monthly food, gas, or phone bills.
How does $25 per survey sound like? It's a great deal, right?
That's totally achievable when you go to the right websites. Even earning a couple of hundred dollars is attainable depending on how active you are.
Let's start with Swagbucks. It's one of my favorite online survey sites – I've been a member since 2009. I love this website because it gives the highest payout for my efforts. I would get free coffee and drinks, and sometimes $100 Amazon gift cards!
Another website that you should look out for is Inbox Dollars though I like Swagbucks more! It's one of my top go-to survey sites for some extra cash. Aside from answering surveys, the company will pay you to watch videos, play games, and shop online.
The site has many activities to do which is why I've made an extra $500 per month by doing these simple tasks. I've also talked about other ways on how I earn $300, $500, and even $1,000 in a single day!
How do you become a Netflix tagger?
Becoming a Netflix tagger means joining the team that helps categorize shows and movies so viewers can find what they'd like to watch. Check Netflix's job site for openings, and be aware the title might be "Editorial Analyst" instead of "tagger".
Netflix looks for people like you who are big fans of TV and movies, have knowledge of different cultures, and can focus on details. If there's an available position, send in your resume, highlighting any experience with films or TV.
Once on the job, you'll watch content and give it "tags". These tags help Netflix's system decide what to recommend to users. It's a unique way to use your love for entertainment and get paid for it.
Can you really get paid to watch videos?
Yes, you can earn money by watching videos.
Websites like Swagbucks and InboxDollars will pay you small amounts to watch different kinds of videos, from ads to news clips.
Some research companies might also pay you to watch and talk about TV commercials. Even big streaming companies, like Netflix, sometimes hire people to watch their shows and movies to help organize them better.
However, the money you make from this might not be a lot, so it's more like a side gig than a full-time job. If you're thinking of trying it, always pick trusted sites to avoid getting tricked by scams.
Enjoyed this post? Don't forget to pin the image below! Also, don't forget to follow me on Pinterest over here! 🙂