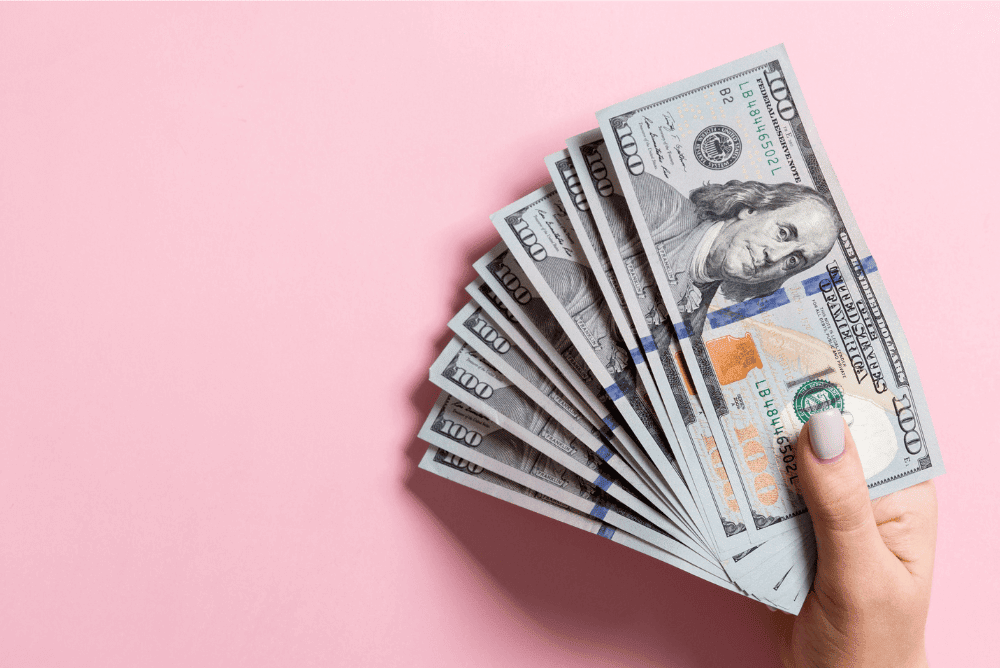 We will receive a commission if you make a purchase through our affiliate link at no extra cost to you. Please read our disclosure policy for more information.
Does making $1,000 a day sound impossible?
To some, it seems unattainable and too good to be true.
Those were my exact thoughts a few years ago. Until one day I actually did it by starting a blog, which allowed me to quit the job I detested so much.
For example, you can see that I earned $1,936 in a single day by selling digital products on my blog – and this doesn't even include my other income sources like display ads or affiliate marketing:

So, it turns out it's possible to make $1,000 a day!
But to be transparent and not misleading, I want you to keep in mind that I may not earn over $1,000 every single day because future earnings are never predictable.
Just like any business, my blogging income fluctuates due to seasons, holidays, trends, and algorithm changes on social media like Pinterest – yes, I am so thankful to be earning a legitimate income online by using Pinterest (and no, you actually don't need any experience or prior knowledge about the platform to get started).
As you can see, earnings could fall below or above $1,000 a day thanks to the volatile nature of business. It's no different from the stock markets or any other traditional business that relies on traffic, pageviews, and sales.
Despite the unforeseeable events, I still want to let you know that earning $1,000 a day isn't impossible regardless of what side hustle, work, or business idea you pursue.
And if you're curious about how I quit my 9-5 job to earn a living online, you can read my post on how to make money blogging.
PIN THIS: I'll be updating this post so make sure to pin this image and save it to your Pinterest board. That way you'll be able to come back to this page for the best ways to make $1,000 in a day.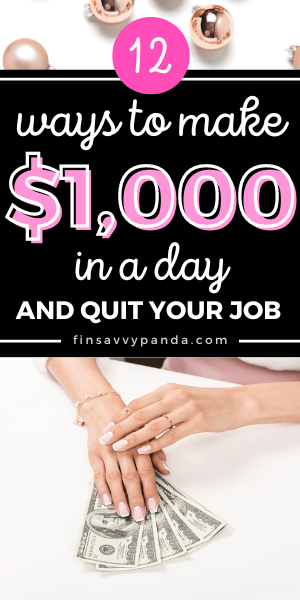 How To Make $1,000 A Day
In the past, I was silly and convinced myself that working in the corporate world was the only way to make decent money. Slaving away hours of my life just to hit my financial goals.
But everything changed when I researched different ways to make money in the digital space – it opened up my eyes and realized I was living in a bubble.
When you learn about the online world and the vast money-making opportunities it gives, you'll soon realize that earning $1,000 is completely possible in a day. It won't be easy but nothing in life comes easy when you don't consistently put in the time, work, and effort.
I hope you're as excited as I am right now because, in this blog post, I'll share the top ways that you can earn a grand in a day.
Don't worry, this isn't your typical make money through apps list or how to earn $50 online with surveys.
As you read this, you must take everything with an open mind. Be open to knowing the opportunities that surround you in today's time.
Without further delay, let's get right into the topic!
1. Launch An eCommerce Shop
There's a reason why eCommerce stores have been dominating the online world for quite some time.
And the reason for this success can be attributed to the change in consumer behavior. The majority of people don't want to go to malls and outlet stores anymore. They want to shop in the comfort of their own home.
Scrolling on mobile devices and computers is the modern way of shopping. Honestly, I don't see this trend changing for a long time.
So to capitalize on this change of behavior, you should try selling products online.
Creating an online store has never been easier. There's no reason for you not to start one if you're serious about this niche!
Here are different items that you can sell online:
Skincare products: The beauty industry is a billion-dollar business. And if you decide to create your own line of products, today is the perfect time as more and more consumers want to buy locally.
Clothes: If you like to build your own clothing brand, then there's a market for that too. There's a good percentage of consumers that want to buy from brands that are locally made. It's their way of supporting small businesses that sell high-quality products.
Smart home items: As people have seen how automation has worked to make their lives easier, they're bringing the same technologies to their homes. The products you could sell here would be voice assistants, robot cleaners, security cameras, door locks, humidifiers, and many more.
Kitchenware: You will never run out of people to sell these products to. Why? Because every household uses a kitchen in one way or another. Especially when you have sleek designs and beautifully hand-crafted kitchen items, it's bound to make you money.
2. Create An Online Course
One of the ways to make $1,000 online a day would be by creating online courses. This can even allow you to earn more than that figure when the demand is high!
A common misconception about creating online courses is that people think they should be about subjects taught in school. But with the evolution of the internet and its users, almost everything can be an online course.
Cooking can be an online course.
Meditation could be another one.
And how to be fit is a big and profitable niche.
As you can see, the list of things taught online can go on and on – the opportunity is endless!
If there's a skill you're good at, this could be a profitable opportunity for you. Especially if that skill is highly sought after.
Let's say you're an email copywriter (someone that writes persuasive emails to engage with subscribers). You've done the work for multiple businesses and have landed them several clients.
Just with your skill, experience, and accomplishments, you're more than fit to create an online course for email copywriting to teach beginners how to do get your results.
The greatest challenge of creating an online course would be the work upfront at the beginning. You'd have to record yourself and make the presentation engaging. Editing it many times to make it as error free as possible.
After all the production is done, you could leave it there and proceed to market your course. But of course, you'll be required to make minor tweaks, updates, and small additions every six to twelve months to ensure your information is fresh and up-to-date.
The reason why this can go beyond $1,000 per day is that you can sell your course for a high price (e.g. $500 or more). Especially when it's in-depth and reveals your secret high-level strategies!
If you could sell just a couple to few high ticket courses, you could easily earn $1,000 or more a day.
3. Start A YouTube Channel
Creating a YouTube channel has greatly benefited a lot of people that have put themselves out there. This idea has even inspired kids to become YouTube stars!
Although not everyone that starts a YouTube channel has seen success. People who have put in the hours have higher chances of making it on the platform.
There are several ways to be a creator on YouTube. Here are some niche ideas to help you start:
Lifestyle vlogs – You can record scenes showing what a day in your life is like. You also record when you're on the road, on the job, or while on vacation. It's a niche where you share your life with your subscribers. Viewers are genuinely interested in what other people do in their lives.
Beauty vlogs – This is where you can share the different makeup brands and cosmetics you use. You could also do makeup tutorials or even how-to guides on all things beauty. Consumers can relate better to real people than Kim K.
Healthy and fitness vlogs – Anything healthy and fitness related would be big no matter the platform. So with this kind of channel, you'll share healthy diets, workout splits, fitness trends, days in life, and many more.
DIY vlogs – If you're crafty and like to build things from scratch, or solve problems on your own, this type of channel is perfect for you. You'll create videos that empower your subscribers to do things by themselves.
Finance vlogs – These types of vlogs garner a lot of views as well since people want to know how they can make money and manage their wealth. Who doesn't want to better handle their money?
YouTubers typically monetize their channel through ads in their videos. But another big source of income would be the brand and endorsement deals they get.
4. Sell A Service
You'd be surprised how much money you can make when you sell a service. To make this activity worthwhile, you should sell a service that's in line with something you're good at and passionate about!
The only downside here would be trading your time for money. But no one said earning a thousand dollars a day is easy. There will always be sacrifices needed to be done when you want to earn such an amount.
If you're good at client outreach and closing, you could offer your service to other businesses. This is a high-demand skill. Not every business is where they want to be because they don't know how to connect with its prospects and get them on the phone.
Your hobby of editing videos can be greatly monetized in today's business landscape as well. With the rise of video marketing and vlogging, the need for video editors has increased.
Services mentioned here aren't only limited to online opportunities. Even your love for dogs can be a service too! Don't underestimate the income potential of dog walkers because some of them can earn $2,000 per day. That's right, just by walking dogs.
Here are more ideas of services you can monetize:
Teacher
Dietician
Coaching
Instructor
Photography
Fitness coach
Event planning
These services could be offered alongside your day job. The best thing about having a service-based business would be closing multiple clients can leave your day job salary in the dust.
5. Day Trading Stocks
There are a lot of elements in the stock market that will overwhelm you as a novice. You'll wonder why the chart is moving, why there are different timeframes, what are those ticker symbols, the order flow, and the jargon used by investors and traders.
All of this might seem too much at the beginning, but it can all be learned.
Once you understand the different terminologies and elements used in the stock market, you can easily understand what's happening during market hours.
To day trade stocks is a whole concept to learn. You'll come across different theories and setups that can potentially help you earn money as you trade. Everything here can't be learned in one day. It takes time to understand concepts and why you're buying and selling at certain points.
But is $1,000 per day possible with day trading?
Yes, it is.
It's just important to know that it's also possible to lose that amount in a day as well. So risk management comes first before anything else in the stock market. Leverage is a double-edged word that magnify your gains and losses.
Before entering this industry, I highly suggest you follow the old adage: invest what you can afford to lose.
People enter the market with a get-rich-quick mentality, but the percentage of profitable traders in the market is very small. This means more people lose money than the ones making money in the market.
6. Rental Properties
When you're on vacation, you need a place to stay. Hotels used to be the only option, but that's no longer the case. With Airbnb and Vrbo, you can easily turn your place into a short-term rental for people visiting the city.
According to ZipRecruiter, the average income of an Airbnb host in the US can range from $40,000 to $65,000 depending on the state they live in. That's still a lot of money considering that it's a form of a passive income!
Got an extra room in your place? Well, then that can still be listed on Airbnb!
There's no reason for you to not make money on the side when you have vacant properties under your name.
If you live in a city wherein festivals and other occasions are frequently visited by tourists, then you're in a prime location! You could raise your prices during those times and events in your place. This is the reason why most Airbnb places are always booked weeks before the festive occasion takes place.
Alternatively, if you don't want to list your property on Airbnb, that's fine too. There are other ways to market your free space. One way is to monetize your spare space for events and parties by opening it to the public.
There are a ton of ways to let people know of your rental properties. Marketing them has never been easier and that's all thanks to the wonders of the internet.
7. Sell Digital Products
When using the term "product," it usually refers to physical items being sent or purchased by a customer. In today's time, a product can be something that isn't physical and can only be used online.
Personal brands or people that have a following online usually sell digital products in their niche to monetize their audience. The content of these products can vary for each person. Some products may contain detailed guides, data, a compilation of summaries, strategies, and many more.
For example, I created an ultimate budget binder for my audience who wants to learn how to save and budget their money effectivity.
I also sell other digital products including my 101 beginners blogging e-book, Pinterest traffic guide, and customizable Pinterest Canva templates to help my readers learn how to start a blog and make money with it.
Here are some of the popular digital products today that can allow you to earn money as a side hustle:
Courses – These are products where you teach your viewers certain skills. The course is usually centered around what you're known for in your niche. For instance, Fitness, personal development, and programming courses.
eBooks – Digital books have been popular for years now because of the convenience it gives. You can sell an eBook of yours to your audience. So why eBooks and not physical books? With a digital product, you can have unlimited copies with zero costs on production and print.
Data and Analysis – Some business owners don't want to spend time doing research and analyzing the data. They'd rather spend time on things they're good at than try to be efficient in something they want to do.
Tutorial and Guides – This type of product is focused on how to do things. You could teach your audience how to create a store, how to build an engaging landing page, or how to craft an offer that's irresistible for clients.
These digital products can give you more than $1,000 a day if you have a solid marketing strategy behind your brand and your market sees them as valuable.
8. Have A Subscription Service
Having a subscription service can help you earn big money on the side. And the only thing you need to do is produce great content.
This is what most personal brands are missing out on. They don't recognize the value of the subscription model until they see the dollars coming in.
Subscription services can include things like weekly meal boxes, paid newsletters, and paid private access.
This is one of the activities in this list that is very attainable. For example, you have a paid newsletter worth $20/month. So if you've managed to list a hundred email subscriptions, you're going to receive $2,000 per month just by writing emails.
What's great is you only need an hour or two to create the email for the day. And the rest of your hours could be placed on other tasks.
On top of that, you can upsell your other products to your email list. You can include your course and other digital products. When marketed correctly, you can make even more than 2 grand a month.
The same goes for private access. These are groups that guarantee that you make your money back with their strategies and the information they tell you. With this service, you could charge higher going from three digits to five figures per month.
Plus to make their offer more appealing, these subscriptions usually have a 1-on-1 interview with the person.
Having a subscription service is very lucrative when you've built a personal brand in the right niche. A good example is Tony Robbins' Platinum Partnership Program which costs $85,000 for the first year of each member.
9. Streaming
There's another way to make money while recording yourself, it's called streaming!
Unlike the usual videos we see that are edited, streaming is live and raw.
The most common way to make money when streaming would probably be through gaming. So if you're into playing video games, you can start today and build your following today.
Gaming streams go beyond just being good in the game. You also have to have a personality as well. Sometimes a gamer can be bad at the game but they have thousands of viewers because of their funny personalities.
So how do streamers get paid?
They're paid through donations and other paid subscriptions. Even Meta understood how big this trend will be so they added a feature that can host streams on their platform.
Another way to make money is by selling items on the stream.
In this type of streaming, you talk to your viewers while you sell them your products. These products can be sneakers, bags, shirts, caps, and many more. And the only way a viewer can buy is through commenting on your stream.
The streaming industry has gotten so big that some make this their day job. It's a lucrative activity that can boost one's monthly income. Some have even quit their full-time job to focus on streaming and building their audience.
10. Find Easy Side Hustles
A fast way to make $1,000 in a day would be to get another job. But if your day job takes up most of your time, I've listed some of the easiest side hustles for you to try:
Be a brand ambassador – Being a brand ambassador isn't easy. You need to build a following and have a brand that coincides with what the business presents to its audience.
If you have all of these things, consider partnering up with brands and businesses. It's a great way to earn money on the side.
Data entry clerk – If you want a slow-paced job or side hustle that doesn't increase your stress levels and allows you to work from home, then try doing data entry. It's a job that can be easily found online. Lots of businesses are looking to hire someone that can help them with their tasks and document organization.
House sitter – There would always be people looking to hire someone to look over them when they're gone. It's a common scenario when owners leave their house for vacation or over the weekends – almost all family does this. And if you're the go-to person in your neighborhood for house sitting, then you have an entire market at your hands.
Social media manager – Rather than personally using your social media time for yourself, why not do it for a business that pays you? The main responsibilities of a social media manager are to grow a following and respond to comments, and posts regularly.
These side hustles might not give you $1,000 in a day but they will surely add to your daily income in your day job.
11. Sell Unused Belongings
When you look for things that you don't often use, you'll be shocked at how many items you've hoarded in the past years. Good thing is, you can free up space and you get paid to do so!
Selling your unused items is a fast way to make money especially when you always catch yourself muttering those words, "I desperately need money now".
My advice is to go through every drawer and cabinet in your house. Go up the attic or down the basement if you need to. Gather all those unwanted items and put them all in one place.
As for the pricing, there are two choices here:
The first choice, price them on your own. You set the price on how much an item is worth. With this choice, you can even bundle items together to make the price appealing.
The second choice, search for everything you have on Google or eBay. Check the price of those items. You'll never know that you might just have a rare find in your collection.
For example, I've sold a couple of my luxury handbags in the past for at least $2,000 each, which was a great way to get a big chunk of money back. I'm still looking for the perfect buyer to purchase one of my vintage coins for over $1,000!
As to where to sell these items, you can either sell them on eBay – it's the go-to place for people looking to flip items or buy products at a good price. If you have a lot of clothing, handbags, and accessories lying around, you can find one of the best apps to sell your used and unused clothes online.
The other option would be to start a weekend garage sale until you have nothing left. Doing this on a weekend is important because it's when the working class is resting and has the time to check out things in the neighborhood.
Be ready for negotiations when selling these items. It's a common thing in garage sales. So don't be offended when someone does it to you. If you don't like their price, you can simply decline their offer.
12. Invest In Real Estate
Investing in real estate has been one of the most recommended activities to earn passive income and build wealth.
Investing in real estate has been a cliche for a reason and it has been one of the top wealth builders for more than a decade already.
So how do you start investing in real estate?
I've mentioned one of the ways to do so. Check out number 6 of this list. The other ways could include:
House flipping – In a nutshell, this is about buying a house for a bargain because it needs some TLC (tender, loving care). After adding value to the property by renovating it, you put it back on sale in the market with a higher listing price. There are various ways to increase the value of a house like replacing the kitchen, retiling the washroom, and refinishing the hardwood floors. Don't forget that a fresh coat of paint will help you sell the house faster. The quicker you buy, renovate, and sell a property, the sooner you can move onto the next project. As you gain experience and working relationship with contractors, you can take on multiple projects at the same time.
Investing in REITs – REIT means Real Estate Investment Trust. These can be bought in the markets if a person wants to diversify his or her portfolio. This is a better option if you are conservative with cash. Not only is it a cheaper entry to real estate but it also pays dividends to its investors. It's a wise decision to enter the real estate market with a mentor. If you can't find one, go to online resources to help you get started. The last thing you want to happen is to lose money in the entire process.
Enjoyed this post? Don't forget to pin it! Also, don't forget to follow me on Pinterest over here! 🙂