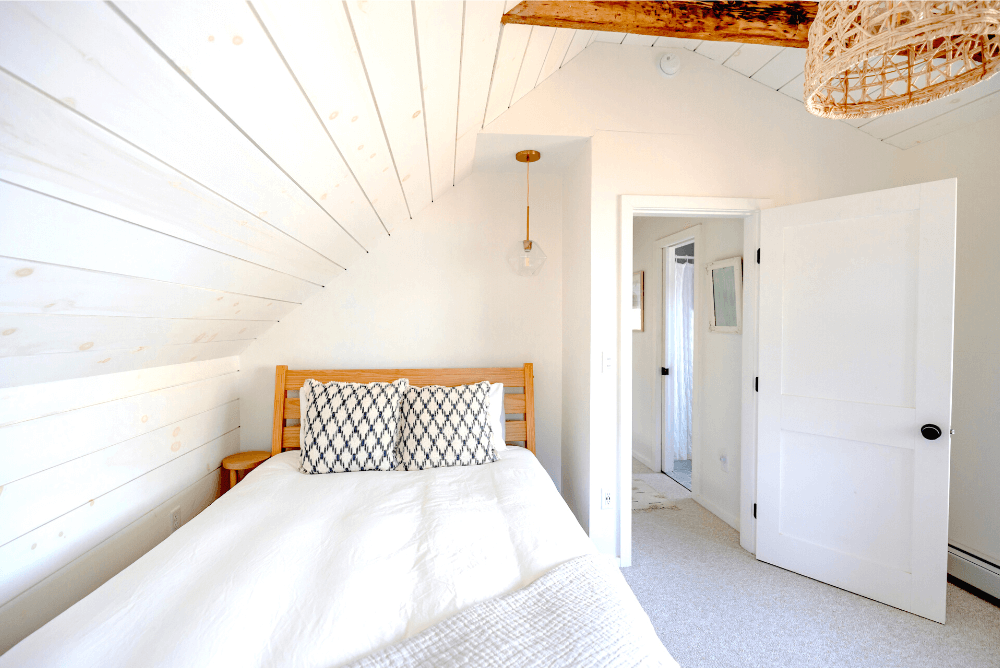 We will receive a commission if you make a purchase through our affiliate link at no extra cost to you. Please read our disclosure policy for more information.
Success stories about millennials and Gen Zs quitting their jobs for their profitable hobbies are popping up on your daily morning feeds.
From starting online businesses like blogging and earning a full-time income with Pinterest to managing real estate and short-term rentals on Airbnb, millennials and Gen Zs are pursuing their passions and making legitimate money out of it.
The side hustle bug may have bitten you and you may be wondering how you can get in on the action. You've definitely heard of folks who are getting ahead financially with Airbnb without taking on a second job.
With Airbnb, you can rent a spare room or your entire home to travelers worldwide. You're no longer restricted to buying and selling properties or becoming a long-term landlord.
Not only will you have the opportunity to earn extra money while you're working your daytime job, but you'll also have the freedom to set your schedule and decide who stays in your space.
How To Make Money with Airbnb
From personal experience, starting my Airbnb business was incredibly worthwhile. In my first year of operations, I generated over $100,000 in revenues and built a business model that can be replicated if I manage additional Airbnb properties.
While setting up my Airbnb correctly took a lot of work, my vacation rental now earns passive income, with minimal effort on my part because of the systems I have in place.
So why wait? Start your Airbnb business today and open your doors to new experiences and opportunities!
PIN THIS: I'll be updating this post so make sure to pin this image and save it to your Pinterest board. That way you'll be able to come back to this page and learn the best way to make money with Airbnb properties.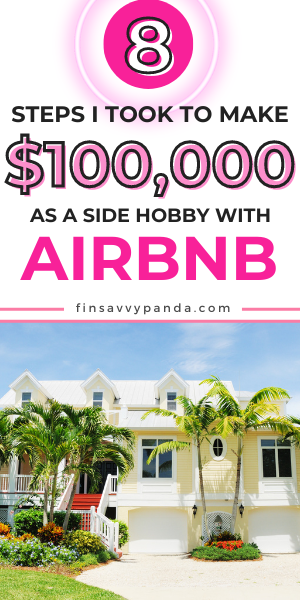 How Does Airbnb Work?
Airbnb is an online platform that allows individuals to rent out their homes, apartments, or unique spaces to travelers that are staying in the city for various reasons – visiting family and friends, sightseeing, or attending business conferences. Travelers can book short-term or long-term stays at a variety of properties, often at lower rates than traditional hotels.
A property owner can create a listing on Airbnb by providing information about their space, including location, photos, a description, amenities, pricing, and availability.
When a guest finds a suitable listing, they can contact the host to request a booking. The host can then approve or decline the booking request.
Once a booking is confirmed, the host and guest can communicate through Airbnb's messaging system to coordinate details such as check-in and check-out times.
After the stay, the host and guest can leave a review of their experience on the Airbnb website.
How Much Does the Average Airbnb Host Earn?
The income levels you can generate through Airbnb will vary depending on several factors, including location, property size, and occupancy.
According to Airbnb, the average earnings of a host increased by $13,800 in 2021. However, some hosts can earn much more, especially if they own a high-demand property in a popular location. For example, a host in a major city like San Francisco may make significantly more than a rural area host.
By effectively marketing my luxury Scandinavian cabin outside Mont Tremblant and providing a high-quality experience for guests, I generated almost $125,000 in annual revenue.
Creating a high-quality experience typically results in hosts earning a higher income. I certainly noticed that guests appreciated and were willing to pay higher nightly rates for the fully-stocked kitchen, complimentary luxury bathrobes, fast response time to inquiries, and detailed guest book that included local activities, restaurants, and frequently asked questions in an easy to follow guide.
It's always recommended to research Airbnb data, find out how much similar properties are charging, and consider all expenses involved before listing your property on Airbnb.
How to Become an Airbnb Host
In the past few years, the vacation rental industry has been growing at a very rapid rate due to the fact that everyone was forced to ground their travel plans as a result of the pandemic. With that in the rear-view mirror, more and more people are willing to experience travel rather than sit in their backyards, creating a wonderful chance for Airbnb hosts to earn.
However, as an Airbnb host, I can tell you that setting up your first short-term rental property is not for the faint of heart!
A lot of hard work and effort goes into creating an Airbnb property that stands out from your competitors, finding good property managers if you're located far away from your rental, and establishing good relationships with reliable cleaning services.
That being said, it's been a very profitable financial investment, and as a savvy investor, I can confidently say Airbnb and short-term renting are here to stay.
Becoming an Airbnb host is a relatively simple process that can be done in a few steps:
1. Sign up for an account
Go to the Airbnb website and create an account. You will need to provide basic information such as your name, email address, and phone number.
2. Verify your identity
Airbnb requires hosts to verify their identity by providing government-issued IDs. This is a security measure to ensure the safety of guests and hosts.
3. Create your listing
After you have an account, you can create your listing by entering information about your space, including the location, number of bedrooms, and amenities. You will also need to upload photos of your property to help guests understand what to expect.
Pro Tip #1: Get lifestyle photos for your vacation rental done by a professional.
While it may be a significant upfront cost, the extra expense will pay for itself in the long run.
Professional photography can make a huge difference in converting a potential guest to a confirmed guest.
Pro Tip #2: Another thing to focus on in your listing is the description of your property. Incorporate wording that helps a guest visualize the experience they'll have when they rent your space.
If renting out a centrally-located property, you should emphasize distance to shopping, amenities, and local cafes and restaurants.
My vacation rental's branding was focused on being a luxury spa-inspired getaway, so I was sure to mention the Scandinavian hot tub, indoor sauna, and wood-burning fireplace in my listing.
4. Set your price
Choose the price you want to charge for your rental. You can set different prices for different seasons, with summer and winter holidays typically booking at a premium.
5. Wait for guests
After your listing is live, you can start receiving bookings from guests. This is where the real fun begins!
6. Get ready for your guests
Make sure your space is prepared to host guests by cleaning and stocking it with essentials such as a comfortable mattress, linens, towels, toiletries, and a locally curated welcome gift.
Pro Tip #3: The cleanliness of your property is of the utmost importance to guests.
If you are self-managing your property, ensure the highest level of standard!
If you are hiring a cleaning company, check their reviews, interview them, and ask questions to ensure your cleaning concerns are understood.
It's a good idea to look up reviews of other properties they clean and double-check that guests were satisfied with the property's cleanliness.
7. Focus on getting guest reviews
The review process is integral to your success on Airbnb because the more reviews you have and the higher your rating is, the better the odds of future bookings and income!
Pro Tip #4: Incorporate smart technology into your Airbnb rental, such as a smart TV with Netflix, Disney, Crave, and Apple TV subscriptions as well as a smart lock for easy guest self-check-in.
Guests love the convenience and are much more likely to give you a higher rating in their guest reviews if check-in was a breeze and they get to catch up on their favorite show while on vacation!
8. Keep track of income and expenses
Don't wait for tax season to do all your bookkeeping! Stay on top of your reporting and use accounting software to make income reporting a breeze.
What is an Airbnb Superhost?
Superhosts are experienced hosts who provide a great guest experience and consistently receive positive reviews.
They are identified by a special badge on their Airbnb listing and are considered some of the platform's best hosts.
To become a Superhost, a host must meet specific criteria, such as having a high overall rating, a high response rate, and a low cancellation rate.
Superhosts also receive benefits such as increased visibility on the platform and access to exclusive promotions and discounts.
How to Become an Airbnb Superhost?
To achieve Airbnb Superhost status, you need to meet the following criteria:
Completed at least ten trips or three reservations that total at least 100 nights

Maintained a 90% response rate or higher

Maintained a less than 1% cancellation rate

Maintained a 4.8 overall rating
Every quarter, Airbnb evaluates your hosting performance over the past 12 months for all listings on your account. If you meet the program requirements by the assessment date, you'll automatically become a Superhost!
Regarding tips and tricks for becoming a Superhost or maintaining your Superhost status, hosting a unique stay and focusing on customer service are the two most important things for property owners to implement.
Hosting a Unique Stay
Hosting a unique stay on Airbnb can help you attract more bookings.
Offer unique amenities

– Consider what makes your space special and highlight those amenities in your listing, such as a hot tub or rooftop terrace.

Create a memorable experience

– Provide a welcome gift of chocolate and wine to help guests relax and unwind.

Show off your personality

– Use your listing to showcase your design sense, and pay for professional photography to make your listing stand out.
Provide Exceptional Customer Service
Good customer service ensure guests have a positive experience and leave great reviews, which will help you earn or maintain your Superhost status.
Respond promptly

– Guests appreciate hosts who respond to their messages promptly.

Be clear and detailed

– Provide clear and detailed information in your messages and your listing.

Be friendly and professional

– Guests are more likely to have a positive experience if you are friendly and professional in your communication.

Provide information about the area

– Details on local restaurants, shops, and transportation will help guests plan their trip and make the most of their stay.
How Much Should you Charge for your Airbnb Rental
Several factors must be considered when pricing your Airbnb rental to ensure you are charging a fair and competitive rate.
Location

–

N

o one wants to drive for 1 hour to get downtown. Rental prices are higher in entertainment districts or major tourist sites than in less attractive ones like suburbs.

Amenities

– Of course, the more amenities your rental has, such as a pool, sauna, or fire pit, the higher the price you can charge.

Size and number of bedrooms

– Families and people traveling in groups will pay a premium for more bedrooms and extra square footage.

Seasonality –

The demand for rentals will vary depending on the season, and you should adjust your prices accordingly. For example, you may be able to charge more during peak travel seasons such as summer or winter holidays.

Competition –

Conduct market research and look at prices of similar rentals in your area to get an idea of what you should charge. Ensure your price is competitive, but pay attention to your rental value. The same applies to cleaning fees added to the base rental rate. Remember to factor in the cost of these services and price them accordingly based on your competitors.
At the end of the day, you're operating an Airbnb rental business, so it's important you set a minimum nightly rate that covers all of your expenses and you get to earn a profit. Don't be afraid to adjust your prices accordingly and offer discounts for longer stays or slow seasons. That way, you can ensure your rental business is sustainable in the long run and you can continue to become a Superhost!
Pros and Cons of being an Airbnb Host
Here are some of the benefits of becoming an Airbnb host:
Flexibility

– You're in control of when to rent your space and for how long. You can change your rental availability whenever you want. Feel like visiting your property for a relaxing getaway with friends? You can block your schedule off and plan your weekend away!

Meeting new people –

Hosting on Airbnb allows you to meet people from all over the world and can be a great way to make new friends. I've connected with many people throughout my Airbnb journey and built great relationships with guests and my property management team.

Passive income

– Once your Airbnb rental property is correctly set up, with appropriate systems in place, such as a great cleaning crew and messaging templates, the revenue generated is relatively passive and can complement your full-time job!
In terms of some of the drawbacks, there are some important considerations to make:
Time commitment

–

Hosting on Airbnb can be a time sucker and you have to be comfortable handling bookings, communicating with guests, and preparing your space for each stay.

Reputation management

–

You are responsible for maintaining a good reputation as an Airbnb host. Bad reviews on Airbnb can deter future guests, instantly impacting income levels. The moral of the story is to keep your guests happy!

Laws and regulations

–

You must comply with local laws and likely need a business license to rent your property.
Being an Airbnb host has many potential benefits, but weighing the pros and cons before deciding if it's right for you is essential!
Is Airbnb a good investment?
Based on my own experience, I'd say yes. I invested in a well-located property, prioritized guest satisfaction, and generated over six figures from this side hustle. The location made a significant difference, drawing travelers year-round. But success didn't come overnight.
It was essential to keep updated on local regulations, ensuring I operated within legal boundaries. Financial aspects, like considering property costs, ongoing maintenance, and potential vacant periods, mattered too.
With continuous efforts to offer top-notch experiences, my guests left positive reviews, increasing my property's visibility.
Not to sugarcoat it or anything like that, but there were challenges like market saturation and occasional property damage, which comes with the risk of running this type of business. However, with dedication and a strategic approach, my Airbnb venture turned out profitable. So, based on my journey, it can be a solid investment.
How to Make Money on Airbnb without Owning Property?
Purchasing a short-term rental requires significant upfront money. However, if you do not have the financial means to acquire a home, there are still ways for you to generate income without incurring the costs of a large real estate investment.
Offer your services –

Hosts pay well for professional photography, concierge and cleaning service, or property managers to make their properties more appealing to guests.

Co-Hosting –

You can help busy hosts manage their listings and share the revenue.

Social media management

– Because hosts leverage social media to advertise their properties and attract more guests, this could be a high-paying weekend job that you can do at home if you have a strong marketing background and the ability to generate engaging content. You can create Instagram reels or other content for Airbnb owners and get paid as a social media manager!

Host an Airbnb experience –

Airbnb is more than simply a platform for tourists to find a place to stay. You may provide guests with one-of-a-kind experiences such as hidden gem cuisine excursions, wine tastings, or even a sunset cruise! Think about what makes your city and state special, and offer an experience that can't be found anywhere else.
Enjoyed this post? Don't forget to pin the image below! Also, don't forget to follow me on Pinterest over here! 🙂