This post may contain affiliate links. Please read our disclosure policy for more information.
Passive Income Ideas
Ah, generating passive income and making money while you sleep is what everyone dreams of.
Just imagine how your life would feel with multiple streams of passive income!
Sounds pretty impossible and far-fetched, doesn't it?
I hear ya…
For many years, I was constantly daydreaming about the day I could quit my job and live off passive income.
When I first started my blog, I wrote a motivational post, This Epic Quote By Warren Buffett Will Inspire You To Become Rich. It was one of my first heartfelt posts that describes how I (and most of you) feel having to work for someone every single day…
For the rest of your life…
Eek!
I'm sure most of you can relate, right?
I honestly couldn't bear the thought of clocking in and out of a job every single day. That's when I started looking for passive income ideas to make extra money. My goal is to earn enough so that I can quit my job one day.
If you don't find a way to make money while you sleep, you will work until you die — Warren Buffett
Related content:
– Hate Your Job? 10 Things You Need To Do To Get The Eff Out!
– How To Make An Extra $500-$1,000 Each Month (Without Leaving Your Home)
– 9 Real Ways To Make Money Online
– 10 Things We've Done To Make An Extra $3,000 Per Month (Without a Real Job)
– How We Went From Almost $100,000 Debt To Over $750,000 Equity and Savings in 7 Years
How to make passive income
After following Warren Buffet's wisdom and reading inspirational books like Rich Dad Poor Dad by Robert T. Kiyosaki, I was even more motivated to pursue the idea of passive income and quit my job.
They are right when they say we don't have a lot of time within a day to work for money.
Instead, we need money to work for us so that we can free up our time to do things that actually matter to us. That includes spending more time with our family and friends. Because let's face it, life is short…
You can relate, right?
After working for 8 years, I am starting to see that there's more to life than just a job in a toxic environment filled with politics. For many years, I've been working at building a diversified income stream so that I could say bye to the 9-5 grind.
I want to be able to help you too!
It won't be a walk in the park, but with hard work and effort, it's very possible for you to create passive income streams that will allow you to free up your time and eventually achieve financial freedom. You just need to choose something that works for you.
Examples of passive income
From my extensive research, I am SUPER excited to put together this list of passive income ideas for you.
Today, I'm sharing 16 passive income ideas that you need to try!
One of my favorites is #2 because almost anyone can start at a relatively low cost with NO experience required! 🙂
Pin this for later. This post is detailed to ensure you get lots of info!
This post may contain affiliate links. Please read our disclosure for more information.
1) Get out of debt first.
Here's the first and best advice when you're getting ready to make money while you sleep.
Do you still owe interest on credit cards and student loans? The quicker you pay back those pesky loans, the sooner you can start generating passive income.
Think about it.
Every month, you're making $100, 300, $500, etc. debt repayments to your lenders who are making a killing off of you. Wouldn't it be nice to allocate that same $100, $300, $500, etc. into investments that PAY YOU passive income?
Related post: Are you still in debt? Here's how to get out of debt fast!
For those of you who still have student loans, I highly recommend using LendKey. LendKey offers student loan financing that gives you the option to consolidate and refinance your existing debt. With that said, you'll save thousands of dollars by paying a lower interest rate. Read here to find out how LendKey will benefit you!
Again, getting out of debt will free up a chunk of cash for you to put towards investments that generate passive income and/or growth returns.
2) Earn money with affiliate marketing.
One form of passive income is earning money with affiliate marketing. It blows my mind because this person makes over $50,000 every month with it! 🤯 🤯 🤯… I'll talk more about it in the next section.
This concept is very new to me and it's something I've been looking into because the idea is so intriguing!
Of all passive income ideas, this one catches my attention and it's what I've been working on!
First of all, what is affiliate marketing?
If you don't know, affiliate marketing is just referring products that you love and/or believe will add value to your audience. After they make a purchase, you earn a commission at no extra cost to your reader or audience.
On a regular basis, I'm sure you refer many products and services to your family and friends because you just naturally love using it. For example, I'm in love with In-N-Out Burger because their burgers are the effing bomb and I always recommend them to my friends when they visit the U.S.
Now, In-N-Out Burger won't pay me any commission for doing this because they don't know that I'm announcing to the world how mouthwatering their burgers are. Nor am I affiliated with them and they probably don't have an affiliate program (or maybe they do, IDK).
But, there are tons of affiliate programs that allow you to earn a commission by promoting something you're already using and/or believe will add value to the person you're referring it to.
For example, you'll see that I'm always promoting one of my favorite books from Amazon, Rich Dad Poor Dad because it's very inspiring and has completely changed my life!
Aside from good books, there are many products you can promote from Amazon Associates (free to join) just like how I did in this blog post.
Another product I promote to my readers is Bluehost because it's the hosting company I use for this blog. It's super cheap to get started and I recommend it in my How To Start a Blog tutorial, which I talk more about in a bit.
Related post: How This Blogger Makes Over $50,000/Month in Passive Income With Affiliate Marketing 💵
Make OVER $50,000 in passive income every month??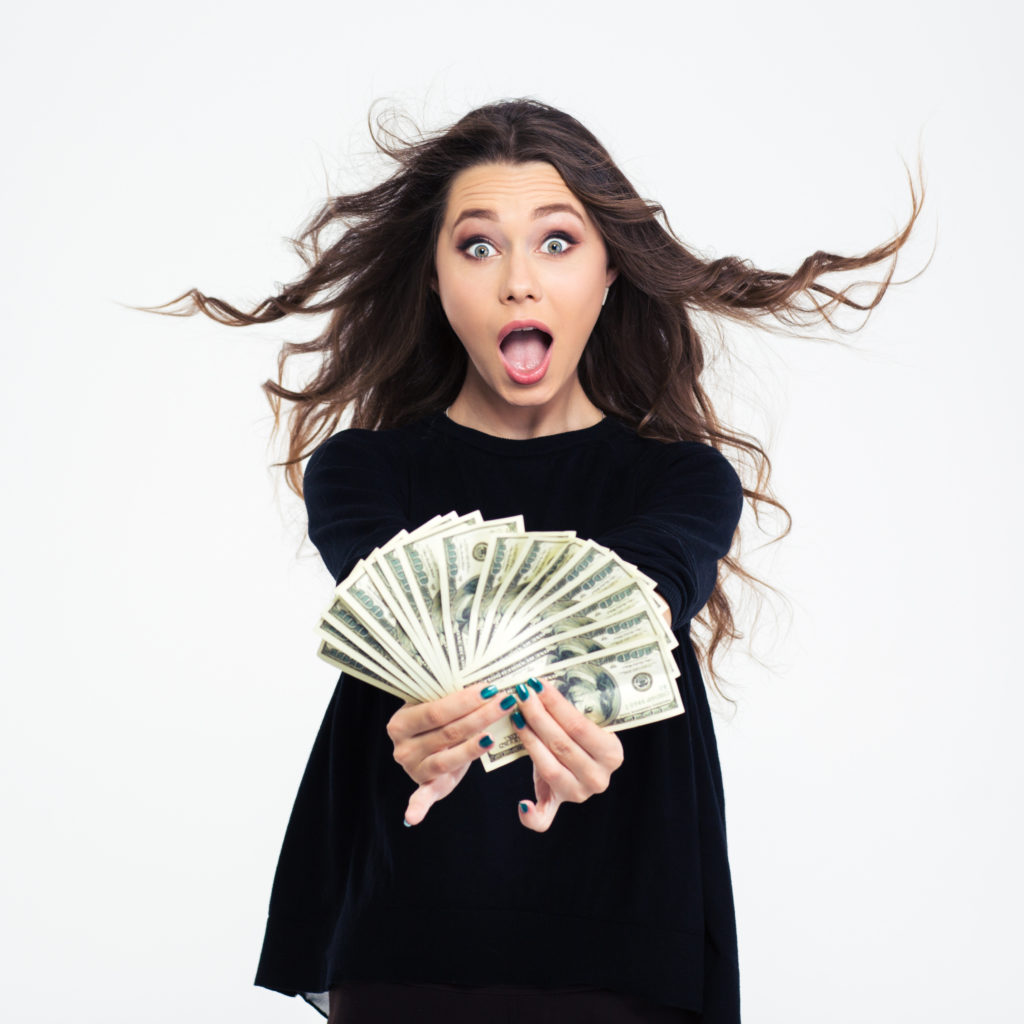 A very well-known and respected blogger, Michelle at Making Sense of Cents consistently earns over $50,000 every month from affiliate marketing! That's absolutely insane!
She also created an amazing e-course for beginners called Making Sense of Affiliate Marketing. In that course, she reveals her secret strategies on how she earns a passive income of more than $50,000 every month from affiliate marketing!
My personal experience with Michelle's e-course:
I recently purchased her course and to be honest, I wasn't expecting to make any money yet. I am aware that earning passive income through affiliate marketing isn't easy and will take A LOT OF TIME to build.
But, even as a new blogger WITH VERY LITTLE TRAFFIC, I was still able to generate some passive income by implementing a few of her strategies at the beginning of April 2018. Within a month, I earned more than what I spent on her course! For example, I earned over $400 USD within the month after implementing Michelle's strategies. The crazy thing is I'm not even 100% done with her course yet! There's still A LOT that I need to learn!!
🌟 UPDATE: I started this blog just over a year ago and now it's one of my favorite ways to make money ON TOP of my full-time job. I was able to make $5,532.13 in my last month blogging. $3,000 is passive income from affiliate marketing!

You too can start a blog for cheap with my easy step-by-step tutorial here. You can start a blog at a discounted price for only $2.95 a month (that's over 60% off). Plus, get a FREE domain name ($15 value) when you sign up through my tutorial.


This low price is exclusive to Finsavvy Panda readers. If you're interested and would like to learn more, feel free to visit my tutorial.
Michelle is an expert when it comes to affiliate marketing and she's on point when she says it's not about placing random links into your blog posts — you need to be implementing these winning affiliate marketing strategies.
She also says you don't need explosive traffic nor a ton of posts (like me) to start earning passive income with affiliate marketing. Even if you're a new blogger with ONE EPIC BLOG POST, you are ready to start earning passive income!
>> LEARN MORE ABOUT MAKING SENSE OF AFFILIATE MARKETING HERE <<
Related post: How To Earn Passive Income With Affiliate Marketing (For Beginners)
3) Start a blog that makes money!
UPDATE: On top of making money with affiliate marketing, I am also earning a pretty nice passive income stream with display advertising on my blog! This blog has been passively making over $1,300 per month with display ads alone.
Here's proof from one of my screenshots: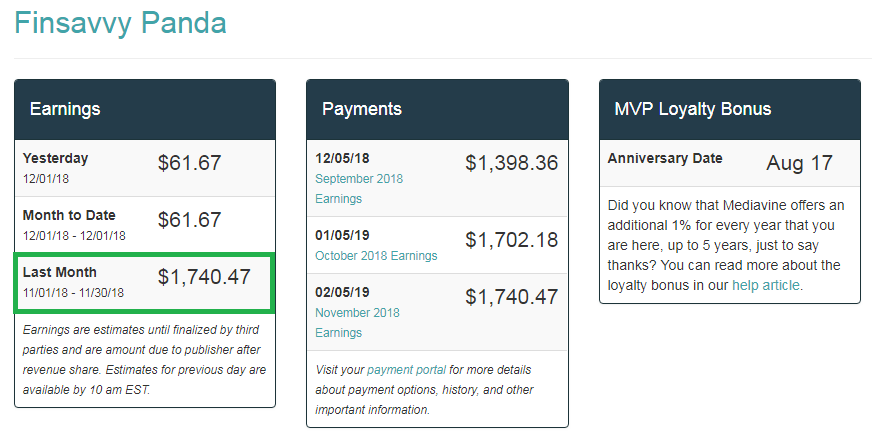 Again, I never thought this would be possible and I'm still really shocked!
I was able to build this blog while working a full-time job, and I want to tell you that you can too!
If you're interested, you can also check out my very honest blog income reports where I log my blogging journey to show others that earning a passive income with a blog is possible! What I learned over the year is that you don't need to be the best writer nor an expert in what you blog about!
– November Blog Income Report: $5,532.13
– October Blog Income Report: $4,798.01
– September Blog Income Report: $4,509.50
– August Blog Income Report: $2,797.64
– July Blog Income Report: $703.57
Between April 2018 and June 2018, I was making $400 to $500 per month immediately after implementing Michelle's secret tips in her Making Sense of Affiliate Marketing e-course. This makes a great part-time income idea while working a full-time job!
Before this, I was learning how to build my blog since November 2017. After one year, I am still learning a ton of stuff that I never thought would be possible!
Start your blog with my FREE 7-day course!
Are you a total beginner and don't know where to start? Join my FREE 7-day e-mail course where I will teach you how to start your blog the right way!
I would also like to mention that this course is NOT a get-rich-quick scheme! I'm not here to sell anyone a dream like how other bloggers do. I will reveal the initial steps I took (along with some honest truths about my journey) that helped me get to where I am today with this blog. Sign up and I'll show you how I did it within my first year of blogging!
This is the course I wish I had when I first started my blog! 🙂
4) Rent out your stuff
This next passive income idea is pretty cool…
What if I told you that you could earn up to $1,000 every month by renting out your stuff? Fully-insured as well!
Yes, such a thing exists and Fat Lama can help you with that (available in both the US and UK)!
This is what they call the "Airbnb for stuff".
There are many people looking for things to use without having to pay full price for the item. That makes sense because, why would anyone want to pay for things that they use occasionally?
Floor sanding machine, anyone? That was literally me a few years ago when I was looking for a machine to tackle on a DIY project!
This is where you can add value by turning the stuff you own into an income-producing asset!
For example, you can rent out the following items and make some passive income:
– DIY equipment
– Household tools
– Luxury outfits and handbags
– Drones
– Camera
– Video games
The list goes on and on because you can literally rent out almost anything you wish.
🌟 Get your FREE $20/£20 bonus from Fat Lama when you use this special link towards your first rental! 💵 💵 💵

Yes, this bonus offer is applicable to both lender or borrower! But I'm assuming you're interested in lending since you're reading this article about cash income ideas. 🙂
>> LEARN MORE BY VISITING FAT LAMA'S WEBSITE HERE <<
Leisure read: The Airbnb for Renting Almost Anything Raises $10 Million
5) Make passive income while shopping.
Yes, it's true. You can earn passive money by shopping for the things you normally shop for. Here are the programs and apps I love and recommend using. If you don't sign up for them, you're seriously missing out! And oh yeah, it's FREE to sign up for and use!
Ebates – This site has almost all the stores you shop at! That includes Apple, Nike, Adidas, Macy's, eBay, Walmart, Staples, Expedia, and I'm going to shut up now because there's WAY TOO MANY! With that said, you can earn up to 30% (or even more) on the things you already buy online.
🌟 Sign up here for your $10 welcome bonus after making your first $25 purchase through Ebates.

If you live in Canada, use this link to sign up for your $5 bonus. 
Related post: Check out this easy tutorial to learn how to use Ebates
Dollar Dig – This is a relatively newer cashback website that is available in the US and Canada. Dollar Dig is very similar to Ebates where they offer cash back rebates at over 3,250 stores, along with coupons and deals.
🌟 Sign up for Dollar Dig for FREE and get a FREE $2.50 welcome bonus immediately! 

I can't see why you can't sign up for both Ebates and Dollar Dig. They're both FREE! 😉
Also check out: The Best Places To Get FREE Cash and Gift Cards (No Purchase Necessary)
6) Earn passively through Paribus.
If you're not using Paribus, then you're seriously missing out!
Though this is not a form of "passive income" like the others I mentioned, it's an app that still pays you while you sleep.
So, here's how it works.
Have you ever purchased something like a camera, laptop, TV, furniture, etc. and realized two weeks later it went on sale? More likely than not, you didn't even notice it went on sale!
Well, here's the beauty.
This app connects to your email inbox to scan for your receipts. When you make purchases online, you would always receive a confirmation of your orders, right? When Paribus finds a price drop on any of the items you purchased and you're eligible for a price adjustment, it will notify you and the retailer. The best part is you don't have to go through the hassle of getting your money back because Paribus will do that for you!
Seriously, there's no effort needed from your end, so start getting paid passively for the price drops you weren't aware of!
🌟 You can sign up for Paribus here for FREE and start passively earning cash back. 💵 💵 💵
7) Invest in index funds or exchange-traded funds.
One of the easiest and best ways to build passive income and make money while you sleep. I say it's relatively easy because you don't require a large amount of capital to start investing. As long as you have a steady income from your day job, you're ready to invest in the stock markets through an index or exchange-traded fund (ETF).
Ok, you might be wondering what is an index fund.
Here is a definition I pulled out from Investopedia:
An index fund is a type of mutual fund with a portfolio constructed to match or track the components of a market index, such as the Standard & Poor's 500 Index (S&P 500). An index mutual fund is said to provide broad market exposure, low operating expenses and low portfolio turnover.
And now you might be wondering what is an ETF. I didn't like Investopedia's definition, so I'll put it in my own words…
Like a mutual fund, an ETF owns and tracks the underlying assets (in our case, a bunch of company stocks such as ones in the S&P 500 index). Unlike an index fund, an ETF is listed on the exchange such as NYSE so it trades exactly like a stock. You can actually think of it as a stock that holds many company stocks.
Related post: ETF Investing For Dummies
How to invest in ETFs.
Depending on your tolerance for risk, you can choose from growth funds to funds that pay higher dividends. The latter is considered more passive because funds that pay higher dividends are paying you a consistent stream of income every quarter, month, or year.
I won't dive into the details of each type of fund because that's out of the scope here — especially for those who don't really care about the details. 😉
So, if you're not into DIY investing, but at the same time, you don't want to hire a mutual fund advisor (who will rip you off with their super high fees), I highly recommend using Wealthsimple. 
Wealthsimple is a well-established robo-advisor that is available in Canada and the U.S. When you sign up, Wealthsimple will ask you a list of questions. Based on your answers, they will invest in the appropriate funds that match your profile. It is interesting to note that their investment approach uses a Nobel Winning Prize strategy created by Harry Markowitz. This strategy is called Modern Portfolio Theory and it focuses on minimizing risks and maximizing returns.
Become a money genius with Wealthsimple!
Based on my research, their account minimum is $0! Yup, that's right, no minimum balance is required to start your passive income journey. 🙂
Here is a summary of the awesome features of Wealthsimple:
– No account minimum.
– No trading fees, rebalancing fees, or account transfer fees.
– Dividend reinvesting is free (this is one of the best ways to form passive income along with growth!)
– The management fee is between 0.5% for investments up to $100,000.
– The management fee becomes 0.4% for investments over $100,000.
8) Invest in dividend stocks.
Another relatively easy way to start your passive income journey is to invest in companies that pay dividends.
In simple terms, when a company such as Home Depot makes money (i.e. their earnings), they will distribute those earnings in the form of dividends (monthly, quarterly, semi-annually, or annually) to shareowners who invested in their stock. Dividends can be issued in terms of cash, stock payments, or in another form of payment. Either way, investing in dividends is a great way to build a passive income stream that will allow you to quit your job one day.
Note, however, not all companies pay dividends. For example, Amazon does not pay their shareowners any dividends because they still consider themselves a growth company. With that said, when you invest in a company like Amazon, you are looking for growth returns instead of dividend income.
For more information about passive dividend income, visit Tom @ Dividends Diversify where he speaks passionately about dividend investing. HINT: It was one of his secret weapons to quitting his job and retiring earlier than the average Joe. 😉
9) Invest in REITs.
Real estate investing generally requires more capital upfront compared to stock and index investing, but it's still very possible to build a passive income stream without having to own the entire strip of residential properties.
If you want to start making money from real estate without having to invest a lot of capital, there are many ways to achieve this. One way is through REIT (real estate investment trusts) investing.
According to Fundrise, an estimated 70 million Americans invest in and own shares in REITs. REITs give you the opportunity to invest in a portfolio of real estate. That generally includes commercial real estate such as offices, apartment buildings, shopping centers, warehouses, and hotels.
Similar to stocks, you can invest in a REIT through ETFs (exchange-traded funds). And similar to the ETF indexes that I mentioned earlier, REIT ETFs are also listed on major exchanges and trade like a stock. For example, here is a list of five popular REIT ETFs in the U.S.
In addition to the potential for moderate capital growth, REITs offer high dividend yields which make them great for passive income. The added benefit of investing in REITs is your exposure to real estate without hearing your tenants cry all night.
All of this may sound appealing, but it's crucial to know that REITs, like other investments, are not risk-free!
For more information, here is a step-by-step guide on how to invest in REITs.
10) Invest in rental properties.
As I mentioned above, you can form passive income from real estate without physically owning a property by investing in REITs. But, if you're interested in becoming a landlord, you can consider earning passive income through physical rental properties. That's if you don't mind hearing your tenants cry once in a while, LOL!
After being landlords for a few years to our current home, my fiance and I decided to invest in a second property. A few years later, we invested in a duplex as a way to build equity and earn some extra income.
Now, I'll be honest here. This isn't 100% passive like REITs and there will be tenant issues that pop up from time to time. For example, we took a huge hit last summer when one of our tenants' units got broken into. WORD OF ADVICE: never announce to the world that you will be away on vacation (I wish I could bluntly tell this to my tenants)! #FACEPALM.
Based on Home Advisor's article, 28 Tips to Protect Your Home, the writer says:
It's pretty common for people to post all about their upcoming trip on social media, but avoid the urge. The more people who know your house will be empty, the more you open yourself up to the possibility of a break-in. Similarly, don't leave a message on your landline answering machine that you're out of town.
Anyway, my point is that problems can and do occur. But like any other investment (regardless if it's passive or not), there's always a risk. The good thing is that most of the time, it's been pretty passive based on our experience. KNOCK ON WOOD!
In the end, it really depends on the age of your property, location, quality of your tenants, as well as your relationship with them!
11) Rent out your space.
Rent out your separate room(s) while living at home – Another brilliant idea is to earn passive income from your roommates while living at home. I know so many people who do this and it has made their life easier because it pays for their monthly utilities and groceries.
Become an Airbnb host – Alternatively, you can also rent out your spare room on Airbnb and make even more money. Please note that this approach will likely require more work because you'll have to attend to your guests' needs while you're working at your day job.
🌟 Learn how you can earn passive income as an Airbnb host here.
Rent out your separate unit – Similar to renting your room to a roommate, you can also choose to rent out an entire unit to a family. As mentioned above, this is something we've been doing for a few years. This form of passive income has allowed us to reduce our current living expenses because our tenants cover our mortgage along with some utilities.
12) Open a High-Yield Savings Account.
Though this won't make you rich, the least you could do is park your emergency fund and/or your savings in a high-yield savings account. As you may know, emergency money isn't meant for investing, so you may as well get some passive income from a bank that offers you high rates.
Traditional banks like Bank of America offer an extremely low rate of 0.01%. According to FDIC, the national average is 0.07%. Now, that's just peanuts!
The great news is that CIT Bank, an online bank, offers one of the best rates at 1.55%! That's 155x compared to Bank of America and more than 22x the national average! Also, rest assured that your deposit account at CIT Bank is FDIC insured. 🙂
And don't worry – I didn't forget my Canadian readers. If you're Canadian, I'm sure you'll be super excited about EQ Bank because it's been known for offering the highest savings rate in Canada! Find out more about EQ Bank at Savvy New Canadians' post, EQ Bank Review: No-Fee High-Interest Savings Account in Canada.
You might be wondering why these banks are able to offer such attractive rates. The reason is that they don't have physical branches (like traditional banks) so they are able to pass those savings onto you in the form of higher rates!
13) Peer-To-Peer Lending.
This is one of the most popular passive income ideas today and we hear about it a lot.
With peer-to-peer (P2P) lending, borrowers and investors register online and are anonymously matched.
Before I talk about P2P lending and how you can start earning passive income, first understand how it works from the borrower's perspective.
P2P platforms like Lending Club would collect information about the borrowers when they sign up such as their age, education, income, credit score, etc. Then, they would assess each borrower and place them into different risk categories (i.e. from low-risk to high risk.) Each P2P platform has its own way of assessing borrowers but you get the idea.
That information will then be released to potential lenders/investors (you) on the P2P platform. You would then choose who you want to lend your money to. Borrowers who are labelled as high-risk would give you higher potential returns, but that comes at a risk, and the reverse is true.
Now, here is an example of how P2P lending works.
Suppose a borrower named Johnny Default, requests to borrow $10,000. You, the lender, can choose to lend as little as $25, $50, $100, or even the full amount.
By the way, isn't that great? You're like the bank who charges Johnny Default an interest rate by lending him some money.
By putting in less than $10,000 (the full amount), you are spreading the risk with other investors who "crowdfund" to help Mr. Default. Alongside, you can spread your investment across many different loans (i.e. different borrowers) to diversify your portfolio. In other words, you lower your risks of a single default when you lend to different borrowers other than Johnny Default (e.g. Sally, Johnson, Ming, Bonnie, etc.).
With that said, P2P lending is a great way to diversify your passive income. But please note that reported returns of 5%-10% are not guaranteed. Like any other investments, there's always a risk so you do your research before jumping the gun.
Learn more about Lending Club on their website here.
14) Rent out your parking space.
Got a spare parking spot or storage space that you don't use?
Great!
You can rent that out and earn some passive income. I have co-workers and family friends who rent out their unused parking space for $50-$200 per month depending on their location. Think about what an extra $50-$200 in passive income can do for you. 🙂
15) Place ads on your car.
Of all the passive income ideas, this is one of the coolest ways to earn money while you sleep. Get paid for wrapping decal advertisement around your car. Companies such as Carvertise offer drivers about $100 per month in passive income with their campaigns lasting about three to six months.
16) Rent out your car.
Do you have a car that's not in use all the time?
If so, you can rent it out on Turo as a form of passive income. The concept is very similar to Airbnb's peer-to-peer home rental program.
Read more: How this man uses Turo for both his Tesla and Volvo XC90 SUV to cover his monthly payments, including insurance and parking.
On the flip side, you can also save money by renting someone else's car when you plan a vacation. With that said, Turo is a peer-to-peer car sharing program amongst strangers (just like Airbnb).
According to this article from Business Insider, fifty-two percent of Turo renters said they use the service to pay off car loans, according to a company survey. In that same article, it also talks about how a couple paid for two Teslas by sharing them on Turo.
Here are some facts about Turo on their website:
– Available in more than 4,500 cities
– Pick up at over 300 airports
– Over 800 car makes and models
– An average owner earns $720 per month
– An owner with three cars earns an average of $3,000+ per month
– Turo gives you a $1 million in liability insurance and they cover for physical damage to the car
List your car today and start earning passive income!
Over to you — What passive income ideas are you trying today? Want some extra income ideas? Check out the section below where I list out my favorite resources to get FREE cash! 💵
Don't miss out on FREE cash over here!
If you follow my blog, you will know that I'm all about saving money and making money. Below are some of my favorite sites and resources that may help you! The best part is that they're all FREE to join and use!
Swagbucks allows you to earn cash and FREE gift cards (my favorite ones are Amazon and Starbucks) just by surfing the web, watching some funny cat videos, shopping, playing games, completing simple surveys, and doing other online activities. My fiance and I have redeemed many $50 to $100 Starbucks gift cards which helped us save money by making our spending a little more affordable! Swagbucks has helped their members save $299,447,296 to date!
👉 Sign up to receive your FREE $5 bonus from Swagbucks here and start putting cash back into your wallet! 

⭐️ Important: To claim your FREE $5 bonus, don't forget to verify the email from Swagbucks in your inbox!
Don't miss out on this post: The Best Places to Get FREE Gift Cards and CASH! 🙂 💵
Checkout 51: Get FREE cash back on your groceries and home goods! Every Thursday, the app updates the list with new offers! Quickly snap a picture of your receipts through the app with your smartphone and wait a few days for your FREE cash to come in. Once your account reaches a minimum of $20, you can request your check at NO COST! It sure feels good to receive a nice little check for extra spending. 💵🛍
🌟 Grab your FREE $5 BONUS here when you sign up through my link and upload your first few receipts. 🙂
Ebates: You get FREE cash just for shopping at over 2,000 of your favorite stores. This includes Walmart, Macy's, Apple, Kohl's, Target, eBay, and so many more! I use Ebates to save over a few hundred dollars just for shopping for the things I normally buy.
🌟 Sign up here for your FREE $10 bonus after making your first $25 purchase through Ebates.

If you live in Canada, you MUST use this link to sign up for your FREE $5 bonus.
Want to learn more? Read my full review and tutorial on how to use Ebates here. You won't be disappointed with Ebates!
Paribus: Ever heard of price-adjustments? This free app helps get your money back when an item you purchased goes on sale (there's no effort on your end). When Paribus finds a price drop in your e-mail inbox, and you're eligible for a price adjustment, it will notify you and the retailer. Yes, Paribus will do all the work for you and you keep 100% of the savings! Paribus has helped users saved over $24,000,000 to date!
🌟 You can sign up for Paribus here for FREE and start putting cash back into your wallet.
Enjoyed this post? Do me a huge favor and spread the love on Pinterest! 🙂