This post may contain affiliate links. Please read our disclosure policy for more information.
Today, I'm going to give you my Swagbucks review.
I'll also go through whether it's a scam or a legitimate website in this post.
If you follow my blog, you'll know that I mention Swagbucks a lot!
I can't help it because they are one of my favorite surveys and rewards programs since using them in 2009! That's how my fiancé and I got our hands on those delicious free drinks at Starbucks as broke students back in the days!
Being able to redeem those free $25-$100 gift cards (such as Amazon, Walmart, Sephora, and Starbucks) was a great way for us to earn extra money on the side!
Swagbucks Review
Overall, I really can't complain about the FREE gift cards and cash that we earn with Swagbucks. I will elaborate more on how I use Swagbucks to earn extra money.
On top of that, I'll mention my favorite Swagbucks hacks that you must try to get the most out of this absolutely free money resource to help you earn points and save more.
But first, let's go through what Swagbucks is and whether or not it's a scam!
What is Swagbucks?
Swagbucks is a FREE online rewards program that allows you to earn free gift cards or cash by taking online surveys, watching videos, surfing the web, shopping online, playing games, and more!
They are owned by the parent company, Prodege, LLC, which is a reputable internet and media company since 2005. According to the company, their stated mission is to:
"Create Rewarding Moments" for our consumers and partners alike. We help brands boost engagement with consumers. We make it easy to gather insights, listen to their audience, and gain further exposure to drive brand loyalty through a variety of channels including shopping, discovery, video, surveys, search and games. — Prodege, LLC.
Other popular and trust-worthy subsidiary brands under Prodege include:
– MyPoints
– InboxDollars in the U.S. (DailyRewards in Canada)
Swagbucks sign up promo
When you sign up for Swagbucks for FREE here, you can start earning money online immediately and claim your $5 welcome bonus!
Swagbucks is legitimate since they have paid out over $377,037,353 to its members!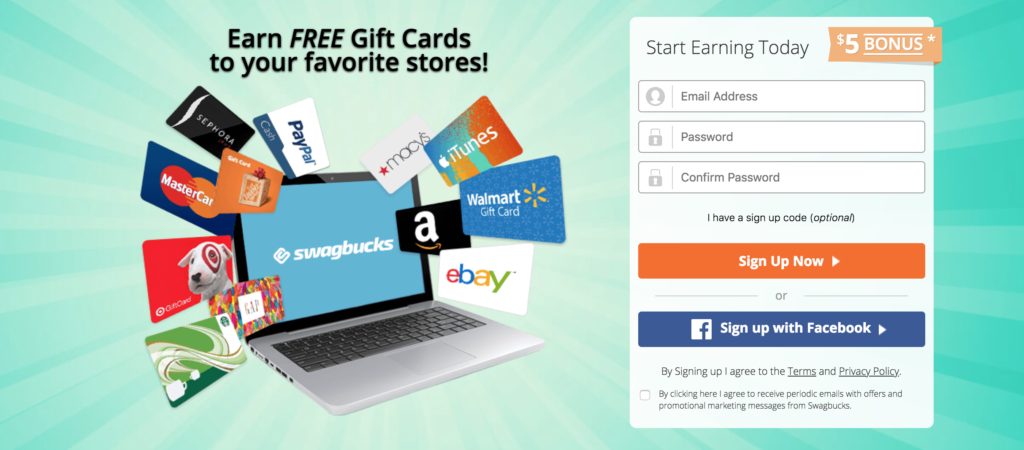 Is Swagbucks a legitimate website?
Just like you, I had questions about whether or not Swagbucks was a scam prior to using it.
After using this rewards website/app for 10 years, I can attest that Swagbucks is 100% legitimate.
Similar to these highest paid survey sites for cash, Swagbucks is absolutely free to use and is a legitimate way to earn money online.
Swagbucks Review on BBB
To put your heart at ease, Swagbucks has been in the business for 13 years with an A-rating under the Better Business Bureau (BBB).
I've been an active Swagbucks user since 2009 — I know, it has almost been 10 years! My fiancé is a user himself. My friends and his friends are all users as well.
And since the time we've all been using Swagbucks, we never had any issue redeeming our gift cards and cash!
In fact, we've heard and seen many positive reviews about Swagbucks such as this one here:
"My most rewarding moment with Swagbucks is using the gift cards I earn to buy gifts for my child's Christmas and February birthday." Kim, Member since 2009
On top of that, here is a screenshot of other reviews on BBB: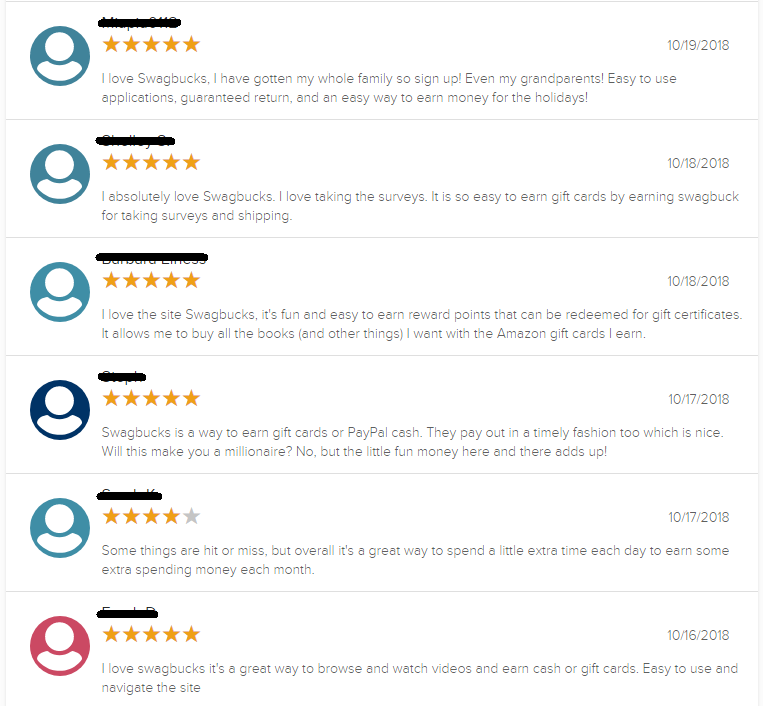 Is Swagbucks free?
Again, Swagbucks is absolutely free to sign up for and use. You can create a FREE Swagbucks account and get your FREE $5 sign-on bonus here.
🌟 Important note: Make sure you verify the e-mail from Swagbucks in your inbox so that you can start earning and redeeming your rewards! All it takes is one simple click on the "verify" button.
How does Swagbucks work?
You earn Swagbucks (SB) points by taking surveys, surfing the web, shopping online, playing games, and watching videos in exchange for FREE gift cards or cash through PayPal. Those free gift cards include Amazon, Starbucks, Walmart, Target, Sephora, and more! Click here to check them out.
How many Swagbucks equal a dollar?
Some of you may be asking, how much is one Swagbuck point worth?
Answer: Every 100 SBs is equivalent to $1.
How to make money on Swagbucks
Now, I will go through the tutorials and hacks to show you how to use Swagbucks to earn some extra cash!
Swagbucks is available to use on both desktop and mobile. With the mobile option, you can use the Swagbucks app if you like the idea of making money with your smartphone!
1. Take surveys online with Swagbucks Surveys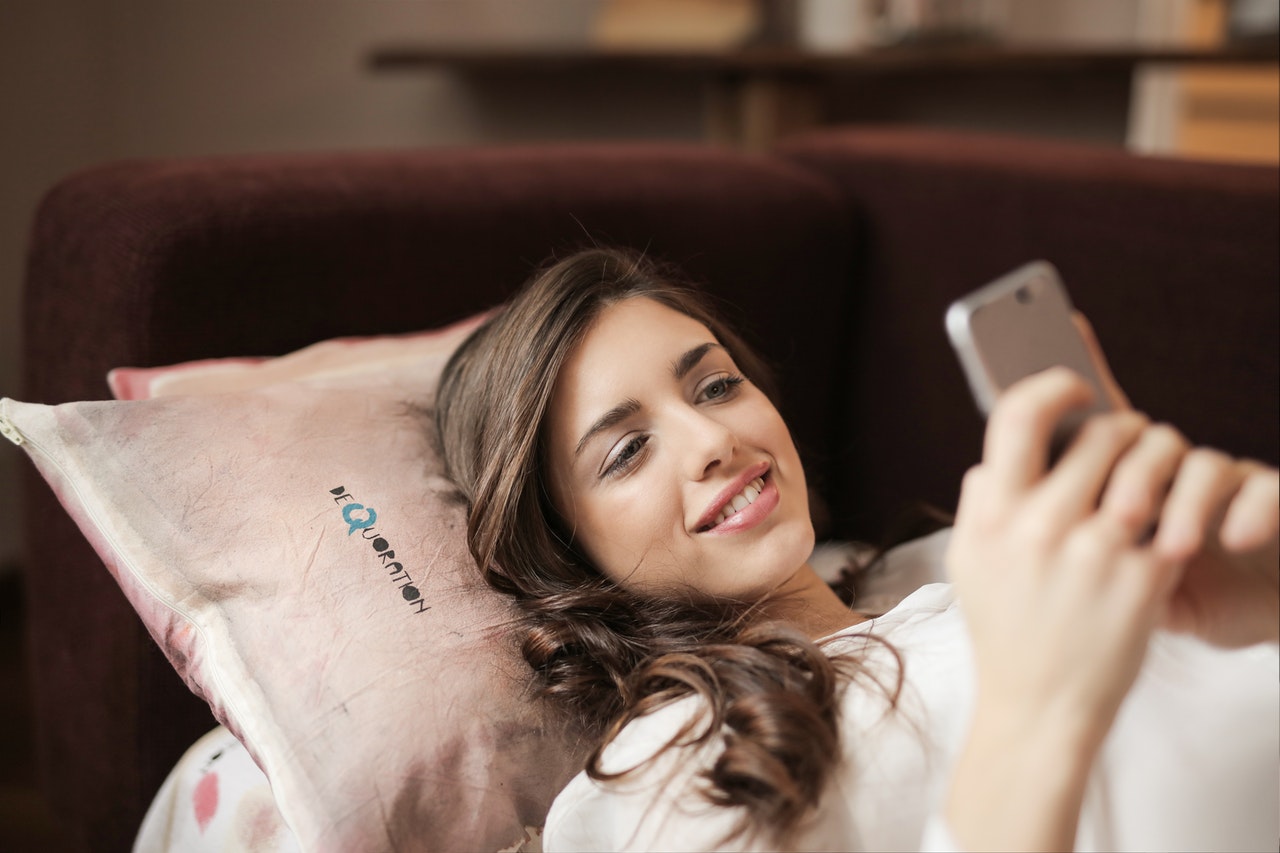 You can earn Swagbucks Points (SB points) by taking paid surveys.
I'll be honest though. Taking surveys online won't replace your full-time income. NOT. EVEN. CLOSE! So, whoever tells you that you can earn thousands of dollars every month is lying.
But, you can still earn extra money by taking mindless surveys while binge-watching your favorite Netflix shows.
I personally take surveys with the Swagbucks app when I'm sitting in the passenger seat while my fiancé is driving. You can earn enough to buy a few rounds of groceries, fill up a tank of gas, or stack up on those free gift cards worth over $100 with these hacks.
Based on my personal experience, Swagbucks is one of the best survey sites you'll find today. 🙂
2. Go for Swagbucks Gold Surveys
Here's a quick pro-tip and Swagbucks hack.
When you decide which surveys to take, I highly recommend going for the "Gold Surveys" (the ones with a blue star next to it) because they usually take less time to complete for a higher amount of SB points.
For example, this may range from 70 SBs (for 1 minute of your time) to 600 SBs (for 13 minutes of your time).
When you run out of Gold Surveys and you still have some time to spare, I recommend going for the surveys that take the least amount of time to complete regardless of the amount of SBs you earn.
Use your judgment call and attempt the surveys that provide the highest return given the shortest amount of time.
For example, it may require 1 minute of your time to earn 37 SBs. This payout may not be as high as the example I gave above (70 SBs in 1 minute) but they do add up, especially when you are mindlessly answering surveys during your free time.
🌟 You can sign up for a FREE Swagbucks account here to give their surveys a try. Again, you'll get a FREE $5 bonus when you sign up through my link. Just remember to verify the e-mail from Swagbucks in your inbox so that you can start earning!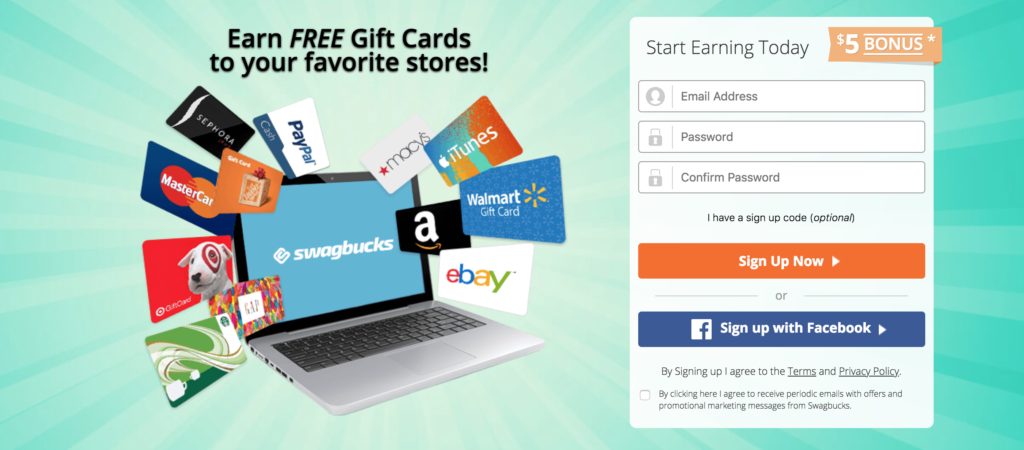 3. Use Swagbucks Swag Codes
Aside from earning Swagbucks points with surveys, you can also earn by hunting for Swag Codes online.
A Swag Code is a string of text that could look something like this: DYSON1DayteRgPY5 (this is just an example). You must enter the code exactly as it appears since it is case sensitive. Your best bet is to directly copy and paste the Swag Code.
When you redeem Swag Codes into your Swagbucks account within a certain period of time, you can earn extra Swagbucks points. These points, in turn, can be cashed out for gift cards or PayPal cash.
The catch is you have to be quick at finding them!
You can find these Swag Codes on the Swagbucks website, Swagbucks blog, and Swagbucks newsletter. You can also look for them on their social media via Facebook, Flickr, Twitter, and YouTube.
4. Surf the web with Swagbucks
If you're always searching for things or doing research online, why not get paid for it?
Swagbucks will reward you with SB points when you use their search bar. My fiancé and I use this every day to search for stuff online (it's just like how you search for stuff on Google). To be honest, I still use Google when I'm on my desktop but with my laptop, I use the Swagbucks search as my default.
Until this day, I still don't know the exact amount of SB points you earn when you use their search bar (because it's completely random and Swagbucks doesn't say much about this), but I am earning on average 12-20 a day. Again, it's completely passive and doesn't require any effort, so why not? I'll take whatever is free and effortless! 🙂
🌟 You can activate the Swagbucks search bar here to start passively earning money online.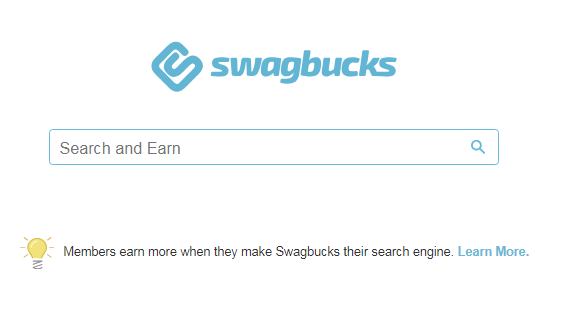 5. Shop online and earn cash back with Swagbucks
Another great feature about Swagbucks is you can earn up to 30% cash back just by shopping for the things you normally buy. The norm is anywhere between 2% to 10% with stores like Amazon, Etsy, Gap, Best Buy and many more!
This is very similar to Rakuten (formerly called Ebates Cash Back) and I believe Swagbucks has recently stepped up their game with their cash back program.
I personally still prefer using Rakuten when it comes to earning cash back. But that shouldn't stop you from using Swagbucks for this feature (plus, they have other activities that allow you to earn rewards). In fact, I'm starting to see that more people are using Swagbucks for their cash back deals today.
🌟 PRO TIP: Install the FREE SwagButton to make earning cash back easier when you shop online!
Using the SwagButton
I also want to mention that I installed the SwagButton on both my computers because it automatically sends me a notification about how much cash I can earn each time I shop.
When I'm on the store's website, let's say Sephora, it would tell me how many SB points I can earn — all I have to do is click the SwagButton to activate my rewards before I shop.
This also allows me to do a comparison between Rakuten and Swagbucks.
When both offer the same deal, I would purchase my stuff through Ebates, only because I'm used to them when I shop online. However, there are times when Swagbucks offers a better cash back deal. For example, Ebates may offer a 2.5% cash back at Sephora, but when I see that Swagbucks offers 4 SBs per $1 (equivalent to 4%), I activate my cash back with Swagbucks.
Here's a quick screenshot of how the SwagButton looks on my computer (the little blue logo of Swagbucks on the top right):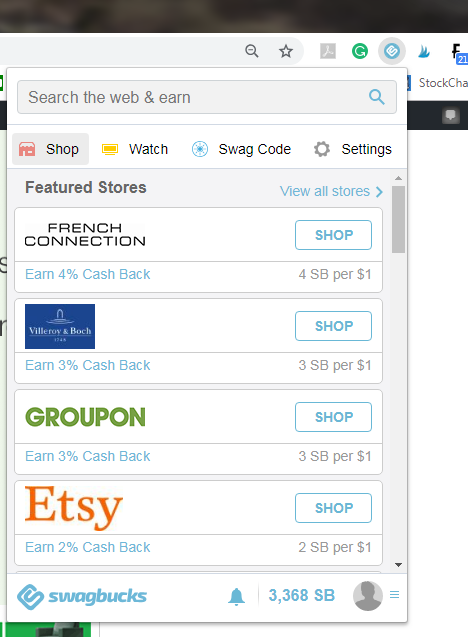 6. Earn Swagbucks points by watching videos
What I'm about to say next should not alarm you. But I really don't recommend sitting in front of your computer watching videos all day just to earn SB points because I find that this activity is the least effective way to earn rewards (that's just me).
From my experience, each video (roughly 20-40 seconds) rewards you with 1-3 SB points. Unless you have some time to spare (or you really enjoy watching videos) then, by all means, there is really no harm to watching videos to earn some SB points.
Some Swagbucks users have said they enjoy watching the videos (apparently there are some pretty funny cat videos going around right now).
7. Play games and earn money online with Swagbucks
If you enjoy playing games after a long stressful day from work (or even during your spare time), then you may as well get paid for it!
There are many games to choose from and Swagbucks includes both free and paid games. For the paid version, you'll have to buy them to earn points.
Still, you can play the free version and earn SB points. The games they offer but not limited to are Bingo, Bejeweled, Solitaire Rush, Wheel of Fortune, Deal or No Deal Slots, Angry Birds Champions, and many more!
🌟 You can start earning and redeeming rewards by playing games via Swagbucks here. Again, get a FREE $5 bonus through my link when you start using Swagbucks.
Here is a sample screenshot of how the games section looks on my account:

Swagbucks gift cards (MyGiftCards Plus):
Swagbucks also offers something called MyGiftCards Plus where you can buy gift cards online at a discount for up to 30% off.
Here is a screenshot (below) of the Swagbucks gift card shop when I select Banana Republic.
In this example, I can choose a $100 gift card (choice of an eGift or Physical) where Swagbucks will reward me with 500 SBs for the purchase (equivalent to $5 or 5% off). The best part is you can combine their deals (e.g. discounted gift card + cash back deal) with sale prices (e.g. the store promo) to save even more!
Who doesn't like to stack on deals to save money especially when it doesn't require much effort? As the financial experts always say, $1 saved is $2 earned! 🙂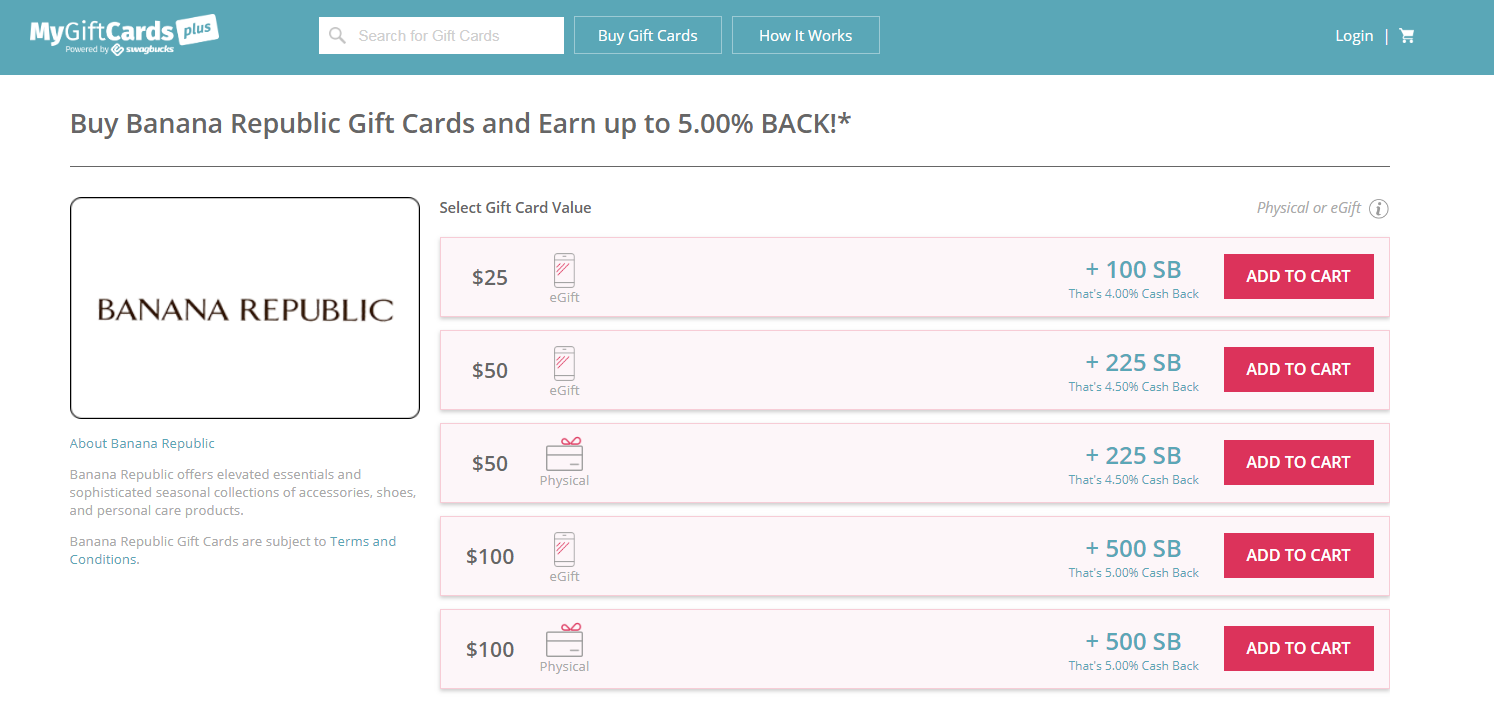 🌟 You can start earning rewards by signing up for a FREE Swagbucks account here. Again, get a FREE $5 bonus through my link when you start using Swagbucks.
How much can you earn with Swagbucks?
There are Swagbucks users who put in more effort to earn $100 to $200 each month with Swagbucks. That's pretty good considering that Swagbucks is absolutely FREE to use!
Some people even report earning an extra $500 per month alone with Swagbucks but that is extremely rare and I would discount those claims — they're either spending A LOT of time on surveys or spending a lot of money shopping online (which defeats the purpose of saving money)!
With that said, you definitely won't earn several thousands of dollars per month.
Realistically, even if you're a casual user, you can still expect to earn an extra $300 to $1,000 per year, which is a good amount of money to put towards your holiday shopping!
At the end of the day, how much money you earn with Swagbucks really depends on various factors such as:
– your demographics and whether you qualify for more surveys (always answer the survey questions truthfully).
– if you're willing to put in a bit of effort to do some surveys.
– whether you enjoy watching videos and/or playing games.
– how many searches you do in a day.
– how often you shop online and whether Swagbucks is offering any BONUS cash back deals at that particular time (e.g. 5% cash back instead of the regular 2.5%).
– whether you take advantage of their new feature, MyGiftCards Plus, which I talk about next.
Earn an extra $50 to $100 per month with survey sites like Swagbucks:
If you'd like to earn an extra $50 to $100 on top of Swagbucks, I recommend checking out these other high paying survey sites that are similar to Swagbucks.
Earn with Survey Junkie
For example, another free reward and survey app I use is Survey Junkie. This is another great survey site that I enjoy using during my spare time to earn extra for the month.
Swagbucks (8.3/10) and SurveyJunkie (8.7/10) are two of the best survey sites with the highest ratings on TrustPilot Reviews.
Is Swagbucks worth it?
Swagbucks is worth it when you're looking for ways to make an extra $300 to $1,000 per year during your spare time by doing paid surveys, watching videos, surfing the web, and playing games.
It's also worth it when you're looking for an efficient way to save money by 1) getting cash back from your online purchases and 2) buying discounted gift cards from their shop.
With that said, almost anyone can benefit from signing up for a FREE Swagbucks account today.
Despite the fact that I have a full-time job and earn extra money blogging on the side, I still use Swagbucks as a fun side hustle to earn extra money each month — it's really just icing on the cake! 🙂
On the other hand, Swagbucks is NOT for those who are looking for a real side hustle to replace their full-time employment or retirement supplement. It's also NOT for those who want to get rich quick! Just a side note, there is no such thing as getting rich quick without putting in any effort!
What's better than Swagbucks?
If you're looking for higher earning potential, you can check out these creative ways to make money $100 every day.
But just because you are looking for full-time opportunities, doesn't mean you can't try Swagbucks to see how you like it. After all, Swagbucks is free to test out. Worst comes to worst, you don't ever have to use it again.
Summary of my Swagbucks Review
Overall, Swagbucks is 100% legitimate and you can definitely earn FREE gift cards (e.g. Amazon, Starbucks, Walmart, etc.) as well as a bit of extra money each month just by doing surveys, surfing the web, shopping for things you normally buy, watching some funny cat videos and playing games online.
It is NOT something that can replace your full-time income or supplement your retirement, but it can make spending more affordable.
Like I always say, I like how I can use the free gift cards or money towards groceries, coffee, a tank of gas, birthday gifts, household items, and Christmas spending.
So, what's stopping you from using Swagbucks? You can test it out for FREE and grab your FREE $5 bonus right here.
Other ways to earn extra money aside from Swagbucks:
– How To Start a Blog That Makes Extra Money (With No Experience)
– 8 Real Ways To Make $1,000+ Per Month Online
– 11 Things I've Done To Make An Extra $3,000 Per Month
– 11 Real Work From Home Jobs That Pay up to $100,000 Per Year
– 13 Passive Income Ideas That Make Money While You Sleep
Readers, I hope you enjoyed my Swagbucks review. Have you ever tried earning extra money with Swagbucks? If so, what's your favorite Swagbucks hack?
Enjoyed this post? Don't forget to bookmark and share it on Pinterest! 🙂