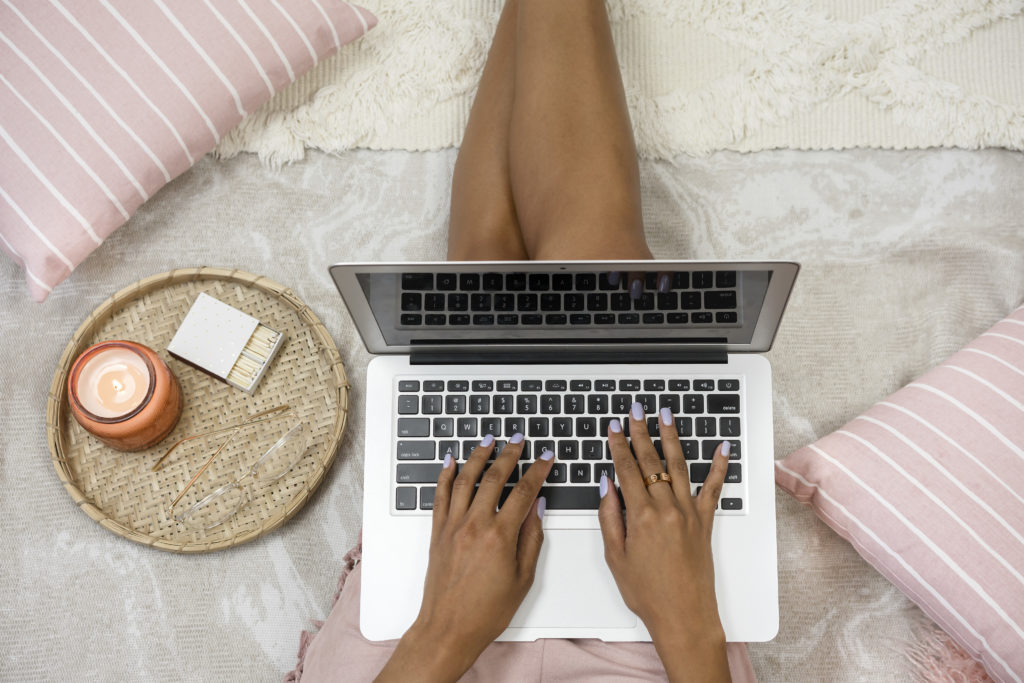 We will receive a commission if you make a purchase through our affiliate link at no extra cost to you. Please read our disclosure policy for more information.
If you're new to my blog, Finsavvy Panda, you may be wondering how I make money from home, what this blog income is about, and why I publish these reports.
If you follow my blog, you'll know that I love talking about ways to save money and make extra money to help readers stop living paycheck to paycheck and achieve financial freedom.
On top of that, I enjoy sharing my online blogging journey to show others that it's possible to work from home and earn extra money (or a full-time income) no matter what your background is or where you're from.
At first, I was just like you – I was very skeptical about the idea of making money online and thought it sounded too good to be true. However, I kept a very open mindset and tried it out myself, and I'm very glad I did… Because if not, I wouldn't have earned my first $500, $1,000, and now well over $10,000 per month with this very small blog!
SO YES, I am telling you that it IS very possible and my blogging journey for beginners with no experience proves it!
My blog income reports are a true reflection of the journey and progress of a brand new blogger, me, who started with no experience – you'll know that I'm not lying or exaggerating when you read through my blogging archive. I'm a very emotional and highly sensitive person so I wrote things that truly reflect how I felt and what I did as a beginner.
I always told myself that there is a limit to how much money I can save, but there is no limit to how much money I can make. This money mindset is what inspired me to start a blog so I could earn more money to save more, pay off debts, help the people I love, travel, and live a better life.
I'm so glad that I took the chance and started this blog because, within a few months, I was earning extra money on top of my full-time job. Within a year, I was earning a full-time income blogging which allowed me to quit my job.
Once I learned that you DON'T have to be a good writer and that you actually DON'T have to draft a blog post every day or week to earn a full-time living with a blog, I created Finsavvy Panda on a whim!
I've never written a blog post in my life prior to starting this blog. I had NO marketing, NO tech (I'm still horrible at this stuff), and NO blogging experience. BUT I was willing to take initiative and invest my time in learning the strategies of what makes a small blog profitable.
I really want to inspire and help you learn how to make money from home too.
That's why I created this FREE 7-day e-mail course to show beginners like you how to start your blog and make money from home! In the course, I lay out the EXACT steps I took to earn over $10,000 every month with a small blog. I've changed the lives of 1,000+ students who took my course and now they're earning an income with their blogs which really excites me!
I'd love to help you too! Sign up below to learn more!
Blog Income Report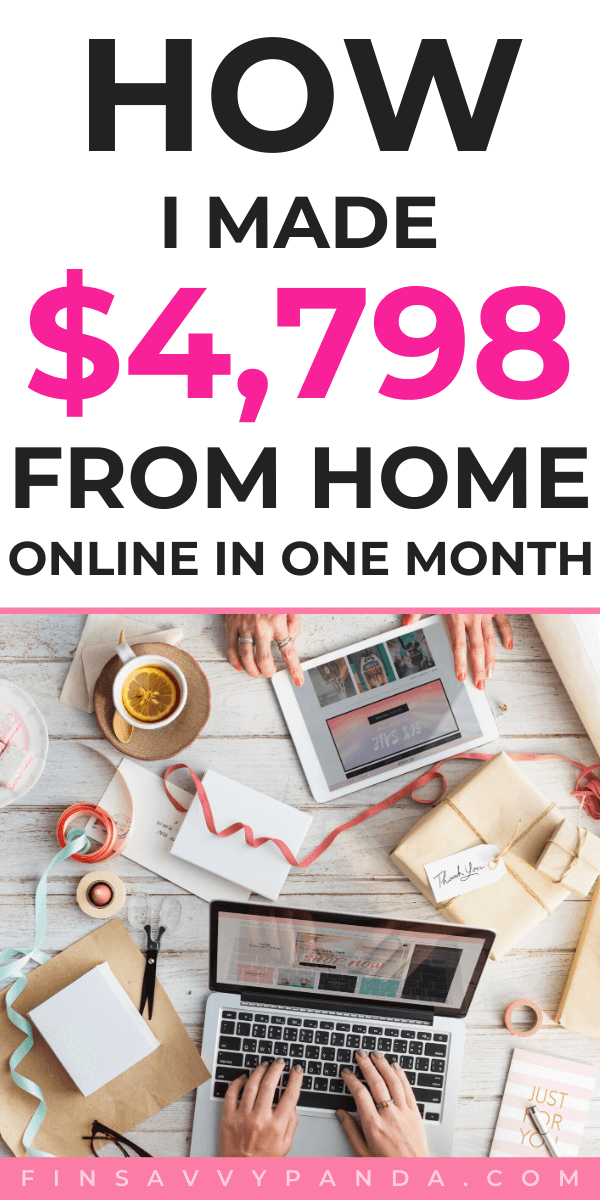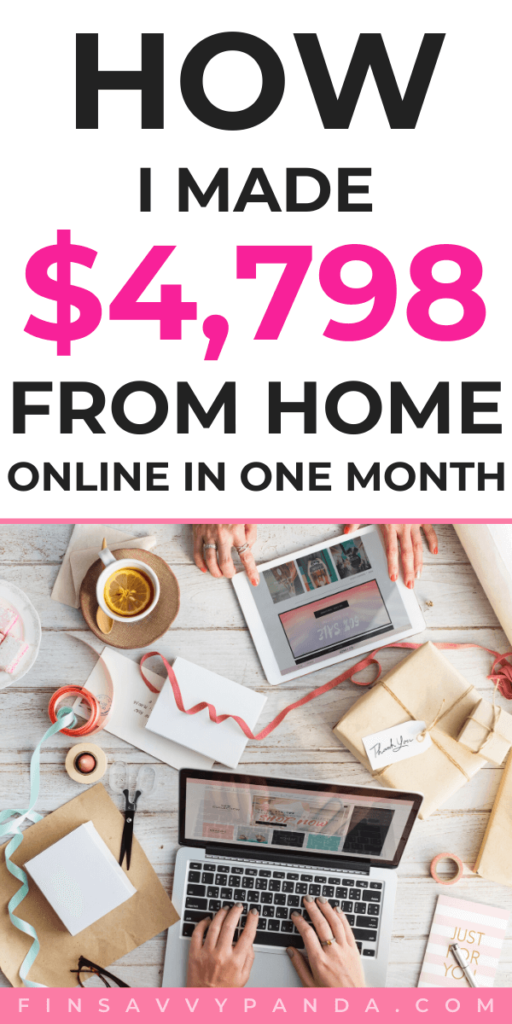 Welcome to my October blog income report where I show you how I made money online last month.
In this monthly income report, I will write as if I'm writing a long e-mail to my friends with no intention of polishing up this post.
To be honest, there are a million other things I still need to do to grow this blog (especially when the holiday season is approaching) and I just don't have time to edit another blog post. 🙁
I was going to just skip this blog income report.
However, I decided to publish it because there were bloggers who personally e-mailed me for help. Seriously, I am really surprised that anyone would even ask me for help because truth be told, I'm still trying to figure out a lot of things.
There is SO MUCH for me to learn (and to catch up on) that I could never imagine myself providing any tips to anyone.
If anything, I'm still not confident that I'll be able to maintain or even grow my blog in the months ahead. I am SCARED that my blog will lose traction and become a dead zombie! I keep saying that but it's just how I really feel! 😩
I know you probably visit a lot of bloggers' income reports where they sound extremely confident, but I can't pretend to be like that when I'm really not. I'm just a girl trying to get by each month; unsure of what's going to happen next, but hey, I'm constantly testing and learning! With that said, I will write down what I learned this month, what worked and what didn't work.
👉 UPDATE: You can check out my updated blog income report here to see how I am earning over $20,000 per month blogging!
I admit it would be nice to make a few commissions at no extra costs to the reader, however, I really want them to get something valuable out of this post! I don't want to sell anything to you just for the sake of earning a commission. My hope is to guide you towards the products that will help grow your blog. I also promise that whatever products or services I recommend here are truly what I believe will be useful to you. I do thank anyone who supports my blog by using my affiliate links! ❤️
And just an FYI, you'll see that most of my affiliate income is NOT from blogging services. 😊
For the most part, I will provide links that guide you to another blog post if you're interested in knowing more information.
🌟 If you're interested in starting a blog but haven't started one yet, you can visit my easy step-by-step tutorial on how to start a blog here. You can start a blog for a discounted price at only $2.95 per month. That's over 60% off! Plus, get a FREE domain when you sign up through my tutorial.
Are you a beginner who wants to start a blog? Join my FREE 7-day course on how to start your blog the right way! 🙂
If you are interested in knowing which blogging courses helped me throughout my blogging journey, you can feel free to visit my resource page here. Alternatively, you can also visit my older blog income posts below where I demonstrate how those courses helped me, along with real proof.
My other blog income reports to show you making money is possible:
If you're a new blogger who has been struggling for months, I recommend reading my first blog income report here where I reveal my HONEST struggles and what I did to fix it. Just like you, I was making ~$0 when I first started blogging for many months!
Before we dive into my monthly income report, I want to mention the key things that I've learned in October. However, if you're not interested, you can scroll straight down to my blogging income breakdown if that's all you're here for.
But I do encourage you to read what I'm about to say in the next sections because I believe it will add value to you especially if you're using affiliate marketing to monetize your blogs. 😊
What I learned about affiliate marketing:
Affiliate marketing is a great way to generate income from your blog because it can feel quite passive.
BUT something horrible happened to me for several days during the first week of October — my affiliate earnings for a couple of programs tanked DESPITE traffic being more or less the same! And I mean it went from maybe $18-$40 (on average) down to $2-$10 per day. Initially, I thought… "meh, $hit happens and earnings are just volatile."
The truth is, I wasn't calm. So here is my story …
I was getting a bit worried but I remember Michelle, the course instructor for Making Sense of Affiliate Marketing, sending out an e-mail to her students near the end of September about some update on Apple IPT 2.0.
Ok, I sort of ignored that e-mail at first because I had no clue what "Apple IPT 2.0" meant — just the name itself sounded very "technical" and BLAH to me!
But I referred back to her e-mail because I remember it mentioning something along the lines about how your cookie will not be stored when the reader clicks on your affiliate link through Safari browser. Hence you may lose your commissions. I logged into my Google Analytics to find that more than 75% of my readers were using Safari (not Chrome)! I had NO idea that most of my readers were using Safari!
Anyway, the first thing I asked my fiancé (in a sad, hopeless and panicked tone) was…
"Is this really impacting my affiliate income? It couldn't be because I was told not to worry and that things would be fine. Maybe it's really that people just aren't clicking through my links at this time?"
I was terrified like Lisa:
I wasn't really sure what was going on, but as instructed by Michelle's e-mail, I reached out to a few of my affiliate networks. I won't disclose who for private reasons; plus, I don't want to get into any trouble, haha. Those affiliate networks told me that they've already reached out to the affiliate programs (the merchants) and that they're still waiting for them to install some tracking packages (whatever that means???), so they responded to me something along these lines:
"Yes, your cookie tracking may be lost if the user is using Safari, however, we will update you as soon as the program responds back to us with a solution."
Uh… that doesn't sound very convincing, does it?
I also couldn't bear sitting around to wait for someone's response. So, I directly reached out to the programs myself and asked what's happening. Surprisingly, they responded within the same day and told me straight up to join their program through so-and-so affiliate network. They also told me that I could rest assured that their tracking system will be smoother and more accurate once I make the switch to the different affiliate network. Again, I can't disclose which networks because I don't want to point out names for privacy reasons.
I honestly don't know if this was just a coincidence… but once I made the switch, my affiliate earnings looked like they were back to normal given that my traffic didn't change much!
With that said, if you see anything strange with your affiliate earnings, especially with your top performers, I would recommend reaching out to your affiliate network, manager, or directly to the program to confirm whether things are fine. I think most people will tell you it's fine but looks like I just stumbled upon some bad luck? *shrugs* 🤷‍♀️
The point is that blogging isn't as rosy as it looks. There are a lot of things that go on in the background and I honestly would have never known about this Apple IPT 2.0 if it weren't for Michelle's e-mail. This is another reason why I am glad that I invested in her course! Just e-mails and notifications from the course instructor help A LOT!
My results after implementing affiliate marketing strategies on my blog: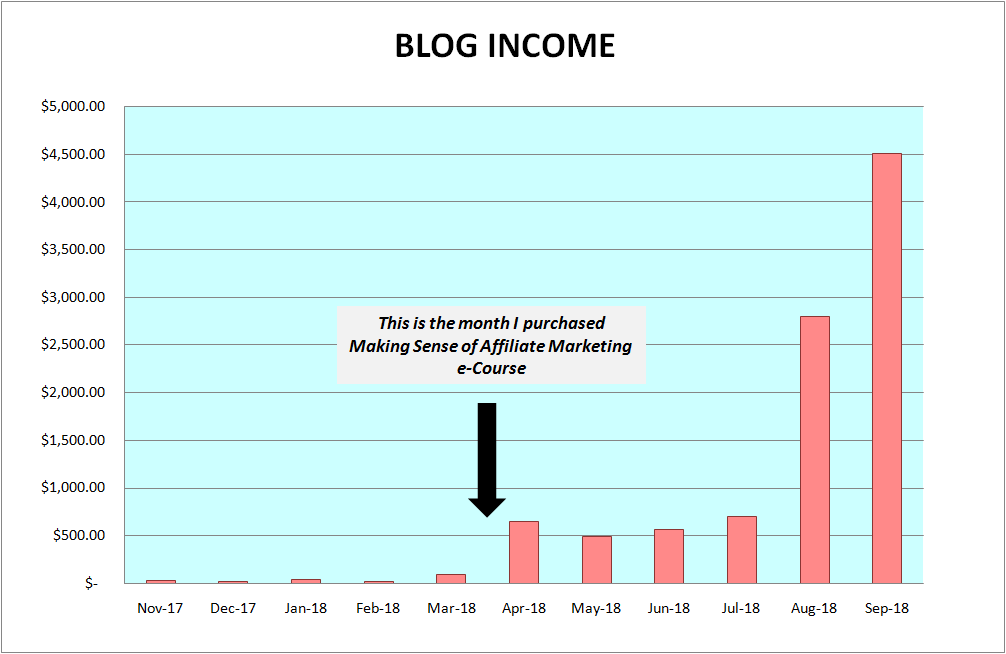 Getting started with Google SEO:
This is an area that I've neglected for a really long time because I was never able to find the time to focus on it. But finally, I was able to put in a little more effort this month! Plus, it's something that I will need to take more seriously because I don't think Pinterest traffic converts as well as Google and that's because when people are searching for solutions to their problems, they're likely searching through Google. I had to take a step back and think about the overall user's intent.
After going through a Google SEO course, I've gone back to edit the posts that I think would have a chance ranking on the first page.
I spent two weeks during the mornings and evenings following a few tips from the course. After brushing up my posts by including relevant keywords and following a few of his tips, I saw that this blog post about making money online went from ranking page 8 to page 3 within two weeks for lower competition long-tail keywords. I don't know how this will change going forward — better or worse, I really don't know yet. But I guess going from page 8 to page 3 is an improvement. 🙂
I've been using the LSI Keyword Generator as well as Answer The Public to get some clues on which relevant keywords I should be using for my posts.
Overall, I think I just have to be really patient with this.
For this month, I plan to purchase Ahref's 7-day trial for $7 to see what I can get out of it. I write that I will do this but let's see if I actually get a chance to test it out. If I do, I'll definitely let you guys know how that goes! 🙂
With all that said, my attempt with Google SEO in October has been okay so far — at least I implemented a few tips from the SEO course and I can't wait to see what the result is in the months ahead. It's hard to say because ranking with Google does take time!
Sorry guys, I can't speak much about this section since I just started learning about it but I will keep you posted!
Now it's the moment you've been waiting for (I think), so here is my monthly blog income breakdown for October:
Blog Income Breakdown:
Here is the blog income breakdown of my affiliate and ad display earnings for October. Please note that these earnings are in Canadian dollars and payouts occur within 30-60 days (and before any fees and expenses).
Affiliate Income: $2,619.21
Money-saving resources (Checkout 51, Ebates, $5 Meal Plan, survey companies, etc.) – $2,030.92
Amazon – $61.19
Bluehost – $85 USD ($108.80 CAD)
Making Sense of Affiliate Marketing – $287 USD ($367.10 CAD)
Pinterest ebook – $51.20
Here some screenshots for proof: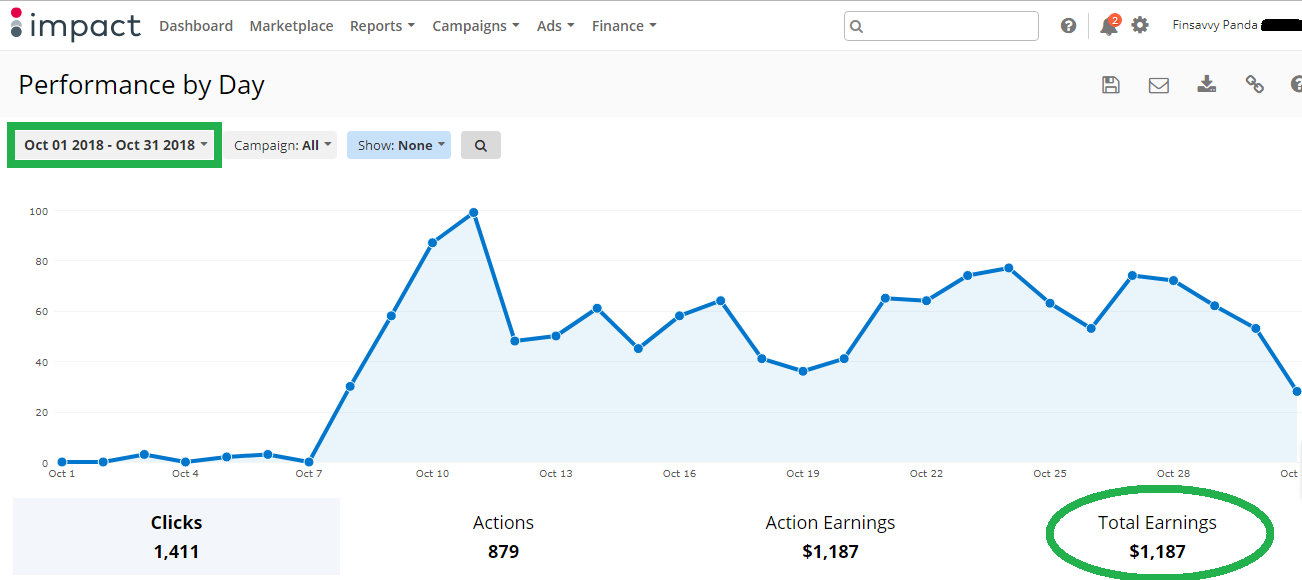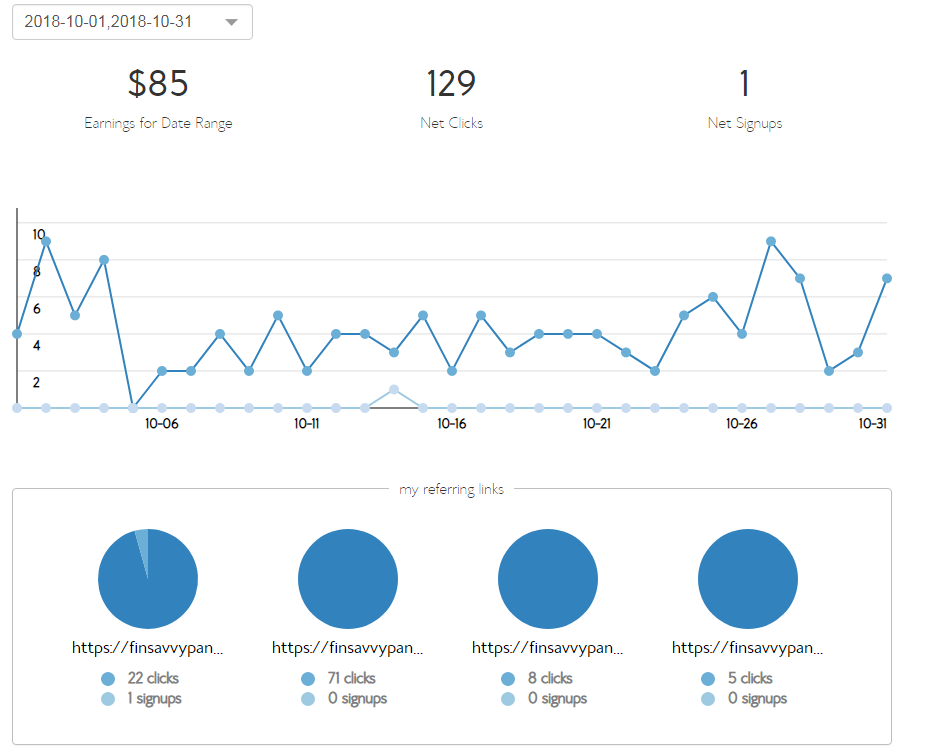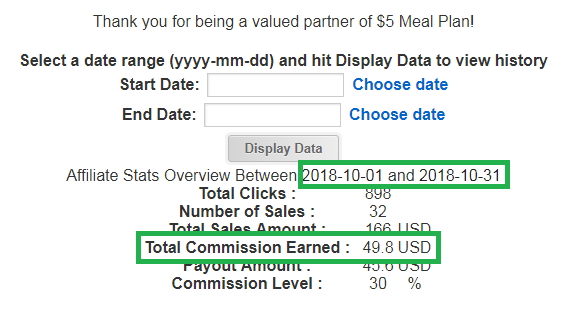 Display Advertising Income:
Mediavine – $1,702.18 USD (~$2,178.79 CAD)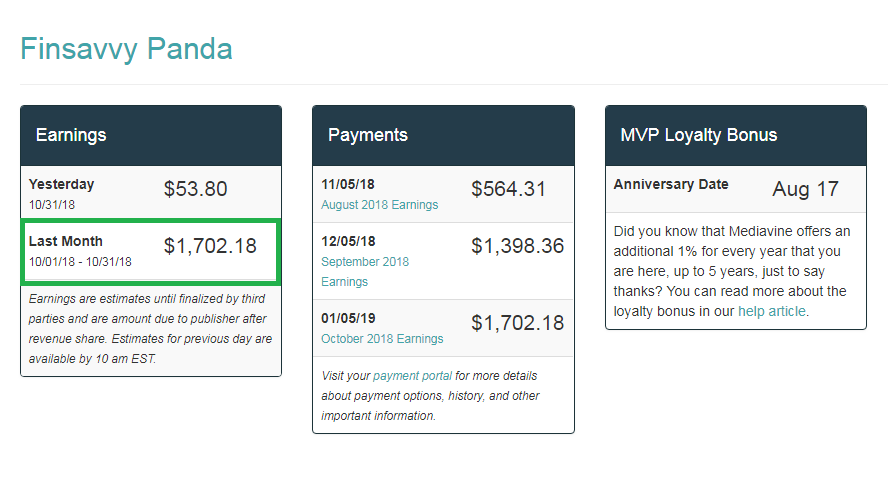 Monthly Blog Income Before Expenses: $4,798.01
Expenses:
Genius Blogger's Toolkit – $58.20 USD ($74.50 CAD)
I originally purchased the Genius Blogger's Toolkit last year for $97 USD and I was really satisfied with the blogging products. I literally got almost $5,000 worth of blogging resources just for $97!
For those of you who don't know what the Genius Blogger's Toolkit is, it is a bundle by Ultimate Bundles that comes with almost $5,000 worth of blogging courses, e-books, materials, etc. You would literally be getting a 98% discount! I know it sounds too good to be true but as a real user who has experienced it from last year, it's not! I was initially questioning about it myself too.
These are real and valuable blogging products and services from bloggers who are generating a real income with their blogs. Given that there is access to over 70 products (blogging resources) in this bundle, you likely won't need all of them. I even admit that there will be a few that aren't as useful, but there will be A LOT of resources that are top-notch quality!
I know that purchasing this bundle and using just even 2-3 resources will already give me back my money's worth. Some of the courses inside this bundle are already worth the sticker price of the bundle alone!
With that said, I decided to purchase this year's edition again because it's jam-packed with tons of valuable resources that are worth almost $5,000 when you purchase all those courses and material separately. Of course, I wouldn't pay for them individually, but because Ultimate Bundles offers them in a Toolkit, I think it's worth investing back into my blog! You see the feature image that I used for this blog post? The bundle for this year came with a lot of nice stock photos as well 🙂
The sale of this bundle is currently closed, but you can learn more about the Genius Blogger's Toolkit by subscribing to their mailing list here and be notified about the next sale. I believe they mentioned that they may bring it back for only two days, which I'm not sure when. Again, if you want to know more about it, feel free to subscribe to their mailing list for more info.
Monthly Blog Income After Expenses: $4,739.81
Blog Traffic for October:
UPDATE: After so many years of blogging, many bloggers asked me to create a comprehensive A-Z guide that will help them get traffic on Pinterest. I finally did it! I created The Golden Compass To Pinterest Traffic, which teaches you the exact steps I took from beginning to end to go from 0 to over 100,000 monthly pageviews using Pinterest. I actually replicated these strategies onto a different blog that I created and it works! My second blog, on average, gets more traffic than the blog you're reading now! If you're looking to increase your brand, followers, and especially traffic, on Pinterest, then check out my best Pinterest guide here that will help you achieve your goals! You can also read what other bloggers say about The Golden Comapss To Pinterest Traffic!
As for my October traffic, I'm quite surprised that it hit 90,000 pageviews (69,013 sessions) as per my Google Analytics!

I HONESTLY thought it was going to fall because it wasn't performing very well during some weeks, but I guess there were some days when my traffic was doing slightly better. At the end of the day, I realize that these page views don't really matter if I'm not able to convert my readers.
I haven't been paying attention to my traffic as much because I am really just trying to focus on creating content for the season, a few more evergreen posts, as well as dedicating some time to optimizing 2-3 posts for Google SEO.
However, what I find that helps with my Pinterest traffic is BATCH creating pins and scheduling them into the queue with Tailwind. To REALLY speed up the pin creations, I have 10 different templates which I alternate. You can start off with 2-3 templates but I am just crazy to make 10 because I get bored of my pins really easily. I know that is just crazy talk because I've heard a lot of people who say they HATE making pins but I really believe that creating default templates and batch-making those pins like these special ones here will save you A LOT of time!
BTW, I keep hearing that Pinterest loves FRESH pins and that's why I keep creating them through batching — I really find that this helps so you may want to give it a try!
My blog traffic progress:
| | | | |
| --- | --- | --- | --- |
| | Sessions | Page views | % Change |
| February | 6,643 | 9,333 | |
| March | 20,370 | 26,685 | 185.92% |
| April | 18,956 | 24,573 | -7.91% |
| May | 11,133 | 14,811 | -39.73% |
| June | 13,325 | 17,307 | 16.85% |
| July | 34,426 | 43,226 | 149.76% |
| August | 71,415 | 88,536 | 104.82% |
| September | 65,884 | 84,225 | -4.87% |
| October | 69,013 | 90,225 | 7.12% |
And if you're new to my blog income reports, you'll know that I always recommend using Pinterest because it's what helped me get from dead traffic to now over 80,000 monthly pageviews.
You can learn more about the book and my review in my first blog income report here. Seriously, you'll probably want to read it if you're sick and tired of hearing the crickets!
Summary:
Well, I hope you learned something new from this monthly blog income report.
Again, I don't know what to expect next as I'm unsure whether my blog can continue to sustain my current monthly income. I will try my best to learn as much as possible and do whatever I can to grow this blog while having fun at the same time. As for you, don't give up on your blog. If you're not seeing any results, just keep pushing through and learn from other bloggers who are seeing results — seriously, I mean this!
If you have any questions, please feel free to e-mail me at [email protected].
Ciao for now! 🙂
My blog income reports and progress:
Enjoyed this post? Please spread the love by pinning and following me on Pinterest! 🙂