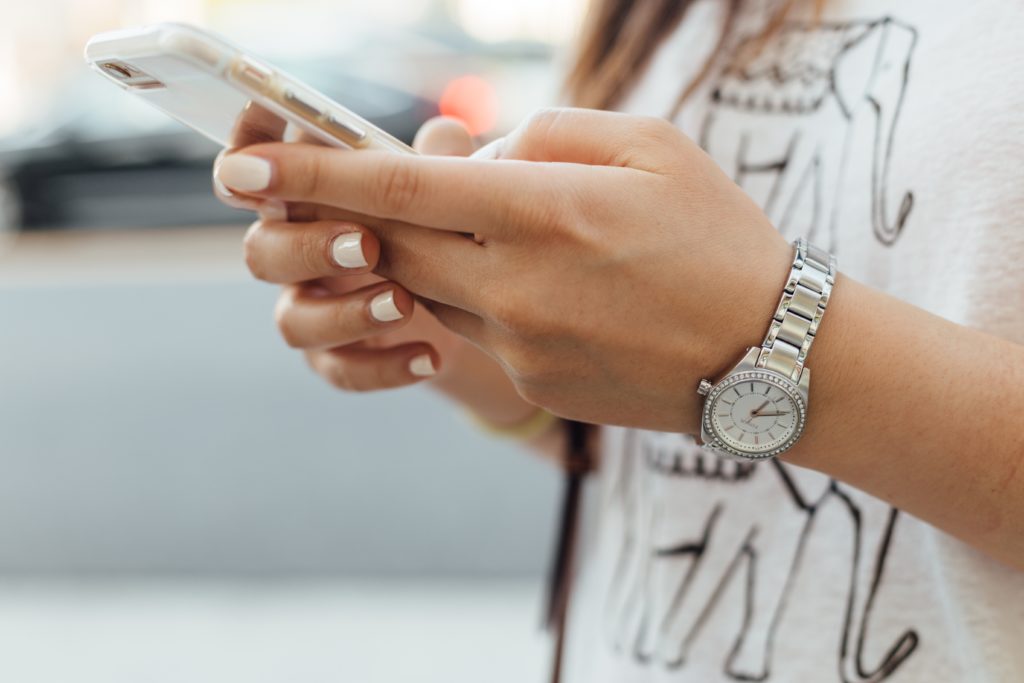 We will receive a commission if you make a purchase through our affiliate link at no extra cost to you. Please read our disclosure policy for more information.
Have you ever thought about making extra money as a hobby on the side by completing online surveys?
Are you looking for quick ways to get money for taking surveys?
If you're looking for answers, this post will show you how to earn extra money by doing surveys.
Rest assured that these paid online survey sites are all 100% legitimate — I have personally used them myself!
Aside from taking paid surveys for extra income, another side hustle idea I highly recommend is starting a blog for an incredibly low price!
You can earn anywhere between $20 to $100 per month by filling out surveys online with legitimate survey sites like Survey Junkie, which you should try since it's free to join and I talk more about them in this post.
But this amount doesn't compare to the potential of how much you can earn with a small blog like the one you're reading here!
I honestly started a blog on a whim because I was looking for a side job to supplement income, plus I really disliked my job so I wanted to find a creative outlet to do during my spare time.
I had no clue what I was doing when I started this blog, but I managed to earn an extra $500 per month blogging within my 6th month. Fast forward another six months, I was able to earn $5,000 per month blogging within my first year on top of my full-time job.
In less than two years, I'm now earning well over $10,000 every month as a full-time blogger with this very small and personal blog!
You can even dive into my raw and honest blog income reports here to see that earning money from home on the side is possible!
If you're interested in this side hustle idea, I encourage you to join my FREE 7-day e-mail course to teach total beginners how to start a blog from scratch with absolutely no experience required – trust me on this one!
I always get a ton of great feedback from my readers who have started their blogs and they're now on their way to earning their first income online, which is SUPER exciting to hear! Just like you, they have NO tech background and NO writing experience!
Make extra money by taking online surveys
Now before we get started talking about the top online survey sites, please acknowledge that surveys won't turn you into a millionaire!
Fortunately, you can still make extra money by taking surveys online! This is easy work that can be done from home, the library, your smartphone, or wherever you like.
Though it won't make you rich, it does make an easy side hustle that may help you earn extra money every month.
How much can you earn with online survey sites?
You can earn between $50 up to $500 every month depending on the time you spend and the opportunities given to you by these survey companies.
Imagine what this extra money can do for you. To name a few, it may help you pay off a small amount of debt, purchase some Christmas presents, or fund a mini road trip with your family.
Not only can you earn money by doing surveys online, but you also have the option to earn free gift cards to your favorite shops!
Aside from completing surveys for cash, you also get rewarded for watching videos, playing games, and shopping online with survey sites like Swagbucks (this is one of my favorites)!
With that said, I've listed the top five survey sites below — membership is 100% free!
Based on my personal experience, these survey companies provide you the best opportunities.
Related post: 6 Easy Ways To Earn Free Amazon Gift Cards Online
Pin this for later!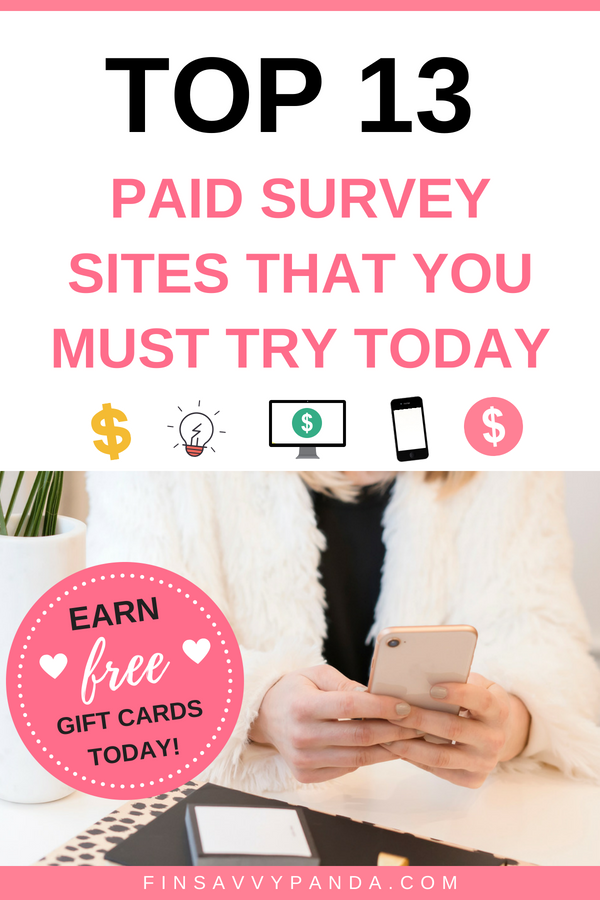 Without further ado, here are the top five sites that may help you make extra money while completing extremely easy survey questions online.
PRO TIP: It's clever to sign up for as many survey sites as possible so that you come across more earning opportunities.

More surveys means more opportunities to earn more money!

To make life easy and organized, I highly recommend creating a new Google e-mail account that's only for e-mail notifications from the survey sites you signed up for. That way you avoid clutter in your personal e-mail. That's exactly what I've done and it's helped tremendously!
You can sign up for all these 6 survey sites. All it requires is your e-mail, so it's quick and easy. Go ahead and give them a try today!
Again, these are 100% free to sign up for and use!
These are all legitimate and free-to-use online survey companies that allow you to make extra money during your spare time.
They include American Consumer Opinion, Swagbucks, Survey Junkie, Pinecone Research, and MyPoints.
For more legitimate survey sites, I recommend signing up for the following:
1. American Consumer Opinion (ACOP)
I recommend using American Consumer Opinion (ACOP) to earn some extra money today.
I use this survey site because they pay you cash just for completing really simple questionnaires!
They've asked me questions like… Where do you buy pop soda? Which stores do you purchase your soda from?
From my personal experience, each survey takes less than 10 minutes to complete. Not bad when you're lying around your couch or bed with a bit of free time.
May as well earn a little extra spending money while you can!
There are currently over 7,000,000 active members at ACOP today!
👉 You can sign up for American Consumer Opinion here and start earning extra cash today.
2. Swagbucks
This is one of the most popular and well-known survey sites.
It was one of the first survey sites I signed up for during my University years and I fell in love with it because of the FREE Starbucks gift cards that I was getting every so often!
How it works is you earn "Swagbucks" (SB's) and redeem cash and/or gift cards to your favorite shops.
Aside from taking surveys, you also get rewarded for playing games, watching videos, and shopping online.
Swagbucks has paid its members over $300,716,867 to date!
👉 You can become a Swagbucks member and receive your $5 bonus by signing up here.
Related post: My Honest Swagbucks Review: How Does Swagbucks Work?
3. Survey Junkie
Survey Junkie is another one of my personal favorite online survey sites.
What I like most is their user-friendly interface which allows you to navigate around easily.
How it works is you get rewarded with points each time you complete a survey. The minimum payout threshold is $10, which is equivalent to 1,000 points.
Since most surveys reward you between 50 to 200 points, you'll be able to cash out in no time. The two payout options are 1) you get paid cash through PayPal or 2) you exchange your points for gift cards at your favorite shops.
👉 You can sign up for Survey Junkie here.
4. Pinecone Research
Pinecone Research is one of the most established and highest paying survey sites.
In addition to taking surveys, you get opportunities to test products for free.
Pinecone Research only accepts members via referrals, so I recommend signing up through my referral link below.
👉 You can sign up for Pinecone Research here.
5. MyPoints
MyPoints is another trustworthy survey site I recommend.
In addition to earning cash, MyPoints rewards you with other online activities such as playing games, searching the web, and reading emails.
Given that their name is "MyPoints" it's a no-brainer that they reward you with points (their form of currency).
Once you accumulate enough points, you can cash out at their minimum payout of $10 for most rewards.
👉 You can start racking up points and rewards by signing up for MyPoints here. Plus, get a $5 bonus for completing your first 5 surveys!
6. Caddle Surveys
In addition to the top five survey sites, I decided to include Caddle as a bonus. This is only exclusive to Canada and it's one of my favorite surveys and money saving app for Canadians!
I absolutely love Caddle because their surveys are the easiest and quickest to complete. Every Thursday they will refresh their list of surveys and each survey takes less than 30 seconds to complete.
If you're Canadian, you definitely don't want to miss out on this free app. On top of getting paid to do surveys, you get rewarded for watching videos and engaging with brands. You also earn cash back from your groceries and other miscellaneous purchases.
👉 You can sign up for Caddle here.
Red flags and warning signs you should watch out for.
You may be eager to earn money doing surveys with other sites not mentioned on this post, but be careful! Here are three warning signs you need to watch out for before signing up.
1. Is the survey site making big promises? Are they telling you that you can quit your current job to pursue a full-time job doing online surveys?
Yes, you can earn money doing surveys but don't expect to make millions (or even thousands) because you won't. Surveys for cash is just enough to earn you some side income for additional spending or paying off a small amount of your debt. Again, it makes an easy and quick side hustle.
2. Are they asking you to pay a fee to join?
You should get money for taking surveys, not the other way around! Even if they ask for a small fee in exchange for unlimited earning opportunities, stay away from it because it is likely a scam! No matter how small the fee, you should never have to fork out a penny to do surveys. Based on the survey sites that I know, they are all FREE to join!
3. Beware of some companies sending you e-mails about survey opportunities.
If you don't remember signing up for the survey site, don't click on it. Simply ignore the e-mail and unsubscribe from it!
Over to you — do you make money off surveys? Are you a member of any of these survey sites? Which ones do you recommend?
Related reading:
– 11 Things We've Done To Make Extra Money — #5 Will Blow Your Mind Away!
– 5 Legit Ways To Make Money From Home — #1 is a MUST TRY!
– 13 Passive Income Ideas That Make Money — #2 Changed My Life!
Don't forget to pin and share this post! Thanks for your support! 🙂