We will receive a commission if you make a purchase through our affiliate link at no extra cost to you. Please read our disclosure policy for more information.
I was once the silent corporate type and never imagined I'd find joy in delivering someone's late-night pizza. But guess what? Now I'm enjoying it and making good cash with DoorDash on the side. Wondering how much you can make in a day with DoorDash? It's not bad, not bad at all.
On a fantastic day, a Dasher can earn as much as $25 an hour, potentially hitting up to $1,400 a week when working a standard 40-hour week. But let's not get carried away. What about aiming to make $500 a day? That sounds doable to me.
Why $500? Because it's a significant sum that can genuinely sort out your rent, car payments, or utility bills. I found out how valuable it was when I had to shell out $500 instantly for a car door lock repair. Trust me, that extra cash in a pinch is a lifesaver.
Plus, it's a more manageable number to work with, especially if you're working part-time or just giving it a try. Remember, earnings on DoorDash can fluctuate based on your location, demand, and the volume of work you undertake.
If you're about to start Dashing but need insight into maximizing your DoorDash earnings, worry not. I've compiled a comprehensive list of strategies to help you hit that $500 weekly goal. You're about to learn how to turn your side gig into a money-making machine!
PIN THIS: I'll be updating this post so make sure to pin this image here and save it to your Pinterest board. That way you'll be able to come back to this page and learn how to make $500 a week with DoorDash!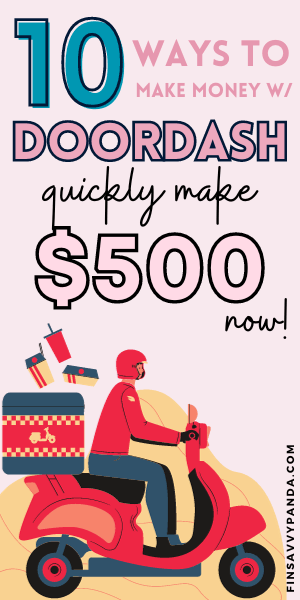 1. Know the Hotspots
Knowing the hotspots is one of the most important DoorDash hacks to understand as a Dasher. For first-time Dashers, this topic can be a little confusing, so in case you're not familiar with it, I will guide you briefly.
Contrary to what one might think, you don't need to be precisely at the hotspot area to receive orders. The Hotspot icon is not a location-specific indicator where you can't get customers without being there. However, being near the area could make accepting orders easier.
In other words, the Hotspot sign is the app's way of telling you that the restaurant in that certain area is receiving a large number of customer orders at that time.
According to DoorDash, while orders are not guaranteed, being near the Hotspots increases your chance of receiving more orders. It's even better to schedule your Dash in a zone with various hotspots.
There are two types of hotspots you have to bear in mind: dynamic hotspots and historical hotspots.
Dynamic Hotspots are the places that are currently busy. You will typically see a red circle around that area in your DoorDash app. This type of hotspot usually happens during peak hours such as lunch and dinner time.
Historical Hotspots, however, are historically busy areas. It is represented by a flame minus the red circle in dynamic Hotspots. You will see the Hotspot icon when a particular restaurant isn't busy. The idea is to urge the Dasher to go to that place in preparation for peak hours.
So, if you're out there dashing, go near the hotspot area for more chances of getting customers. And what does it mean if you get more orders? That means more money! Who knows, being a Dasher could be the best second job you'll ever have.
2. Peak Hours
If you're looking for the ideal weekend job, you will surely find DoorDash reliable.
Peak hours offer Dashers the highest hourly rates. Much like with other side gigs, capitalizing on these hours is a top-notch strategy, helping you ramp up your earnings and cut down on idle time waiting for orders
Peak hours are the time when Dashers are paid more because customers often offer tips, and since restaurants receive more orders, you could also receive batch orders. Batch orders let you receive multiple orders for a single pick-up, allowing you to save time and earn more cash.
Got a hectic day job? Set your working time at night, or only accept orders on your available time at peak hours when you feel like it. There is no pressure here.
But the best part? DoorDash also allows you to earn peak pay – an added earning for delivering food during busy times.
Generally, the best times to DoorDash are breakfast time (8 AM to 10 AM), lunchtime (11 AM to 1 PM), and dinner hours (5 PM to 8 PM).
To be sure, the dinner rush is the busiest time of the day as many people are tired from their day-to-day routine, and ordering food is the most convenient way to get food.
Take note, however, that peak hours may vary depending on your location, demand, and day of the week.
For example, you may not have a lot of orders during Thanksgiving Day as most households may have prepared a lot of food on the table.
Be wise with your time to get more food delivery orders.
3. Be Selective with Orders
Unlike other food delivery apps, tips at DoorDash are given before placing the order. In this way, you can see how much money you'll make to deliver a particular order and if the time and distance will be worth your time.
So, it's not about grabbing every order that pops up on DoorDash. Think about being a bit selective as a fundamental part of your Dashing strategy. In an active Zone during rush hours, cherry-pick orders that ensure at least $2 per mile. Capture those wealthy orders and decline the less lucrative ones. Top Dashers know that time is money, and focusing on high-paying orders helps you maximize both your earnings and efforts.
Nevertheless, on a day when the order count is low, settling for an order at $1 per mile might be your move. In the end, only you can weigh if it's worth your while.
Treat your dashing game as a business. To do so, ask the following before accepting an order:
Will I make a profit in this order?
How long can I complete this order? Is it worth my time?
Is the distance traveled to deliver this order worth it for the amount of money paid?
If all the questions above yield a 'yes', then congratulations are in order! That order will likely ensure a higher income, making DoorDash an excellent one-day-a-week job for supplementing your earnings.
4. Use the Right Equipment
Hey, while working at DoorDash is a promising side hustle, making a delivery strategy is also vital to maximize your earning potential. Investing in the right gear can help you earn $500 a week easily.
When I say gear, I don't mean branded T-shirts, hats, or similar items. While you're free to wear those, it is actually essential for Dashers to be equipped with the right tools to ensure efficient and safe order delivery.
Like Instacart where you get paid to shop, your role as a Dasher is to ensure the items reach customers safely. How can you achieve this? An insulated bag is crucial for properly storing and delivering food.
This improper food handling poses a risk to customers and a threat to your ratings. Hand over a cold meal, and you're likely handing over a bad rating too. Nobody's day is made better with a room-temperature burger.
Your Dasher toolkit should include items like a phone mount, phone charger, sunglasses, a helmet (if using a bike), and other car kits.
Though you can get these from the DoorDash store, it's smarter to buy from other stores like Amazon for better pricing.
It's also worth noting that Dashers don't have uniforms. You're an independent contractor, so don't feel pressured to wear or use items with 'DoorDash" in them. That way, you can use the same gears for another gig app.
5. Multi-Apping
Are you a multitasker? If you're eager to earn $500 a week quickly, then your best strategy could be multi-apping.
I can attest that DoorDash provides a solid revenue stream; however, multi-apping has the potential to double or even triple your earnings.
But what exactly is multi-apping?
The gist of multi-apping is to simultaneously deliver food using multiple side hustle apps available in your market instead of using DoorDash alone.
For instance, the available gig economy apps in my market are Uber Eats and SkipTheDishes. Whenever I am in the mood to work, I can turn on all these apps to accept and deliver food.
The goal is to accept orders from various app that goes in the same direction. DoorDash is a numbers game where you can only deliver 3 to 4 orders per hour.
Using this strategy will truly increase your earnings because you're paid for doing many deliveries in the same direction and around the same time.
The downside? You might lose tips if you fail to deliver the order fast. Plus, it can get stressful managing many deliveries at the same time.
6. Batch Orders
The rule of thumb for a Dasher who wants to earn more should be: the more deliveries you make, the more cash you take in.
But that's easier said than done.
Fortunately, DoorDash is generous enough to allow their Dashers to pick up batched orders to be delivered on the same route.
When that batch order notification pings, jump at it! This is your opportunity to earn more cha-ching in less time. The app may suggest a sequence for deliveries, but who makes the final call? You do!
Batched orders also offer a higher average hourly rate. So, besides the possibility of receiving tips from customers, you can also earn more from the app itself.
And if you tend to forget things like I do, keep a permanent marker handy to jot down customer names on their orders. Some restaurants skip the receipt names, and this little hack avoids confusion and keeps those ratings shiny and high as you juggle multiple orders.
7. Keep an Eye on Promotions and Bonuses
Joining the app's guaranteed earning incentives will fast-track your goal of earning $500 a week as a Dasher.
For example, DoorDash offers a cash incentive for completing a number of deliveries for a specific time. In the past, they ran a bonus that said, "Earn at least $500 of earnings for about 50 deliveries in the next week."
The app will notify you about these promotions through email, so keep an eye on your email notifications.
Want to know more about promotions and bonuses? Here, I have compiled some incentives you can take advantage of:
DoorDash Peak Pay: As the name suggests, this incentive happens during peak hours. There's nothing you need to do to qualify for the rewards. You can participate in them automatically by delivering orders in the peak area stated in your DoorDash app.
Dasher Discounts: To qualify, you need to complete at least 100 deliveries, a 70% acceptance rate, and a 4.7 customer rating and above. Your incentives are discounted insurance, car repair, cell phone plans, and more bonuses.
Large Order Program: If you qualify for the promotions above, you will also likely qualify for this incentive. You will be given large orders from catering services. This incentive can help you double or even add four times to your income.
Refer A Friend: Bonuses can range from $20 to as much as $1,800. By referring a friend or relative to DoorDash and if they complete the required number of deliveries, you will receive a referral bonus added to your account. The exact amount of the bonus will depend on the current offer in your area.
All these promotions are available 24 hours a day. That's because food deliveries are needed all the time.
8. Customer Service Skills
Your earnings are closely linked to how well you handle customers. Outstanding customer service skills are key, even in non-customer service jobs.
Politeness and professionalism could easily translate into 5-star ratings from satisfied customers. But do you know what's the cherry on top of being a Dasher with a pleasing personality? You'll get more tips!
Wondering how to enhance your customer handling? Dressing neatly, timely updates to your customers about their orders, and punctuality can make a big difference. You don't need to don the red DoorDash shirts to appear professional; just ensure you look clean and presentable. Avoid clothing with potentially controversial slogans to keep interactions smooth and positive.
Customers are always excited about their orders and even though they can see your movements on the app, a little heads up from you makes a world of difference. You don't have to update them every minute, but a well-timed note, especially if there's a delay at the restaurant, keeps everyone on the same page and happy.
To keep things simple for you, have a pre-written message ready to go. Just copy, paste, send, and you've saved the day with excellent communication.
9. Test Different Zones
Can't get orders within your neighborhood even if you see restaurants left and right? Change your dash area to busier zones. ASAP! This way, you will most likely get orders and start making more money.
Dashing near famous restaurants or even in areas with more restaurants is one of the best ways to earn more money, especially during dinner hours when DoorDash is in demand.
Don't stick in one place if the orders aren't rolling in. Time to move if you see a bunch of Dashers just camping around in the parking lot.
Avoid the mistake of other Dashers who hold on to less busy areas just because they've had past orders there. Being far from high-traffic areas is a waste of time.
The truth is that being in a busy downtown area during peak hours guarantees a consistent influx of orders.
For those new to dashing, switching zones can give insights into the most popular local restaurants and peak delivery times for all meal slots, paving the way to enhance your earnings. So, pay attention to trends.
10. Gas and Mileage Efficiency
Sadly, not every aspect of working at DoorDash involves earning. Keep in mind your role as an independent contractor, not as an employed staff member. This role places all expenses – from gas and vehicle maintenance to repair costs – squarely on your shoulders.
Even electric car drivers aren't spared from utility expenses. To shield yourself from unnecessary repair expenses, regular vehicle maintenance is crucial. Note that longer delivery distances can seriously eat into your earnings, beyond mere fuel costs – consider the continual wear and tear on your vehicle.
I call it a credit card on wheels. Each mile your car covers adds an expense to pay later. Hence, avoid long-distance trips, especially if they don't pay you enough. Work out your approximate gas costs and earmark a portion of your weekly earnings for this.
Again, to succeed as a Dasher, think like a business owner. And what does business do? Make the most of tax incentives by deducting your mileage and expenses.
Effortlessly deduct up to 65.5 cents per mile when calculating your taxable income. Rest easy, no need for a numbers guru or an accountant. DoorDash endorses Everlance for effortless tracking of mileage and expenses, making it straightforward to calculate your taxable income.
Additional Tips and Tricks
You don't need to overwork to make the most money on DoorDash. That's a fact. What will make a real difference are some smart strategies to seriously boost your earnings.
Here are some tips that could help you deliver orders faster and, hopefully, earn bonuses, tips, and higher customer ratings.
Bring snacks for long shifts
Speaking from my experience, I've found that when orders are flying in, you simply don't have time for food stops. Having snacks within reach is a straightforward, economical strategy. It eliminates the time and expense involved in ordering food on the go, ensuring you're energized and your funds are intact for the next delivery. Take your phone charger. Your smartphone plays a massive role in your job as a Dasher. It's where you receive orders, communicate with customers, and navigate customers' addresses. A low or dead battery can hinder your ability to accept and complete orders.
Vehicle Maintenance
This is a no-brainer. If you fail to go to the restaurant or complete an order, you may lose a slot and incur a higher rejection rate. Whether using a bike or car, ensure it's well-maintained and in good condition. Regularly check the brakes, tires, and other essential components to prevent breakdowns.
FAQs
How long to make $500 with DoorDash?
Aiming for $100 each day? Totally possible. I made around $150 on my third day of Dashing.
But truth be told, early week can be kind of slow, so it's smart to aim for the end of the week when everyone's in the TGIF mood. Your earnings still rely on things like the number of deliveries, the time you work, bonuses available, and your order acceptance and completion.
So, in a nutshell, shoot for $100 a day over a 5-day workweek or about $83 if you're working for 6 days.
Remember your game plan, the time you invest, and keeping an eye on market trends make a big difference in your earnings.
How to make $1,000 a week with DoorDash?
Like earning $500 a week, you must do everything in your DoorDash bag of tips and tricks to earn $1,000 a week with DoorDash
First off, be smart about the hustle. Work at the right hours. Maybe do two hours around lunch and another four during dinner? It's a split shift and it can change depending on where you're working.
Next up, work those peak hours. They don't just guarantee you higher pay from the app, but also more chances for extra incentives and tips. These are the times when most Dashers are on the road and customers are excited to get a hand on their orders.
And last but not least, manage your time well. The smartest Dashers ensure they always book their shifts ahead of time to guarantee they've got a slot secured.
Enjoyed this post? Don't forget to pin the image below! Also, don't forget to follow me on Pinterest over here! 🙂