We will receive a commission if you make a purchase through our affiliate link at no extra cost to you. Please read our disclosure policy for more information.
When the word autumn is mentioned, what's the first thing that comes to mind?
As a nature fan, it's got to be pinecones! I love seeing all the pretty leaves and pinecones whenever I'm on hikes. Even as the weather cools down, it just feels so much warmer and homey with pinecones all around.
Plus, did you know that pinecones aren't just a timeless symbol of autumn? It's also a symbol of human enlightenment and eternal life.
Talk about historical and spiritual!
My love for pinecones had me wondering if it was possible to bring these symbols of fall back home… With a creative twist!
When I realized how many amazing crafts you can do with pinecones, it had me thinking… What if I could make this into one of my profitable hobbies?
After all, pinecones are so versatile and can elevate any home or office's look with a bit of creative skills! Any living space will give off a cute, rustic vibe with handmade crafts, especially those made with pinecones.
Not only will pinecone crafts look great for autumn-inspired home designs, but they're also the perfect Christmas crafts to make and sell. The only dilemma you'll have is selecting the best craft to sell!
That's right, you're not only limited to displaying the pinecone as is, you can also feature it in classic crafts such as wreaths, mason jars, and even wall art. The best part is that you don't need to be a top artist to start creating crafts to sell, nor does it entail a huge investment. With a small capital and the right idea, you'll be able to start earning.
Whether you want to have a side hustle or sell beautiful products as your full-time job, check out these pinecone crafts to offer this autumn and winter season!
PIN THIS: I'll be updating this post so make sure to pin this image here and save it to your Pinterest board. That way you'll be able to come back to this page for the best pinecone crafts to sell!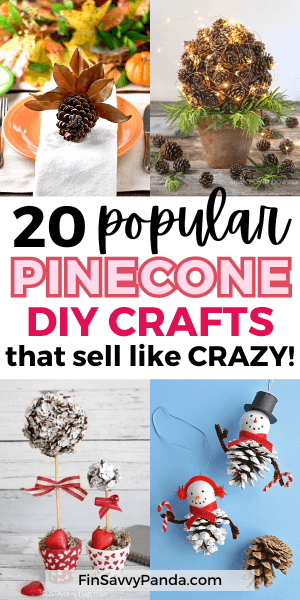 1. Gorgeous Pinecone Wreaths
Winter, spring, summer, or fall, these pinecone wreaths will be an amazing addition to your home, whether on your door or in the house!
These are the pinecone crafts for Christmas because of their simple yet stunning design, which can beat the rest of the houses in the neighborhood.
2. Delightful Pinecone Mason Jar Craft
If you're thinking of pinecone mason jar crafts to make and sell, these are the best ones that intrigue people of all ages.
Market it as snow in a jar with mistletoe and pinecones to make the design more festive, and you'll see these crafts flying off the shelves!
3. Joyous Christmas Pinecone Ornaments
Who knew selling pinecones would make a lot of profit, especially with the right handmade craft?
These pinecone ornaments will be a huge hit because of how they give off the ultimate Christmas vibes, especially with the snowy effect and mistletoe!
4. Attractive Pinecone Fire Starters
Who said fire-starters don't need to be aesthetic? As the days get colder, it's time to prepare your fireplace, starting with pinecone fire-starters!
These are fine pinecone crafts for adults that will increase your sales because they aren't only cute, but they are also extremely useful!
5. Fancy Pinecone Centerpieces
Everyone's already preparing for their Thanksgiving or Christmas feast as early as now! It isn't only about the food, but the gorgeous table setting to impress guests.
Get in on that action by selling pinecone centerpieces like these, with the brown and golden hues catching everyone's attention the moment they walk into the dining area. It will also be a fantastic addition to weddings set in autumn and winter!
6. Unique Pinecone Candle Holders
Do you know what's so popular, especially during the fall and winter seasons? Candles, which set the mood for any occasion.
While candles are profitable crafts to sell on Etsy, you can take things up a notch by also offering pinecone candle holders, a creative way to design your home and give your candles even more attention!
7. Special DIY Pinecone Garland
Anyone can give their fireplace a simple yet impactful makeover with a pinecone garland!
Take advantage of the demand by making pinecone garlands before the competition gets tough. They're very easy (and fun) to do, so you'll be enjoying your time doing these garlands while earning!
8. Festive Pinecone Christmas Trees
Did you know that you can make an extra $500 a month by selling pinecone Christmas trees? I mean, look at how aesthetic they are, they can fit any home, especially those after the rustic modern look.
These Christmas trees don't require extreme craftsmanship, just some time, effort, passion, and of course, pinecones!
9. Sweet Pinecone Reindeer Decorations
Rudolf the Red-Nosed Reindeer is out here looking cute as a pinecone! Well, he looks cute no matter what shape and size.
The kids are going to love displaying these pinecone reindeer decorations on their Christmas trees, making them profitable side hustle craft ideas to try.
10. Endearing Pinecone Snowman Ornaments
Let it snow, let it snow, let it snow! These pinecone snowman ornaments will surely bring up the Christmas vibes as you decorate your Christmas tree.
It's double the festive trouble with pinecones, snow, and cute snowmen! The best part is, that it doesn't require a ton of materials or effort, making the return on investment a good one.
11. Creative Pinecone Place Card Holders
Your customers can elevate their dinners with these pinecone place card holders, which add a personal touch to any meal.
Everyone will want to get these handcrafted products, may it be for a Christmas wedding, Thanksgiving dinner, or brunch with loved ones!
12. Charming Pinecone Bird Feeders
Supporting nature while decorating your yard with pinecone bird feeders? That's a win-win situation right there!
These handmade pinecone crafts will be fun to do and would use affordable materials you already have at home. That way, you can maximize your profit while feeding the birds!
13. Homey and Rustic Pinecone Wall Art
Your home can have a rustic modern, shabby chic, or minimalist design, and it will still pair well with this pinecone wall art.
This is one of the easiest DIY Dollar Tree crafts to sell, which also uses items you may already have at home. You get to recycle as you use natural materials while still having your art look unique!
14. Fantastic Pinecone Potpourri
Don't you just love the smell of pinecones? It truly shows how autumn and winter seasons are coming!
If you want that scent to linger around your home or office, then this pinecone potpourri is perfect to create and sell. There is a huge market for those who are obsessed with pinecone scents, so bank on that with this potpourri!
15. Adorable Pinecone Heart Topiary
There's a huge population of plant lovers out there (I'm obsessed with them as well), making these mini pinecone topiaries a potential bestseller in your community!
These topiaries can make great gifts or cute decor to display anywhere to brighten up your space, like your living area or office desk.
16. Pretty Pinecone Topiaries
Looking for a more unique craft other than Christmas trees? Try pinecone topiaries, which will be a huge hit among plant lovers!
These pinecone topiaries are going to fit well with anyone's plant collection or garden, looking magical with fairy lights or a snowy effect.
17. All Heart Pinecone Art
Pinecone wall art is another sellable product because of their versatility. People can use it as Christmas gifts, event giveaways, or buy it for themselves to show guests their love for pinecones.
This gorgeous heart-shaped pinecone wall art can bring in big bucks, so they're worth creating! Plus, it will also be a great gift people will want to get their lovers for Valentine's Day.
18. Cute Autumn Pinecone Pumpkin
A mix of Halloween and Christmas? Yes, please!
Don't settle for the usual pumpkin carving once autumn arrives. Create a handcrafted pinecone pumpkin to sell and witness everyone ordering one because of how cool it will look on their porches or living areas!
19. Lovely Pinecone Turkey Craft
Turkeys and pinecones are the collab I never knew we needed but here we are.
While everyone's waiting to devour the turkey on Thanksgiving, why not amuse them with these cute pinecone crafts to decorate on the table? People are going to want to get them ASAP to prepare for their Thanksgiving festivities!
20. Winter Pinecone Terrarium
Here's another special pinecone craft that can beautify any home, especially when winter arrives!
This terrarium adds a natural element to any living space, and you won't see anything like it in other houses. Its uniqueness will make it a great product to offer to homeowners looking for something different to decorate their places with.
Enjoyed this post? Don't forget to pin the image below! Also, don't forget to follow me on Pinterest over here! 🙂