We will receive a commission if you make a purchase through our affiliate link at no extra cost to you. Please read our disclosure policy for more information.
When folks talk about wanting flexible jobs, I think of people tired of the same old 9-to-5 grind. Maybe they're overwhelmed by life's craziness or just want more family time. Some might just be sick of the office and want a job where they're the boss.
I've been there. Balancing a 9 to 5 job with personal obligations often felt like I was spread too thin, both in the literal and figurative sense.
That office life got old really fast. It's why I looked for something different, which led me to DoorDash and start this blog. I was hoping for more freedom and some extra time for things like hitting the gym.
A question I hear a lot from folks thinking about this kind of work is, "Is DoorDash Worth it?"
In short? If you want to make your own schedule and maybe grab an extra $200 a day, then sure. But if you're thinking of quitting a steady job just for this? Don't do it.
Jumping into DoorDash wasn't just about the cash for me, even if that was a big part at first because I wanted to know how much a Dasher can make in a day. Over time, I saw other perks. What do I like about it? The freedom to work whenever I feel like it. It's a nice break from my old routine, and I get to check out beautiful neighborhoods I've never seen before.
I love working during dinner. That's when the day calms down and you can sense families getting ready for a meal together. Dropping off dinners and seeing those happy faces? It's the best feeling. If you like driving around, handing over tasty food, and deciding how much you work, you might love it too.
For anyone needing some extra cash, especially students, gigs like DoorDash are worth a look. In this post, I'll break down the good and bad about DoorDash to help you decide if it's right for you.
PIN THIS: I'll be updating this post so make sure to pin this image here and save it to your Pinterest board. That way you'll be able to come back to this page and learn whether DoorDash is worth it!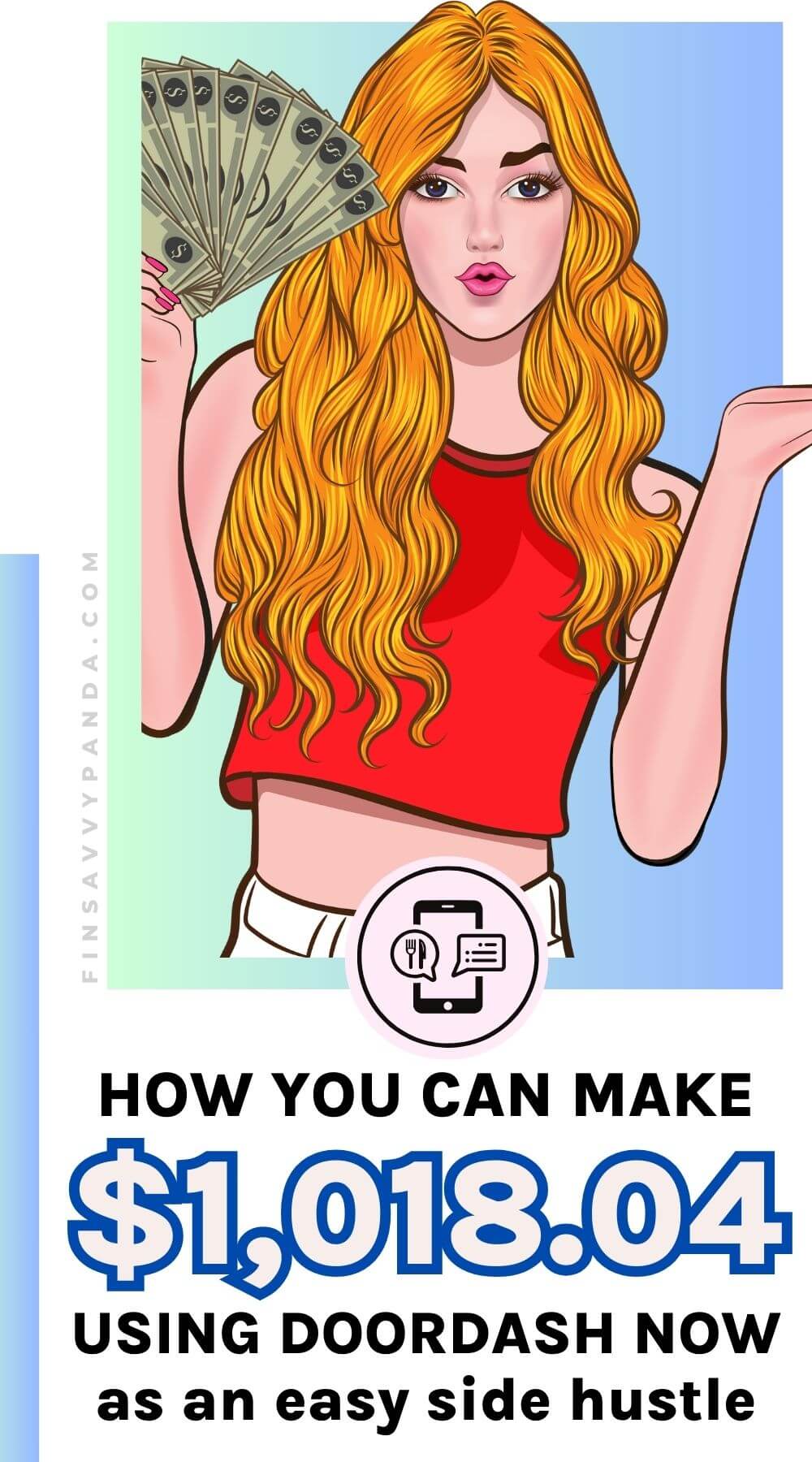 1. The Basics of DoorDashing
Before we jump into the heart of the matter, let's have a moment of clarity. After your DoorDash application is approved, you can open the app and schedule your first shift on a whim.
Sign-up process
After your DoorDash application is approved, you can open the app and schedule your first shift on a whim.
Setting up a Dasher account is very easy and quick. It only took me an hour (or less) to complete my profile. I explored the app interface and finally got the courage to hit the "Dash Now" button. Around 30 seconds later, my phone buzzed with a customer order.
Income
As I headed to my car, I couldn't shake the thought: "Is this really worth my time?" Well, after a couple of weeks, I had my answer.
I was genuinely surprised to see I was making about $150 a day. By the end of day 11, I'd pocketed around $1,000. It's honestly a solid second job.
Here's a heads-up: what you earn on the app includes the base pay, any promotions, and of course, tips. But it doesn't cover taxes. Since you're your own boss here, it's on you to figure out your taxes. If you make over $600 in a year, DoorDash will send you a tax form, the 1099-NEC.
Dasher reliability
Want to boost your earnings? Up your game in customer service to get solid ratings. Your reputation on the app matters big time.
Think of it as leveling up in a game. The better your score, the more you stand out. That means you're more likely to get pinged with an order.
Customer service rating
Being on time with orders, keeping customers in the loop, and looking sharp are just some ways to make sure folks have a good experience with you. Remember, happy customers tend to tip more, order again, and leave 5-star reviews.
2. How Much Does DoorDash Pay?
So, the million-dollar question: How much can you pocket in a week with DoorDash? Apart from picking your own hours, Dashers get a pretty solid weekly paycheck.
From what I saw on Indeed, each delivery brings in about $2 to $10. But what you'll actually make for each run depends on things like how long it takes, where it's going, and even how popular that specific order is. On a good day, you might rake in up to $25 an hour, and that includes all the tips you get.
Wondering if DoorDash is a good deal? Let's break down how they pay. The DoorDash payout has three parts: Base Pay, Promotions, and of course, Tips.
Base Pay
The base pay may vary depending on working time, distance per delivery, and desirability for each order (if other Dashers are declining the order, the pay will increase).
The app allows you to see the base pay per order, which will help you decide whether you'll take the order or not.
Promotions
DoorDash offers various promotions that will help you boost your income. Some notable promotions are Peak Pay and Challenges.
Peak pay is an additional $1 per order during busy times. Breakfast, lunch, and dinner are considered busy hours. And on special days, like Halloween or New Year's Eve, you're sure to get this bonus.
Play your cards right, and DoorDash might just be the perfect weekend hustle.
Challenges, on the other hand, are bonuses added to your income when you complete specific goals. For example, you can earn an additional $20 if you complete 15 deliveries for 6 days.
Tips
Tips are likewise given before a customer orders food. You can keep 100% tips on top of your base pay and promotions.
Finally, here's what the payment structure looks like:
Base Pay (Depending on time, distance, desirability) + Promotions (Peak pay / Challenges) + Tips (100%) = Total Earnings
3. Tips for Maximizing Earnings
I have accepted every order during my first few weeks at DoorDash. I thought this was required but realized then that you can decline low-paying orders.
I've made many mistakes I could have prevented if I knew how to maximize my earnings. I don't want you to make the same mistakes (as it reduced my earnings!), so here are some DoorDash hacks that I've learned along the way as a Dasher.
Strategic Scheduling
1. Working during peak hours for peak pay
The more you hustle during peak hours, the more money you can make. Take advantage of peak pay if you want to make the most of your time and DoorDash earnings.
Peak pay happens during busy hours like lunch, dinner rushes, weekends, holidays, and inclement weather when more people order food for convenience.
The availability of peak pay can vary based on location and market, usually during
high-demand areas.
If you think it's peak hour but don't get orders in the area, drive yourself to the hotspot instructed by the app.
A hotspot is an area where restaurants tend to be busy. When you arrive at such a location, an order will eventually appear on your screen, and you typically have at least 30 seconds to decide whether to accept or decline it.
2. Capitalizing on busy days: weekends, holidays, and local events
Let's make this clear: DoorDash is not your boss; you are your own boss. Instead of treating it like an employer, consider the app as a friendly advisor, guiding you on the best times to shine while using it. Feel free to choose when, where, and how often you work.
However, don't approach your shifts mindlessly. The secret sauce? You need strategic scheduling, like working on weekends, holidays, and during local events when the surge of customers is high.
Efficient Route Planning
1. Familiarizing oneself with the local area
In any game, the expert usually turns out to be the winner. In DoorDash, the ones who familiarize themselves with streets, routes, and shortcuts have the most money they can bring into their wallet.
Why? It's because the faster they can pick up and deliver orders, the quicker they can cater to other customers.
Sometimes, navigation apps pick the longer route or take you in the wrong direction. It's best to know your area to help you decide which orders are worth your time.
2. Using GPS and mapping apps efficiently
I'm not savvy with directions, but GPS and mapping apps are my friends. So, if you feel like an alien in a particular area, don't let ignorance deter you from using DoorDash.
There are a lot of apps you can use to help you navigate to your customers' addresses. Take advantage of technology; they are there to make our lives convenient.
3. Balancing distance with order value
The next factor in making sure you make the most money on DoorDash is considering the mileage. I have a basic rule for accepting orders, especially during busy hours: nothing under $5. If the order with tip is around $4.80, I will decline it.
Another good rule of thumb is to receive at least $1 per mile traveled. This means a 5-mile drive should give you at least $5 pay.
This rule of mine is best to consider for long-distance orders. Some customers live more or less 10 miles away, and you need to ensure you're receiving adequate pay.
Enhancing Customer Experience
1. Ensuring food is secured and remains hot/cold
This is a no-brainer. You haven't seen a food delivery driver without a bag at the back of their bike or inside their car.
Getting that food to the doorstep quickly and following DoorDash's rules is essential, sure. But so is ensuring it's hot or cold. Picture someone's day being made when they open that bag to find their craving still sizzling or ice-cold.
Hence, there is a need to invest in a high-quality, insulated delivery bag. The best bags are equipped with Velcro or zipper to keep the food safe and secured on the way to the customers' address.
2. Communication: The Art of Timely Updates
From my dashing experience, I have learned that most customers appreciate when they are updated with their orders. A longer wait upsets them, but communicating with your customers about the situation can pacify them.
I've also received 5 ratings and more tips (yes, some customers hand you cash as a tip!) because of my habit of updating the customer when there are delays and when I'm near their address.
Being kind, polite, and informative can go a long way in any gig, even non-customer service jobs. This will raise your chances of getting tips and customer ratings, leading to more DoorDash opportunities.
Managing Expenses
1. Monitoring and reducing fuel costs
Now that we've tackled the basic layers, it's time to look closer at the hidden costs. DoorDash is a reliable side gig, but it's not all glory working as a dasher.
You're not driving a magic carpet to deliver food orders – those trips to the restaurant and on the way to the customer will cost you. Any expenses incurred as a Dasher can cut into your profits.
Taxes are a given in any economy, and we're not immune to them. Uncle Sam always seems to want a piece of our earnings.
Monitor your mileage to reduce tax liabilities come tax season. Keeping a weekly tally of your miles can also help you gauge the profitability of DoorDashing, especially after accounting for gas expenses.
Manually tracking your mileage can be a challenge. I gave it a shot once, but Math and I never really got along. A better option might be using accounting software, such as Everlance, to simplify the process.
2. Regular vehicle maintenance to prevent costly repairs
Don't forget, with DoorDash, you're essentially running your own mini-business. So, think and act like a business pro. Their mantra? Maximize profit and minimize expenses.
Every mile you put on your car means it's inching closer to needing some TLC. Regular check-ups, like tire rotations and oil changes, keep it running smooth.
If you're using a bike, you're not exempt from potential repair costs. Regularly check the brakes, tires, and other components to ensure everything functions properly.
3. Using a fuel-efficient vehicle
If possible, use a vehicle that is known for its fuel efficiency. Fuel-efficient cars consume less gas per mile traveled. With lower fuel costs, more profit goes into your pocket. Smaller cars, hybrids, or electric cars are better options for delivery and ridesharing jobs.
Understanding Promotions
1. Taking advantage of bonus incentives
If you have been dashing for a while now and not taking advantage of bonus incentives, I must say, boy, you're doing it wrong. Of course, the hourly pay at DoorDash looks promising, but let's be honest: we are all interested in the bigger picture.
We want to know if there's a chance that we can cash in more moolah in our wallet at the end of the month. And yes, we do!
Bonuses are flat fees placed on top of our base pay, usually available during peak times and in busy locations.
Some bonuses include referral bonuses, peak times, completing various tasks, etc. They are not predictable, but they usually pop up during lunch hours (11 AM to 1 PM) and dinner times (5 PM to 8 PM).
The app will randomly notify you about the promo at that exact time or inform you in advance to help you decide on a better shift.
2. Participating in challenges or streaks
It's fun working at DoorDash because it activates my competitive personality – it somewhat heals my inner child.
Challenges and streaks at DoorDash guarantee monetary incentives like higher base pay and bonuses. Some challenges include completing a number of deliveries in a specific time frame.
This is the company's way of motivating a Dasher to work on busy hours, work consistently, and meet delivery targets. And it works. It does boost my motivation, and it's a major plus that I get to earn more.
Optimizing Acceptance and Decline
1. Being selective with orders based on distance and payout
Don't stress about declining an order; as per DoorDash, Dashers with around a 70% acceptance rate are most likely to get high-paying orders.
That being said, you don't have to serve every individual looking for a food delivery. While getting a customer notification can be thrilling, blindly accepting every order is a gamble with your potential earnings.
Before agreeing to any order, evaluate the distance and the base pay. If an offer doesn't seem worth your time, effort, or fuel, hold out for one that is.
2. Avoiding notoriously slow restaurants during busy hours
Most of your low earnings or customer service ratings are not your fault. Sadly, that's a fact. Every minute counts as a dasher, especially during peak hours. Slow restaurants can delay your deliveries, leading to dissatisfied customers and little accomplishments for a certain shift.
4. Quality of Experience and Support
I might not be the most seasoned dasher, but my time as a dasher has been largely positive.
The DoorDash app is easy to navigate – start the app, find hotspots (if necessary), accept a customer, pick up the food from the restaurant, deliver the order, check earnings. Rinse, and repeat.
While the job may seem very simple, many pitfalls can affect your delivery and ability to earn more.
For instance, there is traffic. I was late once after getting stuck in traffic because there was a vehicle collision on the way to the customer's address.
Some restaurants also delay the order or don't pack the food well. Got missing items in your delivery bag? This has happened to me when the restaurant has missed one order. I should have checked the items first, but this was a lesson learned; it didn't happen again.
These instances will make the customer unhappy and leave you with bad ratings. I don't want to show up late or deliver incomplete orders, especially if it wasn't my fault.
I realized, though, that many restaurant staff are more accommodating to delivery drivers they already know and trust. As such, I always try to build rapport with restaurant staff for a smoother and faster order pick-up.
If any of these scenarios (or other worst cases) happen, don't freak out, and reach out to DoorDash support immediately. They are valuable sources for addressing issues and getting assistance when needed.
Overall, the amount you make at DoorDash is sometimes not within your control. Even so, I rate my experience 8 out of 10.
5. Comparisons with Other Gig Jobs
In my experience, DoorDash seems to pay more than other gig economy apps, GrubHub and Uber Eats, respectively. The income gap may not be much, but no moolah is too little in today's high inflation rate, right? Every penny counts!
DoorDash drivers earn around $15 to $25 per hour, Uber Eats drivers make an average of $18 per hour, while GrubHub drivers earn between $9 to $21 per hour.
However, finding out where the most demand is in your area is also crucial to making the most money with delivery apps.
GrubHub is available in many cities, covering twice as many locations as DoorDash. This includes over 2,000 cities across Canada, Europe, and the United States. If you're not in a major city, GrubHub might be your best option. For example, delivery drivers in Canada often find more orders on Uber Eats than on DoorDash.
Like DoorDash, each app offers guaranteed base pay, promotions, and incentives to boost your income. If you can't decide which app is the best, why not try multi-apping? This means that you can use these simultaneously, ensuring more high-value orders.
Personally, I switch between all the apps, especially when DoorDash is quieter than UberEats.
Start as a Dasher with DoorDash but keep the other gig economy apps on standby. There's no downside to trying out multiple platforms. After all, we all want to make more cash!
FAQs
Is DoorDash Worth It After Taxes?
It's difficult to answer this question as it all depends on your preferences. You might just want to sit on your couch and have someone tell you your tax liabilities.
This is not possible at DoorDash because you're an independent contractor. You must track your spending because some expenses (i.e., gas and mileage) can help you reduce your tax bill.
If numbers aren't your thing, online platforms like Everlance are there to help you calculate your taxable income seamlessly.
After accounting for taxes, I find that DoorDash is still a profitable part-time job. I wouldn't commit to it full-time, but for a side job, it's great. It consistently brings in an additional $500 for me each month.
Is DoorDash A Good Side Hustle?
Absolutely! Out of the 3 big economy apps (DoorDash, Grubhub, Uber Eats), I find DoorDash the most reliable.
This may not be true in every area, but at least in my location, DoorDash is the busiest; thus I'm able to earn more money.
If you're using the app because of flexibility, freedom, potential for higher tips, and the thrill of the gig economy, DoorDash is definitely a good side hustle app.
You won't be as rich as Elon Musk, but I can attest that it's possible to make $500 in a week! Remember, the Rolling Stones said, "You can't always get what you want, but if you try sometimes, you'll find you get what you need."
Enjoyed this post? Don't forget to pin the image below! Also, don't forget to follow me on Pinterest over here! 🙂