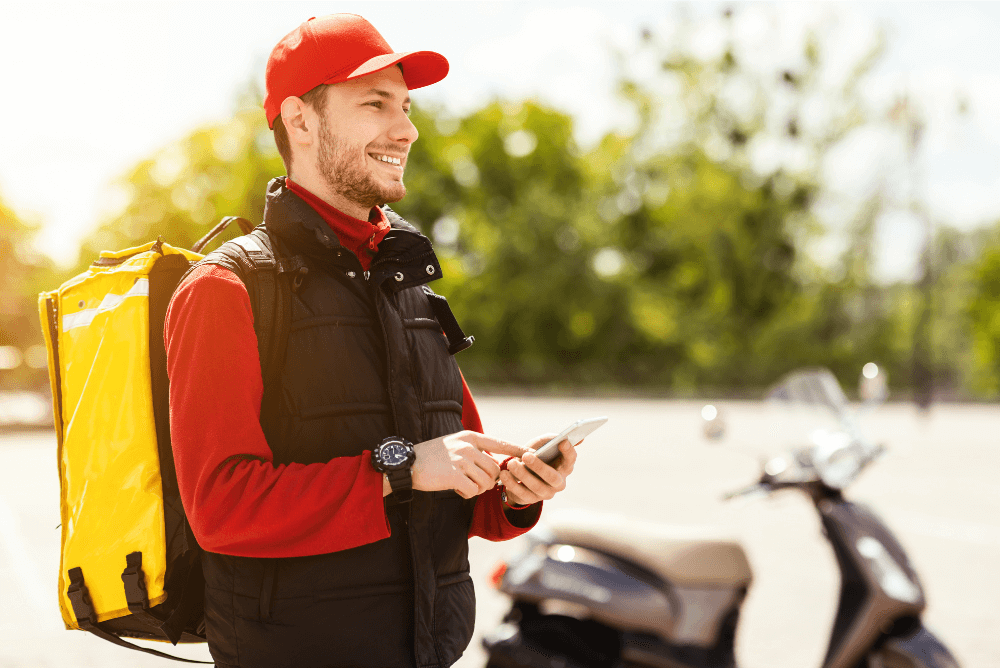 We will receive a commission if you make a purchase through our affiliate link at no extra cost to you. Please read our disclosure policy for more information.
It's normal for me to encounter someone who asks me what the fastest way to make money is.
I get it! I know you'd do everything to find an easy side hustle to earn cash immediately. I was once in that position!
It was during one of my regular post-dinner walks with my husband when the perfect side gig dawned on me.
As we were walking down the street, we noticed how there seemed to be more people delivering food on their bikes, scooters, and cars than we'd seen before. This trend seems to have gained popularity after 2020. In fact, I observed that not only my husband and I (but also my family and neighbors) were ordering food through delivery apps like DoorDash more frequently.
So since I have a curious mind, I explored DoorDash, a major player in the food delivery app market. And now, I always recommend it as one of the best side hustle apps.
I know, I know. You might be wondering, "How much can you make on DoorDash in a day?" and why I usually recommend it. It's a good question because I was curious myself too!
Understanding how much you can make with DoorDash makes you decide whether you should take on this gig. So, I went in and tried it so you don't have to do all the heavy lifting before you fully decide whether it's worth it or not.
Make Money on DoorDash
I want to put it out there right away. When I had just started this side hustle, I was able to earn $150.85 in a day. In fact, I earned a total of $1,018.04 in 11 days. And I did DoorDash as a side gig only!
I've been doing this for quite some time, and here's my favorite thing about it: it's the type of job that's perfect for introverts who like to work alone like me. You won't actually have to deal with people as much as you'd think!
Whether you're an extrovert or introvert or don't have any experience, you can still earn extra cash with this easy gig.
When I started DoorDash, I had no idea about food delivery. I was just curious, so I went for it.
But I want to make this easier for you. Based on my personal experience as a Dasher, I'm giving you all the details on DoorDash driver pay: how much you could make in a day, tips and tricks on how to get paid more on DoorDash, how they send you money, and more.
And of course, there will be updates as I get more hands-on experience with DoorDash, so I'll update this post to keep you in the loop on how much you can expect to earn as a consistent Dasher, whether you're working part-time or full-time.
Ready? Let's steer in the right direction, then! (No pun intended).
PIN (OR BOOKMARK) THIS PAGE: I'll be updating this post so make sure to pin this image and save it to your Pinterest board. That way you'll be able to come back to this page and learn the best ways to make money on DoorDash!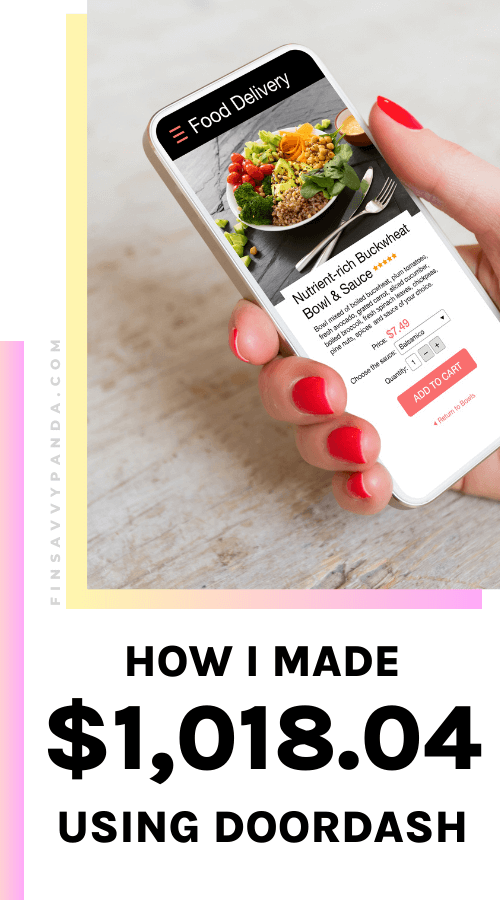 How Much Can You Make On DoorDash In A Day?
How much can a Dasher make in a day, you ask?
Based on my personal experience, the most I made was $25.95 during my time actively delivering. However, when you account for any downtime, the overall hourly earnings can decrease. This instance highlights the variability in actual earnings, emphasizing the importance of considering all factors to understand the full potential of this gig.
Now, keep in mind that this is a ballpark figure. Many variables can influence your daily earnings with DoorDash, making your personal experience unique.
There are hundreds of Dashers who report different earnings from earning $30 to even as high as $300 a day. It's no doubt that high-paying Dashers are more experienced and they know how to navigate around their neighborhoods more efficiently.
I signed up on June 26th and, to my surprise, got the green light to start dashing just a day later, on June 27th. However, I didn't feel the need to jump into food delivery immediately, so I actually started on June 29th. This just goes to show how accessible this side gig is – no hoops to jump through, no prior experience needed. And the flexibility? Top-notch. You get to decide when you work. For me, having a driver's license was the only box to tick since I wanted to earn money with my car. But if you're thinking of going the eco-friendly route with an electric scooter or bike, they won't even ask for your license. Going this route could also help you save on fuel costs.
Make extra money this month as a Dasher! You can sign up for DoorDash using this special page, where there won't be any interview process or probing questions. The only query will be about your intended mode of delivery: car, bike, or scooter.

Subsequently, DoorDash will conduct a background check. Once your application is approved, typically within 24 hours, you can start earning money immediately. If somehow you get approved in the next few hours, you can start as soon as today!
Can you make $100 a day with DoorDash?
Yes!
On my 3rd day as a Dasher, you can see that I earned $150.55 ($63.38+66.50+$20.67) – not too shabby, considering I had no idea what the heck I was doing, right?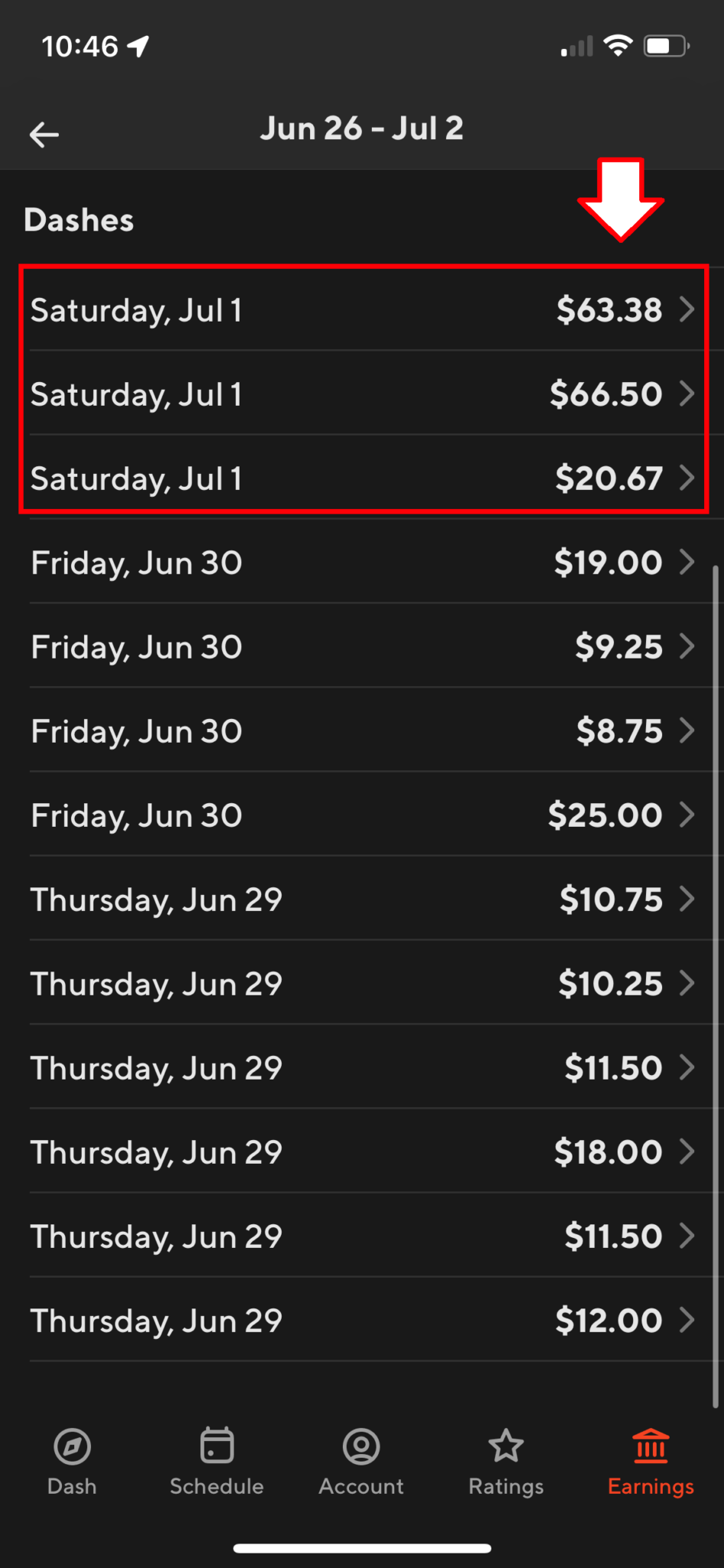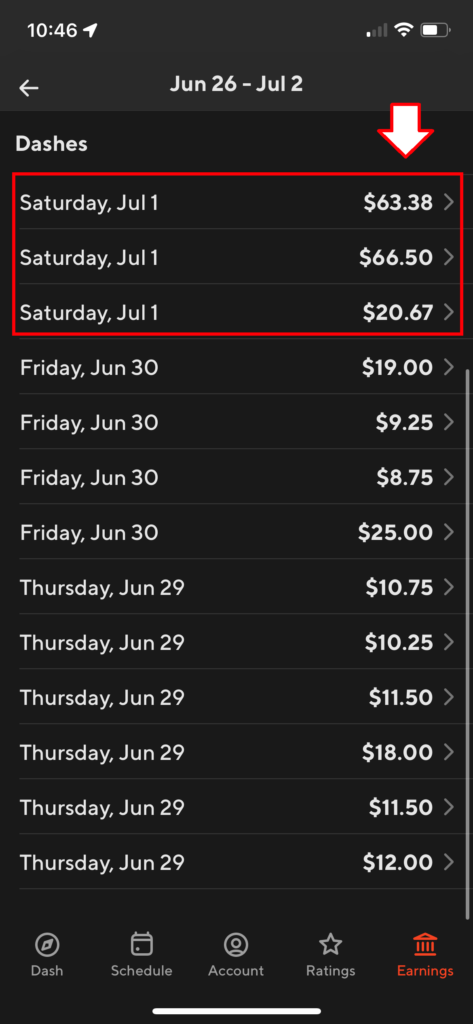 On that day (a weekend), I put in a total of 5.5 hours (split across three shifts mostly in terms of "Active hours"), so my hourly earnings came out to $27.37. This amount is the sum of base pay and tips without taking gas costs into account. The great part is that all this work was done within one area (or as DoorDash calls it, a "zone").
I'm looking forward to experimenting a bit more to see how I can make this process more efficient. If you're behind the wheel of a hybrid or electric car, this gig could be even more advantageous for you!
You'll see that on my first day of Dashing for 5 hours for the day (Jun 29), I earned $74 according to my Dash earnings. However, in reality, it was $79 because someone was generous and handed me a $5 tip in person. So, that is equivalent to $15.80 per hour.
On my second day (June 30), I made $62. This was over a five-hour shift where I spent a lot of time figuring stuff out and said no to at least 10 orders! That's like making $12.40 an hour. Being new, I was still trying to get the hang of the app and really didn't know what was going on. I also said no to pretty much every order that came in, which probably wasn't too smart.
After 11 days of doing it, I was able to earn $1,018.04 (based on the screenshot below) – from June 29 to July 9. As mentioned earlier, one person decided to tip me $5 in person (instead of using the app to tip) after handing him the food, so that would be $1,023.04.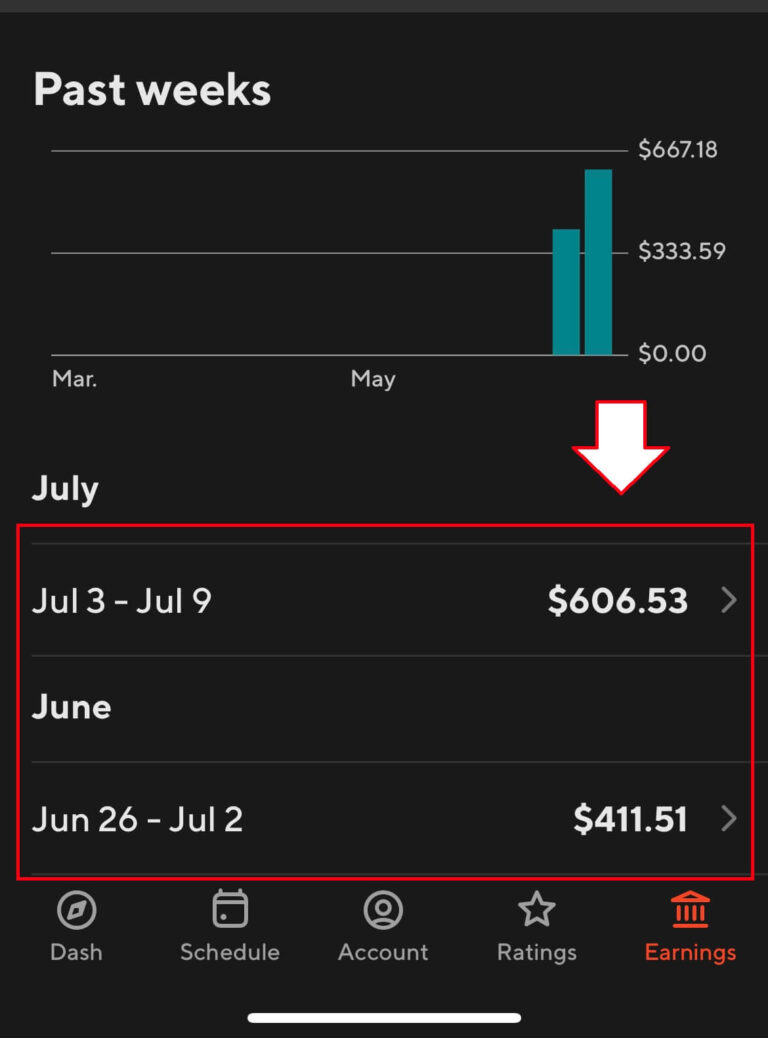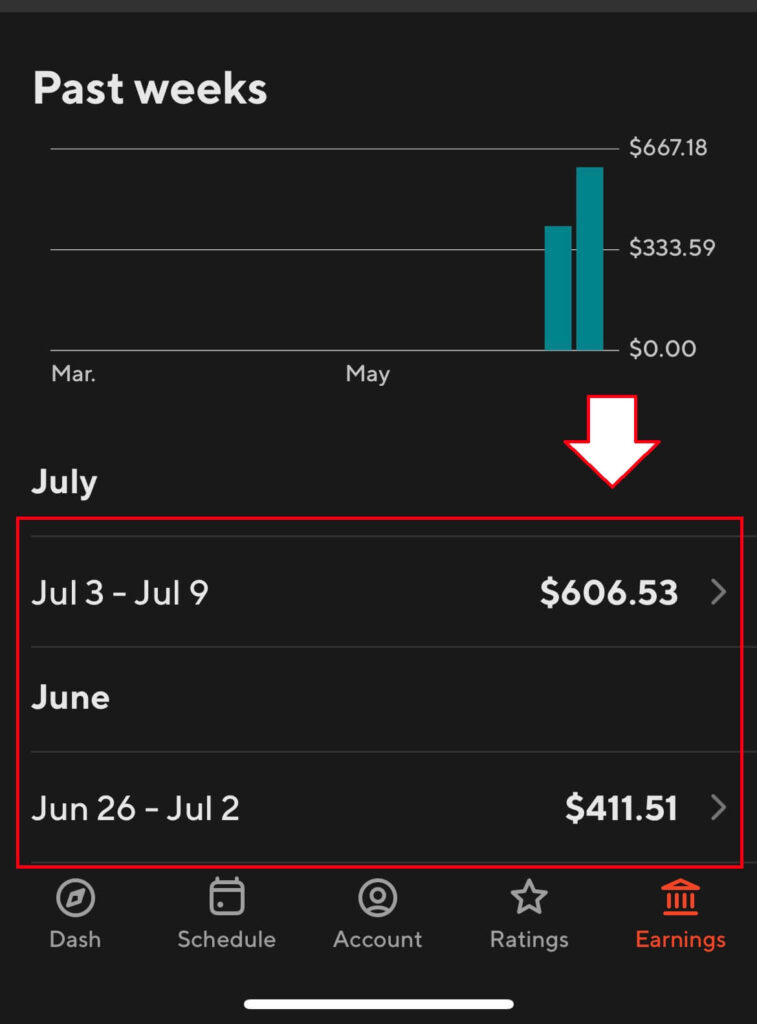 So far, it seems like DoorDash on weekends is more rewarding, but I need to keep doing this to see if I notice any patterns.
How to Increase Your Earnings With DoorDash
Here, I'm going to let you in on the best ways to make money on Doordash!
I have to say that my first 2 days were a bit bizarre as I was still confused about how to navigate the app and how to accept orders from the phone. In fact, I made so many mistakes on my first day!
I'm going to give you some tips and tricks on how to earn more with DoorDash, so you, too, can earn $500 a week on DoorDash, and maybe even more!
Here are five tips to increase your earnings with DoorDash.
1. Consider accepting the majority of orders as a new Dasher
A lot of experienced Dashers will advise against this, but I suggest you accept all orders you get when you're just starting out.
You're not likely to get high-paying orders on your first day on the app anyway because the DoorDash algorithm seems to identify new Dashers and assigns the less lucrative orders to them. It makes sense since you need to gain experience before you shoot for higher earnings.
But with that algorithm, you might be tempted to skip on the most low-paying orders. Don't do that. It's what I did initially, but my acceptance rate dropped to 21%. Since then, DoorDash sent me fewer orders, and those orders paid less.
What I did was I accepted all orders, and my situation eventually improved. I got better orders, including stacked ones. Some tips also increased after delivery! For example, one tip went from $3 to $9.25 after completion. This is just my personal experience, but it's worth considering.
2. Deliver during busy hours
One of the most effective strategies to maximize earnings is understanding when demand is high.
So, navigating peak times can help increase your earnings with DoorDash. So far, I've found it most profitable during lunch and dinner hours when people most likely order takeouts. I've yet to experiment more with the best times to make money with DoorDash.
Try your best to be available during these hours.
However, weekends can be even more profitable, given the higher volume of orders. Plus, I've witnessed DoorDash offering a Peak Pay bonus of +$1 or +$2 during these high-demand times, meaning you can earn extra on top of your usual rate. But keep in mind that these times can also mean more traffic, longer wait times at restaurants, and higher competition with other Dashers around your area.
Balancing these factors will help optimize your DoorDash earnings.
3. Stay in the best locations
Staying near clusters of restaurants can help you secure more orders. You're more likely to receive orders from popular spots, so understanding your local market is crucial. Areas with high population density can also lead to increased demand for delivery services. Even if you live in a more distant area, you might consider taking the subway and bringing your bike or scooter to a popular area to accept orders. This strategy could save you money on gas, and biking or scooting in a densely populated area could give you the most value for your efforts.
3. Consider the number of orders and time you'll need to spend
You may also receive multiple orders from the app suggesting you pick up from the same location. Here's an example: I once received 10 different orders at the same time from a place called "Pets Mart." Yes, 10 different pet owners had placed orders for pet food delivery. I had no idea DoorDash even included services for pet food delivery!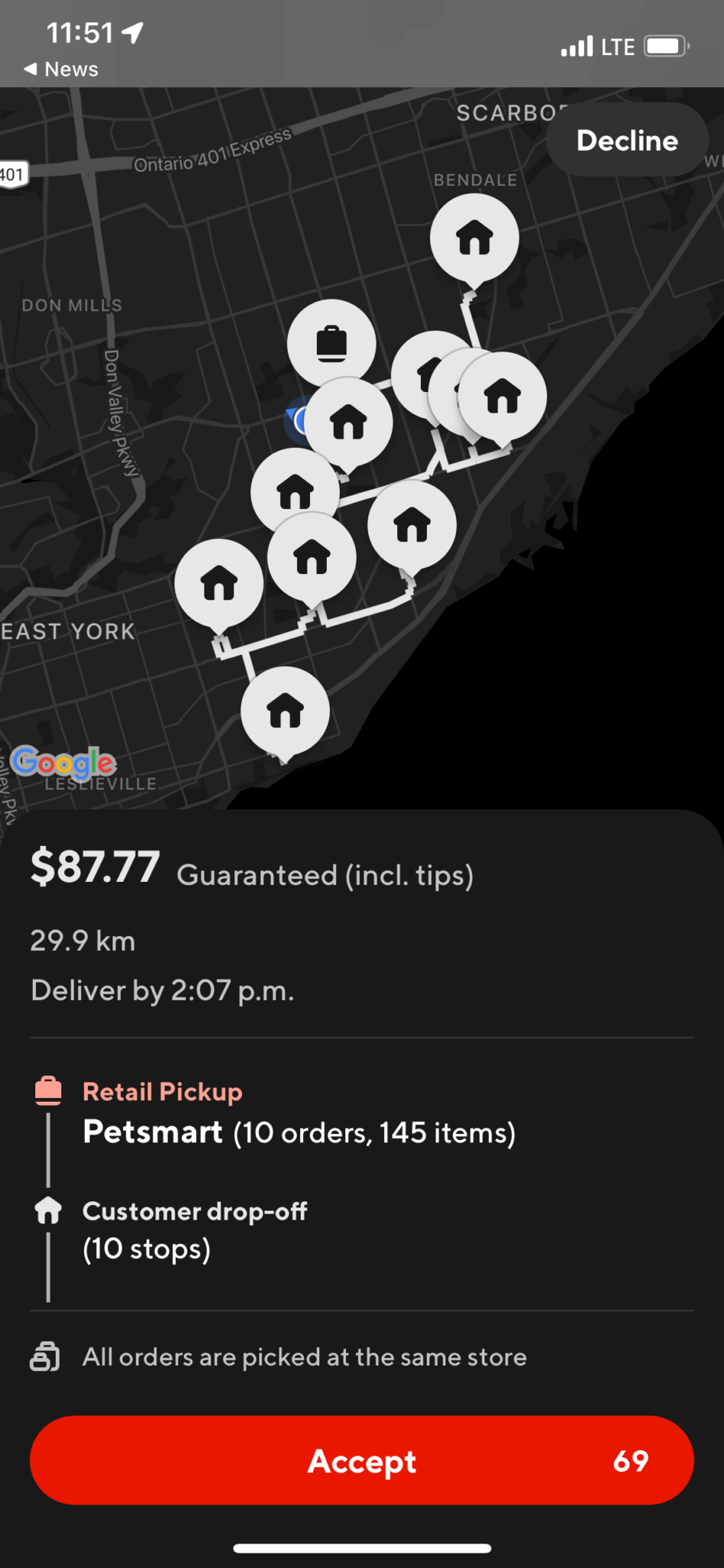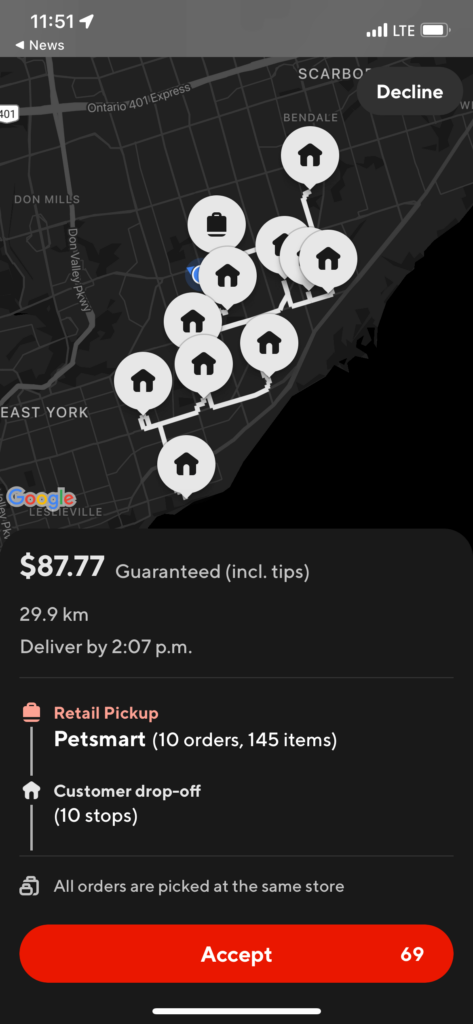 Despite the enticing "high payout" of $87.77, I declined this order due to the 29 km (18 miles) distance I would have to cover to drop off items for 10 different customers despite them being on the way. Add to that the fact that it was a total of 145 items (I am anticipating heavy items), which is quite a lot! It was really the 145 items that turned me off!
I wasn't keen on enduring that hassle for just $87.77, especially as I anticipated that the task would probably take 3 full hours (or maybe even more) to complete. This would likely equate to over $22 per hour, but the prospect of lugging around heavy bags of pet food was not appealing to me.
If you're okay with lugging heavy items around, then this type of order may be worthwhile for you!
4. Maintain high ratings
DoorDash tends to reward top-rated Dashers with better opportunities, such as catering orders, which can significantly boost earnings. Therefore, providing excellent service, punctuality, and ensuring food deliveries are in the best possible condition can help maintain or improve your ratings.
However, based on my personal experience, I must admit that some aspects can be beyond your control, such as when the restaurant is late with the order. For instance, there were a few times when the restaurant claimed they hadn't received the order, only beginning its preparation upon my arrival. In such situations, you can reach out to the DoorDash support team via live chat to inform them of the issue.
5. Consider your expenses
While this might not directly increase your earnings, it's an important part of making the most out of your DoorDash experience. This includes factors like the cost of gas, vehicle maintenance, and car insurance. Yes, you might be asking, "Is DoorDash worth it after gas?" But it's really all about picking a fuel-efficient vehicle or even using a bike for closer distances can help save money, increasing your net earnings.
Remember, every Dasher's experience may vary based on their location, the time they dash, and a bit of luck. Ensure you keep track of the strategies that work best for you and continue adapting. Ultimately, it all comes down to gaining experience and mastering the process.
How much can you make with DoorDash in 3 hours?
Update: I've been using DoorDash for a while, and I typically enjoy working for 1 to 2 hours during my leisure time. However, when I'm really pushing myself or experimenting with the app, I've found that 3 hours is about the maximum I can go before needing a break.
3 hours is the maximum for me, but for those who are still not sure whether to go at this part-time or full-time, how much can you make with DoorDash in 3 hours? It's crucial to know so you can figure out if DoorDash is worth your time.
When I deliver food as a DoorDash driver, I typically earn between $40 and $65 per 3-hour shift. On good days, that amount can reach up to $75 with tips. However, on slower days like Mondays or Tuesdays (boy, are Tuesdays my absolute worst!), I might make less than $15 per hour in terms of "Dash time."
Here is a screenshot of how much I made on a Monday. Based on this, I will probably minimize my dashing on Mondays.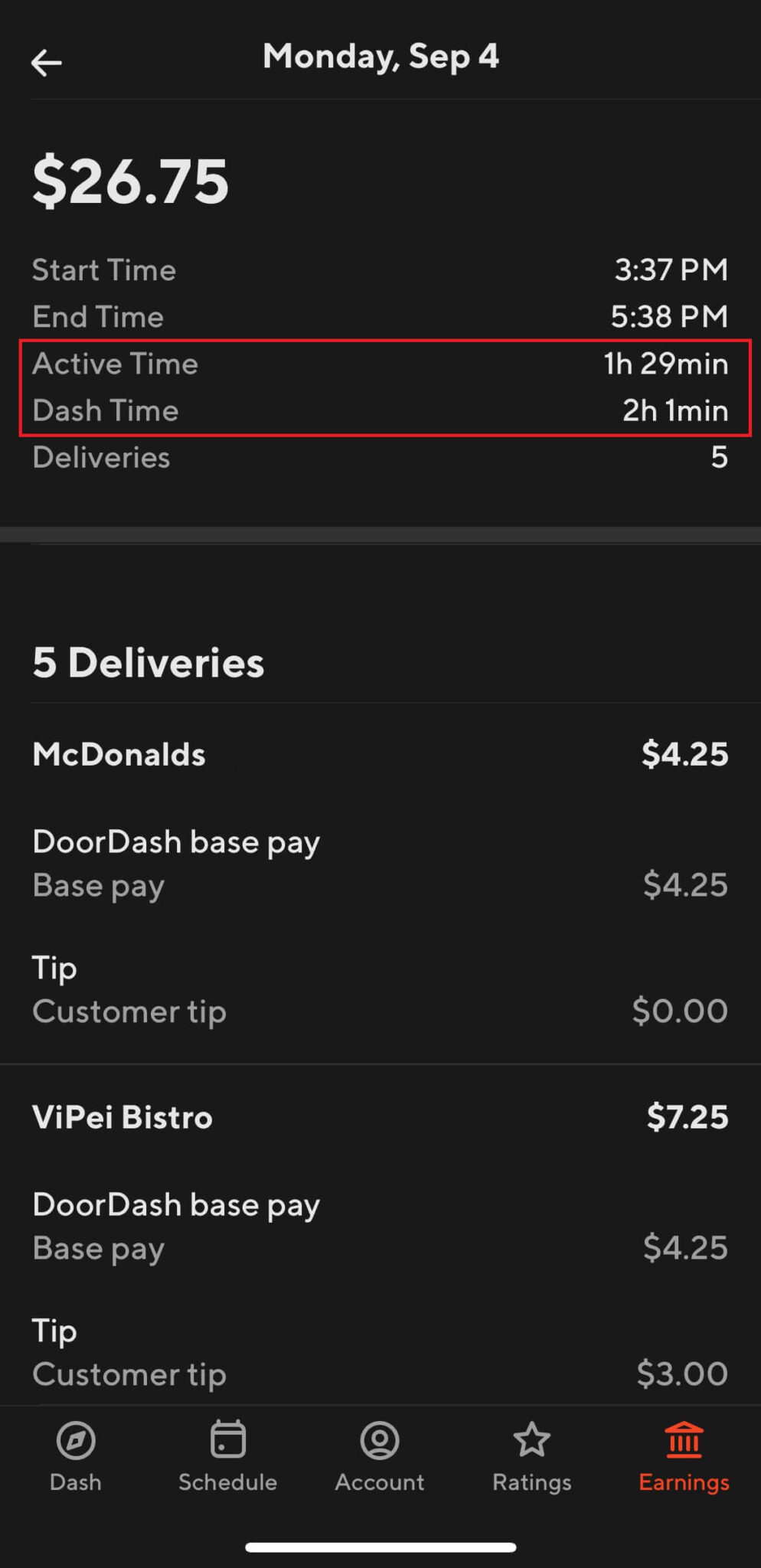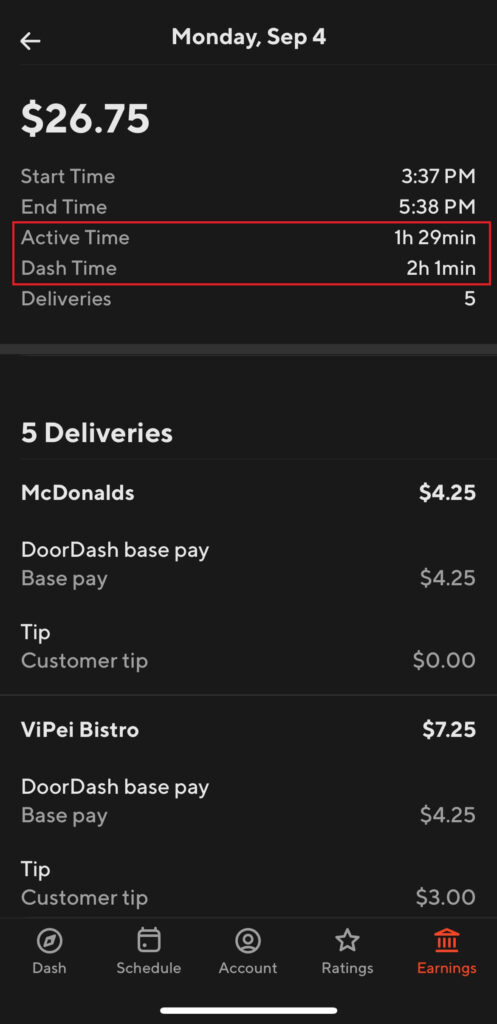 But, it's important to know that when I say "3-hour" shift, I'm talking about the whole time I'm on the app which is my "Dash time". There is a difference between "Dash time" vs. "Active time".
"Active time" is when I'm picking up and dropping off food.
On the other hand, "Dash time" refers to all the time I'm logged into the app, even when I'm just waiting. For instance, during low-peak hours, I've sometimes waited up to half an hour without getting a single job. These idle periods result in zero earnings, which in turn, effectively lower my average "hourly rate". As a result, on most Mondays and Tuesdays, my hourly rate tends to be much lower.
For this reason, I choose to dash during the peak periods to increase my hourly rate, which is on weekends or holidays.
Become a Dasher today! You can sign up for DoorDash here and challenge yourself to earn $100 a day starting tomorrow or this weekend!

Weekends are often the best times to dash, so I encourage you to sign up and try it out to see how you like it. For me, I'll continue doing this for fun whenever I have some free time after dinner or on weekends when I'm looking to earn an extra few hundred dollars. Just imagine what you could do with a few hundred dollars this week!

Signing up for DoorDash is free, and you have nothing to lose but everything to gain – potentially an extra few hundred to thousands of dollars when you pursue it as a side hustle.

As mentioned earlier, I've already made over $1,000 on DoorDash! It's a way to earn money with no investment other than your time, which is certainly more profitable than binge-watching Netflix, which doesn't pay you a cent!
Does DoorDash pay for gas?
No, DoorDash does not directly cover the cost of gas for its drivers. Dashers are considered independent contractors, so they are responsible for their own vehicle maintenance and fuel costs.
However, the flexibility of DoorDash allows drivers to choose the most efficient means of transportation suitable for their area, potentially mitigating these expenses.
Alternatives like bikes, scooters, and electric vehicles can be more cost-effective choices, reducing or eliminating fuel costs.
One pro is that during tax time, dashers can often deduct certain work-related expenses, including miles driven, potentially offsetting some of the costs associated with fuel and vehicle maintenance.
FAQs About How Much Money You Can Make on DoorDash
1. Can you make $100 a day with DoorDash?
Absolutely, you can indeed make $100 a day with DoorDash, as I highlighted earlier with a snapshot of my 1-day earnings right here in this post.
Now, let me tell you, earnings from DoorDash can swing quite a bit depending on factors like your location, the time of the day you're dashing, and your overall efficiency. But don't be disheartened! Hitting that $100 mark per day is totally doable with a bit of careful planning and smart strategy.
For example, targeting peak times and bustling areas, taking full advantage of promotions, and ensuring you maintain a high acceptance rate can really boost your earnings. My personal 1-day earnings screenshot of $150.55, as previously shared, serves as a testament to the fact that $100 a day is very much possible.
Of course, this is my personal journey and yours may look a bit different. The bottom line here is that your earnings truly hinge on your own efforts, your unique approach, and the specific circumstances you find yourself in. So, go out there and make the most of your DoorDash experience!
2. How to make $500 a week with DoorDash?
Most people ask the questions, "Can you make 500 a week with Doordash?" or "How can I make $500 a week with DoorDash?"
From my experience, making $500 a week with DoorDash can be achievable by following these simple strategies:
Schedule Wisely: Dash during peak hours when people are most likely to order food – usually lunch (11 am-2 pm) and dinner (5 pm-8 pm).
Choose Your Location: Busy areas with numerous restaurants will likely have more orders. Additionally, consider zones where DoorDash offers Peak Pay.
Use 'Dash Now' and 'Schedule a Dash': These options allow you to work when it suits you or when it's busy. If you're a top dasher, you're allowed to dash anytime without having to schedule a dash.
Keep Up Good Ratings: If you get good ratings from customers, you're likely to get more orders. How do you do this? Keep your customers in the loop. If you see that an order might be late, let the customer know as soon as possible so they're not left hanging. Believe it or not, one time, a customer was so happy with my updates about a late order that they even texted me asking how to give me an extra tip! Being nice and upfront can really pay off.
Complete Promotions: DoorDash offers various promotions like Peak Pay and Challenges which can help boost your earnings.
Map Out Your Routes: To expedite your deliveries and handle more orders, you'll need to become well-acquainted with your neighborhood or delivery zone. My own experience shows that as you spend more time in an area, you naturally start discovering shortcuts and faster routes, outsmarting your GPS at times. This familiarity can significantly cut down your delivery time, allowing you to complete more orders quickly.
Manage Your Expenses: Keep track of your expenses like gas, car maintenance, and insurance. This will help you maximize your net income.
Let's be real, to hit that $500 a-week target, you'll probably need to put in a decent number of hours, and remember, earnings can fluctuate due to factors that you just can't control. But, once you've pocketed your first $500 from DoorDash, you'll start to understand the ropes. This experience will allow you to come up with innovative strategies tailored to your specific area, helping you boost your earnings even further. It's all about learning as you go!
3. Do DoorDashers make good money?
Working as a DoorDasher can be a solid way to make some good cash as extra income. But, like many things, it's not as simple as it seems. A good deal depends on where you're dashing. In areas with more activity, you can usually expect more orders, and more orders translate to more money.
Timing is another key factor. Ask yourself, are you syncing up with peak meal times? Those hours are typically the busiest and could mean a better payday for you.
Let's not forget about tips! They can provide a nice boost to your earnings. Sure, there's no crystal ball to predict who's going to tip generously, but every little extra counts.
Now, let's address the less glamorous side: expenses. As a Dasher, your vehicle is your workspace. You've got to budget for gas, maintenance, and insurance – all those costs that sneakily chip away at your earnings.
Here's an insider tip for you. DoorDash occasionally offers promotions. Hit a certain number of deliveries, or work during specific hours, and you've got yourself some bonus cash.
Many Dashers typically make a fair amount per hour, but the range of earnings can differ significantly. Based on my personal experience of dashing, the income can be pretty decent as I earned $150 in a single day. However, it's important to acknowledge that there are reports of lower earnings, particularly in areas that aren't as busy.
I get it, the struggle is real when it comes to making some extra cash. So, I was always wondering if DoorDash could be the answer. Eventually, I decided to stop wondering and just signed up to see if it was worth my time. And you know what? It wasn't bad at all!
But remember, that's just my experience. It's different for everyone, so you won't know until you try it for yourself.
4. How much can you make doing DoorDash on the weekend?
I believe that realistically, you can make $100 a day, or even more, especially during the weekend, if you work an 8-hour shift covering both lunch and dinner times.
In my area, many people eat dinner quite late, some as late as 10:00 or even 11:00 PM. By finishing my dinner by 5:30 PM, I'm able to work these longer hours.
In my zone, the busy period often starts as early as 5:00 PM. However, since I usually eat dinner around that time, I typically begin dashing around 5:45 or 6:00 PM and continue until 10:00 PM. I've also tried working from 7:00 PM to 11:00 PM. If you're particularly dedicated, you can aim for a 5-hour shift and work until 11:00 PM.
Typically, I earn between $55 and $75 (when orders are non-stop at particularly popular restaurants) for a 3-hour shift during these busier times.
If I also choose to work during lunch hours, I can easily earn over $100 a day or even up to $150. Some dashers have even reported earnings of $200 a day with DoorDash when the demand in their region is especially high. I have never made $200 a day with DoorDash, but I'd like to challenge myself and try!
However, I've noticed that some weekends, especially the ones AFTER the long weekend or holiday, tend to be slower for deliveries.
I speculate that people might be burned out from eating out and prefer cooking at home during these times. This is a pattern I've observed in my area. However, it's worth noting that experiences can differ across regions; there's no one-size-fits-all approach. To maximize your earnings with DoorDash, it's crucial to recognize these trends and understand the habits of people in your specific city.
Make Money Dashing Today!
I hope you found this DoorDash article helpful. If you're not a Dasher yet, I welcome you to join the DoorDash club by signing up here. We can even become online Dashing buddies! 🙂
I personally enjoy doing this after dinner and on weekends when it's busy. I highly recommend giving this side hustle a try today!
Enjoyed this post? Don't forget to pin the image below! Also, don't forget to follow me on Pinterest over here! 🙂