We will receive a commission if you make a purchase through our affiliate link at no extra cost to you. Please read our disclosure policy for more information.
If you own a reliable car and don't mind spending some extra time behind the wheel. Bingo! You have found a reliable side hustle that will help you earn $100 a day or more. "Wait, what?! I can turn my car into a cash-making machine?" You betcha!
According to a report, most American households own at least one car, and the average American household owns two. But for many, cars are a significant expense. After all, you've got to juggle car payments, fuel costs, car insurance, and maintenance and repairs. The cost of having a car is no joke. I feel you; we all feel that way.
And it makes sense if you're looking for quick and effective ways to put more cash into your wallet; that car resting in the driveway might not be a liability but one of your biggest assets.
Thanks to the arrival of smartphones, money-making apps, and the gig economy, there are multiple ways to make money with your car. Whether it's renting your car out when you're not using it or delivering someone's late-night burger craving, there's potential to make bank.
If you're ready to be part of the community who decides to earn extra dollars with their cars, here are the 8 best ways to make money with your car.
PIN THIS: I'll be updating this post so make sure to pin this image here and save it to your Pinterest board. That way you'll be able to come back to this page and learn how make money with your car!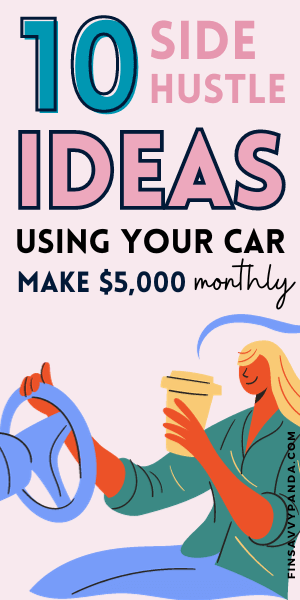 1. Food Delivery
Food delivery is the first side hustle job you should consider when you have a car. While owning a vehicle is not required to become affiliated with any of the food delivery apps, having a car makes everything convenient – and reaches a wider delivery range.
I'm sure you've noticed, but the food delivery scene is on fire! Just look around! The roads are practically swarming with cars and bikes, all on a job to deliver deliciousness to doorsteps. Apps like DoorDash, UberEats, and Instacart are leading the charge, and there's no sign of things slowing down.
So why jump on the food delivery bandwagon? Well, for one, people are always hungry. Always. With the crazy, busy lives we all lead, clicking a few buttons to order food online has become second nature.
It also offers flexibility as you can decide when to turn on the app and which hours you will be working. College students, I'm looking at you. Need a part-time gig to help chip away at those mounting school bills? This could be the perfect once-a-week job to help cover those expensive tuitions and textbooks!
I've actually taken DoorDash for a spin myself to find out how much I could make with DoorDash. After trying it out for a few days, I managed to pocket over $150 in just one day. I didn't need any prior experience, and there were zero interviews. It's easy to get started, too – all you need is a smartphone, a car (or scooter and even bicycle), car insurance, and be at least 18 years of age.
Pro: Sometimes the idea of playing taxi driver just doesn't work with your personality. Maybe you're part of the 'jobs for introverts' club, or perhaps you just don't fancy the idea of a long drive with a stranger. If that resonates with you, then becoming a food delivery rider could be a more suitable way to generate income with your car.
Con: You'll likely encounter a few bumps along the road – literally. From pothole-ridden streets and careless pedestrians to the ever-present risk of accidents and the occasional prank order, there are definitely a few challenges to deal with.
2. Rideshare
Joining the community of fleet drivers associated with apps-based taxi services is one of the most profitable and reliable second jobs. Of course, two of the most popular companies are Uber and Lyft, but you are not limited to these options.
For a while now, I've been hearing murmurs that Uber and Lyft are the way to go if you're looking to beef up your bank account. Given my innate curiosity, I decided to do a little detective work. I struck up conversations with a few drivers while I was catching rides to various destinations and all I can say is that the gossip is real – they indeed earn well, especially during peak hours.
But note that how much money you will get paid to drive depends on the place you live, the time you will work, and the distance of your fares.
The average income as a rideshare driver is around $15 to $23 per hour, according to Salary.com. In addition to the income you'll get from the apps, you can also receive tips from generous passengers.
This is definitely the best gig if you want to earn at least $200 a day or more per day.
Pro: A flexible schedule is the most obvious advantage of working as a rideshare driver. No boss will interrupt your break, no work schedule to follow, and you can work as much or as little as you would like.
Con: You've heard it before. All cars depreciate, and as you pack on the miles, your car value falls, and the cost of maintenance and repairs increases. There's also wear and tear associated with having passengers in and out of the back of your car.
3. Personal Shopping
Do you find yourself dragging to the mall or grocery store when life gets tough or stressful? Then, you are one of those people who love retail therapy.
Retail therapy is not "therapy" per se but an emotional boost every time you add items to your shopping cart or visit your favorite boutique for a few hours.
But, what if I told you that you could actually get paid to shop? Yep, you heard me right. Not only do you get to indulge in some much-needed 'me time,' but you also get to pocket some extra cash. Win-win!
Many people struggle to find time for errands, like grocery shopping. And that's where you and the gig apps like Shipt and Instacart should come in!
When it comes to the ability to earn, it will depend on your consistency in work, the time you work, and the reviews that customers leave you.
No two personal shopping apps work the same, so you're best off putting your eggs in various delivery baskets – say, working for Shipt on weekday evenings or putting in your Instacart schedule during peak weekend shopping hours.
Pro: Like other gig apps, there's no boss breathing down your neck, no need to play nice with coworkers, and you can work whenever you want.
Con: Working in small cities, say, Salt Lake City, is not as high-paying as working in Los Angeles. You also need to consider mileage on your car and factor in vehicle depreciation and fuel costs.
4. Parcel Delivery
If you like working as a delivery rider but prefer to avoid dealing with food, try parcel delivery.
There are a lot of logistic chains out there, but the most reliable company to work with is Amazon, as it's the world's largest online marketplace nowadays.
As it continues to grow, so does the demand and, likewise, the demand of Amazon customers who want to receive their parcels as quickly as possible.
While drone delivery is a trend in certain cities, good old-fashioned delivery drivers are still a thing via the Amazon Flex Program.
Signing up for the Amazon Flex app allows you to start working at your available hours. The job basically works the same as a food delivery rider, but the difference is that you pick up packages you will be distributing once.
Amazon claims that their drivers earn $18 to $25 per hour. Once you are accepted, you can start making money working 2 to 3 hours.
Pro: There is no set amount of time to work as a delivery rider for Amazon. Any driver can change their availability to suit their schedule.
Con: Rider's safety is not guaranteed. As per the Center for Strategic Organization (CSO), Amazon delivery drivers incur the highest injury rate among any logistics company in the market.
5. Rent Out Your Car
If you don't like the side hustle jobs mentioned above, probably because you don't want to work as a delivery rider or a shopper, then have your car for rent.
This is the best option if you have a spare vehicle or if you don't need to use your car on a daily basis. In fact, many vehicle owners have gone this route to make a car pay for itself, while some have really been successful and turned the side hustle into a full-time business endeavor.
Airbnb has made it incredibly easy to monetize your unused bedrooms, so why not do the same with your car?
If you prefer to rent out your car in an Airbnb style, give Turo a try. Turo is a car renting app that allows you to list your vehicle as a 'local host' at rates they claim to be 35% less than traditional car rental agencies.
The car rental price depends on the market value, time of year, location, and model – the newer and nicer vehicle you have, the higher the rate.
Interestingly, if you indeed have a nicer car, renting it to rideshare drivers is recommended. Hyrecar will help you find Uber/Lyft drivers who rent your car and allow you to earn up to $1,100 a month.
This source of passive income might just be the motivation you need to quit your day job and focus on expanding your car rental business.
Pro: Anyone who adds this kind of income stream could make their wallets bulky. For instance, Turo claims you can rent your car for $500 to $1000 monthly.
Con: Accidents and car damage are just among the risks associated with your car rental business. Moreover, most personal car insurance policies won't cover incidents related to renting out your car for commercial use.
6. Car Advertising
Ever thought about turning your car into a moving billboard? It might sound a bit unusual, and it's definitely not for the wallflowers among us.
But hey, if you're on the road a lot and aren't bothered about flaunting some ads on your vehicle, you could pocket hundreds of dollars each month.
You can opt for small ad banners, half-car, or even full-vehicle wraps and get paid for just cruising around as usual. The compensation is quite generous – the larger the wrap, the heftier the paycheck. A full-car wrap, for instance, can earn up to $300 monthly, plus bonuses, while smaller decals on the rear window can fetch around $50. Not too shabby for zero extra effort, right?
Don't worry; wraps are not permanent, and you can get rid of them whenever you want without damaging your car.
Carvertise is a famous advertising company that will help you find brands that match your location and driving habits.
Once you're approved, they'll take care of wrapping your vehicle at no cost, and you can start earning money on the spot. Just go about your regular day, and you'll make money while driving to your office, school, or even while picking up groceries.
Pro: You can attract more sponsors if your regular driving situation involves covering a significant distance. Additionally, if you have a rental or rideshare car, you can double dip by getting paid to display ads on it.
Con: Be wary of companies that promise sky-high weekly earnings. Such offers are often too good to be true and may be a red flag for a scam. If the compensation seems unbelievably generous, it's probably a trap.
7. Local Moving Services
So, you have a roomy car? Awesome! Put it to work by becoming a casual mover or courier. If you own an SUV, van, or pick-up truck, you're in a prime position to offer local moving services.
Start by putting yourself out there on platforms like Craigslist or local community boards. You have the freedom to set your own rates but remember, you're the captain of the ship – any bumps, bruises, or breakages are on you.
Now, let's talk about the superstar app, TaskRabbit. It's your safety net for all courier gigs, ensuring you get paid for moving boxes or making those special deliveries.
Although TaskRabbit doesn't mandate taskers to have their own vehicle, owning one can bump up your earning potential significantly.
On the money front, you're looking at around $36 to $60 per hour for local moving services on TaskRabbit. But, naturally, your rate will dance to the tune of your location and the services you're belting out (be it moving, delivery, or hauling).
Pro: Moving a single piece of household furniture can rake in anywhere from $50 to $200. And if you're ready to go big by investing in more trucks and bringing more hands on deck, the sky's the limit for your earnings.
Con: Although it is obvious, it bears stating that this side hustle is best for men. This does not mean that women cannot offer moving services. If you're up for the challenge of hoisting heavy items, then game on.
8. Mobile Detailing Services
Ready to earn money today? Consider lining your pockets with some extra cash by launching a mobile detailing side hustle!
Yep, it's precisely what it sounds like. You'll be dolling up cars from top to bottom but for someone else.
As a mobile detailer, your job is to spruce up vehicles with some professional cleaning, maintenance, and restoration, usually at a spot that's convenient for your client.
Forget the usual car wash or detailing spot where people have to lug their cars. You'll be carting your wizardry and toolkit right to their home, office, or anywhere they want.
Basically, customers are paying you for convenience. Plus, they lean on your service since it's often a bargain compared to the old-school brick-and-mortar detailing digs.
Pro: Kicking off a mobile detailing venture demands a minimal initial outlay. There's no need for a physical storefront, slashing overhead costs linked to owning or renting a commercial space.
Con: No soul wants to splurge on car repairs; hence, customers will hunt for the top-notch car detailing service around. Unless you have a fixed spot, projecting legitimacy and professionalism to customers might be a tough nut to crack.
Tips for Making Money With Your Car
In this age of side gigs, your car isn't just a "car." It's a full-blown revenue channel. To maximize the moolah from your vehicle, you gotta pamper it, so it reciprocates – looking after you, your loved ones, and, let's not forget, your bank balance.
Maintaining your car in top condition
Ensuring your car stays in tip-top shape will not only extend its lifespan but also guarantee safety while hitting the road. It can prevent car parts from breaking, waste any drops of fuel, and minimize road accidents.
By doing so, you can stash away more of your earnings as you sidestep hefty maintenance bills and repairs that could pop up.
Capitalizing on peak hours
Opportunities involving your car are highly profitable due to the demand for side gig apps like Doordash, Uber, TaskRabbit, etc. If you want to earn more, your strategy is all you need to worry about.
For food delivery drivers, the demand typically wanes in the morning as people either have meals prepared the night before or are running too late to eat breakfast. Hence, dinner time, when people are returning from work or school and are too exhausted to cook, is the optimal time to work.
Contrarily, rideshare services experience a surge during weekday mornings when people are rushing to their destinations (i.e., school, office, etc.). Additionally, the demand for moving services usually peaks at the start of the month.
Working in busy times may double or triple your income. Not to mention, you can juggle all types of side hustles with your car during this time. For instance, you can work as a rideshare driver in the morning and as a food delivery rider at night.
The power of positive reviews
Most side gig apps allow customers to leave a review on your profile, thus the need to give the best service you can offer.
Issues regarding safety can have a detrimental effect on your reputation and erode the trust of your customers.
Happy customers will not only return for your services but also recommend you to others. This positive feedback is crucial for the expansion of your gig or business.
FAQs
Can you earn money with your car?
Yes, nowadays, your car is more of an asset than a liability. If you would take advantage of the best driving apps to make money, then you can make the most income from your car.
If you love driving and don't mind interacting with people in your car, you can work as an Uber or Lyft rider. But if you are too shy to talk to strangers, then working as a food or parcel delivery person is best for you.
There are many options to make money from your car so identify your skills and financial needs to determine which side gig is best for you.
How can I make money fast?
Like any other job, making money fast can be challenging as it requires time and effort. So, if you are hardworking enough to work on the most in-demand errand jobs (i.e., food delivery, parcel delivery, rideshare driver, etc.) or odd jobs (moving service, car detailing, etc.), then it's truly possible to make money fast.
Pro tip: maximize your earnings by working during peak times. It's the best strategy you could do if the goal is to make big money fast.
Enjoyed this post? Don't forget to pin the image below! Also, don't forget to follow me on Pinterest over here! 🙂