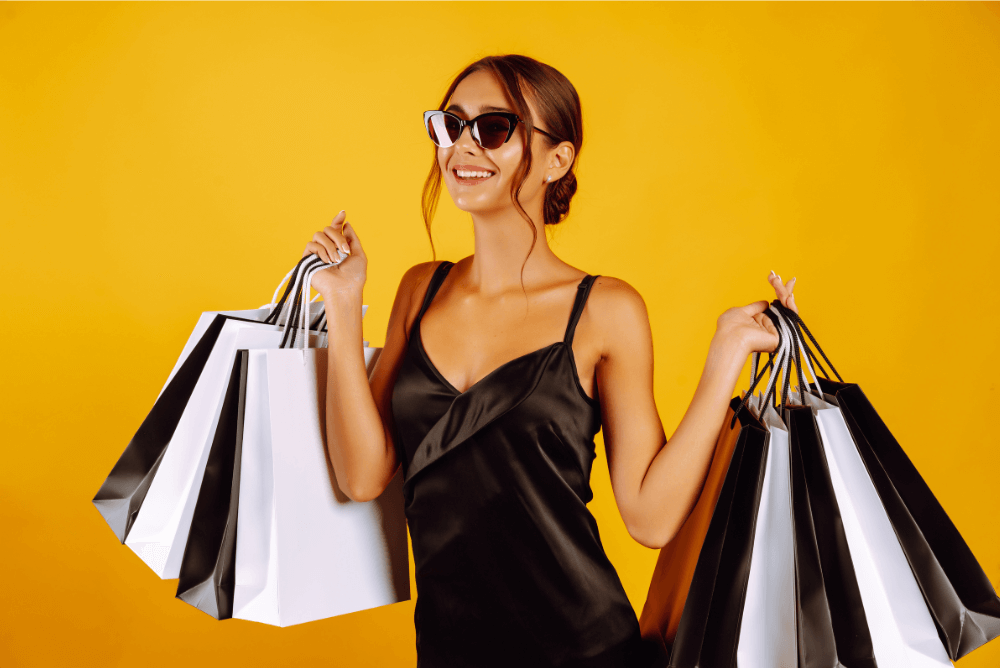 We will receive a commission if you make a purchase through our affiliate link at no extra cost to you. Please read our disclosure policy for more information.
Getting paid to shop was a concept that was hard to grasp before. It just sounded too good to be true. If someone told you that they'd pay you to shop, you'd think they're lying or there's some catch to it.
However, many people are busier than ever, and they're hiring others to run errands for them because they're either too busy at work or their schedule is full of appointments. When you have to show up for an office job, drop off kids at school, and care for elders at home, you simply don't have time to drive to a restaurant to pick up food, browse the aisles at Trader's Joe, or stand in a long line to checkout.
Thanks to technology such as Uber Eats, people can now buy food without ever setting foot in a restaurant. With the help of applications like Instacart and Shipt, users can hire personal shoppers who will do the shopping for them. By downloading these apps, you can become one of these personal shoppers and earn money. Your job will be to handpick the items on the customers' orders and deliver them right to their doorsteps.
But out of all the innovations throughout the years, one of the most game-changing for me was getting cash back when I shop online and in supermarkets. These apps and websites helped me spend less when I was a student at the university.
With all the money-making opportunities available, there's no better time to be a shopper than today. So if you're interested in how to get paid to shop, I've shared 13 ways how to do so!
PIN (OR BOOKMARK) THIS PAGE: I'll be updating this post so make sure to pin this image HERE and save it to your Pinterest board. That way you'll be able to come back to this page and learn how you can get paid to shop!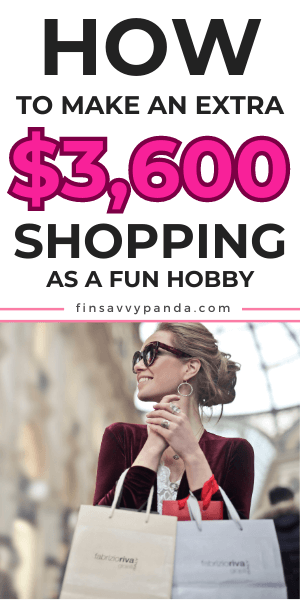 How Do You Get Paid As A Shopper?
Do you want to get paid to shop? If so, you have two options here: be a mystery or a personal shopper. A mystery shopper is someone that works for a company and poses as a customer to evaluate store's sales and services. While a personal shopper purchases items from the grocery store and delivers it to their clients.
Both jobs pay around $15 to $40 per hour which is very dependent on how quickly you can finish your work.
You can also get money back when you shop on certain websites and receive cash-back benefits from Swagbucks, Ibotta, and Rakuten.
Is It Worth It To Be An Instacart Shopper?
To say whether it's worth being an Instacart shopper will depend on several factors. You'd have to consider your financial goals and the demand for the service in your area.
In general, I'd say yes because it's a legitimate way to supplement your income.
Full-service shoppers that receive orders and deliver them to the customer's door can earn around $17 per hour. That's pretty decent compared to other delivery gigs on other apps.
Grocery Shopper Jobs
Grocery shopping is for you when you like having trips down grocery aisles and ticking off the items on the checklist. It's a relaxing side hustle that doesn't require you to interact with other people — yes, the perfect job for introverts who like being alone. You just focus on getting the items that the customer needs and you're on your way to deliver them to their homes.
1. Instacart
As an Instacart shopper, you'll get paid to shop and deliver. You'd be going to grocery stores and picking out fresh fruits, meats, wine, and other items. On top of that, you will be delivering those groceries to the doorstep of the customer.
Having partnered with a ton of retailers and grocery stores, Instacart users won't have a problem on choosing where to purchase items from. They've partnered with popular household names to make their shopping experience much easier.
The pay here could be around $17 if you're a full-service shopper. This means that even just working 4 hours per day, you'll get $340 per week which equates to $1,360 per month.
The challenge here would be that it's a physically demanding job. You're pretty active when you're a grocery shopper. You go to different stores, walk around the supermarket, bring the bags to your car, then drive to your customers.
But for me, the rewards overshadow the challenges in this job. Earning an extra $1,360 or $2,720 per month is a big help for rent and food.
With Instacart's new features, shoppers can potentially earn more than $17 per hour. This is because the company is launching "queued batches" which gives the shoppers the option to accept another order before completing their current assignment.
Pros: You're physically active and not just sitting around all day.
Cons: There's a time commitment factor in this work since you want to be on duty when there's a high volume of orders.
2. Walmart Personal Shopper
Walmart is a retail giant that racks in millions of sales daily. For them to be competitive and to stay on top, they need to adapt to changes in consumer behavior – and that is online shopping.
The company now has personal shoppers for its customers who ordered online. You can now get paid to shop at Walmart. If you land this job, your sole purpose is to gather the customer's orders and bring them out to the customer's car.
According to Indeed, a Walmart personal shopper earns an average of $15.00 per hour. Work full 8-hour shifts and you'd be making $120 per day. This equates to earning $2,400 per month.
However, in recent news, the CEO of Walmart mentioned that it would raise the hourly rate of its associates to more than $17.50 per hour. Making it more appealing to work for the retail giant as a personal shopper.
The major difference between being a Walmart personal shopper and other shopping services would be that you don't need a vehicle for this job. You'd be staying at Walmart's vicinity and delivering items in the parking lot.
Pros: There is a lot of work to be done considering Walmart is the go-to shopping store for most people.
Cons: You need to be constantly fast with this work especially when the customers use curbside pickup orders.
3. Amazon Personal Shopper
Customers who shop on Amazon can now enjoy the benefit of getting their groceries delivered or picked up inside the store.
Amazon personal shoppers or sometimes called Grocery Warehouse Associates are people who are part of Amazon's grocery team.
You'd be working in a big grocery warehouse that looks like a normal supermarket. However, as a Grocery Warehouse Associate, your job isn't limited to preparing groceries, you'd also unload inventory and work in varying temperatures.
To make the job entertaining and not so systematic, Amazon makes sure that you rotate tasks throughout the week. This helps in making the job less boring.
Before being hired, Amazon mentions that you'd need to be able to:
Lift up to 49 pounds
Go up and down the stairs
Physically able to squat, pull, push, and bend during shifts
Work in temperatures that can range from -10°F and up to 90°F for extended periods
The average hourly rate for this role is $14.00 which can help you earn up to $2,324 per month.
If you're interested in this work, you can search for grocery warehouse jobs near you.
Pros: You get to work different job positions per week.
Cons: Given that you need to work at different work temperatures, it is much more psychically demanding to your body.
4. Shipt
Shipt is a delivery service that allows customers to get paid to shop for grocery and household essentials. The other items that you can gather here are pet supplies and important items at home.
Shoppers for the company are paid per order. You get to choose the orders and see the estimated pay before you claim them. Aside from that, the time and place are also shown to you.
The potential earnings here could be in the range of $11 to $20 per hour. So let's say you're earning in the median of the salary range which is around $15, so an 8-hour shift can give you $120. In a week, this job lets you earn $600 which means you're earning potential per month can be around $2,400.
In terms of getting your payment, it can be instantly accessed once per day or you can receive it via direct deposit every Friday.
Pros: The delivery window is enough for you to do the shopping and deliveries without being in a hurry.
Cons: The orders are on a first come first serve basis. You need to be quick to get more orders in the day.
Get Paid to Shop for Others
For many people, getting paid to shop for others is an enjoyable and even dream job. As a personal shopper, your main responsibility is to find the products or items that your customers need and deliver them promptly. It's the perfect job for those who love being on the go and always have a desire to help others.
5. TaskRabbit
TaskRabbit is an application to look for different tasks to do. It connects you (the worker) with people who are willing to pay for certain jobs.
The types of work here could include:
Heavy lifting
TV mounting
Home repairs
General cleaning
Yard work services
Furniture assembly
The jobs here are part of the odd jobs category. This is perfect for anyone who's looking to help out people with their needs while getting paid to do so.
One of the best features that separate TaskRabbit from its competitors would be that Taskers can set their own rates. You get 100% of what you charge plus the tip given to you.
To give you an idea of how much some Taskers are charging:
Yard work: At least $64 per hour.
Deliveries: $22 to $62 per task.
Wait in line: $18 to $30 per hour.
House cleaning: $70 to $155 per task.
Furniture assembly: $60 to $140 per task.
Decorate for events: $60 to $124 per task.
Paint one bedroom: $104 to $200 per hour.
Pick up dry cleaning, drop off packages, and buy stuff from groceries: $26 to $66 per task.
As you can see, working under TaskRabbit could be very lucrative even if you're only doing it for a couple of hours every week.
If you're serious about wanting to make money with this company, 4 veteran Taskers shared their best advice on how you can also make $100,000+ just by doing different tasks.
Pros: You get to set your own price so you can make your time worth it.
Cons: Some of the tasks here need you to have some skills and experience. Like mounting a TV needs you to know how to use power drills.
6. Care.com
Visiting Care.com's website makes it easy to look for services near you since it asks for your zip code on its home page. Seeing all the major publications like USA Today, Fortune, and CNBC makes you more confident as a person looking to hire someone.
Care.com is a trustworthy platform that's perfect for posting your services. You'll find plenty of opportunities in pet care, tutoring, child care, and housekeeping, so there's no shortage of work available. In fact, there are currently 46,838 pages of job listings on the website, so you're sure to find something that suits your skills and interests. Here are just a few examples of the types of jobs you might come across on Care.com:
Nanny
Tutoring
Pet care
Babysitting
Errands runner
Odd jobs provider
Private lesson instructor
So if you're wondering if you can still get paid to shop with this website, the answer is yes! But it might not have the same order volume as other apps since Care.com leans more toward kids services and senior care.
Indeed reported that the most popular roles are child care provider, babysitter, and caregiver. Childcare allows you to earn an average of $21.57 per hour. Babysitting duties are at $18.38 per hour and caregiving is $18.74 per hour.
Pros: There are a lot of jobs to choose from. You can provide tutoring lessons and pet care services.
Cons: There are better websites and applications for the services that Care.com offers.
7. Market Force
MarketForce is one of the biggest mystery shopping companies out there. It is an international company that has offices in the United States, United Kingdom, Spain, Canada, and France.
If you aren't familiar with the term, mystery shoppers or secret shoppers are hired by companies to go into a retail store to pose as a customer. As a mystery or secret shopper, their job is to ask certain questions about a product, observe their customer treatment, and how the overall store is looking.
After their time in the store, they'll submit a detailed review of their experience and what they think about the overall service that the staff gave to them.
Being able to articulate your ideas in a structured and concise manner is important because companies will take your report and use it as data for their marketing strategies and other actions.
This is why in the application process of most companies like MarketForce, there's a spelling, grammar, and punctuation test. It helps them gauge how you write.
The expected pay here is around $21.14 per hour. Making you earn around $168 in an 8-hour shift. It's not bad considering you might also get the product for free once you've completed the project.
The money you can make with Market Force could be higher since you can negotiate the rate for doing an assignment. The app has a Make an Offer button where you can enter your desired rate.
Pros: In most cases, you get to keep the product that they asked you to buy.
Cons: The mystery shopping industry is full of scam websites and companies. You can easily tell if it's a scam if the company is asking you send a registration fee before you can get hired.
8. BestMark
BestMark is one of the top and oldest mystery shopping companies out there. It has worked with more than 600,000 shoppers and provides data and insights for multinational companies in the world.
Given how big the business is, you'll definitely have a lot of jobs to take on. Sometimes an assignment can be just down the block from where you live. Or it can be a 20-minute drive.
According to BestMark, a general baseline for how much secret shoppers are paid is around $7 to $20 for those starting out. So your weekly earnings will depend on how many assignments you'll take. You get to earn higher rates when mystery shopping companies offer special assignments and projects.
An often overlooked skill in mystery shopping is having a great memory. Not only do you need to write well in your reports but you need to remember your shopping experience. Your memory will be of use as you write your report in detail. You will include names, products you asked about, and how they answered you.
Pros: There are a ton of mystery shopping assignments to choose from.
Cons: Gas expenses are not reimbursed which can shave off your profits.
9. Intellishop
Another mystery shopping website you can apply for is Intellishop. It's a company that works with both small and big businesses. It's the best type of company to work for as a mystery shopper because it's not only limited to major companies – giving you more choices on who to shop for.
The most interesting feature I found with Intellishop is its shopper rating system. It's a system with a scale of 1 to 10 and gauges the shopper's commitment, report quality, ability to follow instructions, and experience level.
A new account gets an instant rating of 5 after signing up with Intellishop. The rating is then re-calculated frequently to give a fair rating. This system incentivizes shoppers to do well and to take on more assignments because the higher the rating the bigger the pay they'll receive.
You can typically earn $5 to $20 per assignment. If you're quick with your work and can still submit quality reports, you can take on more assignments as you like.
Pros: A great mystery shopper is incentivized with bigger pay.
Cons: Intellishop only pays every 20th of the month.
Get Paid to Shop Online
Decades ago, if you wanted discounts, coupons, and cashback, you'd have to purchase newspapers and magazines and get them from there. Today, there are a ton of applications that offer this bonus once you finish surveys, watch short videos, or buy from a certain store.
10. Swagbucks
One of my most favorite websites is Swagbucks. It really helped me throughout my broke college days to get discounts on my Amazon purchases.
I also can't deny the fact that it helped me earn my free Starbucks drinks.
If you haven't tried Swagbucks yet, I highly suggest that you do. It's a website and app to do online surveys in exchange for coupons and gift cards.
You won't get bored with it because there are different ways to earn with the application:
Shop online and earn cashback – Swagbucks has partnered with big brands like Macy's, Dyson, Adidas, eBay, and ASOS. If you ever need to shop for clothes or accessories from those stores, make sure to buy through Swagbucks' website to get cashback or points.
Referrals – You get to earn Swagbuck points when your friends signup for the website. You will earn 10% of your friend's earnings and if they earn 300 SB points within 30 days, you and your friend will earn a 300 SB bonus.
Complete daily goals – You get extra SB when hit the target amount of SBs for that day.
You wouldn't have to worry whether Swagbucks is legitimate because a ton of people have already used it throughout the years. It has gained a great reputation in the industry.
There are Swagbucks users that have earned $100 to $200 each month. While there are those earning higher because of their effort to make money on the website. However, you'd want to access whether spending that much time on the platform is worth it. I personally just do it when I'm binge-watching Netflix to kill time.
If you'd like to know more about the company, I have written an in-depth Swagbucks review for you.
Pros: You'll have a ton of tasks to make some extra money with this app.
Cons: It only serves as additional income. The money made here can't overtake a full-time job.
11. Rakuten
Rakuten is another one of my favorite websites to earn cash back when shopping online. It's widely used by shoppers because of its vast choices of stores (around 3,500 partners).
I started using Rakuten over 10 years ago and I contine to use them today. Their browser extension is a big help when doing online shopping – it's a lifesaver when you like to shop with cashback opportunities.
The browser works by notifying you if the current store you're at has cashback. If it doesn't, it will recommend another store with similar products. This feature alone makes you shop smarter.
People are so quick to call something a scam when they don't understand how it works. That's why they think cashback is too good to be true.
If you're not familiar with how cashback works or how can Rakuten pay you while shopping, it just goes like this:
Rakuten is partnered with 3,500 stores. Since they are partners with these businesses, they get a commission every time they redirect customers to their partner's website. Instead of getting all the commissions, Rakuten splits that amount and gives it to you which acts as the cash back.
The money you'll earn here can vary. It can be as low as 1% or as high as 20% on your purchases. I often act on it when they give out special promotions on their 12%, 14% (usually on Valentine's Day), and 15% days over many holidays or Black Friday deals.
Want to know more about the opportunities on this website? Check out my full Rakuten review!
Pros: You have a ton of options on where to shop.
Cons: It might encourage you to shop more just to earn cashback or points.
12. Ibotta
With more than 300 partnered companies, Ibotta is the go-to website of many. There are different ways to earn cash back with this application. You can earn by uploading a receipt, shopping through the app, or linking a loyalty account.
They even give you the option to earn more cashback. You just need to locate the Earn More button inside the app.
Once you press the button, it will show you the different tasks to help you earn more money. These tasks are part of what's called Ibotta Bonuses. The tasks here would be to complete offers, shop with specific retailers, or finish the challenges set by the company.
Ibotta also comes in handy if you don't want to spend cash outside. You can pay using gift cards from the app and still get instant cashback on your entire purchase – as long as the store is partnered with Ibotta.
The active users in Ibotta can earn around the range of $100 to $300. You can take home thousands per year if you're consistent in using the app.
Pros: You can earn money just by signing up with the app. You could earn up to $20 bonuses when creating an account.
Cons: You'd need to take care and be mindful of the receipt of your purchase because it will be uploaded to the application.
13. Cash Backs Credit Card
Gone are the days of banks offering a small cashback percentage of 1 to 2%. Some have stepped up a notch to make their offer more appealing to shoppers and customers.
There are a number of credit cards today that can give you at least 5% cashback. Yes, you've read that right! Such credit cards now exist!
Still not sold? Here are some cards you can check out:
Chase Freedom Flex – You'll get to earn a $200 bonus right after spending $500 on purchases in the first 3 months of account opening. You get to enjoy 5% cash back on grocery purchases as well!
Citi Custom Cash Card – With this credit card, you get $200 cash back after spending $1,500 on purchases in the first 6 months of account opening. You'll earn 5% cash back on your purchases in your top eligible spend category. Eligible categories are restaurants, grocery stores, gas stations, and many more.
Blue Cash Preferred Card – This credit card by American Express allows you to earn $250 after spending $3,000 in the first 6 months of Card Membership. On top of that, you get to earn 6% cash back on groceries and streaming subscriptions while 3% on transits like taxis, rideshare, parking, tolls, and many more.
Pros: You get to earn higher cash back when you pay with your credit card.
Cons: Credit cards can be dangerous for impulse shoppers. They might acquire debts they can't pay.
Enjoyed this post? Don't forget to pin the image below! Also, don't forget to follow me on Pinterest over here! 🙂