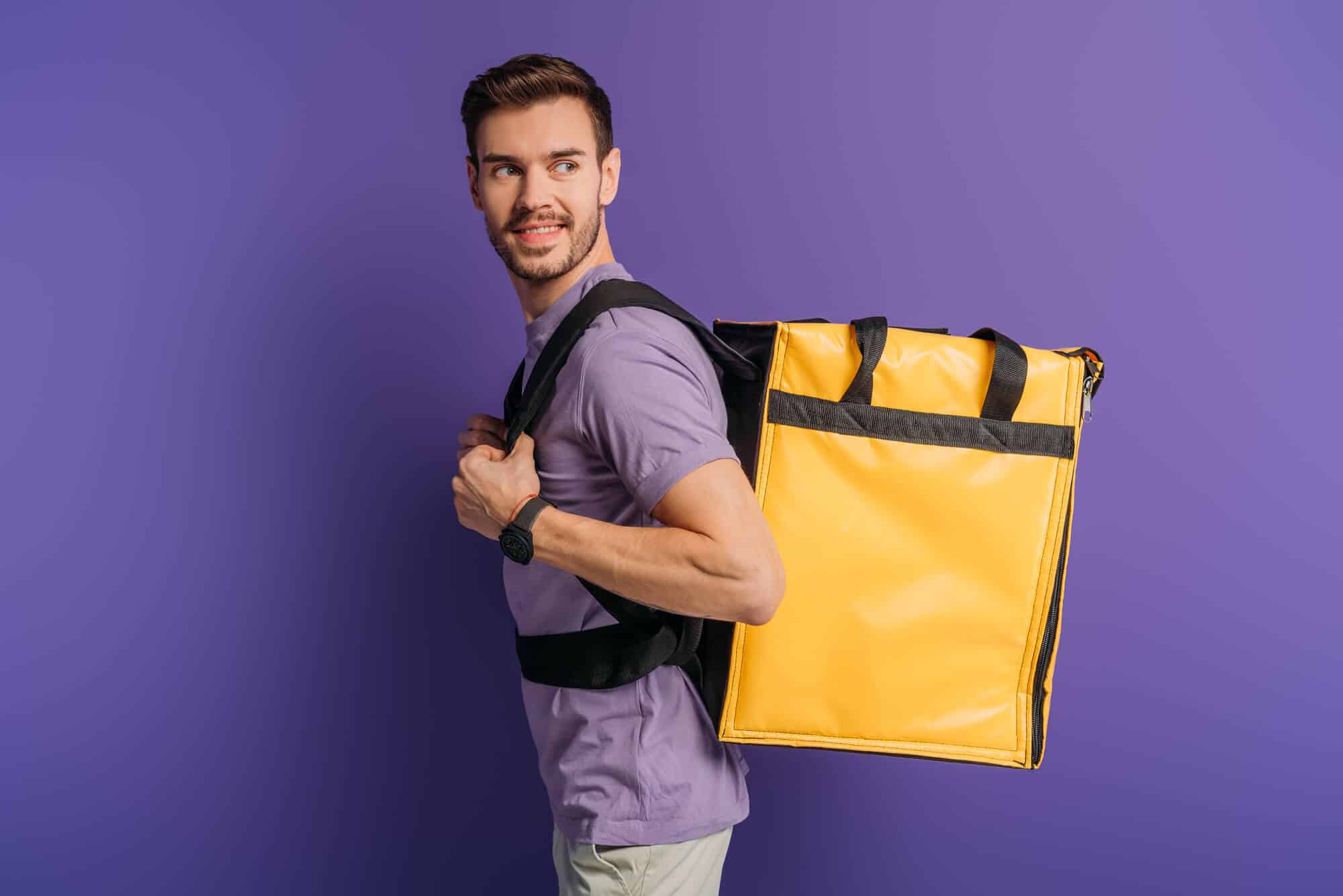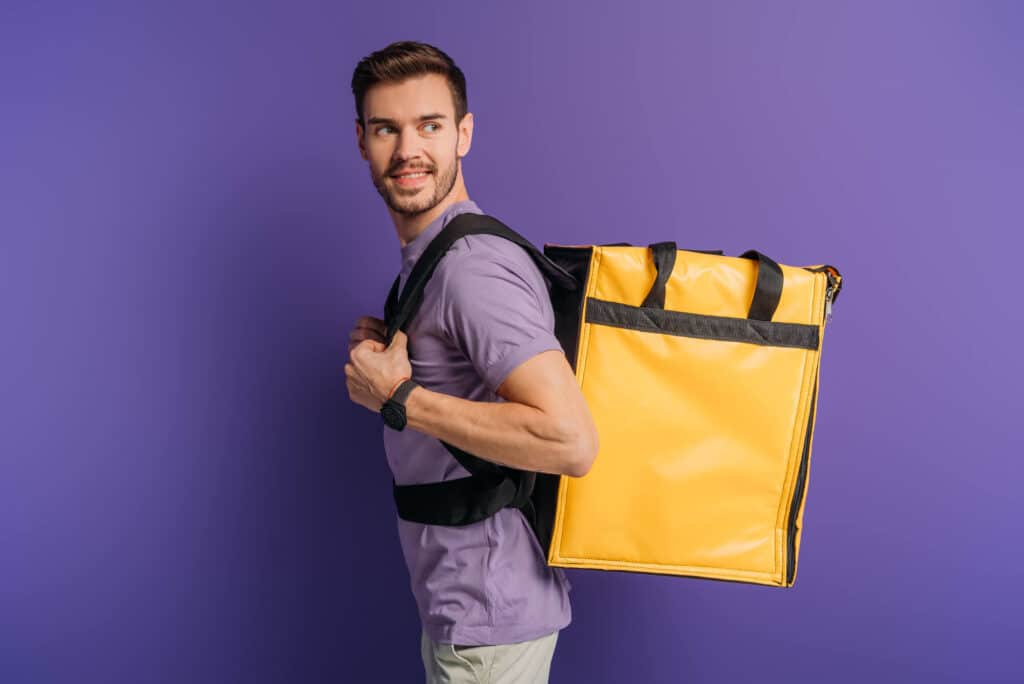 We will receive a commission if you make a purchase through our affiliate link at no extra cost to you. Please read our disclosure policy for more information.
There are a lot of fun ways to make money with a side hustle today.
But the one industry that remains undefeated when it comes to flexible hours would be the delivery service niche!
You could do this job at any time of the day. It doesn't have to be a daily job for you. You can work one day a week or only when you feel like it.
Aside from flexible work schedules, the pay is good considering it's only a side gig.
Some have received $20 per hour delivering food. While others go beyond $40. And on top of that, they get to keep 100% of the tips! Earning $200 a day is doable once you get used to making deliveries.
Unlike most jobs that have a long list of requirements and experience, there's no educational requirement or experience needed in this work. Almost anyone can enter this industry.
So if you're ready to begin your side hustle journey then one of the best delivery apps will help you start earning money now!
PIN THIS: I'll be updating this post so make sure to pin this image and save it to your Pinterest board. That way you'll be able to come back to this page for the best delivery apps that earn up to $51.00 per hour.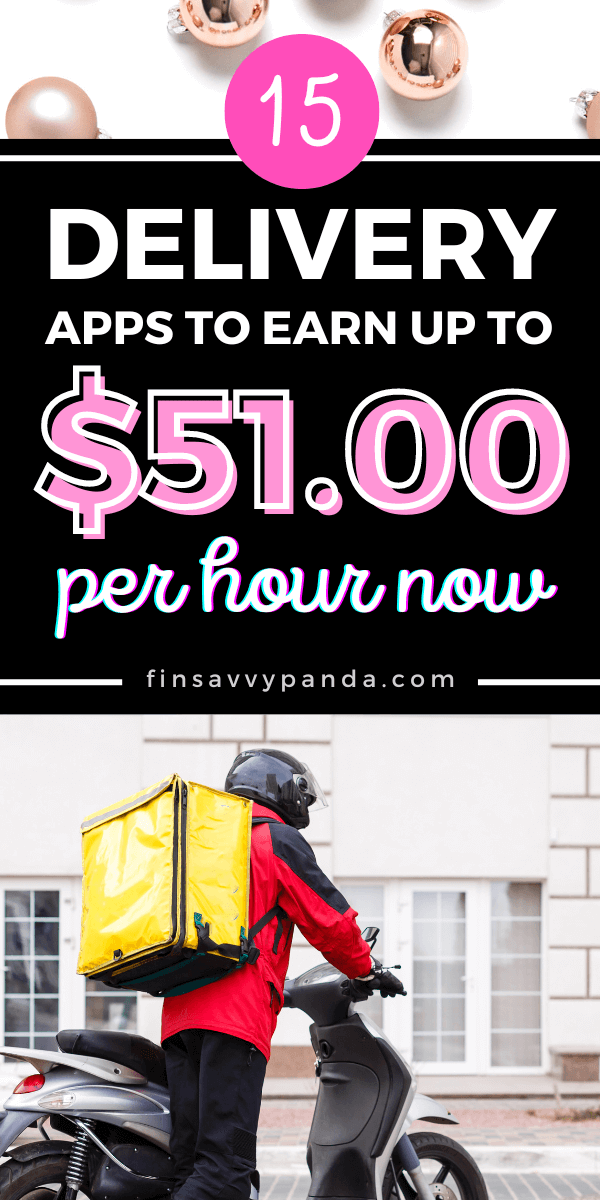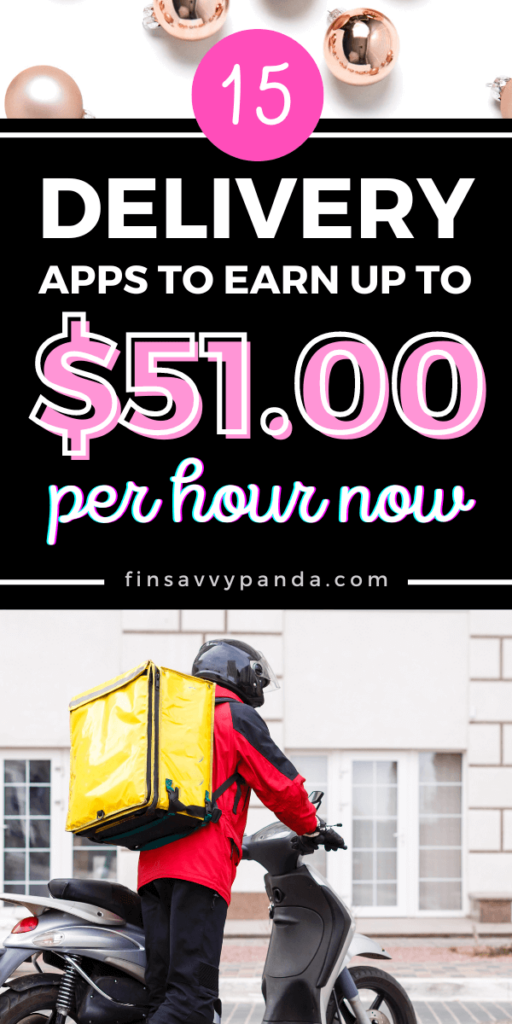 1. DoorDash
When we're hungry and don't have time to cook, we just order food from DoorDash. It's considered one of the best food delivery apps today and they're constantly hiring people to work with them.
There are millions of users opening the app each day from all over the world (in the U.S., Canada, Australia, and Germany). With that many users ordering food, it's the perfect opportunity for Dashers to use the app to earn extra money.
What is a Dasher?
Dashers are people who deliver food with DoorDash. There are more than 1 million Dashers globally today and they're expanding to different countries like Japan.
When it comes to how much Dashers are making, it really depends on when and where they're located. But one thing's for sure, they keep 100% of the tips that customers give to them.
A good thing about DoorDash is it pays out weekly. So if you need cash quickly to buy a present or a new outfit next week, delivering food for DoorDash can solve your problem.
Plus, if you live in a big city, DoorDash gives you the option to deliver on foot. In some cities, road congestion is so bad that it is much faster to ride a bike or walk.
Don't be nervous when trying out to be a Dasher. You'll be quick to understand the whole process and start earning in no time.
Pros: Being a massive company, DoorDash can offer job stability for its Dashers. With its popularity in this niche, it will be chosen over other delivery apps which means more jobs for you.
Cons: With great demand comes major wear and tear on your vehicle. If your car breaks down, the expenses will be shouldered by you.
2. Uber Eats
Who says that you can only install one delivery app on your phone? In fact, you should use multiple apps simultaneously to maximize your earnings. You can compare the rates between apps and accept jobs that pay the most.
Uber Eats is often paired with DoorDash and Grubhub. However, as a driver for Uber, you can choose to drive passengers (rideshare) or deliver food for restaurants.
Now, here's the thing, you don't even need to own a car to deliver pizza and burgers. You can simply make your deliveries on a scooter, a bike, or with your legs. Not a bad way to get paid to walk, right?
To know more about how to drive for Uber, I've listed the requirements they need for different ways to deliver.
Deliver By Car
You should be at least 19 years old to qualify to deliver with a car. The vehicle should be a 2-door or 4-door vehicle. A copy of your Social Security number should be presented for background checking.
Delivery By Scooter
The driver here should be at least 19 years old. The scooter used should be under 50cc. And the same goes for background checks so a Social Security number is needed. Upon signing up, make sure to choose "Delivery by scooter."
Delivery By Bicycle Or Foot
Uber Eats is the go-to delivery app for bikers. Riders for this category here should be 18 years old. They should present their Social Security number and a government-issued ID. And as they sign up, they should choose the proper transportation method.
Pros: Drivers can do both Uber Eats and Uber rideshare. They can switch when one is a bit slow in terms of orders or passengers.
Cons: Earnings may not be high compared to other delivery apps since Uber has a lot of drivers.
3. Grubhub
As I did more research, it turns out Grubhub doesn't follow a pay structure where it pays its employees by the hour. Its pay model looks like this:
Delivery pay + Grubhub contribution + Tips + Grubhub's mission and special offers = Total pay
Delivery pay refers to the amount you earn which is a combination of base pay and applicable bonuses. It takes into account mileage, time spent delivering, the local market, and delivery type.
Grubhub contribution is the company's initiative to make sure you earn the minimum rate even if it's a slow day. It's always good to find second jobs where companies look out for their contractors.
Tips, of course, is the money that customers give you to show their appreciation for your service. You get to keep 100% of this.
Mission and special offers are available on Grubhub to allow drivers to earn more for delivering a certain number of orders (e.g. 4 or more) or consecutive orders (e.g. 20 orders).
As for how drivers get paid, they can choose the direct deposit option. Your earnings will be sent directly to your bank account every Thursday.
There's also an instant cash-out option where you can get your money whenever you want. However, the cap for this option is $500 a day.
Pros: Grubhub ensures its drivers' minimum hourly pay. You're guaranteed to not go lower than minimum wage.
Cons: There will be slow days with Grubhub. The fluctuation in the number of orders can lower your daily income.
4. Instacart
If you live near a grocery store and delivering goods isn't a problem for you, try out Instacart. It's an app that's widely used due to the convenience it gives to its users.
The app is where grocery shoppers can buy their regular weekly grocery items online. The convenience of having this feature was highlighted during the height of the pandemic. But even when things came back to normal, people were still ordering groceries online because it saves time from doing grocery runs.
The advantage of Instacart is that users can buy products online and have it delivered to them on the same day. There will be a personal shopper that will pick up their groceries and deliver the goods to their doors.
And the role of the personal shopper is where you can get paid.
Here are the requirements for the position:
Owns/access to a vehicle
At least 18 years old of age
Eligible to work in the United States
Access to a smartphone with the Instacart app
Ability to lift 50 lbs with or without accommodation
The last part is a need in this field since you'll be carrying heavy bags from the store to your car. Instacart doesn't want its shoppers to injure themselves or drop the bags of their clients.
The pay range varies for this position. Estimate earnings could be at least $5 for delivery only. While for the shop and delivery service, it's around $7 to $10.
Pros: The company mentioned that they offer 24/7 delivery. This is an advantage if you want to work early in the morning or late at night.
Cons: It's a job that's going to require a lot of physical effort. You can potentially carry sacks and grocery bags from the store to the parking lot.
5. Amazon Flex
Everyone orders from Amazon.
You, your parents, your neighbors, your friend Bob, and your dog (if he could).
There's clearly no shortage of people ordering from their site. This massive demand is your chance to earn extra money on the side delivering those parcels! Since you're transporting packages, this is one of the jobs that you don't have to deal with customers!
Driving for Amazon allows you to cash in by delivering items on behalf of Amazon.com, Amazon Prime, and Amazon Fresh.
But before you can start driving for Amazon, you need to know what the time blocks are. Blocks in Amazon Flex are periods when you will deliver orders.
A block can last for 2 hours to as long as 6 hours and you'll earn $18-$25 per hour.
Blocks can be accessed in the app under Upcoming Offers on the Amazon Flex Schedule screen. If you see an offer that fits your schedule, all you need to do is tap on that offer and book it.
There are different types of delivery blocks. Let's discuss popular ones.
Packages – You pick up the goods at a certain delivery station and you deliver them to the customers. The average time block is around 3 to 6 hours.
Store orders – The goods are located in local stores. The time block is 2 to 4 hours.
Prime Now – This is the fastest delivery service by Amazon. This is a highly competitive block so it's very time sensitive. The time block is around 2 to 4 hours.
Pros: There's always work to do if you live in a busy city like New York. Plus it pays twice a week as well.
Cons: Navigation sometimes isn't on point. If you're new to delivering food, you will have a hard time at first when locating certain places.
6. Gopuff
Gopuff allows its users to buy groceries, alcohol, and home essentials. On top of that, it can be delivered on the same day. The company has hundreds of fulfillment centers and has employed thousands of delivery riders.
Whether you're looking for full-time or part-time work, both opportunities are offered by Gopuff.
For those looking for flexibility and looking to work alone, you have the luxury to deliver around your schedule – either on demand or through a pre-arranged delivery block.
Gopuff drivers need to monitor incoming orders, then pick up the items at local Gopuff fulfillment centers, and deliver the items in a timely manner. The company has the Gopuff Driver app to make it easy for their riders to do their jobs. The app allows them to:
Manage work schedules
Receive and deliver orders
Request support if needed
Keep track of their earnings
As for the requirements to being a Gopuff driver:
Background check
Access to a vehicle
Owns a smartphone
Submit a vehicle record
At least 21 years of age
A valid US driver's license
Has the insurance under their name
Available to go through and pass a pre-paid alcohol delivery training course
Pros: Gopuff offers incentives to its delivery partners. It gives you more earning potential on top of your hourly wage and tips.
Cons: There is no option to decline orders. Sometimes you want to have this option when delivery is too far.
7. Shipt
Sitting all day long behind a computer screen is bad for your health and body. That's why Shipt is a great platform for those who want to move around while earning some extra cash.
Shipt, just like Instacart and Gopuff, is an on-demand grocery delivery service. The company hires people as Shoppers (independent contractors) and pays them to deliver groceries from local stores to the customers' doorsteps.
With Shipt, you have the ability to choose which area you want to shop in. So if you know the layout and where everything is, you can be a shopper in that zone to make shopping faster. The quicker you complete the orders, the more money you make.
You can expect to receive at least $16 per hour. And if you live in one of the bigger cities, you can earn up to $27 per hour. All payment and order details are coordinated through the app which makes it easier for shoppers.
There are no delivery blocks – as a Shipt Shopper, you pick your own hours and accept or decline orders when it works for you. That being said, the more active you are on the app the more order you can pick up so don't forget to always be online.
Pros: You are in control of the hours you work per day. There are no minimum or maximum hours you can work like Amazon Flex.
Cons: Shipt isn't available in a lot of cities. In some places where it is available, there's a lot of competition.
8. Saucey
Saucey doesn't serve food but it delivers one of the most essential things to some people – alcohol.
The app is a popular alcohol delivery service that started in 2013. In the beginning, it only served in Los Angeles, Sacramento, San Francisco, and Chicago. This is no longer the case as they've expanded to over 40 cities including New York City, Boston, and Houston.
Customers here can shop for the finest Tequila, Whiskey, Vodka, Wine, and Beer. The app provides the whole package if you're looking for drinks for your event.
As a Saucey courier, the average wage you'll earn per hour ranges from $10 to $18. Like Grubhub, couriers also use a time block system to manage their delivery schedule. This is how the company ensures they don't have too many or few couriers delivering drinks at any given time.
Couriers report that you can earn $5 per delivery and an additional 50 cents for every item delivered. So if a customer has ordered 5 items and you have delivered them successfully, you'll receive around $7.5 plus 100% of the tip given to you.
Pros: It's a fun side gig according to many. And since you're only picking up drinks, there's no need to wait long at the store.
Cons: The operating hours of most delivery apps can be 24/7 or will depend on their retail partner's schedule. With Saucey, they have a set time when they're available and closed.
9. GoShare
Owning a pick-up truck or a van has its perks. You don't need to worry about renting a large vehicle to pick up large purchases like furniture and appliances. Lots of people have large items they need to move but don't have the means to do it. That's where companies like GoShare come into play.
GoShare was developed to connect consumers and businesses to people with trucks that can help them move or deliver bulk goods. For delivery riders, you can earn while driving your truck, car, or van.
It's a unique service since it primarily serves retailers and furniture businesses to help with delivering big items. But just like any delivery company, the cost of gas and car repairs aren't reimbursed by the company.
The good thing is that Riders have the freedom to choose the type of jobs they want. Since the company hires people with full-sized cargo vans to regular cars, all sorts of delivery jobs are available.
People with SUVs can choose to deliver lighter items such as small couches and nightstands. They'll still earn a decent amount without having to stuff items into their cars.
As for cargo van owners, they can accept jobs to deliver bulk items like when a client moves furniture and appliances to a new home. Since they can cater to more items, it's expected that they'll earn a lot more.
Now in terms of how much you can earn, it will depend on the vehicle of your choice.
Pickup Truck – Average earnings of $80 per hour.
Full-sized Cargo Van – Average earnings of $116 per hour.
Box Truck – Average earnings of $222 per hour.
Cars, SUVs, Minivans – Average earnings of $51 per hour.
Lifting heavy items is a good side hustle for men who want to get a nice payout on their muscles.
Pros: You get paid a lot when delivering for GoShare. Although you will be carrying heavy items, it will be worth it due to its payment structure.
Cons: They have a strict vehicle requirement and the volume of orders here aren't as high as the previous delivery apps mentioned.
10. Roadie
Roadie is a UPS company that pays you to deliver packages for money. It's a company that provides "on the way" delivery services. If you're already driving somewhere, Roadie will pay you to pick up and deliver packages that are on your route.
Their tagline for Drivers? "Get paid to drive, your way."
Roadie drivers can get paid while being on road trips they're already taking. The extra money you get can help you pay for gas!
Drivers can take on deliveries that go from state to state. Meaning, if you're in LA and you're on your way to Las Vegas, you could accept a delivery for someone who needs to get their items to Las Vegas.
You're hitting two birds with one stone with this app – you get to go to your destination while earning money by delivering an item.
There are essentially four factors that make up the whole process of being a Roadie driver.
1. Choose your gig
You choose what deliveries fit your schedule. Drivers can earn up to $13 per trip for driving locally.
With this feature, you'll check the size of the item, pickup & drop-off instructions, and other necessary details.
2. Get matched
You need to offer gigs in Roadie. Gigs can be a single delivery or multiple deliveries. The pins on the map represent a gig. As you tap it to learn more, you'll see all the necessary details about the gig (item quantity, weight of item, dimensions, etc.). If you like what you see, you can press "submit offer" to let Roadie know you're available.
Luckily, this app bundle gigs together to allow you to make more money in less time.
3. You're in control
The Roadie mobile app can help you with several things. It can follow turn-by-turn navigation, 24/7 support, easy contact of sender or recipient, and many more.
4. Track your earnings
Average earnings for Roadie drivers can range from $13 (small items) to $650 (oversized items). You can choose weekly deposits or instant cash-outs.
Pros: You get to earn while going to your destination. It's a good side job since it only extends your trip for 15-30 minutes.
Cons: No incentives and insurance coverage. Volume isn't as high as food delivery apps.
11. Dolly
Dolly drivers are called Hands and Helpers. I'll explain more about them later. Being hired under this app means you're going to do a lot of heavy lifting. You won't be delivering food here or drinks. Dolly drivers do a lot of furniture deliveries.
Aside from transferring furniture, you'll help clients move apartments so you'll carry a lot of heavy stuff. This might mean going up and down the stairs, and loading and unloading items from the truck to the apartment or storage units.
So being physically fit and used to carrying heavy things is a huge advantage in working under Dolly.
Dolly Helpers are the ones that own vehicles for transportation and other services. Dolly Hands work with Helpers to deliver and carry items to its customers. According to Dolly's website, Helpers earn an average of $50 per hour, while Hands make $35 per hour.
As for how the payments are received, Helpers and Hands get them through Paypal. The app makes sure that you get paid twice a week.
The top Helpers can regularly earn more than $700 per week. It's a great side gig if you're able to earn that figure consistently!
Pros: As part of Dolly Hands, you can earn even without having any vehicle. It pays decent considering you're just helping carry items and delivering them.
Cons: Dolly isn't at its peak yet. It's still growing. So your opportunities, for now, are limited.
12. Favor
Speed is the name of the game. Favor is one of those delivery apps that prides itself on getting your food or items in less than an hour. The app allows you to order food, drinks, and even your home essential needs.
The main drawback of this app is that it only delivers to cities in the Lone Star State (Texas). However, it is quickly expanding and could be available in more cities in the near future.
They actually prefer to call their delivery team "runners" instead of drivers. This is because, with Favor, you help clients with their personal needs at times. So it's not just about driving and delivering, but also helping them out with their errands like picking up clothes from stores or dropping off clothes at the dry cleaners.
Favor has various benefits that incentivize its users to use their app. The standard delivery is $6, but they often run promotions that can reduce it to $1-$3. This is a big advantage for users since most delivery apps have a high delivery fee.
Unlike most delivery companies, Favor doesn't have any vehicle requirements. Runners here can deliver with cars, trucks, scooters, or motorcycles. There's even a bike zone in downtown Austin where you can only deliver goods on your bike.
However, they are very strict with their whole background check process. They look at the following offenses:
Assault and battery charges
Theft and property damages
Sexual offense and harassment
Moving violations in the last 3 years
Major traffic citations in the last 3 years
Felonies and misdemeanors within the last 7 years
Records of DUI, DWI, and reckless driving in the last 7 years
Favor also requires its Runners to undergo an online orientation that helps with the overall onboarding process.
Pros: Unlike other delivery apps, Favor has a fast recruitment process. They also incentivize drivers when completing just 10 deliveries.
Cons: It's only available in Texas.
13. Caviar
What comes to mind when you hear the word"Caviar?" Delicacy!
This is not your typical food delivery service. If other apps serve just any restaurant, this company is different. It focuses on the higher-end of restaurants in your cities.
Ok, maybe not that high-end. But you won't find local fast-food restaurants in this app.
Caviar has a dedicated team to go and search for the best food in your city. No matter if it's pasta or burgers, as long as it's good, Caviar might just have it on their menu.
In the case of driving for Caviar, you'd have to sign up on DoorDash's website. Why? Because DoorDash bought Caviar in 2019. Both apps are still separate but DoorDash has completely taken Caviar under its wing.
There's no difference between DoorDash and Caviar drivers. In fact, when people order from Caviar, they'll typically be met by DoorDash drivers.
Since the app is owned by DoorDash, its reach has expanded as well. It is now across 50 states in the US!
Pros: The app is easy to use and navigate. The instant pay features come in handy if you need cash for the day or week.
Cons: Given that it's not working with typical fast food chains, drivers need to wait for food to be cooked and packaged. This might cost them time to deliver for other orders.
14. TaskRabbit
If you think being a Tasker is all about assembling IKEA furniture, home repairs, and help with moving, then you need to read on. TaskRabbit also has a delivery service that you can apply for.
Taskers who are booked for delivery can go to multiple stops to get the items, take-out food, and groceries!
So what are the common delivery requests in the app?
Picking up items and dropping them off at specific times.
Picking up items from one point and delivering them to another.
Making home deliveries of groceries, food, and even documents.
As a delivery driver for TaskRabbit, you will be in control of your working hours and freely set days off when you need them.
You're not bound by set wages since you'll be the one setting your own rates. You can charge what's right based on the experience and skills you have.
As for the requirements, I've listed them below:
Have a smartphone
Go through ID checks and have a Social Security number
Be at least 18 years of age
Have valid licenses and registrations for your service. This is needed to comply with the law in California.
Pros: You can set the rate that works for you. It doesn't make you feel underpaid which makes you more motivated to work.
Cons: The company's customer service isn't perfect. It's hard to reach them at times.
FAQs
Which delivery app pays the most?
Now that we're done with the best delivery apps, it's time to answer the number one question on your mind. The app that pays the most in this list would be GoShare.
The highest average earning that a driver can make with this app would be $222 per hour! That is if you own a box truck.
But let's say you own a regular car and only do courier service, the driver here still makes an average of $51 per hour – that's significantly higher than other delivery apps.
Which is the best delivery app to work for?
Out of the 14 delivery apps in this list, DoorDash has one of the most positive reviews given by its drivers.
Most people here loved the freedom that the company gave. It made them feel like they were the boss of this side gig plus almost all customers give Dashers tips.
This is an advantage that drivers will have when they work with a company that has a positive reputation.
Doordash has built that customer trust in its years of operation. There's a reason why it's a top pick among food delivery apps and courier side gigs.
How Do You Earn Extra Tips As A Delivery Driver?
There are a lot of ways that can help you earn tips as a delivery driver. But we can boil everything down to three points.
First, deliver on time. It's a no-brainer but some delivery drivers take their time delivering food. If you want to increase the chances of you getting a fat tip, make an effort to either be on time or be earlier than expected.
Second, smile more often! Customers love when they're greeted with a smile and a vibrant attitude – it puts them in a good mood. No one wants to see a Grinch at their doorstep.
Third, ask if they need anything else. Just asking this question puts you in a good light because you're not simply delivering food. You want to give them a great experience from the point they order their food to receive it. Even offering a napkin could go a long way.
Enjoyed this post? Don't forget to pin the image below! Also, don't forget to follow me on Pinterest over here! 🙂