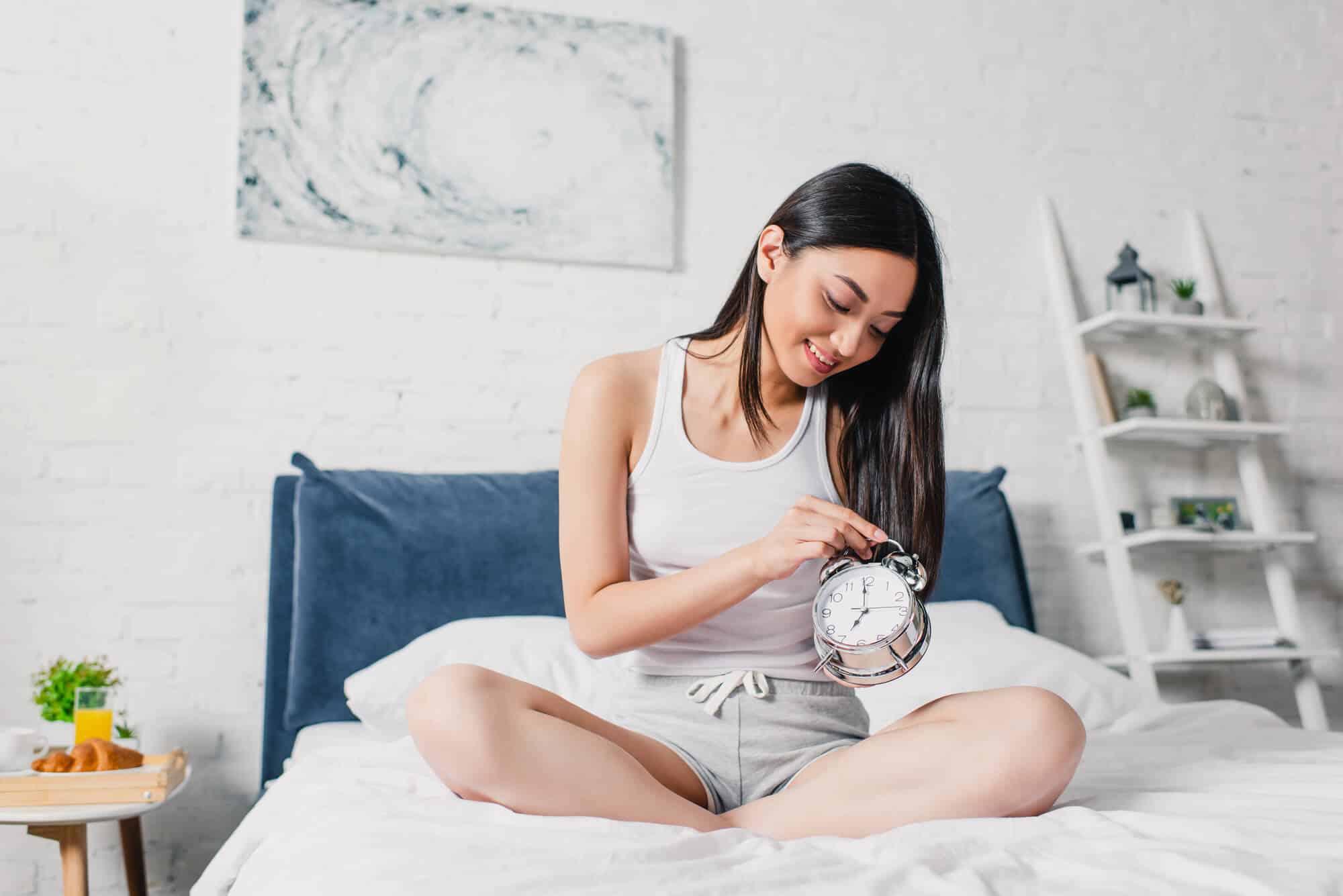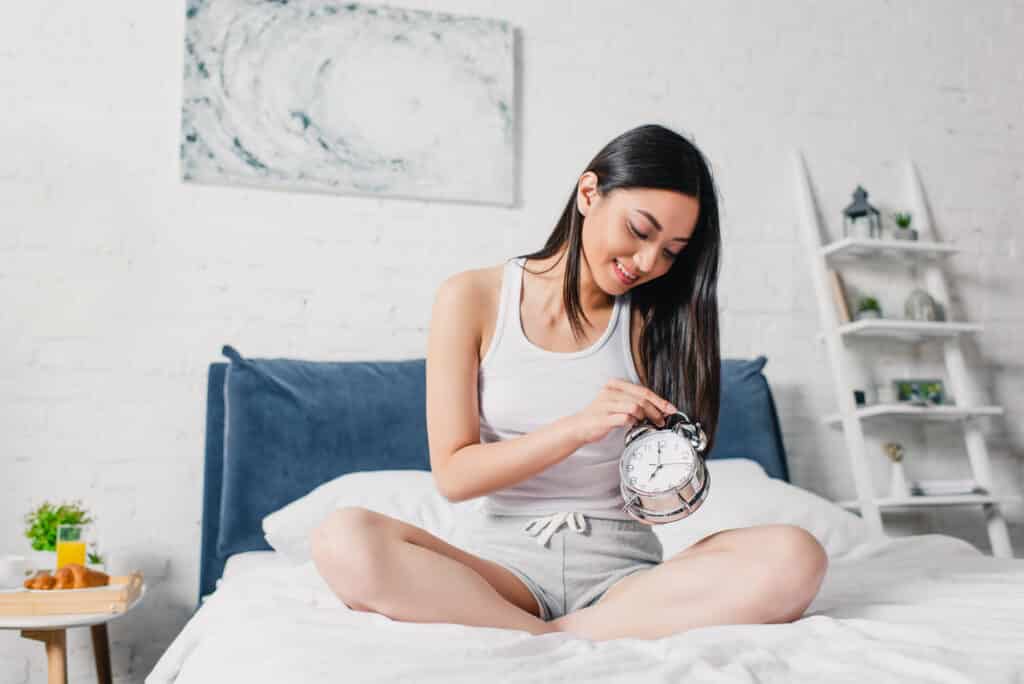 We will receive a commission if you make a purchase through our affiliate link at no extra cost to you. Please read our disclosure policy for more information.
When we look at celebrities, we think that they have it all. They're famous, live in mansions, and drive expensive cars. But behind the scenes, they work very hard and dedicate all their time to their careers because it's what they love to do.
For example, Mark Wahlberg sleeps at 7:30 p.m. and gets out of bed at 2:30 a.m. every day. He starts his day by working out at 3:00 a.m.! That's right, he's at the gym while most of us are in our beds! Mark follows this strict routine because it allows him to dedicate his time to training, working, and spending time with family.
It's well known that many highly successful people and most executives at the Fortune 500 wake up before 6:00 a.m. They start their day right by focusing on self-development and self-care activities while our minds are fresh.
When the world is sound asleep, there are fewer emails, fewer phone calls, fewer distractions, and more time for yourself. Rising early allows you to engage in important activities such as exercising, meditating, and learning new skills to advance your career.
If you want to follow the habits of successful people or simply want to make extra money on the side, early morning jobs can help you achieve your goals.
Here are the best early morning jobs available for early risers.
1. Freelance Writer
Do you spend most of your spare time reading new books and writing stories? Perhaps becoming a writer was one of your dream jobs while growing up but you never pursued it because you thought it's not possible to earn a living out of it.
Well, times have changed and writers are in high demand in today's market. The main reason is the fact that everything is moving into the online world and companies are rushing to hire talented writers to help them promote their online brands.
As a freelance writer, you can be hired by large corporations or small businesses to help write blog posts for websites, online magazine articles, newsletters for subscribers, or even marketing material for promotions. Your job is to write in a manner that is easy for readers to understand and motivate customers to take action. Whether that is educating consumers on new product features, convincing new customers to try a new service, subscribing to the company's newsletter, or leaving product reviews on their website.
When you work as a freelancer, you're essentially self-employed. You get to decide how many hours you work, when, and where you work. You can structure your day to work on projects in the morning and finish work by the afternoon. There's no customer interaction involved so it's one of the best jobs for introverts.
What's better than being your own boss and making your own work schedule?
Freelance writing is just one of the options available for freelancers. There are other early morning jobs that pay well, such as graphic designers, recruiters, and programmers.
2. Uber Driver
Let's be honest, driving is not for everyone. But for those of you that find driving fun, you can make extra income as a Uber Driver.
Yes, there are horror stories online about the passengers from hell. However, the majority of your passengers (99%) will be regular people that are in a rush to get from point A to point B, and 1% of the time where you'll pick up oddballs. No one in their right mind would become an Uber driver if all of the customers are crazies.
That's why it's always a good idea to be cautious while driving strangers. Install a dashcam in your car for your safety and in case there are any disputes with passengers.
Causal drivers that drive for several hours a night could earn anywhere from $50-$75 per night. So if you drive 3 nights a week for a month, you could take home an extra $600 in one month.
Also, when there is a sudden increase in passengers looking for rides, the price of each ride increases (surge prices). Surge pricing can be a result of bad weather, special events happening in the city, or heavy traffic when everyone is getting off work. With surge pricing, drivers can earn a bit more money.
Now, since you want an early job, you can turn on the app and cater to passengers that have early shifts or people that need rides to the airport.
3. Fitness Instructor
Are you always active and enjoy going to the gym to work out? Or maybe you have a home gym to stay in shape.
If you have a passion for fitness, forming meaningful relationships with clients, and also get excited about helping others achieve their fitness goals, you might be a good fit as a fitness instructor.
Fitness instructors coach individuals on how to reach their health goals or they can teach yoga classes to a group of students. You need to come up with customized workout plans for your clients and be able to push and motivate them to stick to the plan.
If you work for a gym, training your clients will take place at your local gym. As you build your brand and take on private clients, you can train your clients at beaches, parks, local gyms, or even at your studio.
The hours are very flexible. You can target clients that are looking to get their workout done early in the morning before they start their 9-5 work.
There are many fitness instructors that start out part-time as a hobby to earn extra money and they slowly transition into a full-time role once they know that it's something they want to pursue as a career.
Imagine, getting paid to do things you love and helping your clients get the results they always wanted. That's a kickass job!
4. Barista
Are you a picky coffee drinker that only drinks lightly roasted coffee because the dark roast is barely considered coffee? If you're such an expert at coffee, then you should become a barista at a coffee shop!
Working as a barista is one of the best morning jobs for college students to make money in college because of the flexible hours and schedule. You can choose early morning shifts for days that you don't have class or have late afternoon/evening classes.
You'll learn different kinds of coffee, make all sorts of coffee drinks, and meet a bunch of new people! It definitely fits you if you are into fashion and keeps up with the latest trends. Have you ever seen a coffee shop where the baristas wear dress shirts and pants? Probably not.
Baristas need to have great people skills as you'll be making small chats with customers to lighten their mood. Being polite, recognizing people's faces and names goes a long way in the service industry.
However, the most important skill you need is the ability to craft good coffee. That means you'll need to have a good memory to remember all the drinks on the menu along with all the ingredients that go into each drink. Don't forget about good listening skills for times when you need to customize to your customer's liking.
Everyone can make a cup of coffee, but not everyone can make a great cup of coffee.
5. Virtual Assistant
Successful business owners and CEOs don't have time to manage their daily schedules or read emails. It's not because they don't know how to do it, there's simply no time for them to do those activities. They're too busy maintaining existing client relationships and growing their businesses.
That's where you come in – the super helpful and efficient virtual assistant.
A person that the CEO or owner can't live without because when you're not there, their calendar is fully booked and there's not a minute where they can sit down to have lunch!
Virtual assistants provide administrative help to small and large corporations. You can be expected to schedule meetings, flag important emails, organize social events, and do general data entry. You can support either a person (executives and business owners) or a department for a big company.
To succeed in this type of role, you'll need to have excellent organizational skills to manage various competing tasks and duties. You should also be comfortable hopping on calls and attending virtual meetings since all the communication will be done online.
As with most early morning work from home jobs, you can wake up early and get cracking right away. The sooner you start your work, the sooner you can sign off from your computer.
6. Flight Attendant
Do you want to fly for free anywhere in your country and pay really cheap international fares? That's one of the perks of a flight attendant!
Most people think that the main job of flight attendants is to serve beverages and food on planes, but the reality is that their main duty is ensuring passenger safety and comfort while they're on the plane. This includes demonstrating safety procedures like putting on seat belts, how to put on oxygen masks when needed, and reminding passengers where to exit in case of emergencies. Offering beverages and food is secondary. Safety is always the number one priority.
Flight attendants have flexible hours and you get to choose when you want to fly as you gain seniority with the airlines. With new flight attendants, you'll be on-call and need to be able to fly whenever you're needed.
The pros of flying to different cities sound amazing, but you'll be away from family and friends for those periods. If this is not a problem for you, then working as a flight attendant could be your dream job!
7. Merchandise Stocker
There are various kinds of jobs available at your local supermarket and grocery stores that you can apply to. Cashiers help customers check out their shopping carts, food preparation workers make prepackaged meals, like salads, and then there are merchandise stockers.
As a merchandise stocker, you'll be responsible for restocking empty shelves, organizing product displays, and keeping the shopping aisles clean and clear. You may need to lift heavy items occasionally as there will be boxes that are filled with cans and jars of goods. But for very large and heavy boxes, pallet jacks will be used to transport inventory from the back of the store to the shopping area.
Merchandise stockers mainly work late at night after the store is closed or early morning shift before shoppers begin shopping.
8. Hotel Front Desk Agent
No matter how early or late you arrive at the hotel, there's always someone there to greet you and help you with your room. Hotels operate 24 hours a day and need to hire people to take care of the services at the front desk, valet, and housekeeping.
When you work as a front desk agent, you'll be assisting guests with check-in/check-out services, booking and canceling rooms, and processing payments. In addition, you'll be providing directions to popular places in the city and giving tips on the best restaurants to try.
In the hotel industry, there are generally 3 shifts:
7 a.m. to 3 p.m.

3 p.m. to 11 p.m.

11 p.m. to 7 a.m.
If you want to get in early and get out early, then the morning shift will work best for you.
Just like any service job, working as a front desk agent won't be easy and your patience will be tested by angry guests. But keep in mind that some travelers might be in a bad mood because they just got off a long flight and they just want to shower and get some sleep right away.
9. Warehouse Package Handler
Online shopping is now the norm as shoppers prefer to checkout with a single click compared to lining up in person. Large shopping malls are now quickly being replaced by warehouses to store inventory for online purchases.
With online shopping booming, shipping companies are on a hiring spree looking for warehouse package handlers to meet consumer demands. Companies like FedEx, UPS, and Amazon are competing to hire workers to fulfill customers' online orders. Without package handlers, all of our online orders will be sitting in warehouses.
As a warehouse package handler, you'll be operating tools and equipment to load and unload packages for delivery. You'll also be fulfilling orders by placing items into packages, scanning parcels, and organizing them by boxes so they can be sent for shipping.
Work starts as early as 3 a.m. and ends between 6 a.m. to 9 a.m. for part-time work or 10 a.m. to 1 p.m. for a full-time shift.
This is not a hard job, but it does require physical strength. Hence, you will need to be physically fit to keep up with the demands of the job.
10. Baker
What do you do when there's a lockdown and there's absolutely nothing to do? You BAKE!
Yes, many people bake for fun and it's an activity to kill time. However, if you love to see the smiles on people's faces as they take the first bite into a fresh pastry or you just love being surrounded by the smell of freshly baked goods, then you should consider becoming a baker!
Working as a baker, you could be baking classic banana bread, chocolate cookies, blueberry muffins, birthday cakes, apple pies, or delicious scones. It really depends on who you work for and what they sell on their menu. Your employers could be small business bakeries, restaurants, grocery stores, or artisan bakeries.
Bakers wake up as early as 4 a.m. to start their day. They begin their preparation and baking at 5 a.m. so there's plenty of time for the dough to rise and cool down for the morning crowds.
Once you have enough experience, you can even start your own bakery business!
Summary
Finding early morning jobs may seem difficult at first. But when you start thinking about the places that are open early or operate on a 24-hour schedule, there will be a demand for morning workers.
There are always people finding new jobs or getting promoted so there are plenty of job opportunities out there. This includes workplaces such as your local news station, hospitals, and transit company.
Don't get discouraged and keep looking. Don't stop until you find something that you truly enjoy!