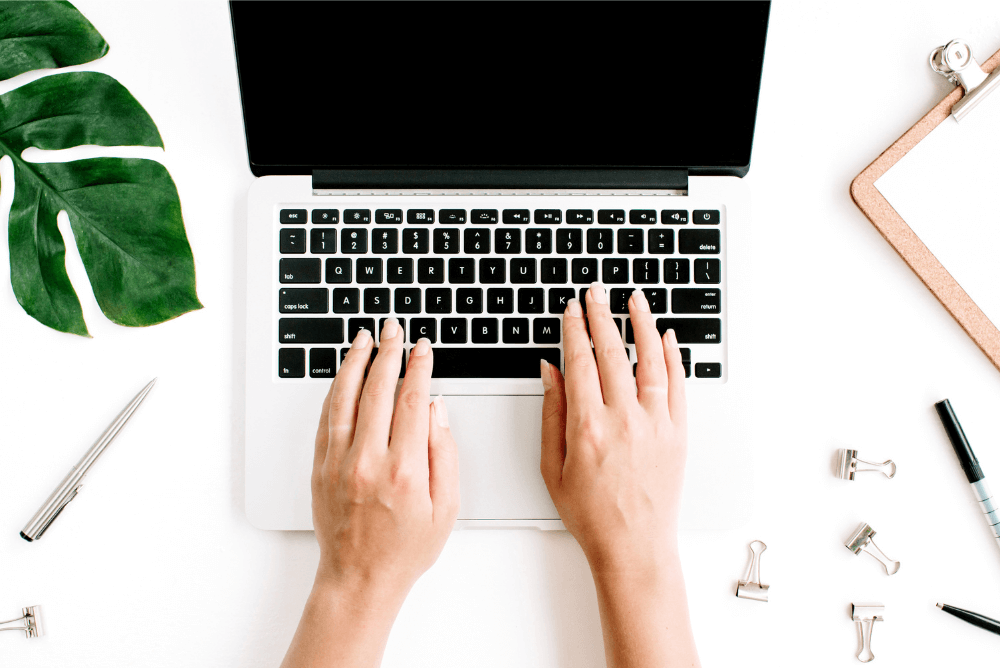 We will receive a commission if you make a purchase through our affiliate link at no extra cost to you. Please read our disclosure policy for more information.
If you're looking to make money as a freelance writer, you're in for a real treat!
Gone are the days of writers being only book writers or journalists. That's the old way of thinking about what writers are.
The world has evolved and the profession has branched out to many facets of business and marketing.
The opportunity for writers today is endless. And I mean endless.
Having the skill in writing is what made me money, attracted loyal readers, and lead me to create a blogging course to help beginners start a profitable blog! Writing has truly changed the trajectory of my life.
If starting a blog and writing your heart out piques your interest, then you can learn how I became a full-time blogger earning over six figures per year.
At the start of my blogging journey when I knew absolutely nothing about writing, I also tracked my progress from earning my first $100 blogging to $20,000+ per month.
As you can see, just knowing how to write engaging content can land you a job digitally. You can even take the creator route as well – wherein you'll be your own boss!
But in this blog post, we'll be discussing the different money-making opportunities you can do when being a freelance writer.
If you're ready, then let's get right to it!
PIN THIS: I'll be updating this post so make sure to pin this image and save it to your Pinterest board. That way you'll be able to come back to this page and learn how to make money as a freelance writer.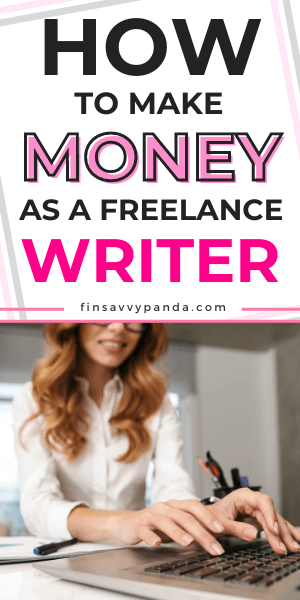 What Is A Freelance Writer?
Before we go deeper into the topic, it's only right that we define what a freelance writer is.
Freelance writers get paid to write while not fully employed by a company or business. These writers work on a contractual basis as compared to being hired full-time.
They usually write to finish several projects. When it's done, they no longer work for the company anymore. However, the contract can be extended if the employer and the writer agree to it.
Great freelance writers have an excellent command of grammar and can easily change writing tones when needed. They're flexible with their writing style and can write on different topics with ease.
Writers are generally left alone to do their job making it perfect for introverts that want to work from home.
Writing is an in-demand skill. It's a profession needed by almost every business. To find high-paying freelance jobs, continue reading the list below.
10 Ways To Make Money As A Freelance Writer
1. Blogging
This is one of my favorite ways to make money online because it allowed me to quit my boring office job and pursue my passion for helping others improve their personal finances.
I started blogging as a hobby and now I'm a full-time blogger earning over six figures per year with my blog (far more than my full-time job).
The interesting part about blogging is that you don't need to be a great writer to grow an audience. As long as you can write decently and have a good understanding of the topic that you're blogging about, then you'll be fine.
I make a lot of grammar and spelling mistakes on my blog, but with writing tools like Grammarly, I'm able to clean up my posts and make them more presentable.
Blogging is very different from traditional writing where you can write informally and still get a lot of readers. In fact, some of the most successful bloggers write like they're talking to their friends. This makes their content more personal and relatable.
You can make money blogging by displaying ads, promoting affiliate products, selling your own digital products, or even charging for sponsored posts.
Every blog monetizes differently, so it's up to you to explore your options and find what works best for you.
When I started as a beginner, I learned how to use Pinterest to make money and get readers to my blog.
You can do the same with Google, YouTube, and even Twitter. It really depends on which platform you enjoy learning and using the most.
If you don't know what to blog about, here are some popular niches for you to think about:
Food
Beauty
Fashion
DIY Projects
Lifestyle
Relationships
Travel
Parenting
Personal Finance
Health and Fitness
Technology
I'm a stronger believer in finding something you're passionate about and writing about it instead of jumping on the bandwagon.
That way, you'll be able to pour your heart into your content and create amazing blog posts for your readers.
If you're interested in blogging but don't know where to start, you can check out my FREE 7-day email course that will teach you how to start a successful blog.
From choosing a topic, setting up your blog, and understanding the basics of monetizing your blog – this course has it all!
2. Book Writing
There are a lot of people looking for freelancers to write a book for them.
You would need some experience and skills on how to effectively write a book. But if you do have experience in this field, applying for these jobs could be lucrative.
According to Upwork, book writers typically charge around $18 to $40 per hour. You have to realize that writing a book can't be done in an hour or two. It can't be finished even if you have 24 hours to work with. This is why book writing as a freelancer is a popular job.
In this line of work, writing the book isn't everything. There would be revisions and edits needed to be done as well. But this shouldn't be a problem for the writer since they're paid by the hour.
You would also stumble across job postings that don't pay you per hour. Instead, they pay you per project. For example, if they're looking for someone to write a 300-page eBook, they can offer to pay you $3,000 for the whole project.
So before starting in this field, it's best to determine if you're going to be paid by the hour or per project.
3. Copywriting
When you're browsing online job boards for writing gigs, you've probably come across hundreds of copywriting job postings. If you're not familiar with it, copywriting is the art of persuasive marketing. You must capture the attention of people through the words (copy) you write for your clients.
Remember those catchy tag lines by Nike? How about the well-thought-out descriptions by your favorite brands?
Those are products of excellent copywriting. If you bought an item because what they said got to you, then you've just experienced what great copy can do!
And that's why copywriting jobs usually have high pay.
Because businesses would pay good money to people who can get them more leads and money. Not everyone can convert a prospect to a paying customer. So when a business sees that you have the ability to do so, they'd do everything to hire you because it means more sales for them!
If you have no experience in this field but want to be great at it, there are lots of copywriting courses on Udemy that you can take.
Remember, that experience is the best teacher. If you want to be a great copywriter, you need to be in the field. Take on every job you can get so you can polish your skill as early as now.
4. Technical Writing
Technical writing is converting processes into manuals or other forms of instructional materials and guides. This is how handbooks are created.
As a technical writer, you need to have excellent skills in converting complex processes into readable texts that can be easily understood. You are focused on documenting systems and steps and understanding how each stage or process works.
Below are some of the other tasks and responsibilities of a technical writer:
Collects feedback from customers
Creates easy-to-understand guides
Writes down procedural documents
Works with designers to create graphics
Researches and uses products to experience them firsthand
Communicates with involved parties like directors, engineers, developers, and others
You would have noticed by now that technical writing is very different from business writing. Although both fields aim to educate their readers, technical writing is much more "technical".
You need to have a bit of working knowledge in your chosen niche so you can turn complex ideas and processes into simple guides and handbooks. To be a good technical writer, you need to have your audience in mind.
5. Article Writing
A freelance article writer is someone that creates long-form content and does more in-depth research about a topic compared to a blogger. Bloggers can be more informal with both their writing and tone, while article writers need to keep their tone and style formal.
Being an article writer usually means writing for a publication, journalists, nonprofits, and others. These entities have more serious readers that want the latest news on the industry you're writing for. Your work here can be either print or digital.
You need to be fast with your work while still delivering high-quality output. Being comfortable working with tight deadlines and editors suggesting to change some of your work is a big help.
You would be citing different statistics and data in your content to put context to what you're trying to explain. Remember that the facts you use should be accurate. You don't want a reader calling you out for misinformation because that will definitely hurt the credibility of the organization you're writing for.
There's also an option for freelance article writers to specialize in a certain niche. This will make it easier for you to write engaging content since you're familiar with the industry.
6. Ghostwriting
Ghostwriters make money writing for someone else. There are a lot of website owners that are looking for such writers. If it doesn't bother you that the published name isn't yours, then this is the perfect job.
Ghostwriting has been in demand because business owners usually want to spend their time and focus on more important things in their company. They want to outsource the content creation to another writer but still stamp their name on it for credibility purposes.
Others hire ghostwriters because they have great ideas but they don't have the skill to turn them into written content.
For the past years, ghostwriting has only been about long-form content. These would be your typical blog posts. But as social media became a must-have platform for entrepreneurs, ghostwriting short-form content has begun.
Creating LinkedIn and Facebook posts for someone's community or clients has been an added opportunity for freelance ghostwriters. Even ghostwriting email newsletters and tweets are great ways to make money now.
These brands and businesses are looking for a writer that can capture their tone. But the most important of them all would be someone that can generate leads for them.
Ghostwriting is a world that has a ton of hidden opportunities for you.
7. Email Writing
Writers here get paid to write emails. Email writers are usually called email copywriters. These are writers who are skilled in creating emails that capture attention and bring value to the client's list.
Most people claim that email is dead but statistics show us the opposite. In fact, a recent statistic shows that 37% of brands are increasing their email budget. So don't believe that email marketing is insignificant – it's even more relevant than ever.
To get hired as an email writer, you need to have the skills to write persuasive email copy. These are the types of emails that people would want to open and read. On top of that, you also need to identify a lot of factors about your client's audience.
You need to understand their problems, issues in business, bottlenecks in their processes, and pain points.
You would use the information on these things to make your emails more appealing for them to open. And of course, you can discuss how your client can be the solution to their problems.
Other metrics you need to perform well at would be:
Open rates
Purchases
Click through rates
These metrics would be determinants of how well you've written the email. Tons of creators can help you with this journey to improve in this craft.
8. Scriptwriting
The best and the most engaging videos you see on the internet are not created on the fly. What you don't see is the amount of brainstorming and preparation that happens behind the scenes to make it as perfect as it can be
And for those creators to sound like what they're saying is one thought after the after, a scriptwriter is needed. A scriptwriter as you guessed is a writer that writes scripts.
Everyone can write. But not everyone can create structured content that engages and brings value to readers. The same thing to scriptwriting, the content you make here is different from writing blogs and articles. In this field, you take your viewers on a journey using your writing and videos.
This means that what you write should coincide with what's happening in the video. And there is an actual demand for this skill. If you can write compelling content that's perfect for today's video landscape, you'll get rewarded handsomely with a high-paying job.
There are also work processes wherein the script is created first before the video. This gives the writer more freedom. Because when the video is created first, the writer is bound by the scenes in that video.
9. Course Writing
Online courses aren't just focused on creating video content. Most of these educators have started creating written materials as well. They've realized that making two forms of content can enable them to reach a wider group of learners.
With this, you can present your writing skills to educate people. Some creators just want you to transcribe what was stated in the video. In contrast, some want you to write and explain it differently – but still discuss the points taught in the video lesson.
There are also writing jobs where your output won't be presented to a company's audience. Your work is only shown to internal parties. What you'll write about can still be educational for different departments.
Let's say you'll be writing extra training materials for new hires. Your work will be read by new employees to make the onboarding process faster and smoother.
When writing within this niche, it's important that you can simplify complex ideas to something easy to learn. Your aim isn't to impress readers with your writing but it's about educating the people who'll read your work.
10. Researching
Freelance researchers are not just great writers but they are excellent analytical thinkers as well. As a researcher, you would be responsible for collecting and analyzing data for your client. You have to spot upcoming trends in your niche so studying past trends is a must in this job.
On top of collecting data and spotting trends, you also need to find money-making opportunities. These are usually found by digging further on what are the pain points of your client's customers. The comments and feedback you'll gather should be organized so they can be interpreted easily by your client.
Aside from writing, what other skills do you need to have in this job?
Analytical – You will be presented with a ton of data in this job. It is your duty to make sense of that information and turn it into words.
Asking questions – There are times that you need to ask questions from groups. These questions should be constructed in a way that the answer could be beneficial to your research.
Team player – To make the research process faster and more efficient, researchers usually work with a team to gather information and interpret it.
5 Tips To Help Your Start Freelance Writing Career
Now that you know the different freelance writing jobs, it's time we talk about the things you need to figure out. These are aspects of your career that can help you land a job in your chosen niche.
1. Build A Portfolio
Having a writing portfolio isn't needed but it surely helps you land a job in the freelancing space. Your portfolio should consist of your greatest works as a writer.
Attaching a portfolio to your application allows your client to see immediately what you're capable of. It shows the style and tone you use in your writing. It rids the process of long interviews just to gauge your writing skills and what you've achieved.
You can also have different portfolios to match the client you're applying to. You could have a portfolio for personal finance, business niche, marketing industry, and many more.
However, this only applies to writers who have written content for various niches. If you've only done work in one industry, that's fine.
Think of your portfolio as a highlight reel. It's a resource wherein it can boost your application and stand out from the rest.
2. Create A Website
Your website is a great way to leave a mark online. It can be a go-to place for people in your niche that wants actionable and high-quality content.
The work you post here could also be part of your portfolio. But I believe the best way to leverage your website would be the metrics behind it.
If you rack in a significant number of visitors per month and you're able to monetize your website, you can highlight that as you apply for a job position.
Because your website is living proof that you're more than capable as an applicant. You've done the work and have earned the results – it shows that your style of writing attracts visitors and brings value to readers.
If a client sees your website and loves what you have done, getting hired will be a breeze.
Plus, aside from helping with your application, your website can act as a source of side income for you. Not only do you have a monthly salary, but your site can also bring in additional money to your account.
3. Set Your Rates
After you've talked to the client, and impressed them, they will eventually ask for your rate. Two thoughts come to mind for most beginning freelancers:
What's the average rate for my skill?
If I charge too high, I might lose landing this client.
Having those thoughts is normal, that's why we're discussing it right now so you won't have to think about it on the fly. You can simply google the average salary of a freelance writer. Or you could browse platforms and websites to gauge how much clients are willing to pay for writers nowadays.
Now that you've estimated the average rate, you'd want to charge slightly higher than it right? I mean who doesn't want to have higher pay?
You need to be honest with yourself in this process. If you're just starting out, you might have to work your way to your ideal salary. But if you think that your skills are worth the rate you're asking for, then by all means go for it!
4. Add Additional Services
It can be a very competitive scene out there. There could be writers applying for the same position as you. So to be even considered, you need to add more services as you apply.
This means going beyond just writing content for the client. Offer that you can write emails for them on top of creating a blog post. You could also offer to do social media writing and editing their previous content.
By offering more services you can justify your above-average salary rate and you're bringing more value to the table. When a client sees that you're offering more than what is expected of you, they'll be inclined in hiring you for the position.
To help you with your additional services, here are some activities you can consider:
Transcription
Guest posting
Keyword research
Writing newsletters
Ghostwriting for client
Editing and proofreading
Write product descriptions
Creating copy for landing pages
5. Continuous Learning
It pays to constantly learn in this field. What worked a few years ago might not be applicable in today's reading landscape.
There was a time when long-form texts were acceptable. It wasn't deemed as tiring to read because it was the standard. But use that today and watch your reader count go down.
Seeing a wall of text does more harm than good.
It brings zero appeal to readers because just the sight of it already tires them. They want texts that are broken down with spaces and images. It gives a "mental break" even just for a few seconds.
If you're serious about being a writer, be a student of the game. Never stop learning.
Be very observant of what's happening in the industry – notice how your favorite writers and brands are structuring their content. Take note of the different ways that they're capturing attention and how they're retaining it.
In the world of writing, attention is currency. If you're not able to get attention and hold it through your writing, you won't be an effective writer in today's time.
How do freelance writers get paid?
Freelance writers get paid in various ways, dependent on the agreements made with their clients. Payment methods include invoices sent to clients post-completion, with terms ranging from immediate payment to net 30, 60, or 90 days.
Some freelancers receive payment upfront, particularly for larger projects, securing a percentage before work begins. Others use payment platforms linked to freelance job sites, offering security and payment guarantees.
Common payment methods include bank transfers, PayPal, checks, and other online payment systems. Rates can be per word, per project, or hourly, and are negotiated before you start working.
Enjoyed this post? Don't forget to pin the image below! Also, don't forget to follow me on Pinterest over here! 🙂